Vape cartridges are everywhere and now the preferred method for blazing THC  oil among many. What's not covered on most sites' top lists is that the cartridges change from state to state. Some brands cross over states, but only a few. Here we go through our picks for the best THC vape cartridges for 2019. This list will be continuously updated throughout the year.
If you are looking for specifically live resin, check out our best live resin cartridge list that includes carts from Nevada.
Our list of the best cartridges in Nevada is based on actually using them
Our overall best THC distillate cartridges for Nevada are from Roots and Cannavative when it comes to straight strength. The overall strongest live resin carts for Nevada have been from AiroPro, HSH and Fuze.
Roots Extracts is a small company and not advertised, but you will find in the store – they sell out quickly.  Same thing with Cannavative. For some reason those two brands of carts seem to just dissapaer from the shelves. We have actually used the cartridges we are listing here. Be wary of best cartridge lists where the writers have not tried the carts. This seems to be common.
At this point with only state legalization, cartridges are a state by state evaluation for the most part. You will find a couple brands crossing over states and you will see some of those brands on our list as well, but even the same brand in a different state is made with different cannabis at it's base. Cannabis sites are notorious for paid promotion an some will start to give you skewed lists as well. Since we know Weedmaps reviews are rigged, they can't be trusted either to deduce the best THC cartridges.
Now we will go through each cart that makes our best of list. We will continuously update this list as we review more cartridges or if things change. DabConnection reviews are 100% bias free and no company can pay for any placement or ranking on our site. May the best THC cartridges win and the worst be noted so you save money.
---
702 Brand : Impressive cart in a plain package
We encountered 702 Brand carts on a random stop at one of our favorite dispensaries, and grabbed then for a "wild card" cart review. Even though the bag packaging led us to expect a low-quality product, we were pleasantly surprised.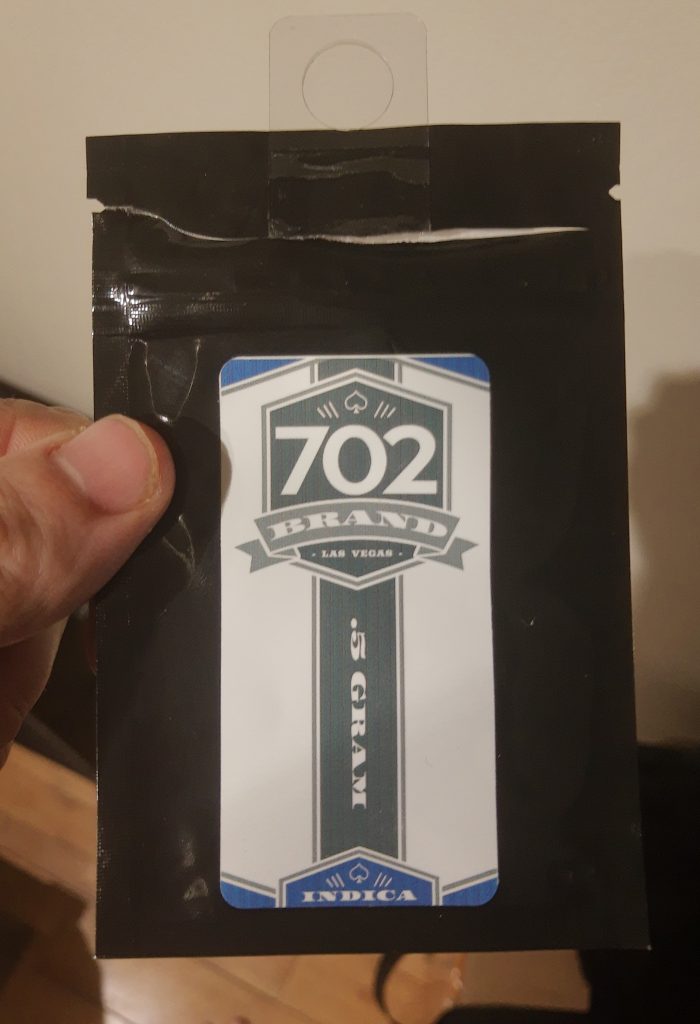 Inside the unassuming little black bag is a CCELL clone of a M6T which is a solid hardware choice. It's filled with a half gram of quality distillate using real cannabis terpenes, producing a tasty vape that reminds us more of live resin than distillate, flavor-wise. The oil was thick and consistent, giving us a last puff that was enjoyable as the first. The thing we learned when we tried the 702 Brand cart is "don't judge a book by its cover." Our full 702 Brand review here.
Airo Pro: Consistently the best on taste and a close second on strength
Airo Pro is a brand of Airo Vapor uses its own proprietary battery and cartridge system. Many have complained that the battery is $35 but in fact you can find it without the case, by itself in the box, for a very reasonable $15. I bought one for this much at Essence Tropicana West (well actually I redeemed free credits, even better!). Their proprietary system is manufactured by CCELL. It gives a great hit, is consistent, and efficient.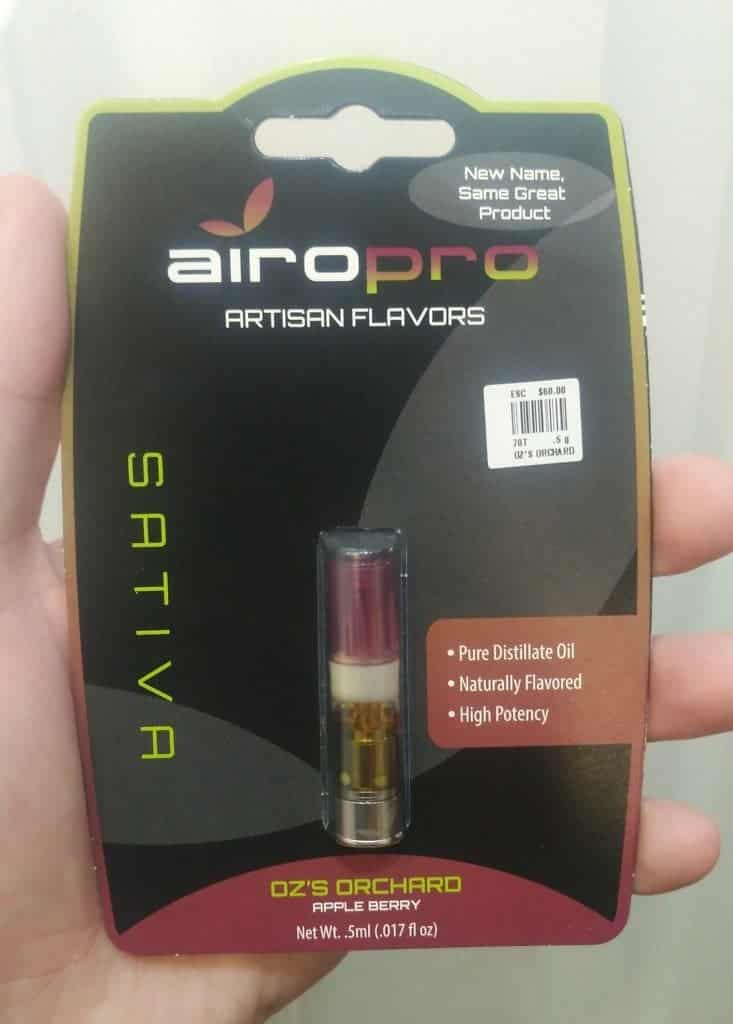 Sumatran Sunrise is one of the best strains they have. A super energetic sativa. While getting second overall and being second on strength (the most important factor on our list),Airo Pro also has the best tasting THC cartridges in Nevada. Mountain Mist in particular has an awesome menthol taste to it. Airo Pro is also available Colorado, Washington, Oregon, California, Arizona and Maryland.
Bring that battery with you when going to another state! See our complete Airo Pro review for more info. Airo Pro ties with Cannavative for second as both have comparable strength cartridges.
BaM Pods: Can't believe a Gio Pod ranks this high, but their BHO oil is just too good
Body and Mind is another lesser known company that is producing amazing oil. The only BHO based pick on this list, their 91% THC Bubble Gum was one of the strongest vape pods we have ever tested. BHO in some states can mean left over solvents from shady practices. In Nevada the testing is strict, so that BHO is clean!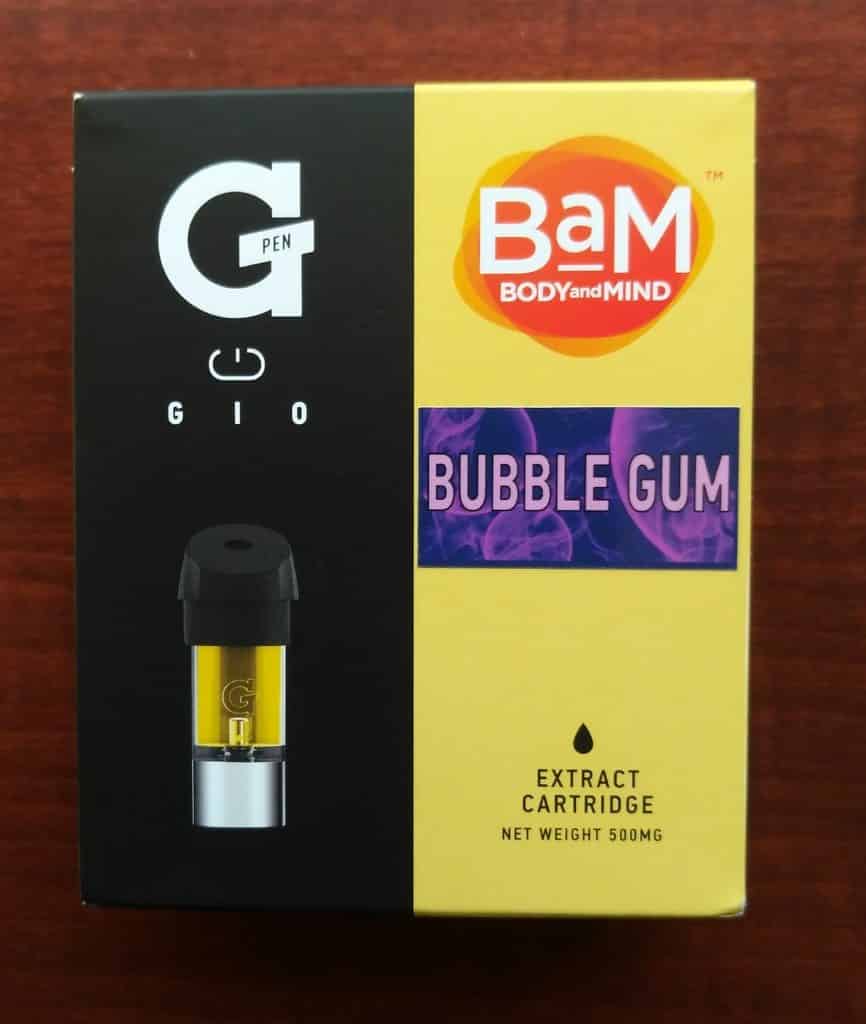 Taste was also excellent unless you burn the wick. The downside to BaM is their oil is paired with the G Pen Gio. See our breakdown of the G Pen Gio and you will get why this is a bad thing. Hit it too hard and you burn the wick. That burn taste sticks with you for the rest of the pod.
That being said, BaM makes such a high quality oil you cannot deny them a top spot as one of the best cartridges (or really a pod here) in Nevada. We hope to see their oil in CCELLs or syringes sometime soon and if so, they could be ranking higher. Our BaM pod review covers their pods in more detail.
Cannavative: Awesome strength, high end oil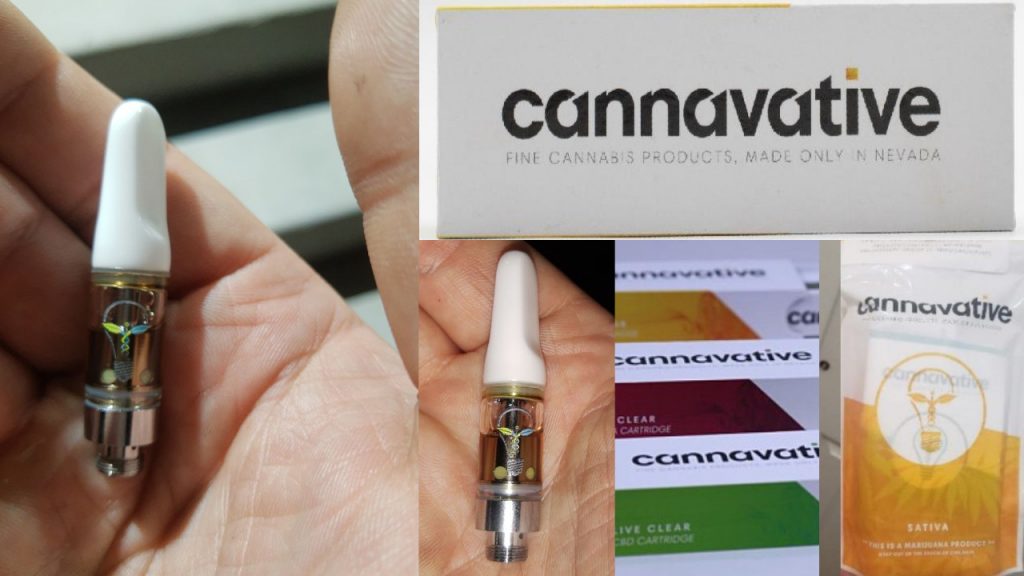 Cannavative is newly added to the lineup in September of 2019. They use clear distillate in their cartridges that has a unique look. The company is also known for making some of the world's best shatter. Their carts have become very strong and they use the same TH2 CCELL as Roots. They are tied with Airo Pro as some of their carts and Airo Pros are matched on strength.
They place above Select Elite due to better taste and hardware. Our top strain pick for Cannavative is Double Dream. See our in depth Cannavative cartridges review for more info.
Fuze Live Resin: Strong, sweet taste, long-lasting effects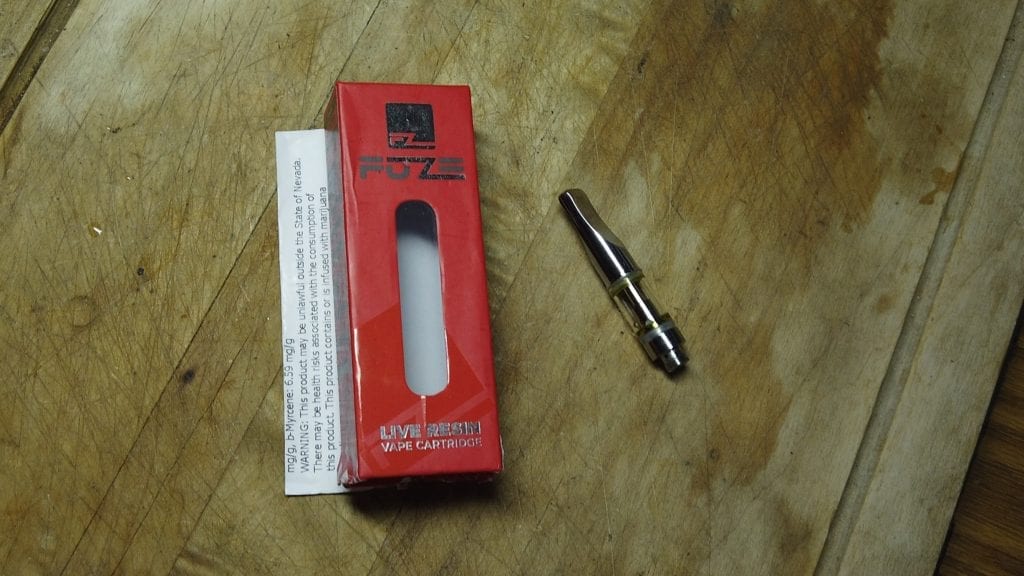 Fuze Extracts makes both a distillate and live resin cartridge. While the distillate is still good, the live resin is top-notch and makes a spot on our best list. It also made a spot on our nationwide list of the best live resin carts.
Natural, sweet flavors, the best glass CCELL TH2 hardware, and strong effects that last long, make these some of the best THC vape carts available. See our in-depth Fuze Live Resin review for more info.
HSH Live Resin: Top quality, best resin, unbeatable hardware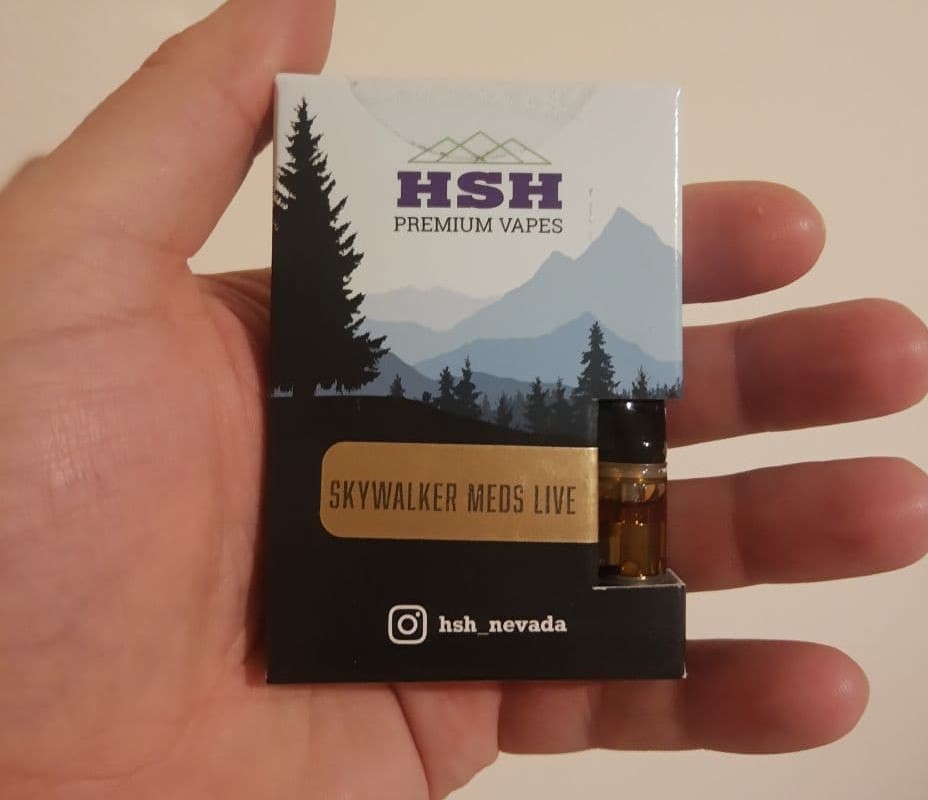 We followed a blind recommend from The Dispensary in Las Vegas, and we were never happier to do so. HSH (High Sierra Holistics) puts top-notch live resin into a top-quality CCELL TH2, resulting in the best half gram of puffing we've had in recent memory. The tasty oil satisfied, the cart lasted a long time, the cartridge hit strong without wasting oil, and we even left it sit around for a month to see if the oil discolored, which it did not. Another great live resin story!
IONIC cartridges: Super strong with excellent taste
We might be cramming up the #2 spot with another tie, but IONIC is super strong. After this one we might just rearrange this list a bit. Basically, IONIC is super Stoney, tastes as good as distillate can, and lasts quite a while.
The only thing we want changed is make it a glass cart. Other than that, it's perfect.
Kabunky: The best house brand you probably haven't heard of
Kabunky is available in a decent amount of Nevada dispensaries, but it's primarily known as the house brand for Nevada Made Marijuana. We frequent their Laughlin location and they have specials on Thursdays with lower prices. For much of 2018 Kabunky had reverted back to old style cartridges and it really hurt the brand's performance. It went from being one of our favorites to something we would not buy. The oil was still good, but the hardware was just awful.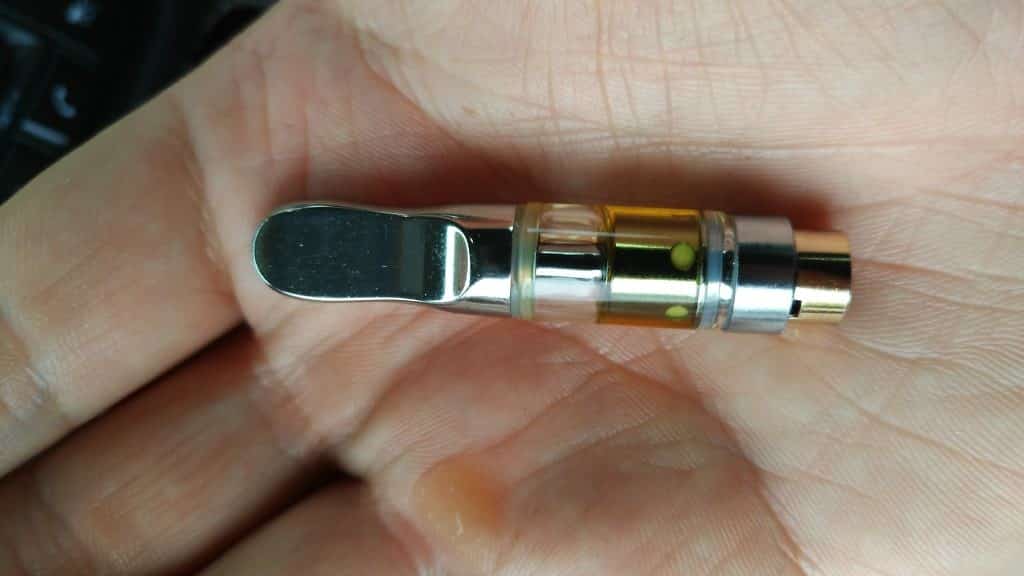 Since then they have changed their hardware back to the new style and it's much better. The Kabunky Kwik stick disposables are excellent as well. One particular cartridge, Strawberry Lemonade by Kabunky, was the best cartridge I have ever had. Unfortunately, that cart has not been reproduced at the same THC level. Only a high CBD version has been on the shelf. If Kabunky could reproduce that 86% THC Strawberry Lemonade, they might be the best THC cartridge in Nevada or at least on par with Roots' Cheese cartridge for the top spot. Check out our Kabunky cartridge review for more info.
Moxie Pods: Strong quality oil lives up to the brand name
You can't go wrong with a MOXIE pod. From start to finish, the MOXIE pod is awesome. Back when we reviewed Moxie cartridges, we found them to be acceptable but mediocre, less than we expected form the Moxie name. The Moxie Pod, however, gave us the full Moxie experience and blew us away on strength.
MOXIE pods are straight fire on strength. Super strong oil, combined with one of the hardest-hitting pods that you can get results in an ultra-strong hit and effects. We had some minor nitpicks on efficiency and design, but still found the pods to be good on overall build quality.
Share our buzz with the Moxie Pod experience at our full review.
MPX Live Resin carts have long lasting effects, awesome taste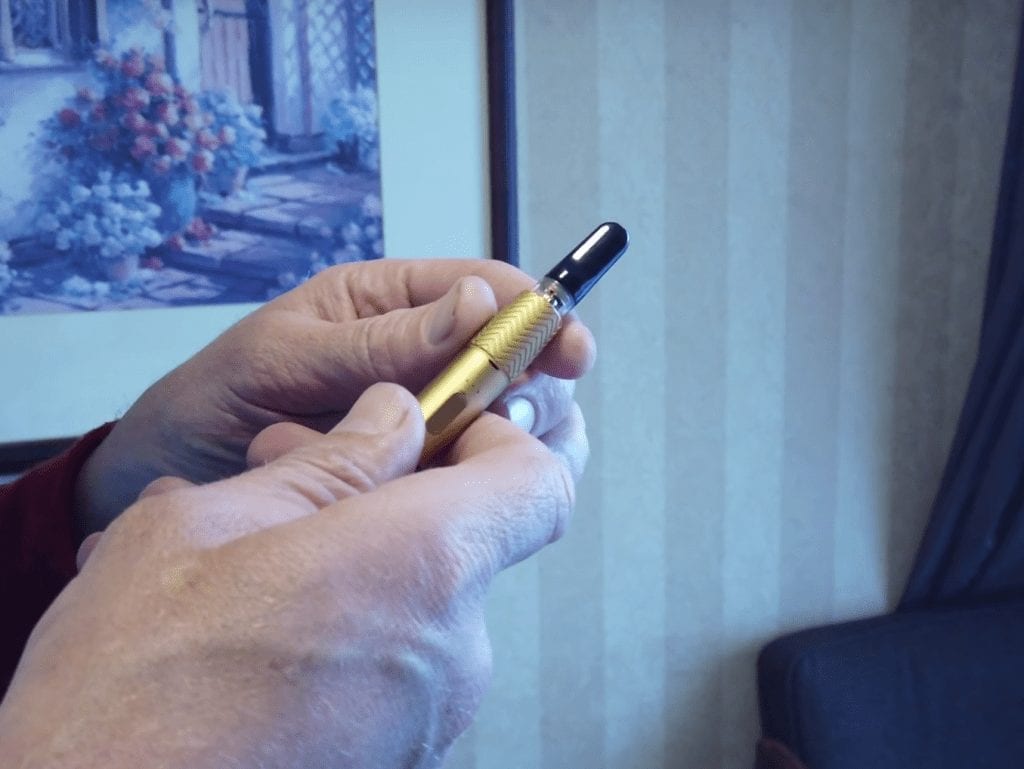 Melting Point Extracts is a multi-state company existing in Arizona, Maryland and Nevada. So far we have only tried the NV version and it is impressive. Nice sweet taste, long-lasting effects and they use glass CCELLs. Not much more we can ask for. The most noticeable thing about MPX Live Resin carts is how long the effects last, well over an hour in most cases.
For more info on MPX Live Resin cartridges, check out our in-depth review.
Old Pal is great for the price but some batches vary, see update below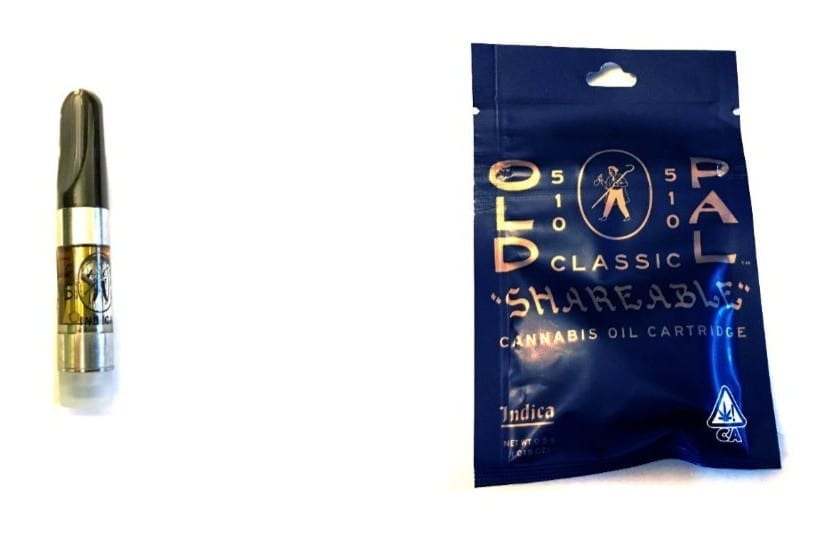 Update 12/15/2020: Due to many comments on YouTube and our site about varying Old Pal experiences we feel the need to post this message. Our experiences with Old Pal have been great but people have commented that at times the products have been awful. The amount of comments to this matter makes us think that there might be grounds to it, and thus we post this warning that experiences with Old Pal seem to vary greatly by batch in both California and Nevada.
Old Pal is not the absolute strongest brand of carts nor is it the absolute best tasting, but it deserves a spot on this list. Overall, its well above average in all categories and is a well balanced.
One of our reviewers said the psychedelic effects from Old Pal were the best and better than other cartridges that may even pack more initial strength. Plus they go for only $25 for 500mg at most dispensaries in Nevada. They go for even less in California and they made our best list there, which is linked at the bottom of this post.
For more info on Old Pal carts, see the full review.
Roots Extracts: Strongest effect, great taste, overall the best THC vape cartridges in Nevada
Roots overall has been the consistently best brand in Nevada since I first tried them. Out of all the strains they have, Cheese has been my favorite. Roots is owned by Taproot Holdings and operates out of North Las Vegas. I first tried their carts after picking them up at The Dispensary in Reno and regularly pick them up at Essence Tropicana West when they are not sold out. They use authentic CCELL cartridges for hardware. White ceramic tops to be exact.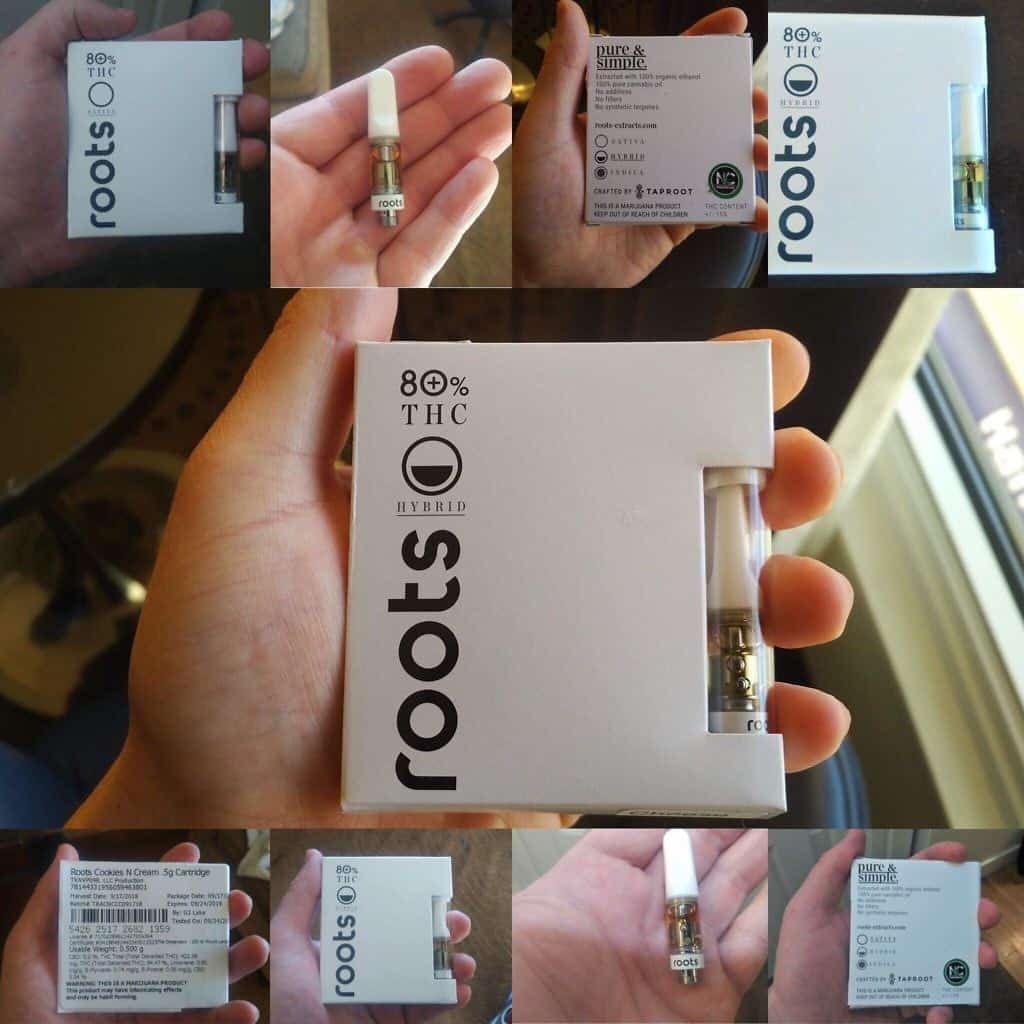 They really are doing something right over there at Roots. Roots is not a cultivator and focuses just on making oil, which might be the reason they are so good, the operation is focused on just producing great oil. Roots does not even make distillate syringes (but am hoping to see these in the future).
New whole plant hash oil product for Roots recently released
Check out our review on Roots broad spectrum disposables. They use ethanol extraction but it is a whole plant oil, and gives an effect more like smoking a joint. The THC levels are above 80% and it delivers a great and unique effect. These new disposables are another reason Roots is currently the best bet for vaping THC in the Silver State.
See our full Roots cartridges review for more info. We're working on the review of their new full plant hash oil disposables and should have that up soon.
Standard Oil Co. – Excellent All Around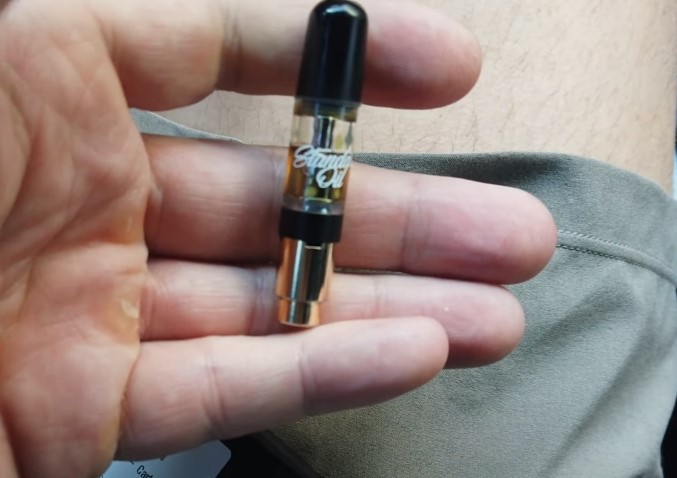 After following a deal tip-off from DankOil, we headed for Oasis Dispensary in Las Vegas, Nevada, to score a Lemon Slushie cartridge courtesy of Standard Oil Co. We found a cartridge with all-glass hardware and a ceramic core for top efficiency, with strong oil inside. We loved the taste of real cannabis terpenes, so much so that Stand Oil concentrate beats out some live resin we've tried. All in all, it was a knock-out cart. Our only complaint is that these aren't available in more places. Check out our full Standard Oil Co. review here.
Vapen Cart : Awesome Strength and Taste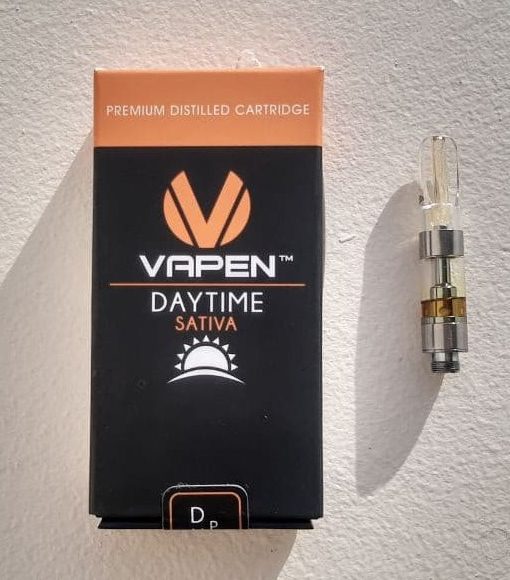 This is the cart that taught us a valuable lesson: Carts that use natural cannabis terpenes hit smoother than carts which use non-cannabis terpenes. Vapen's Daytime Sativa is an excellent quality cart and strong, with smooth hits and consistent oil throughout. The effects are strong and long-lasting. Our only beef is that these carts have a polycarbonate body instead of more efficient glass. Leaving that aside, Vapen makes the list based on its strong and consistent oil. View our whole Vapen review here.
---
Honorable Mentions: Remedy, 8 Fold, AMA/Vader distillate syringes
These three deserve a mention because they are still great products and worth trying out whether you are visiting Las Vegas or are a local.
Remedy is almost there, but that hardware…
Remedy in our opinion currently makes the best flower in the world. Their cartridge is also good due to the high quality live resin they put it in it. The keyword is good and not great. The oil is great but the cartridge is good, and the reason this cartridge is not great is simply hardware.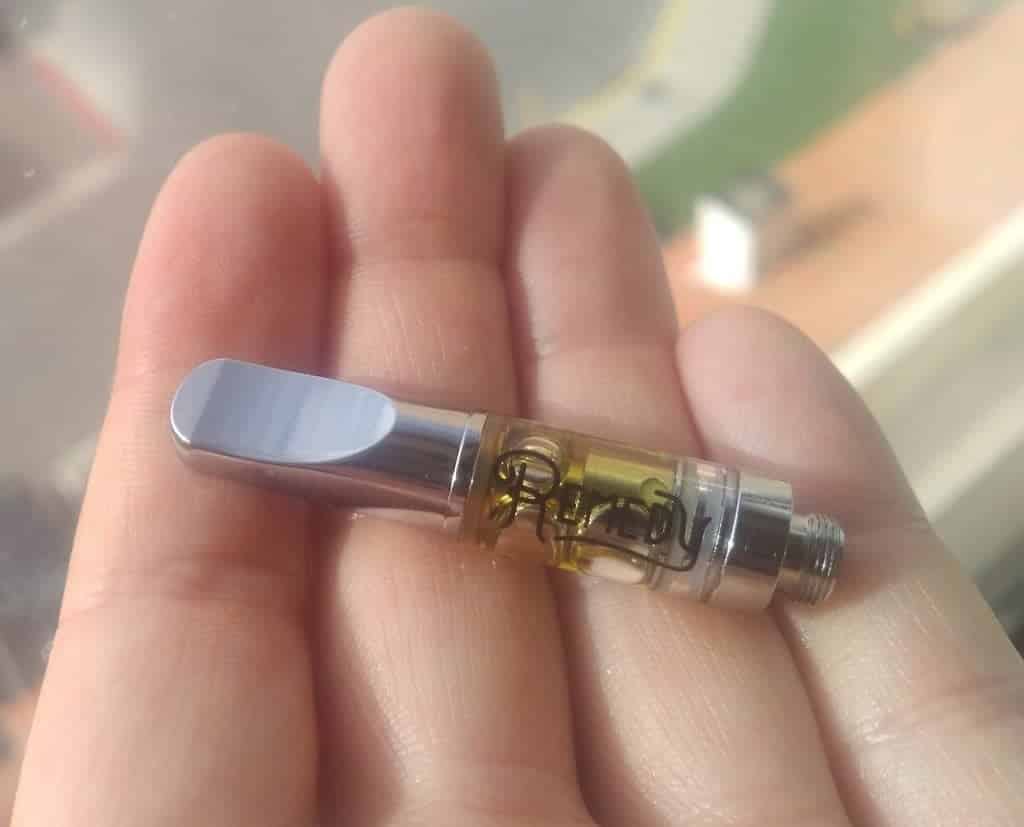 Remedy is using a CCELL clone that just hits poorly compared to an authentic CCELL. When they change their hardware they will be one of the top vape cartridges. I actually dumped their oil into a real CCELL just to see how much better it would be and was amazed.
8 Fold is the best CO2 oil cartridge in Nevada
All of us at DabConnection prefer distillate and BHO in cartridges as opposed to CO2, but not everyone else does. 8 Fold and W Vapes are the only CO2 cartridges we really liked, and 8 Fold is overall the best CO2 cart we have tried in Nevada (and frankly in any state).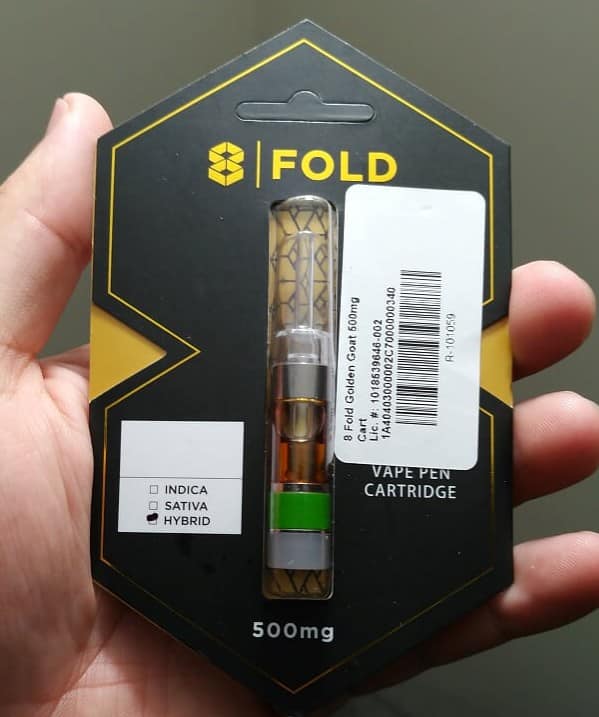 I picked these up at Deep Roots in Mesquite. The strength is stellar and taste is unmatched for CO2 oil. A real unique and refreshing taste for CO2. For those that prefer CO2 over distillate or BHO, 8 Fold is the way to go in Nevada. See our 8 Fold review for more information.
AMA and Vader distillate syringes
AMA is short for Alternative Medicine Association. They focus on making extracts and they also produce Vader Extracts for Nevada. You'll see a bigger variety of Vader products in California than in Nevada, but wherever you are and whatever it is, I'll bet $5 on it that it's awesome. The AMA and Vader branded distillate syringes paired with CCELL hardware will also get you some of the best possible THC cartridges in Nevada. It's not an official vape cart until you make it, but it deserves a mention on this list.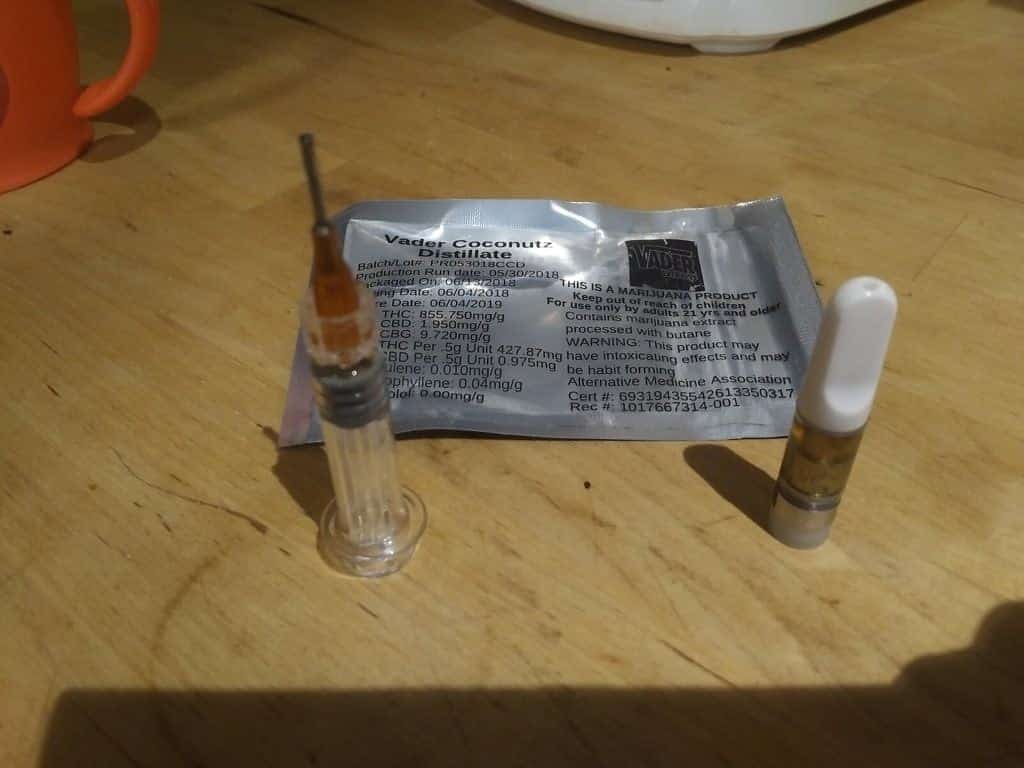 Syringe tip not included, but it should be. That 's our only recommendation to AMA. Including a syringe would be great for these syringes.
Tropical Punch and Green Apple are two of our favorite AMA distillates, and Coconutz is our favorite Vader distillate. Most of their products test in the mid-80's for THC percentage. They also make the Game Time cartridge but it does not make this top list since the hardware has restricted airflow. We wish more brands would give us syringe options if they are going to go a little cheaper on their vape cartridge hardware.
---
Vape cartridges that disappointed us so far…
Not trying to be negative, but I don't want our readers to be disappointed with non-performing brands. So here we are also listing the most non-effective THC vape cartridges in Nevada. There's a lot of other brands out there we have tried and the above list is the ones we recommend most. Many others are not that bad or are just lower strength and some people prefer that. However, some were bad enough and given the awful hardware they use, most our users looking for good strength would want to avoid them until they change.
Here are the brands of cartridges we would avoid purchasing in Nevada at this point in 2019: Kynd Pure, Cannabiotix, and Brass Knuckles. Cannabiotix is surprising because the flower is excellent they produce. The carts just don't live up to the quality of their flower.
Cannabiotix has poor quality hardware
Kynd and Cannabiotix used to use very similar hardware. The only difference we found on our Cannabiotix review was variable airflow. The hardware hits off a wire and is worse than even a knock off CCELL.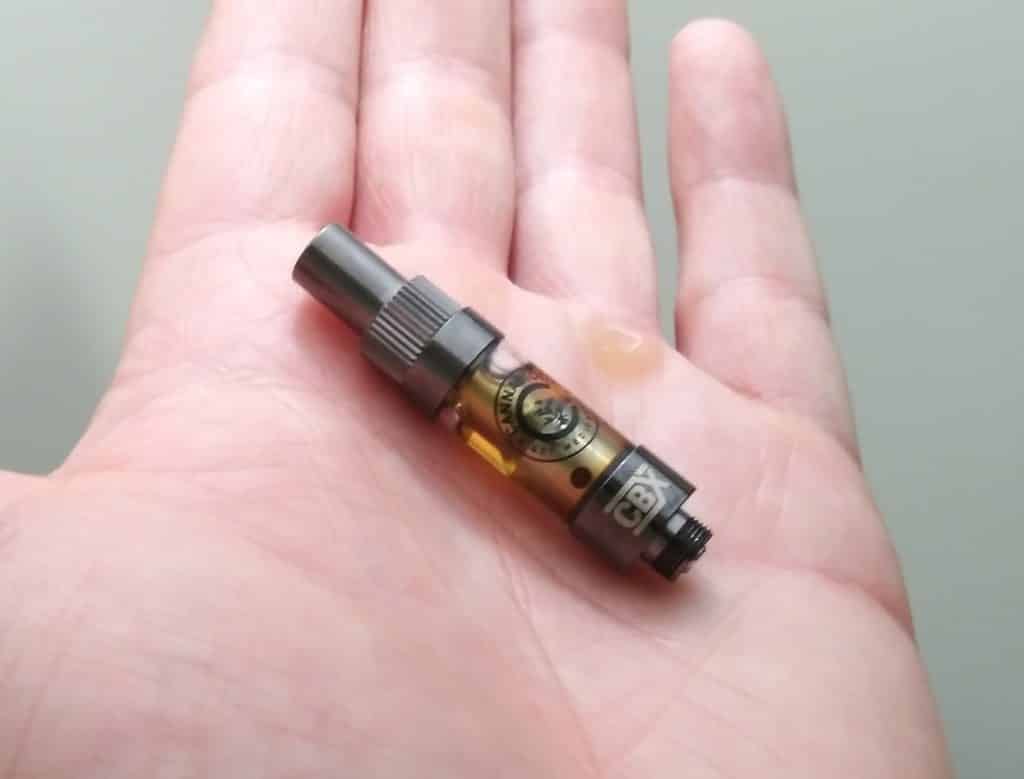 The Cannabiotix oil tastes ok, but it just does not have much strength. We could not tell if it was the hardware or the oil but the effects just are not there. Very unexpected to almost anyone who tries them, as Cannabiotix is considered one of the best flowers in Nevada and we would put them just a hair behind Remedy on flowers.
Brass Knuckles puts up billboards, still uses old hardware
Brass Knuckles use old hardware and just are not that strong. Nevada has a strength limitation on 1 gram cartridges, so automatically they will not get as strong as some other brands since they only have 1 gram offerings. The cartridges are also expensive, ranging from $85 to $120. Don't get fooled by billboards and celebrity endorsements, this brand is a skip when you have so much better available in the Silver State.
Keep the best THC vape cartridges coming Nevada
New brands and new THC vape cartridges are coming out all the time. Nevada has some of the best cannabis products in the world right now. Will Roots hold the top spot? Only time will tell, but at this point they are a few steps ahead of the pack. We'd love to see Cannabiotix come out with better hardware and Kabunky recreate that one of a kind Strawberry Lemonade. As new carts come out we will update this list and mention any particular special strains.
One last recommendation related to this list is battery. Airo Pro uses their own, but for the other cartridges our recommended battery is the Vessel. It's a bit pricey but at this point in 2019 it delivers the best air flow. Our next best and more affordable picks would be the CCELL Silo and Palm. See our best batteries for THC cartridges picks for more info.
Heading to Cali? Check our top selections for the best THC cartridges in California.
What are your thoughts on our list? Any brands we are missing or cartridges you think should be a top pick? Comment below or on our forum!