REVIEW OVERVIEW

Design and Build Quality

9

SUMMARY

Roots
Roots Extracts broad spectrum disposable vape pens are a new take on vaping THC. The effects and taste are not what you get from your typical vape. They taste and feel more like old school hash or a strong joint than distillate cartridges. I tried out three of these whole plant Roots vapes so far and will continue to get them.
Pros:
Strong
Great quality oil
CCELL hardware
Cons:
Available only as a disposable
Recommendation: Add this same oil to the standard cartridge line up.
See our video review here or keep reading on for the more in depth review.
High expectations on Roots broad spectrum vape pens
Roots distillate cartridges that use CCELL TH2 hardware are #1 on our list of the best cartridges in Nevada for 2019.  Roots is a subsidiary of TapRoot Holdings, a Nevada based cannabis company. It is not associated with dispensary Deep Roots, which has a location in Mesquite. Having hit carts from many states, Roots is the best I have tried anywhere so far. Their products sell out at dispensaries in Las Vegas and they don't even advertise. These new whole plant disposables by Roots give that same level of strength with effects not experienced before on vape carts.
For this review we used these strains: Prodigium, Lemon Skunk and Master Kush.
Unique effects on Roots broad spectrum oil vape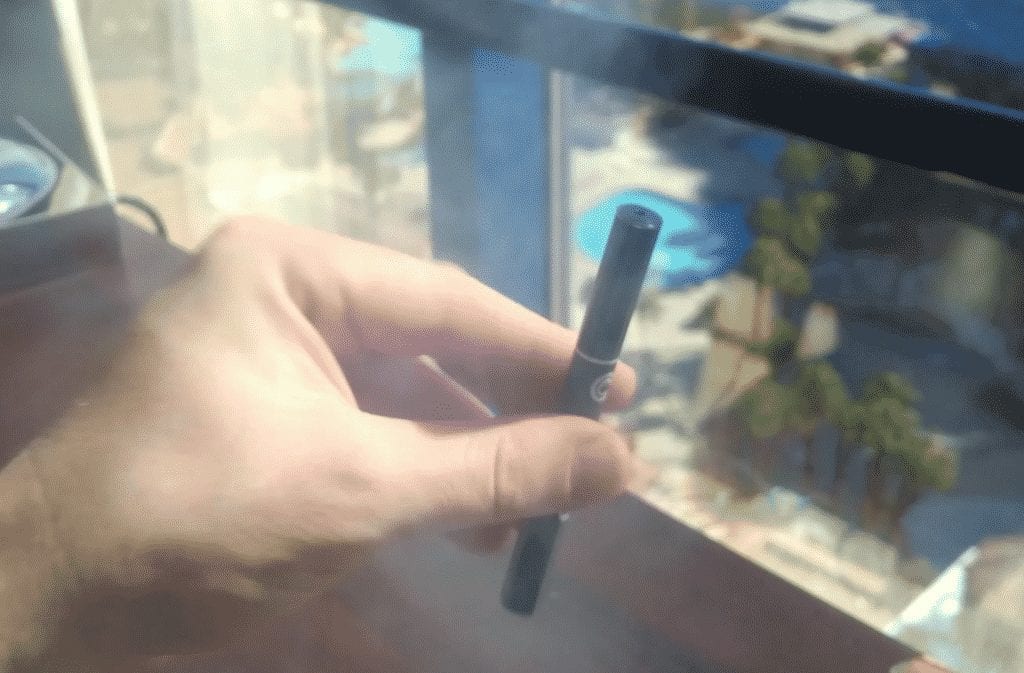 These vapes are broad spectrum and although we are not sure on the technical specs of what makes it different, these give a different effect than your standard distillate cart. The effects are similar to what you would get from a premium bubble hash or a joint that has some mixed in. This has something to do with Roots broad spectrum being the product of a "whole plant" process. It's a unique effect you need to try when in NV.
Lemon Skunk and Prodigum, both Hybrids, provided a nice energetic effect. Master Kush was very relaxing and strong without making you too tired.
Roots disposable vapes also use CCELL hardware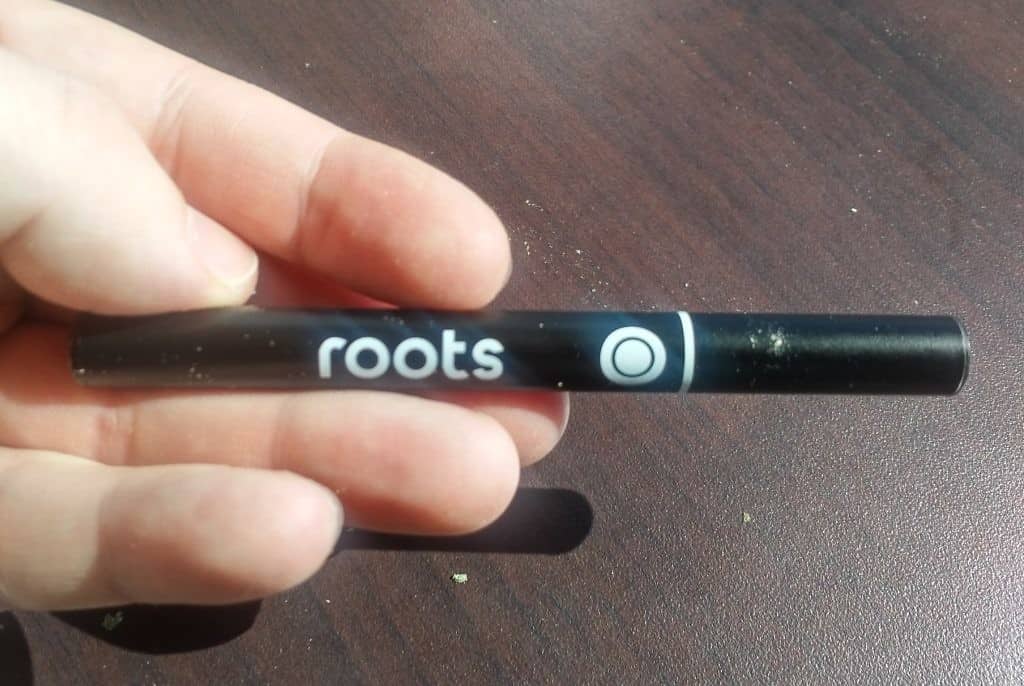 Roots whole plant vapes are using CCELL TH001 hardware. The same used on City Trees vape pens. It's a common, reliable battery type and never had one of these fail on me. You can't see how much oil is left and that's the only downside, but you can taste the difference once you get to the end. Roots uses CCELL across their whole vape line, including non-disposables.
The Roots Circle logos: Full circle = Indica, half circle = Hybrid, empty circle = Sativa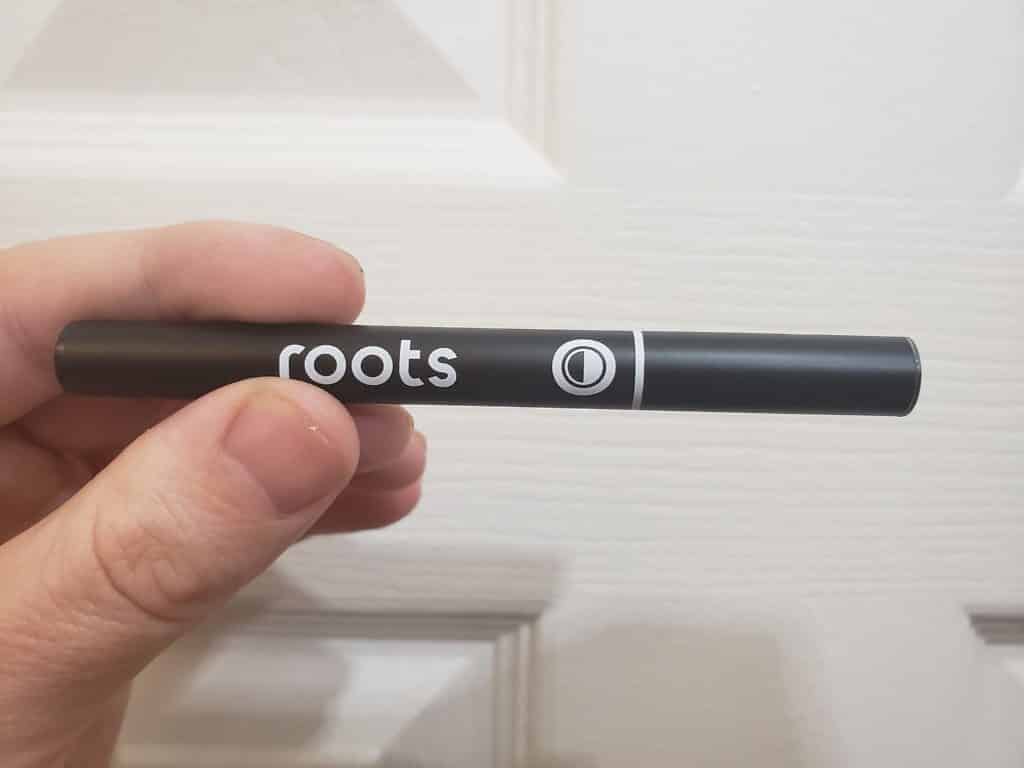 Strains are not listed on the vape pens, but you can tell the type by the circle logo in the center. A filled in circle is an Indica, a half circle is Hybrid, and an empty circle is Sativa.
Oil Quality was consistent throughout
Throughout the cartridge the oil stayed consistent. Great quality oil as expected from Roots. In Nevada testing is strict so basic quality issues like pesticides and residual solvents are not issues. Taste did not change on the oil until the cart was done which is an indicator of good quality and consistency.
Roots whole plant vapes are stronger than joints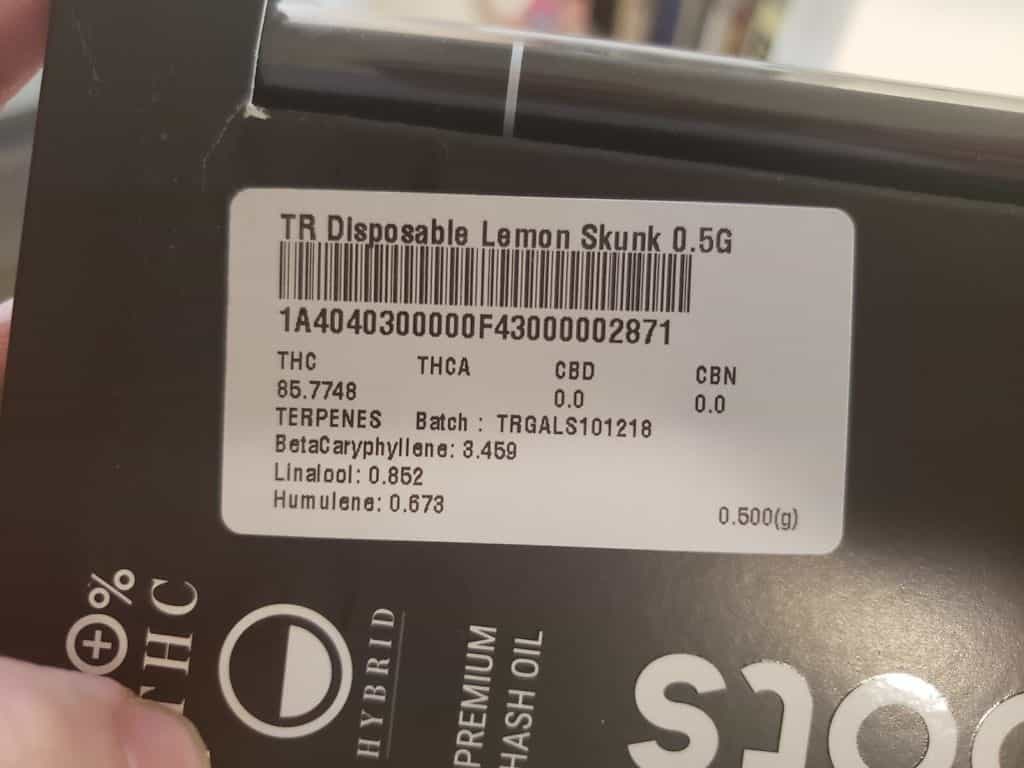 THC cartridges over the past couple years have gotten to that "stronger than a joint" moment, if you got the right ones. The Roots whole plant vapes are definitely above that line and it has more "weed like" effects than other carts we have tried. Something about the whole plant formula gives you the feeling of smoking a really strong joint laced with good old school hash.
Tastes like premium bubble hash
These vape pens taste just like bubble hash. I tried three different strains and they all tasted like a variation of bubble hash. Not like the cheap kind you make in the backyard, but the kind that gets aired out and takes months to perfect. I have tried quite a few nug run bubble hashes, and that's just what these vapes tasted like.
Master Kush of the three had the best taste, but I can't complain on any of them. It tastes like you just got a hit off a premium hash laced joint. There was more of a variance between these Roots disposables on taste than their distillate carts.
Strength is top notch when you have great oil and quality hardware to match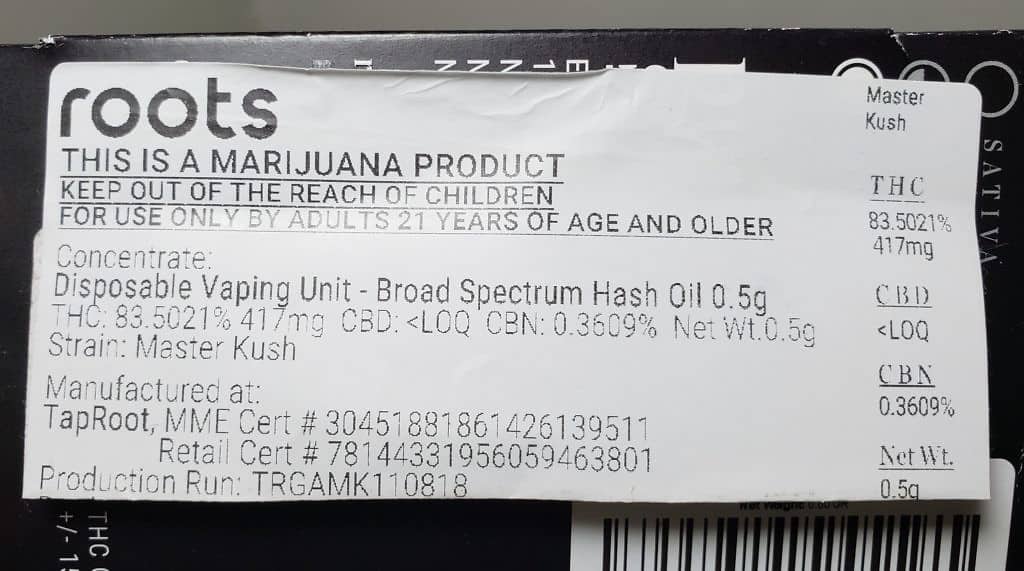 I am on my 8th or 9th Roots product now and strength is always on point with TapRoot products. These Roots broad spectrum disposables live up to the strength. If you are in an illegal state and visiting Las Vegas, you may find in your home town carts are not always as strong as flower and that was the case in most places a couple years ago. Now carts, especially ones like Roots, Select Elite, and Airo Pro are above good weed joint strength.
Good hardware is key for strength and Roots delivers
When it comes to disposables, the TH001 used by Roots and the DS0103 used in the Select Weekenders are the best. Quality CCELL hardware makes a difference and especially the newest generation. Kabunky cartridges went from one of the best, to something we wouldn't buy, when they switched to an old version CCELL cart. They switched back since then and also made our top list for Nevada, albeit below Roots.
In fact, all top 5 carts on our best of Nevada list use CCELL manufactured hardware. Airo Pro does and ranks #2, it's just not advertised.
Strength is consistent, similar across strains
Between the three THC vape pens strength was consistently strong. One was not particularly weaker or stronger than the other even though tested THC varied. THC percentage is not always everything. Good example is the Roots Cheese cart coming in the lower 80s yet being stronger than Select's GDP in the higher 80s.
Roots broad spectrum regular carts coming soon?
One thing that could make this stronger would be a standard style CCELL cart on something like the Vessel battery. We are sure it is just a matter of time until this oil comes out in regular cart form. Even in the TH001 disposable it still outperforms a lot of other standard CCELL-based carts from other oil companies due to higher oil strength.
Efficiency is improving all over
This category more and more cartridges are scoring high in. Roots uses very efficient hardware and you can taste it at the end when it's done. The only downside of the TH001 used on the Roots broad sprectrum is you cannot see the oil, so you have to go on taste to figure out when it is over. We have to say at this point most cartridge systems are efficient that are CCELL or a similar clone. The only major brand that still has significant efficiency issues is Brass Knuckles. BK carts are known for dying early.
Number of Puffs high, Roots oil is thick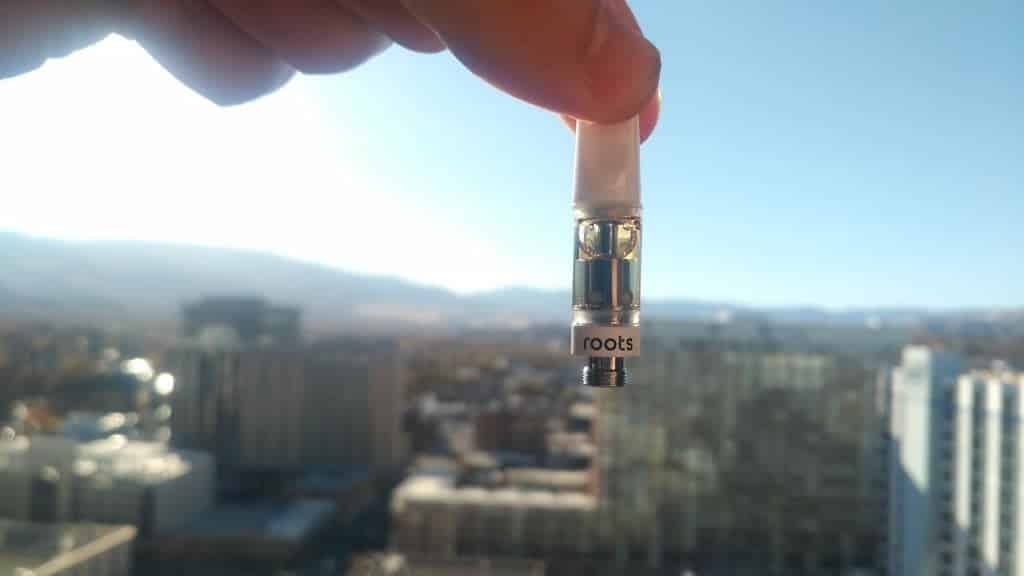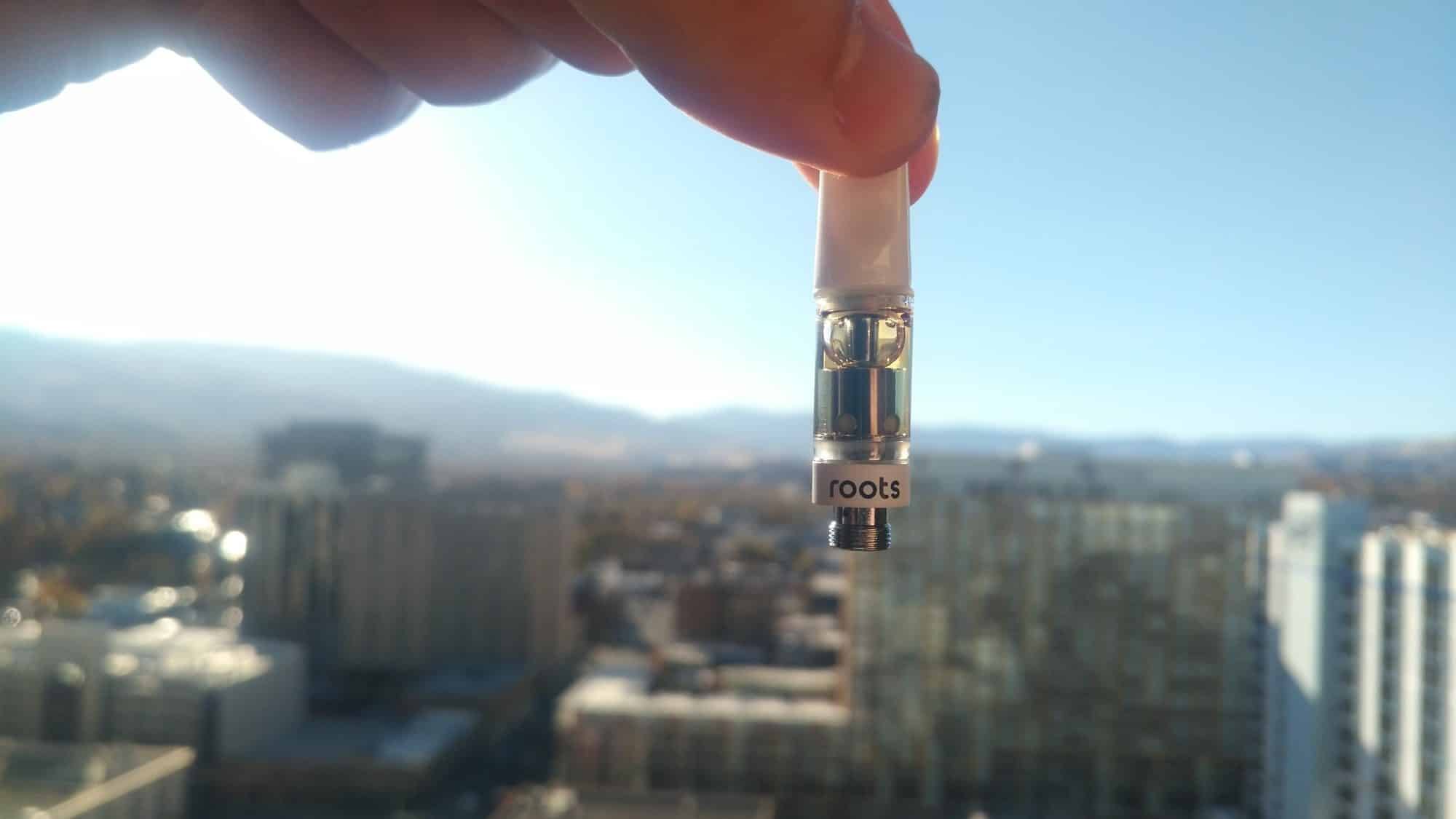 Roots oil on their regular carts was very thick and I am thinking it is the same on these even though I can't see it. Above is a picture of a standard Roots distillate cartridge. That's because these disposable vape pens from Roots also last a long time. It does not seem like runny oil you would find on something like the illegal Cereal Carts.
Prices are standard for NV, but value is good since it's a better than standard vape pen
Roots disposables are $45 per half gram at most dispensaries, including our favorite Essence Tropicana West. You might find them on sale sometimes, but Roots items are in high demand and often are sold out, so I would not wait on a sale for these. $45 per half is standard pricing for Nevada and you will see most carts priced around that range. Brass Knuckles and Select Elite are more expensive, but Roots is better than both.
What others are saying about Roots on WeedMaps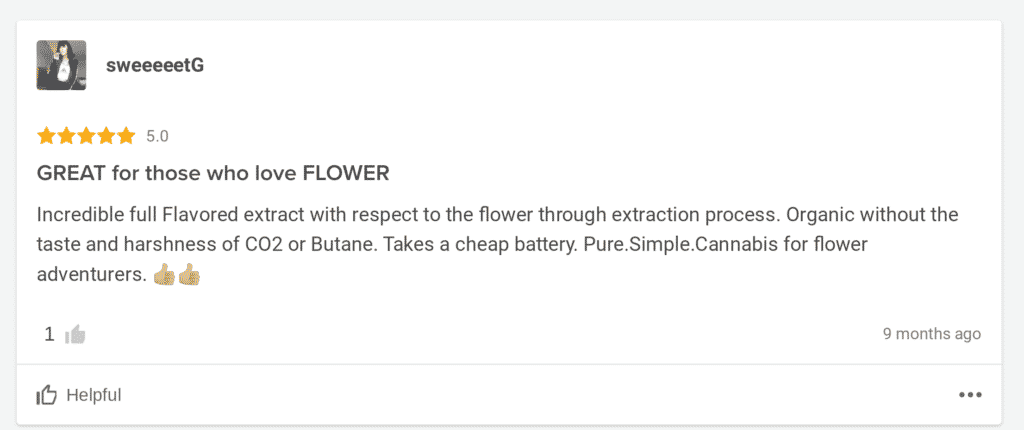 With Roots products you won't see a billboard, celebrity endorsements, or paid placements on WeedMaps. You just get excellent THC oil products and the word of mouth spreads. Check out their WeedMaps reviews and see why they have an overall 4.8/5 rating. On top of that, many of the products have multiple reviews and are straight 5/5.
Concluding our Roots broad spectrum review…
Roots broad spectrum vape pens proved to be a great quality THC vape pen. The oil is the high strength level we have come to expect from Roots. They use proven hardware that delivers quality hits. Since it's Nevada, there's not a fear of vaping pesticides of residual solvents with your THC oil.
We highly recommend trying anything from Roots, but make sure they are in stock before you get to the dispensary, since they do sell out. When in Las Vegas or Reno it is our go to brand for strength. You can find their products here on Weedmaps.
Questions or comments? Post below or in our forum!