REVIEW OVERVIEW

SUMMARY

The 8 Fold cartridge proved to be the best CO2 oil vape cart we have tried. Quality oil and hardware combine to make this a great pick.
8 Fold is a cannabis cultivator located in the State of Nevada. The 8 Fold cartridge is the  best CO2 oil vape cart we have tried. Flavor, strength, oil quality, and a new gen CCELL atomizer make this our top CO2 vape cartridge pick for Nevada.
Pros:
Overall best CO2 oil THC cartridge
Great taste for CO2 oil
Strong and long lasting effects
Uses newest generation CCELL cartridge
Cons:
Ceramic top CCELL cart would be preferred.
Recommendations:
Would like to see 8 Fold come out with a distillate or BHO cartridge. If their CO2 oil is this good they can probably make another top notch vape cart with a different type of oil.
8 Fold made a special mention on our post where we picked the best cartridges in Nevada due to it's high strength.
Licensing Information: Lic #727929514787800009507
The 8 Fold vape cartridge offers and all around great experience
8 Fold THC cartridges are made with CO2 oil rather than distillate, which most of us here at DabConnection prefer. One huge difference between 8 Fold and other CO2 cartridges though is the taste. CO2 THC cartridges often to not taste so great, like the cartridges by Kynd for example. The only other decent tasting CO2 vape cart I have tried is from W Vapes, but 8 Fold's not only tastes better, it uses the new gen CCELL cartridge which makes a huge difference over the old CCELL cart W Vapes uses. The strain tested in this review is Golden Goat, a Sativa dominant hybrid.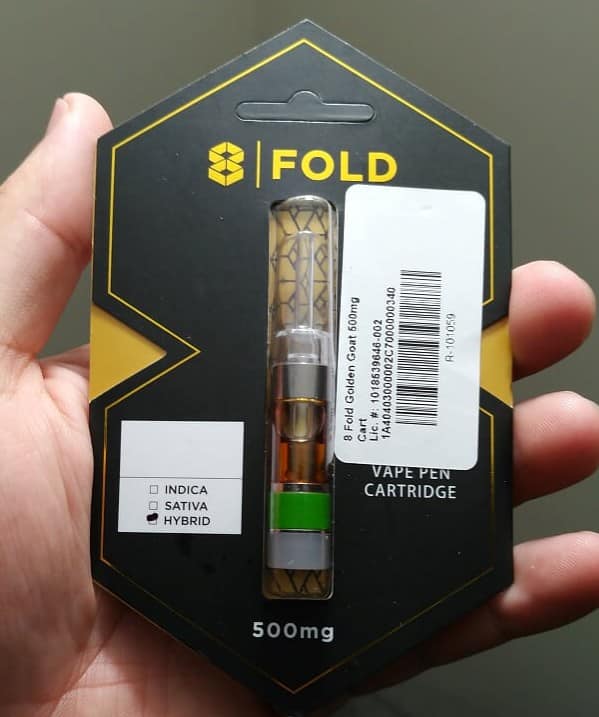 Design and Build Quality are top notch for 8 Fold
8 Fold cartridges use the current generation CCELLs. At the time of this article,  these CCELLs are the most reliable and best hitting vape cartridges out there and work best with CCELL batteries like the Palm. The only thing I would like to see changed hardware wise is I do prefer the ceramic tip CCELLs to the plastic ones. The reasons? The ceramic tip ones have a glass body I feel more comfortable heating up and they also have a screw on instead of pressed on top. Easier to refill and use with other oils when your cart is empty. Even plastic CCELLs are better than systems like Stiiizy Pen and miles ahead of a wicked system like we found in our G Pen Gio review.
8 Fold cartridge has excellent quality CO2 oil, some of the best I have tried
The only other CO2 oil so far that has been on par with 8 Fold is that out of the W Vapes syringe. 8 Fold's CO2 extract is consistent all around. No clouding or changing of the consistency at all throughout the cartridge.
On the top end of strength for any THC cartridge
8 Fold's cartridge is on par for strength with other top Nevada brands. I would put it's strength on par with Select Oil which has kind of "set the standard" in consistently strong products. Comparing to another Nevada only brand, it was stronger than the Game Time THC cartridge. Oil strength was on par, but the better hardware used on the 8 Fold vape cart puts it ahead.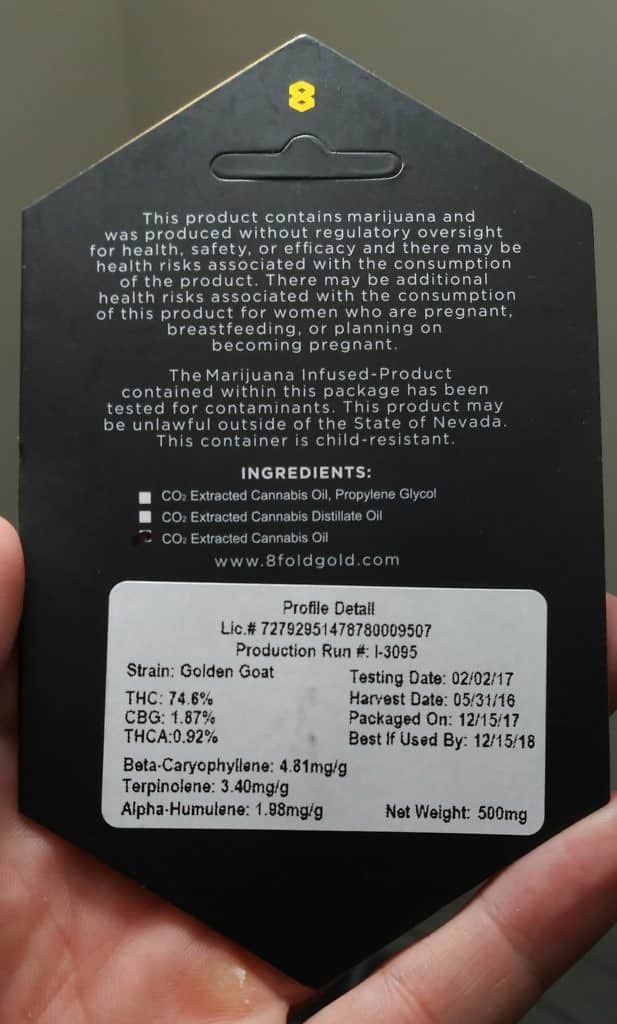 THe 8 Fold cart is further proof that THC percentage is not everything. Golden Goat comes in with a THC strength at 74.6%, but is stronger than many other cartridges in the 80s.
Taste was surprisingly good on the 8 Fold vape cart
CO2 oil is not known for its great taste. The 8 Fold cartridge tastes surprisingly good and is one of the reasons we are naming it the best CO2 oil THC cartridge in Nevada. I have never tasted a CO2 oil cartridge that tasted this good. Only thing that came close was the W Vapes oil as mentioned above, but that came in a syringe and I filled that into a CCELL cart.
Efficiency is as good as it gets with new gen CCELL
Most cartridges have near perfected efficiency at this point. The new generation CCELL cart used by 8 Fold is no exception. A completely efficient system. A factor of efficiency not often mentioned is the battery. Using a proper battery for the THC cartridge makes a big difference. I found the CCELL Palm worked best when paired with this cartridge, probably because their testing and research is done with these batteries. Same thing is probably true with the Omicron v5 and using a W9Tech battery.
Number of Puffs was excellent
The CO2 oil on the 8 Fold THC cartridge is pretty thick so it vapes nice and slow. I felt like I got more hits out of it than I do out of the distillate cartridges I am hitting most of the time.
Value was great as it lasted long
8 Fold's cartridge lasted a long time. I paid a little more than I normally do by getting it at Deep Roots Mesquite. The same cartridge in other regions would be lower priced, especially in Las Vegas. I recommend checking Essence Tropicana and NuWu Dispensary for the best prices. They seem to consistently have the best prices in Las Vegas on non-house brand products. The cartridge in Mesquite was the same price as others, not more or less, so comparatively it provided excellent value considering it lasted quite a while.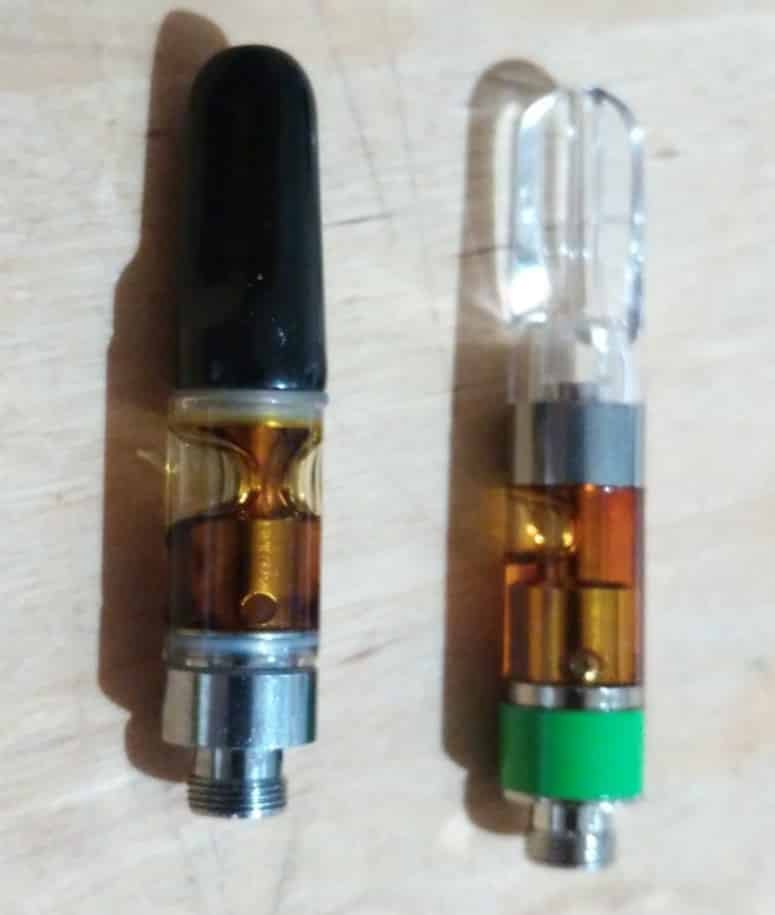 Concluding our 8 Fold cartridge review..
Overall, the 8 Fold THC cartridge is excellent. Most CO2 carts I do not even like. This one I would put above many distillate cartridges. Taste is as good as it has ever been for CO2 oil carts. Price was on par with other carts but it delivers a superior experience. 8 Fold used the new generation CCELL cartridge, which currently is the best hardware for THC oil out there. In the future I would love to see a distillate and/or BHO oil cartridge from 8 Fold. You can find more information on 8 Fold here.