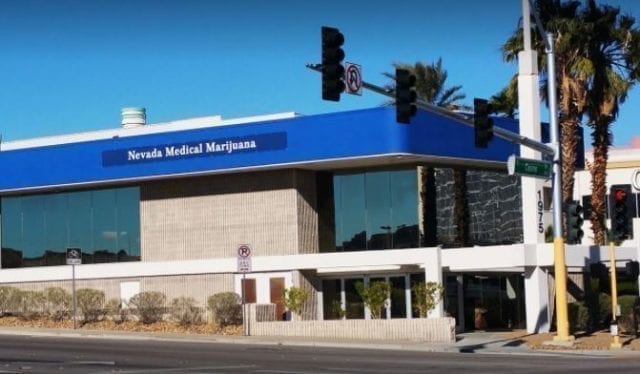 New Nevada laws make the use of recreational herb legal, but why change an old catchy name? Whether rolling into Laughlin or resident for years, you'll find the same dispensary in town that has been there for years, now with a new name. Nevada Medical Marijuana is now Nevada Made Marijuana and it's open 24 hours, 365. In full compliance with state law, Nevada Made Marijuana serves patients 18 years or older with a medical card. Out of state cards work just fine. Any resident or non-resident 21 years of age or older with a valid government ID is also welcome without a medical card. So how is the environment and how are the surroundings? Better yet, find out all about the goodies you can get at Nevada Made Marijuana in Laughlin.
Updated 01/15/2018: Buds improved over previous visits. California's new taxes make Nevada weed an even better value.
Updated 08/04/2018: Updated by Bert who went there a bunch of times and tried more stuff. NMM Laughlin is now open 24 hours a day.
NMM – Nevada Medical Marijuana Dispensary Review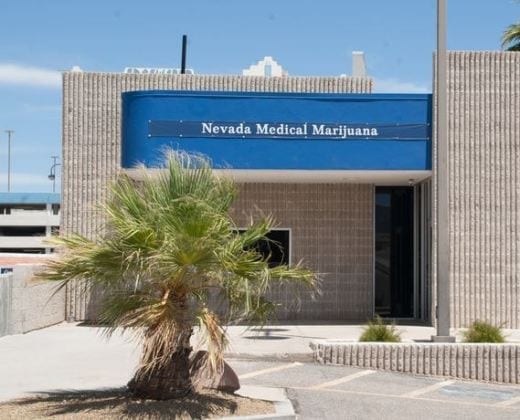 Patients and connoisseurs of cannabis will find the NMM dispensary name in two locations. There's stores in both Laughlin and Henderson, NV. This review focuses on the Laughlin location which you'll find smack in the middle of town. The dispensary sits at 1975 S. Casino Dr., Laughlin, NV, 89029, across the street from the Edwater Hotel and Casino. Nevada Made Marijuana boasts one of the larger show rooms for their products.
Looking out the glass windows of the corporate like suite, one can see the Edgewater & Regency Casinos. On a side note, Daniel's Diner at the regency is probably the best place to eat in town. The Colorado River sits directly behind them in the background. A quick look at customer feedback suggests that prices and availability are still issues in the Silver State. Dig into NMM products, prices, and service as DabConnection takes a closer look. You'll know what to expect next time you hop into Laughlin for a bit of adult entertainment.
Top Strains – Quality Of Flower At NMM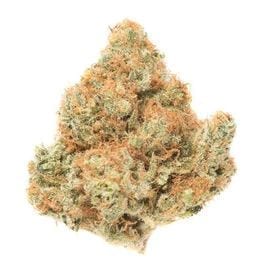 If you're visiting from places like San Francisco or San Diego, expect to find a much better selection of bud. NMM Laughlin used to have a weak selection of bud that included a lot of Prime, a brand that is not preferred due to its inconsistent quality. We think Prime may have been relabeled to Kabunky as this seems to be their house brand. Whatever they did it worked. Kabunky has much better flower. Quality is good and the buds have THC levels on the labels, but selection is low. As of the day of this post, Nevada Made Marijuana is offering 2 strains of Indica, 2 Sativas, and nothing on the hybrid menu. Of course that is subject to change from day to day. I have been there and they said come in tomorrow for the re-stock. This place is very busy and sells out of stuff fast.
Weed Brands To Get
I have tried almost every brand in the shop. The best brands they have here for weed are The Grower Circle, Willie's Reserve, Remedy, and Polaris. I would like to see them have Cannabiotix in stock.
I am not a big fan of Matrix although some of their strains are good. Virtue sometimes has exceptional flowers too and is worth checking out.
Best Prerolls At Nevada Made Marijuana Laughlin
I would avoid Redwoods individual prerolls and the Redwoods Stacked Deck, even though you would think it is good since Redwood makes Willie's Reserve, but the herb is grainy. The Grower Circle pre rolls are usually $2-3 more and it is well worth the extra. It is all nugs.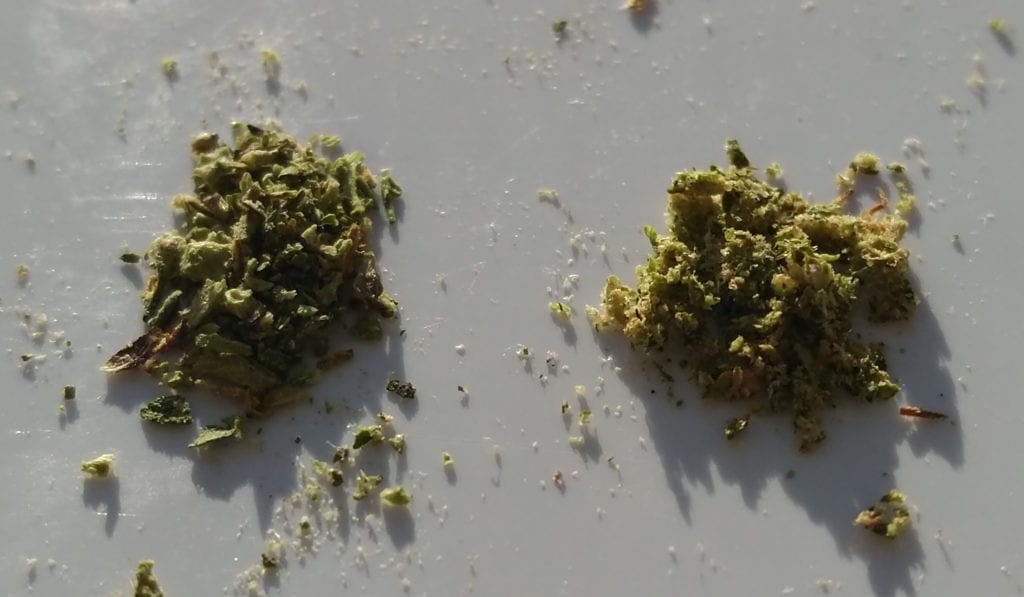 Prices are pretty close to California. Eighths run for $55.00 to $65.00. Double the amount and get a quarter for $110.00, a $10 discount. Medical patient prices are about 10% less than the recreational prices we mention here. Medical patients also go through a much less wait time and are serviced first. The current selection of Indica gives you a choice between Virtue XXX OG or Virtue Fire OG. Choices of Sativa fall to Matrix Clementine or Matrix Tangelope. One benefit of the strain selection is that they are all high quality (except Tangelope, it smells good, but is weak as can be). Many Cali dispensaries do charge that much for top of the litter batches, and it is not as clean as the stuff here.
Everything in Nevada is batch tested. Although it is required in California, it is poorly enforced. You get pesticide free weed in Nevada, and that is a plus.
Updating this review in January of 2018 to reflect the several visits since it was "earthy." The dispensary has recently had much better strains in stock on the herb. They now sometimes carry Cannabiotix as well, but I have missed that each time. Remedy's Outer Space strain was in stock last time and was amazing quality.
NMM Features A Good Selection Of Cartridges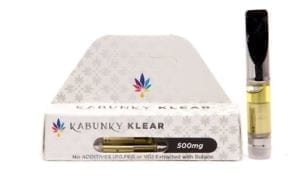 If your vape pen needs a recharge and your cartridge is out, NMM offers several choices. The cost doesn't come down, but the selection does go up. Their current selection of cartridges numbers 20, with brand names such as Kabunky, BaM, Rove, and Cannahemps leading the charge. Prices start high at $70.00 for a half gram cartridge and don't go any lower. There's one Kabunky Acapulco .5 g cartridge for $40.00. Get it while supplies last. Cannahemps offers 4 choices in CBD oils with 0% THC for those that don't want the psychoactive effects.
Both BaM and Kabunky made our best cartridges Nevada list.
Best Vape Cartridges At NMM Laughlin
Kabunky Strawberry Lemonade comes in an 86% THC version. Get it if it is available. This is one of the best vape cartridges anywhere. Amazing taste and very strong. You can also find Select Oil cartridges and BAM G Pen Gio carts here.
Not a big fan of the Gio, but if BAM 91% THC Bubble Gum is in stock, you should get it. G Pen Gio batteries are only $25 here, cheaper than the $29.99 online, and even a little less than $25 I think if you are medical patient. Prices in general on actual filled carts are higher than in CA, but you pay for tested and clean stuff.
Best Vape Cartridge Prices at NMM Laughlin
Best deal is on vape carts is on Thursdays when they have sales on Kabunky carts, I believe $45 instead of $70 (recreational price). They do not do it all the time so call to ask before you go.
Out Of State? Bring Your Medical Recommendation.
Medical patients in NV go through a faster line and pay less in taxes, even if you have a medical marijuana rec from another state. CA residents be sure to get the cheapest medical card for $19 here before you come if you do not already have a medical recommendation. NMM Laughlin accepts a copy (which gets emailed to you quickly).
The Dabs Are Fabulous At Nevada Made Marijuana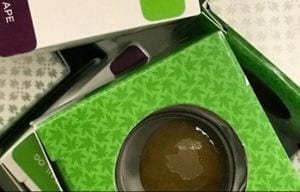 On the current NMM menu you'll see around 60 concentrates. 16 or so of those are cartridges, which leaves the rest for dabs. Choose your form of cannabis concentrate be it wax, crumble, or live resin. Rosin Pucks by Kabunky are a popular choice and they give you more bang for your buck. Instead of buying a half gram cartridge, take a full gram Rosin Puck for about the same price.
Speaking of price, you have a better range when perusing the non-cartridge concentrates. The current selection shows full grams of Kabunky Krumble for $50.00. From there prices skip the $60 slot and go right up to $70 or $80. Fortunately those prices are all for full grams. Besides Kabunky krumble, pucks, and distillate, you'll come across brands like Giddy Up. Another fine maker of pure cannabis extracts. Try their Cherry Diesel Live Shatter at 79% THC for an experience of both purity and taste.
Best Concentrate Prices at NMM Laughlin
On Tuesdays Kabunky crumble and shatter is $20/g. The stuff is great quality too, some of the best crumble I have had. This sale does not always go, so call before you go.
The Nevada State Lab Test Mandate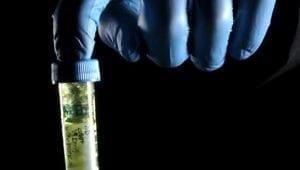 In Cali, it's quite usual to find daily deals, first time patient deals, and even happy hour savings. Things run a bit different in Nevada which is both a blessing and a curse. Instead of how it is in Cali where dispensaries pop up and compete against each other, Nevada dispensaries follow a strict set of guidelines. It's worth having your medical card. For one thing the lines are faster for cardholders. It doesn't matter where the card is from. Another benefit of having your medical marijuana card is you pay less tax for cannabis in Nevada.
Every product a Nevada dispensary places on its shelves must pass tests for purity. Whether it's buds, concentrate, or even CBD oil, it all must state the level of THC. Lab test results are available upon request and include levels of THC, CBD, CBN. Myrcene, Limonene, and Turpinolene. Some Nevada dispensaries offer a 10% Vet and Senior discount too. Unfortunately, Nevada Made Marijuana is not one of them. They do include all taxes in their listed prices.
Customer Reviews On NMM – A Strong Cali Bias
Distinguishing the California reviews from those of Nevada residents isn't tough to do. Outside visitors complain about the selection and the prices without realizing the benefits. Nevada mandates may make it harder to carry a wide selection of flower, but it's all tested for purity. You don't get that guarantee with every California dispensary, which means you might not know what you're consuming. That's never the case in Nevada.
I can personally say as a California resident, the weed at Nevada Made Marijuana is better than almost all the dispensaries in Los Angeles or San Diego. I call it the California Crackle, but it is very common to get weed that crackles in CA, not from seeds, but from improper flushing and curing. As of 2018, California taxes now make most of the marijuana in it's dispensaries the same price or higher than Nevada. So you are better off with Nevada weed due to it's verified processes.
However, comparing Nevada to Nevada, Essence in Las Vegas had a lot more Cannabiotix selection, which would be nice here.

One shining example that comes through about NMM, even in the tough reviews, is the excellence of customer service. Informed budtenders are available at all times to ensure you make the best purchase for your needs. Aubrey and Mike are currently receiving tons of praises from the public. There also is a no tipping policy. However, if you mention your budtender on Weedmaps, they get $20, so do that as your tip.
Weedmaps puts NMM at a 4.6 rating out of 5 possible stars and a total of 455 reviews. That's an incredibly good rating considering the amount of out of town complaints. Reviews like the one from Budsandsudz show a dislike for the prices, but an affection for the knowledge and service of the budtenders.
Final Thoughts & Considerations About The Nevada Medical Marijuana Dispensary In Laughlin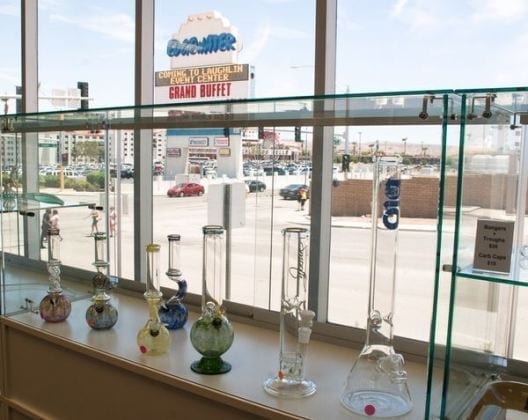 With full knowledge of what to expect, you can prepare for your visit to Laughlin. You might have to add a bit to your bud budget, but the overall quality is more than worth it. If you don't have a vape pen with an atomizer for crumble and shatter, you might consider getting one. Prices on dabs are way cheaper than filled cartridges. Spend a few minutes window shopping the several glass cases that contain vaporizers, water pipes, and blown glass pieces.
With any luck you'll find a better selection of flower when you go, but the Nevada mandate provides a level of quality assurance one can appreciate. The mandate also rubs off on the budtenders who naturally receive more knowledge about their own product. NMM is a good dispensary, but if I was passing through Las Vegas on the way to Laughlin anyway, I would check out what we named the best dispensary in Las Vegas: Essence Tropicana West. Prices are lower and the selection is larger.
Helpful tips and a friendly smile really does make the customer experience worth coming back for. Call them before you go for specials mentioned here at (702) 737-7777. Stop into Nevada Made Marijuana the next time you're in Laughlin and let DabConnection hear about your experience!