REVIEW OVERVIEW

Design and Build Quality

5

SUMMARY

The G Pen Gio is really close to being a great oil pen system, but the wick is holding it back.
The G Pen Gio is an oil pen system sold by Grenco Science. The pods are not sold empty, but are used by a variety of manufacturers including BaM. The biggest flaw we found doing this G Pen Gio review is the wicked atomizer. The battery is great and so is the form factor. With minor improvements, the Gio could be a top tier contender.
UPDATE 7/10/2020: The Gio pod has been updated to a wickless ceramic heating core. We'll be updating this review soon.
Pros:
Battery build quality is great
High end feel
Pods can be refilled
Long battery life
Great companies making oil for it
Cons:
Wicked atomizer
Wick burns when hit too hard
Potential headaches from burnt wick
Recommendations: Change the core of the atomizer to wickless and make the mouthpiece easier to remove. This could be a great oil pen with a better atomizer core.
Watch below our video review that goes over the basics of the G Pen Gio vape. Keep reading to see our more in depth review of the vape pod system.
We were hoping this would be a high quality product and it turned out to be lacking in a key aspect of any oil pen: the atomizer.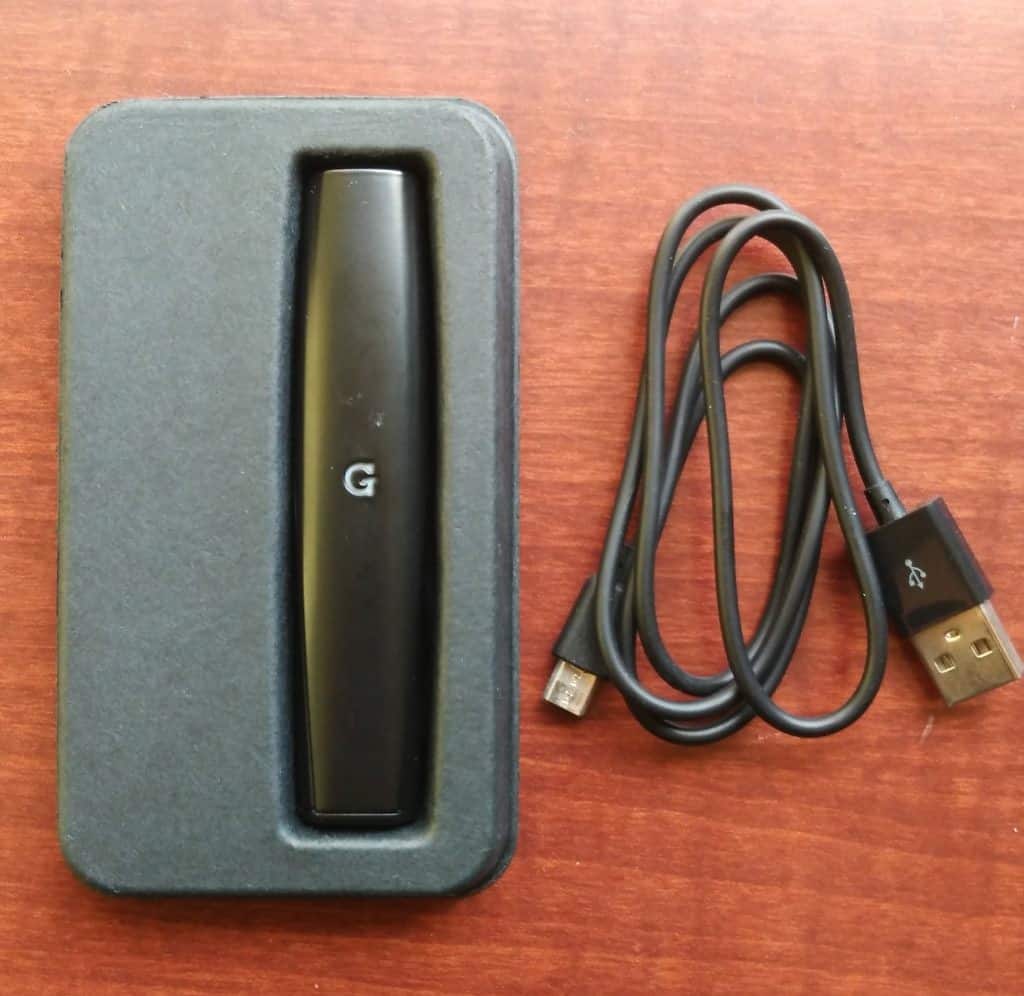 G Pen Gio has a cool battery, but outdated atomizer heating element
Using wicked atomizers has been around since the early days of wax pens. They initially all used metal coils wrapped around cotton or silica wicks. G Pen Gio is stated by some (and not Grenco itself) as being a ceramic core vaping system like CCELL or Stiiizy Pen, but it is not. I have not seen any advertisements or information directly from Grenco Science claiming it is a ceramic core, but have heard some people state they thought it was. I do not expect them to be breaking down atomizers either.
Breaking down the Gio, what's inside?
We did a Gio atomizer breakdown prior to writing this review and below is a picture of the atomizer from that post.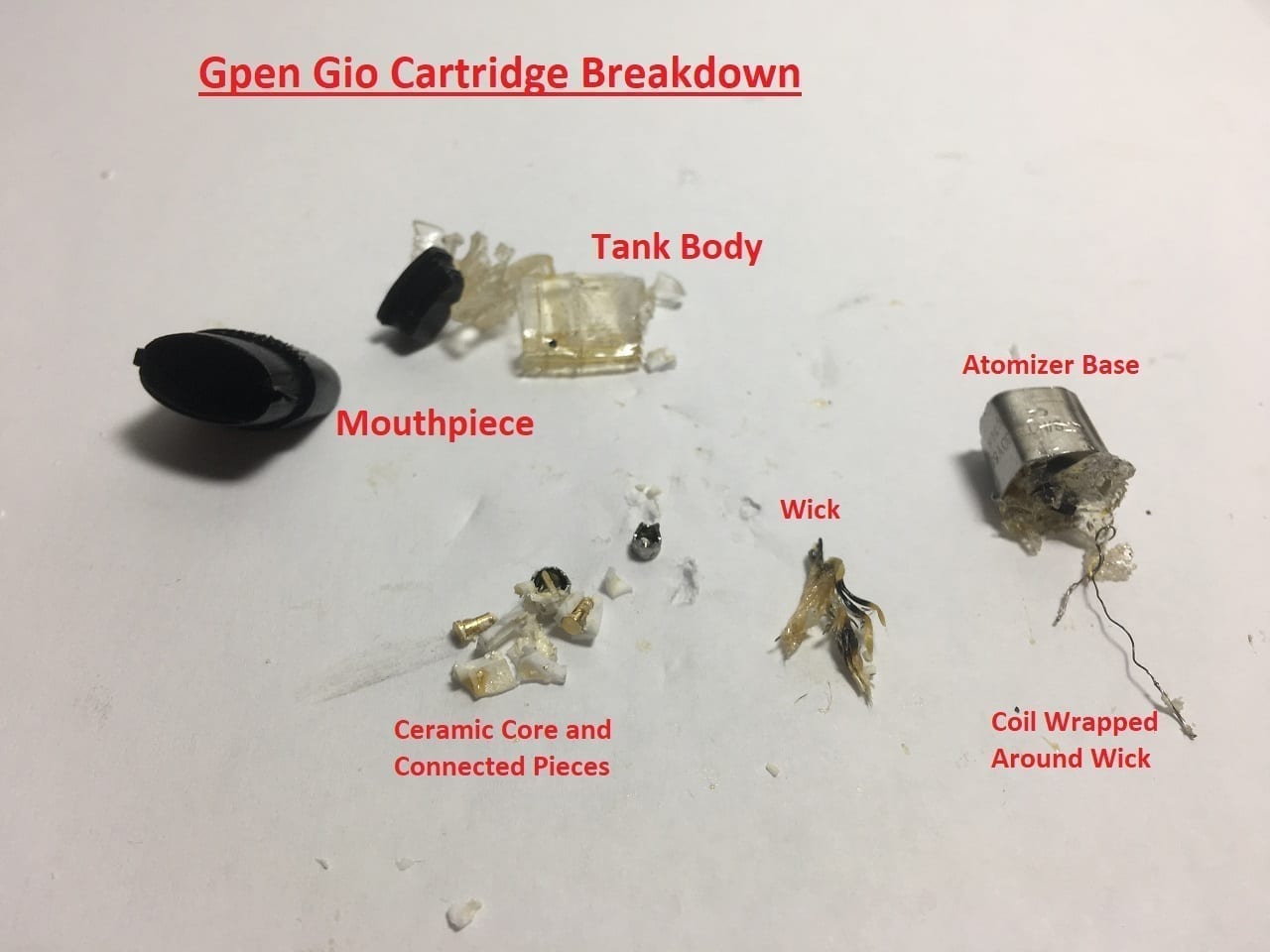 You can see that it uses a wick and a wire. That's old tech that should be updated. If they updated it to a ceramic core and used the same battery, the G Pen Gio could be one of the best cartridge systems.
What currently is better than the G Pen Gio? There are many options out there, including the new CCELL style cartridges. However, BaM Gio pods use such great quality BHO oil, you might not find better BHO in another cartridge. Their Bubble Gum strain comes in at a very legit 91%. They even made our list of the best cartridges in Nevada, despite the Gio hardware.
The G Pen Gio is very easy to use
The Gio vape uses a pull draw system. No button to push. Just put on a pod and hit it. Extremely easy to use and the atomizers fit in really nice. This vape has a lot of potential with a change up in the atomizer core.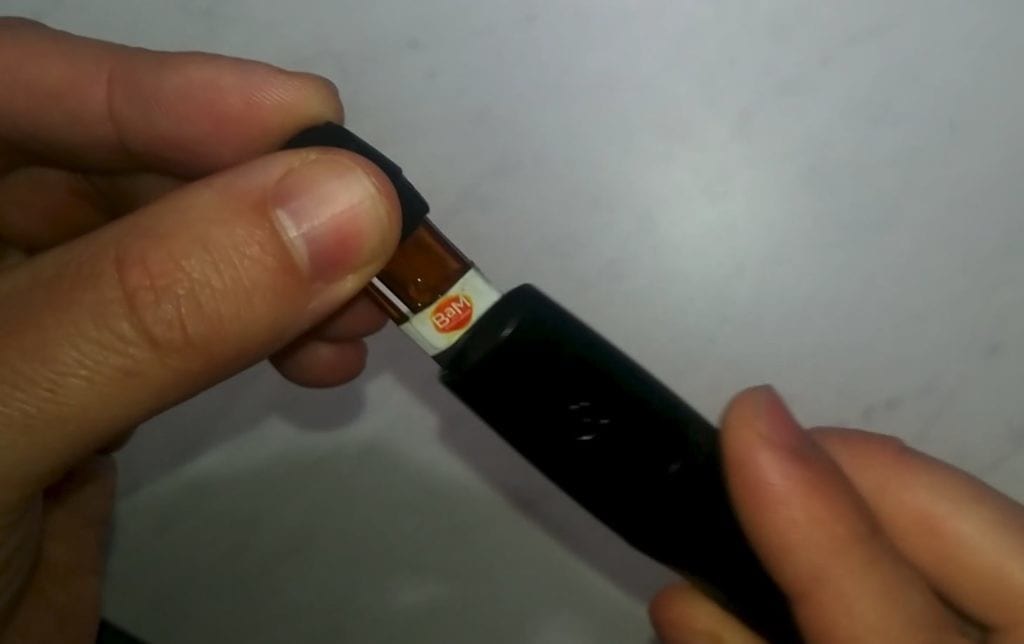 Hits are strong on the Gio vape, but partly due to the wicked atomizer
The G Pen Gio seems like it would hit hard even if it used a ceramic core or other type of non-wicked atomizer. The battery activates quicker on the draw than many other pull draw systems I have seen before. Unfortunately, the wick also burns when you hit it hard which is giving some of the strength in the hit. My friend who tried the Gio and is not a regular smoker got a a headache from it, probably from burning the wick. He did not want to hit carts after that for a while. Months later I convinced him to try a CCELL ceramic core cartridge and he said his faith was restored in THC cartridges.
Gio Pods are ultra efficient, very little oil left stuck at the end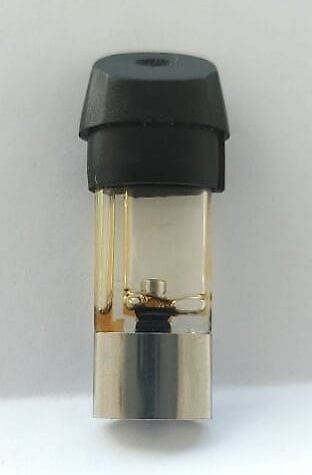 As we saw on the BaM pods, the G Pen Gio has excellent efficiency. Very little wax is wasted on this setup. A small amount of wax is absorbed into the wick but this would be the case on most ceramic core atomizers as well. The Gio might even be more efficient than most ceramic core atomizers. This thing has potential, just get rid of that wick!
Portable, discreet, great feel and form factor
The Gio vape might be the best form factor I have seen for any prefill pod or cartridge setup. You can tell they went the extra mile on the grip of the battery. In that category it truly is first class. You can hold it comfortably and in a very discreet fashion at the same time.
Taste is good if you hit it very light, hit hard and it burns
The key to hitting the G Pen Gio is not to hit it too hard. Keep hitting it light and it tastes much better. Hit it too hard and you burn the wick. I am not sure if you may burn it anyway without hitting it hard, but I am sure hitting it hard does burn it.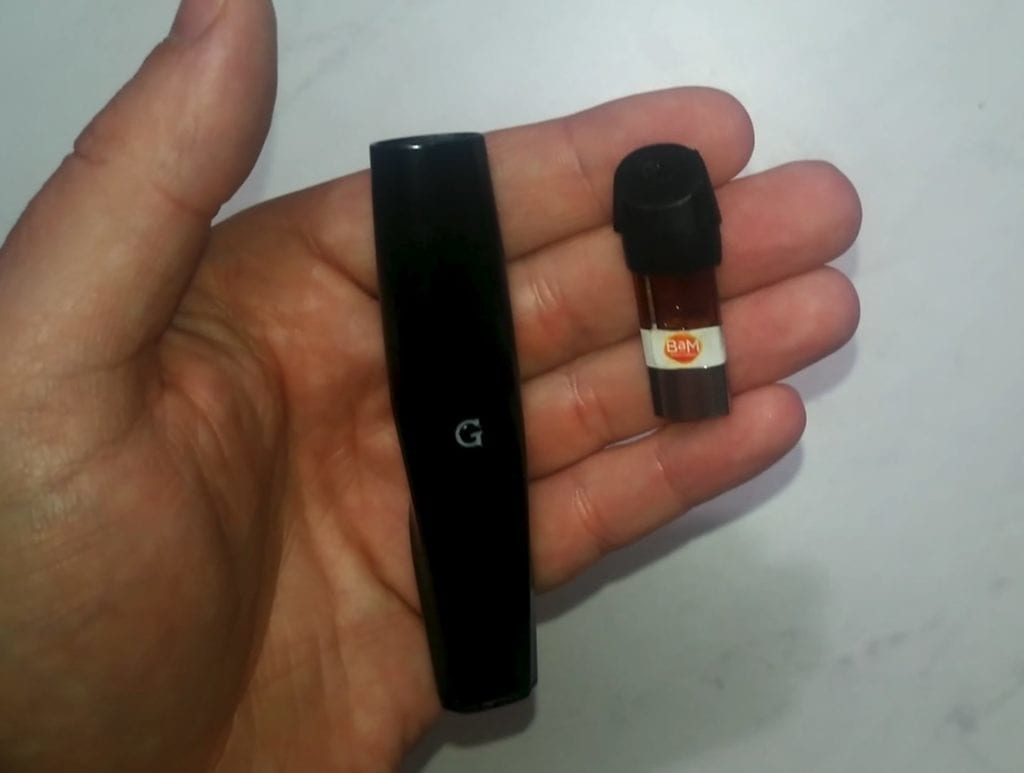 Gio pods are often more expensive than their CCELL counterparts
Just like the Pax Era, the Gio comes with a price premium. The good news is you can often find them on sale and when they are, they end up being the same price as a regular cartridge. $70 was the standard retail, non-medical price at Nevada Made Marijuana in Laughlin. I probably would only pay that for BaM's Bubble Gum. Anything else that is a bit too much considering I have to hit off a wick. Luckily it is often on sale for $50 a half gram and a bit less on medical. Expensive for California users, but not too far off regular price for Nevada.
G Pen Gio compared to similar pod based vape systems
Pod based vape systems are relatively new. In the past couple years a few different versions have hit the scene with different benefits. Here we will compare the G Pen Gio to the other most popular pod systems available: Pax Era, Stiiizy, and Plug and Play (aka ALD vFire). We'll also compare it to the new standard hardware chosen by most companies: CCELL cartridges.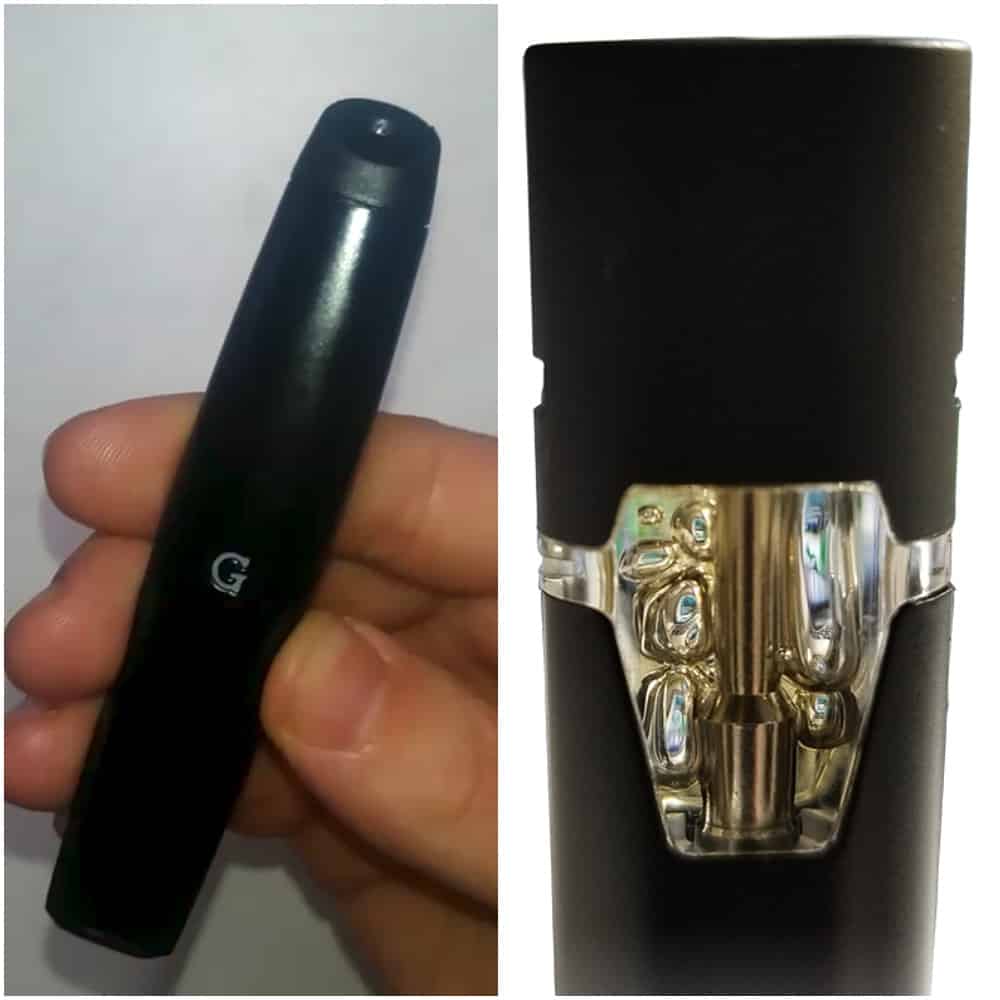 G Pen Gio vs Stiiizy: Similar form factors, different cores
The Stiiizy beats the Gio purely for its atomizer core. Stiiizy Pens are based off the EPOCH eCig pod system by ALD. The Gio has a higher build quality feel on the battery unit, feels better when you hold it, and the light that turns on when you are taking a hit is easier to see. Gio would be beating Stiiizy easy here with a better atomizer core. This is crossing states, but BaM's oil in the Gio pod is much better than that in the Stiiizy. Gio has more potential, just needs that better core.
Plug and Play vs G Pen Gio: Same result as Stiiizy
Plug and Play uses the ALD vFire pod system. These pods use almost the exact same core as Stiiizy, so the same comparisons above would apply here. The vFire is just more of a square shape than the Stiiizy.
G Pen Gio vs Pax Era: Wicked vs wicked, close call
The problem with both of these oil pens is they use a wick. The Pax Era was one of the first pod systems to come out for concentrate cannabis oil, and the techology shows that as well. There are a few extra options on the Pax Era that the G Pen Gio does not have. You might also want to check out our Stiiizy vs Pax Era comparison.
Using your app to tune your vape: Not a fan
The Pax Era has the ability to connect up to an app on your phone for more personalized hits, while the G Pen Gio does not. App features on vape pens are not particularly my favorite thing. I really just want to hit the vape and like many people am not trying to look at a phone screen more than I already am. Some people might take this as a plus, but I rather just use standard hardware to hit the pen.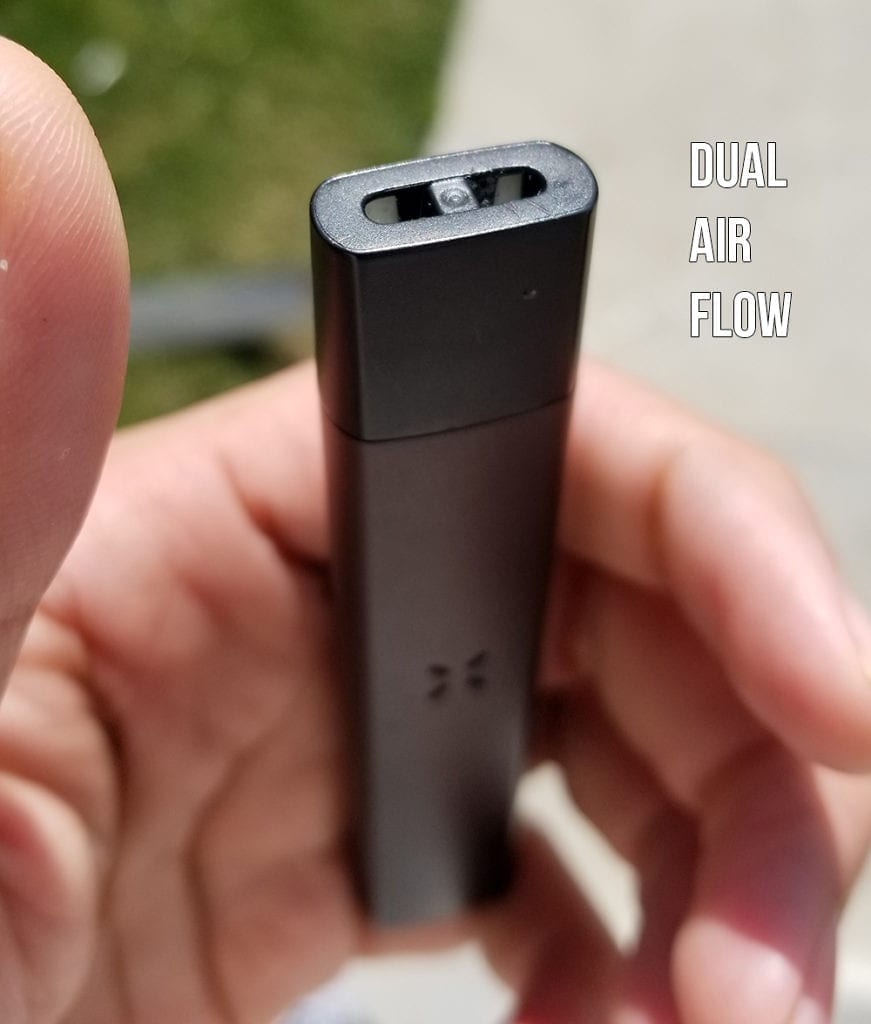 Flavor is better, hits are harder on the Gio
The Gio produced better flavor than the Pax Era. The Era has much more of a "wicked taste" whereas the Gio hides the taste of the wick better. I also noticed the Gio seems to deliver a much harder hit than the Pax Era, but that may be due to the wick itself burning. Later we will deconstruct a Pax Era pod to see if that wick is burning too like we saw above on the Gio.
When it comes to G Pen Gio vs Pax Era, Gio Wins
I have to give the win to Gio in all categories over the Pax Era. I feel both of these companies can do so much better, but this is a first for Grenco to make something better than the hugely investor funded Pax Labs company.
G Pen Gio vs CCELL Cartridges: The score is based on the core
CCELL is the original pioneer of ceramic core oil pen atomizers. I was not a fan of the last generation CCELLs because they did not hit hard enough. The new generation has fixed that. Efficiency is not an issue for CCELL carts or the Gio.
CCELL tastes better. Gio hits stronger, but it's that wick burning not more oil
Pair the cartridge with a CCELL Palm battery and you are getting much tastier and almost as strong hits than the G Pen Gio. The Gio only feels like a harder hit because you are burning the wick. The CCELL does not burn as long as you are using the correct voltage settings. CCELL's current cartridges are the standard in the industry. They are used by Select Oil, stick e vape and Roots Extracts, just to name a few.
G Pen Gio has a sleeker look than CCELL cartridges with a battery
Gio pods fit nicely into the battery and no one can see what is inside. CCELL carts might raise some eyebrows for those in the know, but most people still will think you are vaping eJuice. The Gio wins on looks and the ergonomic design is a plus. However, CCELL shines on actual use and flavor due to it's high end ceramic core.
Breakdown reveals the winner: CCELL cartridges
I have broken down the CCELL and can verify it's not a cheap quality ceramic. Other sample carts we have gotten with ceramic cores have contained very low quality ceramic that comes off like chalk on your fingernail. The G Pen Gio pods use wick that burns and that can't produce the same quality results as CCELL's ceramic core cartridges.
Refilling G Pen Gio Pods
Gio pods are not available as empty pods, but one of the benefits of them is they can be refilled. This may not be recommended by the manufacturer and seeing that you are using a wick that is burning it might not be worthwhile with your THC oil, but we put together a video on how to do it you can see below.
Value: Would be better if the atomizer was wickless
At Nevada Made the G Pen Gio pods by BaM were the same price as other cartridges in the same size, $70 for recreational. You can often find them on sales for $50 per pod. The battery is $29.95-$30 at most places. Things can be a bit cheaper with a
medical recommendation
. I would not pay extra for a Gio pod over another style and would go for a Select Oil CCELL cart when prices are equal. If I could get BaM's oil in a CCELL that they offer in the Gio pod, I would take that over Select. Select Oil is great, it is just BaM's Bubble Gum is something super special. 
Kabunky cartridges
went from new CCELL back to old CCELL and from being one of the best THC carts to just being OK. That shows you how much the atomizer effects the quality of your experience. Better oil in a worse vaping system will be a worse experience.
Concluding our Gio vape review…
The G Pen Gio vaping system just needs one upgrade: a better core. USB-C would be a nice add on as well, but no one else has done that either so it is not expected. This oil pen has a lot of potential and great THC oil manufacturer's like BaM have already committed to using it. The problem is the core is the most important part of any vape's atomizer. The most important part of any vape, especially with THC cartridges, is it's atomizer. One small thing to change and I will be back to updating our G Pen Gio review. You can find more information on the Gio
here
.