REVIEW OVERVIEW

SUMMARY

Essence Tropicana West overall is our choice for the best dispensary in Las Vegas.
The main reasons Essence Tropicana West is the best dispensary in Las Vegas are prices and selection. From random deals on cartridges to heavily discounted Desert Grown Farms ounces, this pick comes from going to many a dispensary in the area and searching many menus.  It's located at 5765 W Tropicana Ave, Las Vegas, NV 89103 and it's open from 10AM to 3AM daily.
Pros: 
Great Selection
Great Deals
10% Locals discount
3% Cash back
Fast service
Great staff
Easy parking
Cons:
Far to go to if you are in the northern part of town
Check out the video review below, and continue reading for the more in depth review of Essence Tropicana West.
Essence Tropicana West: Best on selection, best on most prices, great deals
The only dispensaries to come close are NuWu and the other Essence location on the strip. Essence Tropicana West pulls ahead of the Strip location because it has Cannabiotix, while the one on the Strip does not due to some licensing issue Cannabiotix has. It has something to do with that area not actually being the City of Las Vegas, but a town called Paradise.
NuWu has had some lower prices on a couple items, ie: Cannabiotix cartridges. I have to say though that is a product I would not be buying again. Cannabiotix is one of the world's best cultivators, but they came up short on THC vape cartridges. When you add medical (10%) and local (10%) discount, and cash back, Essence is cheaper across the board on most things. Most of the carts we named the best cartridges of Nevada are available at Essence West Trop.
Desert Grown Farms sweetens the deal
The house brand for Essence is Desert Grown Farms (DGF). Even if not an official house brand, the same guy runs both of them. DGF has a lot of good buds and I picked up Hendo Breath below at Essence Tropicana West.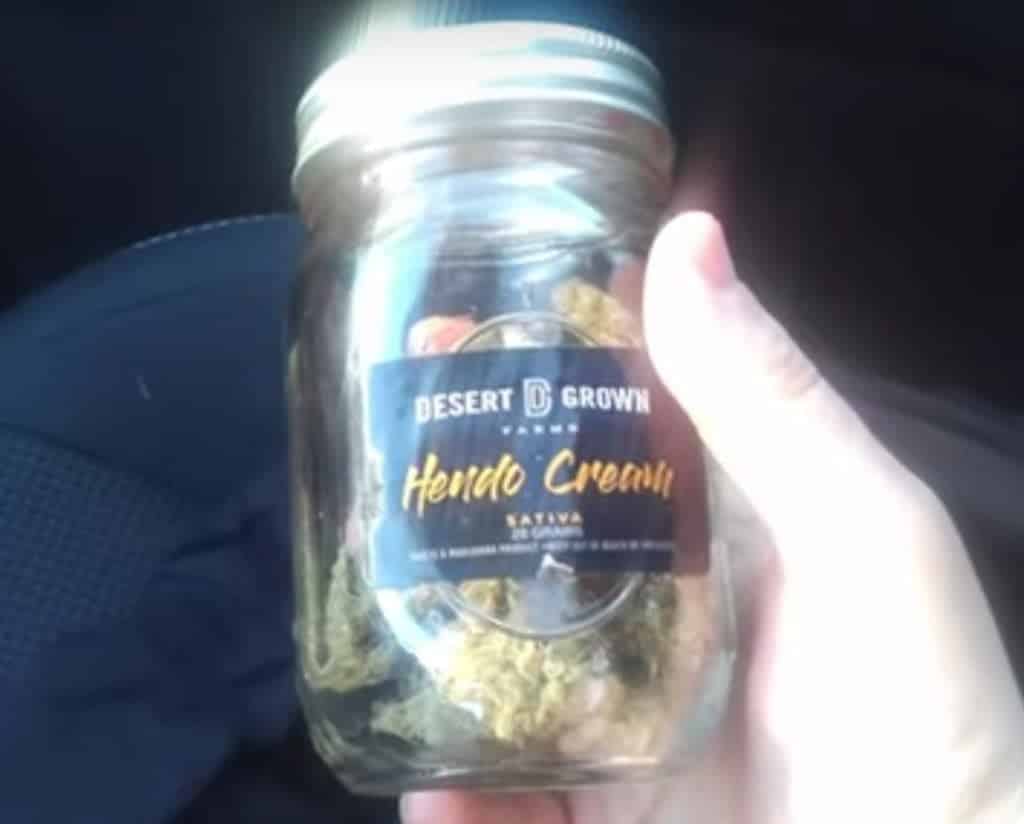 I would put them  just a hair behind my other favorite flowers in Nevada.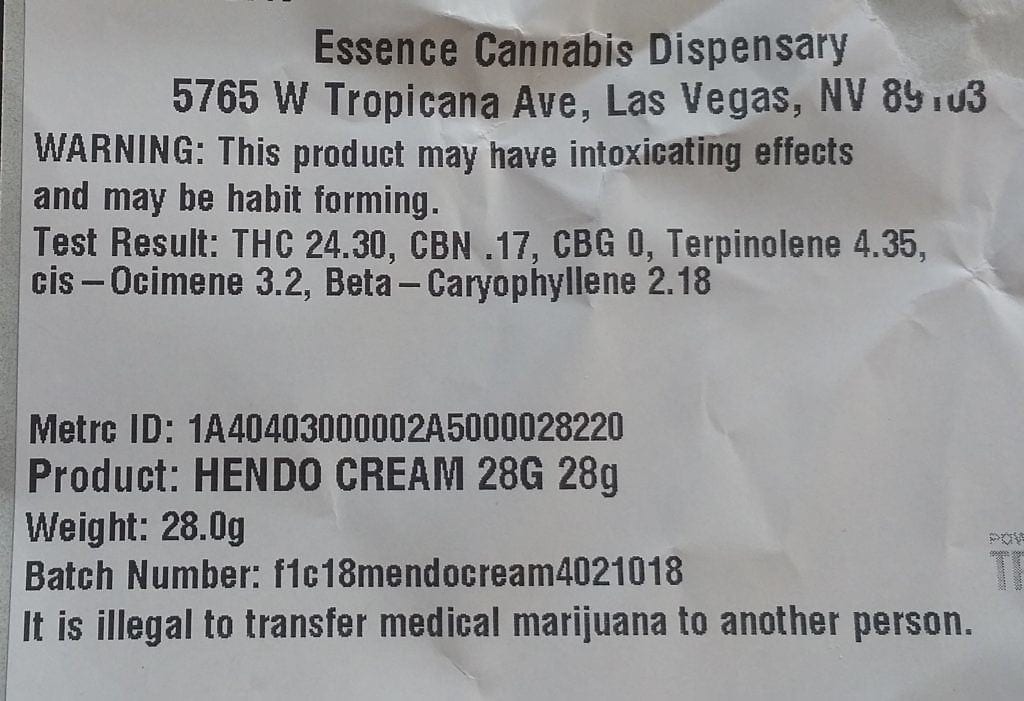 Nevada's best extracts, cartridge and flower brands
So far the best shatter brand in Nevada we have tried is Cannavative. The best distillate syringes so far are from AMA, who also makes Vader Extracts Nevada that is equally top notch. Try Coconutz if you see it. For pre filled cartridges in NV, Roots Extracts and Airo Pro are our top picks tied for first, with Select Oil cartrides coming in second.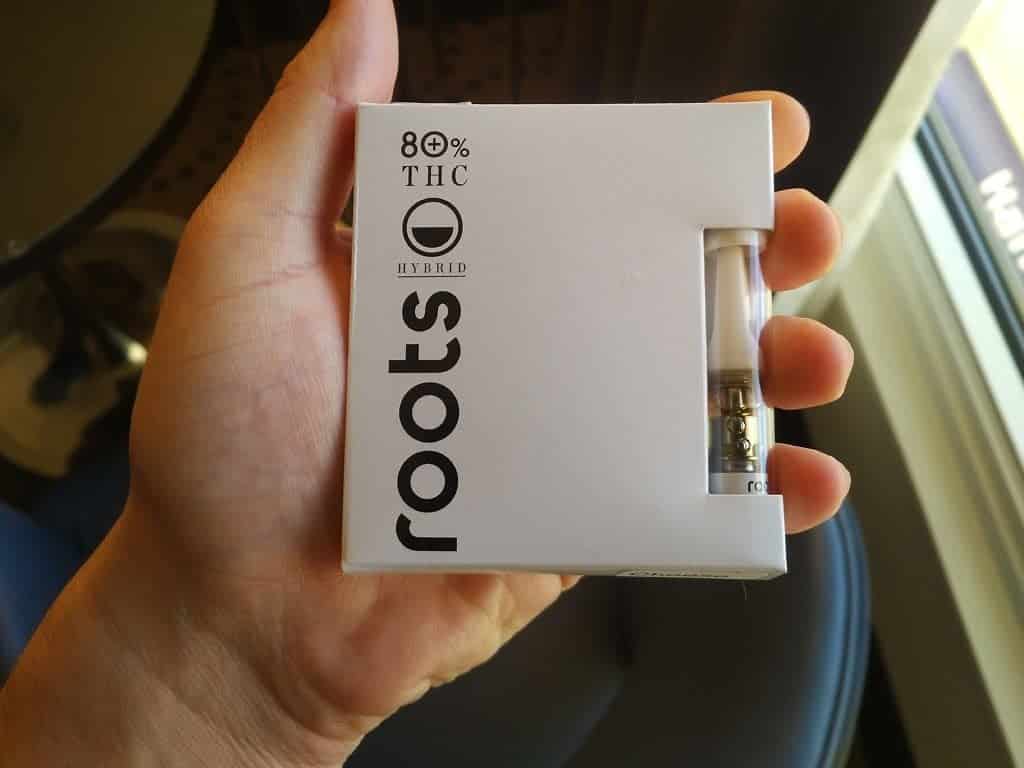 Remedy, Greenway Las Vegas, Virtue and Cannabiotix. DGF has some crazy deals at Essence. At the end of 2018 I picked up a full ounce of Hendo Cream for $120. A sativa that is 24% THC and costs normally $341.
Free credit on everything of 3% that works at all Essence locations, locals discount 10%
Most dispensaries in Las Vegas offer some type of locals discount. Essence Tropicana West has 10% locals discount that stays in there system even if you go to one of their Strip and Henderson locations. They also have the standard 10% medical discount. For those of you new to Nevada dispensaries, there is a priority line for medical and lower taxes.
Cash back on everything adds up. You can use it the next time you are there with no minimum. Buy $100 worth of items and come back and you got a $3 credit.
Some sample deals from Essence Tropicana West: Buy one get one for 1c Select Oil cartridges, $15 City Trees Disposable THC vapes
Another great deal was buy one Select Oil cartridge and get another one for 1c. Effectively $25 per cart, can't go wrong at that price. I have yet to see Select Oil carts that cheap anywhere, even in California.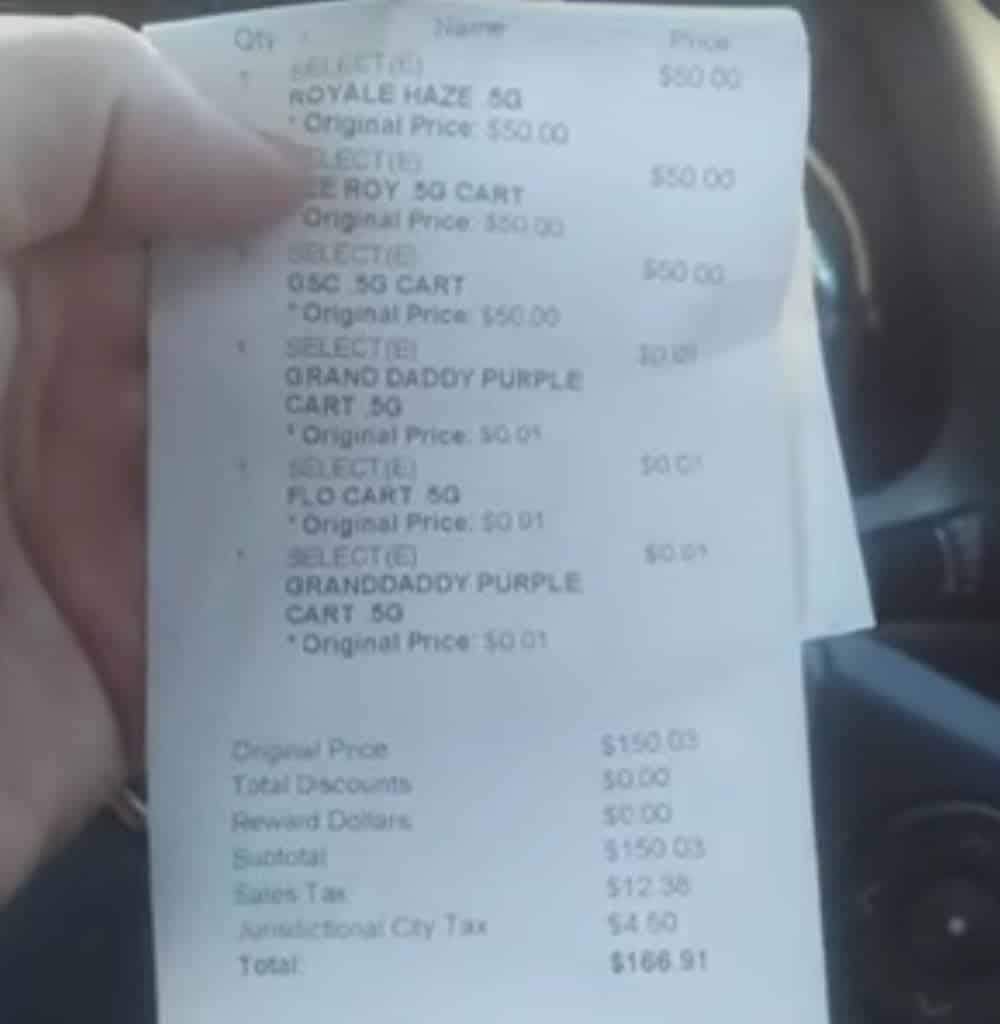 The City Trees Disposable sale from Essence Tropicana West was awesome as well. $15 for a half gram disposable. At Deep Roots Mesquite, the same exact item goes for $65. Picked up a Bliss and Energy, both were good.
Excellent, knowledgeable staff at Essence West Trop
The staff here is friendly and fast. Getting checked in is always quick. The budtenders know the brands and products well. Just ask what's the best right now of Sativa or Indica and you get led in the right direction.
Be wary of dispensaries right off the strip, except Essence on the Strip
Stop into Pisos or Las Vegas Releaf and you may get quite a price shock. The price difference between those places and Essence is huge. Most of NV, including Essence, has more expensive cannabis products than California due to stricter regulations. The guarantee of no pesticides is worth it though and everything is top notch quality. A Brass Knuckles cartridge at Pisos was $120 plus tax for medical users. It's $85 at Essence on West Tropicana. If you must go on the strip, check out Essence on the Strip.
In conclusion… at this point Essence Tropicana West is our pick for best dispensary in Las Vegas, Nevada. The deals, cash back, fast service, great staff, and great selection are what make it the best. Once we cover the rest of Nevada we'll pick the best in the state. A few more cities to go. So far out of all the dispensaries Reno, Tahoe, Mesquite, Las Vegas, and Laughlin, Essence on West Tropicana is the best. See more information on Essence Tropicana West here.
What do you think is the best dispensary in Las Vegas? Have you been to Essence on West Trop and if so how did you like it? Comment below or post in our forum!