REVIEW OVERVIEW

Design and Build Quality

9

SUMMARY

The Select Elite cartridges we tried turned out to be great quality. They use great hardware and oil. The taste seems to be getting uniform across the brand. Strength was not lacking on any of the THC cartridges.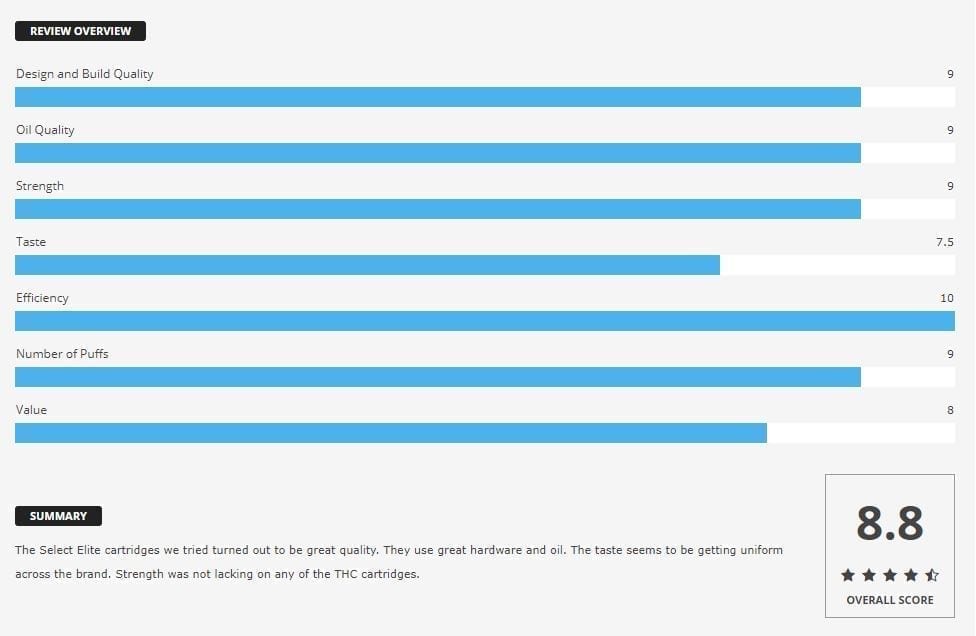 Select Elite cartridges are some of the consistently best cartridges across more than one state. You can choose a Select Elite cartridge in confidence when you are not sure what to choose and you are ensured to get high quality oil, even if they all taste similar.
In this review we will input feedback from two of our reviewers: Geoff and Bert. Geoff used Select Elite's California carts while Bert has used many of them in Nevada. Select Elite made our top THC cart list for Nevada and was on it for California. We removed it from the California best list because it has gotten weaker. We are going to re-review Nevada to see if it should still be on that list as well soon.
Pros:
Pure, High-Quality Concentrate
Activated, Broad-Spectrum Oils
Highly Potent Distillate
Good Variety Of Strains
Strains Are True To Flavor
Efficient CCELL Cartridges
Tamper-Proof Package
All Cart Info On Label
Cons:
Plastic Tube & Mouthpiece
High Cost
Recommendations: Though Select Elite cartridges offer a lower price than the same size Kurvana ASCND, they're still expensive for .5-grams. The plastic mouthpiece isn't a big detractor but the cartridge would be better in the CCELL cartridge that has a ceramic tip and glass housing. Not only because glass is nice, but in case the cartridge fails it is easier to empty and you can also re use the cartridge with a syringe.
UPDATE 9/11/2019: DISCLAIMER: In light of more recent news, it has become apparent that black market cartridges, counterfeit cartridges, and fake brands of cartridges have become more widespread than we had ever realized. We urge readers to apply their own discretion, and caution that at no point should readers assume that a review of a cartridge on our site is a guarantee of its safety. We advise readers to always verify their cartridges as coming from a legitimate source.
UPDATE 2/01/2021: Recently Select Elite distillate carts, which we review here, have not been as strong as before. We will update this review again in the future when we get a new one. On the other hand, Select Elite Live Resin carts are strong and now their best product. We recommend those over any of their other cart items.
See below a video review on a Select Elite cartridge, then continue reading for the in depth review.
Select Elite cartridge design bears a close resemblance to the Kurvana ASCND
As far as their design, there are only two main differences between the Select Elite and Kurvana ASCND cartridges. Where they place their logo and the type of heating system they use. The logos are inconsequential but the heating cores might make a difference to some customers. For a review that covers design on their disposable cartridge version, see our Select Weekender review.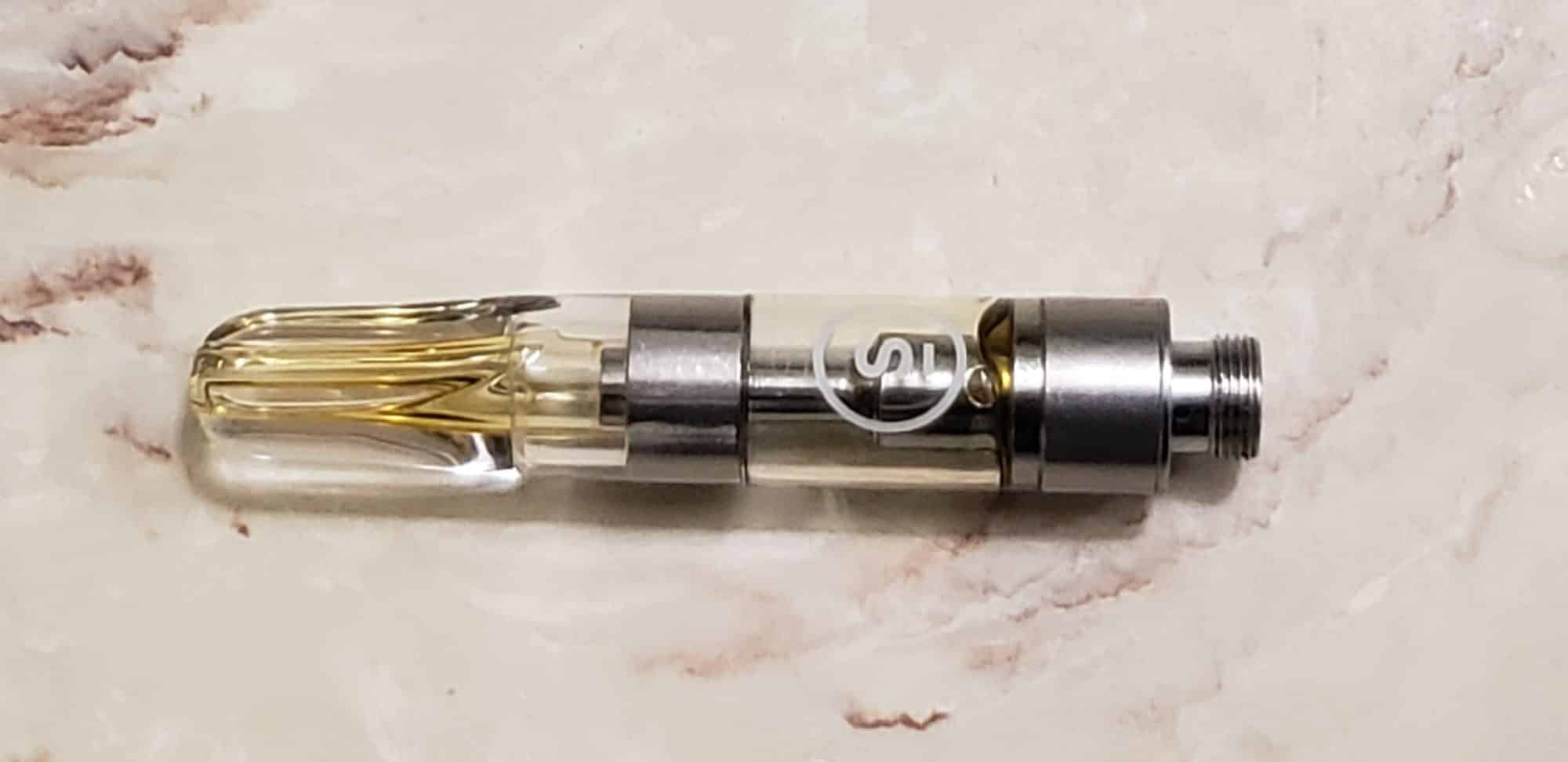 To the naked eye, the heating elements don't seem to be much different. Both look like standard CCELL systems, though the one on the Kurvana ASCND is thinner. Kurvana uses what they call a CTEC ceramic coil. Instead of using a ceramic core surrounded by cloth, it uses only a ceramic ring. Select Elite cartridges use an authentic CCELL cartridge, the same kind found in the Roots and Airo Pro cartridges.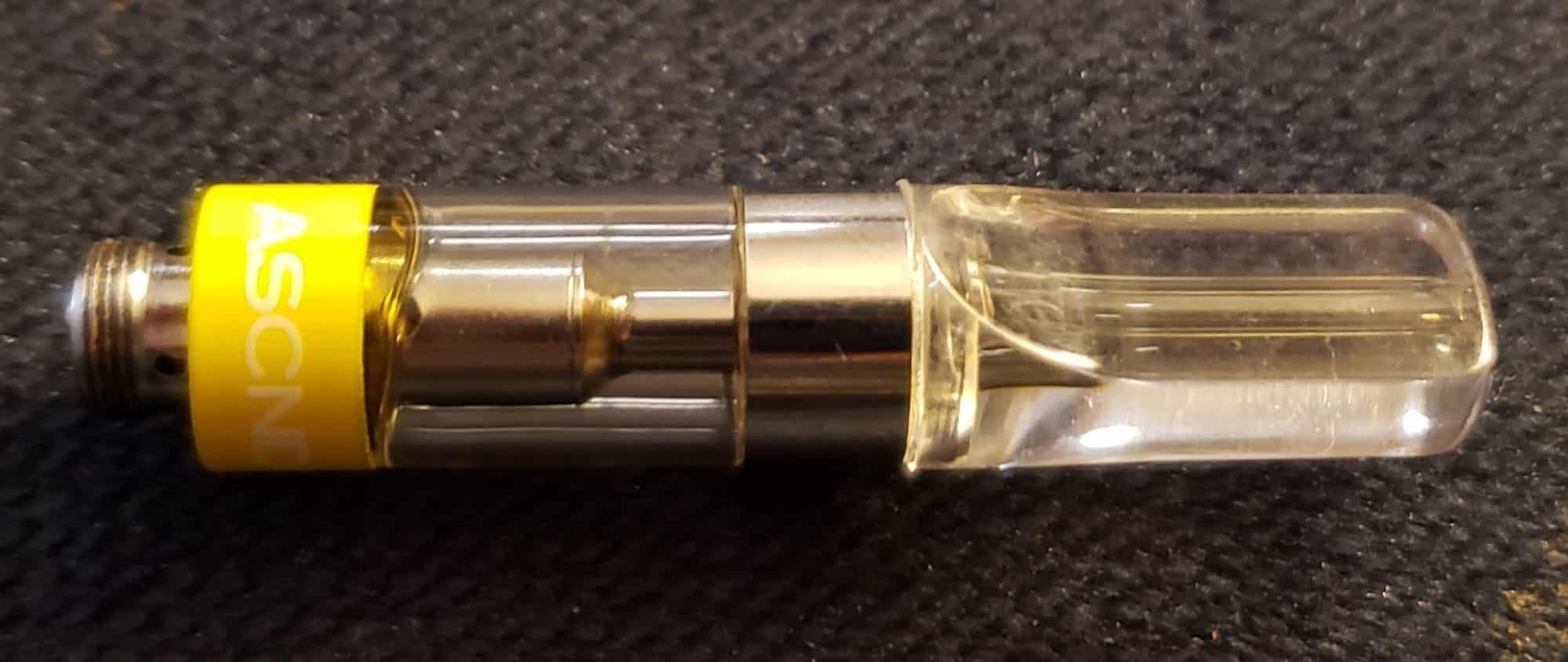 Other than that, the cartridge designs are the same. Both use a plastic outer tube and mouthpiece that appear to be connected. Each has a thin metal ring under the reed style mouthpiece and metal housing at the base. Screw either cartridge onto a standard battery with 510 threads.
Bert prefers CCELLs while Geoff is a fan of rod and coil cartridges. Bert thinks a ceramic top CCELL would be better than the plastic top offered on Select Elite carts. Reason being, in the event of a cartridge failure it is easier to retrieve the oil. These plastic top CCELLs are very difficult to get apart because the top is pressed on rather than screwed on. The screw top CCELLs can also be reused by refilling it with a syringe.
Oils by Select Elite come through a proprietary extraction process
The purity and delicious flavor of Select Elite carts is a direct result of their proprietary extraction process. Select Oil claims that they are one of the first companies to do their own lab testing to the parts per billion. As you can see on their packaging, they also use SC Labs for outside testing. Select Elite was caught once with innacurate results, but in a good way: They stated 80% THC and it was in fact 86%, even better! Quality control seems to be a big deal for Select Oil, which is a great thing. See our pesticides and residual solvents test page for test results on a recent Select Elite cartridge. They have always passed clean for pesticides and residual solvents.
Select seems to focus more on strength than effect. The high THC percentage carts have been converging in taste over the past year. They all taste pretty close. Select Elite achieves these characteristics using Ethanol Hash Oil extraction, a technique known to retain cannabinoids and similar to that used in Roots cartridges.
Select Elite high-cannabinoid oils range from 80-92% THC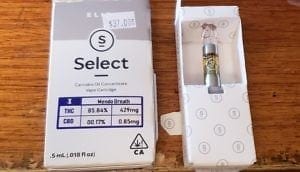 Speaking of cannabinoids, Select Elite oils come packed with potency. Depending on which strain cartridge you get, you'll discover THC levels between 80 and 95 percent. The Select Elite Mendo Breath is a lighter Indica strain at just over 85%, and it still wrecks you. We have several other strains on display below, most of which carry even higher levels of THC. Many of Bert's Nevada cartridges are in the low 90s, up to 92% THC.
Ethanol Hash Oil extraction keeps the true flavor
A high-potency concentrate loses its appeal if the flavor is off or tastes like chemicals. One of the reasons Select Elite uses an Ethanol Hash Oil extraction process is to keep that natural flavor. The Mendo Breath strain from California has that heavy relaxing effect you want from a good Indica. Tastes of vanilla and sweet caramel linger on the tongue in a balanced mix of the true strain.
From Nevada Bert tried a Critical K, Royal Haze, Lee Roy, two GDPs and another strain we can't remember right now. They all had a similar taste. Among the NV carts at least, Select Elite cartridges are converging to a similar flavor across the board. Still the taste is good and it seems to be a small sacrifice in taste to deliver a stronger cart, and we are all for that. Out of the bunch, Lee Roy was the strongest effect even though it was not the highest THC percentage, coming in about 89%. An Indica but still gave good energy and a strong, long lasting effect.
It's interesting to note that Kurvana ASCND uses a similar process. Their techniques in extraction may not be exactly the same, but Kurvana also does an in-house lab analysis. Both Kurvana ASCND and Select Elite offer premium, well-refined distillate. People may have their preferences in flavor but THC levels in both brands are very high.
Bert says for Nevada Airo Pro and Roots both taste better than Select. Particularly Airo Pro's Mountain Mist and Sumatran Sun have exceptional flavor. Roots carts taste great too, particularly the Cheese strain. Roots do taste similar across the brand like Select, but all a little bit better tasting than Select's carts.
Select Elite carts use an efficient CCELL vaporizer
Just like Honey Vape, Sunday Goods, and so many other carts on the market, Select Elite uses a CCELL cartridge. Most of today's vape cartridge aficionados prefer the CCELL design over the rod & coil. It's the standard among vape carts right now. Geoff does not mind a rod & coil with a quality extract like that in a Heavy Hitters cartridge. Bert prefers CCELL carts for all prefilled cartridges and likes CCELL or the Bud Tank V16 for filling up with fresh distillate.
CCELL systems have a ceramic core surrounded by a cotton cloth wick. The oil absorbs into the cloth before entering the core which heats upon ignition. Using gravity and a circular ceramic core ensures the oil vapes evenly, but there is a drawback. The cloth can give off a burnt taste if it dries up.
By comparison, Kurvana ASCND cartridges use what they call a CTEC core. CTEC gets rid of the cloth wick altogether. Instead, the metal housing at the base of the drawtube contains a ceramic ring. The core is actually hollow and allows delivery of the oil to the entire ceramic ring.
3-second draws on a Select Elite .5-gram cartridge gives 125 servings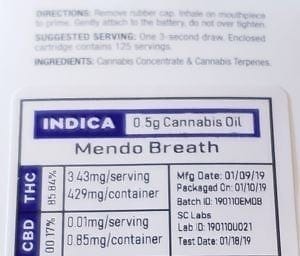 On the top back of the package, Select Elite provides a suggested serving size. They recommend a three-second draw as a single portion. A Select Elite cartridge at this rate has 125 servings, though the amount will vary. No user is going to draw the cartridge with the same amount of force, even if they do time out each vape.
At a lower price than Kurvana ASCND, Select Elite has a better value
Select Elite cartridges run about five dollars less than the Kurvana ASCND, depending on where you go. There may be some variation of this from one dispensary to another. At Mankind in San Diego, Select Elite carts run $37.00 while the Kurvana ASCND asks for $42.00. These are sub-total prices waiting for taxes to be applied.
In Nevada Select Elite cartridges are $52 at standard retail price at Essence Tropicana West in Las Vegas. Of course NV has higher prices but there are also a lot of discounts (ie: Medical, local). When Bert purchased six carts there was a Select Oil pop up shop and he got them for buy one get one for 1c. With all discounts ended up being less than $170 for 6 carts. Even at full price we still buy them because they are one of the best options out there.
For an extra five spot, the only real difference Kurvana ASCND has with the Select Elite is the CTEC ceramic coil. Is it worth that much? Geoff can't tell that much, if any, of a difference. Maybe after using them for a while, he will be able to tell. As it is, I'd take the savings because both brands are expensive.
Bert says even without a discount Select Elite cartridges are typically worth the extra cost over most other options at any given dispensary. Nevada cartridges generally run from $40 to $50. Remedy once had carts priced at $63 but recently those have been lowered to $46. Bert would take Roots over Select Elite, but Roots does sell out. Roots are not only a bit stronger, but they taste better and are cheaper. Bert says Select Elite is the best fallback brand: If you are unsure what to get in any medical state and Select Elite is there, get it since you know it will be good.
Select Elite Shows How To Label & Package A Cartridge
In the current state of some California dispensaries, quality assurance isn't always so easy to come by. I'm not saying that dispensaries operating under the radar can't carry premium cartridges. One tactic leading cartridge makers use to combat rip-offs is fancy packaging. Still, so many brands leave info off the label and use a poor tamper-proof device. Nevada versions have pretty much the same packaging and it's on point.
Other cartridge brands should look to Select Elite as the best example in this regard. You have to follow instructions to get into the box! Select Elite labels also tell the 3rd party laboratory, a point many brands leave out.
Some of the different Select Elite strains we've tried so far
Select Elite is a brand we pickup all the time even when it is not for reviewing, but here are some of the strains we remembered to take pics of.
Flo cartridge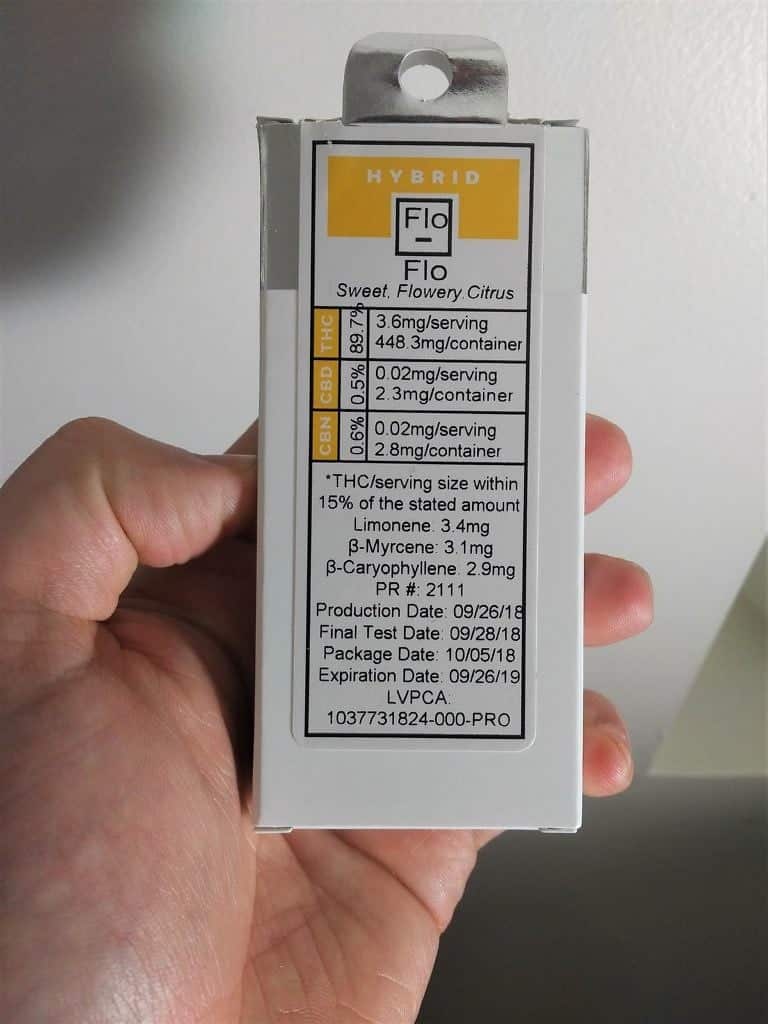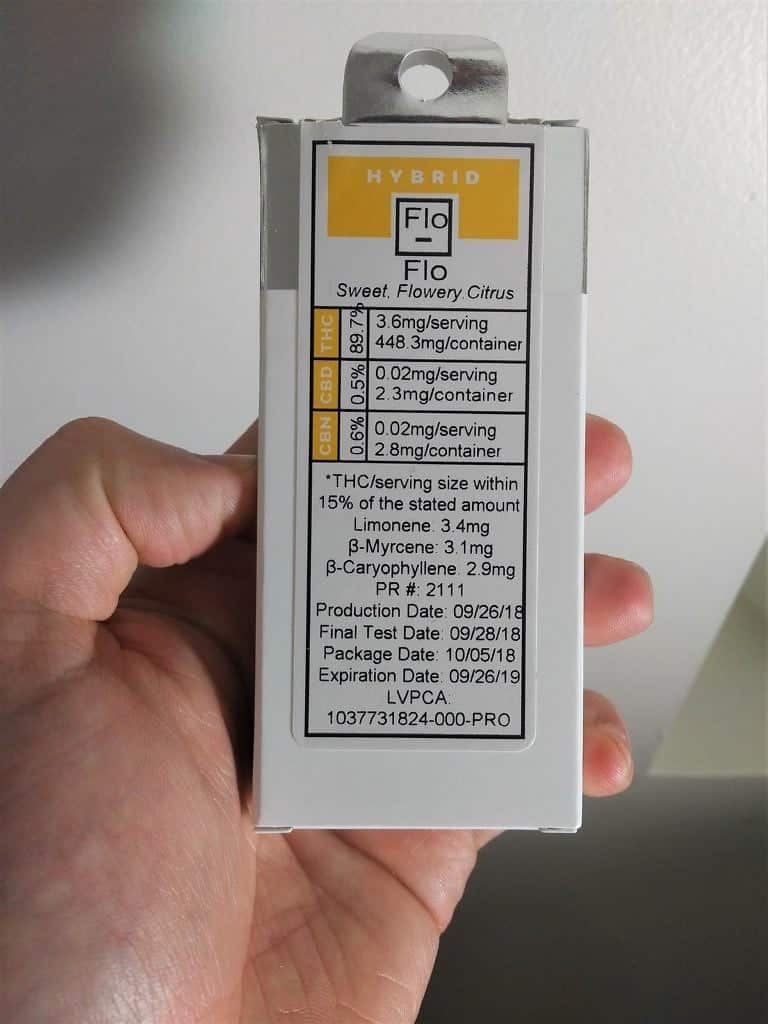 Flo had a great energy to it. Taste was decent.
Gelato cartridge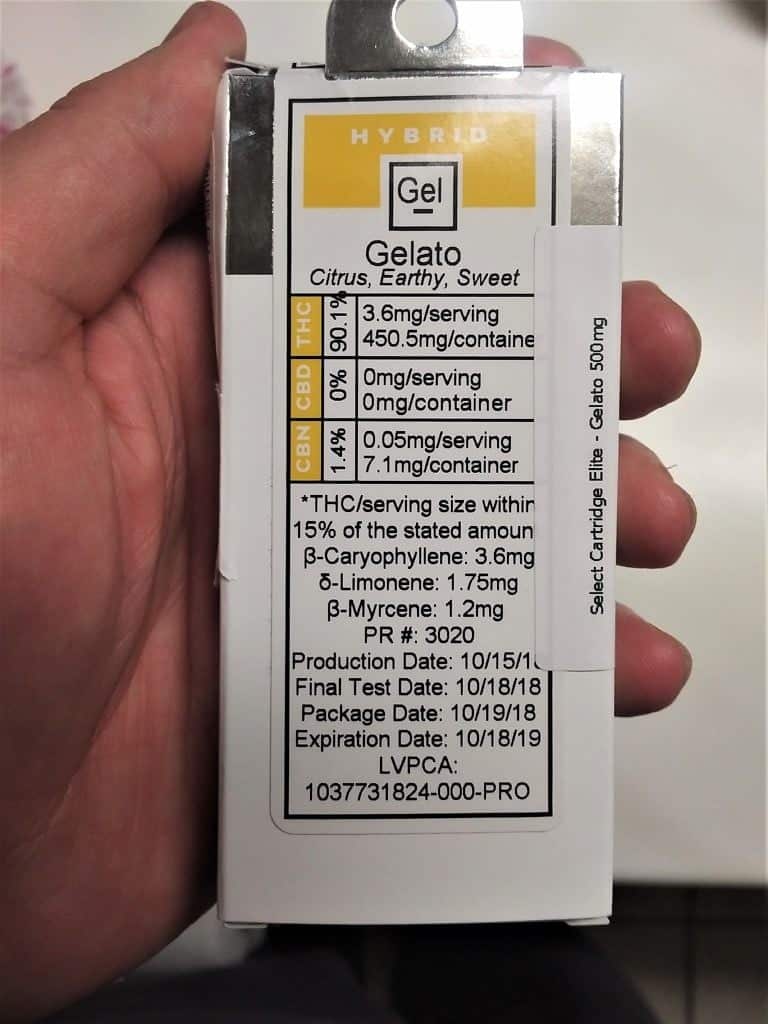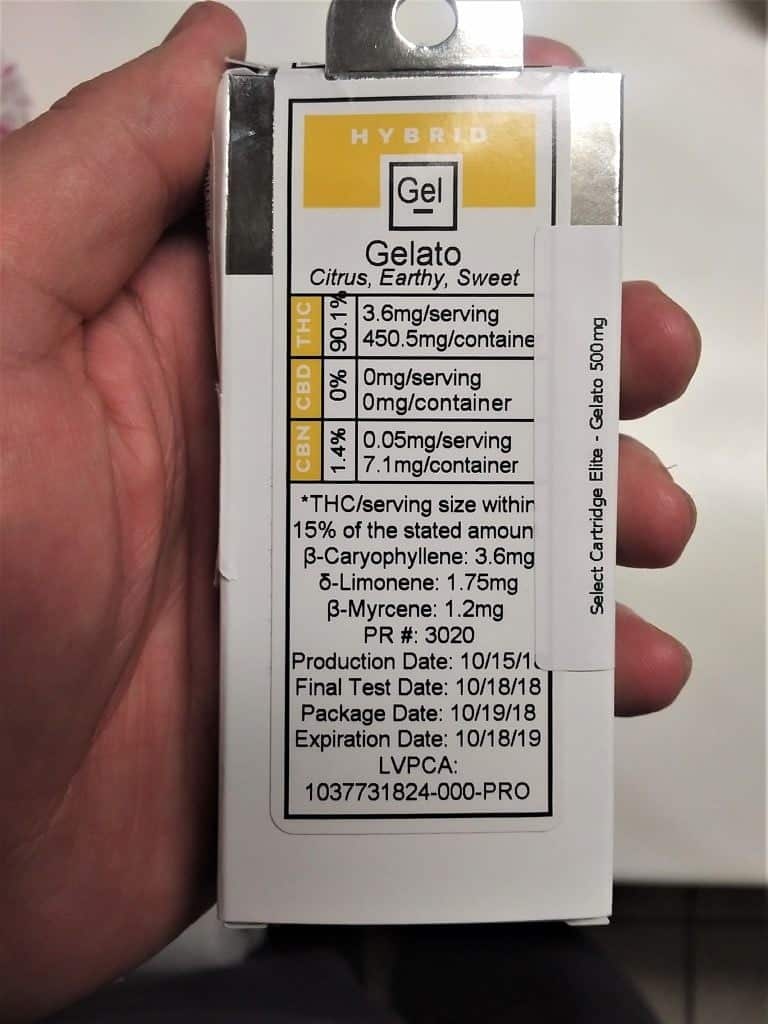 Really did not feel or taste that much different than the Flo. Still a great THC cart overall.
Select Elite Hybrid: High Roller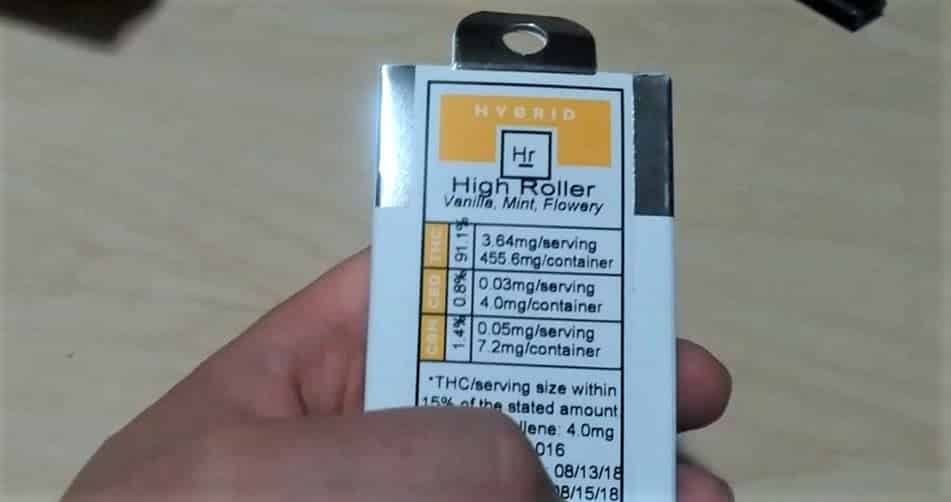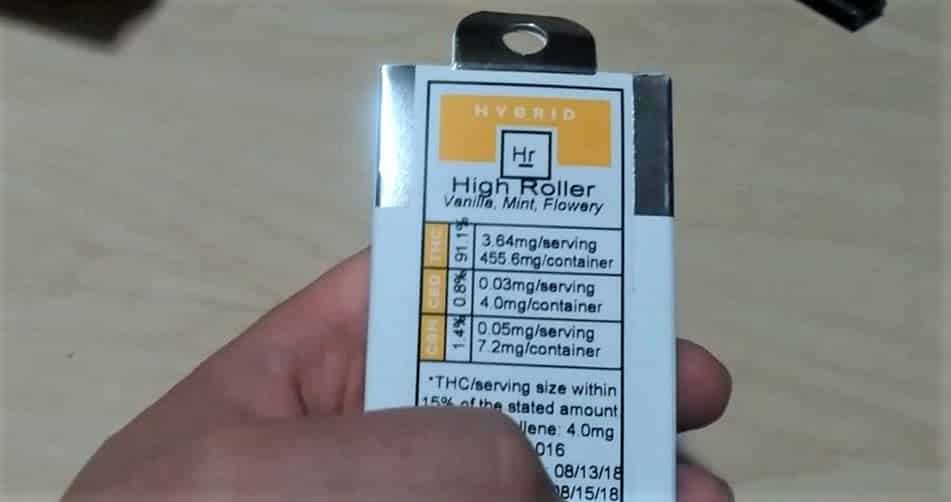 The High Roller strain cartridge has 91% THC and also had some of the strongest effects. This and Lee Roy were Bert's overall top Select Elite picks.
Royal Haze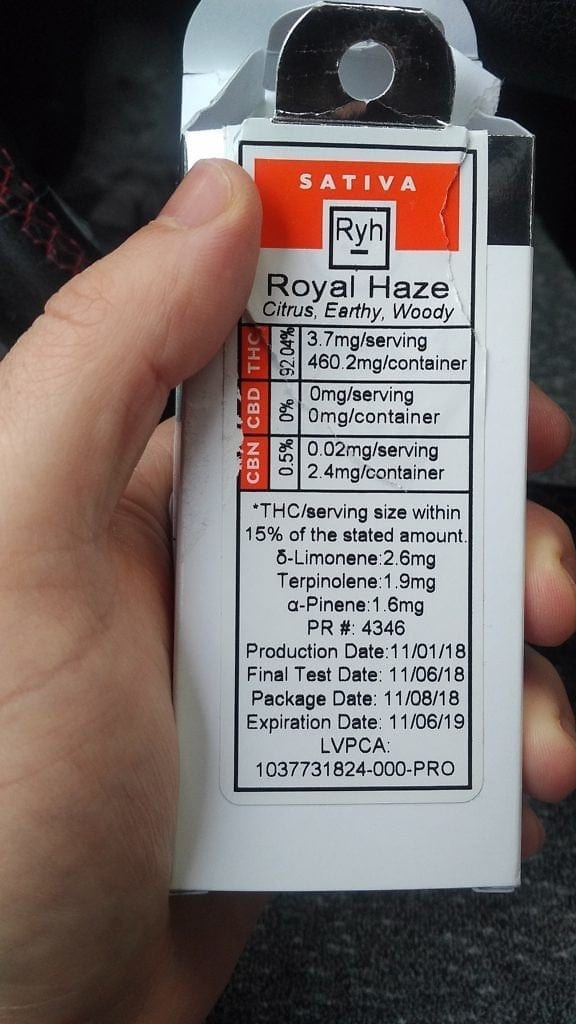 This sativa gave great energy. THC tested at 92%, but the Lee Roy still felt stronger at 88%. THC percentage is not always everything.
Royal Orange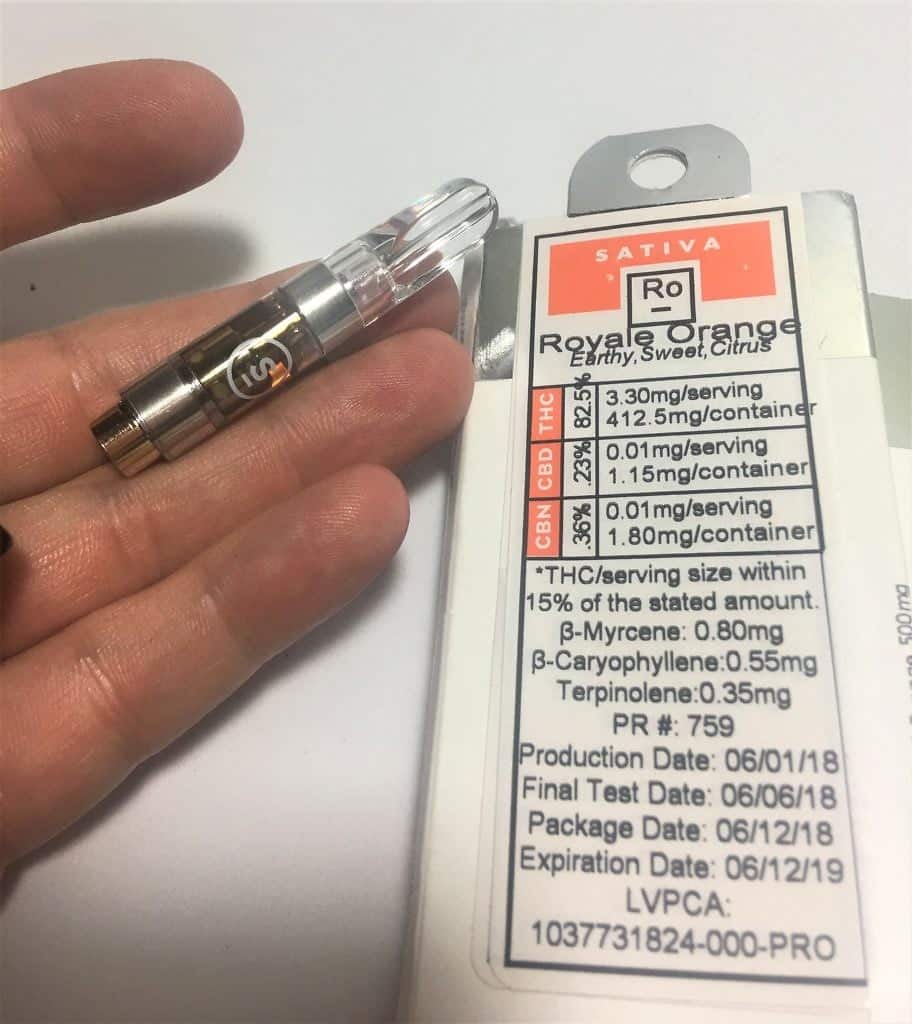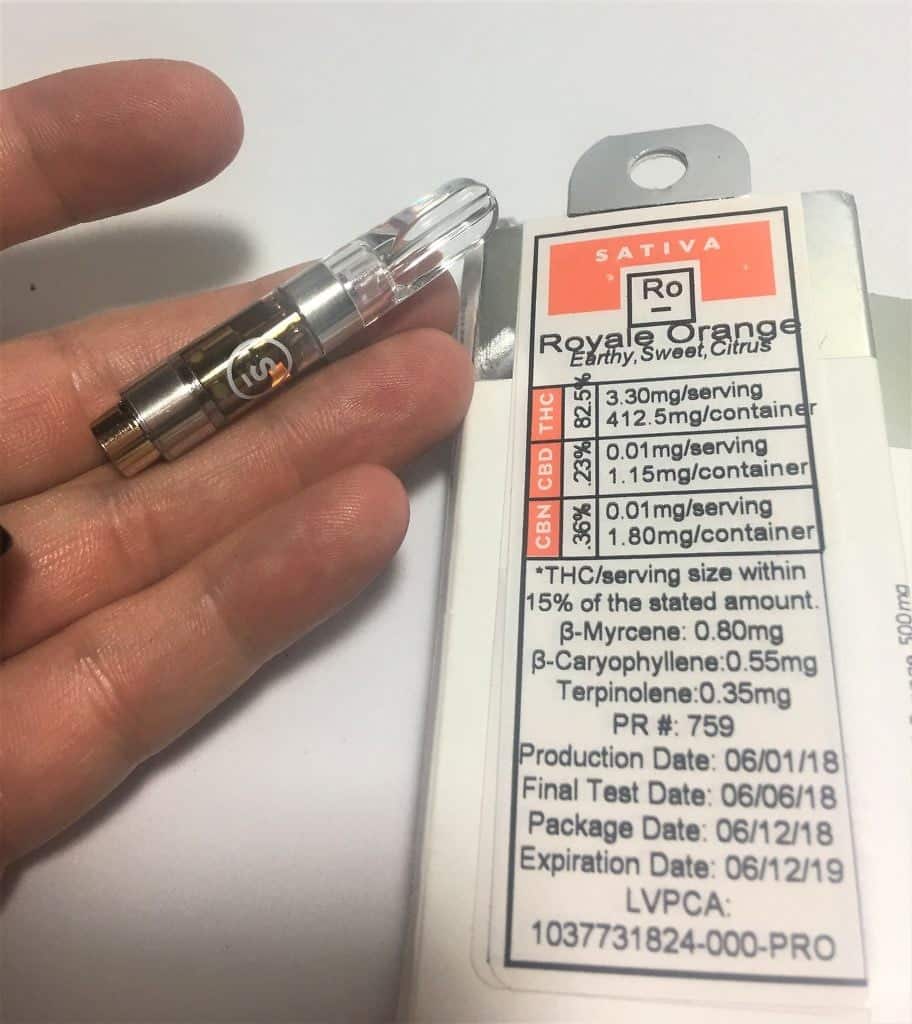 The Royal Orange Select Elite cartridge was pretty similar to Royal Haze with just a bit more of an energy kick to it.
Concluding our Select Elite review
For consumers who want pure high-quality concentrate, Select Elite cartridges are the real deal. In California, Kurvana ASCND may have a slight edge, but it is just a matter of opinion. For Nevada, Roots and Airo Pro edge it out to take the top spots, but Select is still considered awesome. We highly recommend Select Elite cartridges and their many strains. If they would drop the price a bit and ditch the plastic material, we'd love them even better.
You can find more information about Select Elite cannabis oil vape cartridges on their website here. And don't think twice about leaving a comment or asking a question on our forum. We always value your feedback.