REVIEW OVERVIEW

SUMMARY

Sunday Goods .5-gram cartridges deliver pure oil and incredibly vibrant experiences. Although the price may be a drawback for some connoisseurs, the value is in the quality concentrate.
Perk your ears up and put this one down on your list of future acquisitions! When it comes to supplying a treat, Sunday Goods has got it going on with their THC vape cartridge! After vaping down a .5- gram cartridge of Sunday Goods Trainwreck, there aren't many negatives to discuss. What really blasts the experience off is the flavor profile and intense effects of the Trainwreck concentrate. Read on to get all the goods about Sunday Goods and their Trainwreck .5-gram cartridge.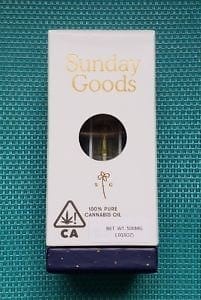 Pros:
Pure, Lab-Tested Concentrate

Immediate Intense Effects
Long Energetic Effect
Durable Cartridge
Informative Packaging w/Seal of Assurance
Cons:
Recommendation: Make them a little bit cheaper, but might not be possible due to the high quality oil used.

The Sunday Goods cartridge offers pure, quality oil and a vibrant vaping experience
Forget about those fake cartridge worries. This Sunday Goods Trainwreck Sativa is one of three carts from a legitimate San Diego dispensary. How do you know that THC oil is authentic? You go to a place like MedMen in Kearny Mesa.
See our video review below. Keep reading on for the more in depth review.
Besides picking up the Sunday Goods, we also have the Heavy Hitters Malibu OG and the Honey Vape Green Crack. Don't miss those reviews of cartridges also from MedMen. They will be up shortly.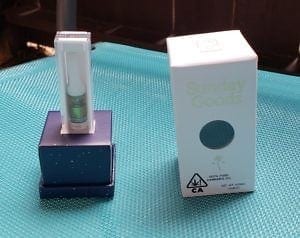 Out of those three cartridges, the Sunday Goods and the Heavy Hitters stand out the most. The Trainwreck strain of the Sunday Goods cartridge delivers a phenomenal experience. As far as flavor and effect go, the Trainwreck easily takes the top spot.
Sunday Goods .5-gram carts come in an elegant little box that would make a perfect Christmas stocking stuffer. The cartridge itself is fancy with a ceramic reed style mouthpiece. A look at the heating element reveals a cloth wick, a design that's usually inferior to a coil. In this instance, however, the cloth wick doesn't hold Sunday Goods back much at all.
A delicious earthy mix of lemon-lime stays on your palate with the Sunday Goods Trainwreck
You Sativa lovers out there know what a good strain of Trainwreck can do. Chances are you also know that it isn't always very easy to find. Wherever it is that Sunday Goods gets this Trainwreck, the growers know what they're doing.
So many times when herb goes through the distillation process, it loses parts of its natural taste. You either can't really place the strain at all or one flavor profile dominates the experience. Sunday Goods doesn't lose any taste in their Trainwreck cartridge. One vape and you'll taste that earthy wholeness along with bursts of lemon-lime!
A three-second lung bursting vape tells you this Trainwreck is potent!
Sunday Goods recommends a three-second draw when using their cartridge which is fair advice. You might like to go longer but start with a three-second puff just as an experiment. Hold it in a few seconds and you'll feel the vapor push against your lungs while expanding.
I prefer longer puffs and I probably go over 5-seconds in the video. You can see that extended puffs aren't necessary with these cartridges. Test it at different variations to get your right size puff, but you'll definitely enjoy the effects. Maybe plan some activities then indulge. This Trainwreck will fill you with positive energy.
Hi-scores for both durability and presentation of the cartridge
Sunday Goods puts elegance into their packaging and the cartridges as well. Their bold company logo appears at the base just where the strong glass tube ends. Up top for the mouthpiece is also a bit of extra style. Instead of your usual metal or plastic piece, Sunday Goods opts for a hard ceramic design. Unless you smack these carts with excessive force in just the right spot, they aren't likely to break.
Below is a video on the breakdown of the Sunday Goods cartridge.
Trainwreck carts by Sunday Goods contain 79.08% THC and no CBD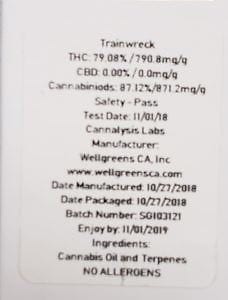 Informative packaging gives the percentages plus a few other helpful facts about the concentrate. This Trainwreck boasts a potent 79.08% THC with test verification by Cannalysis Labs. Verification includes testing for contaminants with a batch and manufacturing date as proof. Check any Sunday Goods cartridge before checkout for their fresh by date to ensure the highest quality experience.
As for potency, the concentrate feels like it's higher than it's near 80% THC content. Perhaps the intense effects are due to the expando quality of the oil. Maybe it's just that the effects hit so suddenly. Either way, the carts' vibrant euphoria along with a superb taste are the high points.
High value drives up the asking price
Because the Sunday Goods cartridge in this review comes from MedMen, a legit dispensary, sales and excise taxes also apply. You might do away with the sales tax by having your medical card, but $45.00 before tax is still expensive. Does that take away the value? It might for some but it doesn't for us, and here's why!
For one thing, it isn't easy to find a Sunday Goods cartridge in most dispensaries. It's also understandable for a company to charge more when they incur extra charges. They can only use growers who don't use pesticides and they also have to pay for testing. Perhaps the packaging is bit extravagant but we do appreciate the tamper safe seal. It comes down to this. If pure high-quality oil is a priority, you may have to go to a legit dispensary.
Sunday Goods cartridge disassembly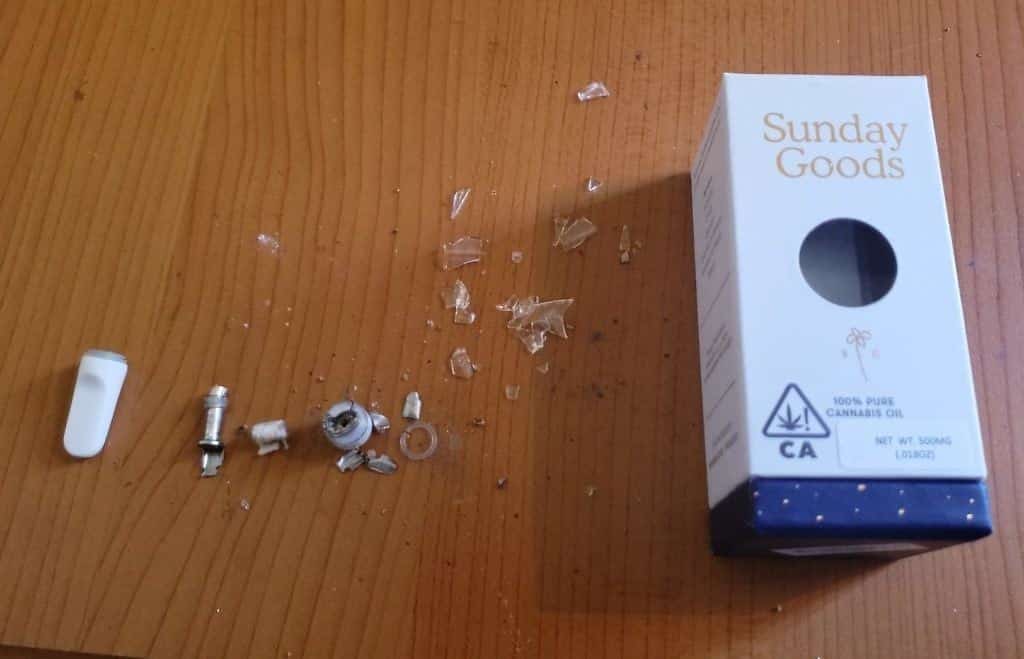 An examination of the cartridge's inner workings reveals the wick and wire heating system, a design I'm not very fond of. I do have to say, however, that in this instance the cloth wick is not a drawback. The cartridge allows a constant fluid draw which is sometimes an issue in this design.
I feel like the incredible quality of the Trainwreck oil makes the cloth wick design more than adequate. A coil and rod would supply a bigger hit, but the cartridge would be gone before you know it.
In the image showing the cartridge breakdown, you can see some of the points I talk about. For a mouthpiece, the cart uses a ceramic reed style and it does screw right off. Refill and reuse these carts if you so desire! Thick glass forms the outer tube and a metal draw tube descends down to the element housing.
Inside the element's housing is a tightly wrapped cloth which absorbs the oil. Gravity does its work so that the oil sits near the bottom wires, ready for ignition til empty. Proper design at the base of the draw tube leaves plenty of room for absorption. No trace amounts of oil are left behind at the end. Finally, you'll find the cart ends with 510 threading to fit your standard battery size.
Sunday Goods claims 125 servings in their .5-gram cartridge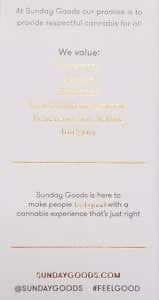 Obviously, this isn't an exact science but it definitely offers a nice point of reference. According to the back of the package, it states:
"For a proper feel-good experience, take a short draw to prime cartridge before attaching to battery. We recommend a three-second draw from the mouthpiece for a single serving. This cartridge contains 125 servings".
Pretty cool, huh? Of course, if you hit the cartridge super hard for three-seconds it probably won't have 125 servings. A coil heating element would almost certainly not give that many servings. Go for six or seven seconds on your draw and you'll feel like a trainwreck hit you.
End of the line on the Sunday Goods cartridge review
For a potent and flavor concentrate, make sure to keep an eye out for this Trainwreck cartridge. The only drawback we can find is in the heating system, and it isn't really a drawback at all. In fact, many connoisseurs prefer a short controlled draw over a lung-bursting vape. Ideally, you have the option of either or. We highly recommend the Sunday Goods Trainwreck cartridge for those who can splurge on quality. It doesn't fall too short of perfection. For now you can find more information on Sunday Goods products on WeedMaps. It appears the Sunday Goods website is partially down.