REVIEW OVERVIEW

SUMMARY

The Select Elite Weekender is a great disposable with strong oil, but it does have slightly restricted airflow and is expensive.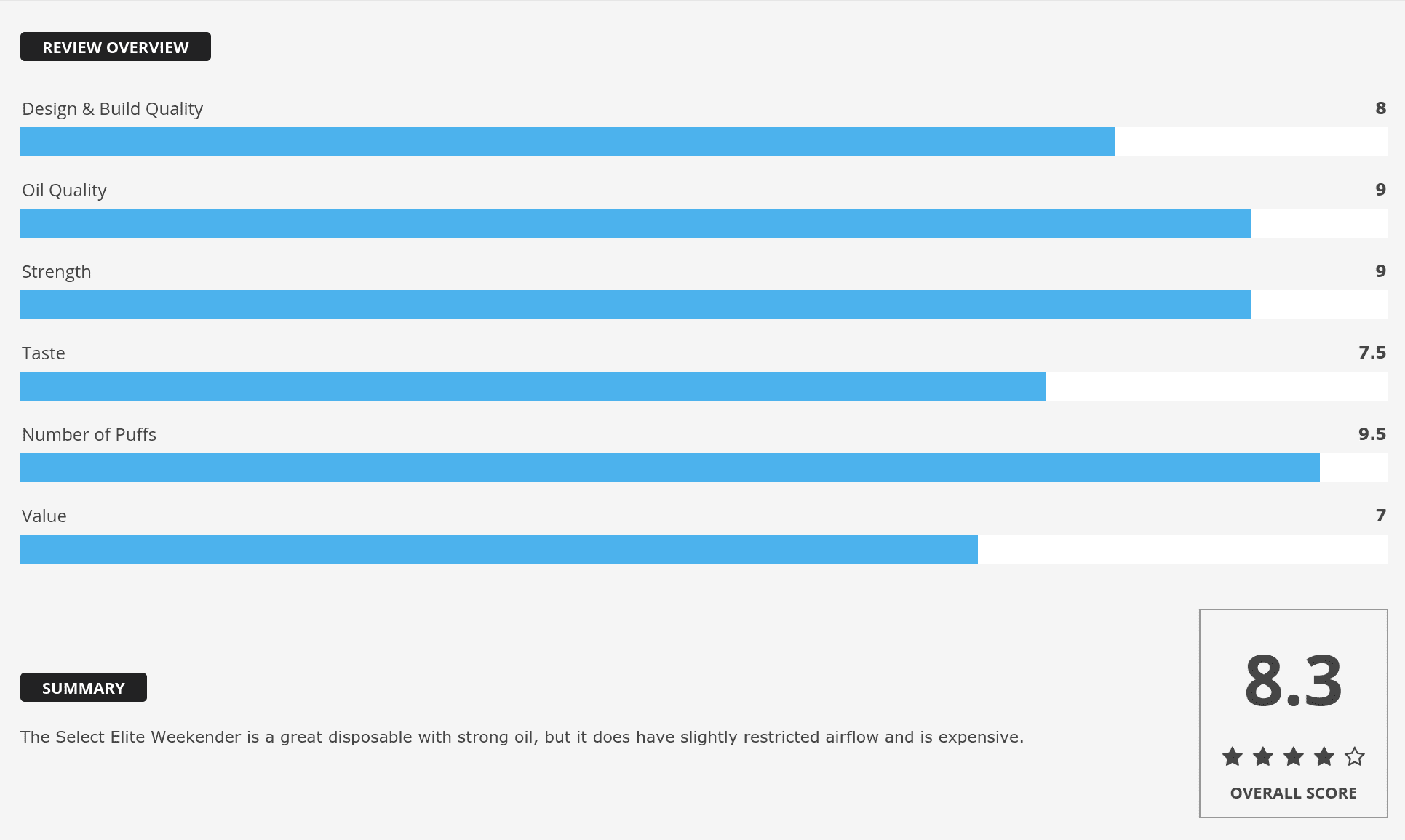 The Select Elite Weekender offered strong hits and proved to be very efficient. The airflow is a little bit tight, but the strength of the oil made up for that. In this review we are trying out the Durban Poison strain.
See below for the video review on Select Elite Weekender and continue reading to see more in depth review:
UPDATE 9/11/2019: DISCLAIMER: In light of more recent news, it has become apparent that black market cartridges, counterfeit cartridges, and fake brands of cartridges have become more widespread than we had ever realized. We urge readers to apply their own discretion, and caution that at no point should readers assume that a review of a cartridge on our site is a guarantee of its safety. We advise readers to always verify their cartridges as coming from a legitimate source.
UPDATE 2/01/2021: Recently Select Elite distillate carts have not been as strong as before. This probably effects The Weekenders as well because they use the same oil. We will update this review again in the future when we get a new one. On the other hand, Select Elite Live Resin carts are strong and now their best product. We recommend those over any of their other cart items.
Licensing Information: Elite CDPH-10001355
Select Elite Weekender kept up to the same standard as Select Elite cartridges
We previously reviewed Select Elite cartridges and found them to be one of the best cartridges in California and Nevada. They don't taste the greatest and the taste seems to be pretty similar across the brand but the strength is very consistent. We have yet to get a Select Elite cart that we would call week or even less than strong. The Select Weekender is no different. The oil quality is high, it lasts awhile and overall it's a good choice even though it's a little bit expensive for how much oil is in there.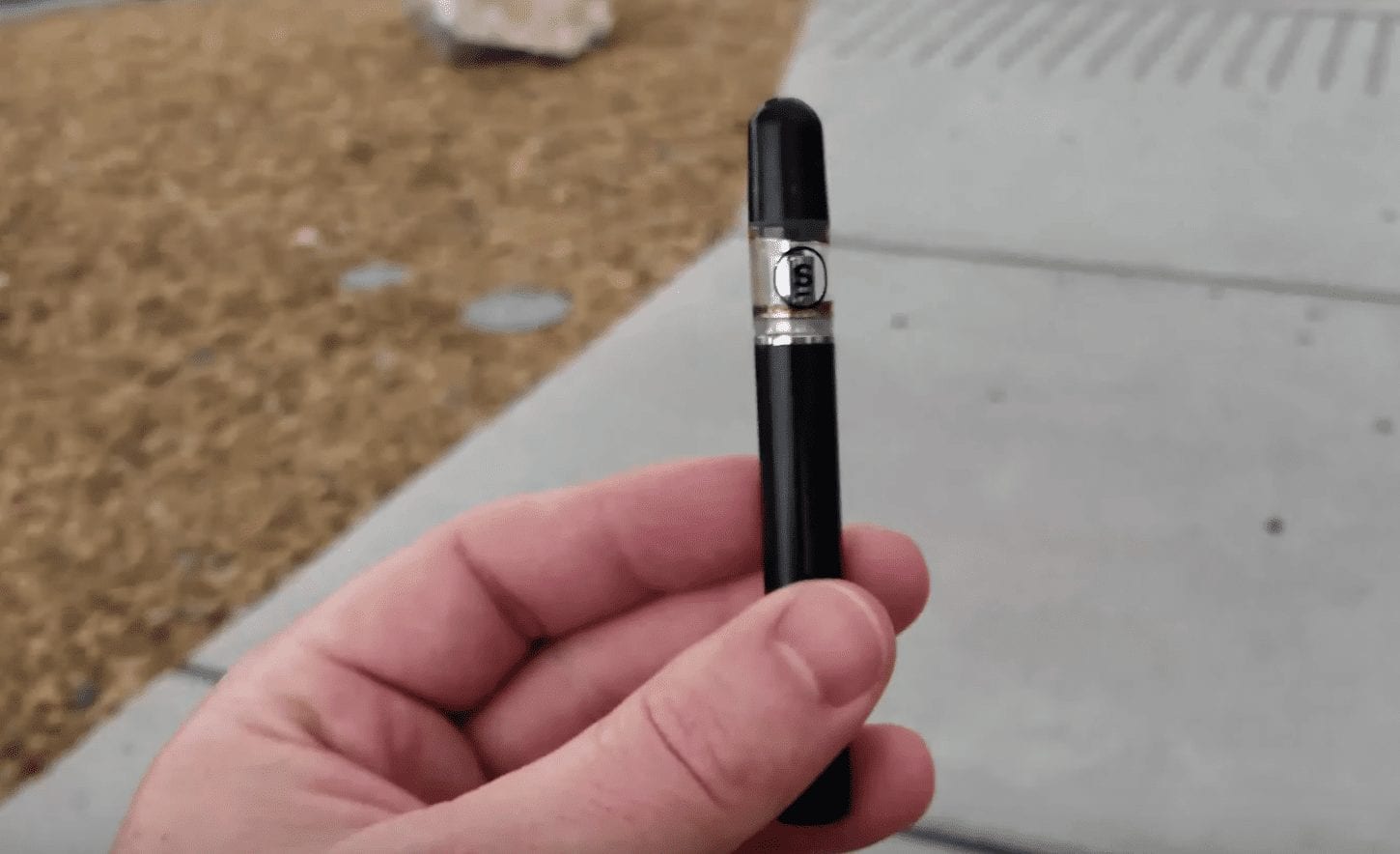 Design and Build quality is good, the vape is high build quality but there is slightly restricted airflow
The Select Weekender uses a disposable CCELL. They use the DS0103 CCELL disposable. It's a reliable piece of hardware. The oil was gone before the battery died. It's also efficient and the hits you get out of it are fairly strong. The only problem with this hardware is the airflow is a little bit restricted. It's not as good of the airflow you're going to get using something like the Vessel battery. The airflow is not enough of an issue that I wouldn't get this again, but it does make me prefer the standard M6T cartridge that CCELL uses in the regular Select Elite over this.
Oil quality was top-notch as expected
The strain used in this review is Durban Poison. I can't tell that much of a difference between this and all the other Select oils as far as effects or strength. They seem to be converging pretty much very similar cartridges with some slight variances and strength. That's fine though, because everything has been extremely high quality. This Durban poison oil vaped consistently throughout, never changed color, and looked the same until the end.
Strength is excellent on the Select Weekender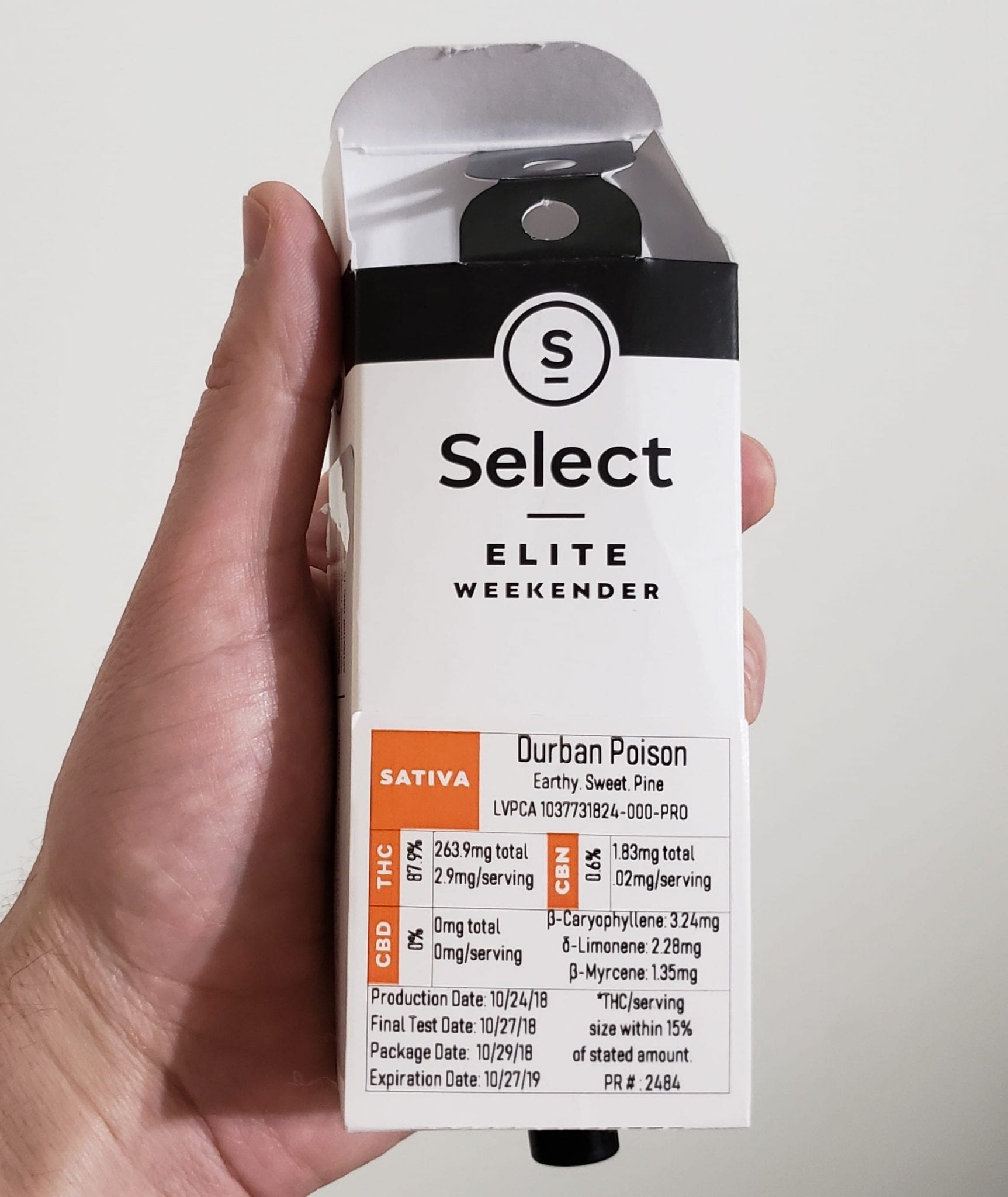 Strength is excellent and as usual, anything from Select Elite is usually high in THC. The THC is not the only factor in making a strong cartridge as we saw with the Flav cartridge review which then tested at 85% but still just didn't seem that strong. Select is great at making strong oil and Weekender is no exception here. At 87.9% THC, it's definitely on the higher end of THC content.
The Select Elite Weekender tasted pretty standard
Select Elite really seems to be getting the same flavor across all their cartridges lately. There's little difference between the different carts on taste. The Weekender tasted very close to the Royal Haze and Critical-X cartridges that I also tried recently. Flavor is important, but as long as they deliver great strength it could still be a great cartridge. If you want something that has similar strength but also has a very good flavor check out Airo Pro.
Select Elite Weekenders CCELL hardware is efficient to the last drop
The only issue I had with this type of hardware was the air flow is a bit restricted. The efficiency was as good as it get: down to the last drop, as much as you can get was used.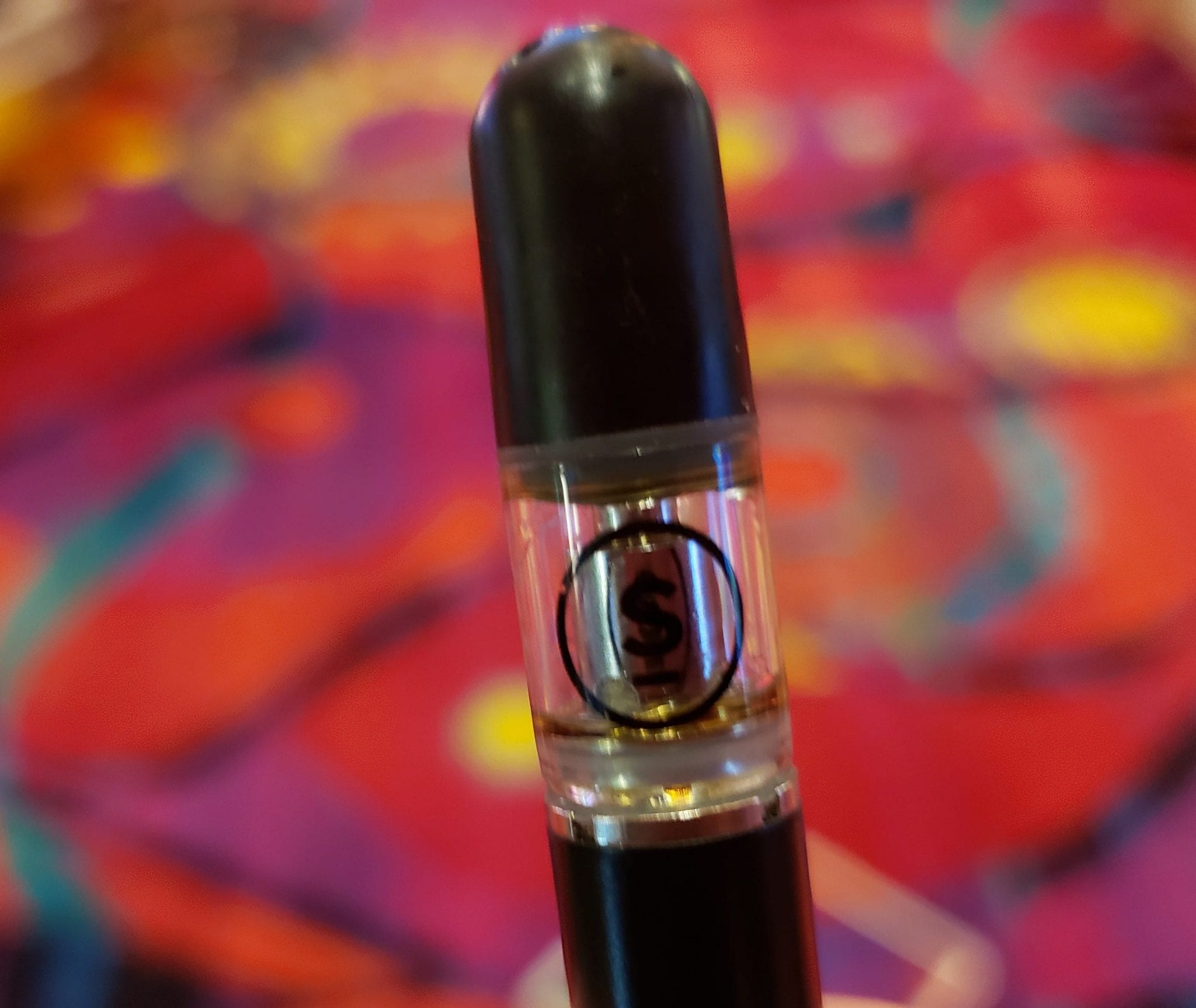 Number of puffs is high, oil vapes slow
The Durban poison oil in the weekender did not vape quickly at all. It seems to last quite a bit. It did not last proportionately as the oil that we found in the Binske cartridge but it is well above average. The restricted airflow actually probably contributes to make the puffs last a little bit longer as well but I just end up having to hit it more to get the same effect.
The Select Elite Weekender is pretty expensive for how much you get
Buy on the Select Weekender is good because it is really good oil. However, $30 for only 300 mL of liquid puts it at a higher price point than most other cartridges in the dispensary. At that price I probably would go for a regular Select Elite cartridge or an Airo Pro, or a Roots cartridge. When it comes to disposables, I would pick a Roots Broad Spectrum over one of these. But if I was trying to switch it up and already hit a lot of those lately, I may get one of these if I did not have a battery ready to go.
The Weekender is a much better deal than the Brass Knuckles vape. Comparing Napalm OG to it, the Weekender costs just a little bit more per mL, but provides much better effects and overall presents a better value.
Concluding our Select Elite Weekender review…
The Weekender turned out to be pretty good. It's expensive and airflow is a little bit restricted, but the oil quality is excellent and the effects are very strong. At $30 a pop, it is more expensive than anything else in the dispensary per mL considering you only get 300 mL. However, it is one of the better disposables out there, so it is definitely worth a try. Also, if you're getting this in California you may find it for much less, making it an even better value.
You can find Select Elite Weekender vape pens near you here. Learn more about Select Elite on their website.