This list has been updated for 2023 by our current local reviewer Miles.
Some reviews of products from Las Vegas/Nevada:
Black Label Brand Cured Resin Batter
The Lab Live Resin Cart Review
A couple of months ago our editor Pete compiled a tour of Nevada dispensaries. Here we specifically go through the best dispensaries in Las Vegas, Nevada. I haven't been to every single dispensary but we have been to a lot of them and researched the menus around town. I also searched out the deals to see what dispensaries have the best deals. This list is primarily based on which dispensaries have the best prices in town.
Oasis Cannabis Dispensary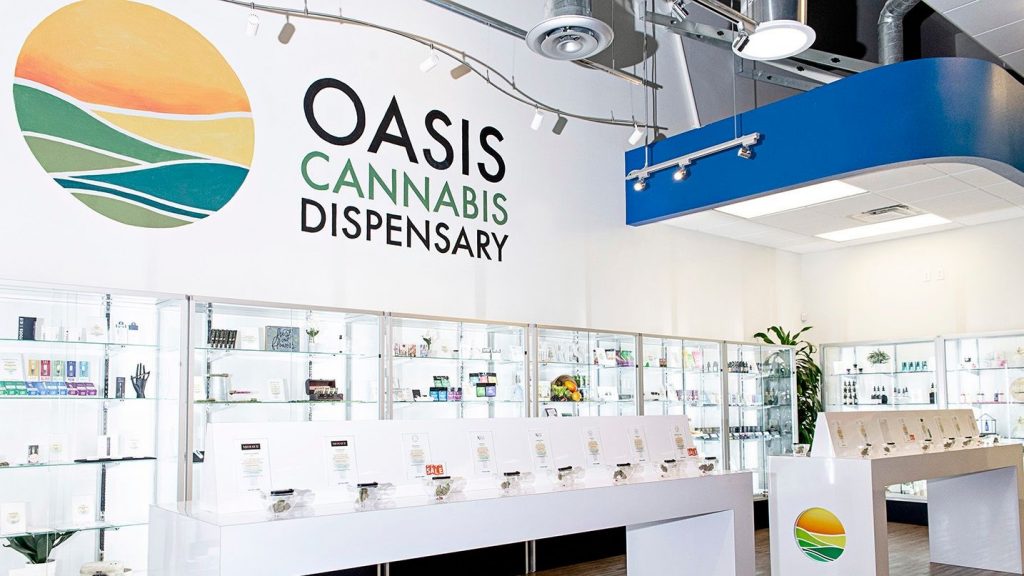 Founded in 2015 and close to Downtown Las Vegas, Oasis Cannabis is open until 2:30 am. Carts sometimes cost just over $20. They have great sales and promotions. If you go to the Oasis page on Dank Oil you can see what their latest deals are. You can also find more info about them on their website.
In addition to great deals, you may also get free bonuses when there. When I went to Oasis I also got a free T-shirt and a pair of socks. They also offer delivery.
Google Maps link for Oasis Cannabis
Planet 13 Dispensary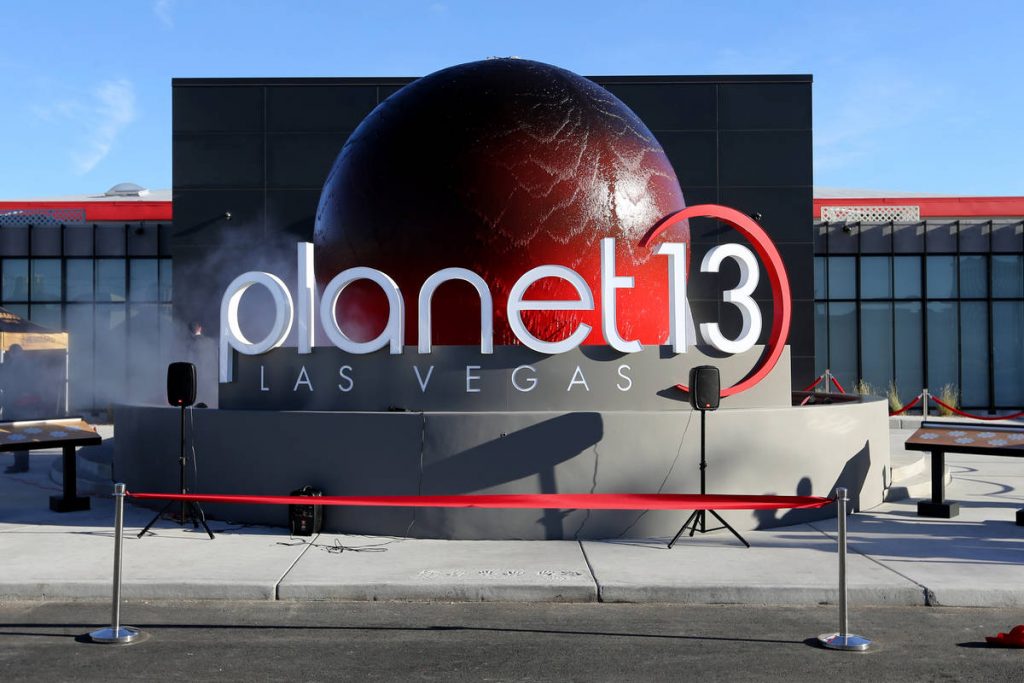 Planet 13 Dispensary is another store with great deals. Their retail outlet near the Las Vegas Strip is the largest cannabis dispensary in the world measured by square footage at 40,000. Their staff is also very helpful and knew the menu well.
This is one of those stores where you walk in and if the prices are standard they can be pretty expensive but if you check their deals you can find some great stuff for low prices.  You need to sign up for their loyalty program to get the best deals. They also offer delivery.
Here is a recent screenshot of Planet 13's local deals page, just to give you an idea: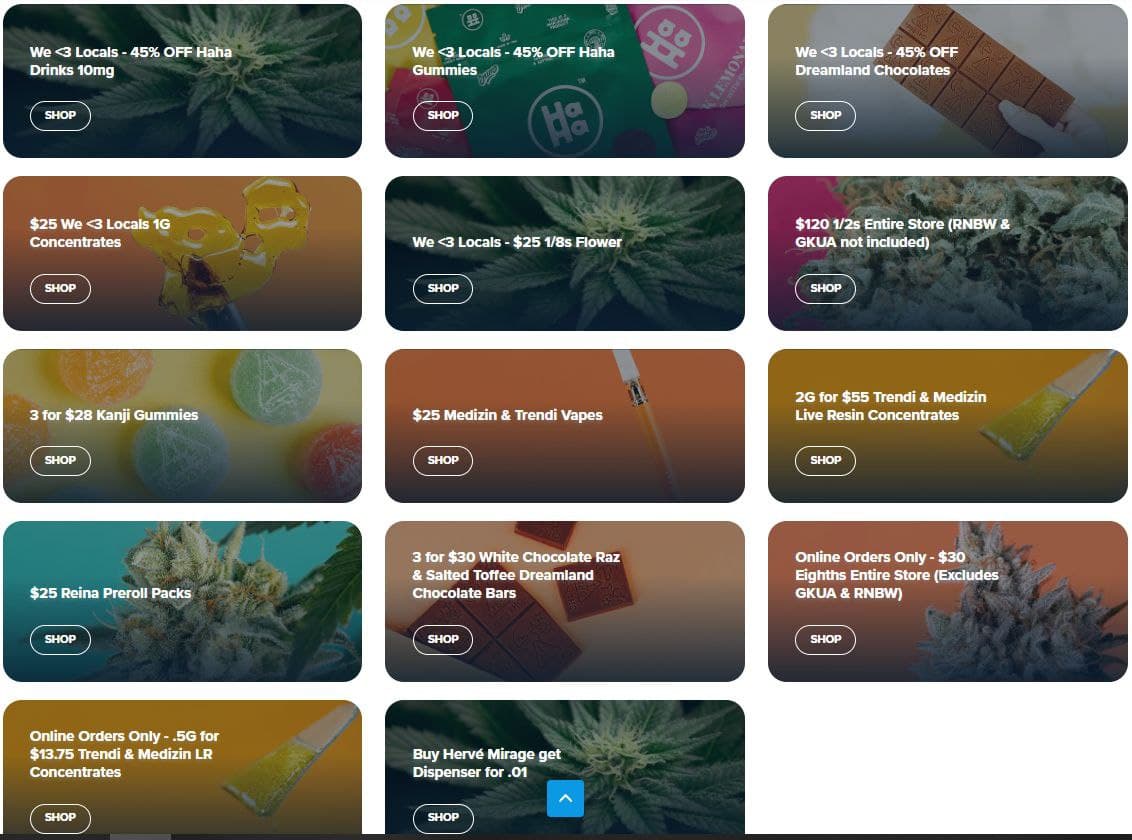 You can see a definite difference between local and tourist prices. This is one of the standard rules for anything in Las Vegas, come to think of it.
Google Maps link for Planet 13
The Dispensary NV – Decatur, Eastern Express, and Henderson Locations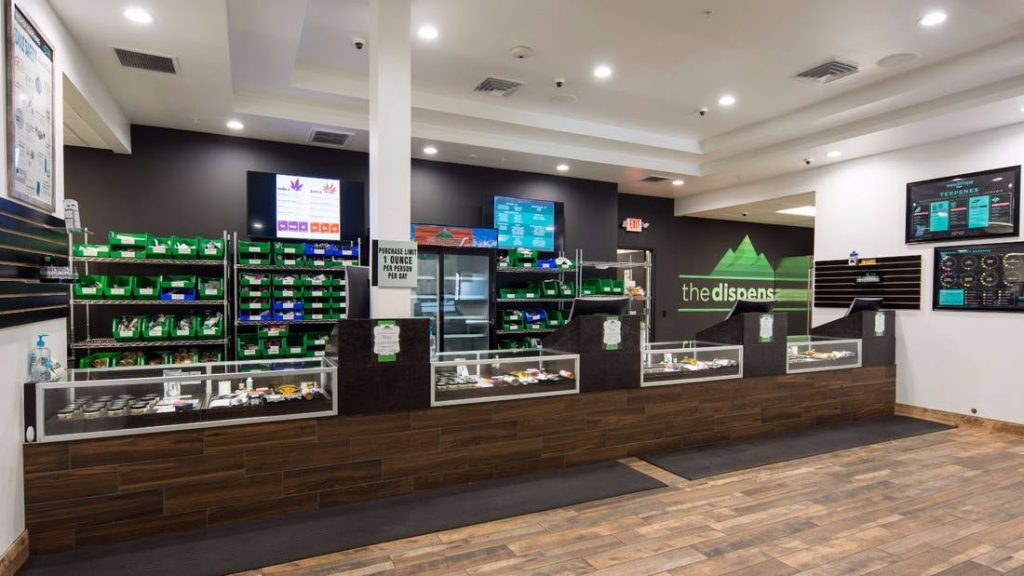 The Dispensary has stores in Las Vegas, Reno, and Henderson. They offer a wide selection of quality cannabis products–including flower, vapes, edibles, topicals, and concentrates.  Their Decatur location is the store I go to the most, but both locations offer great pricing and deals.
Their house brands are really good.  Sometimes here you will find 500mg Kanji vapes for 2 for $40, one of the best THC vape deals in Nevada. Their text deals are awesome and what you should sign up for them to find out their best deals. However, even if you do not sign up when you go there the deals are generally posted too. The staff also has great knowledge of the products and is really helpful.
Another bonus is you get credit for each time you shop that can be redeemed towards various items and works at both shops. I use it for a discount on my overall purchases. They also offer delivery.
Google Maps links for The Dispensary locations:
Honorable Mentions
These dispensaries below are worth a mention since they are also great.
Essence Cannabis Dispensary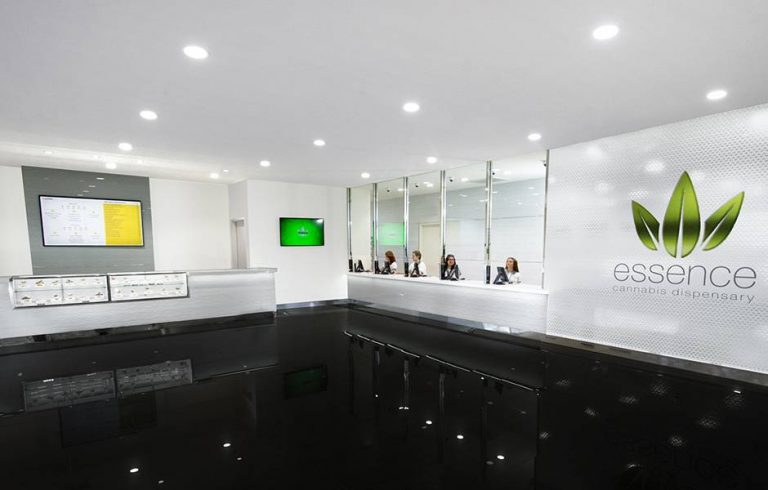 Essence Cannabis Dispensary usually has prices that are a bit higher than the above-mentioned shops, but there are some discounts you can apply that get the prices close to some of the dispensaries mentioned above. They have five stores in or near Las Vegas. One of those stores is directly on the strip. We checked into strip one recently and found prices getting even higher there, reflecting the inflation that has been rampant in 2021-2022, so Essence might have even less to recommend it.
We did a review of Essence Tropican West and that location particularly has one of the best selections of vape cartridges in all of Nevada. Their staff is also very helpful and knowledgeable about their products. They also offer delivery.
Google Maps links for Essence locations:
Acres by Curaleaf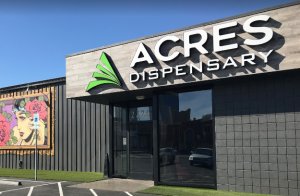 Although I have not been to Acres yet, they frequently have good deals so they are worth a mention. If you are in the area near Acres check the top of their menu page for current specials. They also offer delivery.
Final thoughts 
That's my rundown on the best cannabis dispensaries in Las Vegas. You may also be interested in our Best Carts of Nevada list that covers THC vape cartridges. You can also go to the Dank Oil Las Vegas page where we are tracking many of the deals in Las Vegas.
2023 update by Miles
As I reflect on the past year and my weed purchases, I start to think of the best places I've picked up over the past year. Being a long-time smoker and las vegas resident I've acquired a great ability to see thru scams and rip-offs. Sadly some of the local dispensaries do some sketchy things, that keep me away. But when I pick a place I'm looking at price, bulk, quality, and good service, in that order. That being said, the following are the top 3 dispensaries in my home city, Las Vegas.
Curaleaf
The spot that has had me come back time and time again is the Curaleaf dispensary. They have 2 locations that are very close to home, I can walk to either. Not having a car, this is key to my choices. Curaleaf just can not be beaten for its deals have been the best all year, right down to the 420 deal this year, which was off the hook with many amazing choices under $15.00. I picked up a few. They have some of the kindest staff in the industry, and they learn your name and order, that is good service. They have also been expanding their operation taking over some of the biggest dispensaries in our city. With a regular ½ oz at $50 and tax, you can not go wrong.
The Dispensary
The Dispensary, was a place that albeit very out of my way, had some of the highest quality products, with great taste and extremely well-cured flower would be the place I'd be going to daily for flower if I was a millionaire. It's all well worth the price, just that I smoke the same if it's $50 a ½ oz or $50 an 1/8th. So great for a treat, celebration or my birthday. The customer service was awesome here, everyone was open and friendly. I hope they open something in the middle of the city so I can stop in more often.
Oasis
As for a good price for a fair product, I'd have to end this with Oasis Dispensary. They do have great products, however, they have raised their prices over the past year and that for me is a big driver in where I purchase my products. They have a good friendly staff, kind budtenders who understand one's needs, and they do not have that tip jar in your face as you see all over the place. I do keep a close eye on their menu for deals and specials and now and again, I do still get over there to pick up a deal.
Let us know what you think, especially if you live in the area. Share your experience in the comments below or in the forum.