In this review, we have Qwin Delta 8 cartridges. The company Qwin focuses on a wide variety of high quality products, from Delta 8 THC to CBD products. Moreover, here we try their originals strain D8 THC cartridges. With each cartridge providing its unique and tasteful flavor, these carts overall give a fascinating experience.
Pros:
Great taste on all strains
Effective Delta 8
Efficient oil
Good potency
Fairly smooth
Cons: 
Qwin Delta 8 cartridges provide great taste and fair effects
After testing a variety of different strains from Qwin Delta 8, they all deliver fairly smooth hits and great tasting flavors. Each strain giving its own unique taste, they all give an amazing flavor. Some taste sweeter than others, but each cartridge lives up to its strain. Furthermore, these carts do provide decent effects and fair potency. But when it comes to flavor, Qwin D8 cartridges won't disappoint you.
Fair potency and efficient oil quality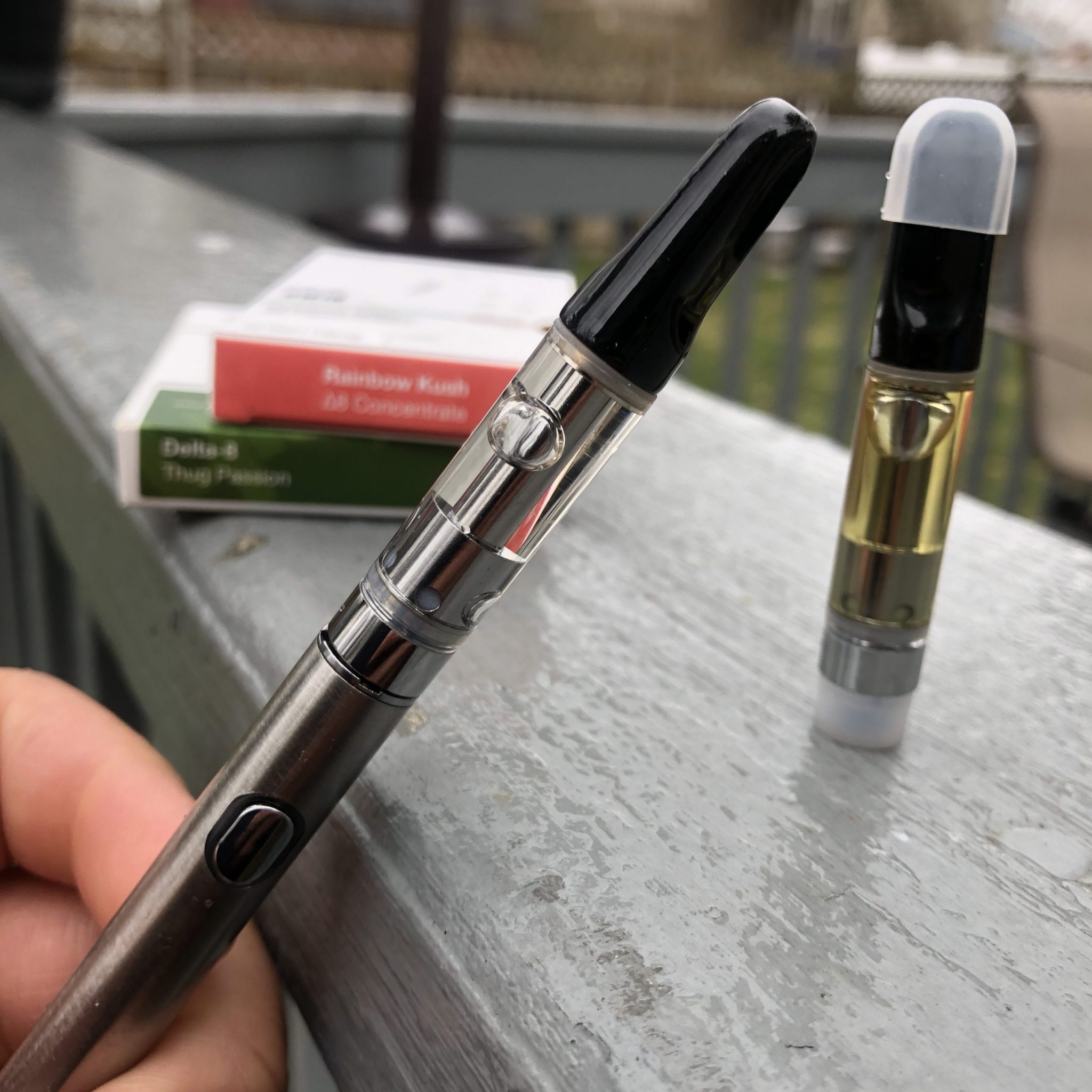 As shown below, Qwin Delta 8 tested for 89% D8 THC. Pretty high in D8, Qwin cartridges are fairly effective and very efficient. Although Qwin D8 cartridges aren't the most potent Delta 8 carts out in the market, nor the smoothest, these cartridges give a nice buzz and a good experience.
Authentic lab results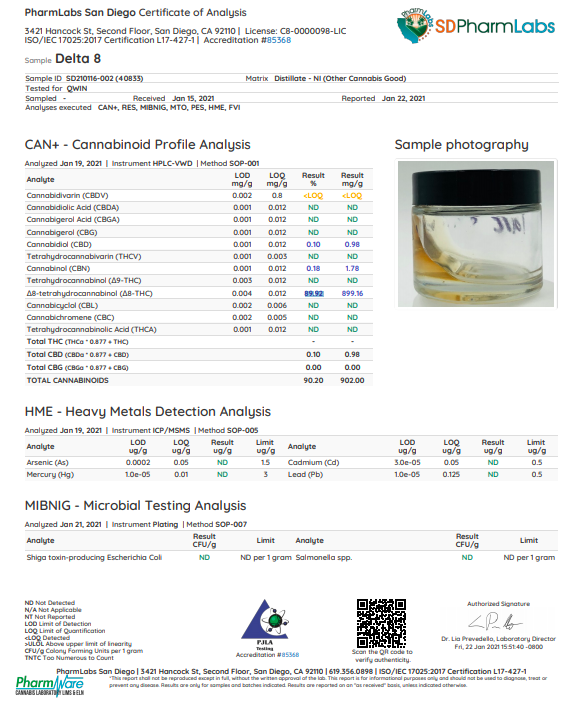 Qwin Delta 8 Cartridge Strains: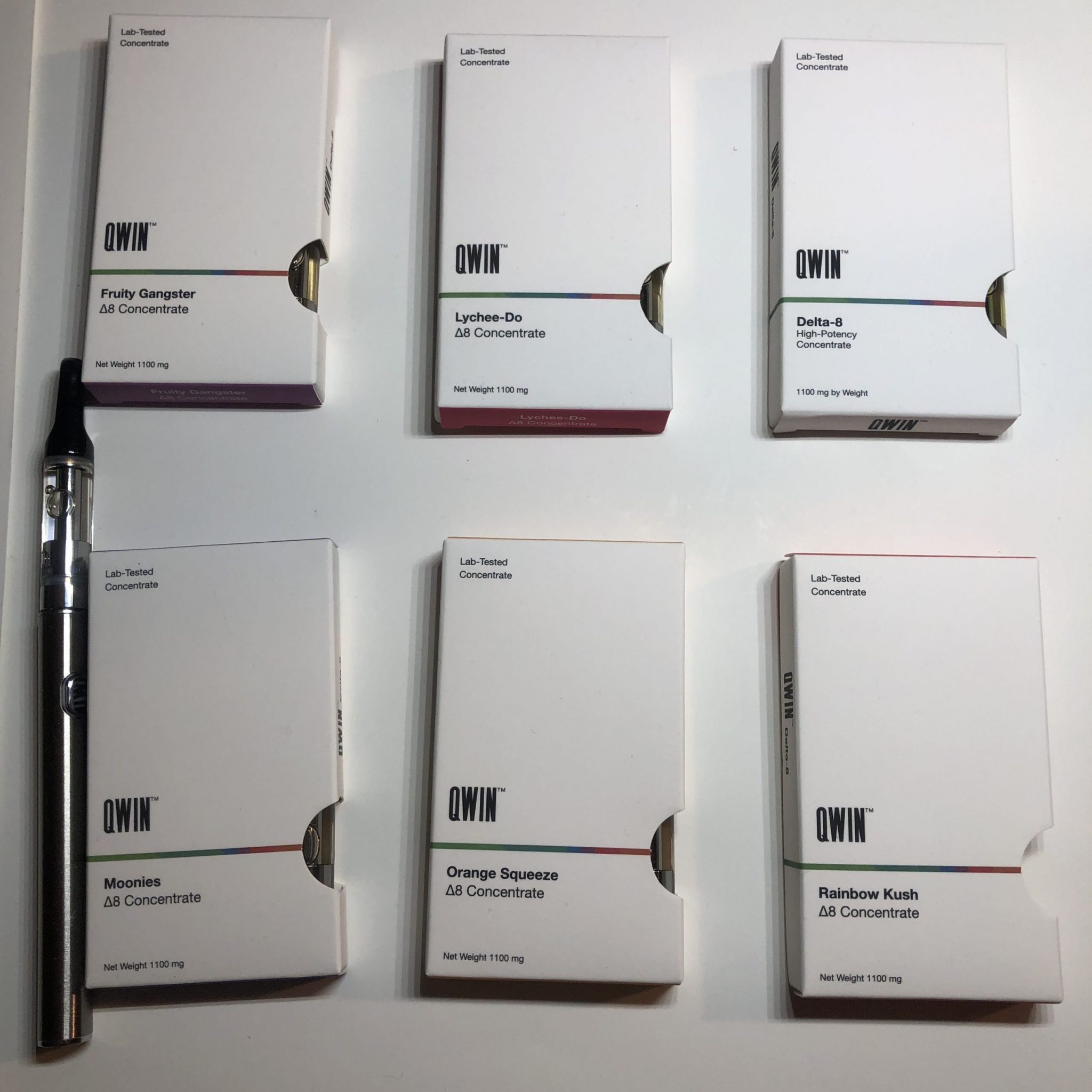 Qwin Delta 8 provides a wide variety of strains for their D8 cartridges. Having a total of 10 different strains, Qwin provides 2 different types of D8 cartridges. First, their original series next is their kush series. Here, we test most of their originals and just one of their kush series cartridge. Providing a unique taste per strain, they all give a great flavor and effects.
Thug Passion (Sativa) (Kush Series)
This specific strain is the only one in this review that is a part of the Qwin Delta 8 kush series. Unlike their original series, Thug Passions provides more of a piney flavor than the other cartridges. Tasting piney and more like herbs, this strain also gives a fruity and sweet flavor as well. Furthermore, this cartridge has genetics from the strain Jack Herer and is Sativa-dominant as well. If you prefer a D8 cartridge that provides a piney and kush flavor, along with a sweet taste, Thug Passion is a great option. I enjoyed this a lot.
Moonies (Indica) D8 Cartridge
Providing smooth hits and satisfying taste, Moonies gives a nice and light berry flavor. Fairly smooth, yet flavorful, Moonies is an Indica-dominant strain that has a blueberry and grape flavor. Furthermore, this strain gives an overall soothing and mellow experience.
Rainbow Kush (Indica)
Rainbow Kush delivers a great experience in flavor,  more of a sweeter taste. Also smooth and just as effective, but the flavor of this cartridge really is amazing. This cartridge gives a nice and sweet flavor, kind of like sweet candy. I definitely recommend this strain for those who enjoy sweet flavor strains.
Orange Squeeze (Sativa)
As you would expect, Orange Squeeze gives a nice, citrusy flavor. You don't taste much of an orange flavor, but regardless it still provides a great, fairly sweet taste. Smooth in hits and light in taste, this particular strain is good for those looking for fruit, specifically orange flavor.
Fruity Gangster (Indica)
This strain also delivers a good sweet, and smooth flavor. All strains again are pretty smooth, but Fruity Gangster gives a stronger, sweet taste to it. Again, as with all the other strains, this cartridge hits quite smooth and is effective as well. 
Lychee-Do (Indica)
Lychee-Do has to be one of the most tasteful in my experience. Of course, we all obtain different preferences, but this strain gives a wonderful, sweet flavor. Very smooth and packed with flavor, this cartridge gives a nice berry taste to it. I highly recommend this strain for those who prefer kush flavors.
Qwin Delta 8 cartridges use IKrusher hardware
IKrusher hardware is a fair cartridge. Moreover, it provides efficient hits and some nice clouds when used with the right battery. Qwin also provides a 510 threaded cartridge of their own. For a separate cost of $10, that's not bad of a price at all for the battery.
Good value for a great Delta 8 cartridge
The price of these cartridges go for $45 per cartridge, which is a fair price. Although there are plenty of inexpensive D8 cartridges that go for $20-$35, I've noticed that the $40 price range you get some great quality cartridges. You can also purchase a bundle of either their Kush or Original series and save yourself around ⅓ of the original price, which is a great deal.
Overall, Qwin Delta 8 cartridges provide a great experience
Regardless of which strain you decide to purchase, Qwin Delta 8 delivers a fascinating experience. These smooth cartridges each provide a great taste and their own unique flavors. Along with that is their good quality D8 oil, effective and very efficient. An overall great experience if you want a