Here we go through the best and worst types of cartridge hardware for 2019. There's a lot more variance in vape cartridge hardware that is used for THC and CBD oil than ever before. However, many THC oil brands are converging to the TH2 series by CCELL.
Best:
Worst:
These design styles are ahead of the pack. We get sent a lot of cartridges to us here at DabConnection. Manufacturers are often looking for a review, an opinion on the hardware, or they send it to us thinking our site sells products (we don't). ALD and CCELL's designs stand out among the pack.
BBTank X: Huge clouds, excellent taste, smooth hits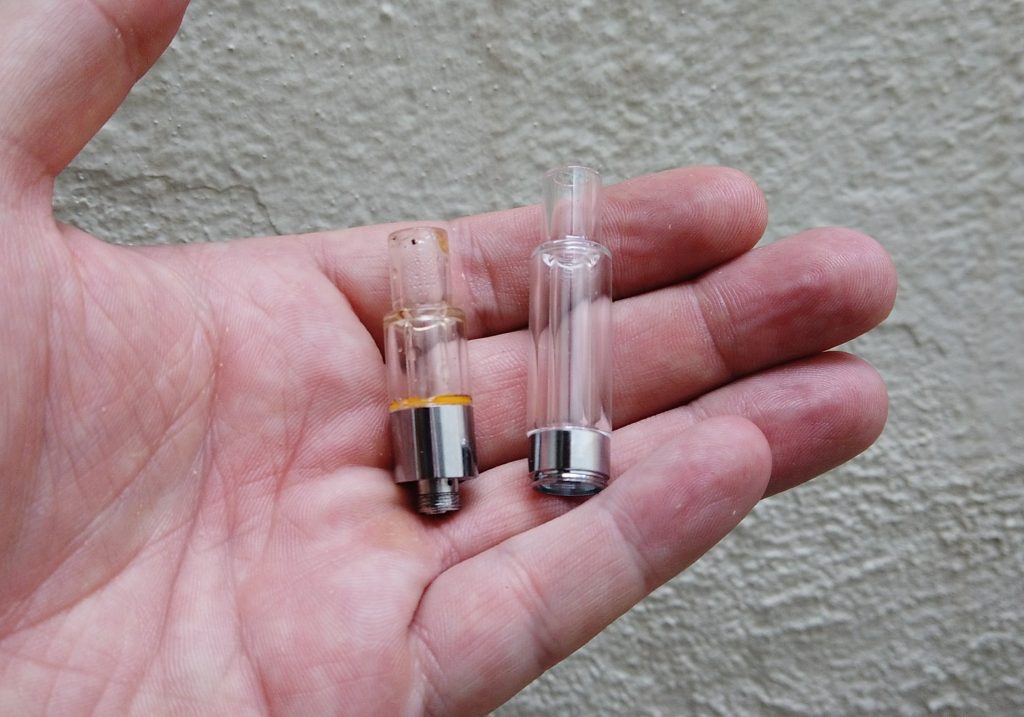 The BBTank X is new for 2020 and is similar to what is used on the Left Coast Extracts cart. Hits are strong yet unbelievably smooth. The clouds produced by this are some of the biggest we have seen and by far this cart has the best large cloud to smoothness of hit ratio.
We're hoping to see this piece of hardware picked up by more THC oil companies in 2020. You can learn more about the BBTank X by checking out our in-depth review.
CCELL TH2 Series: Consistently awesome quality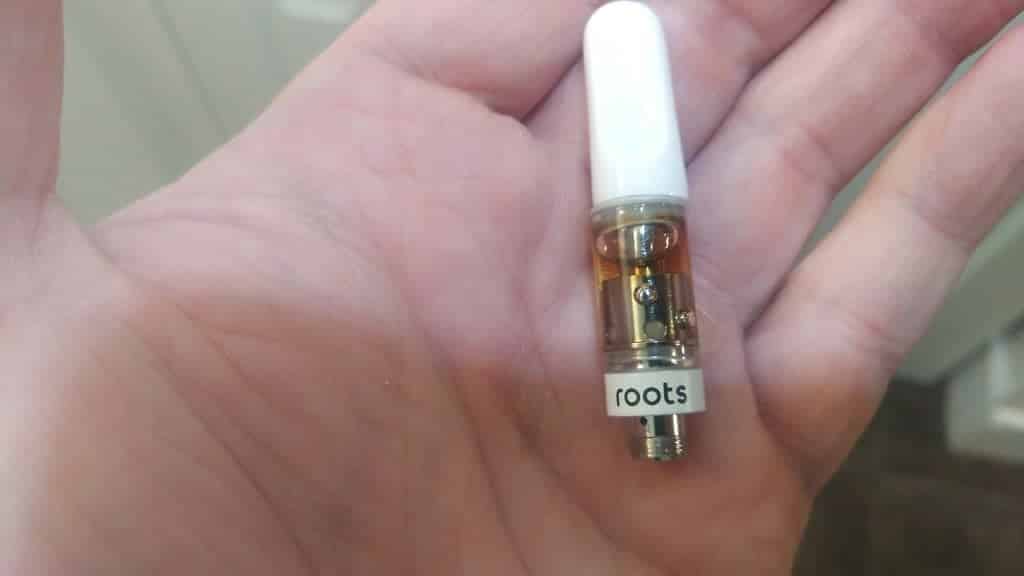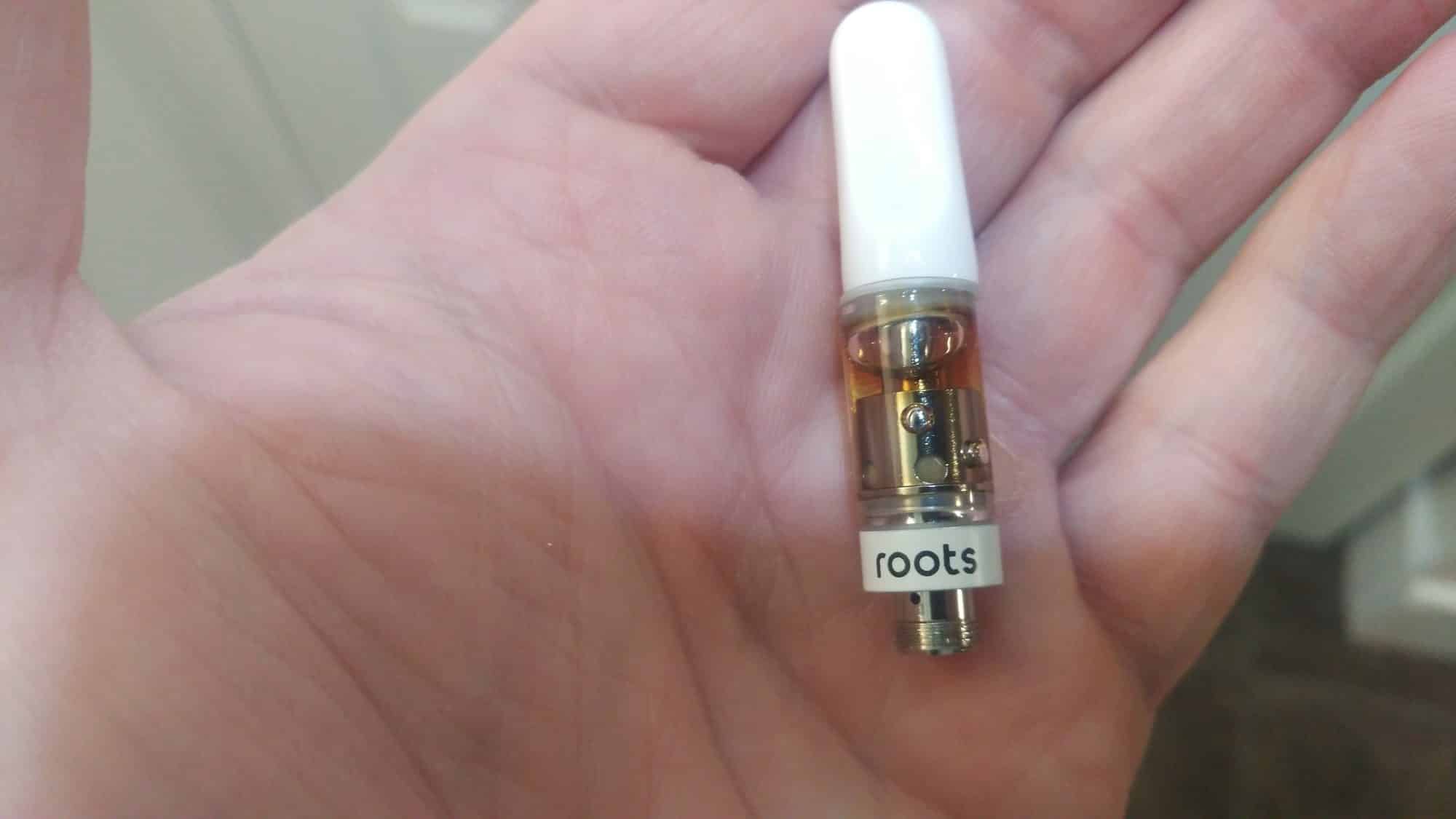 CCELL's newest generation of cartridges all have the same core. The M6T or the versions you find on Select Elite cartridges will effectively hit the same as the TH2. The reason we select the TH2 above the other CCELL cartridge designs is it's easily refillable. When you get it on a prefill like a Sunday Goods cart, you can unscrew and refill with more oil. TH2's come in three sizes: 1000ml, 500ml, and 300ml.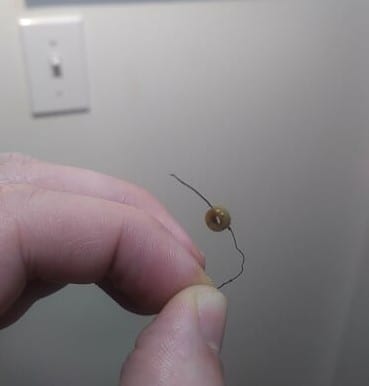 In the event there is a failure, you can also get the oil out much easier.
SPRK cartridge by PCKT Vapor: Made for refilling, awesome flavor
The SPRK currently only comes as a fill-your-own cartridge but we're hoping soon to see it in prefills as well. It uses very thick glass and a thick metal mouthpiece. It's got some weight to it and you can feel the build quality. Heating is done via ceramic core and this cart has the best airflow of the bunch. The low placed intake holes also make it the most efficient.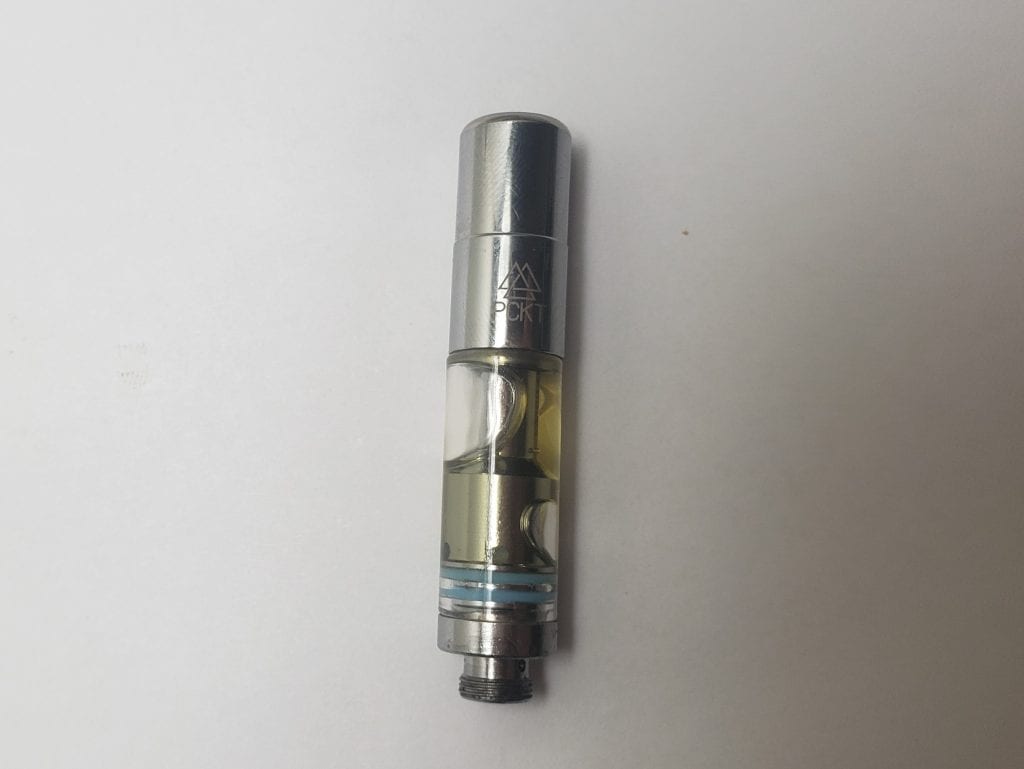 Our favorite thing about the SPRK cart? It's made for refilling. PCKT encourages you to refill it, whereas many companies clearly state their carts are made for one time use. See our SPRK cartridge review for more info.
ALD makes Stiiizy and vFire: Similar cores, Stiiizy comes prefilled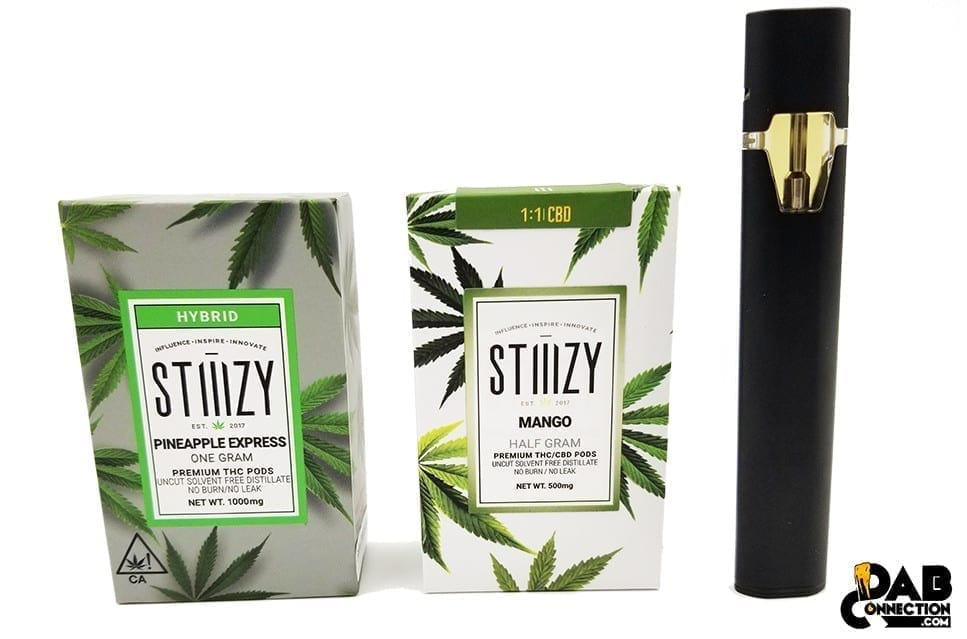 We put these two together because they are essentially the same internal hardware and are both manufactured by ALD. The difference is the Stiiizy vape comes prefilled and Stiiizy had exclusive rights over the hardware. A lot of people still like the prefilled Stiiizy pods, but I think they are way weaker than they were in late 2017. Once Stiiizy went from light colored to dark colored oil, things changed.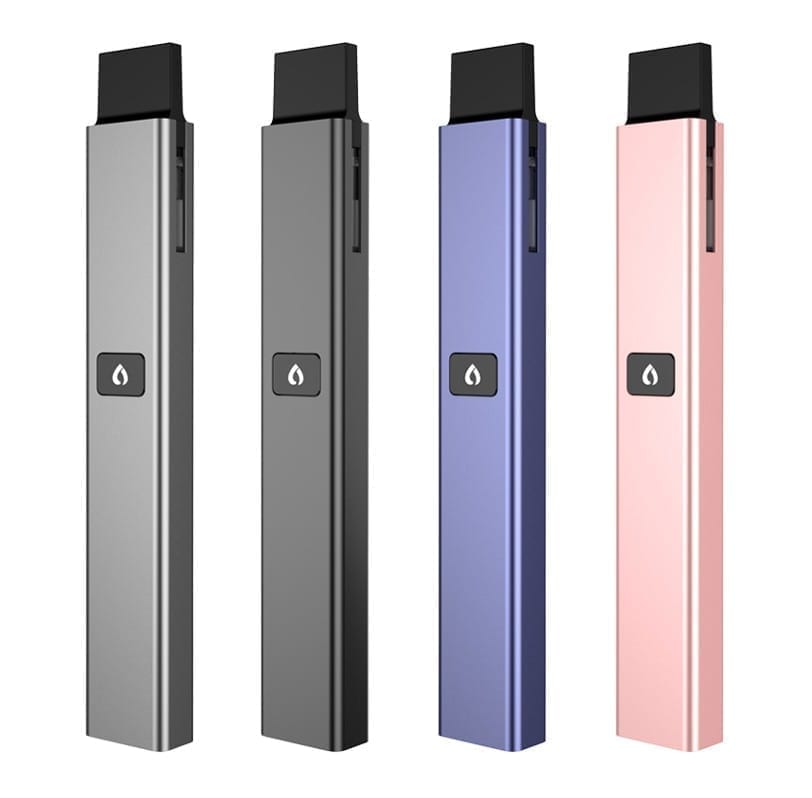 That does not mean they are not good hardware though. Refill Stiiizy pods with stronger oil and you got a real hitter.  Both "gram" and "half gram" pods are available for Stiiizy, but we found before that the half grams are actually 375ml.
The vFire vape is just a different form factor, but is essentially a  square shaped Stiiizy. The vFire battery is $22.95 and replacement pods are $6.95 each. You can often find a Stiiizy battery for $20 at dispensaries and a filled for $30 for a comparison. vFire pods come in 500ml and 1000ml sizes.
CCELL Uno and Dart: Strongest hitting vape pods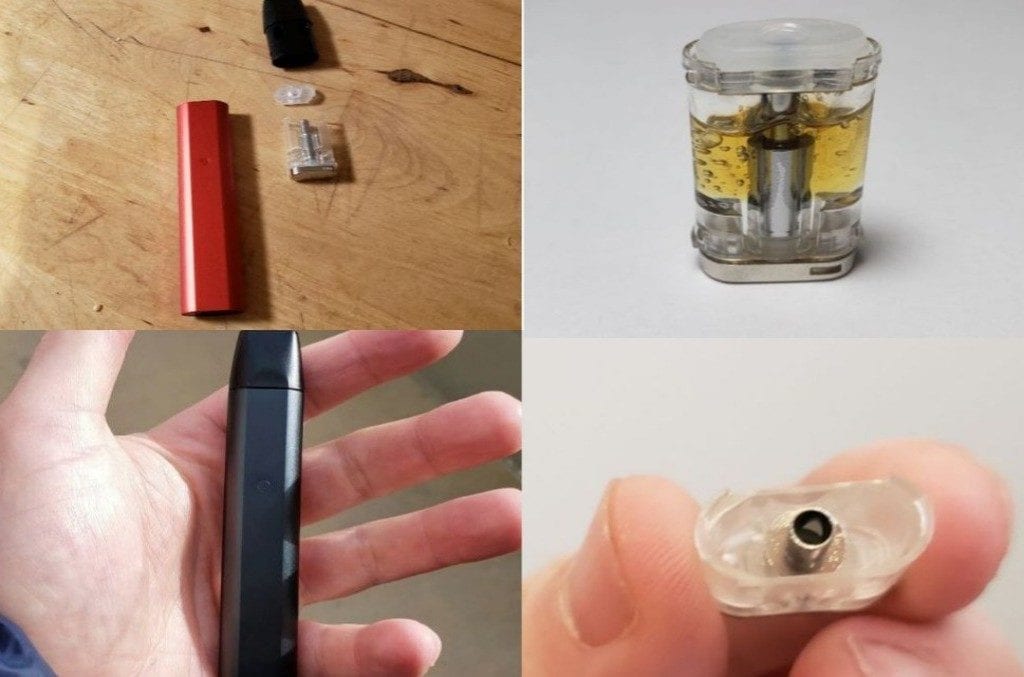 We recently did a CCELL Uno review and found it to be the hardest hitting pod system. I have also hit the Dart and it uses the same pods as the Uno. This might be a one-off experience, but so far I get a bit harder hits from the Uno than the Dart.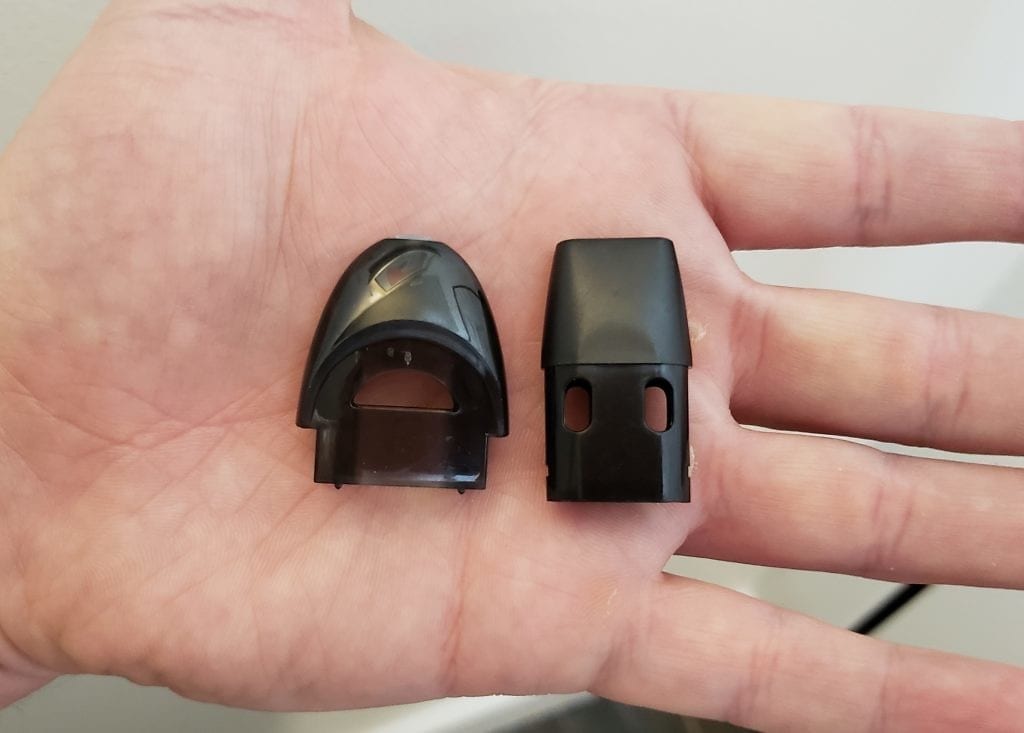 The Uno is so far the hardest hitting pod system we have tried, but it does go through oil quickly. I will burn up a half gram in an Uno pod 1/3 faster than I would in a regular cartridge. For this reason some might prefer the lighter hitting ALD products, but I would take the Uno first any day. See our CCELL Uno review for more info.
Worst designs: G Pen Gio, Top Airflow Wire Core, Brass Knuckles, Hempod, Old CCELL (and clones)
All four of these types just don't give the best hit for one reason or another. Wicks, weak, not enough airflow, the problems are there on each one.
G Pen Gio: So close to being a great oil vape pen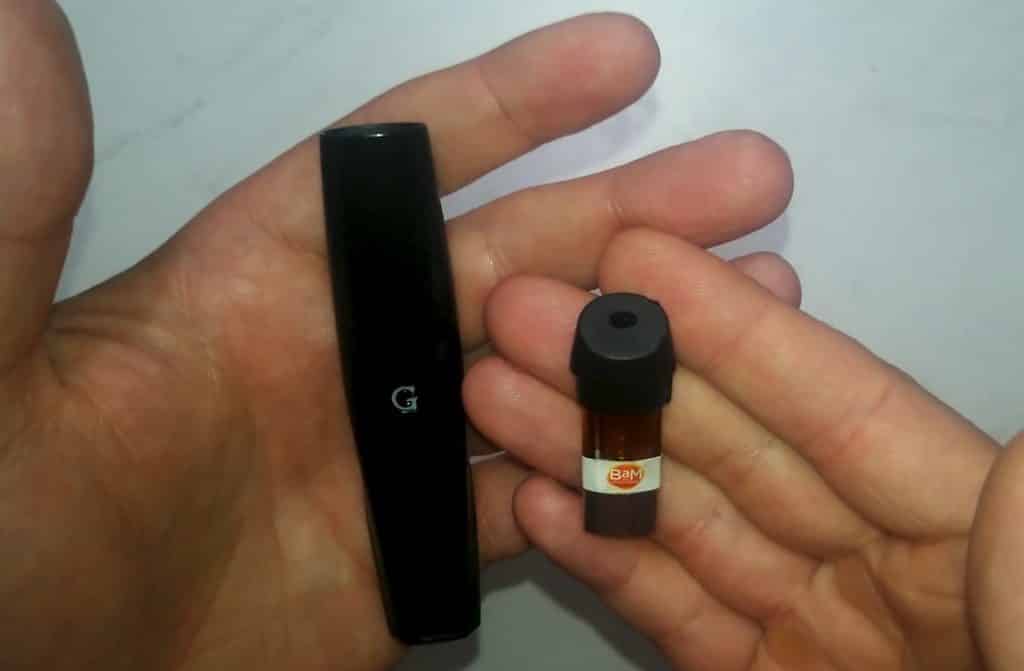 Update 7/25/2020: Apparently G Pen has updated the core of the Gio. We will be breaking one down again soon to check.
The only problem we found in our G Pen Gio review is heating core. Feel, battery, discreetness, this setup almost has it all. We hope G Pen will make this a better product in the future with a core update. The wick on the Gio burns and that's the issue we have with it. See below.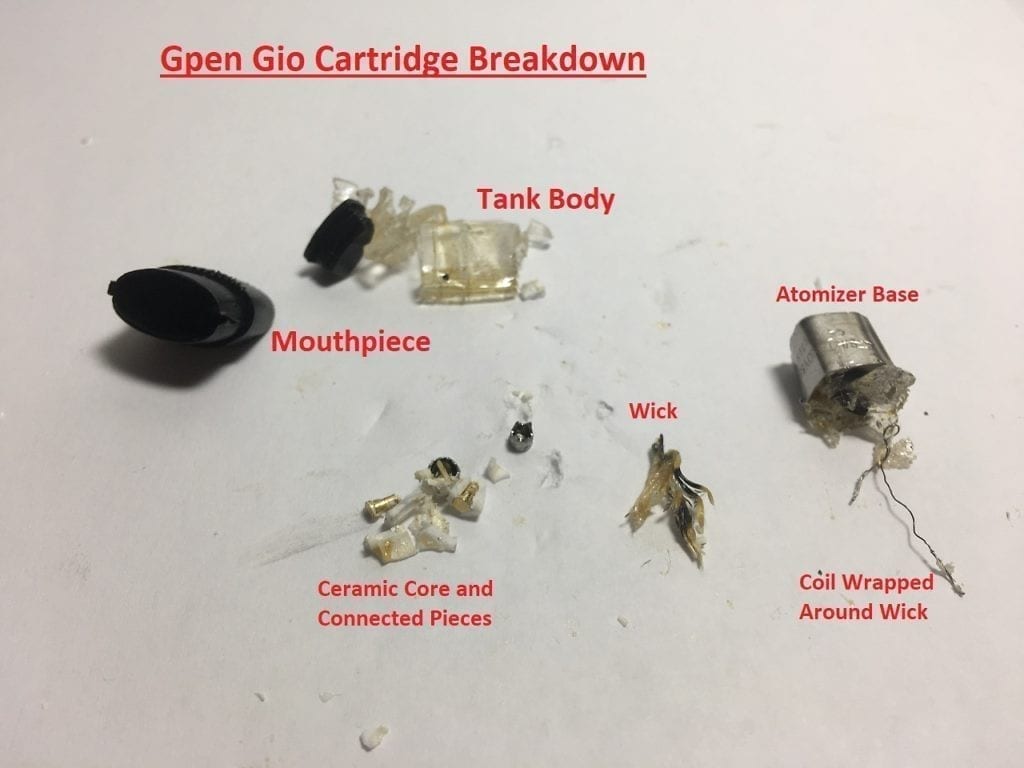 There's a lot of good oil out there for the Gio. BaM pods are worth trying even with the burning core because they have awesome quality BHO oil you don't see that often. Even with the burning core they still made our best cartridges Nevada list. We have only seen the Gio in 500ml variations.
Top Airflow Wire Core: Rove, Cannabiotix, Kynd and others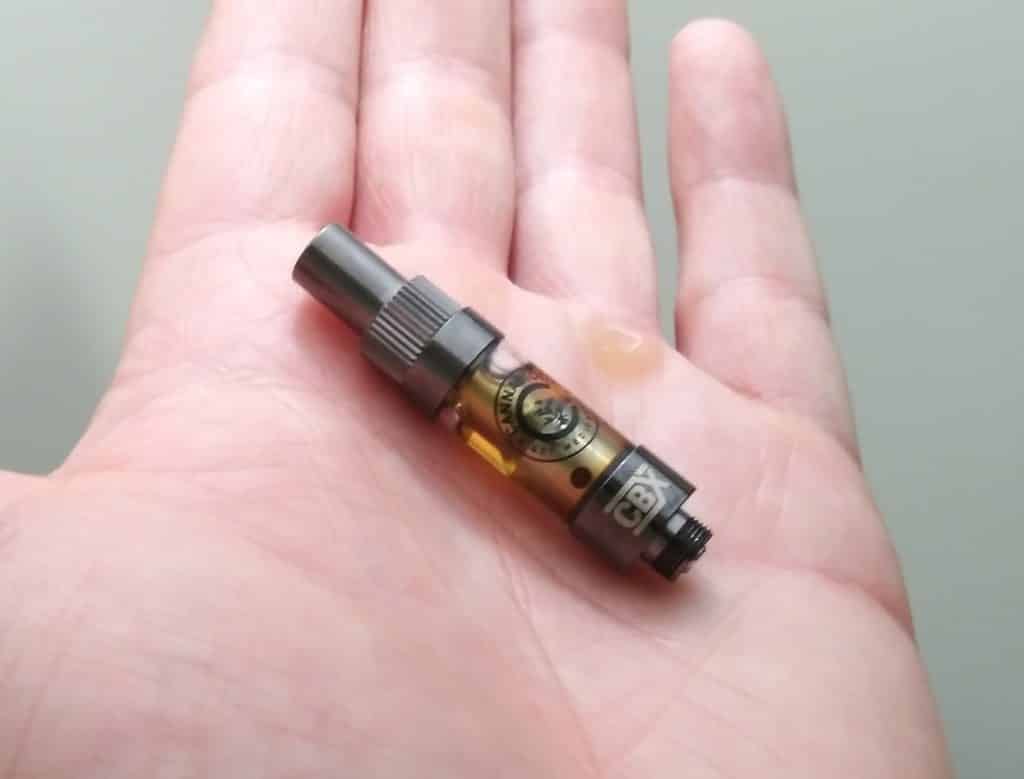 These types of cartridges have some variation between them. You will see some with variable airflow and some with pre set airflow holes. Rove cartridges are still very good because they have great oil. You need a push button battery for these types of cartridges to work. Below is a breakdown of the cart.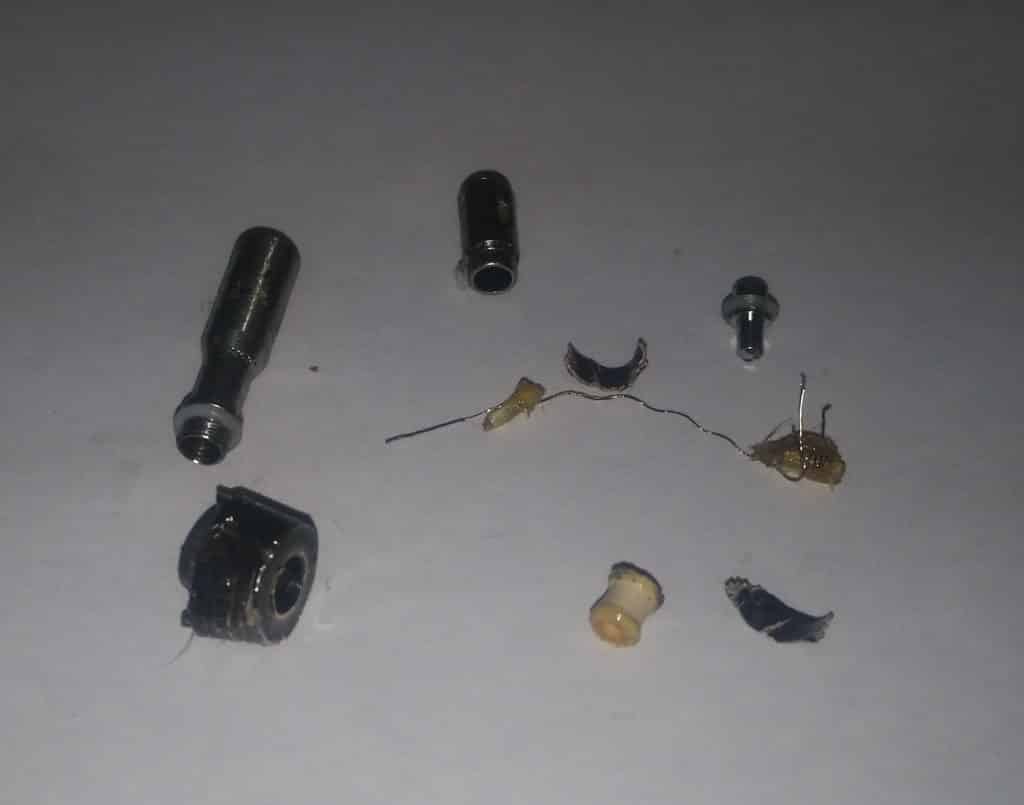 Top airflow cartridges are not compatible with the popular CCELL Palm and Silo. We found mod batteries tend to be best with these types of carts, but you may also like the battery included in the Rove Pro Pack. The main problem with these carts is they just do not hit that great. We seemed not to get the same hit strength as a CCELL and taste was not as good either. This style of cartridge is available in 500ml and 1000ml capacities.
Brass Knuckles style cartridges are outdated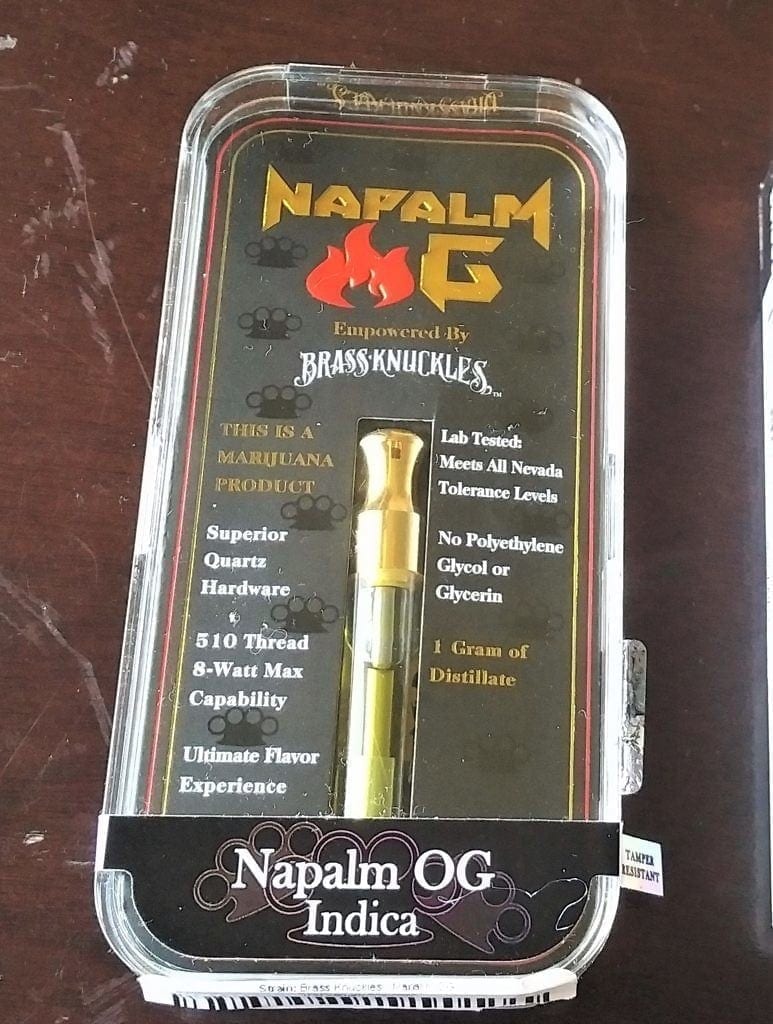 These Brass Knuckles vapes are extremely popular. A lot of this is due to advertising and celebrity endorsements. People seem to either love them or hate them, but either way the hardware is dated. BK uses a coiled atomizer to heat the oil and it gives off a metalic taste. Failure rates are high on Brass Knuckles, my Napalm OG cart dying about 2/3 of the way through as an example. All Brass Knuckles cartridges are 1000ml.
Hempods and most Juul compatible pods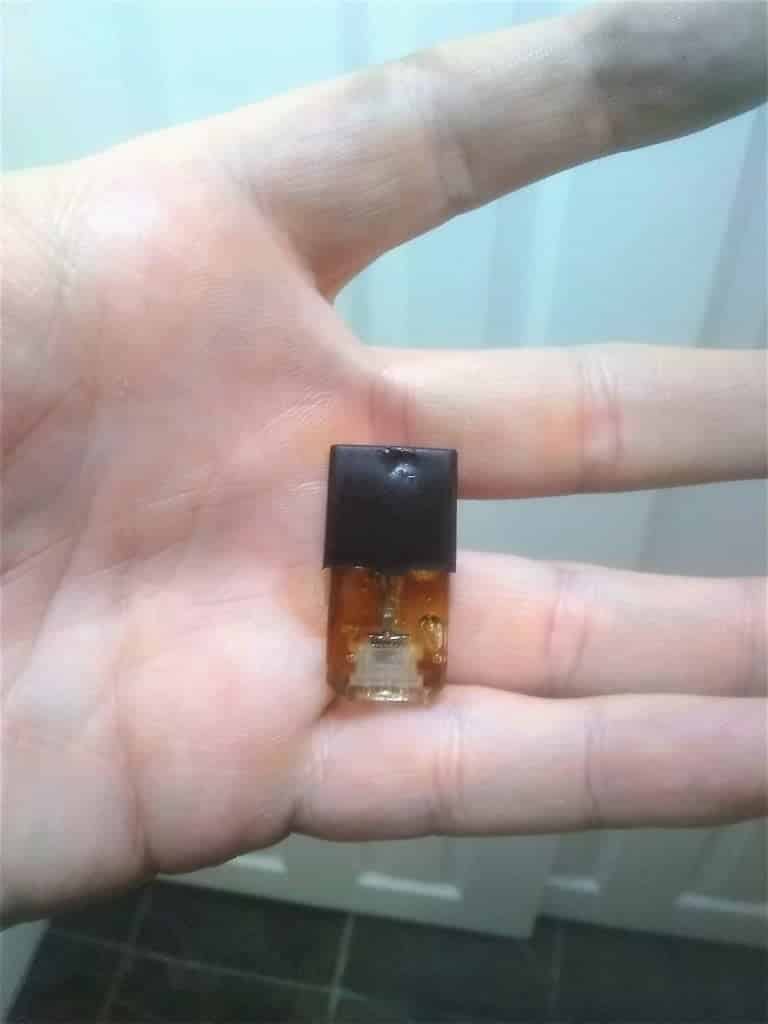 THC Juul pods have become popular since they are so discreet. The sad part is most of the designs for these pods are poor quality and involve hitting off the wick. We have heard that the ceramic core J Pods are more promising. In our Bare GoPods review we found that the ceramic core had too much mass to get heated properly from a standard wire. In Hempods, we found that the wick just gets nasty after some use, plus it leaks.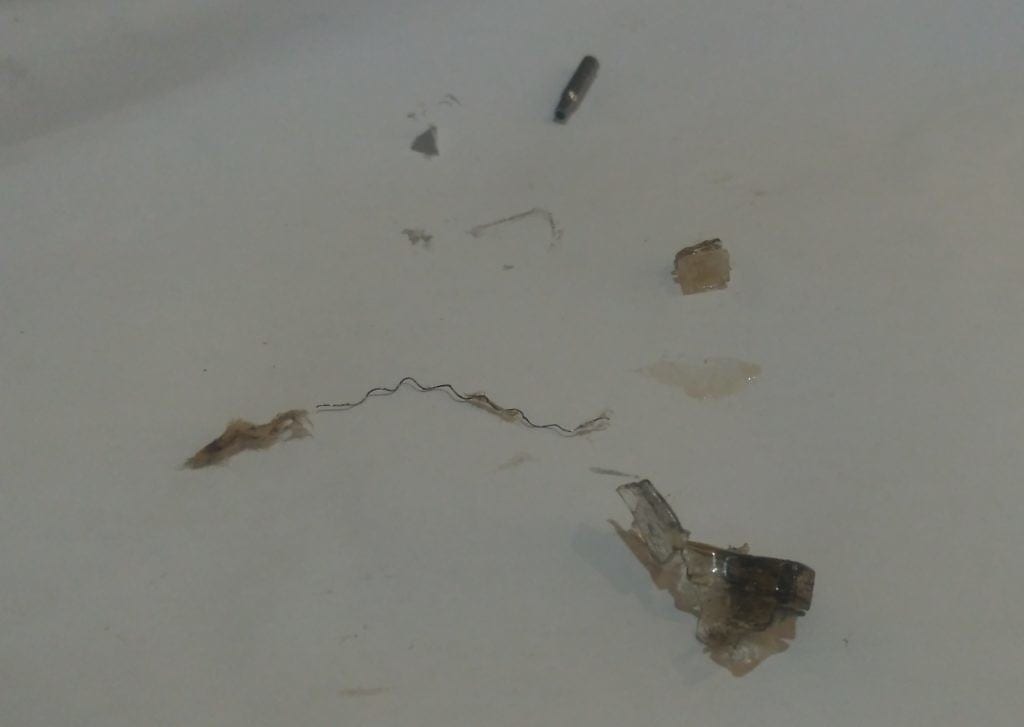 There might be better Juul pod systems out there, but so far we have been disappointed with this style of atomizer.
Old CCELL cartridges have restricted airflow and poor taste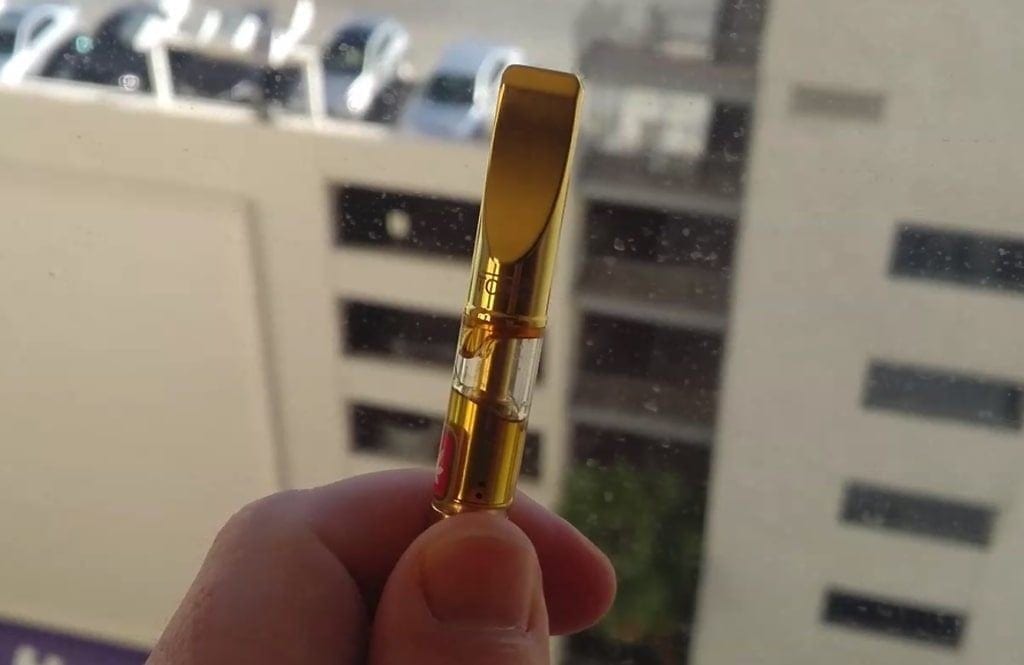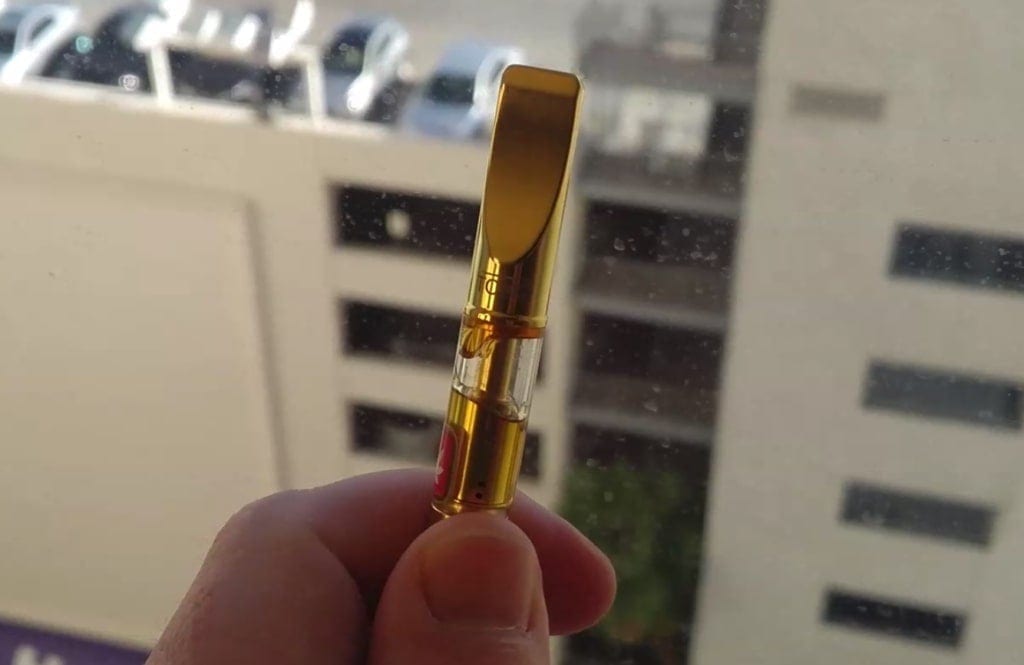 Many brands still use this last generation CCELL or a clone of it. Some of them are actual CCELLs and some of them are clones. Either way, this old style CCELL does not hit very well. Poor airflow and weak hits make this a type of cartridge we avoid. A good example is the cartridge by Toko Gold. The oil quality is amazing, but until you swap it to a better cart you won't get that great of hits off it. These old style CCELL carts are available in 500ml and 1000ml.
Getting the best cartridge designs
When it comes to cartridge designs picking the best is easy. CCELL's TH2 series and the PCKT Vapor SPRK are far above the rest of the pack currently, but that might change in the future. ALD's vFire offers a great pod option that does not require you to buy anything prefilled.
What's your pick for best type of cartridge design? Post a comment below or in our forum!