REVIEW OVERVIEW

Design and Build Quality

6

SUMMARY

The Toko Gold cartridge is alright as is, but could be a great cartridge if it's updated to a new style CCELL cartridge.
[sc name="AMP_Rating"]Toko Gold vape cartridges are made by
Toko
, a cannabis brand that specializes in oils. We found the
THC
oil quality to be great, but the hardware dated, resulting in a mediocre overall cartridge. Simply updating the hardware on the Toko Gold cartridge would make it an excellent choice. I even dumped the oil in a new generation
CCELL
cart just to test theory, and the quality of hit was much better.
Pros:
Great quality oil
High strength
Pesticide free
Cons:
Dated hardware restricts performance
Recommendation: Update the cartridge hardware and this thing is good to go.
Licensing Information: Sweet Cannabis 1036396576-002 PRO 5942534293689617985
Check out our video review here or keep reading on for the more in depth review.
Toko Gold comes very close to being a great THC cartridge
Toko has great oil. The specific cartridge we used for this review was the Durban Poison strain. All they need to change on this cart is the hardware and it's good. It looks like on their website they even have "coming soon" a new cartridge style. The new style seems to resemble the old CCELL. In short, get this cartridge when they update the hardware. We hope that is soon and we also will update this review.
Toko's hardware is the old style CCELL or clone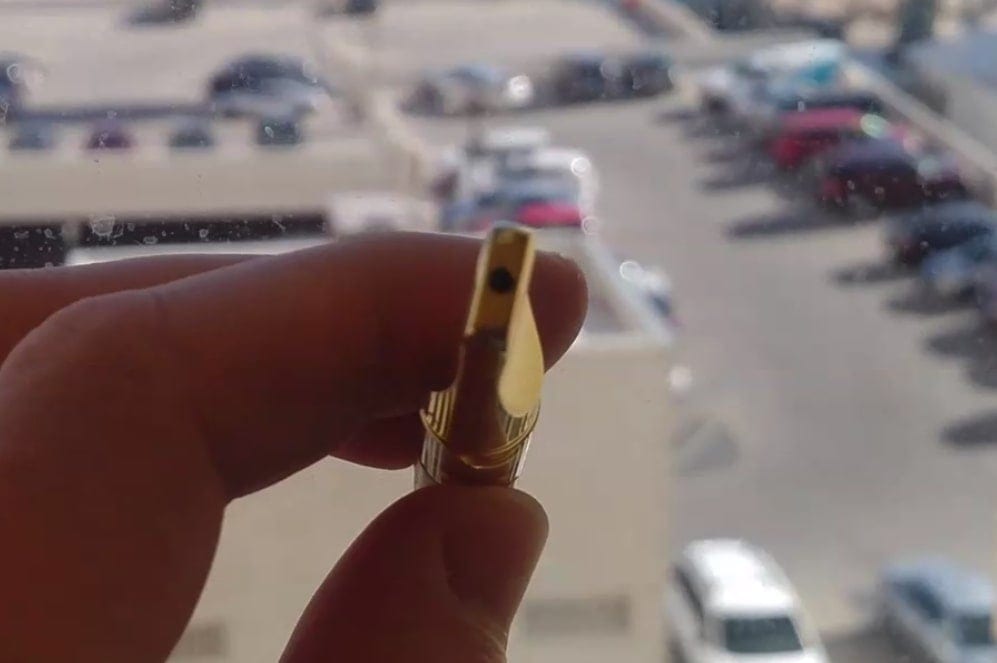 Toko Gold carts use the old style CCELL cartridge. This is similar to the Brass Knuckles vape cart and is not a preferred hardware type. There is a metallic taste coming off the vape similar to the BK carts as well. They update this and this cart is upgraded huge.
Oil quality is excellent for Toko Gold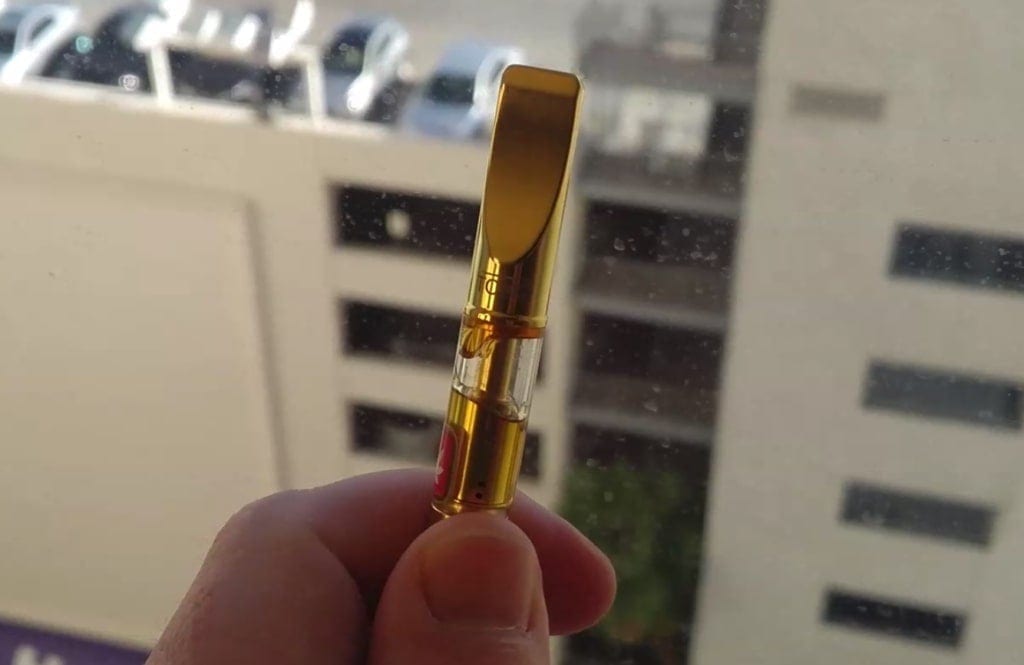 Toko's vape cartridge really shines on oil quality. It's a consistent gold color and there were no variations in color throughout the cartridge's use. We were using the Nevada version where regulations are strict and pesticides are typically nowhere to be found. The oil was thick and not runny
Toko Gold is still pretty strong even with old style hardware, but new style would make it stronger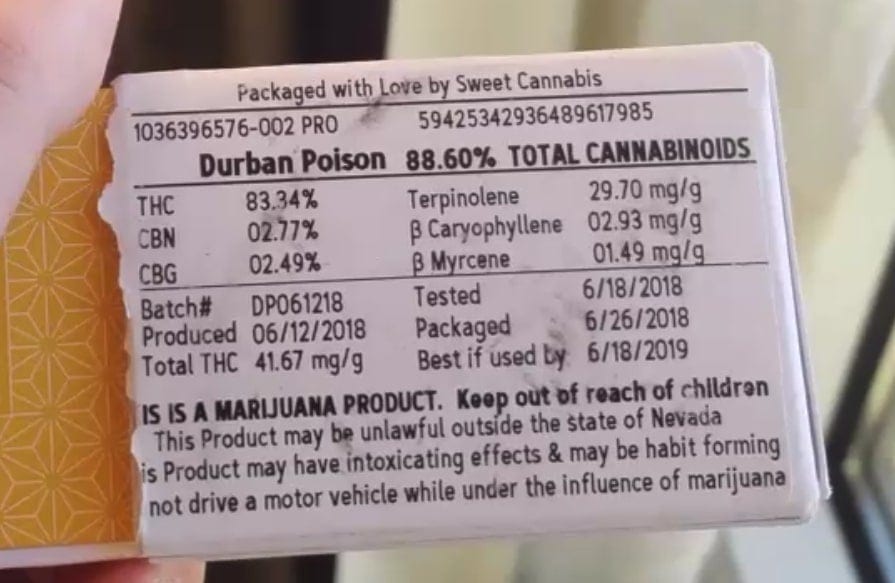 Toko Gold's oil was much stronger when transferred to a new generation CCELL TH205 cartridge. The old style CCELL they currently use is dated technology. It comes from a period when most joints were still stronger than most carts. The Toko Gold cartridge would be scoring high on strength with the same oil in another cart.
As it is, Toko Gold cartridges are still pretty strong. They are stronger than other carts I have seen in this same hardware, like the one from W Vapes.
Taste also hindered by hardware, but still decent
The taste seemed like a mix of CO2 and distillate taste. It was not sweet, but the cartridge they used left a bit of a metallic taste. The metallic taste reminded me of Brass Knuckles. Overall, taste was still decent though.
Number of Puffs was high, oil is thick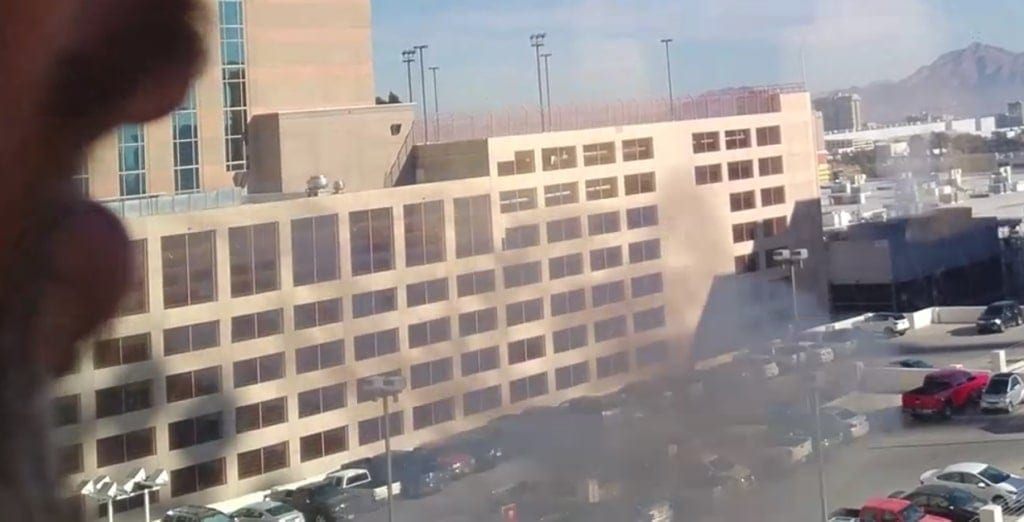 The oil in Toko Gold cartridges is thick. It's not hitting slow at all. The hardware limits your ability to get fat rips, which probably adds to the total number of puffs but not in a good way. Still when the remaining oil was transferred to a new CCELL it lasted a long time too.
Improve hardware and improve value
I just cannot recommend this Toko Gold cart as a good value until they change the hardware. To get the full effects from the oil you have to swap it to a new cart. At $45 for a half gram, cartridges from Toko Gold are the same price as Roots. Roots is a much better value as it has the new generation CCELL and the oil is better than Toko's. Roots also made the top of our picks for the best cartridges in Nevada.
With improvements to hardware and slightly stronger oil, Toko Gold has the potential to be one of the stronger carts out there.
Concluding our Toko Gold cartridge review: Overall score 7.1/10
Simply put, this cartridge is due for an upgrade. Once that is done, we see Toko being one of the better cartridges available. For now it is still decent, but with other brands giving better results at the same price point, we would have to go with the other brands.
Toko also makes a CBD vape cart and Pax Era pods. Their products are available in Oregon and Nevada an are distributed by Sweet Cannabis Brands. We will have to give the Era pods a try as well soon. Once Toko updates current hardware and we get another cartridge, we will update this review.