REVIEW OVERVIEW

Design and Build Quality

1

SUMMARY

After reviewing Brass Knuckles Napalm OG, I could not recommend this cartridge to someone else. There are other better brands out there at more affordable prices that offer a better experience and stronger effect.
Brass Knuckles Napalm OG turned out to be a pretty disappointing cartridge. I already know coming into the cartridge that Brass Knuckles was using very old hardware. The technology they're using is from a few years ago. I also went a step further and even took the oil and put it into a CCELL cartridge to see how effective the oil was. When I made the hardware change, Brass Knuckles was significantly stronger. Overall it seems like Brass Knuckles has some potential if they update their hardware.
Pros:
Oil was better when put into another cartridge
Cons:
Has had prior issues failing pesticides test
Expensive
Oil not that strong
Outdated hardware
Recommendations: Make the oil stronger and use better hardware. Would be great to see some more independent tests of Brass Knuckles.
UPDATE 5/3/2019: The Napalm OG style packaging is being used to make counterfeits. The strain is Napalm OG. Any cart that has Napalm OG packaging and a different strain sticker is a fake. See our fake Brass Knuckles post for more info.
UPDATE 9/11/2019: DISCLAIMER: In light of more recent news, it has become apparent that black market cartridges, counterfeit cartridges, and fake brands of cartridges have become more widespread than we had ever realized. We urge readers to apply their own discretion, and caution that at no point should readers assume that a review of a cartridge on our site is a guarantee of its safety. We advise readers to always verify their cartridges as coming from a legitimate source.
See the video review on Brass Knuckles OG below and keep reading for the in depth review:
Overall Brass Knuckles on the lower end of available brands for legal states
I have now tried Brass Knuckles in both California and Nevada. In CA though I cannot be sure 100% it was not a fake. Also we updated our main Brass Knuckles review to include its ranking compared to other THC cartridges we have now tried.
I recently picked up this Napalm OG in Nevada because the likelihood that there is a pesticide issue is much less in Nevada than it is in California. On that list, you will find previous failures for Brass Knuckles. Some time after actually completing use of this cartridge I noticed it was not restocked Essence on West Tropicana.
Overall, the Brass Knuckles cartridge proved to have somewhat decent oil inside. But nowhere near the best and below average compared to other cartridges available in California and Nevada.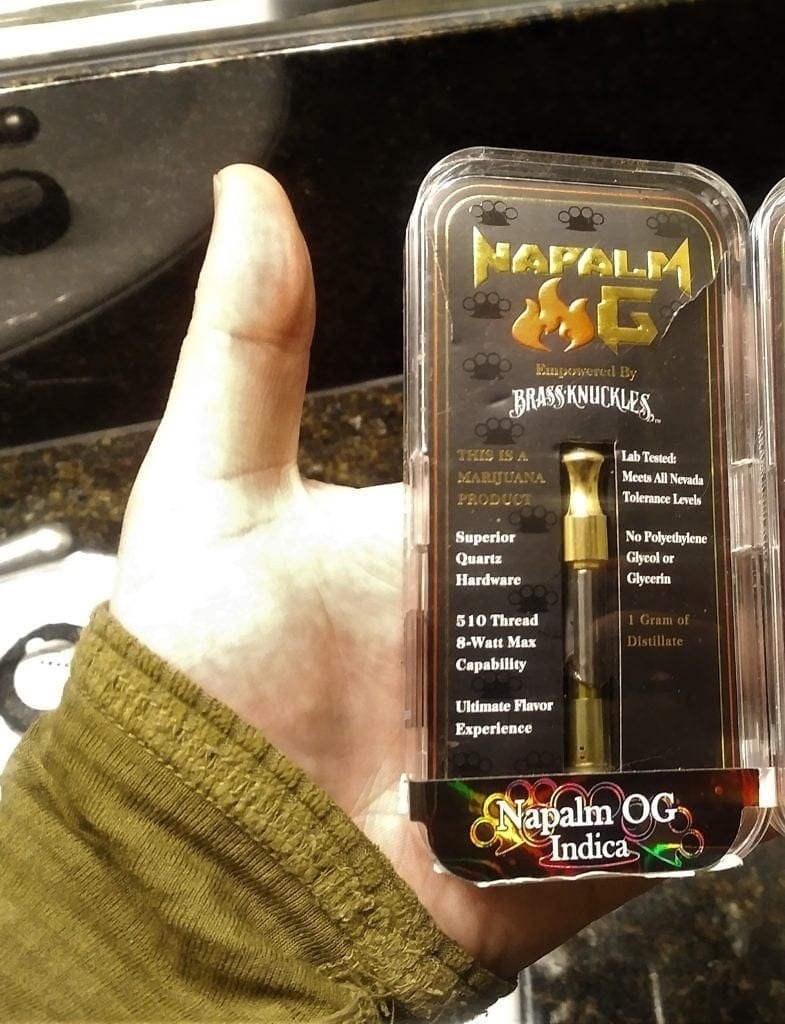 The build quality is feels solid on the Brass Knuckles cartridge but it broke down
Build quality on the Brass Knuckles cartridge appears to be good initially. But you will find out that they often break as mine did at a later date. The hardware on this has poor reliability and this is noted all over the internet. And there it's given a low built quality score.
Design is outdated and could use an upgrade
The design of Brass Knuckles cartridge is a coil based cartridge. This is an antiquated system. The preferred method out there for most people is a ceramic core cartridge like the ones found in CCELL cartridges.
Oil quality here is just okay
Nothing super special about it and it seemed to me like a standard distillate you would find in many other cartridges. A little below average but not terrible.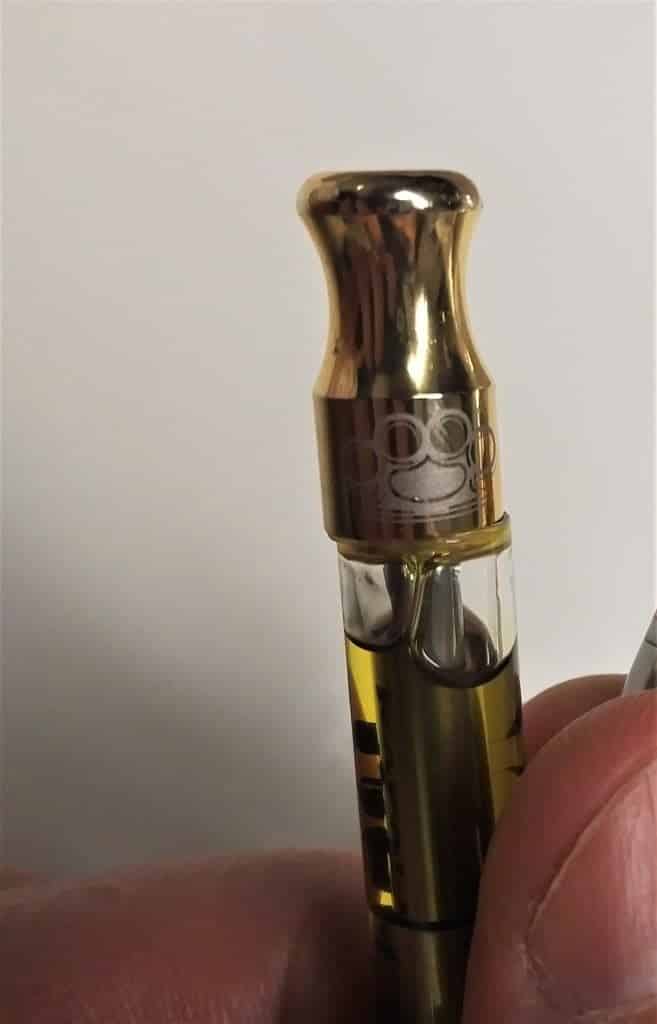 Brass Knuckles Napalm OG was not very strong
The strength of the cartridge was incredibly weak. When compared to other cartridges available in Las Vegas, strength came in weak. If I picked any cartridge off the shelf, way more likely than not it would be stronger than Brass Knuckles cartridge. Part of that is due to the hardware. The hardware just does not hit that hard. Second, there is also a limit on the THC percentage for 1 gram cartridges in Nevada. It is either 80% or 85%. But that is why you will find half gram cartridges have much higher THC percentages. I even took the oil and put it into a CCELL cartridge to see if it was strong. The hardware is definitely holding it back. However, the oil was still not as strong as that available from other brands such as Roots and Airo Pro.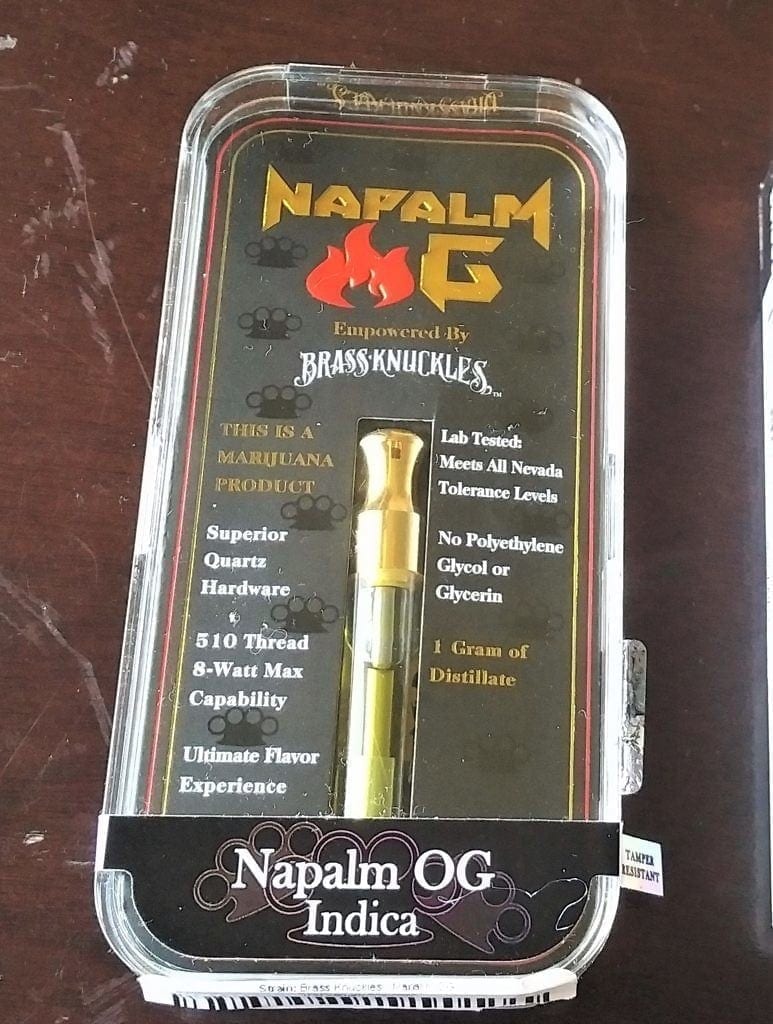 Metallic taste in original hardware but pretty good when transferred to a CCELL cartridge.
The taste was pretty good when it's in a different cartridge. Initially, the taste of the Brass Knuckles cartridge gave a kind of metallic taste. Not until I put the oil in another cartridge that I really see what the oil tastes like. However, if you judge the cartridge as is because people are not taking the oil and transferring it to some other cartridge. I am just noting this because I want you to know that the hardware really holds back the taste here. The taste was actually pretty good when it's in a CCELL cartridge. Definitely above average probably in the top 10 percent of taste. However, the original hardware gives that metallic taste. Based on how it is, it squares poorly on taste here.
The cartridge is not efficient because it broke
The cartridge broke with about maybe a third of the oil was left in it. I don't consider that efficient because it broke. This cartridge has had reliability issues before and Brass Knuckles really should upgrade their hardware
The number of puffs is also limited by the hardware failing
It does seem like the oil lasts fairly well though. It's a decent thickness. When I switched it to the CCELL cartridge that cartridge got a lot of puffs out of it. I still did not complete it all the way because honestly I have better oils to use. And, I'd rather hit them all the way. Brass Knuckles sits in the shelf. If I run out of everything else, I hit the leftover Brass Knuckles oil in the CCELL cartridge.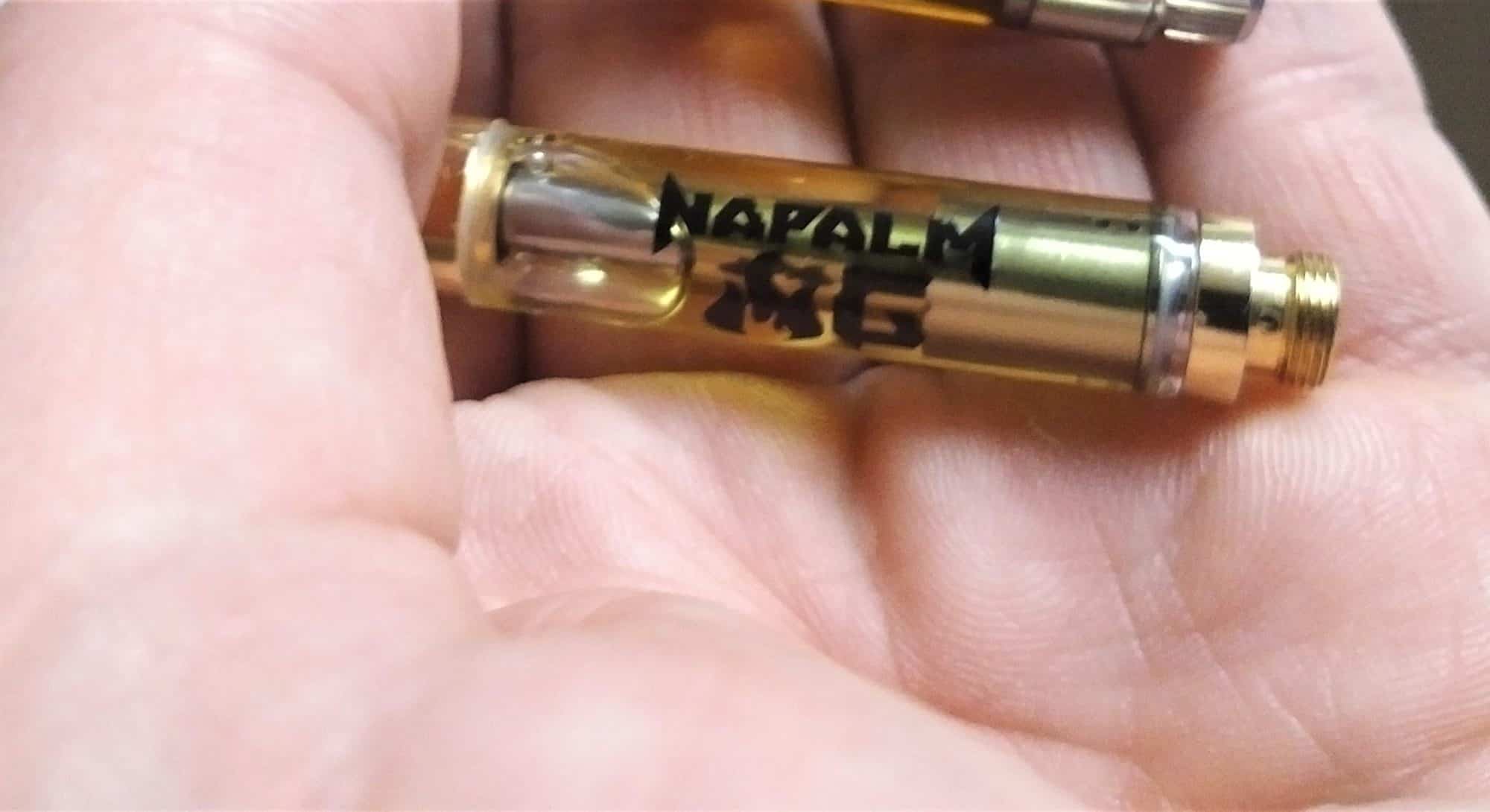 The value was terrible for Brass Knuckles cartridge since it costs way more than competitors and delivers less strength
I must also mention that prices in Nevada are generally higher than in California and other states. However, the price per cartridge was way higher. I got this from a dispensary called Pisos in Las Vegas and they were charging $120 for a 1 gram cartridge. Luckily, I had a discount pass from going to the MJBizcon and they gave me a third off. While they were available at Essence Tropicana West, they were $85 for 1g cartridge which is much lower. However, even at $85 it is not worth it. At the same dispensary, I would much rather get 2 Roots cartridges for $90. Not only that it lasts a lot longer, they also are stronger, tastes better and use better hardware. Pretty much everything about Roots is better. In California, if you're looking for an alternative to Brass Knuckles, check out Airo Pro, Kurvana ASCND  and Select Elite.
Concluding our Brass Knuckles Napalm OG review…
Brass Knuckles lives up to the reputation it has among people that have tried a lot of cartridges. Overall a poor quality product that is just heavily advertised and pushed with celebrity endorsement. Hopefully Brass Knuckles can turn things around and make better cartridges in the future. They should invest more into their hardware instead of billboards. You can learn more information about Brass Knuckles OG cartridges on their website here.
Questions or comments on our Brass Knuckles Napalm OG review? Post below or on our forum!