Eureka Vapor is a California based extract producer founded in 2011. They gained their popularity by producing highly potent, pure and natural oils. On top of that, they also have a wide selection of THC oil vape cartridges.
The brand currently carries almost 20 popular indica, sativa and hybrid strains like Girl Scout Cookies, Super Silver Haze, and White Window which is fit for any type of mood. Eureka Vapor announced in April 2017 that they have won "Best Concentrate of the Year" from CannaNews, a marijuana industry magazine. However, fake THC cartridges are everywhere, and Eureka Vapor is no exception to being counterfeited.
Update:
October 27, 2019 – If you have a Eureka Vapor product and you think it might be fake, make sure to check their store locator here. If it was not purchased from a legit dispensary, way more likely than not, it is fake.
September 21, 2020 – A recent lab test done on a Eureka cart bought off a street plug shows the cartridge contained less than 3% THC!
Eureka Vapor fakes are common
Due to the brand's popularity, it is not surprising that a lot of counterfeit products of Eureka vape would be out in the market. For some, it could be really hard to tell the fakes from the real ones since they have nearly the same packaging, but having the current version is key. You would really need to examine the packaging thoroughly to spot the difference. Dupe vapes may come in cheaper, but the danger it brings to your health is not worth the risk.
If you check online shopping sites for Eureka Vapor, you would encounter that a lot of these are fakes. A lot of suppliers based in China would manufacture these Eureka vape empty cartridge with packaging. Scammers would fill them up with impure and hazardous oils.
So how can you tell the authentic Eureka Vapor from the counterfeits? One major red flag is luckily easy to spot…
If you're buying ones with old packing, it's very likely that they're fake
Eureka Vapor's has stopped distributing products in their clamshell packing over a year ago, but today you can still find some sellers who sell the old packaging and claim that they're old stocks. If it's in the clamshell packaging, it is a fake Eureka Vapor cart.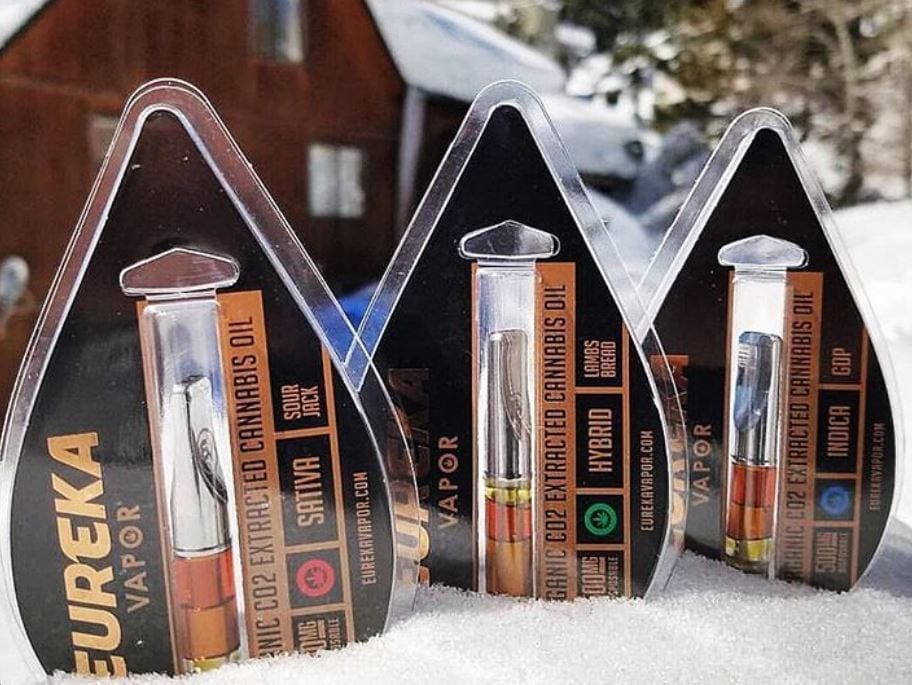 Below are images of what some online websites are selling. They sell empty fake cartridges, which can easily be filled with fake oil and sold in the market. It looks similar to the old teardrop-shaped clamshell packaging Eureka Vapor used to sell.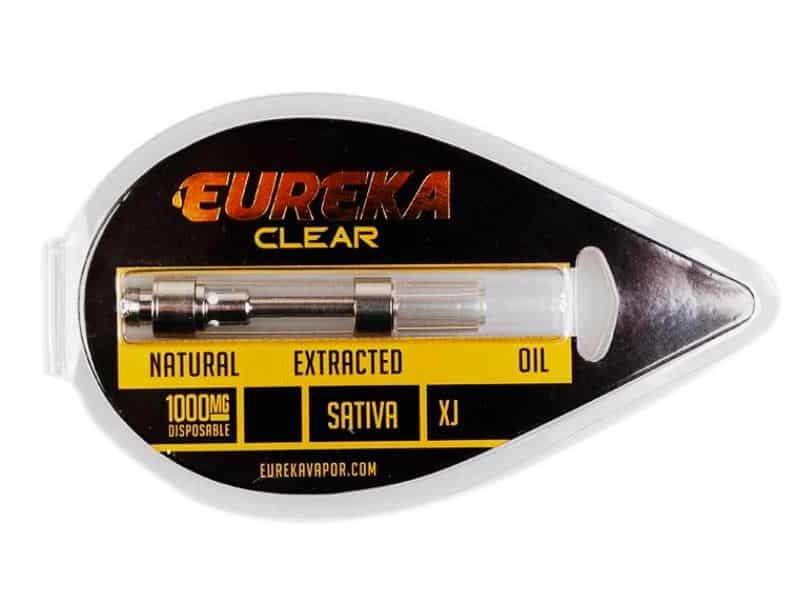 Authentic Eureka Vapor packaging comes in boxes
The current Eureka vapes are all sold in childproof boxes and bags. You can buy them from licensed shops in California and Colorado. If you want to be extra sure, check out the available packaging on their website.
The images below are the authentic ones, exclusively distributed by Eureka Vapor.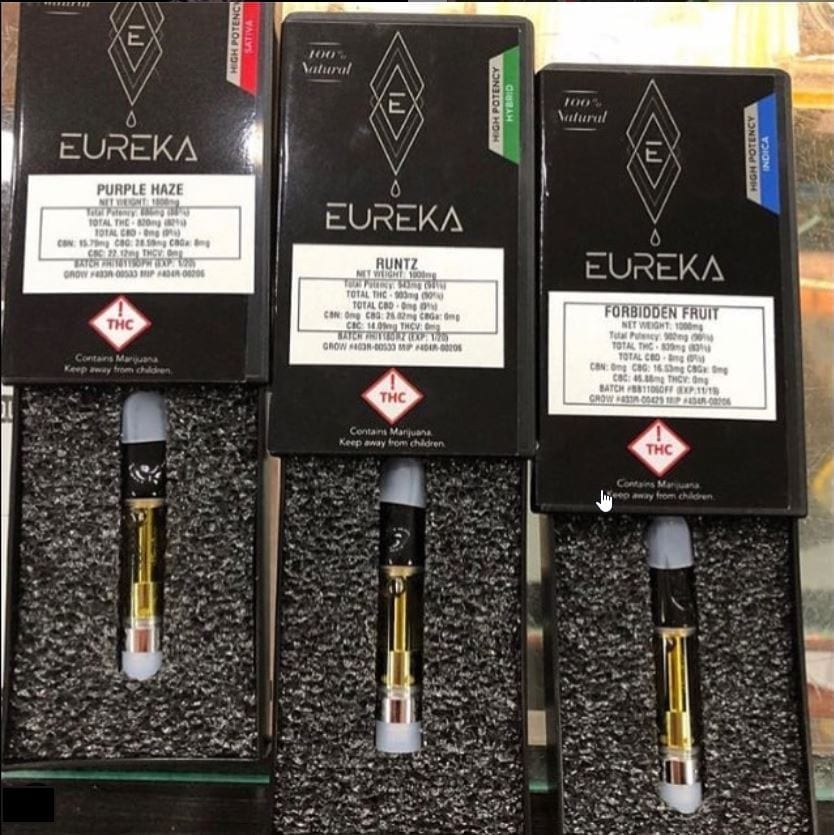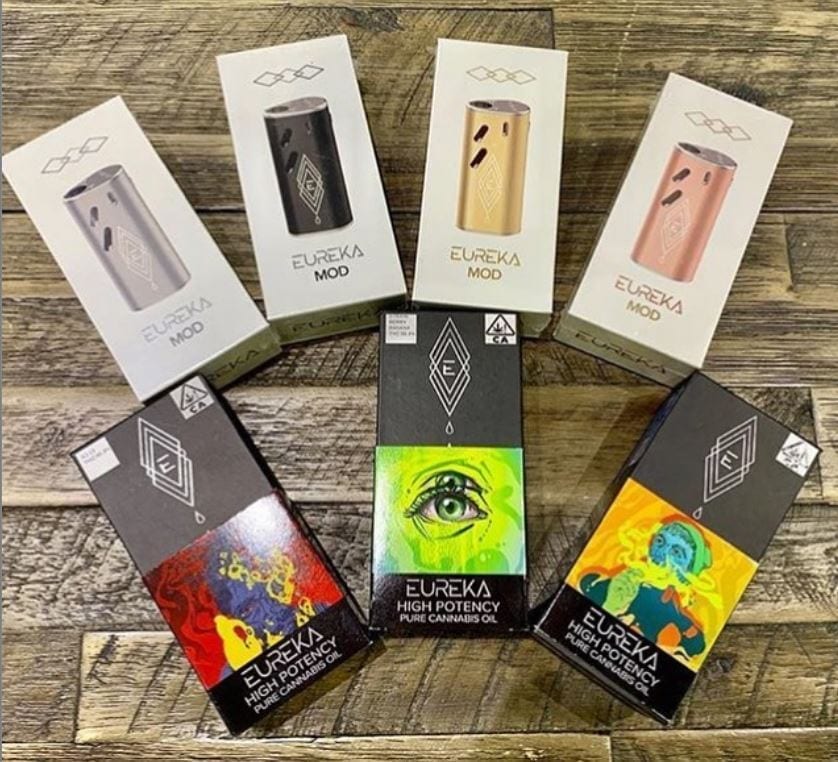 A lot of users out there still get confused if the vape they are purchasing is authentic or not. This article was made to make you aware that there are fake ones of the Eureka Vapor brand are out there. The simple tip mentioned here to spot the fake ones can be a big help especially for those who aren't fully aware of what the typical characteristics of the counterfeit Eureka Vapor cartridges are.
Other fake vape cartridges
Fakes are not only for Eureka carts. Fake cartridges are plaguing the cannabis industry. See our pages on fakes for the following cartridges:
A general way to check for fakes on a lot of cartridges is to look and see if they are using an authentic CCELL. If the brand uses CCELL hardware on their originals, check to see if your cart is a fake CCELL cartridge. Eureka Vapor does not use CCELL carts. Fake hardware is a whole other topic, but another issue currently in the industry. On the flower side of things, there are even fake Pax 3s!
Seen any other fakes? Have any suggestions for spotting fake Eureka carts? Comment below or post in our forum!