Fake 710 King Pen cartridges are everywhere. Shady vendors across the country try to sell them all the time and they buy them directly from China. Here, we'll show how to identify them and name the companies making fake 710 King Pen cartridges.
Not only is this a problem but real 710 King Pens have also been having problems recently, testing dirty. See vape pen pesticides, strength, and residual solvents test page for more information. The real 710 King Pen THC cartridges are made by Loudpack. You can find a list of authorized retailers here and at the bottom of this page.
What is a fake 710 King Pen?
710 King Pen is considered fake when it contains oil that was not made by the actual company. In China, companies make vape pens with 710 King Pen branding, logos, and packaging that are then shipped to different buyers who fill them. The real cartridges are most likely manufactured in China as well, but they are filled by the actual  We are not sure if the real company is able to pursue any of the Chinese makers legally, because there might not be a trademark since technically 710 King Pen is a federally illegal product. The same problem exists with fake Brass Knuckles cartridges.
Here's the first thing to look for: logo on the cartridge body
If there is no logo on the body of the cartridge, it is fake. See below a picture of a real 710 King Pen with the appropriate logo placement.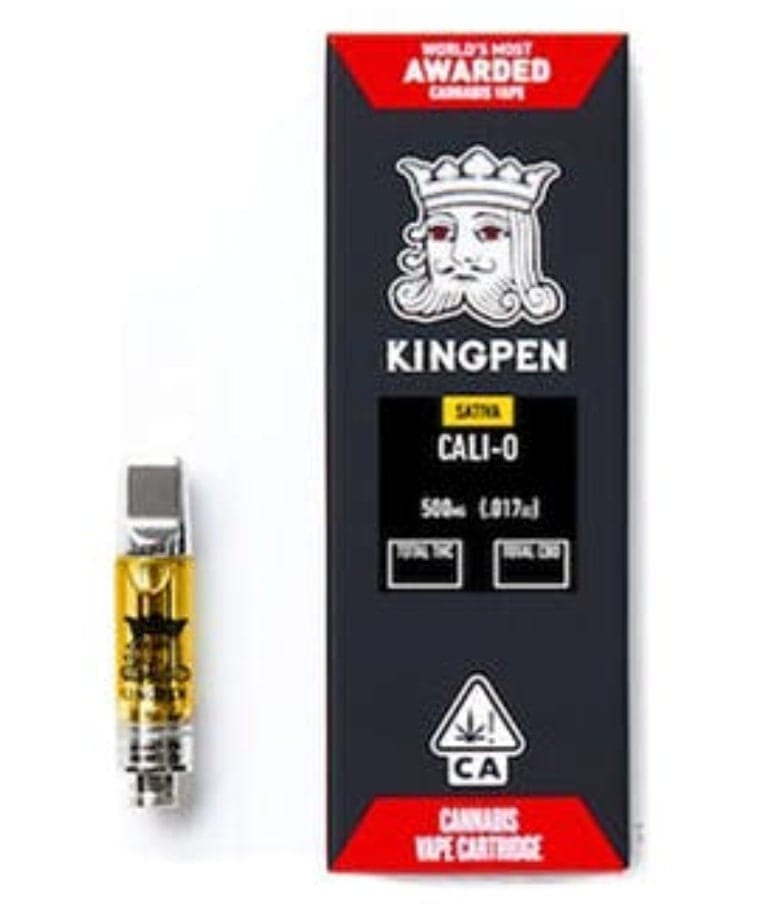 If the logo is placed somewhere else, you do not have a legitimate 710 King Pen. Keep reading for other information if your vape cart passes this test.
Fake 710 King Pen will be more obvious to identify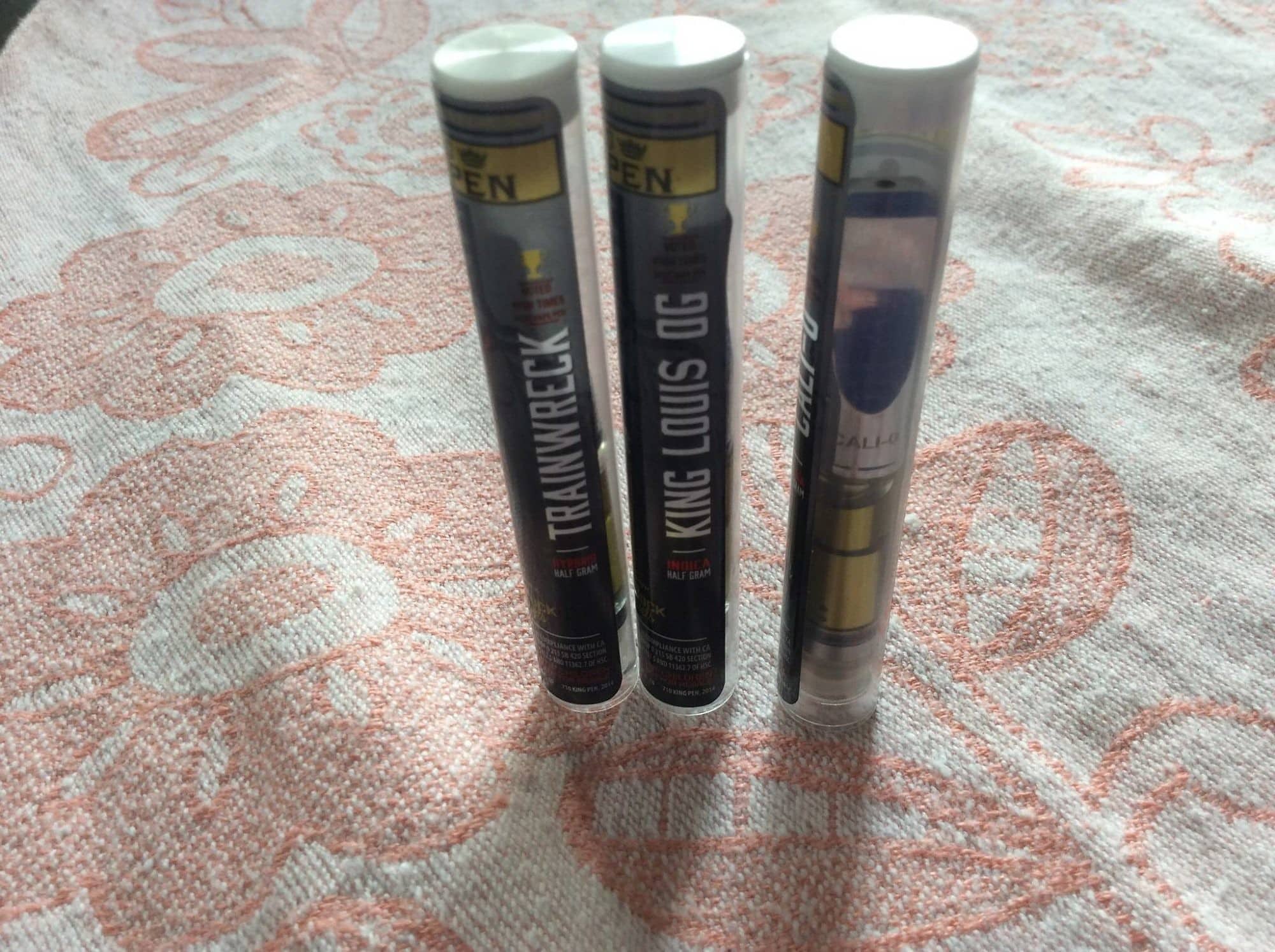 Unlike the fake Heavy Hitters, fake 710 King Pens are a more obvious and you can usually tell easily is actually fake or not. Therefore, you can notice by various factors, from the sticker of the cartridge to the quality of the oil. But be aware that not all of these fake cartridges don't have the same variables.
Key things to look for when identifying fake 710 King Pen
You can tell by the font, the low quality of the print as well as the sticker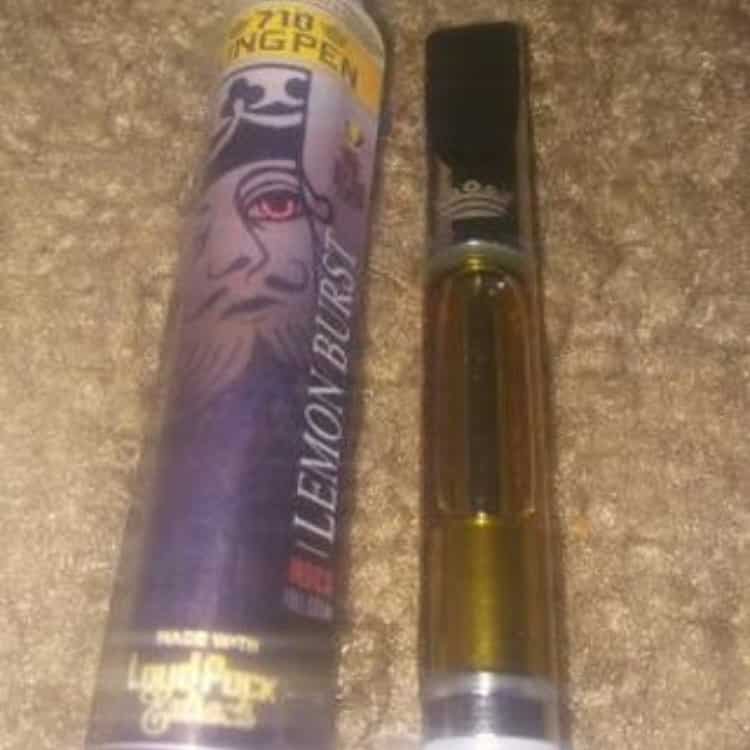 First of all, you can tell right away that the font from the fakes are different than from the original. Above all, keep an eye on this, because each fake 710 King Pen cartridge might have different fonts. It can be the slightest change, as in just the boldness of the font, that can show it's not real. Also, you can notice that the sticker seems to be made poorly, the color of it seems to be a bit lighter.
Oil color on these fake 710 King pen seem lighter and looks like it's more of a wax consistency
Something that I realized with the fake 710 King Pen is the oil quality. It seems like these fake cartridges seem to have cloudier looking oil and also seems glossy, compared to  the real ones. Also, some people claim that the oil is more of a wax consistency than a thick oil.
It doesn't have a logo at all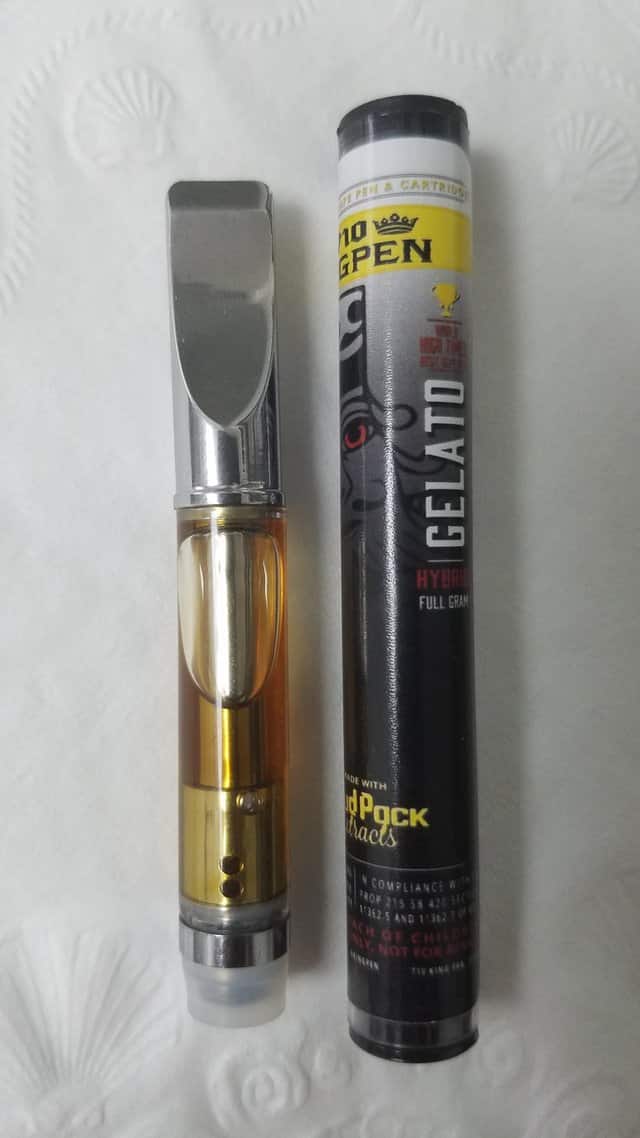 Not to mention that some of these fake 710 King Pen don't have any sort of logo representing the company. But again, be aware that not all of these fake cartridges will be like this, some of them will have it.
Differing from the original ones, another thing that indicates if the 710 King Pens are fake is that they don't have any lab testing sticker to indicate any kind of THC or CBD level on the packaging. Usually, 710 King Pens have that sort of information on the packaging or sticker. When you see one that doesn't, then it most likely will be a fake.
Fake 710 King Pen cartridges and real ones are both in China
I went through and searched for various fakes. For ones that had a picture I am including a picture so you can identify fakes better below.  Below are pictures of various manufacturer's fake vape cart. Please add any data you may have in the comments section or discuss fake 710 King Pen cartridges here on our forum. This page will be updated as new fakes are found. Real 710 King Pen vape cartridges are made in China as well. The difference is when they come to the U.S. they are filled with the proper oil. The fakes could be filled with any oil.
Pictures of fake 710 King Pen carts: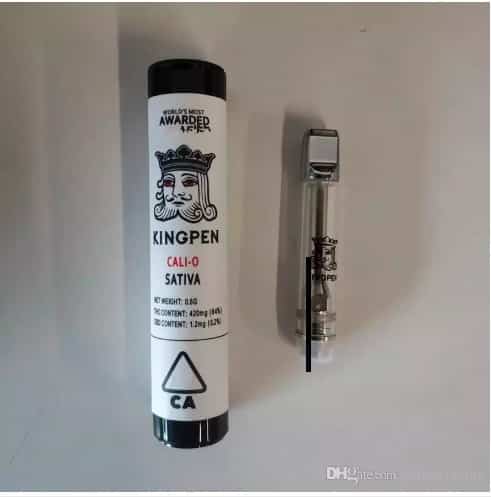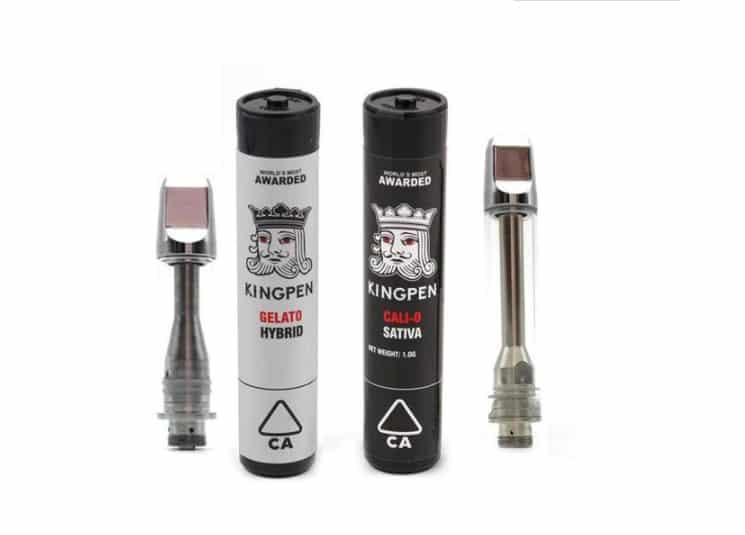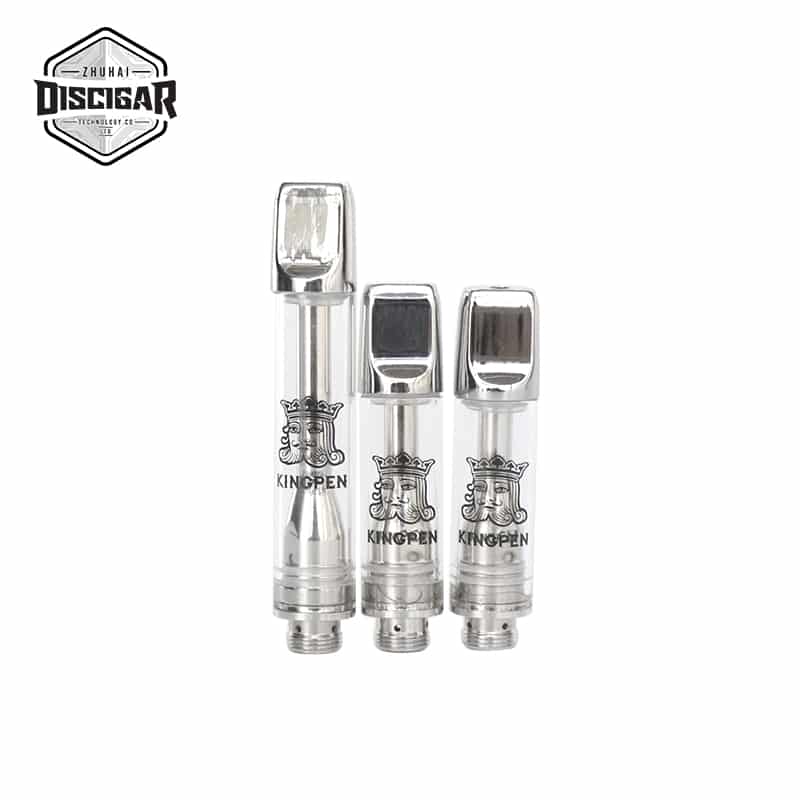 List of Authorized Resellers
Los Angeles
-GREENWOLF
-TLC COLLECTIVE
-DTPG COLLECTIVE
-NEW AGE CARE CENTER
-NEW AMSTERDAM NATURALS
-UHCC
-CLOUD 8th DTLA
-EUPHORIC CAREGIVERS
-LAX CC.
-MEDMEN BEVERLY HILLS
-MEDMEN DTLA
-MEDMEN LAX
-MEDMEN VENICE
-MEDMEN WEHO
-ROSE COLLECTIVE
-THE GREEN EASY
-THE KIND CENTER AND TKC
-THE WESTWOOD FARMACY
-WESTERN CAREGIVERS
-BEVERLY HILLS ALTERNATIVE RELIEF CENTER
-EXHALE MED CENTER
San Jose
-HARBORSIDE
-CONNECTED SAN JOSE
-HAZE
-NATURAL HERBAL PAIN RELIEF
-THE GUILD
-BIG SUR CANNABOTICALS
-CANNA CULTURE
-CURBSTONE EXCHANGE LLC
-EMERALD SKYWAY
-HIGHER LEVEL
-SANTA CRUZ MOUNTAIN HERB
-THERAPEUTIC HEALTHCARE COLLECTIVE
-TREEHOUSE
-WHITE FIRE
-THERALEAF
-SANTA CRUZ MOUNTAIN HERB – LOS GATOS
-AIRFIELD SUPPLY
San Francisco
-COOKIE CO 415
-COOKIES SF
-ELEVATED SAN FRANCISCO
-GRASS ROOTS
-MEDITHRIVE
-MISSION ORGANIC CENTER
-PURPLE STMD COLLECTIVE
-URBAN PHARM
-PROVEN SF
San Diego
-OUTLIERS COLLECTIVE
-APOTHEKARE SAN DIEGO
-HARBOR COLLECTIVE
-POINT LOMA PATIENTS
-SOUTHWEST PATIENT GROUP
-SAN DIEGO NATURALS
-THE HEALING CENTER OF SAN DIEGO
-GOLDEN STATE GREENS
-GOLDEN STATE GREENS BALBOA
-THE GROVE
-THCSD
-URBNLEAF
-OUTLIERS
-OLIVE TREE WELLNESS
-SD NATURALS
-GLOBAL GREENS
Modesto
-PATIENT CARE FIRST
-JAYDEN'S JOURNEY COOPERATIVE
-KASE'S JOURNEY
-EMPIRE HEALTH AND WELLNESS
-THE HEALING FLOWER
-THE HONEST CHOICE
-NRC HOLISTIC HEALTH SERVICES
Stockton
-CONNECTED STOCKTON
-FLAVORS
-ZEN GARDEN
Lake Tahoe
-TAHOE WELLNESS COOPERATIVE
Long Beach / OC
-THE HERB LOUNGE
-BLUM SANTA ANA
-BUD AND BLOOM
-CONNECTED SANTA ANA
-DELTA 9 THC LLC
-KANNABIS WORKS
-MEDMEN OC
-420 CENTRAL
-FROM THE EARTH
-GREEN CITY COLLECTIVE / NILE COLLECTIVE
-LONG BEACH WELLNESS
-BLUM  SANTA ANA
-10 SPOT COLLECTIVE
-NEW GENERATION
-OC3
-ONE LOVE BEACH CLUB
-SOUTH COAST SAFE ACCESS
North Coast
-HUMBOLDT PATIENT RESOURCE CENTER
-1LTREE LOUNGE
-ALTERNATIVES A HEALTH COLLECTIVE
-DEL NORTE PATIENTS TOGETHER
-REDWOOD COAST COLLECTIVE
-REVOLUTION EMPORIUM
-SONOMA PATIENT GROUP, INC.
-STICKY GROVE
-KURE WELLNESS
LA Valley
-CALI'S FINEST & 3C MEDICAL & COAST TO COAST
-WHTC
-COMPASSIONATE CAREGIVERS OF STUDIO CITY
-GREENLIGHT DISCOUNT
-DIVINE WELLNESS CENTER
-FOOTHILL WELLNESS CENTER
-GVC
-HERBAL PAIN RELIEF CENTER COOPERATIVE
-MISSION HILLS PATIENT COLLECTIVE
-PERENNIAL HOLISTIC WELLNESS CENTER
-STRAIN BALBOA CAREGIVERS
-UNIVERSAL COLLECTIVE
-RDC
-SO-CAL CO-OP
-SMART COLLECTIVE
-PURELIFE ALTERNATIVE WELLNESS CENTER
-THE MARIJUANA FACTORY
-EXHALENCE
-K.U.S.H. ALLEY
-SFVDM
-HEALTHY HERBAL CARE
-CPR
-WEST VALLEY PATIENT GROUP
-FOUNTAIN OF WELLBEING
-WESTSIDE CAREGIVERS
-PATIENTS AND CAREGIVERS
-SUN VALLEY CAREGIVERS
-APOTHECARY 420
East Bay
-7 STARS HOLISTIC HEALING CENTER
-BLUM
-BERKELEY PATIENT'S GROUP
-BETTER HEALTH GROUP
-CALIFORNIA COLLECTIVE CARE
-EAST BAY THERAPEUTICS
-GARDEN OF EDEN
-GREEN REMEDY
-HARBORSIDE HEALTH CENTER
-HEMP HOP STATION
-HIGHWAY 29 HEALTHCARE
-HOLLISTIC HEALING COLLECTIVE
-HTP GROUP
-MAGNOLIA WELLNESS
-OAKLAND COMMUNITY PARTNERS
-PATIENT'S CARE COLLECTIVE
-PHYTOLOGIE
-PURPLE HEART
-RELEAF ALTERNATIVE
-US BLOOM
-VALLEJO RELIEF CENTER
-VALLEJO HOLLISTIC HEALTH CENTER
-WE ARE HEMP
Ventura
-OJAI GREENS
-SESPE CREEK COLLECTIVE INC.
-SKUNKMASTERS RDC
-HUENEME PATIENT COLLECTIVE
Santa Barbara / SLO
-SANTA BARBARA CARE CENTER
-805 BEACH BREAKS
-SANTA BARBARA COLLECTIVE
Sacramento
-515 BROADWAY
-NORTHSTAR HOLISTIC
-A THERAPEUTICAL ALTERNATIVE
-ABATIN
-TWO RIVERS
-DIXON WELLNESS (DIXON)
-RIVER CITY PHOENIX
-HUGS ALTERNATIVE
-METRO CANNABIS CO.
-VALLEY HEALTH OPTIONS
-ALPINE ALTERNATIVE
-CC101
-DOCTORS ORDERS
-FLORIN WELLNESS CENTER
-HORIZON
-HOUSE OF ORGANICS
-SAFE CAPITOL COMPASSION COOPERATIVE
-SOUTH SACRAMENTO CARE CENTER
-THC (12 HOUR CARE)
-ZEN GARDEN WELLNESS
-GOLDEN HEALTH AND WELLNESS
-AMC
-CONNECTED SACRAMENTO
-CANNA-COURIERS
-PURE LIFE (SHINGLE SPRINGS)
Inland Empire
-CAPTAIN JACKS
-FIREHOUSE64
-EMPIRE GARDENS
Palm Dessert
-CATHEDRAL CITY CARE COLLECTIVE
-REMEDY INC
-HOTN
-WEST COAST CANNABIS CLUB
-BROWN DOG HEALTH & WELLNESS
-THE OG COLLECTIVE
-GREEN CROSS PHARMA
-ORGANIC SOLUTIONS OF THE DESSERT
-MOTHER EARTH'S FARMACY
-DESERT ORGANIC SOLUTIONS
-GREEN PEARL ORGANICS
-JOY OF LIFE WELLNESS CENTER
-SUN GROW CONSULTING
-CITIDANK
Delivery
OHANA GARDENS – SAC/MODESTO
WHOLESOME DELIVERY – SAC/MODESTO
GDP MANAGEMENT – SAC/MODESTO
EAZE – SAC/MODESTO
HUMBLE ROOT – SAC
EXCLUSIVE CARE – SAC
FIRE ARMS – SAC
OHANA GARDENS – SAC
ORGANIC CARE OF CALIFORNIA – SAC
INDIKA – SF
EAZE HOMETOWN HEART – SF
GOLDEN STATE CANNA – EAST BAY
C.R.A.F.T. – EAST BAY
HERBIN COLLECTIVE – EAST BAY
INDIKA MCC – EAST BAY
MELLOW – EAST BAY
LEFT COAST – SD
GLOBAL GREENS – SD
As we get more information we will keep updating this post. If you have information you would like to add, please comment below, post in our forum!