By putting two sites against each other I have found the lowest price on a medical card. Now you can get a California medical marijuana doctor's recommendation for just $39. This is the cheapest I have found so far. The catch is you get a temporary copy online and you have to wait for the original in the mail.
UPDATE 9/13/2018: It used to be $19, but weedrecs has now temporarily closed and the legality of their service has come into question as they are not mailing hard copies to people at their lower price. So it is not worth it since in California a hard copy is required. Still the lowest rate is at the same site, the code is just now PHONESPECIAL10, which makes it $39 instead of $49. We are looking for a partner site to help offer everyone a lower price and should have a new code up soon.
Shortcut: Goto MMJdoctoronline.com, use code PHONESPECIAL10
Temporary Card Works In NV Right Away (For CA Residents)
I needed a recommendation renewal fast for an upcoming trip. Nevada dispensaries will accept copies of your recommendation instead of the original. Keep in mind most California dispensaries require the physical, stamped, dispensary in order to accept you as a patient.
This method does not result in an instant stamped recommendation. You will get a stamped copy in the mail in about 3 days if you are in California. The great thing is you can get an almost instant CA card and use it in NV if you are a CA resident. This instantly saves you 10% off products in NV. You also go through a much faster line than recreational patients.
Here is how you get a $39 online medical card
Go to mmjdoctoronline.com and use code PHONESPECIAL10.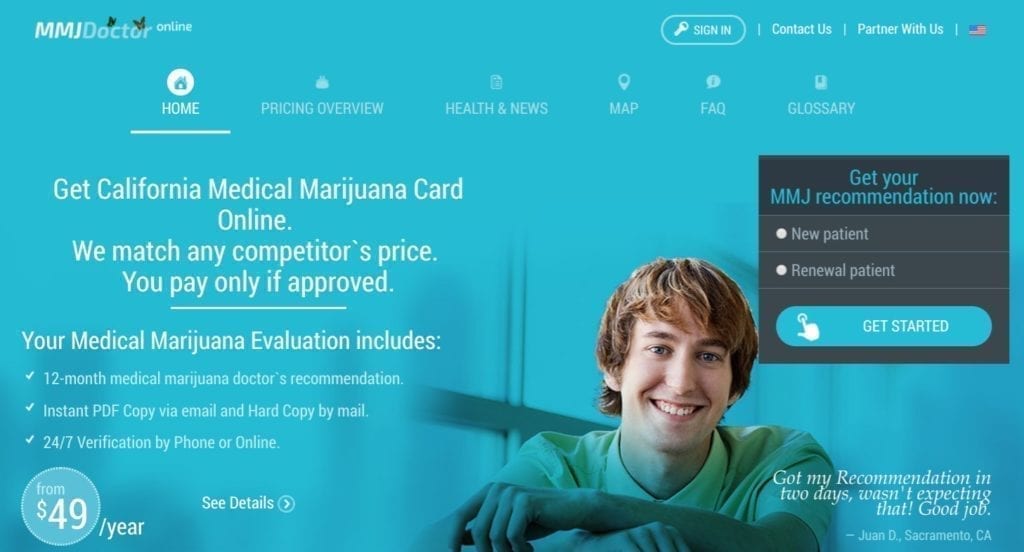 How Did I Get Such A Great Code Before?
MMJDoctorOnline is in direct competition with weedrecs.com, who has the lowest "published" online price of $25 for new patients and $20 for renewals of previous weedrecs.com customers. I contacted weedrecs.com to see how long they take and the support was slow (they got back to me a couple days later, but hey it was the weekend).
MMJDoctorOnline responded promptly and I asked them if they could match the price. They said yes and gave me coupon code WEEDRECS24. I kept adding +1 to the 24 until it did not work anymore, and WEEDRECS30 is what delivers the cheapest online medical marijuana card for California.
Now they have changed it to where $39 is the best you can get. This is because weedrecs.com has closed temporarily and the legality of their service has come into question. We are going to get a better code soon and will re post it here.