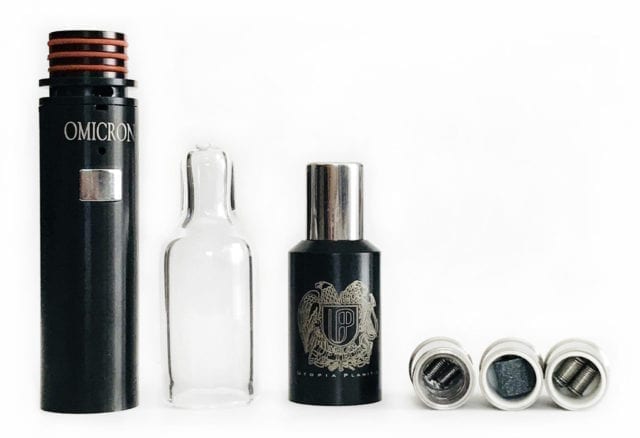 REVIEW OVERVIEW

Versatility / Atomizer Options

6

SUMMARY

The Omicron V5 is one of the best coiled vape pens around. Materials used are high-quality and USA tested and that makes this great value. Grade 2 titanium coils deliver a taste similar to a dab rig. It's small, portable, and easy to use. The price is excellent and replacements are peanuts.
Omicron V5 Review
-This Vape Pen Is Too Good To Miss!

The Omicron V5 is the latest model from W9 Tech, and quickly became one of the most interesting vape pens that Dab Connection has reviewed so far. Omicron has good-quality atomizers, great taste and a slightly puzzling logo design…
Update 10/26/2017: W9Tech has informed us that the black ceramic is in fact Silicone Carbide (SiC).
Design & Quality of the Omicron V5
The Omicron V5 may be a little confusing by name, but it's absolutely worth getting to know! This product is essentially their KISS Alpha Centauri V3 (commonly shortened to AC V3) 510 attachment, and a battery (called the Omicron battery) with a power capacity of your choosing, shipped separately.
Confused yet? That's not all… The product is sold by W9 Tech. However, they also call themselves 'Up Tech', which seems to stand for 'Utopia Planitia'. And, if you remember the original Omicron V25 from six or seven years ago, you'll actually remember them as 'Delta 9 Vaporizers'!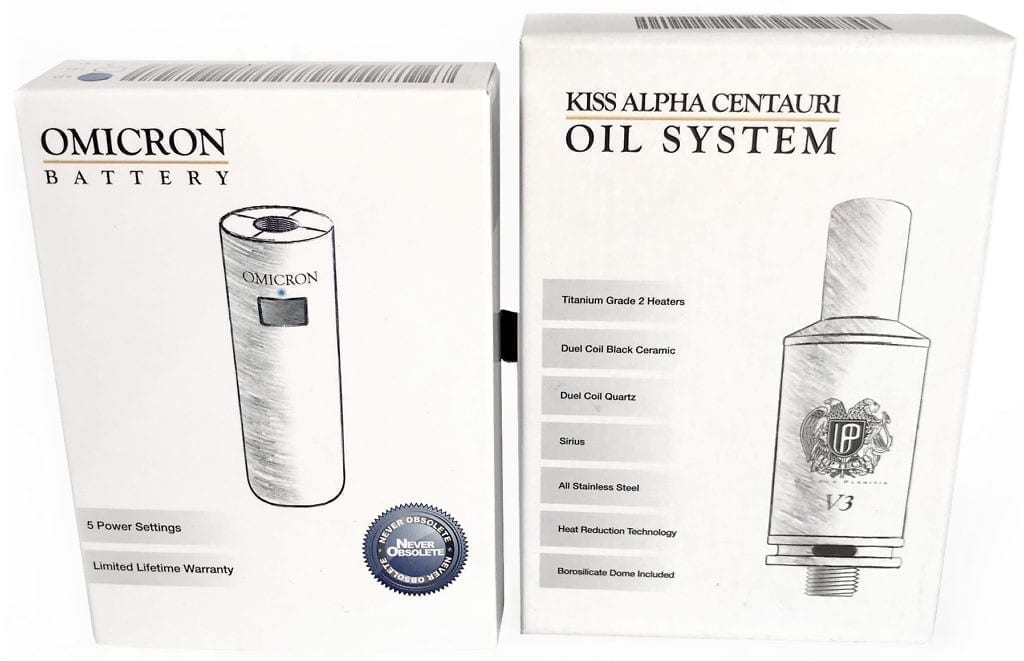 So, to say it's hard to find information on this company, or know what to call them is confusing for most people, to say the least. Honestly, let's just forget everything else (as they should too) and just say W9 Tech.
According to good old Wikipedia, 'Utopia Planitia' is "a large plain within Utopia, the largest recognized impact basin on Mars and in the Solar System". Now, the Solar System is great, but why do I get a Viking vibe from this design?
Omicron LD Battery
For this review, we're reviewing what's called the 'Omicron LD battery', which is 900mAh. It's small but thick. It comes with a micro USB port to charge it, as well as FIVE different temperatures to choose from. Because the battery is designed to pair with their AC V3 and its sub-ohm atomizers, the battery settings are in watts, rather than volts like most batteries in vape pens.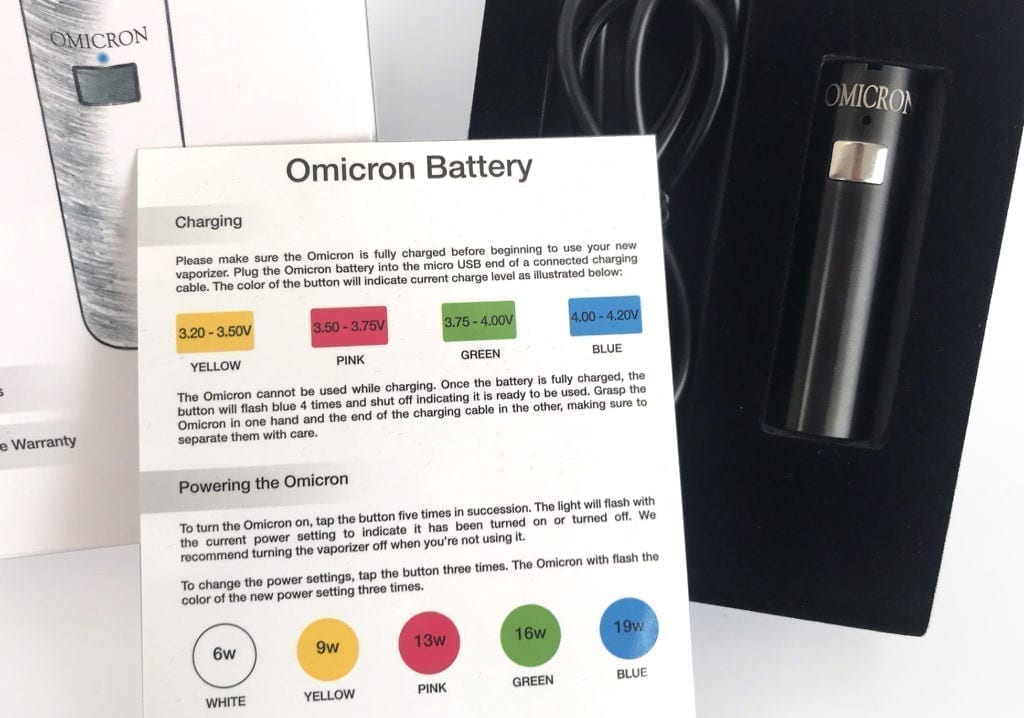 Temperature settings:
White

is 6w
Yellow is 9w

Pink

is 13w

Green

is 16w
Blue is 19w
The Omicron battery has a subtle but easy to read light above the button that shows the power setting. The new spring-loaded button feels solid when pressed. The Omicron battery also has a longer 15 second cut off time, compared to 10 seconds for most other vape pens. Overall this battery is slick, small and portable – but powerful at the same time.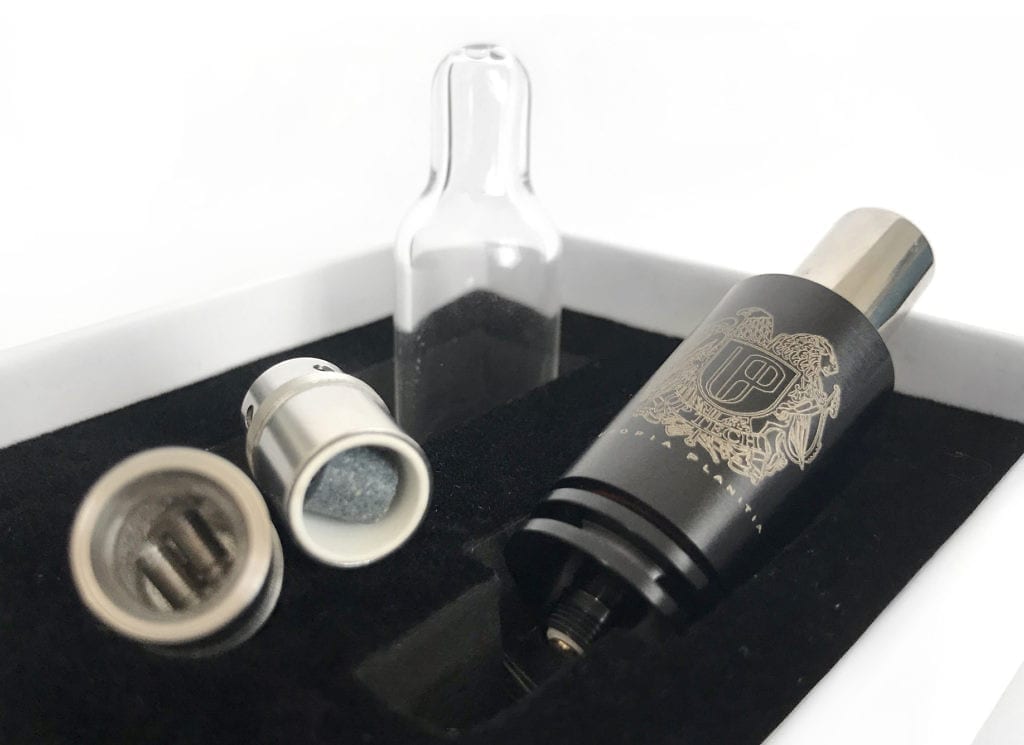 It includes both the stainless-steel 'Centauri Cover' and the 'Alpha Globe' glass cover, for those who prefer to see their smoke build up. The glass globe is a strong Borosilicate. It's strong enough to drop a few times without you worrying about it cracking, unlike cheap globes at your local smoke shop.
Here are the real upgrades compared to their earlier V2 model;
They've enlarged the air vents at the bottom of the attachment from 1mm wide circles, to four unique ovals that are 2mm tall and 4mm wide! This gives you an amazing amount of airflow, compared to their previous models. Not to mention, way beyond what most other vape pens we've reviewed offer.
They've also re-designed the mouthpiece, to have a much wider mouth opening. It has a nice airflow wall, which prevents too much air from going into the chamber, or inhaling too hard and splattering wax across the walls.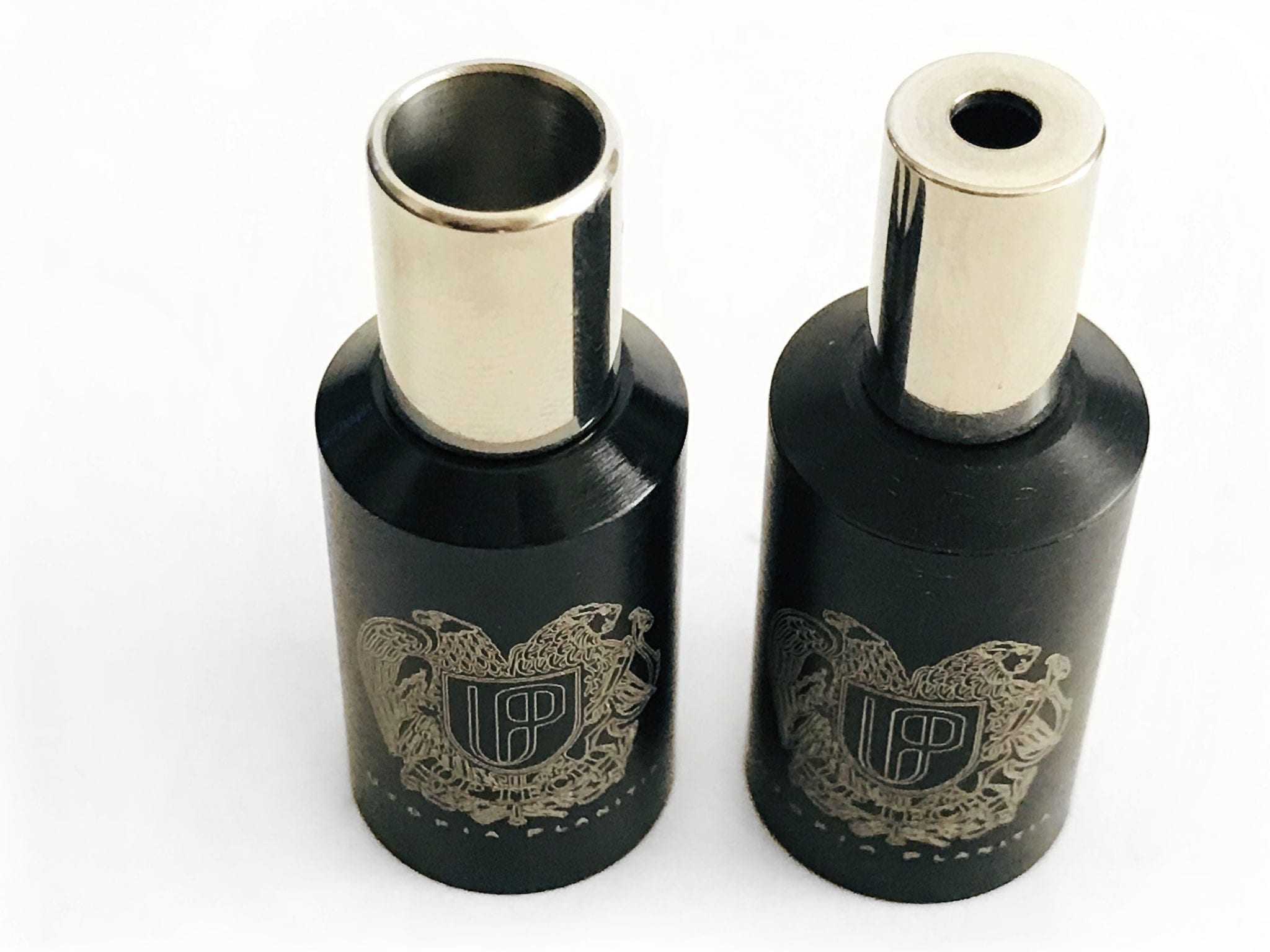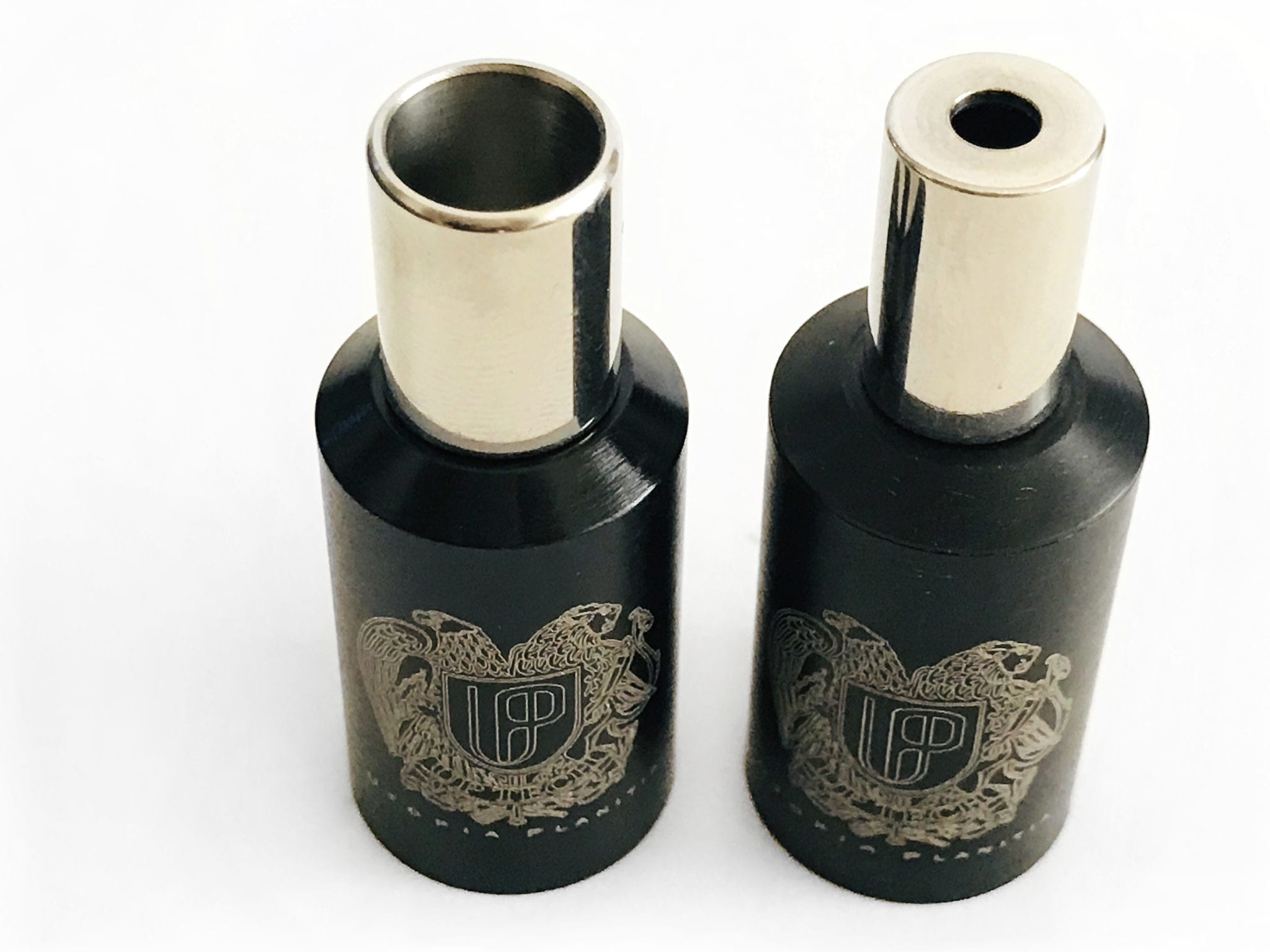 Atomizers
The best part about this Omicron V5 vape pen is the V3 and the generation 3 atomizers.
W9 Tech is head and shoulders above most other coiled atomizers. As we all know, the atomizer is always the most important part of the vape pen.
This kit includes three atomizers: the new and exclusive 'Sirius' atomizer (more on that in a bit..), a quartz double coil atomizer, and a ceramic double coil atomizer that uses black ceramic (compared to white ceramic like other vape pens).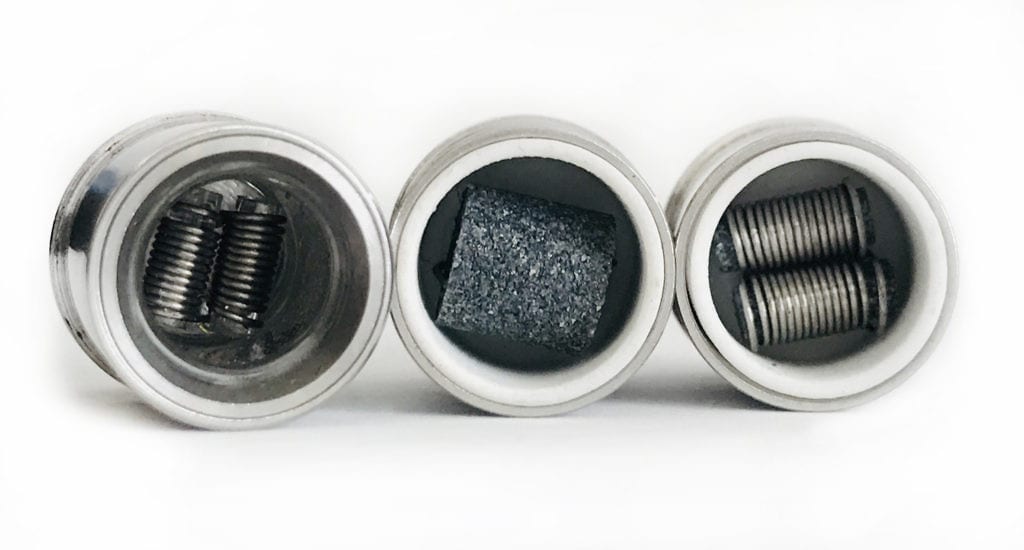 The Generation 3 atomizers by W9 Tech have also been re-designed. The new models are chubbier and have a 9mm wide atomizer cup, vs the previous models 8mm diameter. Each atomizer also comes with its own four built-in air vents under the atomizer, that are 2mm in diameter each. When pairing those with the AC V3s air vents, this design delivers superior air flow.
Quality Materials All Around On The Omicron V5
Unlike most vape pen companies, W9 Tech uses Grade 2 Titanium and openly provide testing to showcase their purity on the website. So, compared to 'not really knowing' what your coil is, or using horribly cheap coils (like This Thing Rips OG Four 2.0 and the KandyPens Elite), you're getting the same quality titanium that you would use on a dab rig!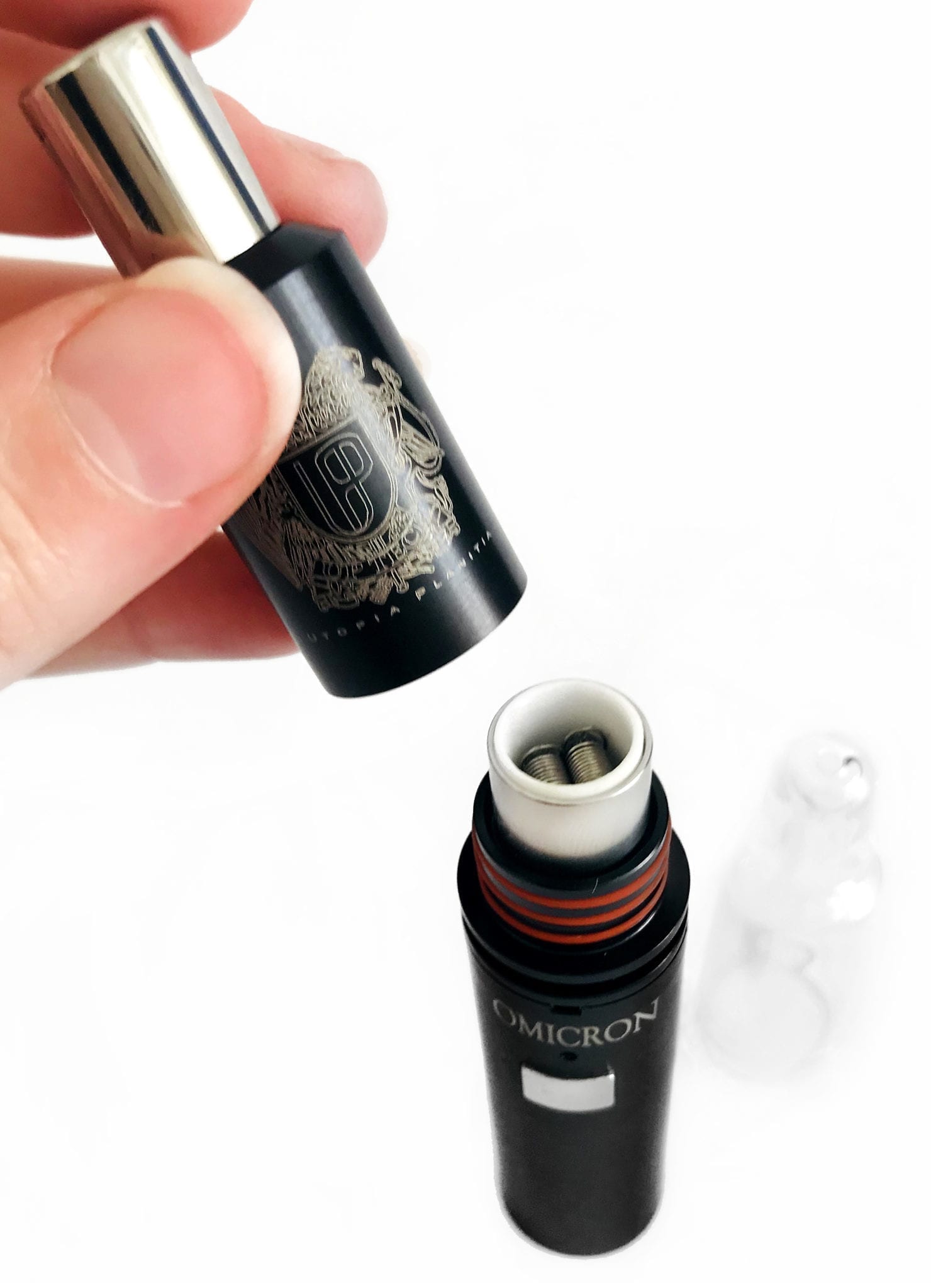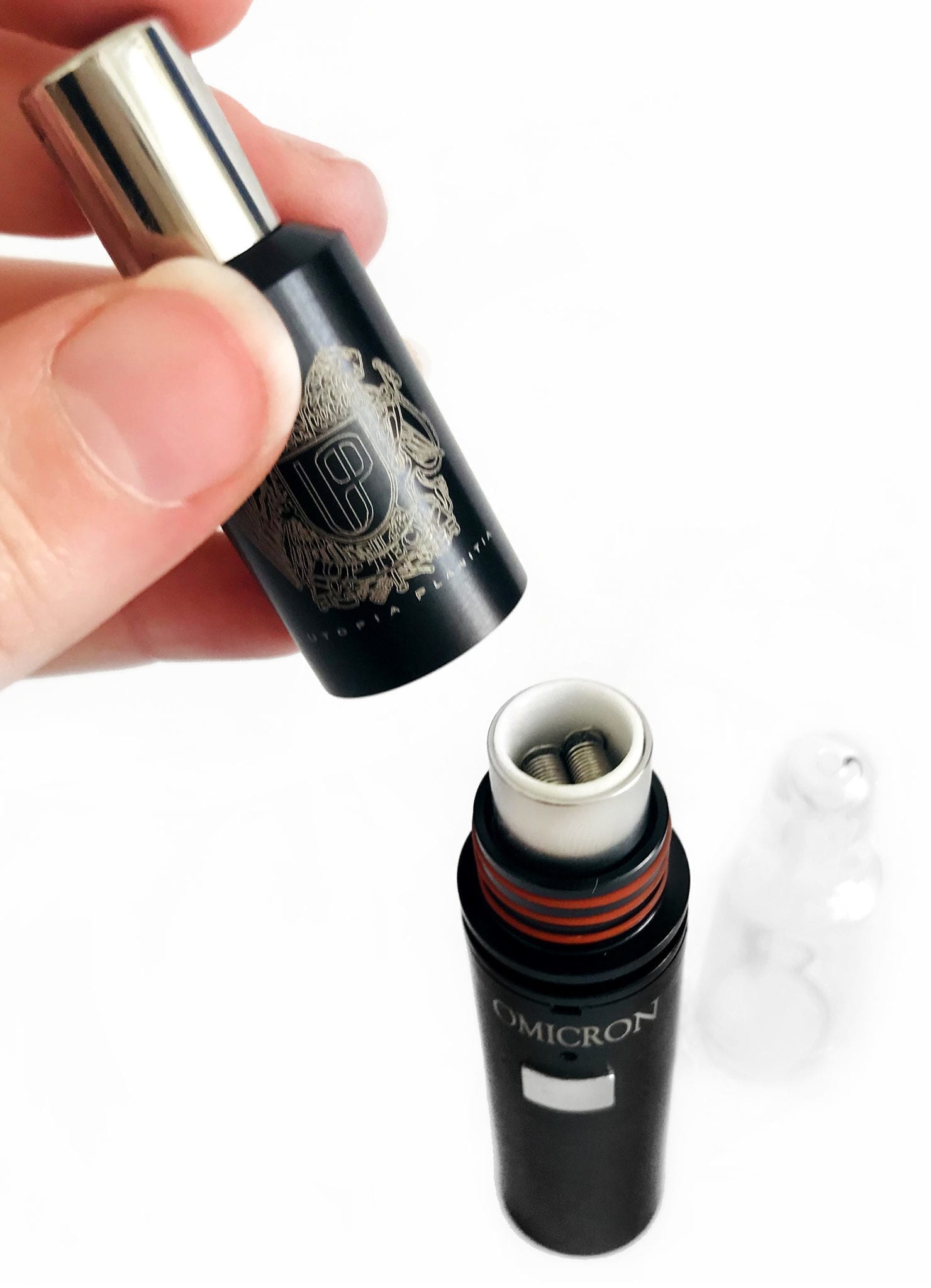 Unlike the Puffco Plus or the KandyPens Galaxy, the Omicron attachment itself is also made with durable stainless steel 304.
W9 Techs new coiled atomizers are what they call EHD models, which mean they use a thicker gauge coil. This means it will last longer and heat more evenly. Now, we all know quartz because everyone uses it, but why use black ceramic?
The black ceramic used in this atomizer by W9 Tech is called 'fc2000', and is somewhat porous. Basically, instead of your materials sliding off the white ceramic, the black ceramic absorbs it as it liquidizes. It can then slowly heat up with the coil wrapped around, and at lower temperatures you can get really tasty low temp hits.
Sirius Atomizer
Let's get to the new 'Sirius' atomizer. This atomizer is a replacement of the ceramic donut that was included in the two previous KISS V2 models. It's a coil-less/low-temp atomizer with a unique idea. The Sirius atomizer contains a black ceramic cylinder, with a Grade 2 titanium coil going through its hollow center. The coil gets powered and heats up the black ceramic, which then melts your dab.
Now, it sounds great in theory. However, in use, the black ceramic is not porous enough to actually absorb your wax. So, what happens is, you place your wax on top of the atomizer, it heats up, and most wax slides off to underneath the cylinder or onto the walls. Therefore, while unique (and when working – delivers incredible taste) it's not that effective in use. However, after posting this review, W9Tech reached out to us and stated that the Sirius atomizer needs to be loaded slowly, and this is why maybe it did not work well for us n the first go. W9Tech also recommends using the Sirius atomizer at 6 watts.
Another downside is that is gets very, very hot after a few uses. Especially when using the globe. Just wait for the unit to cool off a bit in-between each hit.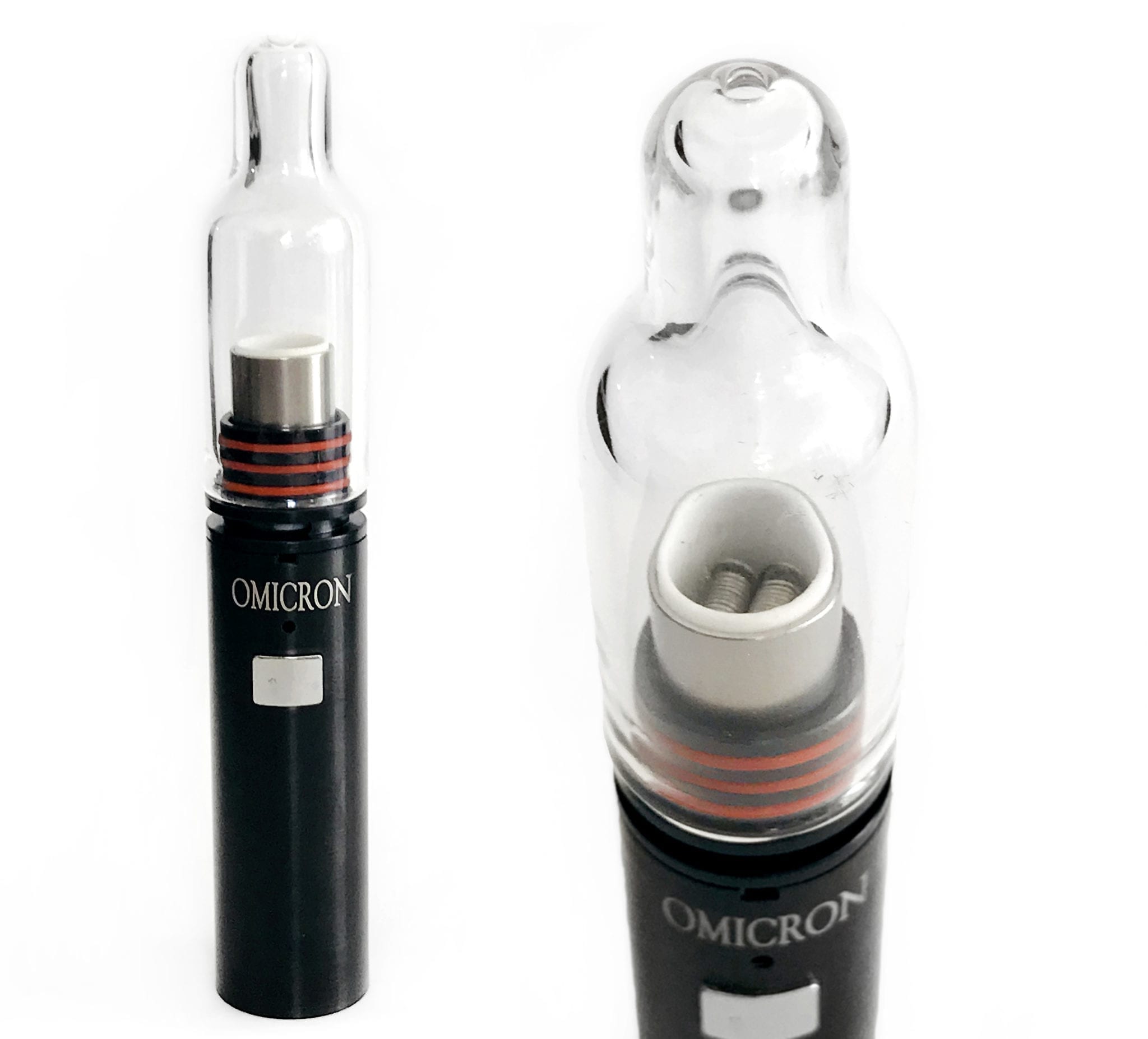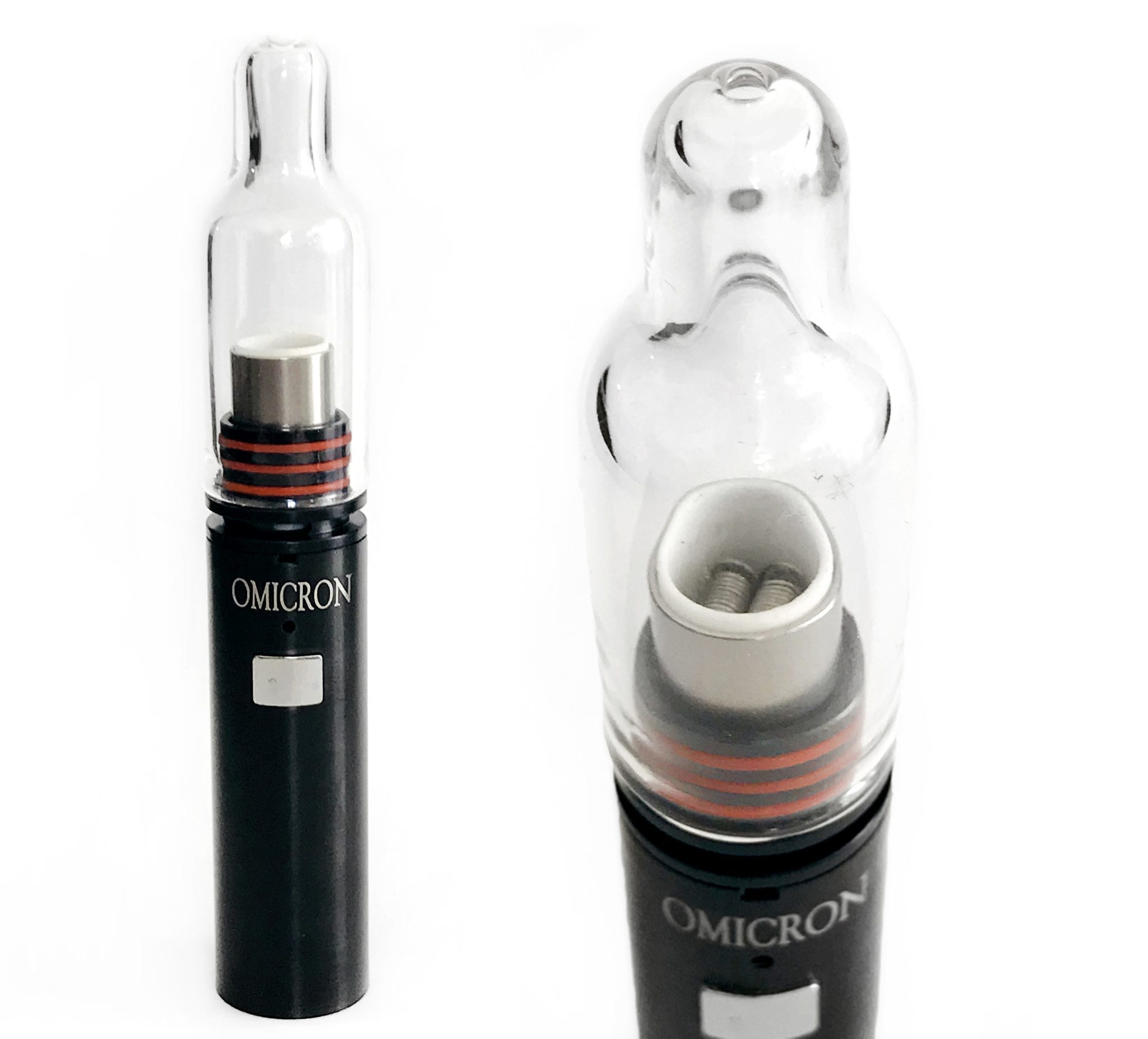 Ease of Use: Better Than Others!
The Omicron V5 is a bit easier to use than other vape pens, simply because the attachment has no threading. This means it doesn't require constant screwing on and off to load your vape pen, like the This Thing Rips R2 Series, OG Four 2.0, etc.
Other than that, it's the same as most vape pens. Load 5 clicks to turn on, 3 to change temperature setting. Load, Puff, Enjoy.
It is slightly annoying that it gets hot so fast, meaning you can't hit it multiple times. However, that's a minor complaint.
The Sirius atomizer is also temperamental, as you have to get your wax perfectly on the top of the cylinder. Also, make sure the consistency of your wax will work with this atomizer. The best option is something gooey, so that it can cling to the correct place and melt as intended.
Strength On The Omicron V5 Can Get Tricky

Strength is a tricky thing. With Omicron V5 on the highest setting of blue, it delivers super strong hits. No alloys on these coils. It does this with high-quality grade 2 titanium, but those strong hits on blue sometimes feel like they're from a cheaper coil that got hot too quickly just because of the high heat.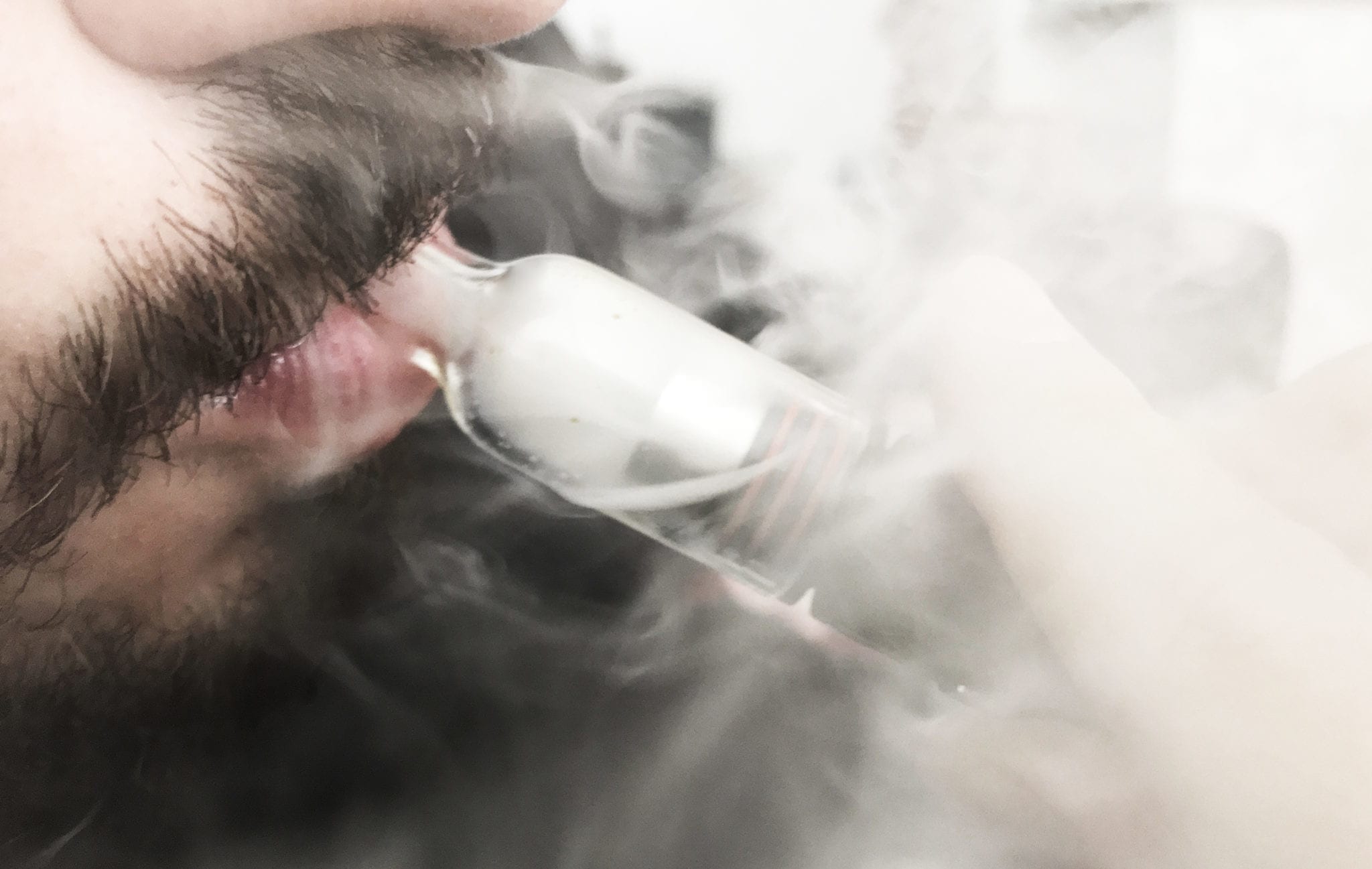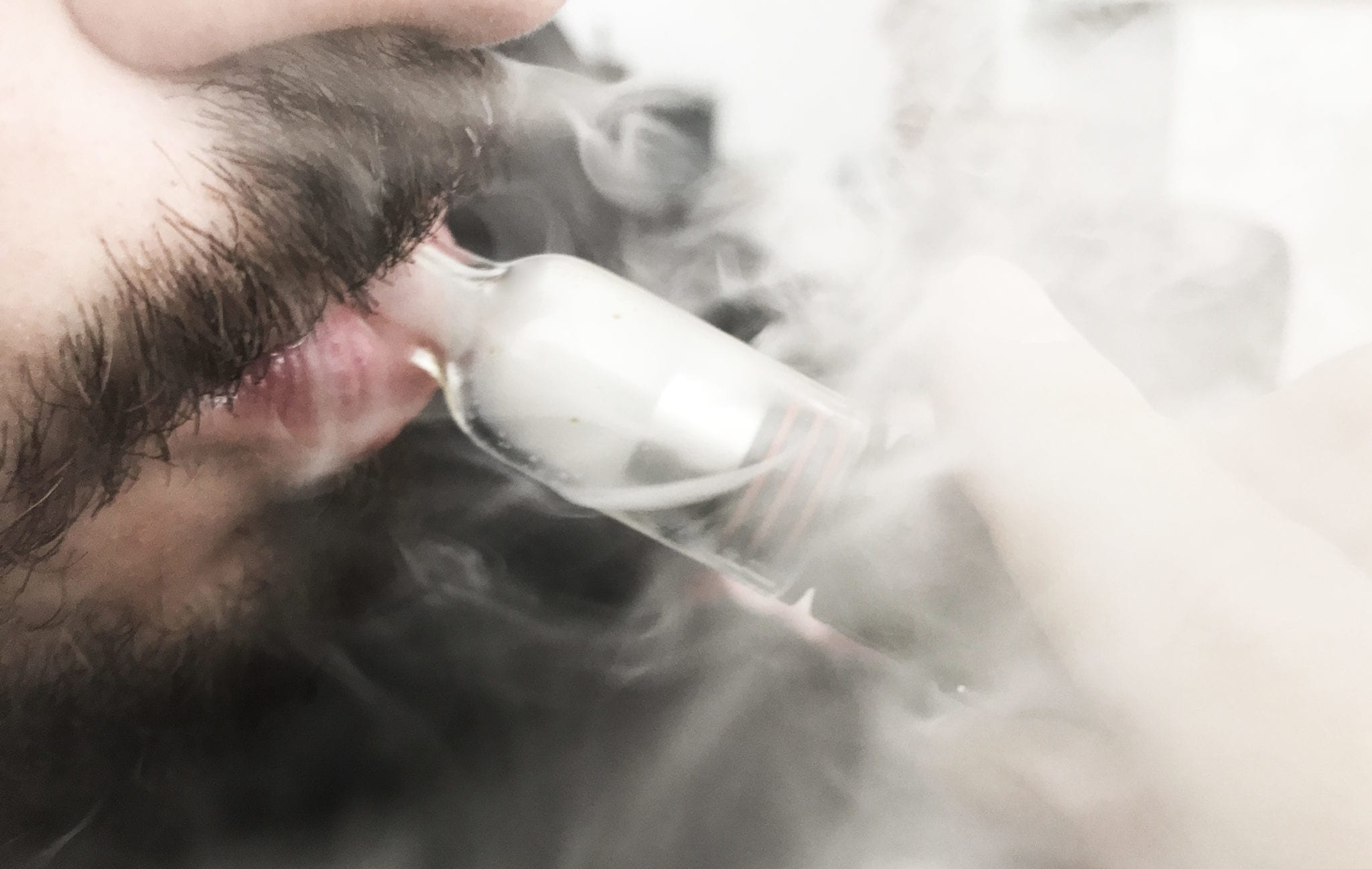 Strength is good on the Omicron, but the main problem is that you cannot control the air flow yourself. Now that the improved mouthpiece controls the airflow, there is no manual control. This just means that there isn't a way to inhale quick enough to get a controlled but lung-rippingly strong hit. W9Tech recommends using 19 watts as the setting for a strong hit.
In conclusion, if this pen had some sort of air flow control we may have given a 9 or 10 in strength for the Omicron.
Efficiency: Coiled Atomizers Much More Efficient Than Most Other Coiled Vape Pens

W9 Tech managed to correctly place their coils right at the bottom of the atomizer floor. This means no wax will escape underneath. With their wider gauge, there is a lot more surface area to catch your dab. This is key to efficiency on coiled atomizers.
Now, ironically, the coil-less atomizer included in W9 Tech's previous AC V2 was a ceramic donut. Their 'ALPHA CENTAURI 1701' ceramic donut was more efficient than their coiled atomizers. A black ceramic insert was then added to the donut, and it was even better.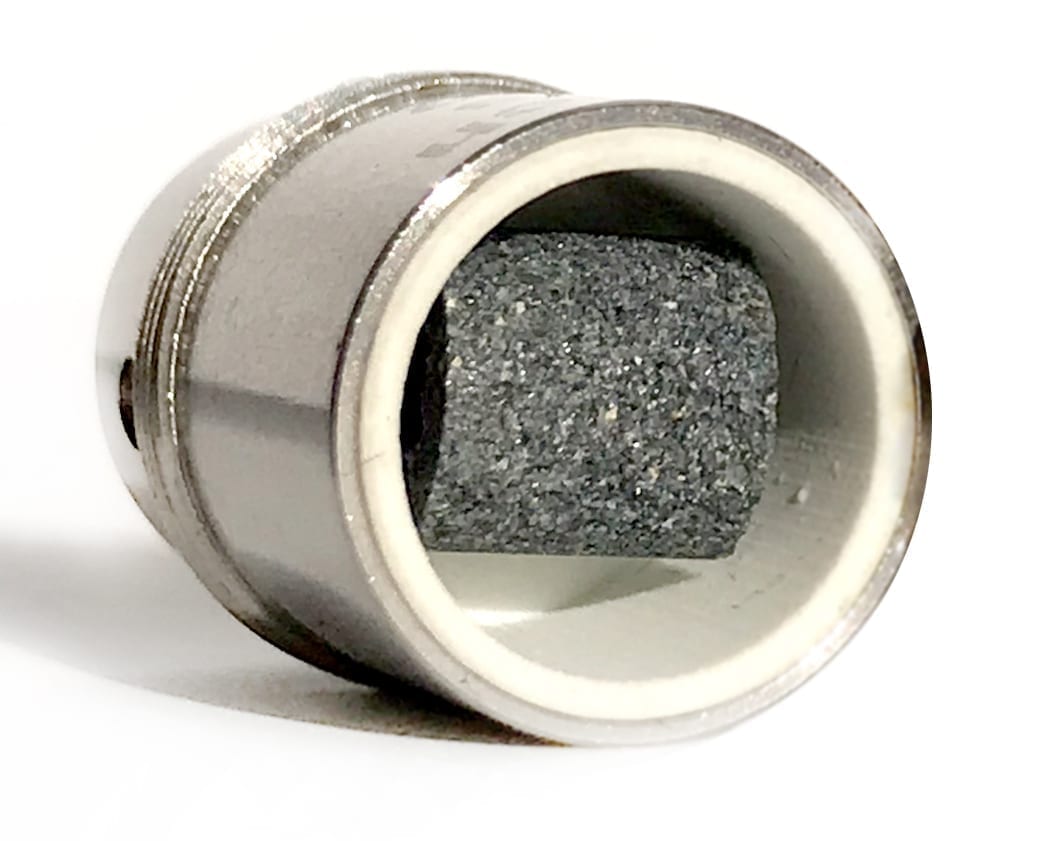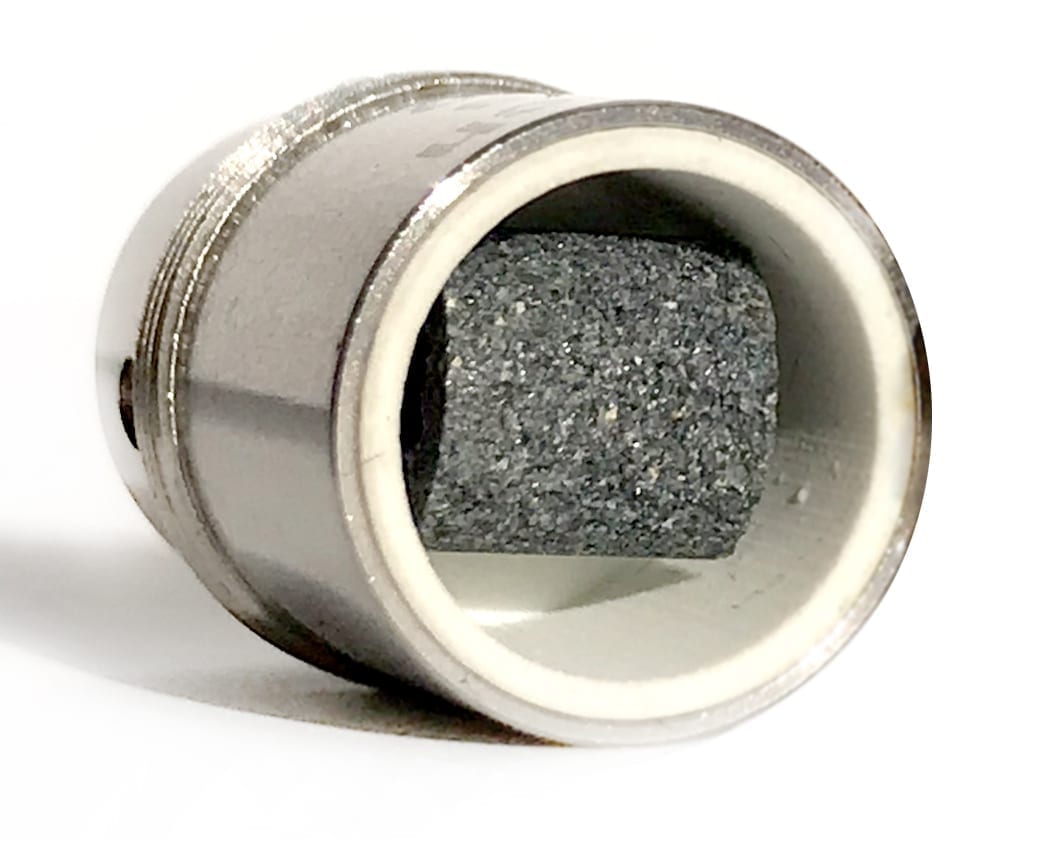 As mentioned above, the coil-less atomizer included here is "Sirius". Sadly, Sirius is much less efficient then both coiled atomizers included. The quartz double coil and the black ceramic double coil work much better in this case. Wax tends to slide away before fully vaporized on Sirius, and you lose a ton of wax on the walls and around the cylinder. With some minor tweaks, this atomizer could be a home run.
Versatility / Atomizer Options: A Slight Loss
W9 Techs Omicron V5 comes with the previously mentioned quartz double coil atomizer, black ceramic double coil atomizer, and new 'Sirius' atomizer.
Sadly, the V3 is not cross-compatible with the earlier V2 atomizers. Because the V3s have added air flow and a wider size, it means the V2s don't fit. Unfortunately, this means you lose access to the V2 1701 ceramic donut and a single coil.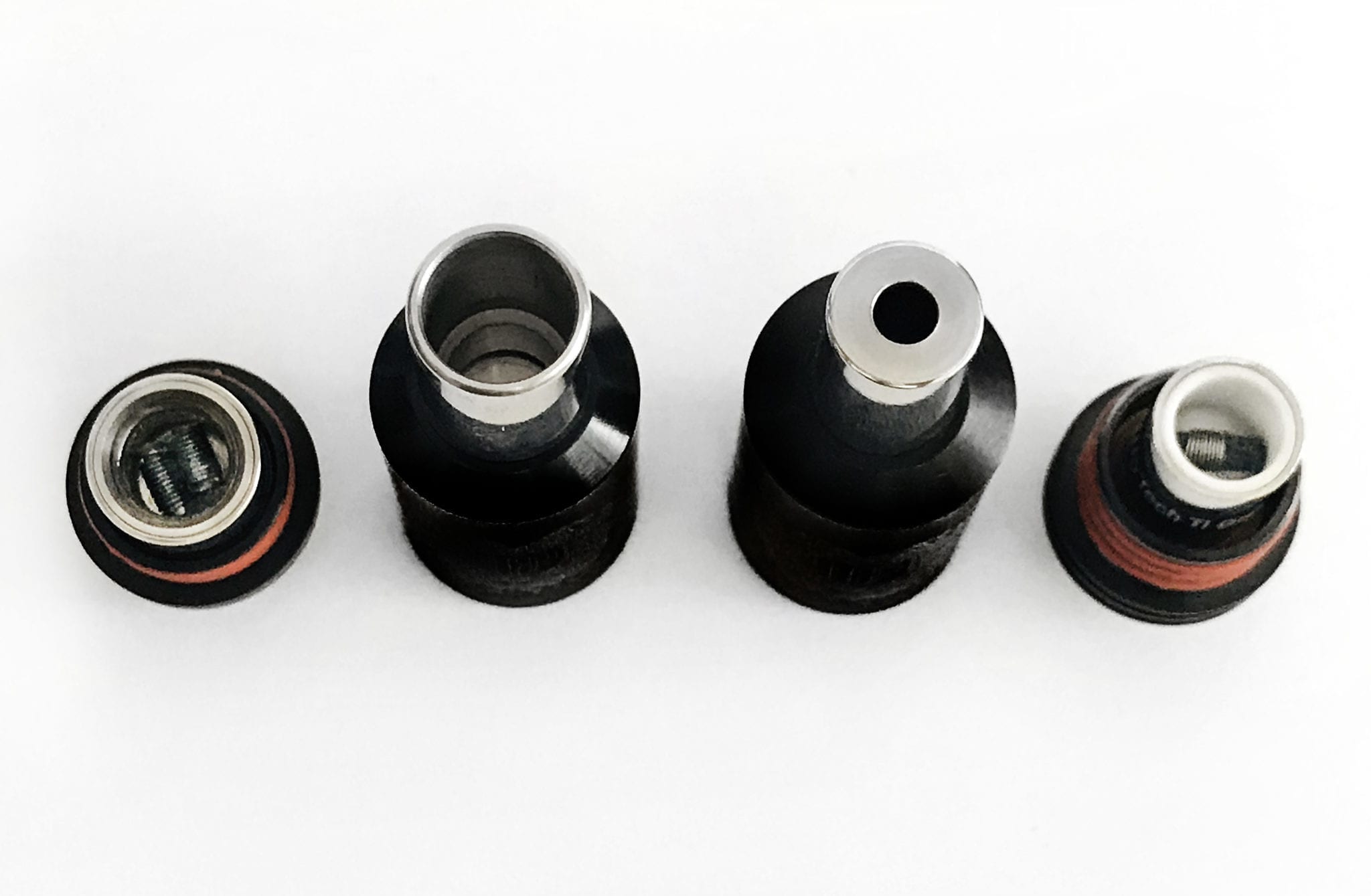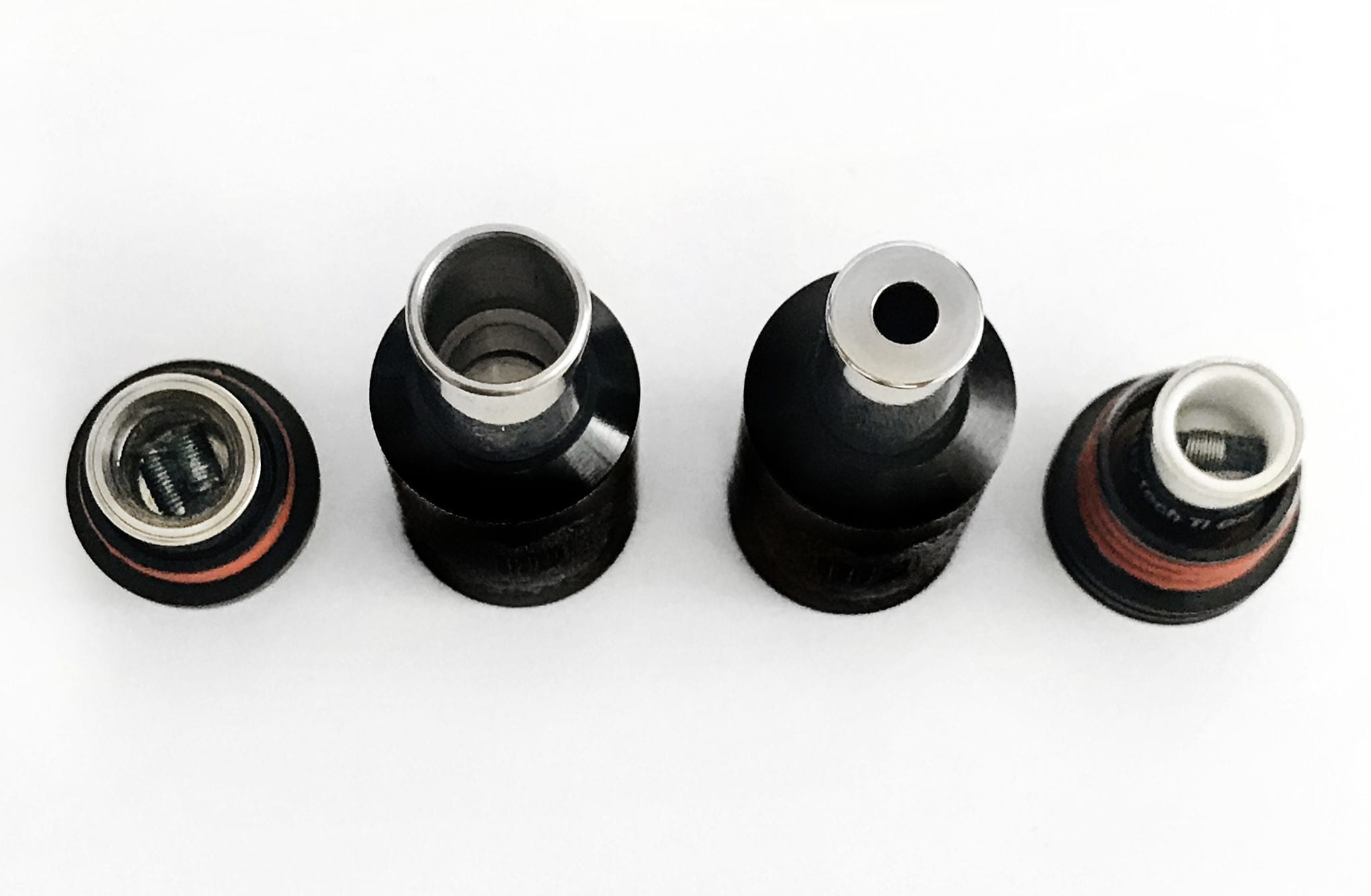 The Sirius atomizer is great in theory, but the 1701 ceramic donut is a better low temp atomizer. The black ceramic inserts on the donut made it easy to get use out of all your wax and keep an amazing flavor too. There is no V3 ceramic donut, hopefully there will be one soon…
Portability: A Non-Issue, Great Size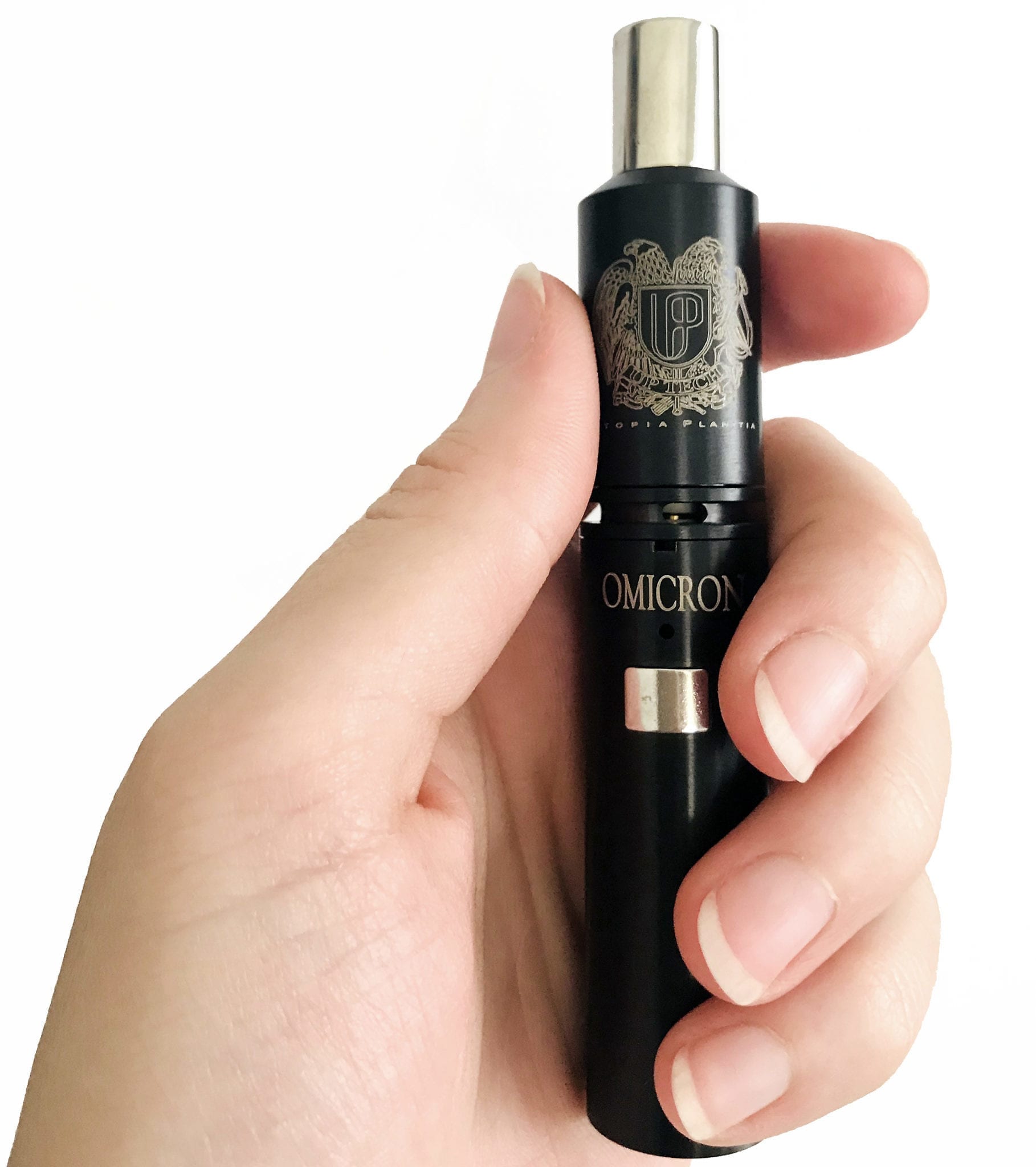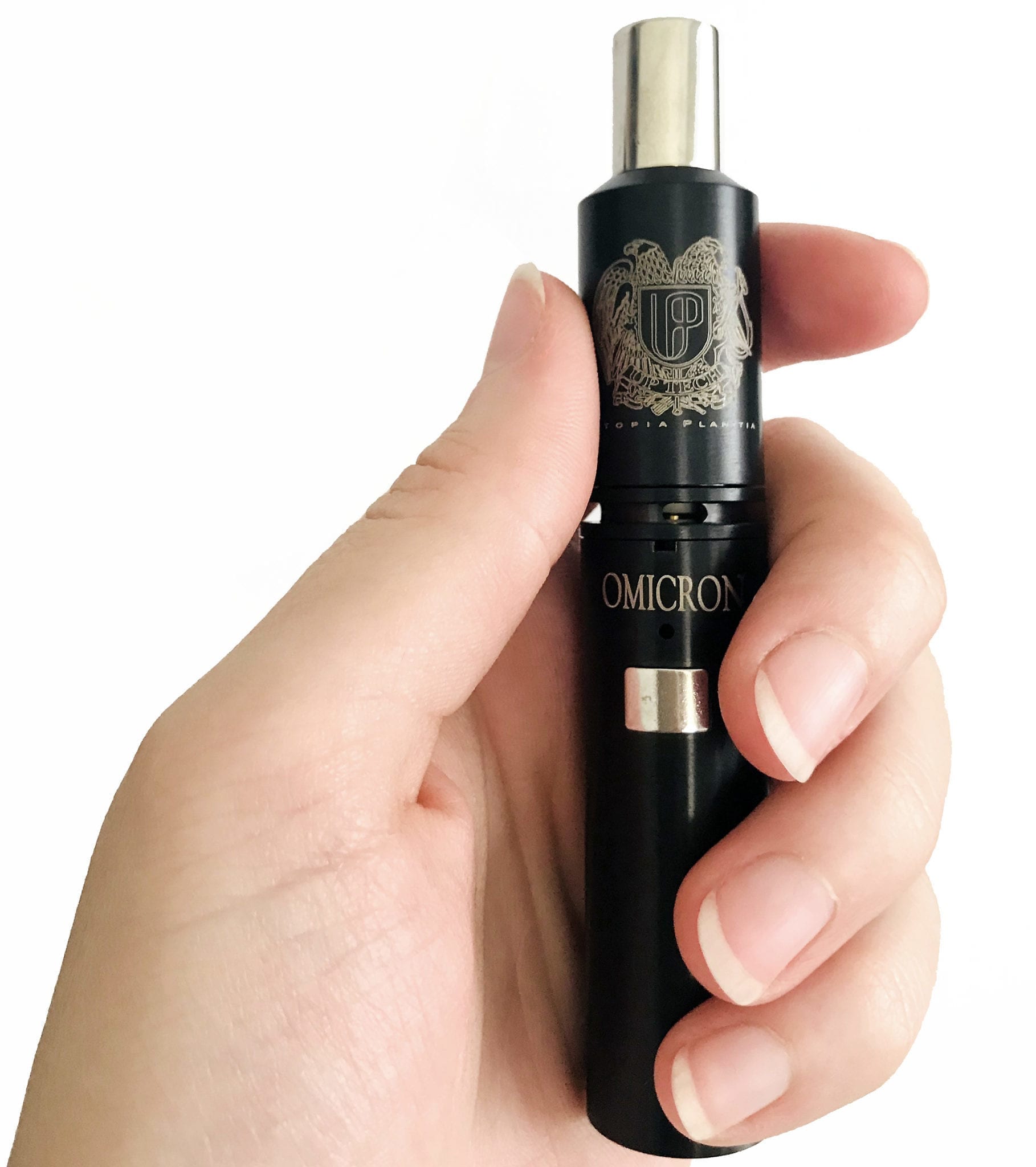 The Omicron V5 did great in portability. It's only 4.5 inches tall, and easily fits in the palm of your hand. It is a bit on the heavier side because of the better materials used, but it's not a big deal.
Discretion: We Like the Understated Design
The cool thing about the Omicron V5 is that is gives you the option of using a glass globe, which is great if you like to view your vapor. But more importantly, you get a discreet and durable black stainless-steel attachment.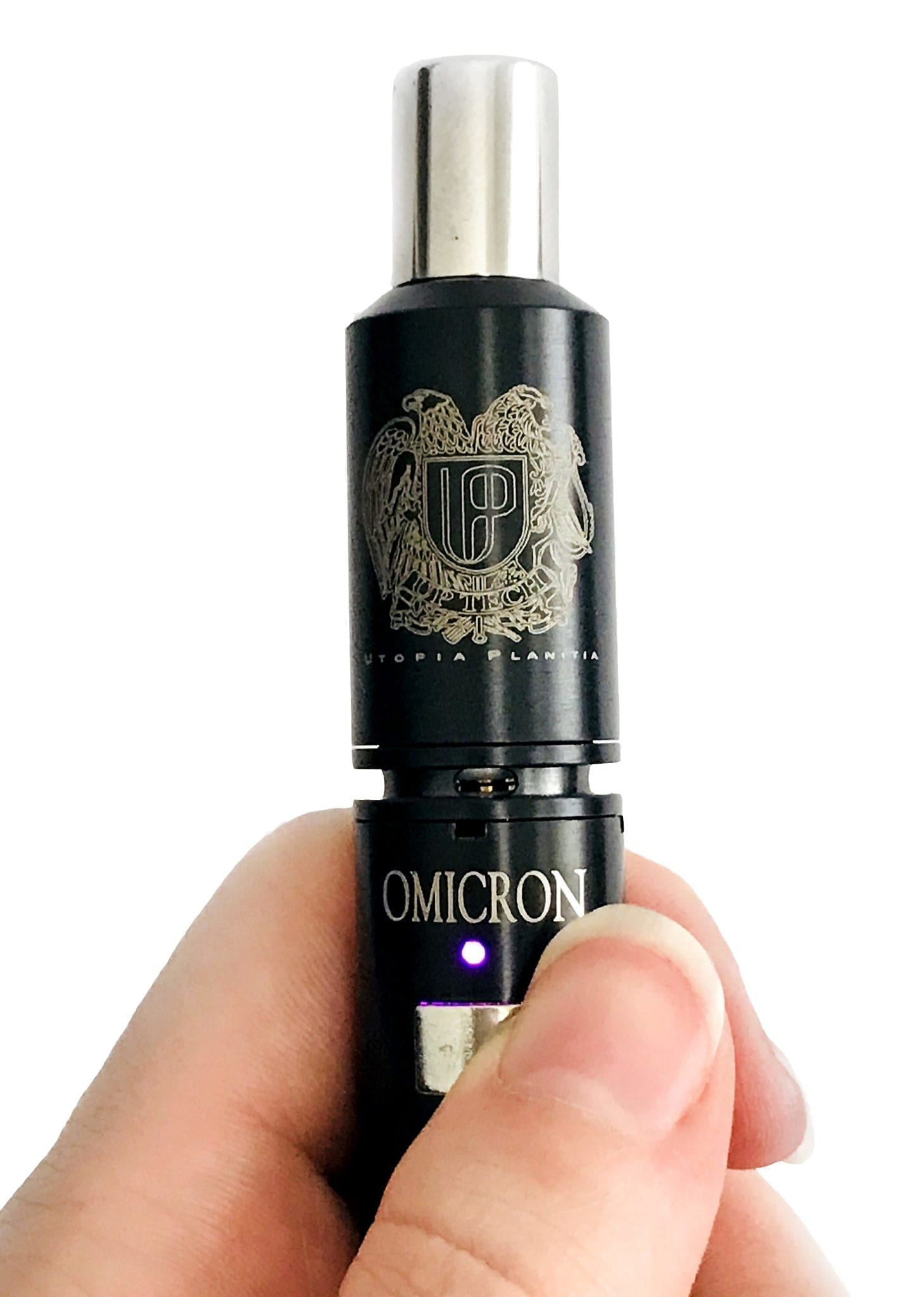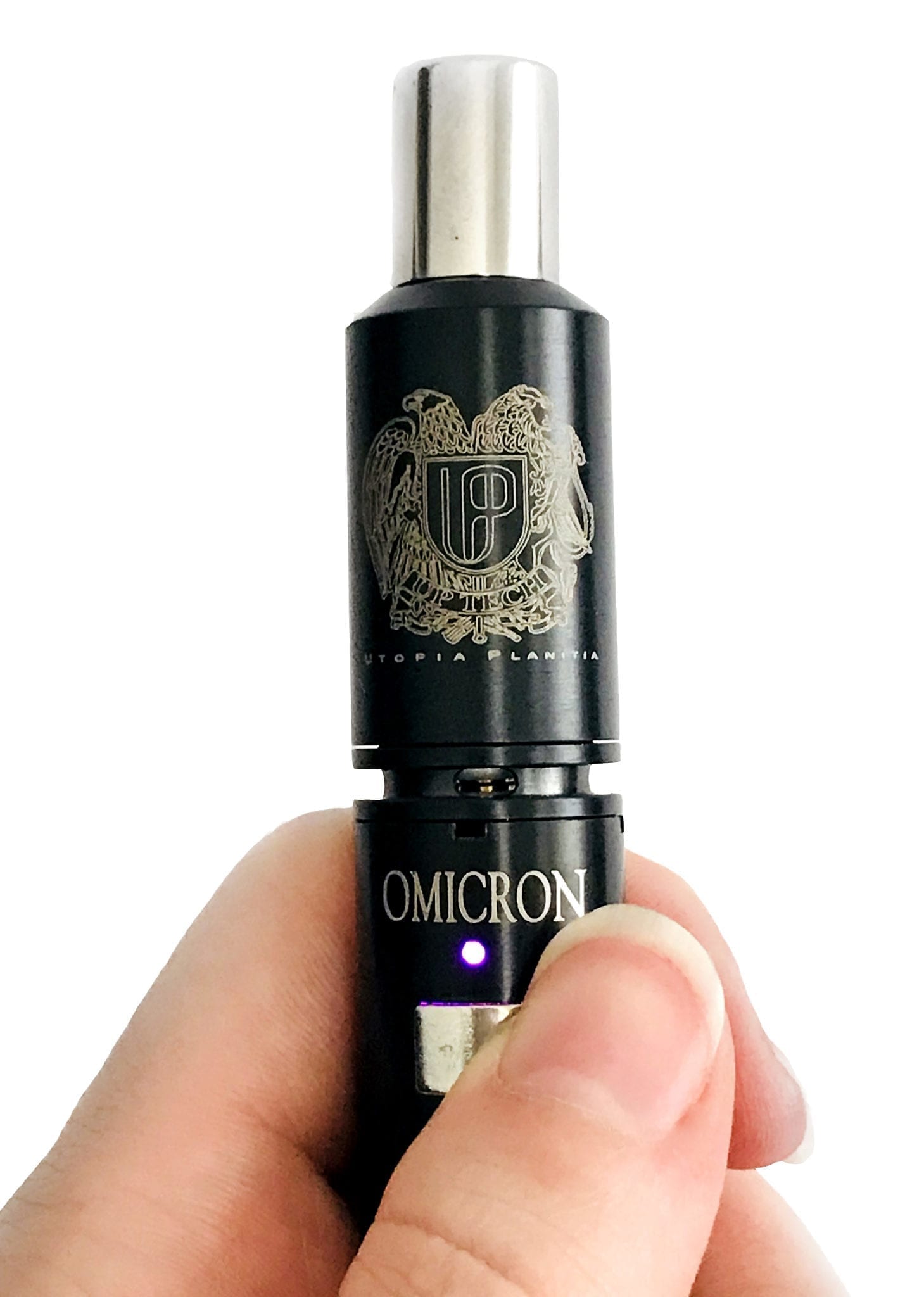 The subtle black design of the battery is nice. It does have the 'Utopia Planitia' design featuring an eagle and lion in gold on the front (questionable design..) but compared to the old flashing plastic KandyPens 'K', it's subtle enough. There's a tiny battery indicator light above the power button, but it has no bright colors or extra lights.
You can easily keep it in the palm of your hand, take a hit and put it away in a discreet manor. Even on the lowest temperature, you can get really flavorful dabs with the grade 2 titanium coils. You can really enjoy this vape pen and be discreet at the same time.
Taste: Omicron = Delicious
The Omicron V5 uses the best tasting coils we've reviewed so far! The thick grade 2 titanium coils deliver a taste so close to a real low-temp dab rig hit, that we may have to change the rating for every other vape pen that uses coils.
If you run the Omicron battery on white (lowest), you can get extremely favorable hits. Especially if you pulse the button (press the button for 3 seconds or so, release for 1-2 and then press again) as to not burn your wax. By doing this, you can preserve much of the flavor.
If you've ever wanted a strong hit from a coil, wanted to taste your wax and not burn or ruin it with a cheap metal taste – this is what you've been dreaming of!
The black ceramic atomizer gives you the best taste out of both coiled atomizers. This is because you don't have the high heat of the quartz, which can burn wax at the end.
The Sirius atomizer also delivers amazing taste, like the earlier 1701 model. However, your wax slides off, so it's hard to use. It would be great to see another coil-less white ceramic atomizer in the future. Taste is getting such high marks because of the amazing coil metal.
Value: A Total Steal!
At $76.99, the Omicron V5 is some of the best value you can get in comparison to other vape pens. The fact that this is cheaper than other vape pens with worse materials and specs is unbelievable.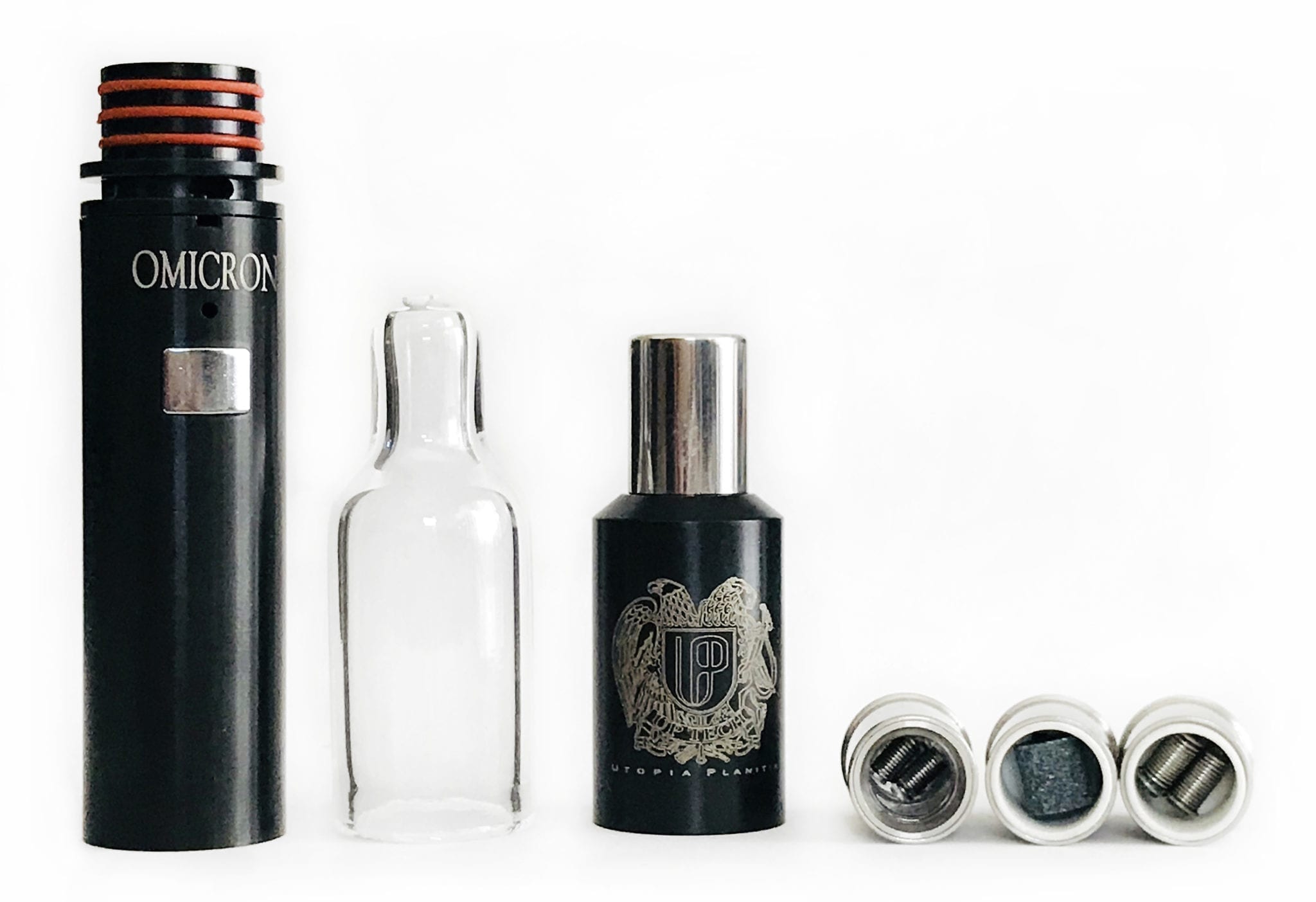 The Omicron V5 includes a 900mAh battery with micro USB charging, as well as three atomizers. The atomizers included are: one exclusive atomizer (Sirius), one rare black ceramic double coil, and one quartz double coil. W9 Tech made their atomizers with grade 2 titanium and have them tested in the USA.
W9 Tech includes a card with the Omicron V5 that says the battery has a 'limited lifetime warranty' and they'll replace it for free for one year. Future replacements will have a service fee applied. W9 Tech doesn't offer free replacements for everything like some do, but it's good that your product is covered.
Replacements: Peanuts for Excellent Quality!
Omicron atomizer replacements are such an incredible value! The cost of replacements can add up after a while, so think long term, people! Remember those KandyPens Prism+ atomizers for $34.95 and $9.95 shipping? Not only do you get better quality, but in comparison to competing products, this will save you money in the long run.
The USA tested grade 2 titanium used in this vape pen makes this price a steal. Knowing the metals and materials used in your products is a big deal, especially when you're inhaling from them.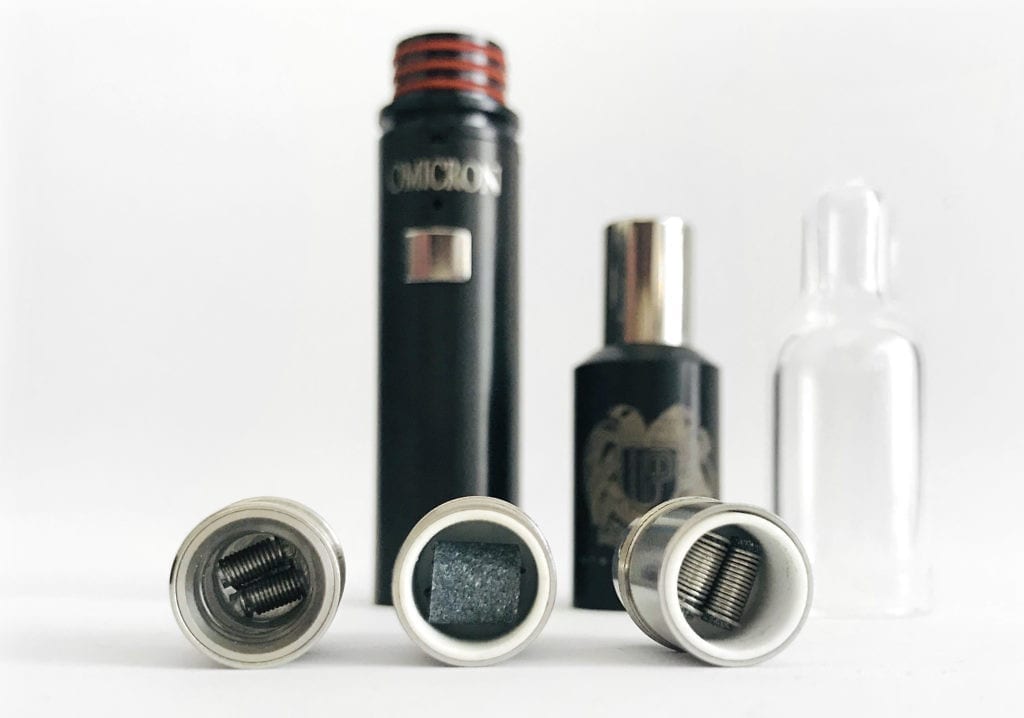 While other companies are selling you shabby double coiled atomizers for $20-25 apiece, W9 Tech are selling their Gen 3 with unique bottom air vents for only $9.99 apiece!
Their unique Sirius atomizer is also only $11.99. So, even though it's not the best atomizer in the world – it's still a great little atomizer to use for low-temp, delicious dabs of the right consistency.
For these prices, it's hard not to pick up a couple just to have around the house
Omicron V5 Conclusion 
W9 Techs Omicron V5 is one of the best, if not THE best coiled vape pen around. Its grade 2 titanium coils deliver a taste similar to a dab rig.
The Omicron V5 is small, it's portable, the price is on point and replacements are peanuts considering the quality of materials used.
It does get hot after using it a couple of time, so it's not perfect, but it's getting there. You can get the Omicron V5 here. Make sure to add a battery if you don't have one!