REVIEW OVERVIEW

SUMMARY

Cannavative cartridges are great quality all around. Strong distillate and good taste make Cannavative one of the best cartridge brands in Nevada.
Cannavative cartridges use THC distillate oil that comes with a clear look. Overall, they are high quality vape carts that deliver excellent strength. They're a Nevada only brand but they're one of the best brands I've tried to date. They're available at both Essence in Las Vegas and Tsaa Nesunkwa in Ely. They made our best cartridges Nevada list.
Pros:
Great oil quality
Authentic CCELL hardware
Great Strength
Good Taste
Cons:
Recommendations: If it is more widely available, it would be nice. Some people might like some flavor adding, but we do like the original distillate taste.
Licensing Information: Cannavative Extracts LLC Cannavative Extracts LLC Active Rec Production RP043 Cannavative Extracts LLC Cannavative Extracts LLC Active Med Production P043
Update 7/20/2020: Cannavative now has 2 cartridge versions, Live Clear and Resin8. This review covers the Live Clear, which we think is the best of the two.
See our video review of Cannavative below. Keep reading on for a more in-depth review.
Cannavative cartridges are overall top-notch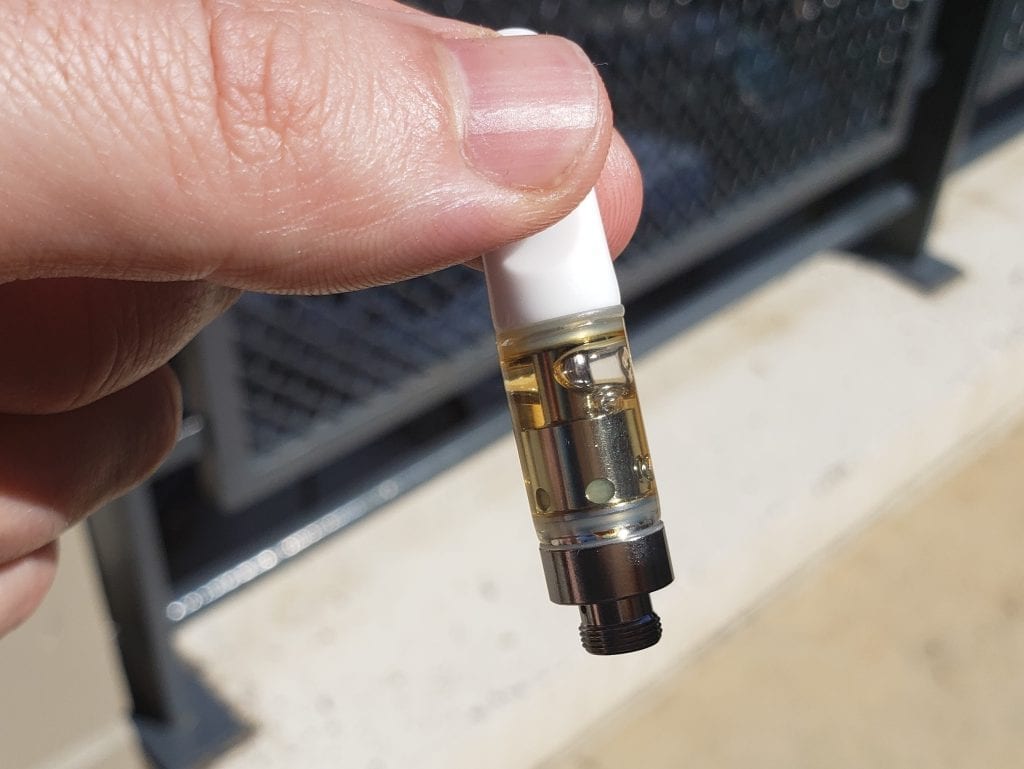 Cannavative uses CCELL hardware, specifically the TH2, which is a glass body with a ceramic top. This is the best of the CCELL line, and on top of that, they're using awesome quality oil. I've now tried 5 Cannavative cartridges. Combined with good taste, excellent hardware, and great oil quality, Cannavative made our best cartridges Nevada list.
The three strains used in this review are La Chocolat, Double Dream, and Alaska Jack, which appears to be a Cannavative-specific strain. Mostly likely a cross between Alaskan Thunderfuck and Jack Herer strains.  I bought two of the Alaska Jack carts, should have got more. There was another cart I bought originally and I forgot the strain name.
Design and Build Quality on Cannavative cartridges is the best, they use the best CCELL variant
Currently, Cannavative uses the TH2 glass cartridge CCELL. There are some cartridges that I would say are as good as this cartridge including the SPRK cartridge. However, this is top-notch and they really could have not picked anything better. The hits are good and smooth, and there's no burning taste when you hit it hard like on the G Pen Gio.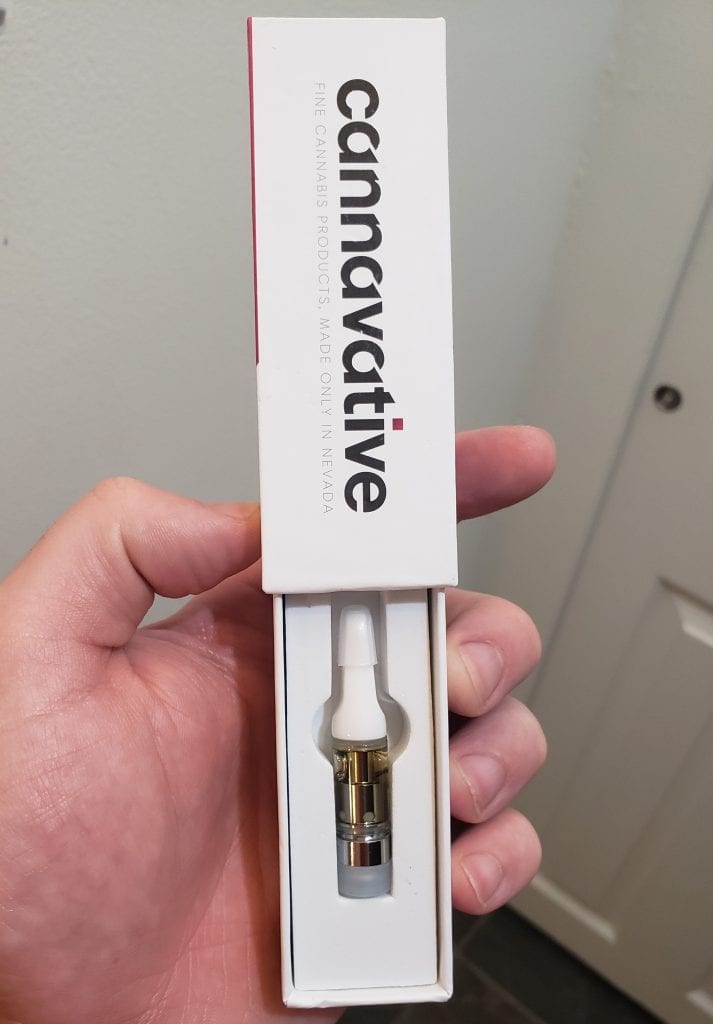 The packaging of the Cannavative is also pretty unique. It comes inside a bag and then inside a box. This does seem to be a little much packaging, but you will definitely know it's a Cannavative product when you see it as they use the same bags for everything. It appears to be all recyclable materials.
Oil quality in Cannavative is best of best, no color changes at all
After 5 Cannavative cartridges and none of them has any issues with oil changing color throughout the operation of the cartridge or any other general issues on oil quality. The oil is extremely thick and Cannavative uses no additives or thickeners. It's pretty much distillates and terpenes. Nothing to complain about here.
Strength on Cannavative is amazing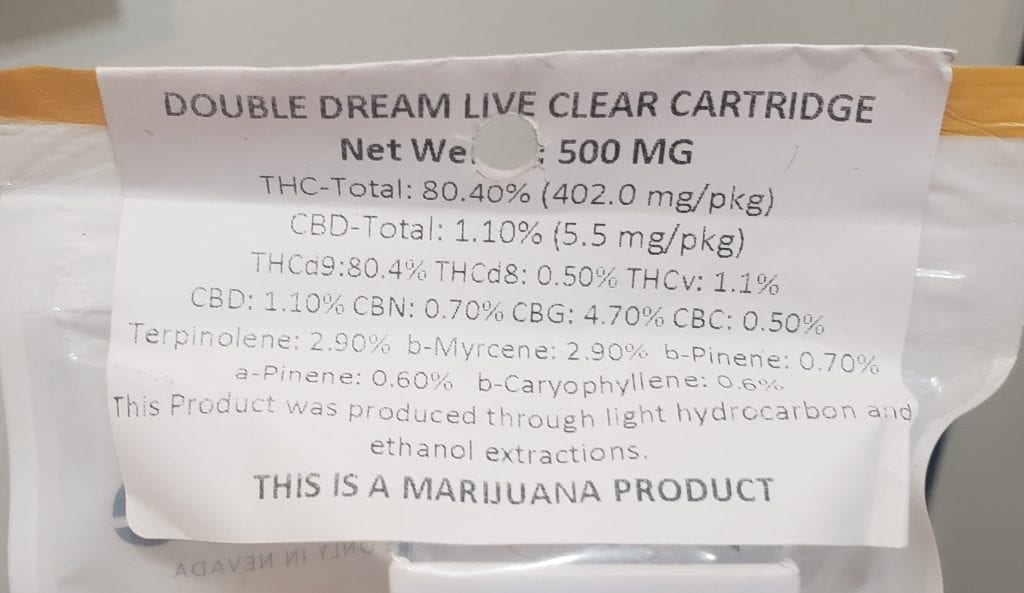 So far their sativa cartridges seem to be stronger than their indica cartridges. I would say overall the entire line up is very strong, even the indicas. We are just comparing strong to stronger. Nothing from Cannavative is average strength.
I can pretty much get any Cannavative cartridge and expect it to have great strength. They seem to mostly test on the 80s range, the lowest that I found was 80%, the highest was about 85%. THC percentage is not everything when it comes to strength. As I write this review I am hitting on 96% THC Eureka Vapor oil. It's good, but much rather be hitting on that Double Dream because the effects are stronger even though it's at 80% THC.
Comparing Cannavative to California carts, the only ones that I would put on par with Cannavative as far as strength out of ones I have tried are Aces Extracts, Select Elite and Airo Pro.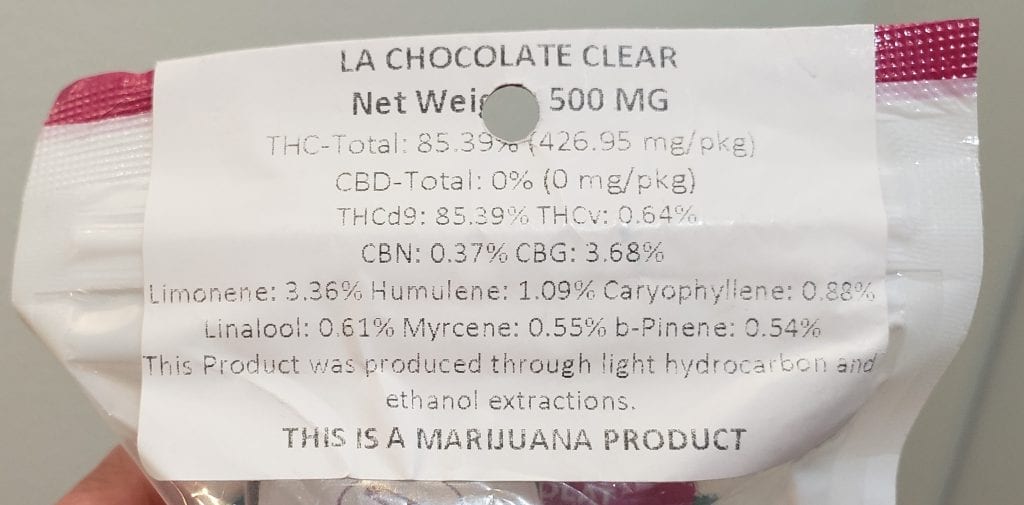 Cannavative carts are substantially stronger than the popular Cookies and Raw Garden carts.  I have yet to try the NV version, but compared to the California version of Stiiizy, ten Stiiizy hits do not match up to one Cannavative hit.
If Cannavative gets in to California at some point, it will fly off the shelves. Double Dream was the strongest cart of the bunch, even though it had the lowest THC percentage.
Cannavative carts taste like a standard clean distillate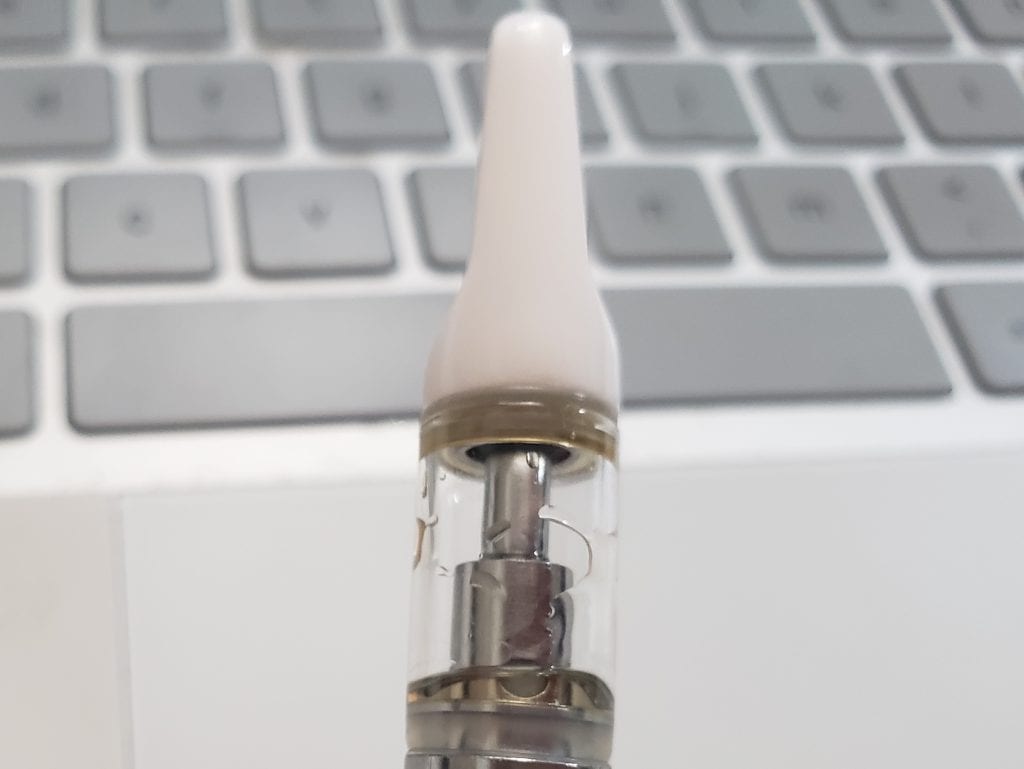 Cannavative carts taste like a very clean distillate oil. There's not a whole lot of added flavor here. And if you're really looking for something that super flavorful with comparable strength, check out Airo Pro. Cannavative is really just a distillant taste, it tastes like distilled oil should and pretty standard. However, I like this taste and have nothing to complain about it.
Alaska Jack and Double Dream tasted very similar. La Chocolat had a bit of a chocolate and coffee taste, but still some of the distillate taste was there as well, which I do like.
Efficiency is about as good as it can be
Currently, the CCELL TH2 is one of the most efficient cartridges out there. The SPRK cartridge might be a little bit more efficient due to the hole placements and also the cartridges on the Jackpot cartridges maybe a little bit more efficient due to the hole placement. However, the CCELL hits very strong and you really are getting just about down to the last drop as much as you can get out of it.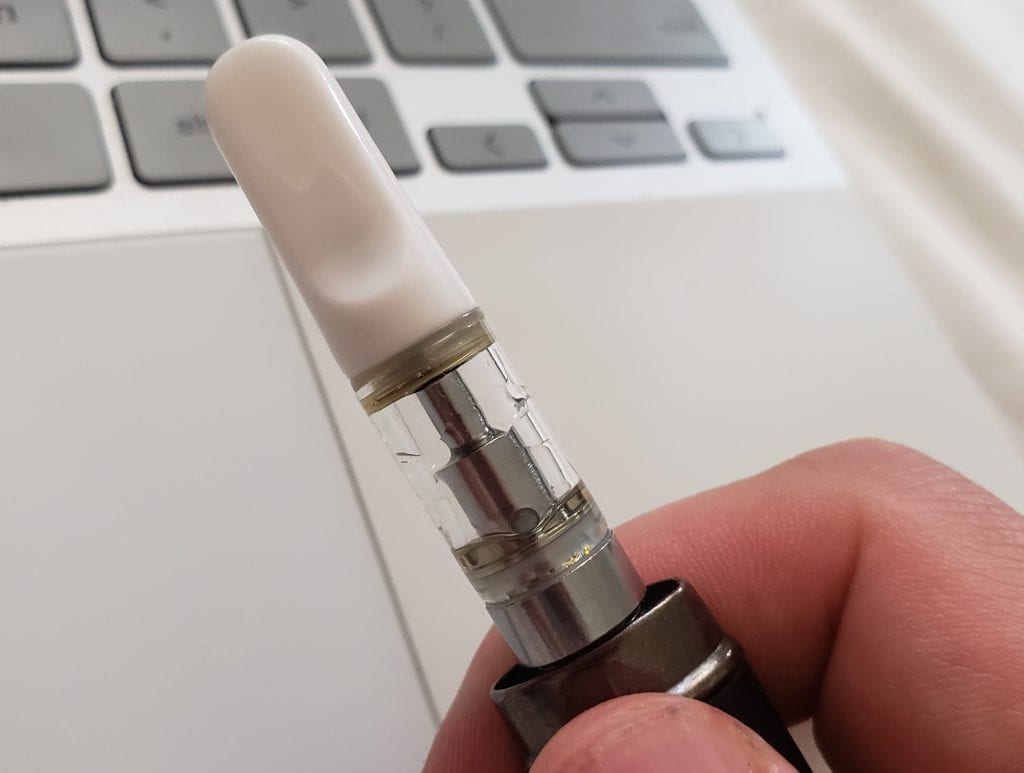 I'm glad Cannavative chose to go with glass CCELL cartridges rather than plastic carts or something like the G Pen Gio.
Cannavative carts seem to last long. The number of puffs you get out the can is definitely better than average. It's not super runny and it seems to last considerably longer than the BHO oil used in the BaM Gio Pods.
Different packaging for Indica or Sativa, plus strain info
Cannavative uses yellow bags for all Sativa products and purple bags for all Indica products. The only thing I found confusing about this was they use the same style bags for their cartridges that they use for their other extracts. One day I walked in and thought there was a bunch of carts on the shelves, but they had extracts only.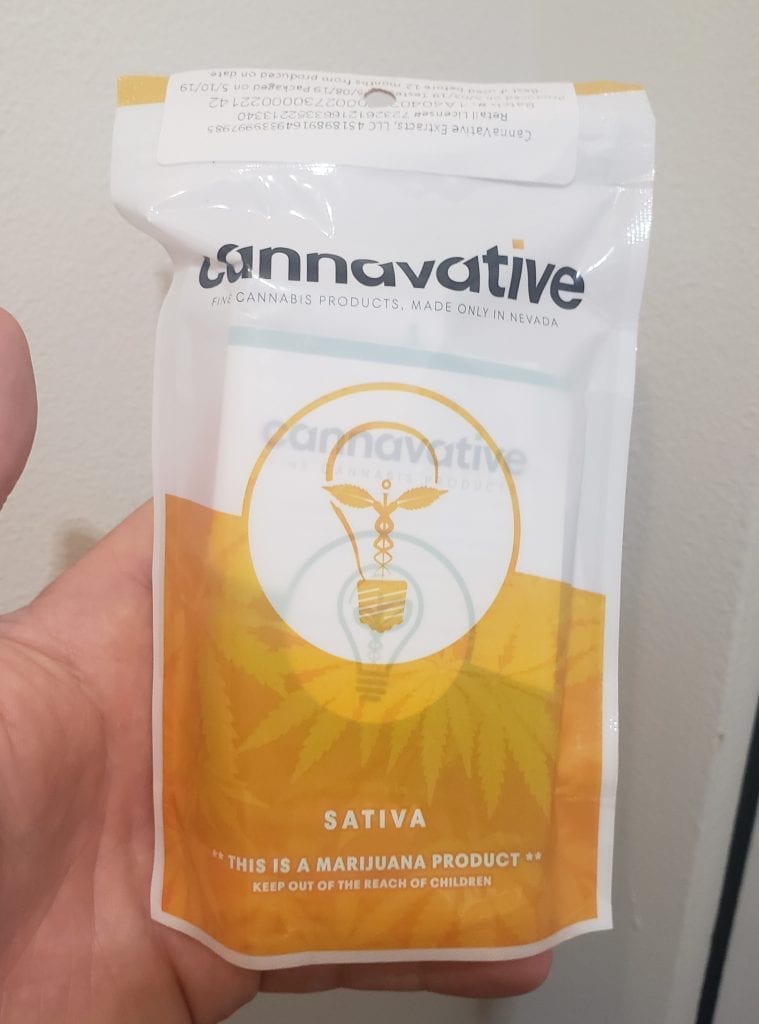 All cards and boxes in the bags then follow that same color coordination. Another interesting bit they add is a strain information card. See below the one for the Indica cartridge I tried.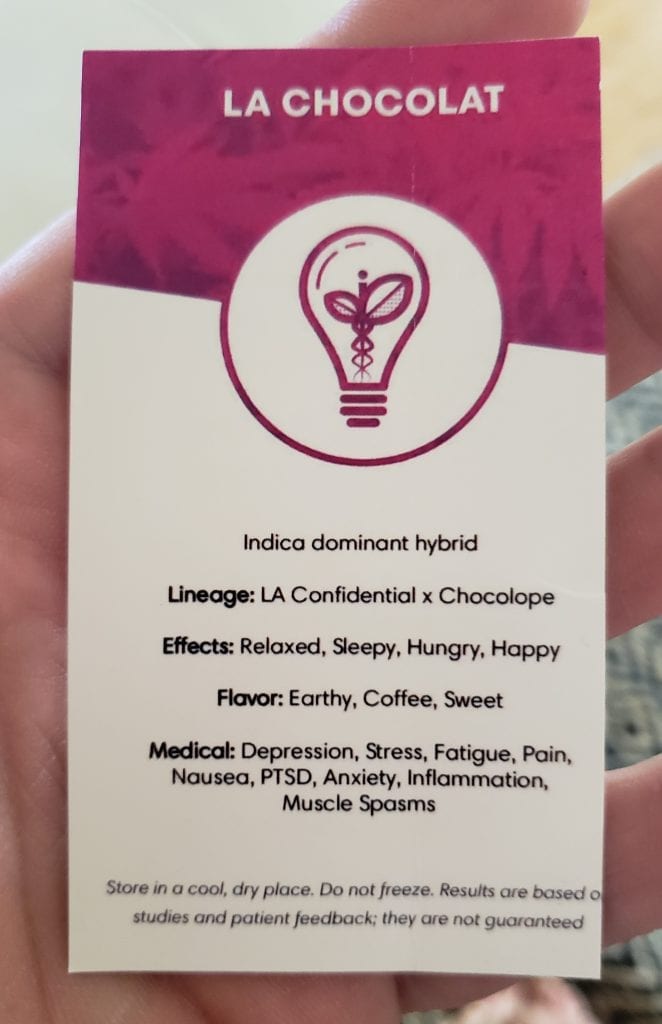 I don't have any of the physical issues they listed, but I can tell you they were right on the flavor. The La Chocolat definitely a coffee-like taste to it.
Totally worth it and the price recently was lowered
Recently at Tsaa Nesunkwa in Ely, the price of Cannavative cartridges has come down to $40 each. The carts are half grams and Cannavative currently only sells half-gram carts. That's lower than the average cartridge in Nevada at $45.
Other stores may still have it at $45, and even at $45 is still an awesome value. Comparing it to California cartridges, many of which are at $30 and $35, it is more expensive, but Nevada is more expensive statewide.
Concluding our Cannavative cartridge review
It is no surprise that Cannavative cartridges are awesome. Their shatter we reviewed was best of best. They seem to focus more on quality production than promotion as I don't see their name anywhere besides inside the actual shop. However, the stuff does sell out in stores.
I definitely recommend checking out Cannavative if you're heading out to Las Vegas or anywhere in Nevada. You can find more information on Cannavative here and see more pics of their products on their Instagram.
Have you tried Cannavative cartridges before? Post your review below! Questions or comments? Post below or in our forum!