REVIEW OVERVIEW

Design and Build Quality

10

SUMMARY

The Cookies cartridge by High Flyers could be summed up as decent. It's not near the strength of Select Elite. It's a good cartridge but with all the hype I just expected more.
Cookies cartridges are decent. I expected it to be a lot better than average just because there are many out there who have said Cookies flower is amazing quality. However, the High Flyers Cookies cartridges we tried turned out to be an average range THC vape cart and one of the strains we tried was better than the other two. It is priced lower than others and is a good value for someone that does not want a super strength THC cartridge.
Quality CCELL hardware
Low cost
Stronger options available
Taste not so great
Licensing Information:
State: California
License: C11-0000127-LIC
Recommendations: Make them stronger and taste better.
Check out the video review below on a Cookies cart, or keep reading on for the more in depth review:
Cookies cartridges need improvement, not very strong or tasty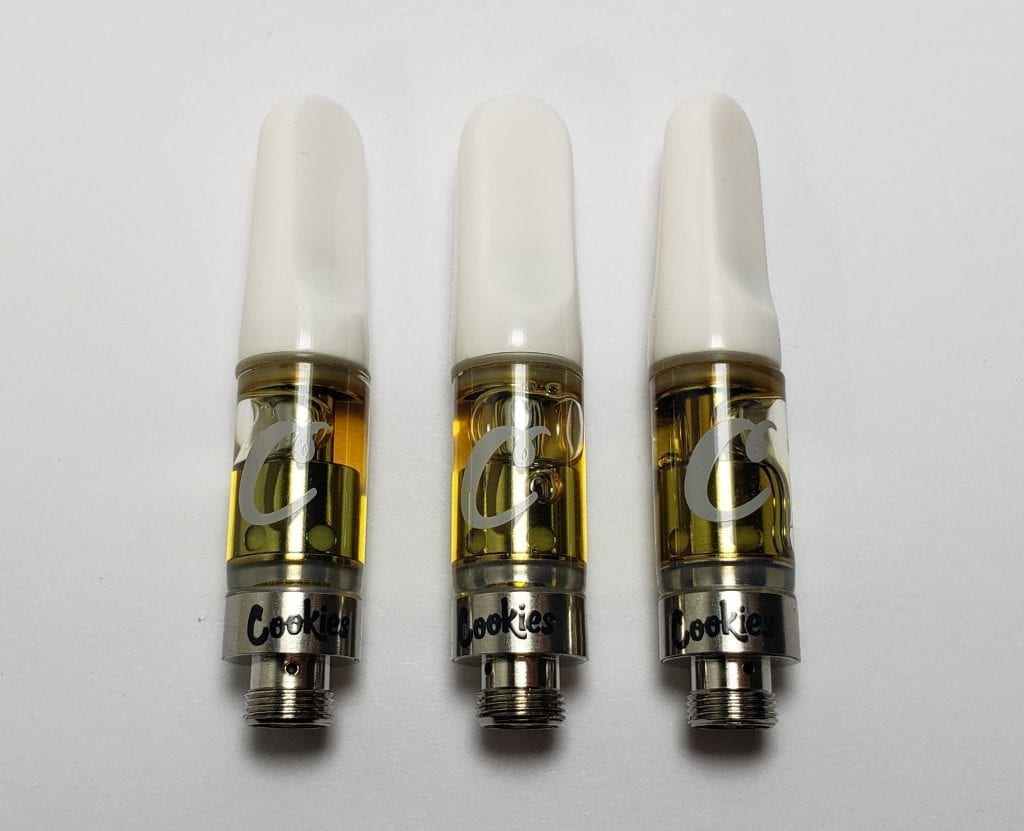 All around, the Cookies cartridge is not a bad value even for the not-as-good strains. At the dispensary I went to they were only $30 a pop when other cartridges were $35 for a half gram. The Cookies were actually on clearance so maybe that might just be a temporary thing but at $30 a pop, they are not bad of a deal.
If we are paying the same as other carts though, other choices are stronger, tastier, and have longer lasting effects.
Their namesake Cookies strain cartridge is the best compared to the other strains we are hitting.  The three strains we have are:
Gelato
,
Lemonchello
, and
Cookies
. Cookies Gelato and Lemonchello are very similar in taste and strength.
The carts themselves do not have strain labels, nor do other brands, so we labeled each picture with which strain is shown.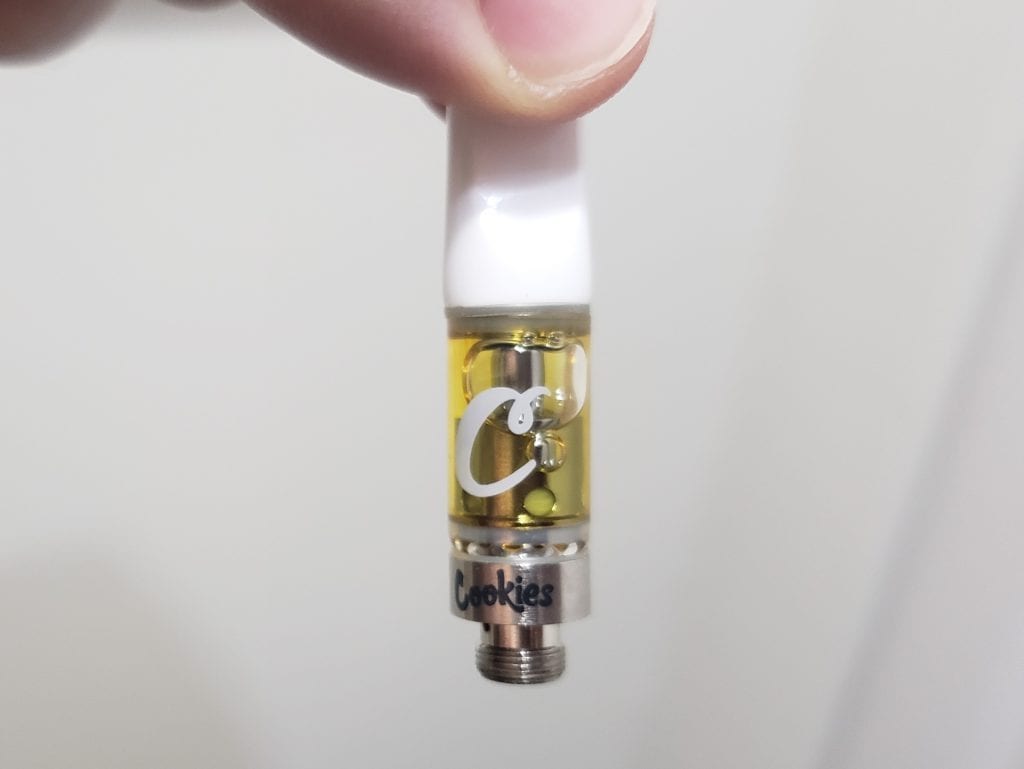 Might be for the value stoner looking for less strength
After trying three I think for the value stoner who does not need a blow you away cart, any of the Cookies carts are a good option. However, I think you are technically getting a better deal by spending an extra $5 and getting something stronger for those of us looking for strength.
I also bought an Aces Extracts Energy disposable pen at the same
dispensary
I bought the cookies at for $42, and thought it was a better value because it was so much stronger. It tasted better too.
Select Elite
is also stronger and is available at most places Cookies are. Cookies does taste better than Select carts though.
Cookies is extremely popular and popularity does not always equal to the best product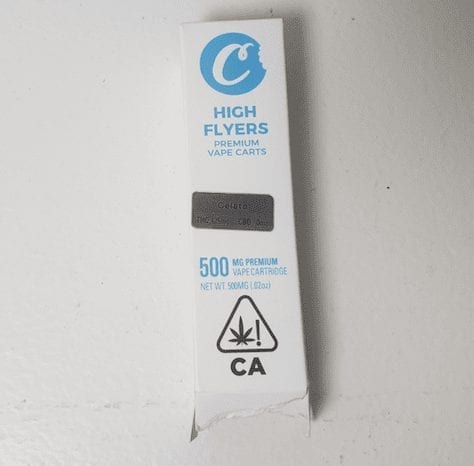 I've heard their flowers are some of the best but when it comes to carts it seems like their trying to make a more budget friendly line than something that is super fire. The Cookies strain however stood out as a better cart than the other two.
The other two were about average. In a way Cookies reminds me of
Brass Knuckles
. Tons of hype over the brand, but the product is not so hot.
Here are some brands that I think are stronger than Cookies, even the Cookies strain, that are also available in California:
Airo Pro
, Select Elite, Aces Extracts and
Raw Garden
. In Nevada,
Roots
,
Remedy
and Cannavative are choices stronger than Cookies.
To see our overall top picks, check out our best cartridges lists for
California
and
Nevada
.
Cookies cartridges use top notch hardware
Cookies uses standard
CCELL
cartridges particularly the ceramic top
TH2
. These are known to be extremely reliable and have a very low failure rate. On top of that they give an extra kick to the hit that a lot of the clones are just missing.
Overall you can never go wrong with CCELL hardware, whether its a standard cart, the
Dart
, or the
Uno
.  and quite simply its just one of the best companies out right now. Cookies definitely chose the right hardware when they picked the TH2. It's preferred over the
M6T
plastic CCELL carts since in case something fails, it is easy to get the oil out. Plus
you can refill
the TH2 much easier.
The oil that they use on this cart seems good, but it's not as refined as better options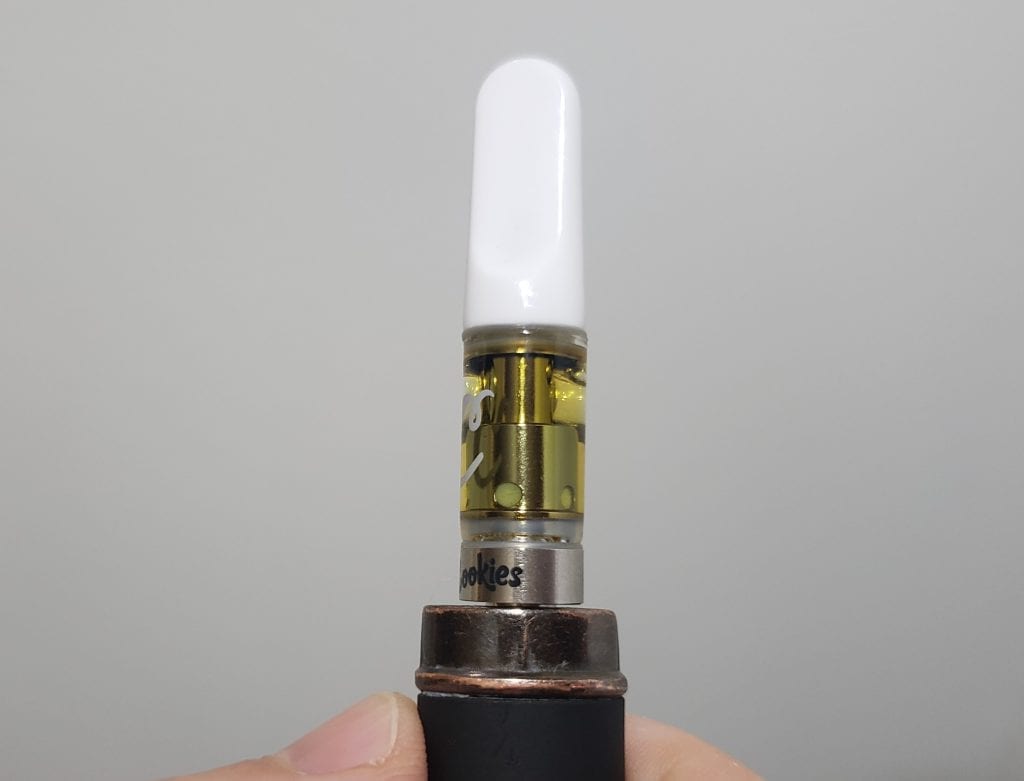 Looking at it just on an eye test it does not seem nearly as refined as what you would find on better carts like Raw Garden. It does appear that these are properly tested so we hope that they come out clean on pesticides and they probably do. At some point we will send them for testing
However, there's something here that is missing, maybe extra refinement step or something like that but it's just not at that higher end level of oil. Comparing distillate to distillate, Aces Extracts and Airo Pro both seem like they are made using a better process than used on the High Flyers Cookies carts.
High Flyers Cookies cartridges have decent strength just not super strength
I would say on strength, Cookies is about in the middle compared to other legal, legitimate carts. It is definitely better than your average street cart.
Side by side compared to Airo Pro, Select Elite and Aces Extracts which seem to be available at the same dispensaries that also carry Cookies there really is no comparison. The other two brands just blow Cookies away. They are all also a bit more expensive, but the cost is justified.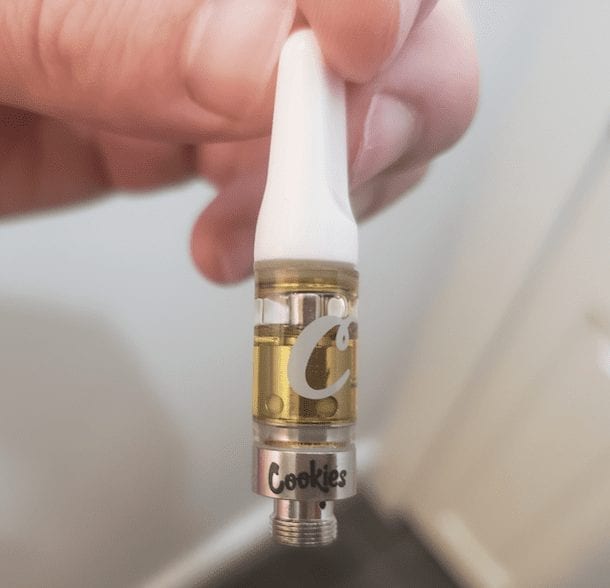 This does not mean that their flower is not strong. We have come to realize that making good carts has absolutely no connection to making good flower.
On the Nevada end you can take a look at a company like
Kabunky
. Their flower is actually quite terrible, definitely in the bottom 25% of the state. However, their cartridges are really top notch and even made our
best cartridges in Nevada
list. On the other hand Cannabiotix makes some of the best flower, but you will find in our
Cannabiotix cartridge review
, their vape carts disappoint. I would not doubt that Cookies is like Cannabiotix.
Mostly, people have given good reviews on Cookies flower. However the carts just aren't that strong. Sure there are plenty of fakes out there as well, but now that we have the real thing in hand, it's not very impressive.
High Flyers Cookies cartridges strength test results
Below you will see the THC percentages for all three strains we tried. Cookies came in the strongest at 86.7% THC, followed by Gelato at 85% and Lemonchello at 82.8%.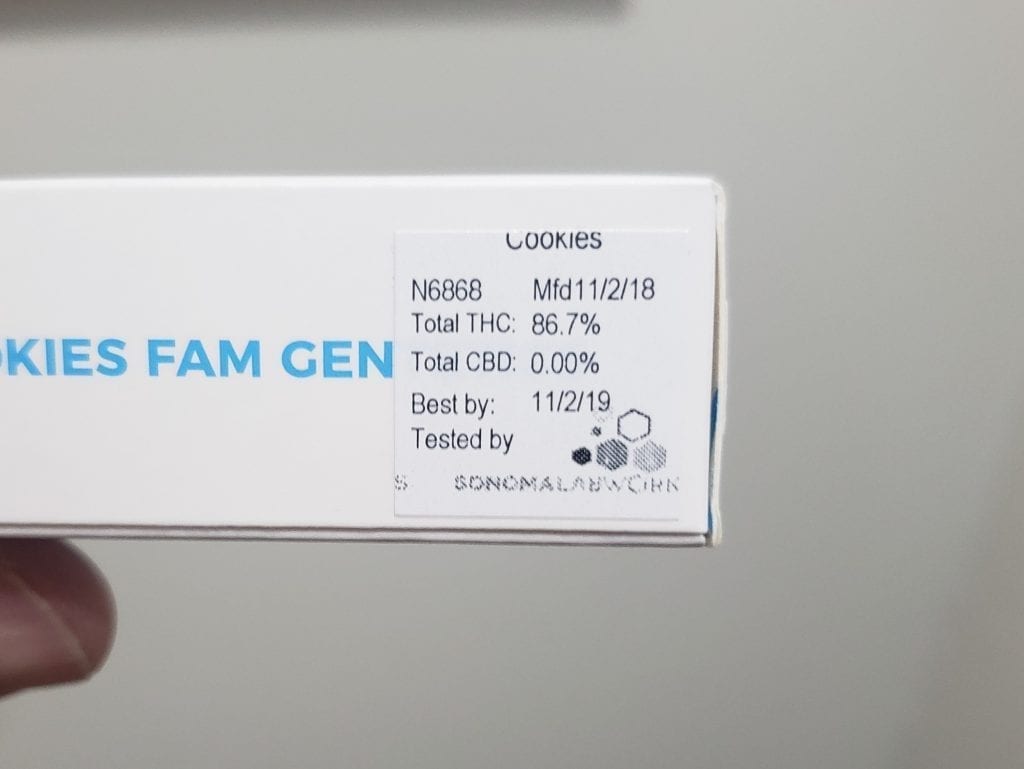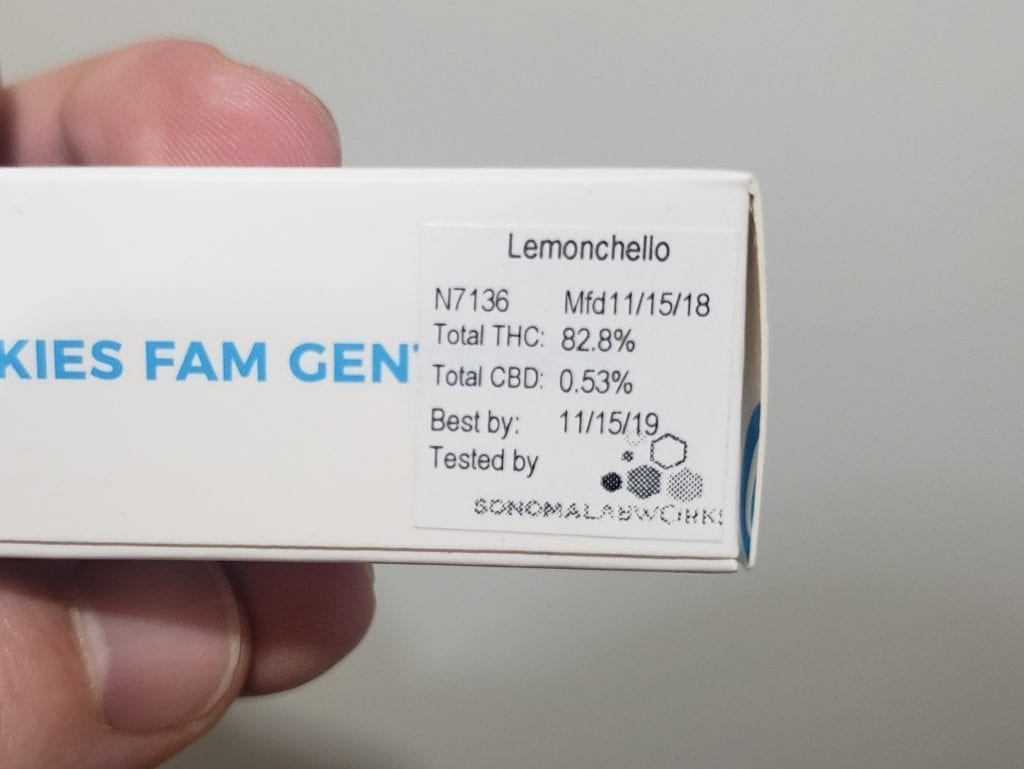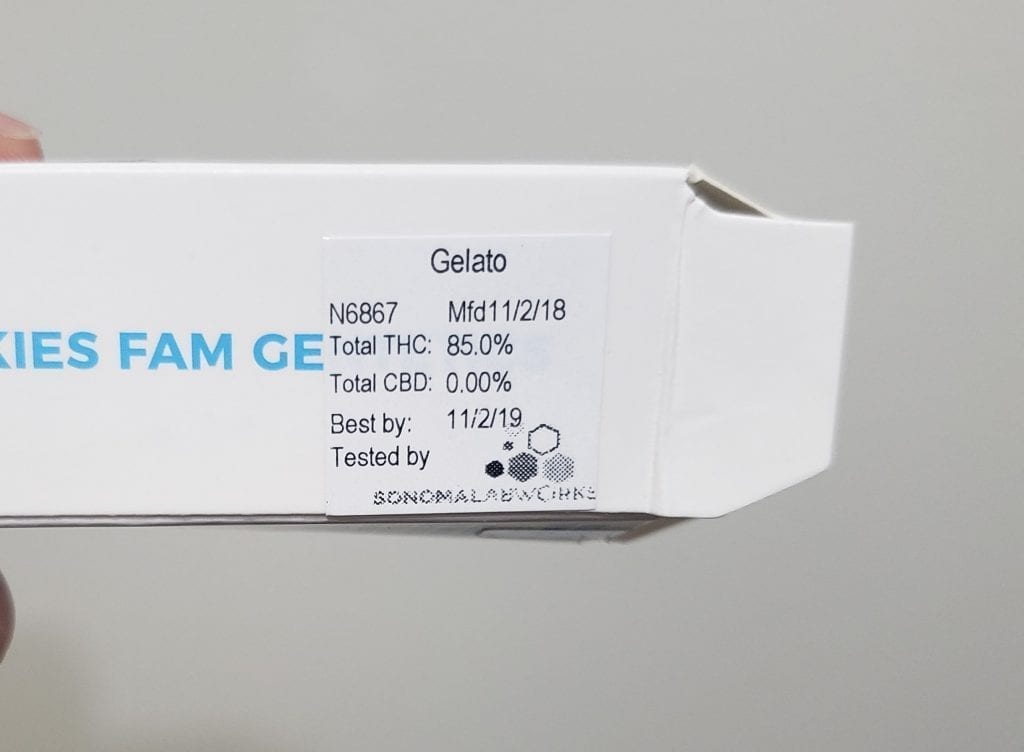 THC percentages are not everything when it comes to strength, as Airo Pro's Mountain Mist, even when it tests in the 70s, is stronger than any of these Cookies carts. Here though the namesake Cookies strain is the best of three.
Taste was not great had a bit of a CO2 like taste
The oil in the Cookies cartridges did not taste like a really fine distillate. Airo Pro, Aces Extracts, and Raw Garden beat Cookies hands down on taste. It was not awful though, and I do prefer it's taste to some of the old-school CO2 oils that are still out there. Tastes better than
Rick Simpson Oil (RSO)
too.
Cookies carts taste had a CO2 oil taste to them as opposed to that distillate only taste you get out of Aces. It was not the type of CO2 taste that is really good like the
W Vapes syringe
, but more of that CO2 taste that was more prevelant a couple years ago than it is now.
However, these are distillate cartridges its just something about their process. The taste is a little bit off. The Cookies strain did taste a little bit better than the Lemonchello and Gelato, which tasted almost exactly the same as each other.
Efficiency is top notch with the real CCELL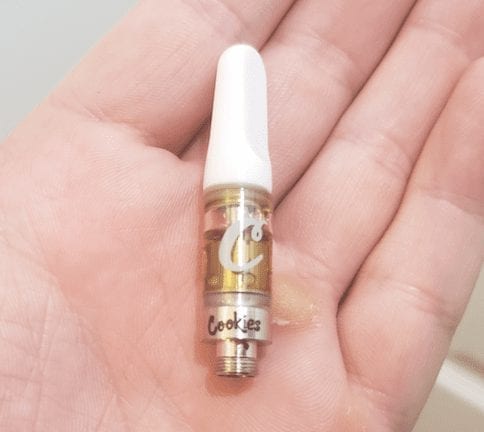 They picked some of the best carts you could possibly get. CCELLs are very efficient and you get a good rip out it which adds to the efficiency. Nothing to improve on efficiency.
Number of puffs is average
The Cookies oil is not a super slow vaping oil nor a super fast vaping oil, it's right about the 50% mark. It's exactly average. That is kind of been the theme of this brand on the cartridge side. Nothing to complain about on this part, but nothing great either.
Value was not here for the user that wants maximum strength, but it can be cheaper than other carts
I base value mostly on strength and I think that is the most important factor when it comes to a cartridge. Some people may place more value on flavor and not care much about strength. However, for both strength and flavor, value is low on High Flyers Cookies cartridges.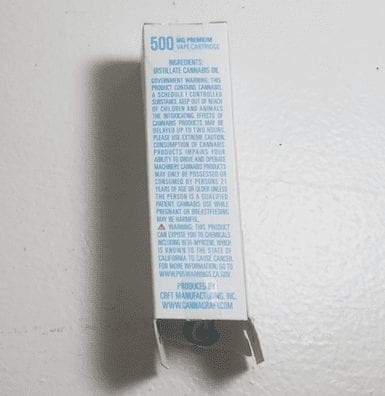 I would much rather pay $5 more for a stronger cartridge. Then I have to hit less to get the same effect. Its not that this is a terrible cartridge it's just that for $5 more there's better options. At some dispensaries better options are the same price.
I always prefer hitting less to get more effect and other brands to accomplish that better than Cookies. If it were not bought for the purpose of reviewing the product and I could go back in time, I would have bought two Aces Extracts vapes instead of three Cookies carts.
Concluding our review of the Cookies cartridge lineup
Each Cookies cartridge did not totally disappoint but they did not impress either. The brand is very popular and there are fakes everywhere which also just shows how popular it is. Cookies flower looks really good from pictures, but good flower does not always translate to good cartridges from the same brand. Cookies carts are technically made by High Flyers, so maybe they are the ones to make the improvements.
High Flyers Cookies carts have big room for improvement particularly making the oil more refined, if that is the right thing to say. At this point we would say Cookies carts are decent, not great. Flavor needs improvement and so does strength to get this cartridge on par with other California brands. We have no doubt they will improve over time and we look forward to trying Cookies carts again soon and updating this review.
You can find more information on Cookies brand
here
you can find Cookies cartridges near you on
Weedmaps
.
Have you tried Cookies cartridges? Leave a comment below! Comment or question? Post below or in
our forum
!