Both popular cartridges known for their strength and taste. Here, we compare Dank Vapes vs Cereal Carts and point out the differences between them.
Dank Vapes vs Cereal Carts: Background between them
Still with no official background to register any company, Dankwoods appears to be running Dank Vapes. With the only resource being their Instagram account, there is still no real information about the company.
As for Cereal Carts, there are rumors that they are actually being produced by Dank Vapes itself. Although we aren't too sure how accurate this is, Dank Vapes Official do follow Cereal Carts Instagram account. Also, they consistently tag and share their posts and cartridges consistently. Even the package style and cartridge look almost identical.
Looking for carts better than both and in CA or NV? See our top THC cart lists for both California and Nevada.
UPDATE 9/11/2019: DISCLAIMER: In light of more recent news, it has become apparent that black market cartridges, counterfeit cartridges, and fake brands of cartridges have become more widespread than we had ever realized. We urge readers to apply their own discretion, and caution that at no point should readers assume that a review of a cartridge on our site is a guarantee of its safety. We advise readers to always verify their cartridges as coming from a legitimate source.
UPDATE 10/23/2019: Dank Vapes and Cereal Carts are all fake. There is some speculation that Dank Vapes was previously a real brand, but at this point we assume all are fake.
Both taste amazing, which is better?
As mentioned in previous posts, Dank Vapes are known for their tasteful flavors, with them having a variety of strains. Dank's are always coming out with new flavors, and each strain is always satisfying in taste. We've tried multiple flavors from them, even back when they had the old packaging and every strain always taste amazing. We recently tried Dank Vapes Sunset Sherbert, and it really did give a sweet and fascinating taste.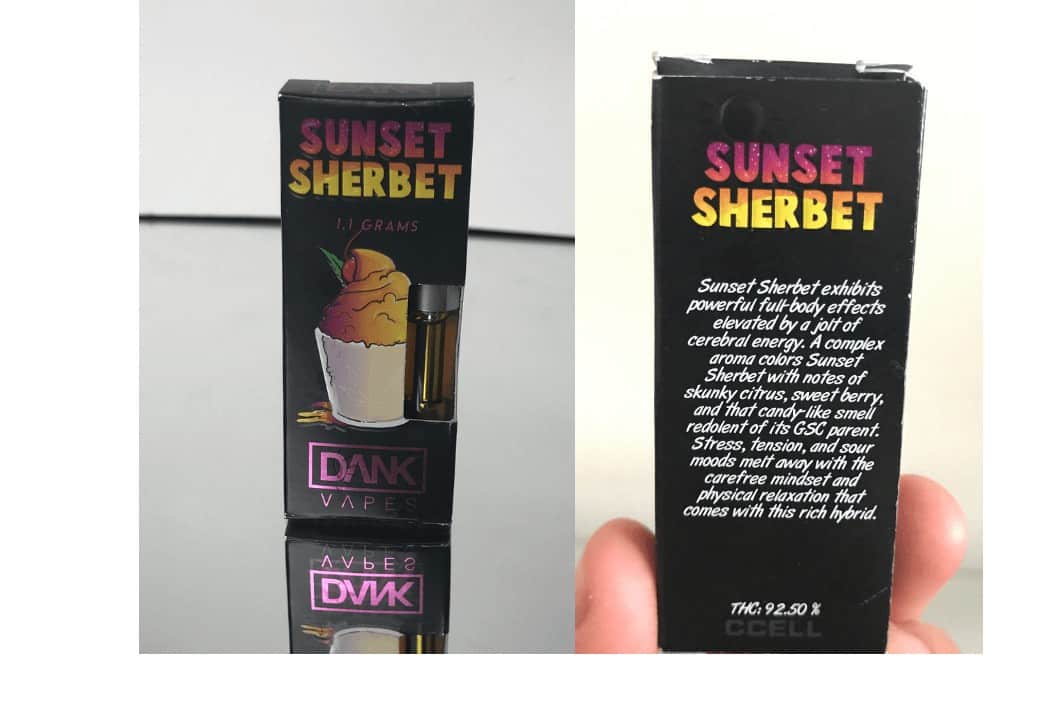 As for Cereal Carts, they are more susceptible and unsure as to what's infused in the distillate. Each strain being only cereal branded flavors, it's more likely that the terpenes could be artificial. We can't be too sure due to their labeling claiming zero percent cut and 10% terpenes. We did encounter a fake Cereal Cart, and it gave really light and dissatisfying taste.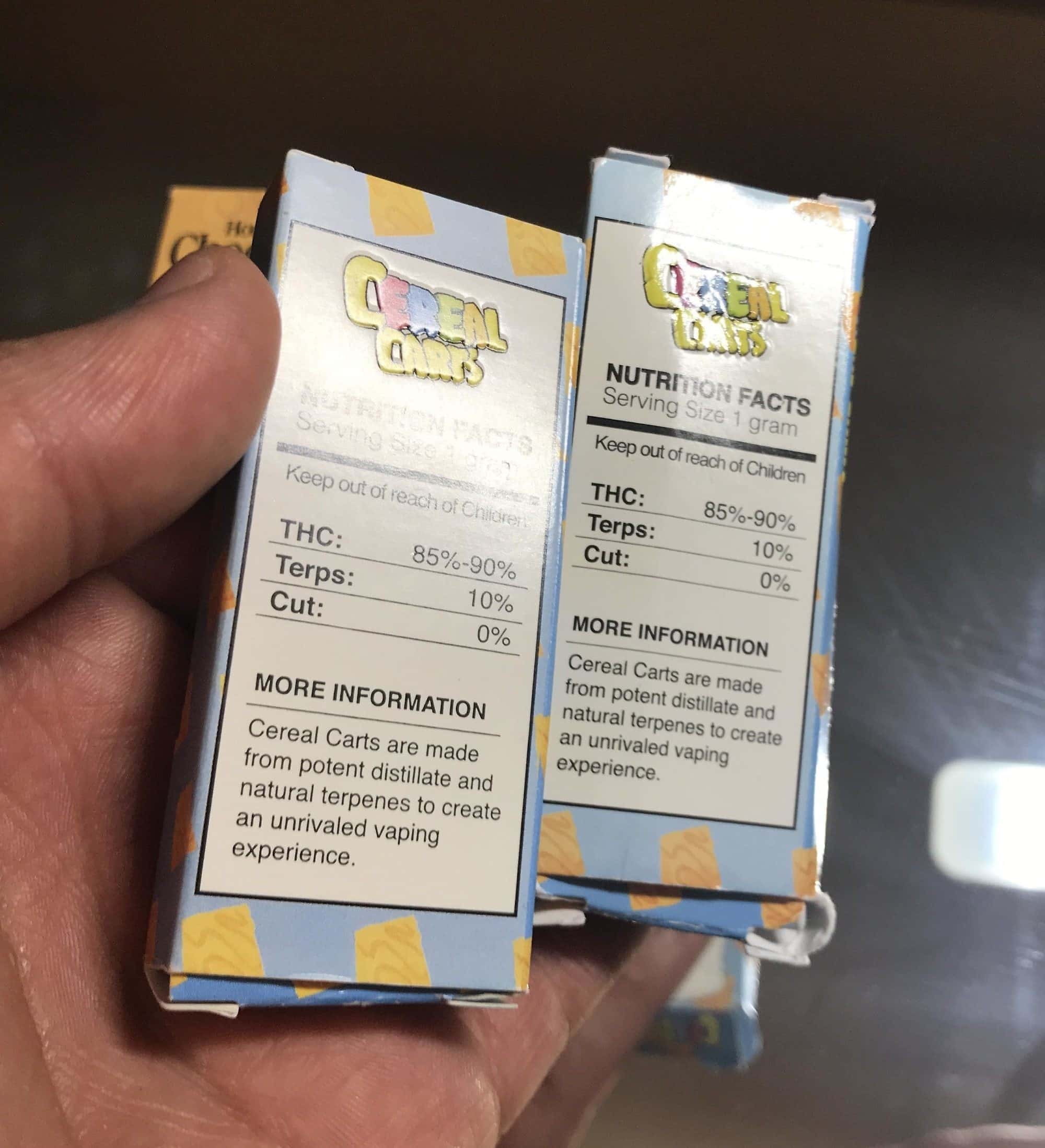 Dank Vapes failed in pesticides, Cereal Carts remain a mystery
Unfortunately, Dank Vapes have had negative lab results, containing pesticides and false THC percentages. Whereas they claim to be 80-90% THC, their test show a to be 60-70%.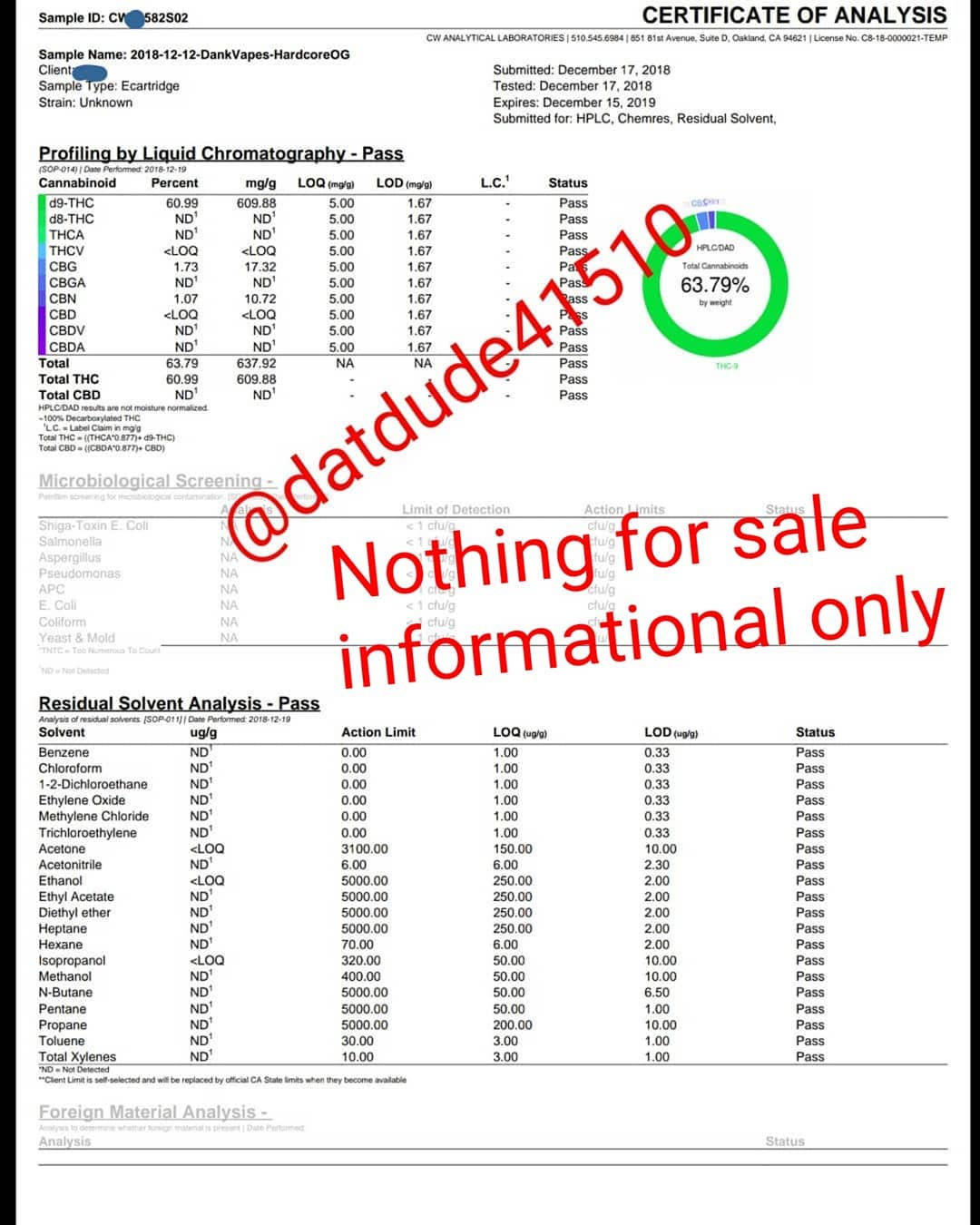 As for Cereal Carts, they remain without a test, leaving users clueless about them. With the only information being their Instagram account, it wouldn't be surprised if contain pesticides in them. There still is no saying due to their lack of background, this is just an assumption from our research.
Oil quality – Which one is more potent?
First off, Dank Vapes and Cereal Carts have a lot in common with their distillate and packaging. They even have a few identical strains that look exactly like each other. The only actual difference seems to be the flavor and color of oil itself.
As said earlier, we can't be too confident as to what's actually in them. The flavor to all strains always taste amazing and exactly as the packaging says to be. The fact that there's no background to them causes serious rumors and damage to the companies reputation.
From our experience, both brands do provide decent quality oil. The consistency does vary depending which flavor, but for the most part it has a strong color to it. Neither cartridge may not be as potent as I'd like, but they both deliver tasty flavors.
Efficiency for the two were the same
Dank Vapes vs Cereal Carts both use CCELL cartridges. These carts are specifically designed for thicker oil and tasteful hits. This gives it really efficient and smooth hits depending the type of battery mod you use.
On the down side, the black market is still popular on all of these brands and fake CCELL cartridges. With fake CCELL's, they carry weak atomizers and give lighter hits than normal. We did encounter a fake Cereal Cart and even though it was still somewhat efficient, it came leaking.
Dank Vapes vs Cereal Carts: Both are even in value
When it comes to both of these cartridges, it all leads to preference. Price varies depending where you're from but for the most part, in our experience, they both cost around the same. Although they do taste amazing, Dank Vapes and Cereal Carts aren't as trustworthy as they should be.
Furthermore, Dank Vapes failed for pesticides multiple times, and had a lower THC percentage than they claim. From our research, we'd have to say that the more credible and known company would be Dank Vapes.
In regards to Cereal Carts, we can't really say much due to the lack of their background. They have no lab results or background about them, making them a bit more suspicious. Yeah some of these flavors may taste amazing, especially for people who love cereal but we just aren't too sure what exactly is in them.
Countless distributors are selling counterfeits everywhere
From social media platforms to bulk online shopping websites, counterfeit packages and unauthentic cartridges are disrupting these brands. This problem could be considered an epidemic, allowing these fakes to fall in the hands of may people. Apart from this, it still remains unsure as to what's really in these cartridges, especially Cereal Carts.
Concluding Dank Vapes vs Cereal Carts
The question between the two all leads to preference in which flavor you prefer. Personally, I prefer Dank Vapes just because they are just a little more familiar. With Cereal Carts, I thought that the flavor tasted too identical to the cereal itself. This made me wonder if there's any sort of artificial flavors in them.
Overall, neither companies are as trustworthy as I'd like them to be. Apart from Dank Vapes showing bad tests, there's a lot of fakes going around, making it hard to trust them. Cereal Carts don't have any information at all, therefore we can't fully rely on them too. If both companies fix these set backs, they will become a lot more reputable and safer to vape.  Dank Vapes is overall the winner between the two.
Do you have any questions or experience with Dank Vapes vs Cereal Carts? Which do you like better? Comment below or post in our forum!