REVIEW OVERVIEW

SUMMARY

The Brass Knuckles SFV OG Cartridge is a definite pick up.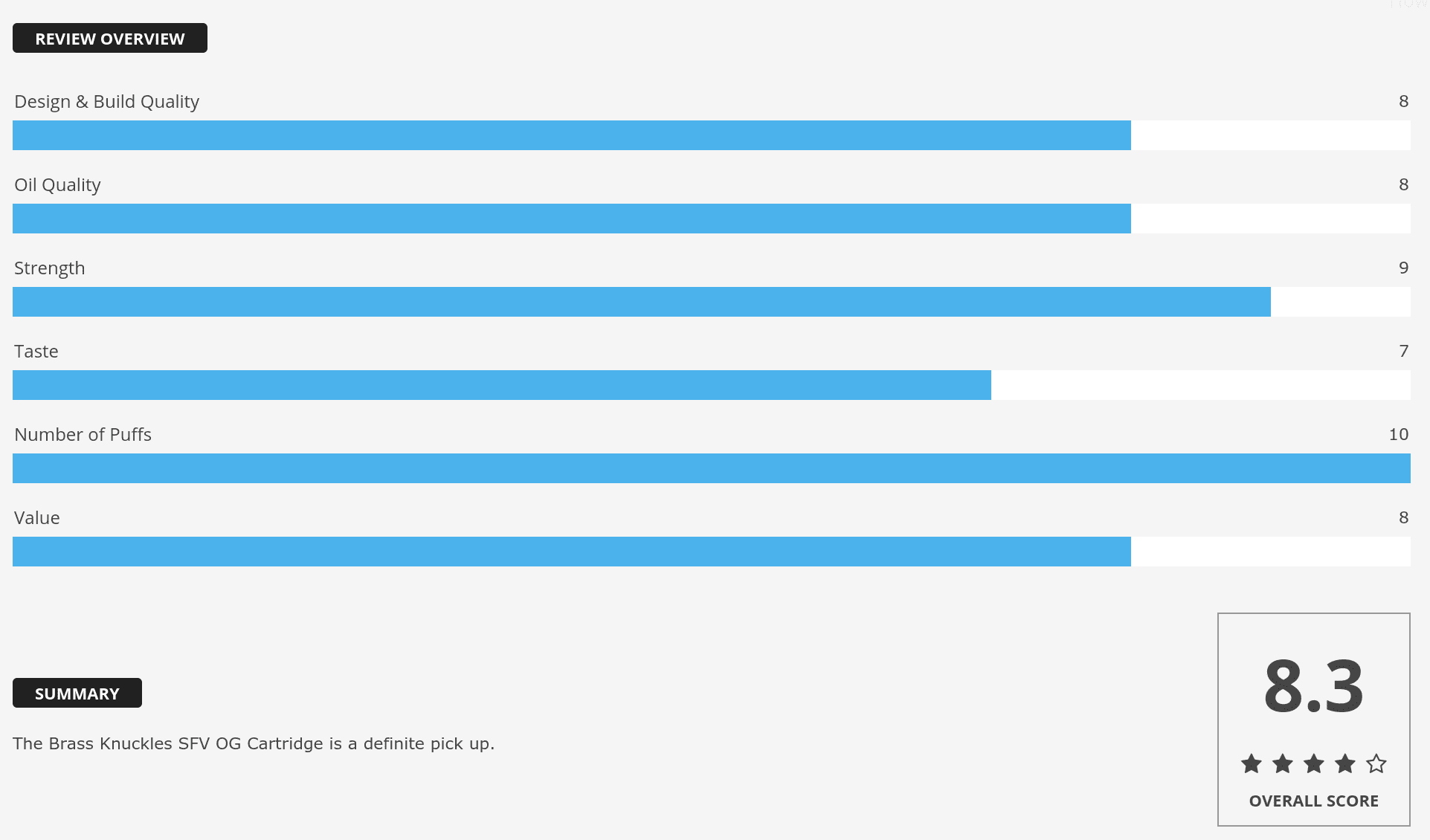 I must say that the Brass Knuckles OG Series cartridge infamous packaging is always a delight to open. The two pronged simultaneous press is genius and once understood, it becomes somewhat therapeutic. Housed in this delicately packaged box are various cannabis oil extracts of all three types of high.
Whatever your preference, Indicas, Sativas, and Hybrids, Brass Knuckles OG extracts have you covered
. Today, the Brass Knuckles SFV OG cartridge is the choice. Reigning from the family of Indica, SFV OG is here to stay.
UPDATE 9/11/2019: DISCLAIMER:
In light of
more recent news
, it has become apparent that black market cartridges, counterfeit cartridges, and fake brands of cartridges have become more widespread than we had ever realized. We urge readers to apply their own discretion, and caution that at no point should readers assume that a review of a cartridge on our site is a guarantee of its safety. We advise readers to always verify their cartridges as coming from a legitimate source.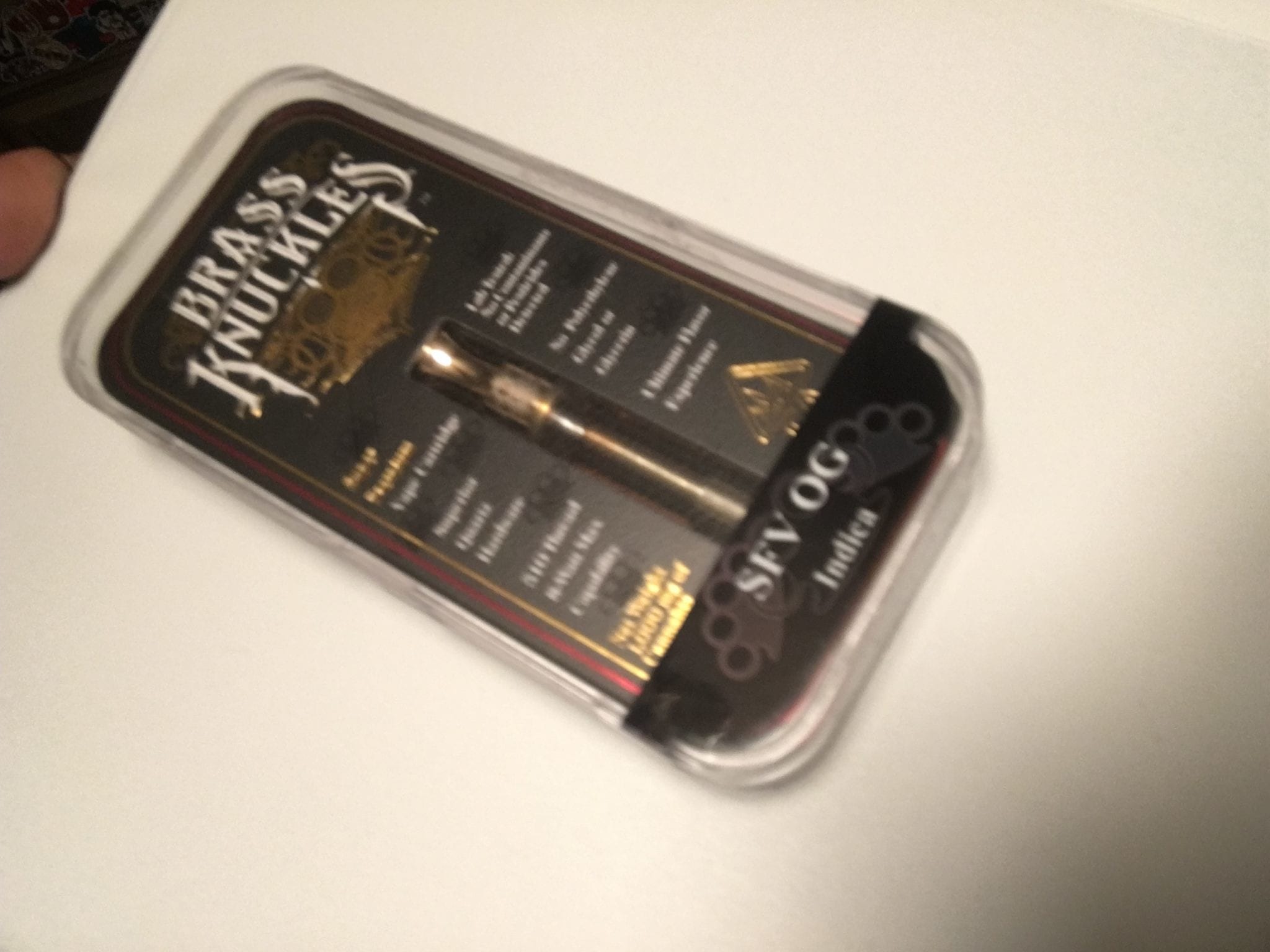 Brass Knuckles and the pre-production process
Brass Knuckles has been in the midst of a bad spell recently, so I came into this
purchase
skeptical.
Before the madness, a friend allowed me to hit the Brass Knuckles Skywalker OG oil
occasionally
but it never
really
did it for me
. The box boasts No Polyethylene Glycol or Glycerin but I could always taste a bit of metallic. At that time, flower was my all. But all good things must come to an end, right? 
Now in the second version
The rise in secondary versions of premium THC oils meant to rival superior brands such as CSC and Brass Knuckles have
slowly
entered the market
.
At cheaper prices for shop owners, the smart decision is to buy more Supreme THC carts or those notorious Mario Carts and get them on the shelves ASAP
.
These brands with no websites or info to back them up cause concern for alarm but they sell better because they
were purchased
for less
. I'd liken this most to the recent phenomenon amongst the teens with flavored JUUL Pods.
If you'd prefer a clean distillate that produces clean highs, Brass Knuckles has you covered with the SFV OG cartridge
.  Brass Knuckles never miss in the right hands.
Brass Knuckles SFV OG hit quality is undeniable
I picked up the SFV OG and hit it once. One long 10 second drag. I
was conned and waited to hit is again to see if there was any effects.
In the mean time I put my vaporizer pen back on the charger and allowed it to gain more power.
Maybe
the battery was at fault and there wasn't enough charge to heat the Brass Knuckles cartridge coil system
.
I began to question the capabilities of this high and dabbled in some extra research. There are 3 different strains of SFV OG. It comes in all three strains. Least popular is the Indica version. The Sativa Hybrid
is known
to be the most potent. Brass Knuckles chose Indica.

There is no listed specific percentage of THC ratio on site or on the packaging for the Brass Knuckles OG Series SFV OG Cannabis Oil Cartridge

. It is definitely better than most.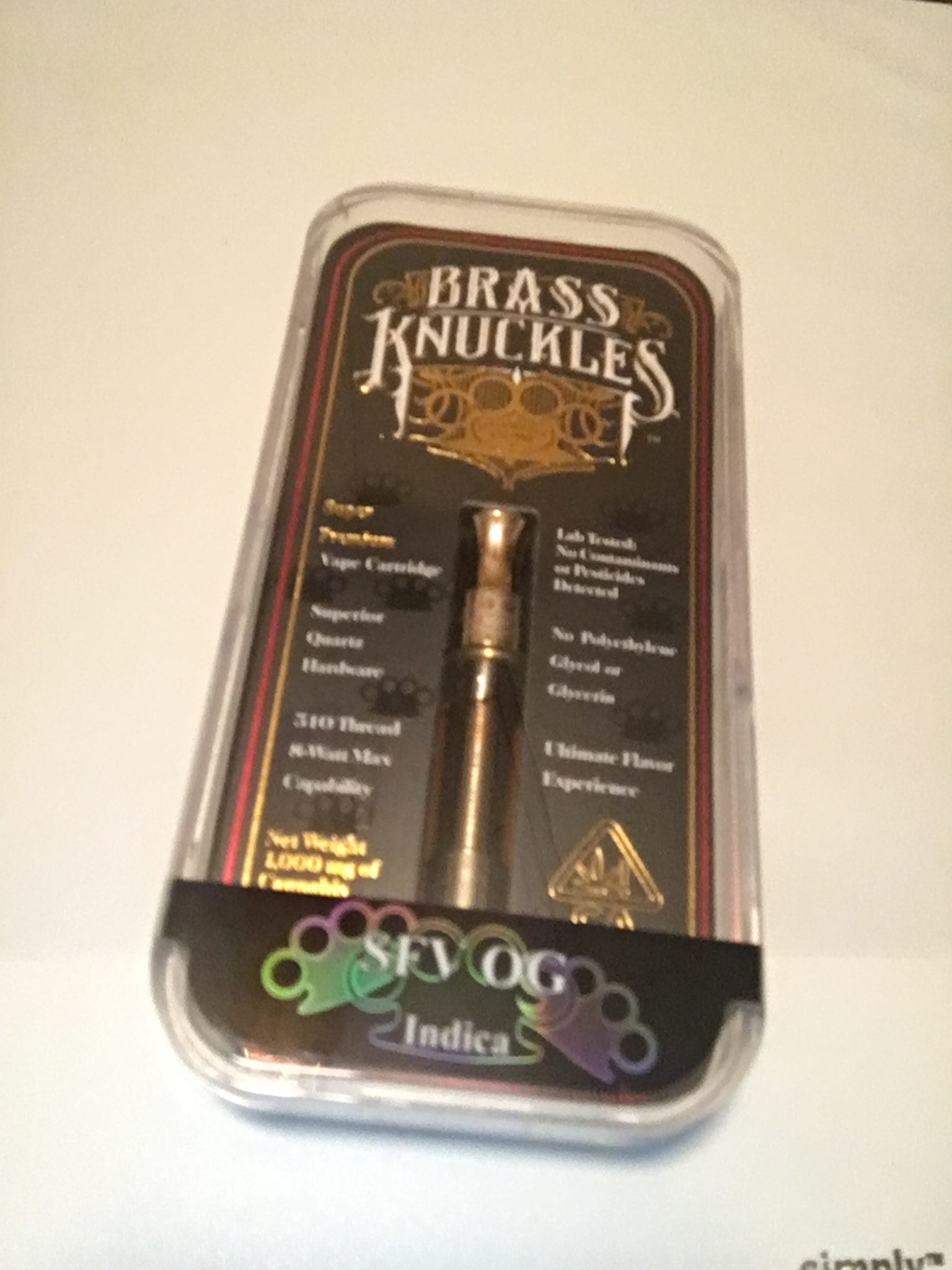 At this price point, that sudden intuition starts to creep up my neck.
So far, the Internet has proven correct in it's belief that Brass Knuckles has indeed fell off due to recent problems with competition
.
Maybe
i've inhaled a dirty oil. All this talk about pesticides and harmful substances in the THC based on how it
was produced
has me shook. It's not hitting as advertised. There's no punch.
I
was frozen
in shock, I couldn't believe nothing was happening. All my years of getting high I've always felt the come-up. Right as I reached for my three-temperature 510 threaded vape pen to put it to the max, it hit. To keep it short like Kevin Hart, I wasn't ready.
Long wait, worth every second
The high hits very late but for one hit, its all four Knuckles. This experience compels me to suggest the Only Once and Wait tactic. Hit it once
simply
because of the creep up.
This high feels like the first time you heard Justin Bieber's part in Maria I'm Drunk and tried to deny the fact that you
just
replayed Maria I'm Drunk 10 times
. The high lasted
just
under two hours but it doesn't
necessarily
come down. At the end it's more like being the light floating
just
above a high shelf in a library. Can't be sure if its ever going to turn off and the librarians are staring at you because they want to go home. 
Brass Knuckles SFV OG has a nice hearty flavor 
The flavor is pine like, almost like the smell of Pine trees. It's smooth but a bit harsh at the end but i'd default that to the Brass Knuckles lower half design flaw which I'll discuss further on. The flavor is refreshing, it's smooth and once you time your pull to negate the throat ash completely, it becomes a portable device. 
Outdated atomizers for Brass Knuckles
A long pull resulted in a scratchy throat, but that was expected.
The old coil atomizer that Brass Knuckles still uses
is antiquated
compared to the new technology available
.
One can only wonder how this would pull if the Brass Knuckles vaporization system
was upgraded
to CCELL
.
CCELL uses a ceramic core and that heats much more
efficiently
than the Brass Knuckles coil system and it's clear
. In our review of Brass Knuckles Napalm OG cartridge, we swapped the oil into a CCELL chamber and found it to be much more pleasant.
The base of the Brass Knuckles OG Series cartridge is somewhat heavy and feels archaic.
You have to make a tad bit more of an effort to get this cartridge in the sweet spot on your 510 threaded vaporizer battery or vape system
.
Due to the shape of the Brass Knuckles cartridge, batteries with unique shapes like the Magic 710 may be cause for problem with this cartridge. [ADVERTISER FOR SITE] vaporizer pens and stylus are most ideal
.
If you deviate from those to something more extravagant like the Steamcloud Box Mod Vaporizer, it may not fit
correctly
at times
.
The Brass Knuckles SFV OG cartridge is a must have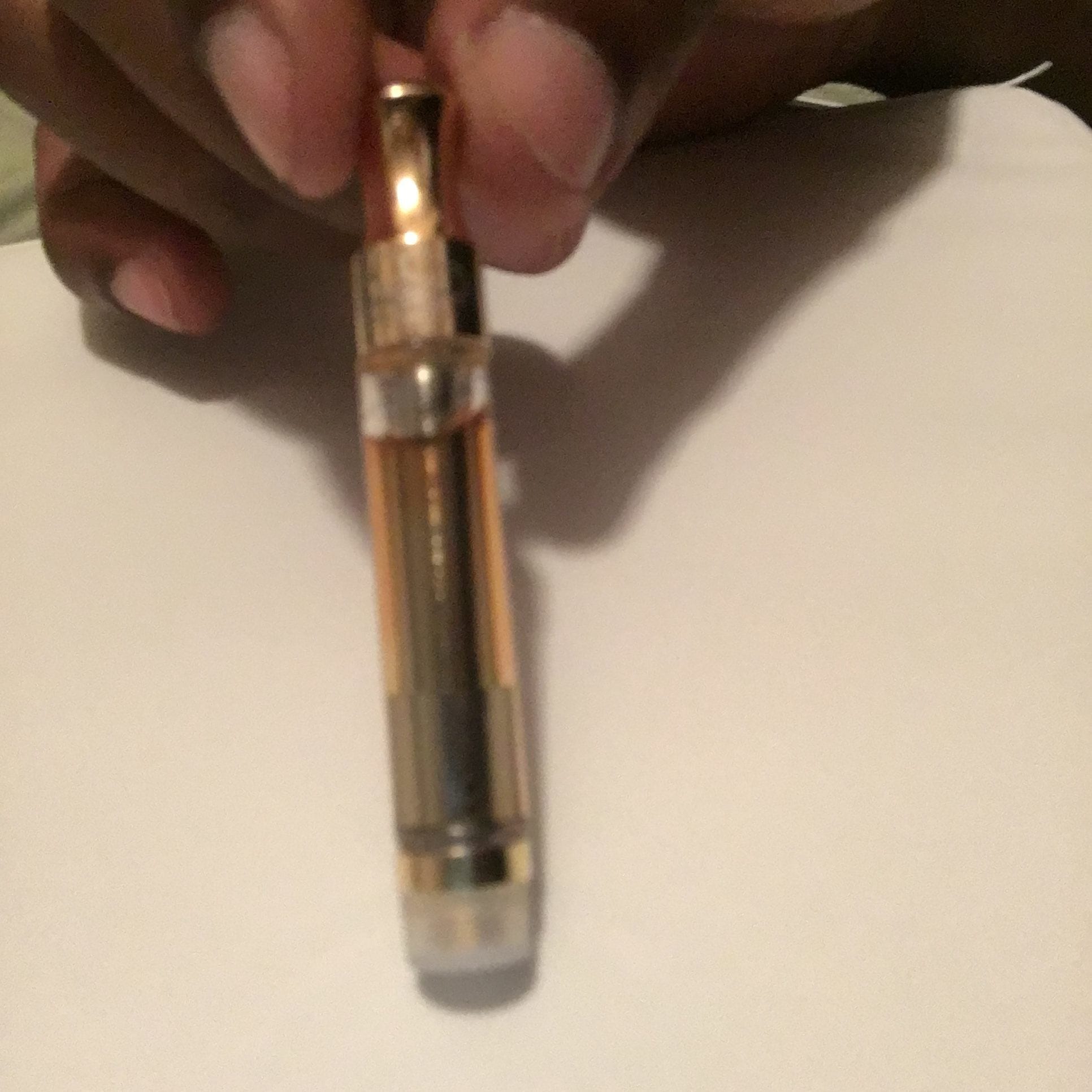 All said and done, Brass Knuckles SFV OG hits
lusciously
.
Highly
recommend the Only Once, and Wait tactic. Take a 10 second drag and wait for your 4 Knuckles. While it may have a slight throat burn on extensive hits, that can be
fully
negated with a shorter pull.
The coil atomizer of the Brass Knuckles OG series cartridges restricts you to Pens and Stylus
. Upgrading to CCELL carts would make it a lot better.
The Brass Knuckles SFV OG is a solid pick up and could
potentially
be top two in potency for the OG series family of Indica distillates
. This cartridge will remain in rotation for the foreseeable future. You can find the premium Brass Knuckles SFV OG on WeedMaps.
Check out DabConnection reviews on other Brass Knuckles carts:
What do you think of Brass Knuckles carts? Comment below or post in our forum!