REVIEW OVERVIEW

Design and Build Quality

7

SUMMARY

The Brass Knuckles Jack Herer cartridge is strong and delivers true to strain flavor. Another impressive vape cart from Brass Knuckles.
Sativa lovers, be on alert! If you happen to come across the Brass Knuckles Jack Herer cartridge, we highly recommend picking one up. Before running off to your local dispensary, heed our warning. These cartridges hit hard, the oil is pure, and the potency will send you off to la la land. Does the Brass Knuckes Jack Herer cartridge score well in every category? Take a closer look at the details of our review and find out if this cartridge is for you. This review is strain specific, to see our overall Brass Knuckles cartridge review for more information on BK carts.
UPDATE 9/11/2019: DISCLAIMER: In light of more recent news, it has become apparent that black market cartridges, counterfeit cartridges, and fake brands of cartridges have become more widespread than we had ever realized. We urge readers to apply their own discretion, and caution that at no point should readers assume that a review of a cartridge on our site is a guarantee of its safety. We advise readers to always verify their cartridges as coming from a legitimate source.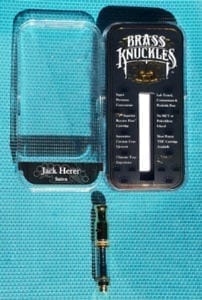 The Brass Knuckles Jack Herer cartridge is phenomenal, but be careful!
There isn't another cartridge in our memory that surpasses the flavor of the Brass Knuckles Jack Herer cartridge. A result of their exclusive use of top-shelf products and pure extraction processes. Most Sativa strains leave you with an uplifting, energized feeling. This may also be true about Jack Herer as a strain in general, but we do suggest you begin with a small hit from the cartridge. The potency of the Jack Herer is excellent.
Strong durability as usual with these cartridges
Each Brass Knuckles cart uses glass and a strong metal attachment for the mouthpiece. The inside metal core is sturdy as are the 510 threads. You shouldn't have any issues, except for the occasional manufacturing defects that happen with all cartridges.
Brass Knuckles Jack Herer Sativa has the most potent THC available
This is the statement that appears on the Jack Herer cartridge. One might be able to fact check that information by going through all the other brands of cartridges. From what we could tell by trying the product, the statement is believable. You can also check the results of the lab tests from SC Labs on their website.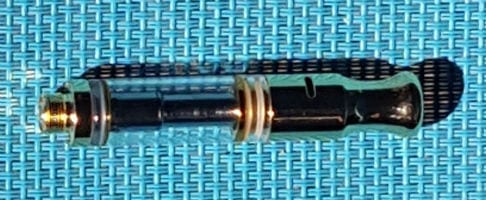 High accuracy of flavor to strain
The Jack Herer Sativa strain comes from a crossbreed between Northern Lights and Shiva Skunk. Its spicy pine flavor profile comes through powerfully with each puff from the Jack Herer cart. Again, the purity and potency of the concentrate make the flavor profile unmistakable. It's definitely Jack Herer, and at its finest.
Great value from New Age Botanicals
The Brass Knuckles Jack Herer cartridge holds one gram of oil. Our delivery source from New Age Botanicals offers it for a $50.00 donation. With most half grams running $30.00 or more if you try to meet the same quality, we think the Brass Knuckles Jack Herer cartridge has high value.
Features in cartridge design 
Not everything is perfect. Dank Nation users on Reddit have a few unpleasant things to share concerning the change over to reverse flow cartridges. Some users state that oil leaks right out of the mouthpiece. Another source from YouTube reports that Brass Knuckles is bringing back the old cartridge design to address this issue. They will reportedly be offering both models in the future.
We agree that the oil does seem to vape up too fast, but we can't report any leaking. The oil does have a tendency to clog up near the mouthpiece after it has been sitting for a while without use. If you are able to find a cart in the old design, it's probably a better choice.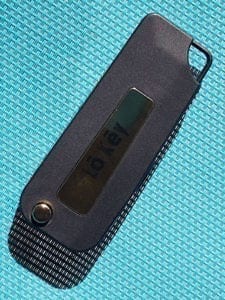 Another reason that the BK cartridge may run low so fast is the size hits it gives. These cartridges use a proprietary Ceramic Core Element which helps give such robust clouds of vapor. Consider that if a cartridge is allowing more oil to heat with each hit, the oil will go down faster.
Huge vape clouds with the proper battery
If you limit the size of your intake, the cloud might not come out as thick. Inhale a little more than you intend to, and chances are you'll be coughing out a very nice sized cloud of vapor. One thing about using a BK cartridge. You can use a less powerful battery like the ones for eCigs, but you won't get as big as a cloud. We used the Lo Key when trying the Brass Knuckles Jack Herer cartridge which has a 350 mAh battery.
BRASS KNUCKLES uses "Top-shelf cannabis strains" & "products are lab tested to ensure delivery of the highest-quality products to patients"
This has not always been true. Several reports from users that bought BK carts and sent them off for independent testing revealed the existence of pesticides. However, new testing from SC Labs on new products shows it as clean, which is a good sign. See our in depth Brass Knuckles review which shows the initial testing and new testing results.

Final thoughts on the Brass Knuckles Jack Herer cart
Brass Knuckles provides such an incredible tasting product, but is having issues in a couple areas. The reverse flow feature isn't working out so well, but the ceramic core element is a great heating system. It's a good move for BK to bring back the old cartridges, but it would better if they would just fix the new one.
What are your feelings about the Brass Knuckles Jack Herer cartridge or BK carts in general? Leave us a comment. We would love to hear from you!