REVIEW OVERVIEW

Design and Build Quality

5

SUMMARY

Supreme Vape cartridges have some favorable qualities, but lab tests show the existence of pesticides. Trace toxins reduce the value of a cartridge that otherwise has good flavor and decent effects.
They don't have a company website. There's no mention of Supreme vape on Weedmaps and past lab results show they test dirty for pesticides. Right out of the gate, Supreme vape cartridges have potential issues. But the review isn't all bad. Despite the fact that the packaging gives no indication of what's inside, the oil is flavorful. The effects aren't super strong but neither are they weak. Dig into the following review and find out if Supreme vape is right for you.
Pros:
Low Cost
Flavorful Concentrate
Sturdy Cartridge Design
High Number of Puffs
Cons:
Dirty Lab Tests – Pesticides
No Company Information
CCELL clone hardware does not hit consistently
Recommendations: We strongly suggest going with licensed vape companies and purchasing from legit dispensaries, if you are able to. Any Supreme vape cartridge you get could be a fake and chances are it contains pesticides. An authentic CCELL would make this better as well.
See our Supreme vape video review here or keep reading for the more in depth review. See our picks for best THC carts in California and Nevada to find better products.
Dirty lab tests ruin an otherwise pleasant Supreme vape cartridge experience
Judging from the discussions online, Supreme vape cartridges are available all across the country. It's not surprising to see this for a number of reasons. The logos are based on the Supreme skate shop and fashion brand, who we doubt gave their approval to make a THC cartridge.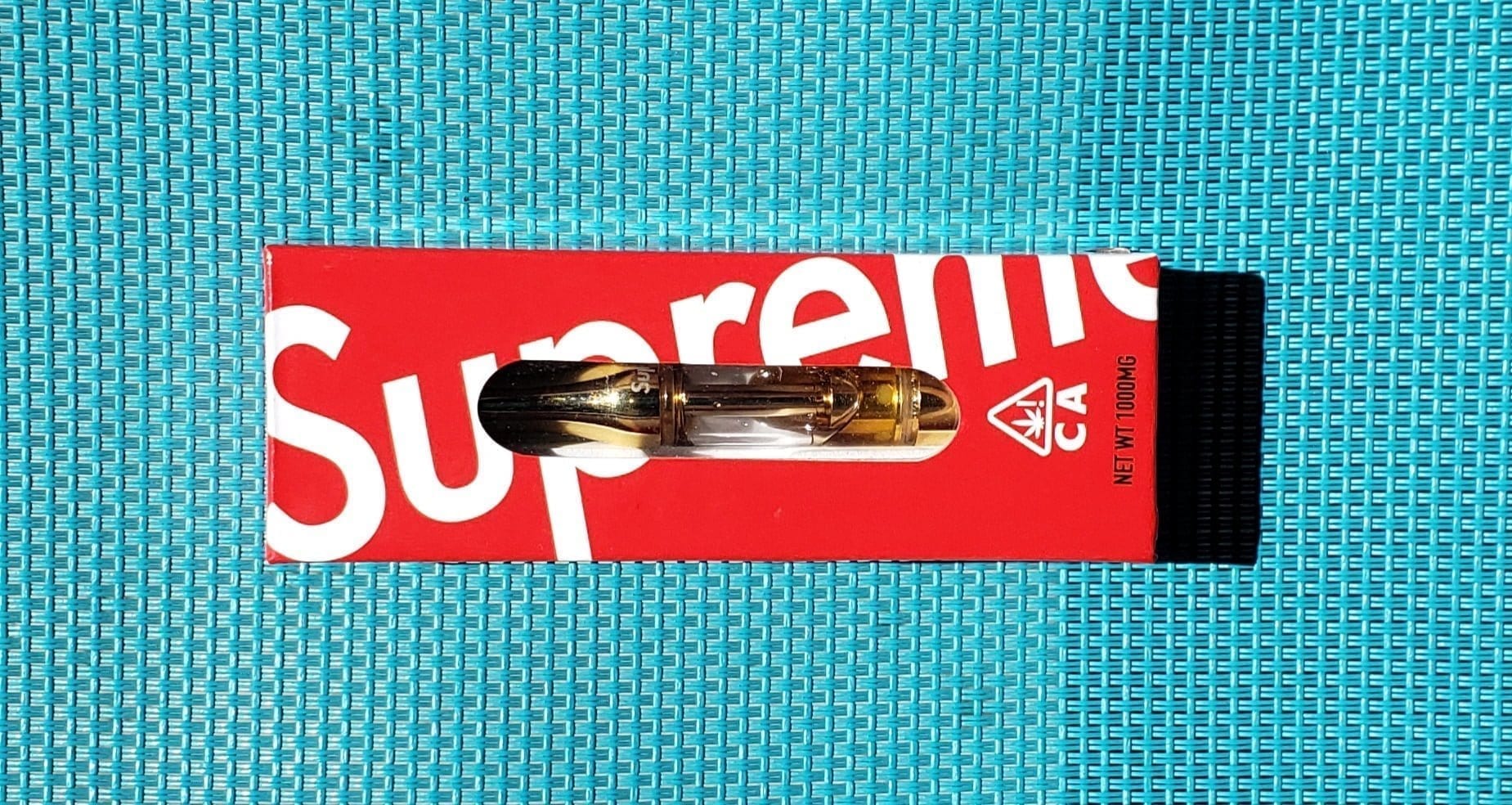 The oil tastes good and it has a decent effect. Producers can also charge less than licensed vape companies by avoiding taxation. Finally, unlicensed growers must sell their flower on the black market. A good amount of that crop is likely to have pesticides.
Just like Mario Carts cartridges, it's a downer that Supreme vape have tested dirty. The cartridges would be a good value purchase if they would test clean. If they could do this without charging the likes of Kurvana ASCND and Select Oil cartridges, they'd be a huge hit. However, who really knows what oil is what. The one we are hitting here might be clean, but we can never know for sure.
Supreme vape cartridge design is durable – The ceramic core sputters
Starting with a round metal mouthpiece and solid glass tube, Supreme vape carts have a sturdy build. The use a vaporizer with the inner cloth wick and ceramic core.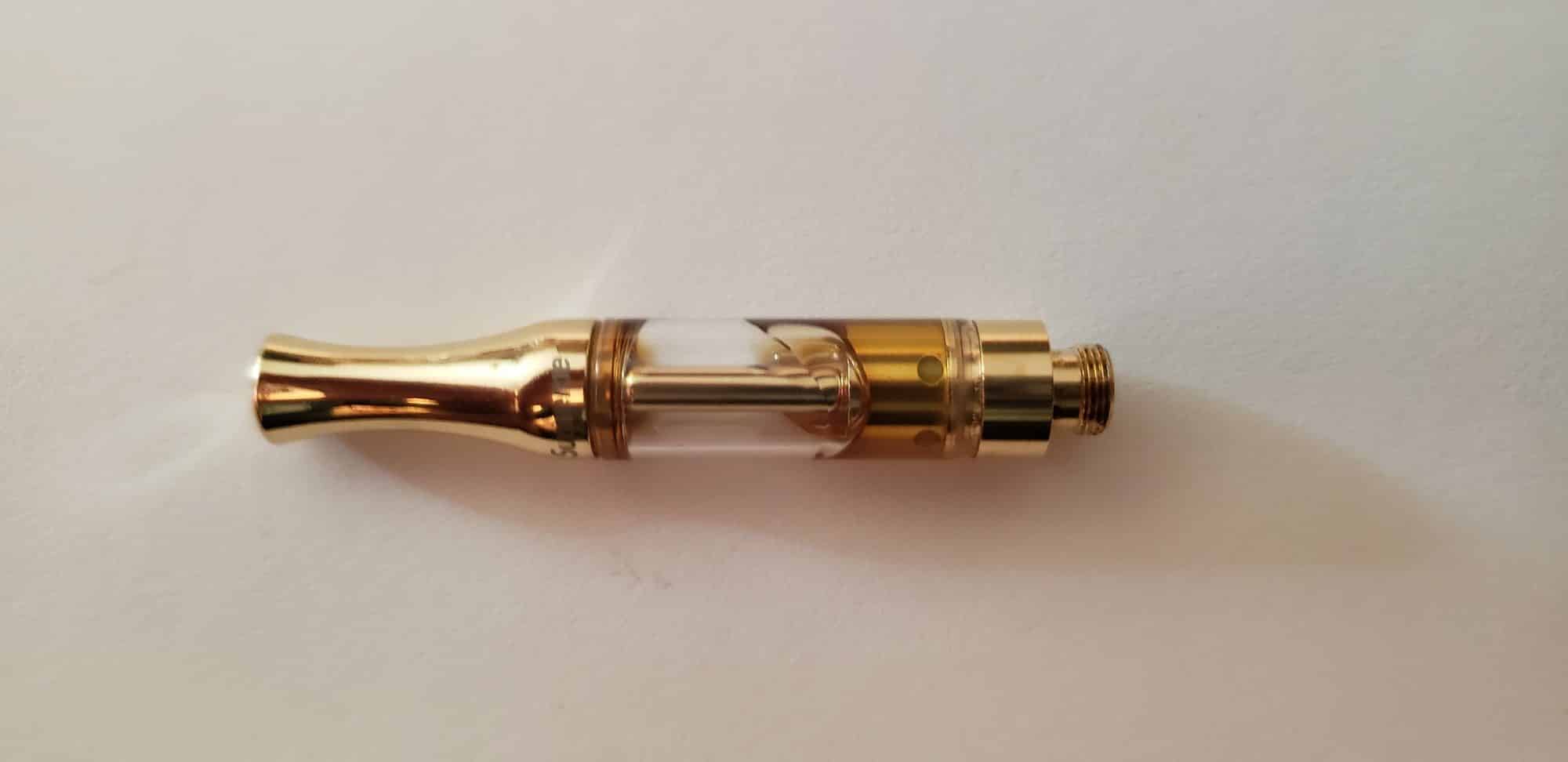 The design on our cartridge, though durable, does show some issues. After about halfway through the oil, the cartridge started to stick. You have to use a strong force of suction to get air flowing.
There's also some sputtering we noticed as we were in the middle of our vape. Inhale for five or more seconds, however, and you'll take in a large vapor cloud. Big hits aren't hard to come by with a Supreme vape cartridge.
Hardware appears to be a CCELL clone
Based on the placement of holes, ceramic core, and mouthpiece it is based on a CCELL atomizer. As we usually find out with clones, they just do not work as good. Take a look at the picture below.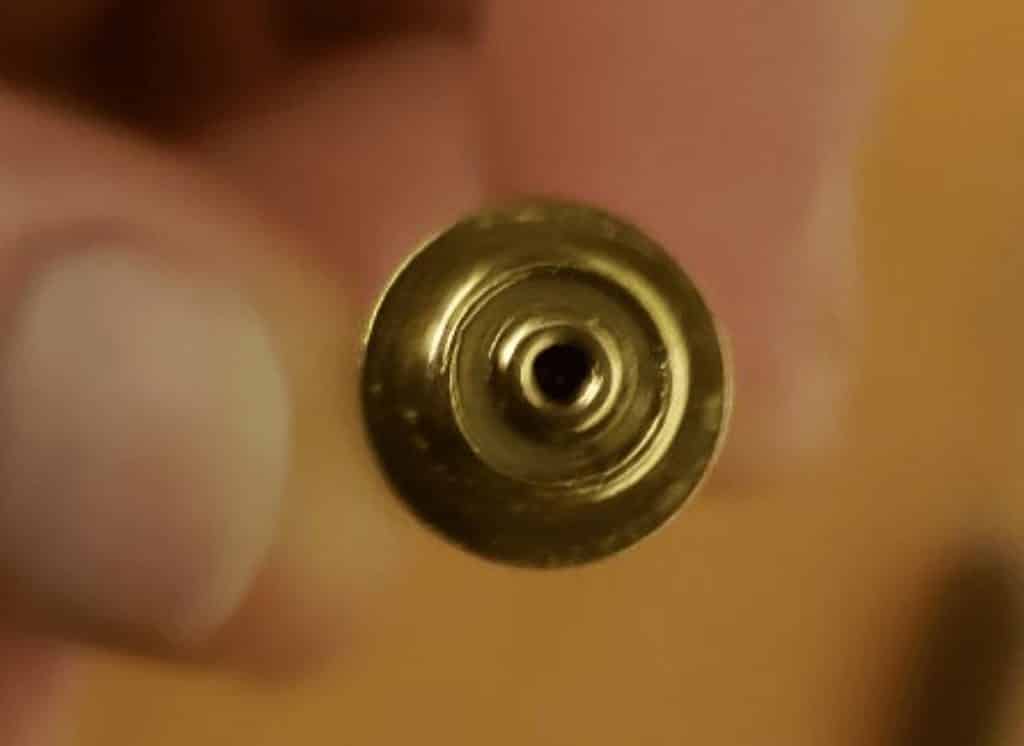 No lettering or serial on the bottom indicates it is not an authentic CCELL cartridge. Some clones are good, some are bad, and this is one of the not so great ones. Fake CCELLs are a whole other issue. These are just clones, not claiming to be actual CCELLs.
Oil quality is above average, except for those pesticides
Without being extremely sensitive to toxins, you might not notice the trace amounts of pesticides in the oil. Upon inspection, the concentrate moves with the consistency of molasses. The flavor is sweet, enjoyable, and there's nothing the matter with the cartridge's effects. It's a teaser because the cartridge appears fine, but the pesticides are cause for concern.
Supreme vape cartridges list no THC levels – The effects are a bit above average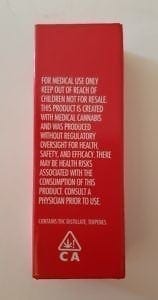 As you can see in the images and if you watch the video, the package has very little information. It has the CA State warning, the name Supreme, and that's about it. There is no mention of the strain whether it be Sativa or Indica. Supreme vape also leaves out the percentage of THC and CBD.
Going by feel, the cartridge has a decent effect. It kicks in fast but not with an overwhelming rush. A deep vape is likely to have you coughing but the oil isn't harsh. To make an educated guess, the THC concentration is probably around 75-80 percent.
Flavor is the best feature
Out of all review categories, the Supreme vape cartridge scores highest for flavor. Whatever mystery fluid this cart contains has a pronounced sweet and piney taste. It lingers on your taste buds for minutes after you take a puff. We can't say whether or not it's true to strain, but the aftertaste stays delicious as it slowly dissipates.
Some carts, like those from Cobra Extracts, taste good and bold up front. The aftertaste can have some funk to it in those last lingering moments. Once again, the great taste of this Supreme vape cartridge makes it a disappointment to find pesticides.
The Supreme vape cartridge mouthpiece sticks & the core sputters
Efficiency is another factor we look at when reviewing vape cartridges. In and of itself, efficiency includes several working parts. Examples include the density of the concentrate, type of vaporizer, and design of the airflow system. Supreme vape cartridge design and airflow don't have the best construction.
We don't mean to say that the cartridge doesn't work. The one in our test gets sticky, but you can pull it through with some suction. Once the air gets flowing, the vaporizer does sputter but it also delivers big clouds if you want them. We see a lot of these cheaper cartridge styles. The ceramic core is cheap and begins to disintegrate as the oil draws down.
Oil consistency and cartridge design give a good number of puffs
As the saying goes, the oil in a Supreme vape cartridge really is as thick as honey. Turn your vape pen upside down and watch as gravity slowly does its work. Despite the less than perfect cartridge design, it still gives a good number of puffs.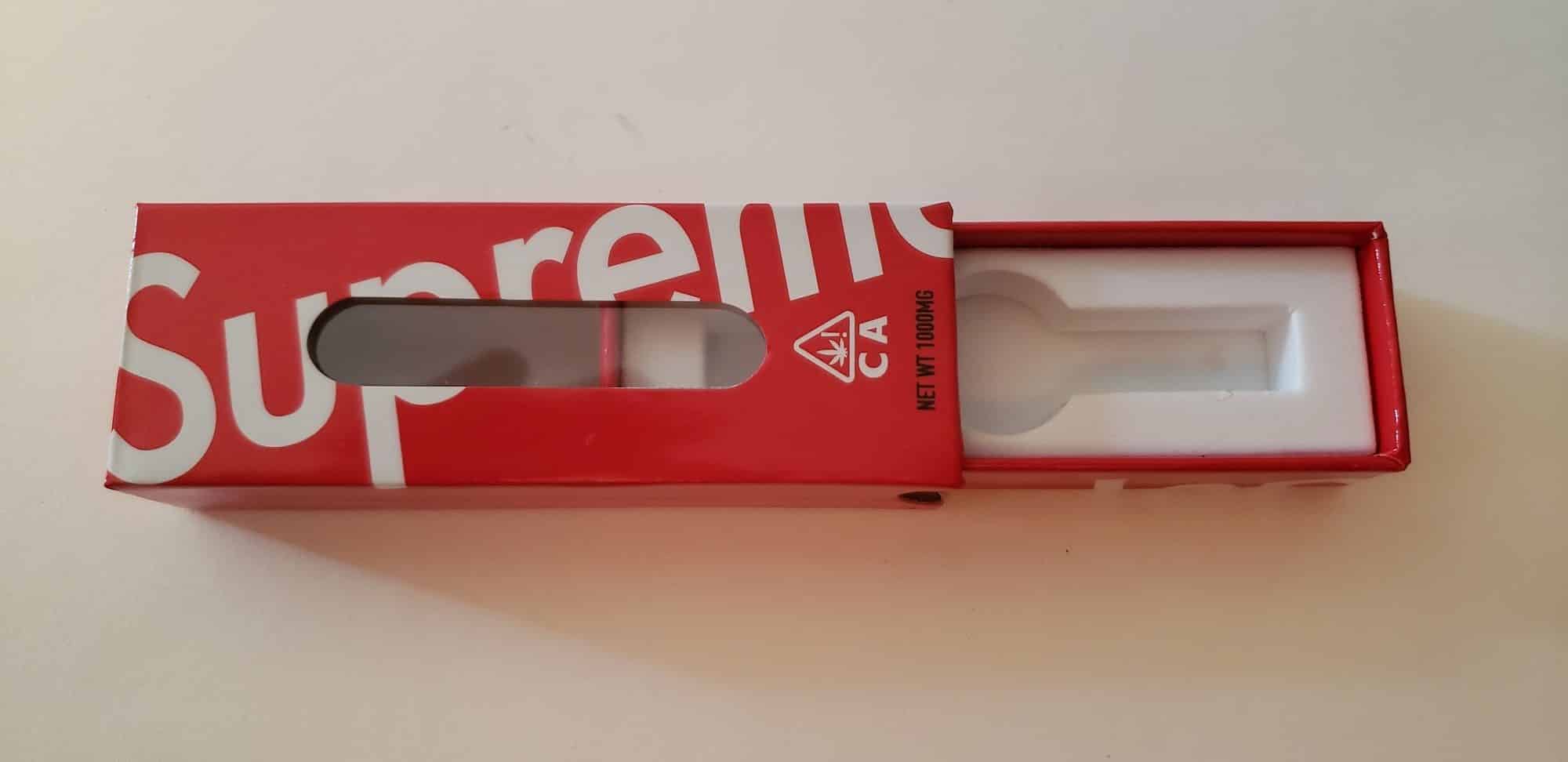 Our test cart still has about 1/5th of the fluid left, but it'll likely come to about 200 puffs overall. These aren't short three-second vapes either. 200 draws at five to six-second intervals is right in line with brands like Platinum vape or vape Naked's 1-gram cartridges.
Overall value is poor due to pesticides
Despite some favorable qualities, we can't give a high rating to a THC cartridge that has potential health risks. Therefore, the overall value of a Supreme vape cartridge is low. We're seeing these carts go from anywhere around $30 to $45 dollars. If they ever do eliminate those toxins, the value will flip on a coin.
The Supreme vape cartridge finale
Toxins by way of trace pesticides seem to be the norm when it comes to unlicensed vape cartridges. The Supreme vape cartridge is another that lures us in with its low price and quality oil. Except the oil can't be high quality according to lab tests. We do hope that growers and vape companies come together to provide a safer product. In the meantime, it's good to know what you're vaping.
Please feel free to leave your thoughts, experiences, or questions in the comment box below or by visiting our oil pen forum. See you in the next post!