As we weed through different THC cartridges, one thing that helps set the better ones apart is a comparison. We pick two of the more popular cartridges and pair them up against each other. This next bout is Brass Knuckles vs Mario Carts, two brands that definitely have the public's eye.
Brass Knuckles vs Mario Carts: Which one offers the best experience?
There is a lot of talk these days about fake cartridges, pesticides, and unlicensed growers. Vape lovers naturally want to know if cartridges are pure and have high-quality oil. We also care about the cartridge itself. Questions about the heating system and design tell us how well they perform.
After trying and writing about both brands, we now share our observations in full detail. Take a front seat ringside as the Brass Knuckles vs Mario Carts match up is about to begin.
UPDATE 9/11/2019: DISCLAIMER: In light of more recent news, it has become apparent that black market cartridges, counterfeit cartridges, and fake brands of cartridges have become more widespread than we had ever realized. We urge readers to apply their own discretion, and caution that at no point should readers assume that a review of a cartridge on our site is a guarantee of its safety. We advise readers to always verify their cartridges as coming from a legitimate source.
Brass Knuckles vs Mario Carts in flavor: Are there additives in Mario Carts?
After trying the Mario Carts Strawberry Pie and Ghost OG, it almost tastes like they add a flavoring. Not in the Ghost OG, but the Strawberry Pie vapes hot on the throat and the berry taste is too strong. Independent Mario Carts lab tests don't show additives but they do show the existence of pesticides.
It's tough to provide real facts about Mario Carts because they don't provide any information. Mario Carts doesn't have a website or a business license. They have more than 1 Instagram Page, each claiming to be the real deal.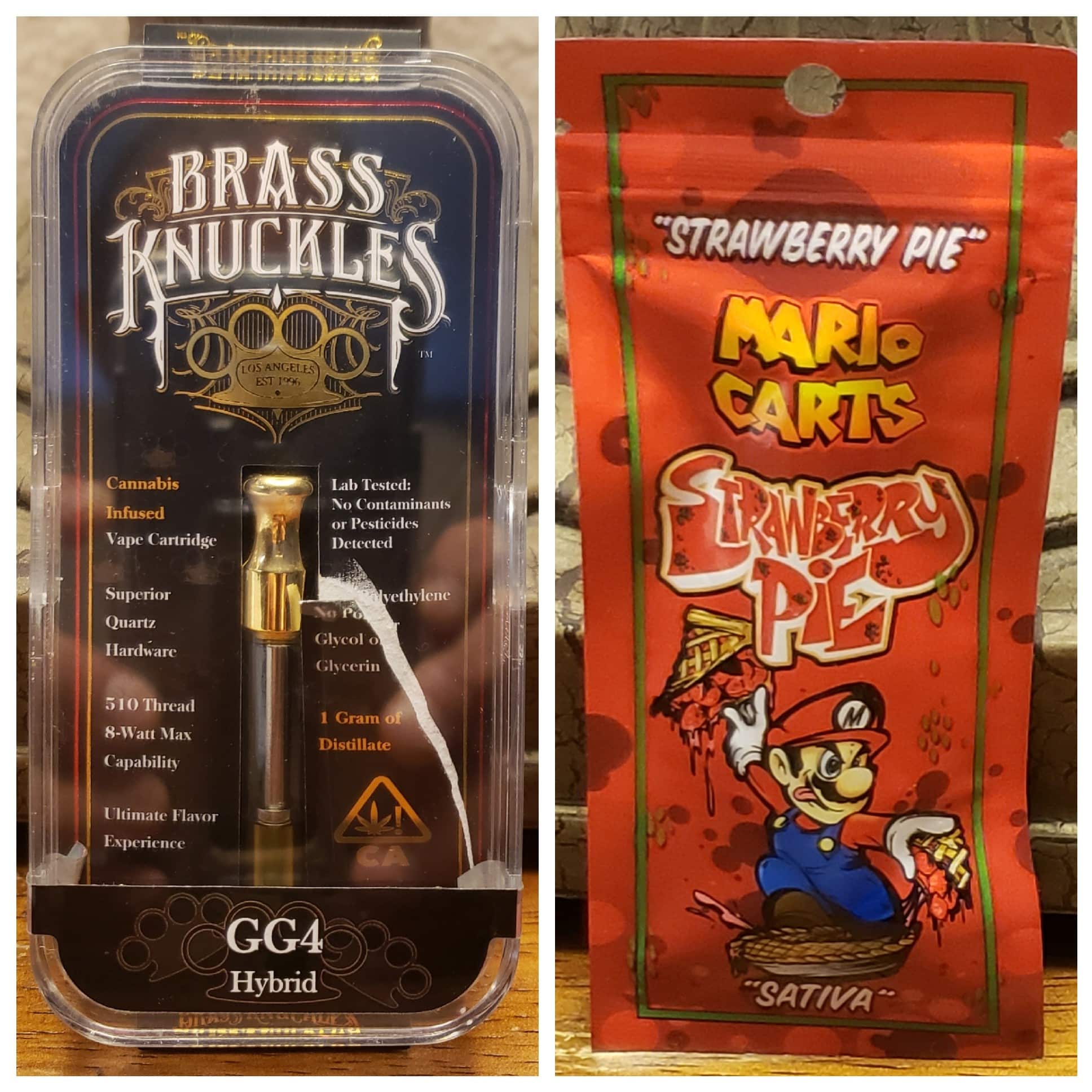 Brass Knuckles, on the other hand, does have a company website and license. Their oils, however, have also tested dirty for pesticides. Brass Knuckles thinks the dirty lab tests are from fake cartridges and are fighting the results, but we are pretty sure it has tested dirty before. See our oil pen tests list for more information.
When it comes to pure flavor, Brass Knuckles delivers the more enjoyable taste. Their Jack Herer is so potent that you only need the tiniest vape to get the full flavor. The Brass Knuckles Gorilla Glue #4 isn't as potent as their Jack Herer but still has that true to strain taste.
Oil strength and THC percentage: Brass Knuckles rules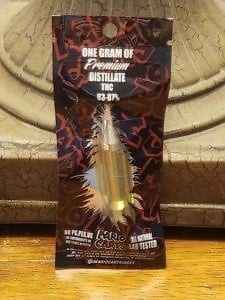 Once again, there isn't much info to go by from Mario Carts. Going by the feel of the effect, Mario Carts are more potent than brands like Cobra Extracts. They state on their zip-lock packages a THC percent between 83 and 87 but provide no other details.
Mario Carts holds their own when it comes to oil strength, but they pale in comparison to the Brass Knuckles Jack Herer. The Brass Knuckles Gorilla Glue is closer in strength to the Mario Carts Ghost OG but does carry the better potency.
An inspection of the Brass Knuckles cartridge packaging shows no THC percentage at all. They do state on the Jack Herer package that it's the "Most Potent THC Cartridge Available". After trying it, I'm a believer.
Efficiency is a neck and neck tie
In comparing Brass Knuckles vs Mario Carts, they both score the same for efficiency. Mario Carts use a rod & coil vaporizer as does Brass Knuckles. The difference is that Brass Knuckles has a quartz core instead of ceramic. Extended draws will produce large clouds on either cartridge.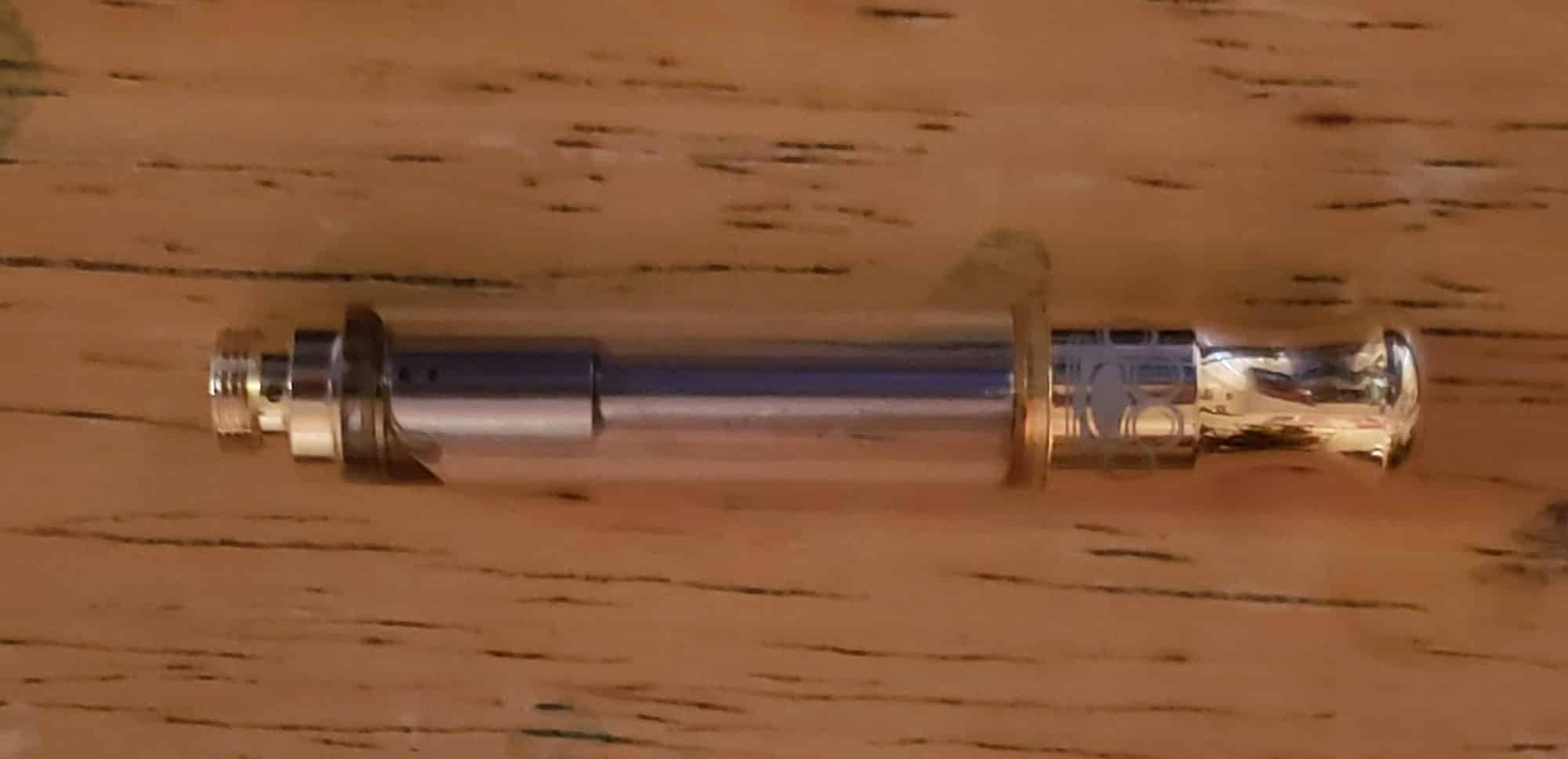 Efficiency, when two carts feature the same design, can come down to potency. You'll get way more use out of the Brass Knuckles Jack Herer due to the fact you won't need to vape as much. It is that incredibly potent. The other strains in both brands appear to be equal in efficiency.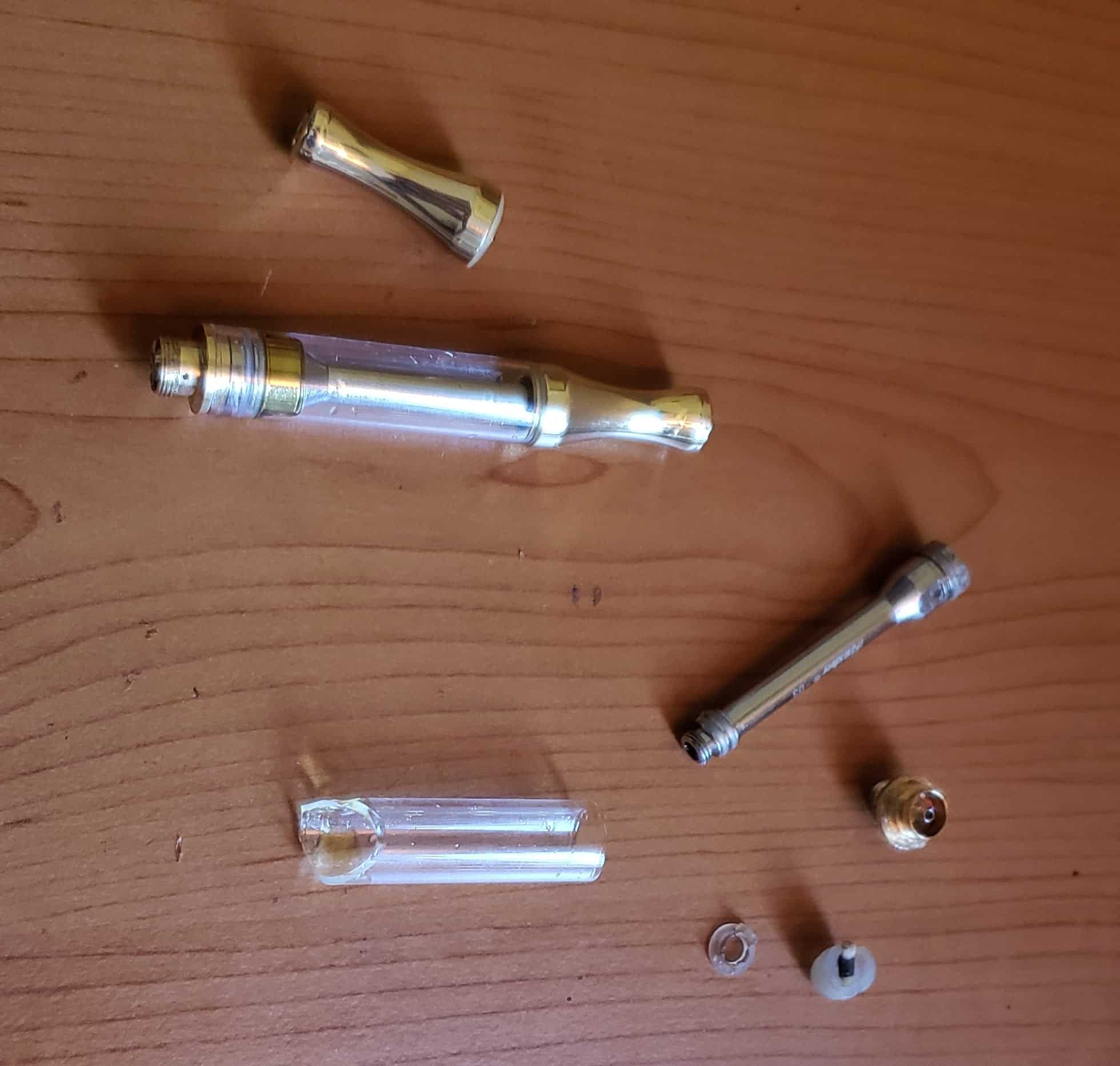 Number of puffs are about the same
The amount of puffs in a cartridge has to do with the vaporizer apparatus and the consistency of the oil. If your battery has different heat settings, that's another factor that could alter the results.
Of course, you'll get more puffs if you go with the Brass Knuckles 2.2-gram cartridge. Otherwise, there isn't a noticeable difference comparing Brass Knuckles vs Mario Carts. A 1-gram cartridge will have plus or minus 200 hits whichever brand you choose.
Brass Knuckles vs Mario Carts in value
In a sense, it doesn't matter that Mario Carts might be cheaper than Brass Knuckles. While Brass Knuckles has scars from failed pesticides tests in the past, their oils seem to now be passing clean. Mario Carts continue to come up dirty to the best of our knowledge.
If you remove the issue of pesticides from consideration, the cartridges will usually offer close to equal value. That's assuming you pick up the Mario Carts for less. In a contest of Brass Knuckles vs Mario Carts, Mario Carts wins for pricing. Their 1-gram carts typically run $40 or less while Brass Knuckles average is $50. These are based on California prices. The Brass Knuckles Jack Herer offers the best value of them all.
What About Brass Knuckles vs Other Popular Carts?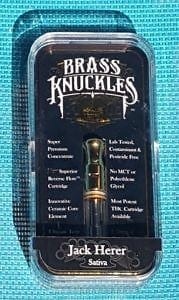 If you have a suggestion for a vs article, by all means, tell us in the comments or on our Forum. We will be adding more versus posts as time goes by. For now, Brass Knuckles stands up pretty well in value against other top brand names.
The concentrate, for example, in Kurvana ASCND carts is pure and extremely potent. Their cartridges compare to the Brass Knuckles Jack Herer in strength. In value, however, they come nowhere near the same number of puffs for the price.
Kurvana ASCND carts come to about $40.00 for .5-grams of distillate. Select Elite cartridges are very similar to the Kurvana ASCND, though they cost about $5.00 less. It's still a lot considering Brass Knuckles full gram carts run about $50.00. Getting oil from a continuously clean testing brand does offer some value in itself.
The final tally for Brass Knuckles vs Mario Carts
You can probably tell who holds top honors in our Brass Knuckles vs Mario Carts face off. Brass Knuckles does charge more, but they are more likely going to be clean. That really makes the decision easy right there. If those dirty lab tests were to change on Mario Carts cartridges, Brass Knuckles would still edge them out. But it wouldn't be too much.
Without the issue of pesticides, the Brass Knuckles vs Mario Carts inspection would go either way depending on the strain. We really enjoy the flavor of the Mario Carts Ghost OG but think the Strawberry Pie is poor quality. On the other hand, no Brass Knuckles carts disappoint. It's just that some aren't as potent as their Jack Herer.
Do you have any experiences vaping either Brass Knuckles or Mario Carts cartridges? If so, which one do you like better? Is it a specific strain? Let us know by leaving a comment below or join the conversation on our forum. We value all of our viewer's feedback.