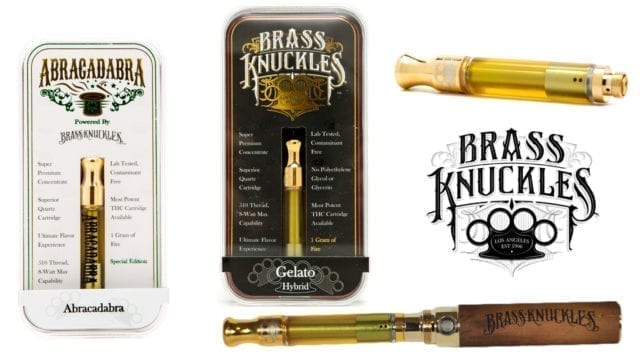 REVIEW OVERVIEW

Design and Build Quality

4

SUMMARY

The Brass Knuckles vape pen cartridge is disappointing. Too many pesticide issues and now there are much better brands out there.
Brass Knuckles vape pens prefilled THC cartridges could use some improvements. We have now tested Brass Knuckles vapes in two states and over multiple cartridges. The hardware is dated and needs an upgrade. Learn why this has become a cartridge we are not a big fan of in this in-depth Brass Knuckles vape review.
UPDATES
UPDATE August 9, 2017: Based on testing performed by @clean_meds_cali, Brass Knuckles may contain some toxic materials. See report picture below.
UPDATE February 25, 2018: Recent results for Brass Knuckles products show them as clean. See results at SC Labs.
UPDATE September 24, 2018: See our related post on identifying fake Brass Knuckles.
UPDATE October 12, 2018: Information on Brass Knuckles updates on new cartridges and comparison to other currently popular brands in beginning of review. Information related to other Brass Knuckles issues including lawsuits are added at the end of the review. This review covers almost two years of Brass Knuckles use. Updates by Bert Blaze.
UPDATE May 11, 2019: Brass Knuckles oil is put into better hardware and we test it out.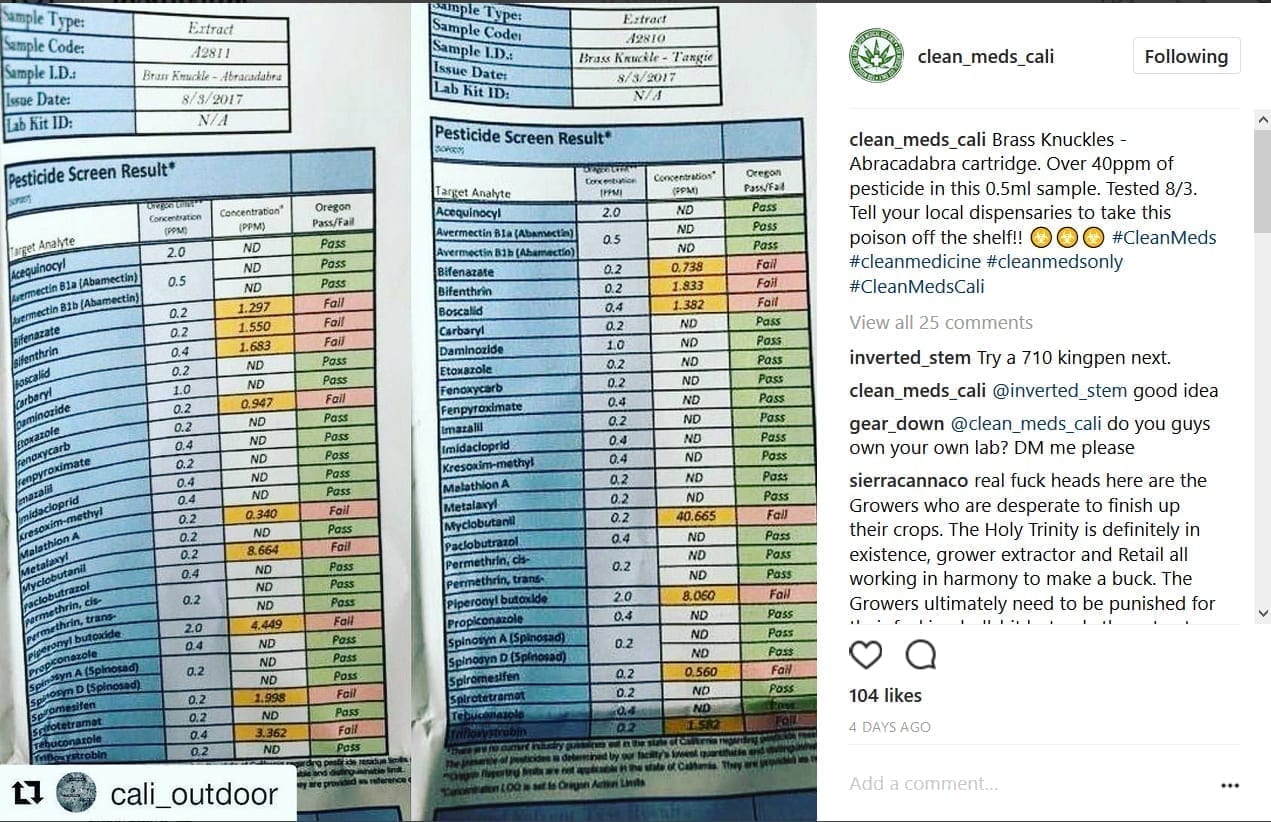 At this time in 2019, Brass Knuckles has had a lot of issues. They have consistently failed pesticides tests.  See our vape cartridge pesticides test page for the most up to date information on Brass Knuckles vape pen carts and other brands. They are currently being sued as are their promoters. It has been a tough year for Brass Knuckles. They also are no where near close to the best vape pen cartridge anymore. 
Recently Brass Knuckles has posted up clean results, such as the one pictured below for their Banana OG strain.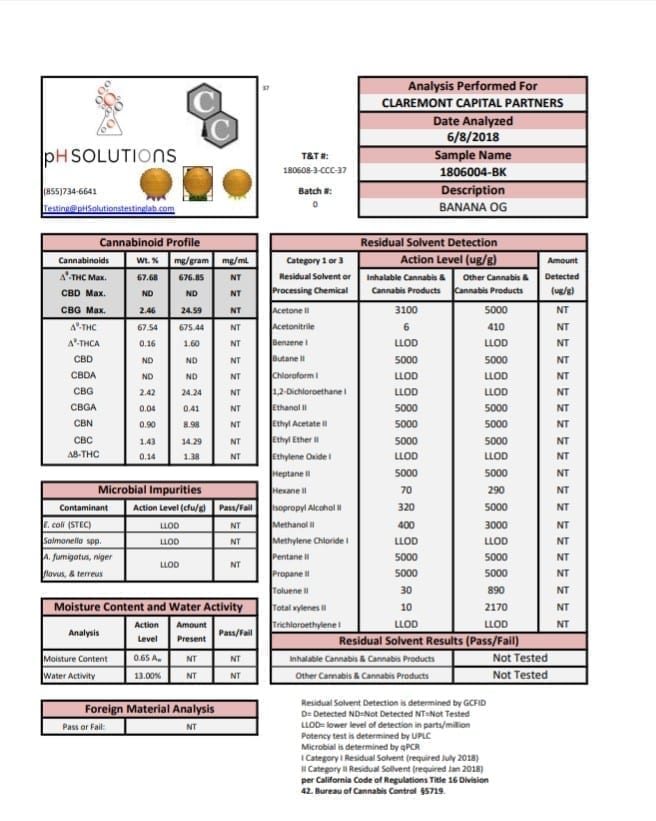 We find it interesting that they have switched labs. SC Labs is also named in one of the Brass Knuckles lawsuits which is discussed further below at the end of this review.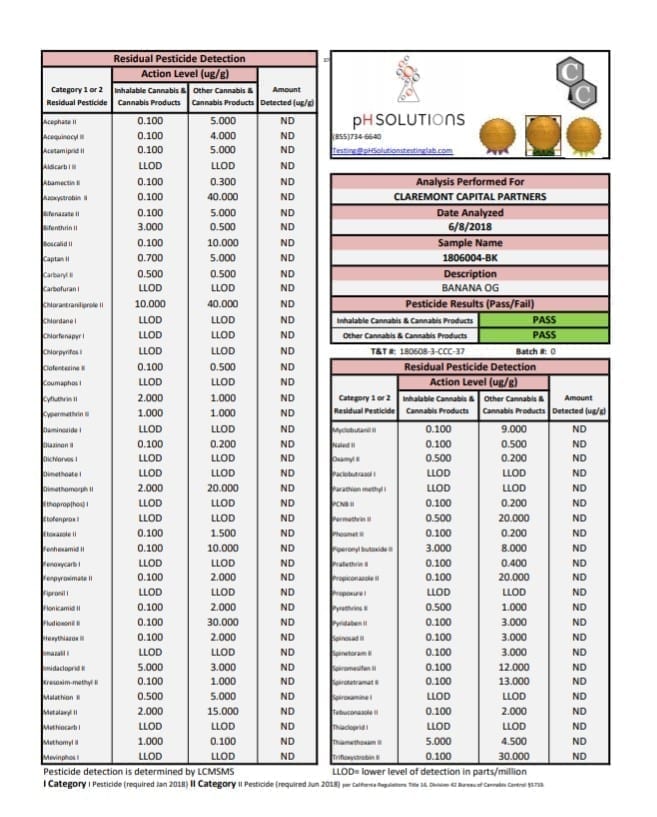 We recently reviewed the Napalm OG cartridge and found it to be underwhelming, but it was from a Nevada dispensary and so it is very likely that came out clean.
Many vape cartridges are now better than Brass Knuckles
There are now hundreds of THC vape cartridge brands out there. Many of these cartridges are better than Brass Knuckles. To keep it easy, here are some of the more well known brands that are common to  be found in the same areas as Brass Knuckles, but are better: Select Oil, Justdab, Kabunky, and W Vapes. This list could go on and on. Brass Knuckles just cannot live up to the other fire that is now out there. The point is Brass Knuckles advertises a lot but does not deliver on quality.
Design Quality of Brass Knuckles Vape Pen
The packaging is very nice, its nicer than any other I've seen. Brass Knuckle's offers top of the line quality. The mouthpiece was designed to allow the perfect amount of air flow for a very pleasant hit and major clouds. Compared to other traditional mouthpieces this one seems to have better airflow. The Brass Knuckles vape pen logo on the mouth piece looks great, but it might take away from discretion. You get pure flavor with these cartridges. I learned during this Brass Knuckles vape pen review that this company does in fact focus on creating a better product than any other on the market. This cart did have its flaws which we will go through below.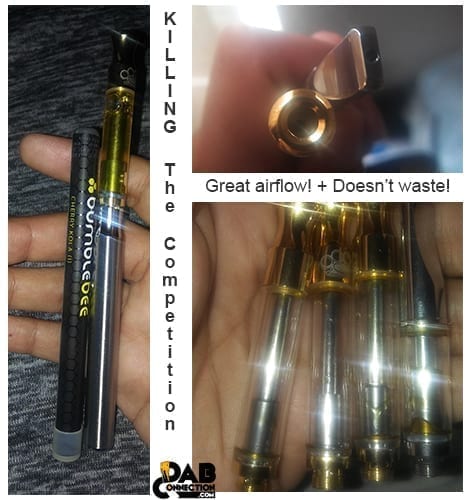 Bert: We can not say that Brass Knuckles is of that high quality anymore. They use an old style cartridge and CCELL currently blows it out of the water, especially when paired with a CCELL Palm. Other systems like the ALD vFire used on the Plug and Play vape and the Stiiizy Pen are also better. They both use the same heating element. Brass Knuckles is stuck in the past with their cartridge technology. They could use an update or go to CCELL like many other manufacturers have.
Trying out Brass Knuckles vape oil in CCELL hardware
Convinced Brass Knuckles had poor quality hardware and having the Napalm OG cartridge fail on me, I wanted to try the oil in a CCELL TH2 cart. Check out the video below.
Ease of Use on the Brass Knuckles Vape Pen
Throw on standard 510 threaded battery and it's ready to go. Open the Brass Knuckles vape pen package and screw on the cart to get started, that's it. I am hitting this with a variable voltage battery that allows me to go as high as 4.7 volts. I am using this cart at 3.0 volts for smooth refreshing big clouds. These carts can go as high as 5 volts. Go too high and you might burn it out! Be careful if you are running these on a mod battery. Make sure you have the correct settings.
Bert: Brass Knuckles is still easy to use.
Strength – Brass Knuckles Is Not as Potent As Others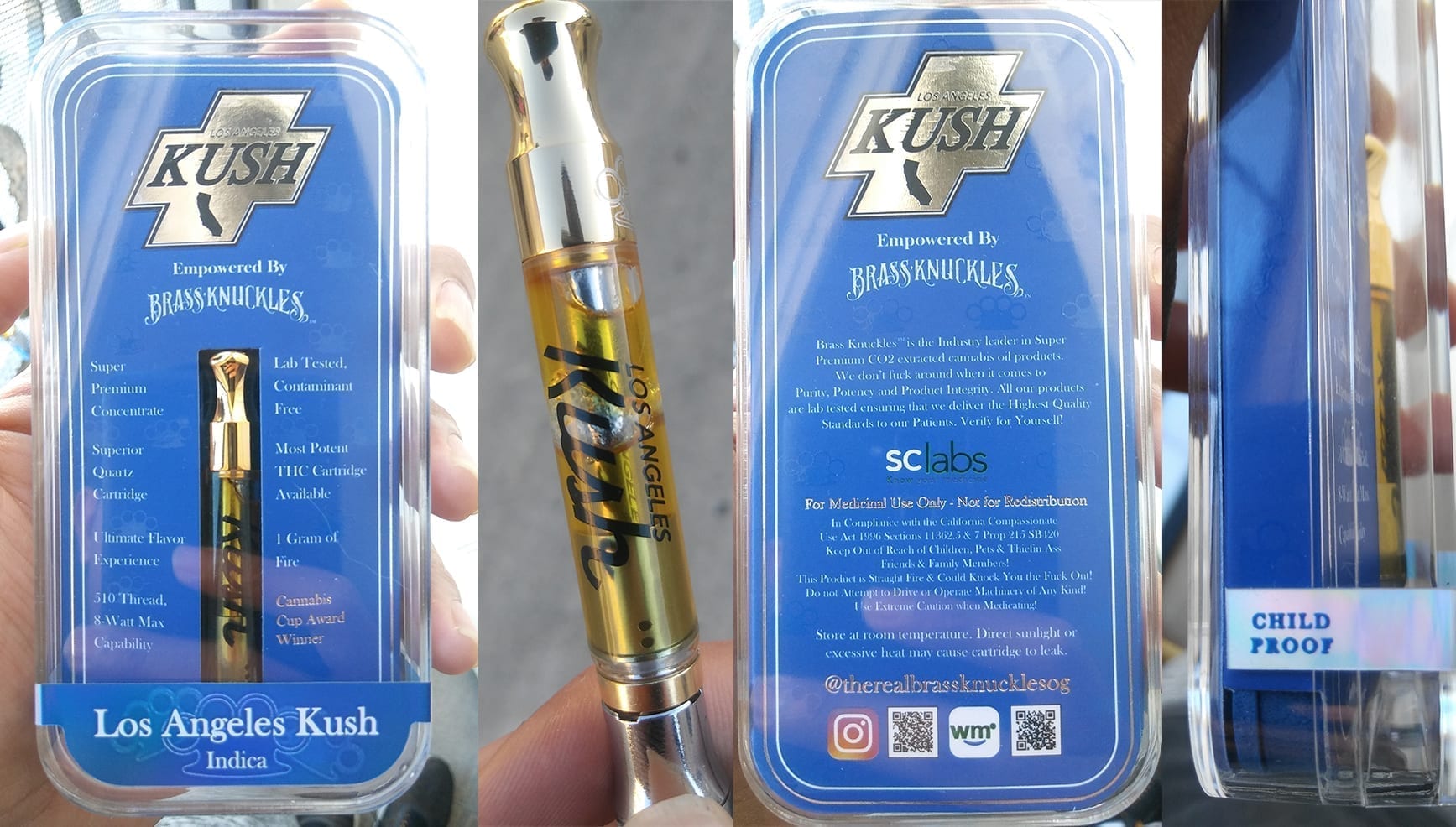 As of right now, these are some of the strongest prefilled cartridges available with a minimum of 80 percent THC. These feel more potent than other prefilled cartridges that claim they are 80.00% THC content. Jack Herer turned out to be the strongest among the three strains I tried in my personal experience. I purchased Jack Herer twice thats how much I enjoyed this strain.
Bert: Brass Knuckles is no where near the strongest anymore. Even on their own tests as shown above THC is at 68%. Select Oil's Casino Kush is 91% and they have another vape cart that is 94%. The hardware in the Stiiizy, Plug and Play, and any new generation CCELL cartridge also will make a comparable oil hit harder than the Brass Knuckles cartridges with their mediocre oil.
Efficiency – Some Failures Before, But Now More Reliable
Malfunction
I had 1 of the 4 carts malfunction, so Brass knuckles vape pens are not perfect. It started crackling and sizzling and gave me the most bitter burnt taste. The dispensary I purchased this cart from gave me a free replacement right away. Even after one of these carts not working correctly I can still highly recommend these after going through three different strains.
Bert: There are a lot less malfunctions than before with these carts and with other brands. In the past couple years vape cartridge reliability has improved substantially.
Lots of Hits, Some Stickiness
I can say with confidences that each 1 gram of Brass Knuckle will give you a minimum of 200 hits. I always took big hits from the beginning to the end which is why I highly recommend this cart for its consistency. Oil stuck to the top of one of the prefilled cartridges and I could not vape it. This might have been a bad batch. I had to put a lighter underneath the stuck oil to melt it down. Other prefilled carts more consistently had this problem compared to the Brass Knuckles vape pens. One-third isn't too bad, nothing major to be upset about but just a little inconvenient. One critical discovery in this Brass Knuckles vape pen review is it's easier to vape every last drop of concentrate, while others made it difficult and even wasted a lot. I did not get as much of a crap taste towards the end of this prefill cartridge either.
Bert: Other cartridges get more hits now. The ones that get less hits like CCELL or Stiiizy hit a lot harder so it is worth it to get less out of it.
Portability


Very sleek and small makes this cart is easy to take with you anywhere. The packaging it comes with makes it easy to travel with in case you need to store it away for later. Portability here is also going to tie into what battery you use. Use a mod battery and it's a little less portable. Use a small 510 battery and its ultra portable.
Bert: Portability remains the same. Still easy to get these vape carts around.
Taste
The taste is very flavorful and enjoyable. There is a hint of artificial flavoring, but the flavor of the strain is also noticeable. My absolute favorite is the Grape Ape! If you like the taste of sweet grape kool-aid, then the Grape Ape Brass Knuckles vape pen prefilled cartridge will be your next favorite vape. I approve of their almost perfect cocktail of THC with added natural terpenes. It has a more pleasant taste than every other prefilled cart I've tried. I have yet to try the Moxie cartridges, but have heard those have excellent taste as well.
Bert: The THC carts from Brass Knuckles still shine on taste for the most part. Whoever is handling the terpenes is doing a great job. We need that same effort on the rest of the vape pen cartridge. Taste issues with Brass Knuckles can arise if the cart gets burned  though.
Brass Knuckles Strains
Brass Knuckles vape cartridges now come in a wide variety of strains, each with a different taste. Below are all the Brass Knuckles vape pen cart strains. We have sorted them into Sativa, Indica, and Hybrid.
Sativa cartridges:
Blue Dream
Maui
Sour Apple
Sour Diesel
Strawberry Cough
Tangie
Indica strain selection:
Blueberry
SFV OG
Tahoe OG
Grape God (replacement for Grand Daddy Purple)
Napalm OG
Do-Si-Dos
Glue
Tahoe OG
Hybrid Strains:
Gorilla Glue #4
Banana OG
Gelato
Girl Scout Cookies
Gushers by Connected
Forbidden Fruit
Abracadabra
Brass Knuckles is coming out with new strains here and there, so look for updates on that.
Value: Just Not There
I paid $55.00 each for a gram of Jack Herer, Girl Scout Cookies, and Grape Ape from my local dispensary in California. All the cartridges lasted me five days and provided over 200 hits each. That's only eleven dollars a day to stay medicated all day and night. I praise the Brass Knuckles for making a great tasting a product that is more economical and very high quality than their competitors.
Bert: Brass Knuckles is no longer a good value. I would rather buy a half gram of select and pay almost the same price as a full gram of Brass Knuckles.
Current Brass Knuckles Issues: Fakes and Lawsuits
The main issue we have with Brass Knuckles is continuously deceiving customers that they had clean products. We hope now that the cartridges they are producing are clean, but it is hard to trust a company that has lied so many times. The lab testing industry in California is not really reliable. We might trust a BK cart in Nevada where there is strict batch testing, but why go with an untrusted brand when there are so many better ones already out there?
Fake Brass Knuckles vape cartridges are everywhere
We did an extensive post on fake Brass Knuckles. The company does not post an authorized retailer list. They post their own less informative guide on how to spot fakes, but really what we need is a list of authorized retailers. Take a look below at the fakes made by Summer Vapor.
The Summer Vapor fakes are easy to spot because there is no strain information on the bottom. That's great for the easy to spot Brass Knuckles fake cartridges.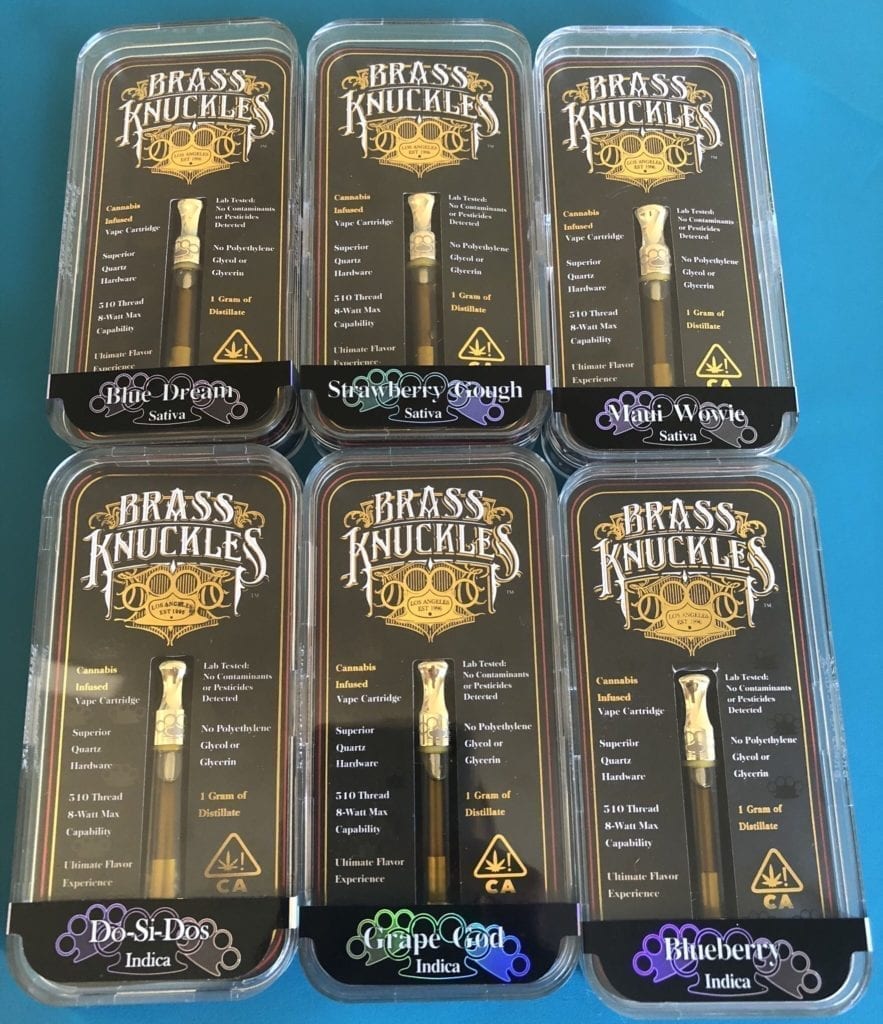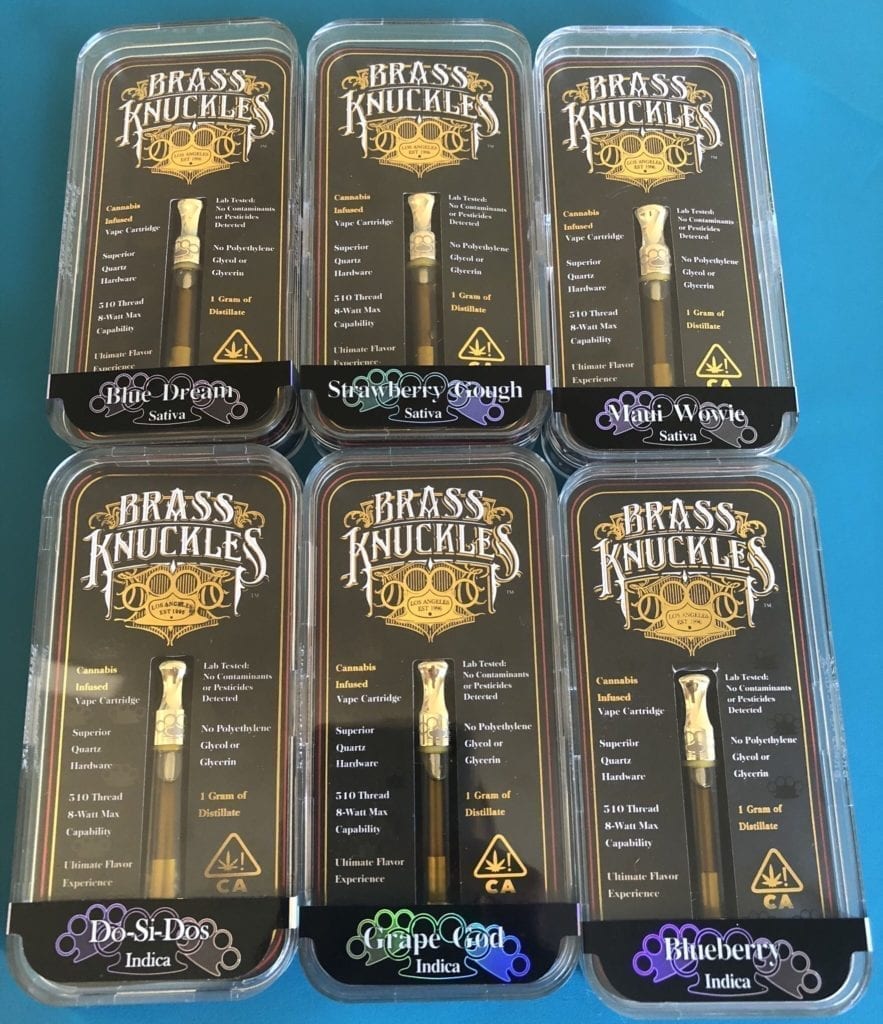 The above fakes are from Shenzhen eBoat. They are very convincing. In fact, if you relied on Brass Knuckles' own guide those would pass for real. If they really cared about their customers, Brass Knuckles
Nevada residents are probably safe due to strict batch testing, but California is a lot more people. If Brass Knuckles cared about consumers they would get a better grip on these fakes by making a comprehensive, updated list authorized retailers. Plain and simple.
Brass Knuckles Lawsuits: Yes, There Is More Than One
The Class Action Lawsuit: Ignacio Lee vs. Brass Knuckles
Many people search for Brass Knuckles lawsuit, but there is actually a big class action lawsuit going on. The first reported legal issue was the lawsuit filed by Ignacio Lee. He claims he got sick from the pesticides that were present in Brass Knuckles vape pen cartridges. The particular strains he complained about were Candy Apple and Sour Diesel.
The Brass Knuckles company, which has been linked to Jeannie Herer was sued in this case as well as Xzibit himself. His real name is Alvin Nathaniel Joiner. As spokesman for the company, he responded to the lawsuit's claims via his Instagram account, stating: "Our oil is clean" in one post and in another that the product is "COMPLETELY pesticide AND contaminate FREE."
SC Labs also included in the lawsuit
SC Labs is included in this one to make it more interesting. They were including the stickers on Brass Knuckles cartridges that were sold. The company claims that the dirty cartridges are fakes. SC Labs is included in the suit. Their stickers are on the cartridge. Makes the fake oil claim hard to believe. I do not trust them either anymore. Steep Hill is the lab used by Plaintiffs in that case that showed the vape carts as dirty.
If you are familiar with their testing stickers, you can look up the batch online (unless the company blocks it from being public). Making fakes would be difficult considering these unique identification codes are linked to certain batches.
I have never seen a fake Brass Knuckles vape pen cartridge ever have an SC Labs sticker on it. Someone would have to go to extraordinary lengths to make that all match up. They are not adding them in China.
First, I should state as of May, 2018, that Brass Knuckles claims they are now 100% compliant due to California's new testing requirements. Second, Xzibit was probably wrong when he made his clean oil statements, but it may not have been intentional. I doubt he has much to do with the manufacturing process. California's testing requirements are not getting implemented like they are supposed to even now in 2018.
Just like Heavy Hitters testing dirty just recently. They used the same claim that Brass Knuckles now uses to say their oil is clean. It might be, but how can we trust them after so many issues? In their defense, fake Heavy Hitters is a problem too.
Overall: I Would No Longer Recommend a Brass Knuckles Vape Pen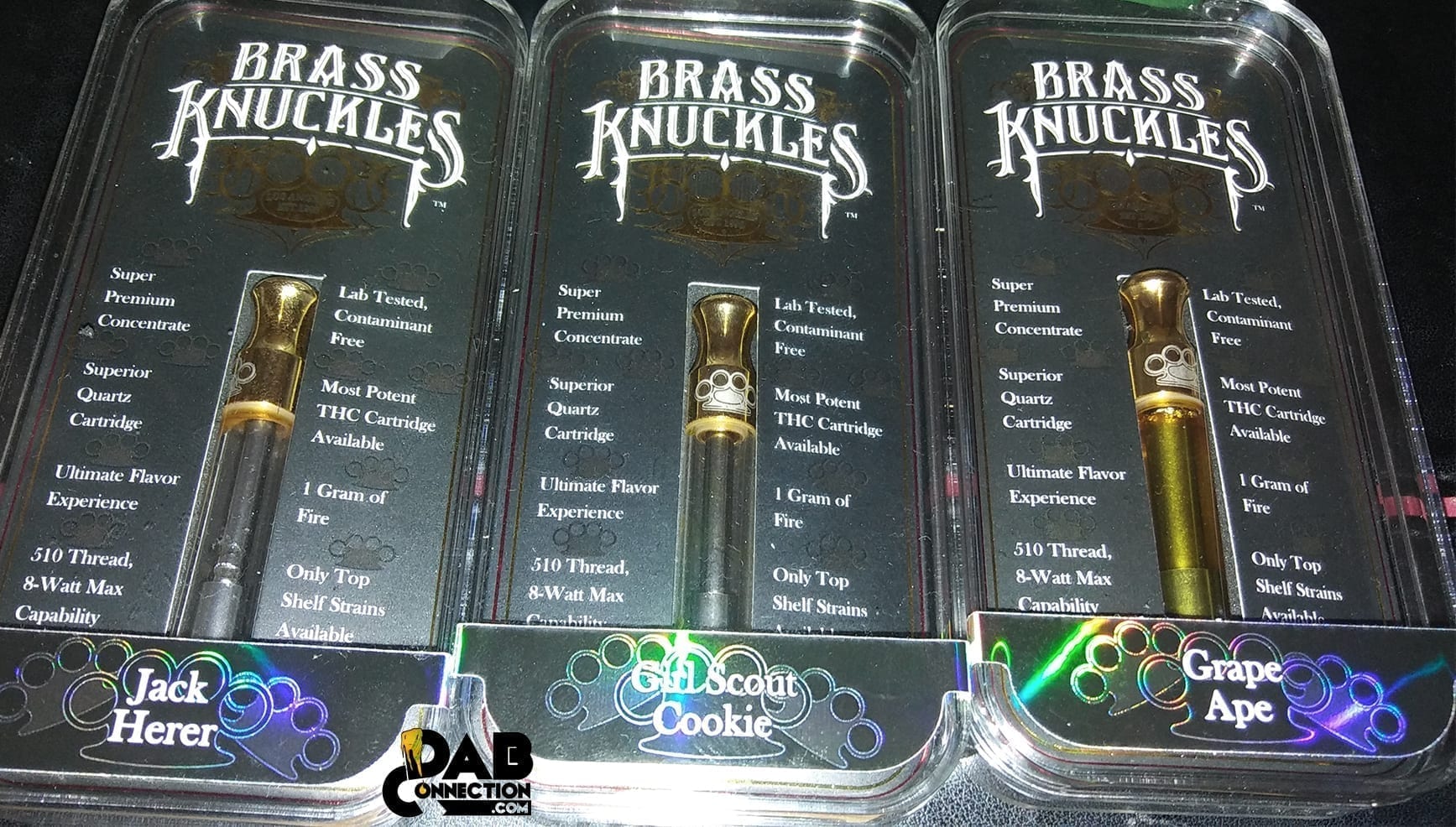 The improved features this prefilled cart has over others had me extremely satisfied. Xzibit, the founder of this product, has stated on the Youtube channel Between Two Strains, "Everything that we disliked about all the other carts on the market we improved on and put it into Brass Knuckles." This statement is accurate which I learned after trying this out for myself. I highly encourage others to try this cart out as will. Brass Knuckles does indeed solve many of the problems of previous carts from other companies.
Bert: There are better cartridge brands with more reliable reputations. They also produce stronger oil in better hardware. Don't buy into the hype on Brass Knuckles vape pen cartridges.