.The Brass Knuckles lawsuit comes down to issues with pesticides in their THC vape cartridges causing illness. Added to the lawsuit are Xzibit and SC Labs. Here we go through the case claims and provide insight. Be sure to also check out our Brass Knuckles vape cartridge review and our vape pen pesticides list.
Update 10/29/2018: Uncovered further information showing the other owner of Brass Knuckles.
Dirty Vape Cartridges Makes Brass Knuckles Customers Mad, Sick, and Pursuing a Lawsuit
We first saw the Ignacio Lee lawsuit reported on TMZ. Brass Knuckles contacted TMZ and on May 11, 2018, TMZ updated the post with a statement from Brass Knuckles spokesperson that they were in compliance and that their oils were clean. Then comes Datdude4150 on Instagram cartridge strength and cleanliness de-bunker extraordinaire with a recently posted test showing Brass Knuckles as dirty again.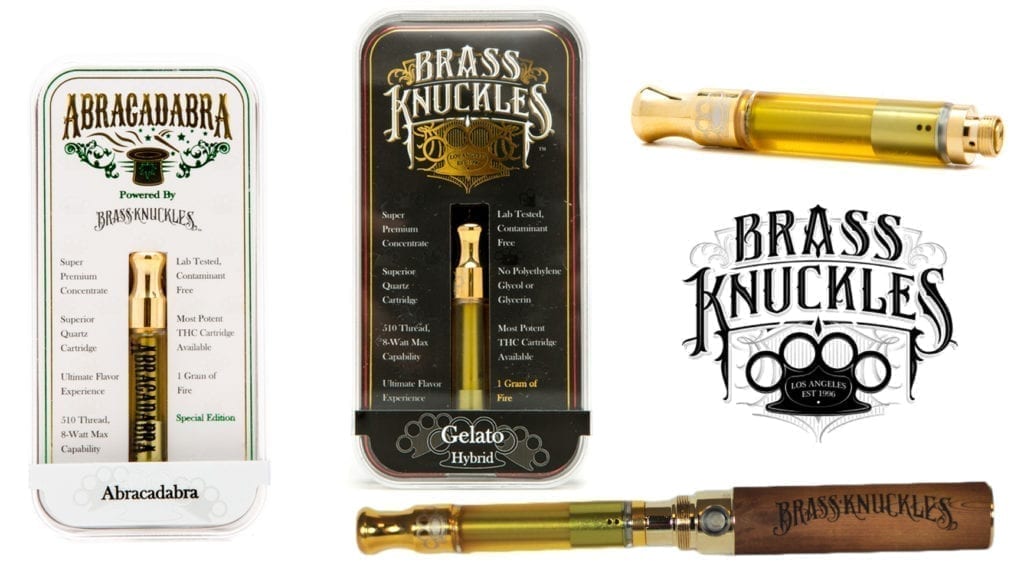 Who really owns Brass Knuckles? Not just Xzibit
Below are pages from the original letter complaint regarding Brass Knuckles non-compliance with California's all encompassing Proposition 65. This is not the lawsuit filing, but a "NOTICE OF VIOLATION OF CALIFORNIA HEALTH AND SAFETY CODE SECTION 25249.6" based on Prop 65. These letters are sent out to build up a lawsuit for later.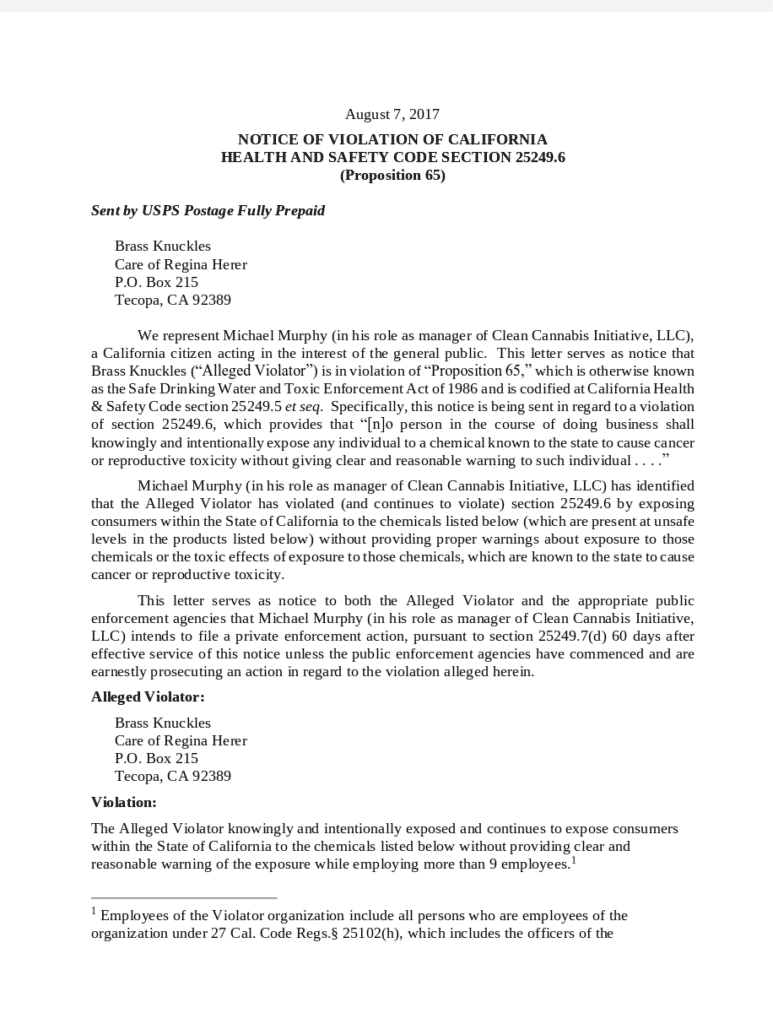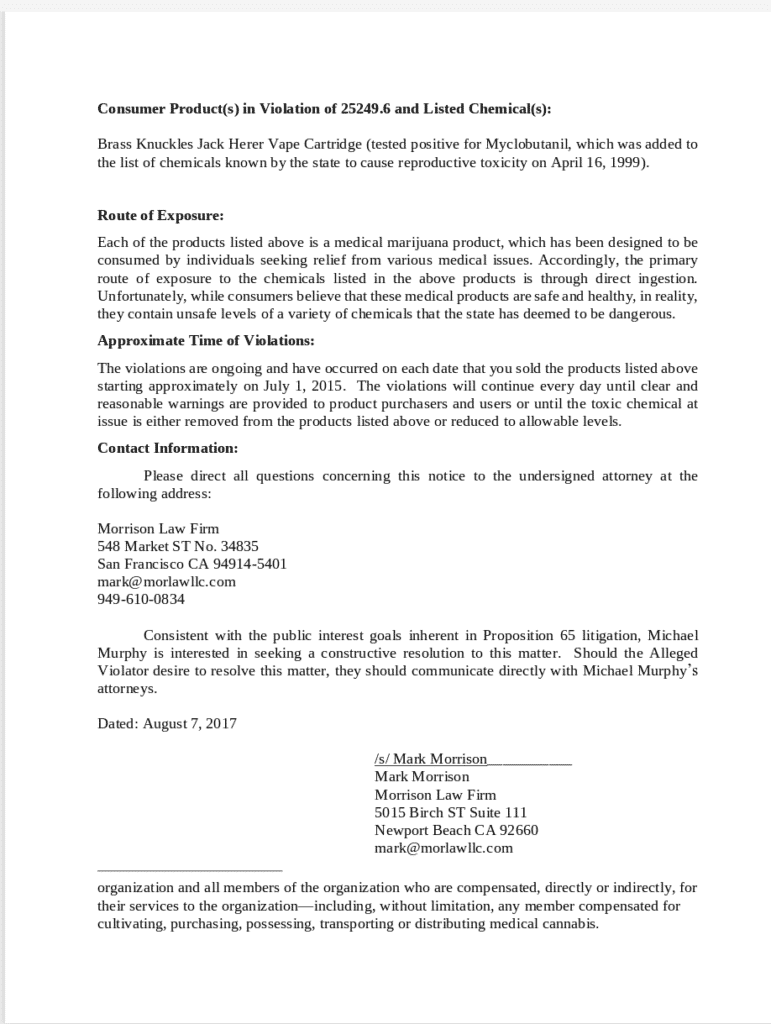 Most noticeable is that the lawsuit is addressed to Regina Herer in Tecopa, CA. A further search finds that she is also known as Jeannie Herer, the wife of the late Jack Herer. She is sent this letter because she is listed as the registered agent. She does not appear to operate a professional registered agent service. Therefore, it is safe to assume Jeannie Herer is one of the owners, if not the main owner of Brass Knuckles.
Dragged into the lawsuit… is Xzibit!
Named as a defendant in the Brass Knuckles lawsuit is Xzibit. He is a part owner of the company and its celebrity spokesperson, but the manufacturing process is not managed by Xzibit. He is responsible for helping sell the product. This is how the American legal system works, which is not necessarily a bad thing. Plaintiffs end up with nothing if attorneys cannot go after deep pockets. For consumers this is a good thing.
Plaintiffs do not want $0 if the company goes bankrupt
For example, Brass Knuckles is probably a corporation or LLC that can go bust if the lawsuit is too big. They do not use a trademark logo on most of their items and it is a federally illegal product so it is likely there is no trademark or anything really besides Xzibit endorsing it and a bunch of ads that keep it going.
By suing Xzibit, they can try to collect on an individual should the company not be able to pay out the lawsuit judgment. Maybe that would make us feel a little better, since we remember him as the guy from Pimp My Ride who fixed up people's cars for free.
Statement by Xzibit on the Brass Knuckles lawsuit and clean oil
His real name is Alvin Nathaniel Joiner. As spokesman for the company, he responded to the lawsuit's claims via his Instagram account, stating: "Our oil is clean" in one post and in another that the product is "COMPLETELY pesticide AND contaminate FREE."
This statement proved not to be true as Brass Knuckles tested dirty after he made that statement. It may have been uninentional, as I doubt Xzibit has much to do directly with the manufacturing process.
SC Labs also named as a defendant in lawsuit
SC Labs is included in the lawsuit as well.  The company claims that the dirty cartridges are fakes. There are a lot of fakes out there. However, so many bad tests have come back of real cartridges as well. It makes Brass Knuckles and SC Labs both hard to trust. Steep Hill is the lab used by Plaintiffs in that case that showed the vape carts as dirty.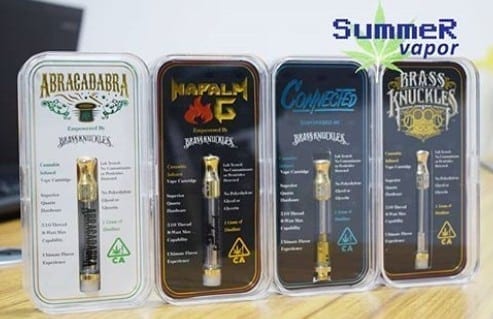 Brass Knuckles and Heavy Hitters have similar issues
Just like Heavy Hitters testing dirty just recently. They used the same claim that Brass Knuckles now uses to say their oil is clean. It might be, but how can we trust them after so many issues? In their defense, fake Heavy Hitters is a problem too.
Legal allegations and claims against Brass Knuckles, Xzibit, and SC Labs
Allegations directly from the complaint sum up the basis of the suit:
"Defendants prominently advertise and label the Products as being 'Lab Tested, Contaminant Free' … when in fact they are contaminated by harmful pesticides. Defendants also prominently advertise and label the Products as being the 'Most Potent THC Cartridge Available.' However, the THC content of the Products is actually substantially lower than that of many competing vape cartridges. Defendants are able to charge substantially more for the Products than they would otherwise if consumers knew that the Products were contaminated with pesticides and not as potent as promised."
The legal claims brought by the defendants asserts causes of action for negligent failure to warn and violation of California's Unfair Competition Law (UCL, codified at Business & Professions Code sections 17200 and 17500 et seq.), breach of express and implied warranties, and California's Consumer Legal Remedies Act (CLRA, codified at Civil Code section 1750).
Pesticides exceed California limits
They claim that the pesticide levels found in Brass Knuckles vape cartridges exceed the maximum allowed by California law. The pesticides found on the test by Steep Hill labs were: bifenazate, etoxazole, myclobutanil, trifloxystrobin, permethrin, bifenthrin and carbaryl.
More than just regular damages
The types of causes of action included in the suit are important because they allow for collection of additional monies from the defendant's if they win. These causes of action include recovery for: restitution, attorney's fees, legal costs, disgorgement of profits, injunctive relief, and punitive damages.
Attorney's fees and punitive damages
These are both very important parts of damages in a case. Attorney's fees being recoverable is important because it means there is no cost to the Plaintiffs to litigate. Most cases of this type the attorney or law firm will take the case with no actual out of pocket cost to the client, and recover fees upon winning the suit. This can make litigation much more expensive for the other side.
Punitive damages are important. They punish the defendant for participating in a bad activity. See a full explanation on punitive damages here. This means at the end of this case, if they win, the Plaintiffs will get a larger verdict against the Defendants. The point of punitive damages is to discourage the same activity in the future. For example, Heavy Hitters might see this lawsuit and make a better effort to keep their vape cartridges clean.
Perspectives from a litigation lawyer
According to litigation attorney Ian A. Stewart, this is the start of a new wave of multiple lawsuits that will be filed. In his analysis of the Brass Knuckles lawsuit, he also stated that insurance carriers are denying and will continue to deny claims related to pesticides (and probably residual solvents too) in vape cartridges. This leaves companies with no other choice to go bankrupt at the end.
In conclusion, the Brass Knuckles lawsuit is only the start of keeping THC vape cartridges clean. The easiest solution is for California to get serious about regulating the industry. Tests are coming back dirty from various companies even after the July 1, 2018 deadline. California needs to commit to consistent batch testing procedures like those followed in Nevada. For now, we can hit cleaner (and often better quality) stuff in Las Vegas than in Los Angeles. Who would have thought that would be the case 10 years ago?
Have you gotten sick from Brass Knuckles or other dirty vape carts? Post your comments below or discuss in our forum!