REVIEW OVERVIEW

SUMMARY

Overall the Binske csrtridge is a bit high priced for how strong it is and considering there are cheaper cartridges out there that outperform it.
It hits good and taste is now much better, but the price is a lot more than other cartridges. The Binske cartridge ended up being over $60 with tax for just a half gram. A high cost compared to most other THC oil vape cartridges, but this one does use live resin.  See our in depth review on a Binske cartridge and how it stacks up against other brands.
Pros:
Good quality oil
Tests clean
Uses live resin
Great Taste
Strong
Cons:
Expensive
Plastic cartridge
Recommendations: Lower the price by 25% and put it in a glass CCELL TH2.
Licensing Information: Aether Gardens Certificate Number 57742937900772366722 License 53116055364203491071
Update 11/20/2019: Binske cartridges have improved in strength and taste substantially. They made our list of the best live resin cartridges.
See below for the video review on the Binske cartridge and continue reading to see more in depth review.
Binske cartridges use good hardware and have gotten stronger, but are also pretty expensive
Live resin is expensive to make and that is why the cost is high. The Remedy cartridge also had a high price and uses live resin, but I snagged that one on sale. The Binske cart says it is live resin infused distillate, so we are not sure if that is the same thing, but seems like it would be.
Binske is really close to a great cartridge. A little more strength and this thing would be fire. It's still pretty good, just not stellar strength like I have seen from other brands in California and Nevada. This is really a matter of a few tweaks and Binske could be one of the best cartridges in Nevada. Definitely a brand I want to try again later and see if it has improved.
Design and Build quality is great they use the same CCELL that Select Elite carts use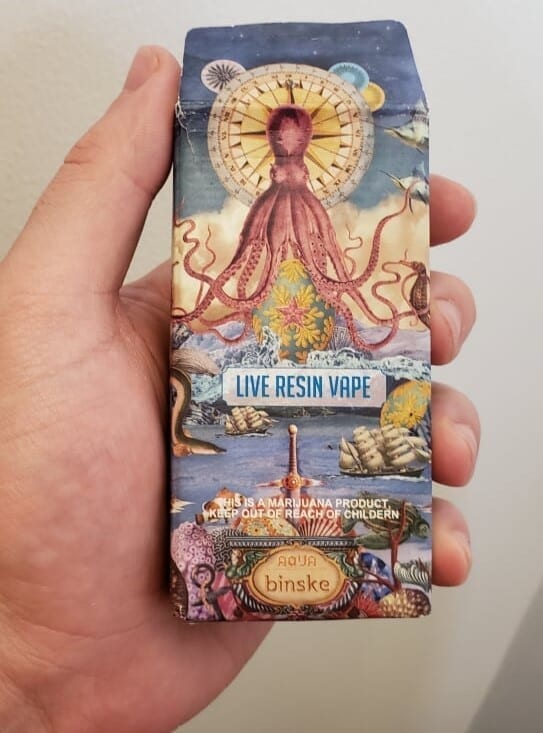 Binske uses a standard M6T cartridge by CCELL. Although we do prefer the ceramic top cartridge that is refillable, this is still a great option and it really hits great, particularly on the Vessel battery. One downside of this type of cartridge hardware is you can't refill it. It's very difficult to open if something goes wrong, however, reliability does not really seem to be an issue on CCELL cartridges.
Oil quality is good on Binske cartridges: consistent color and thickness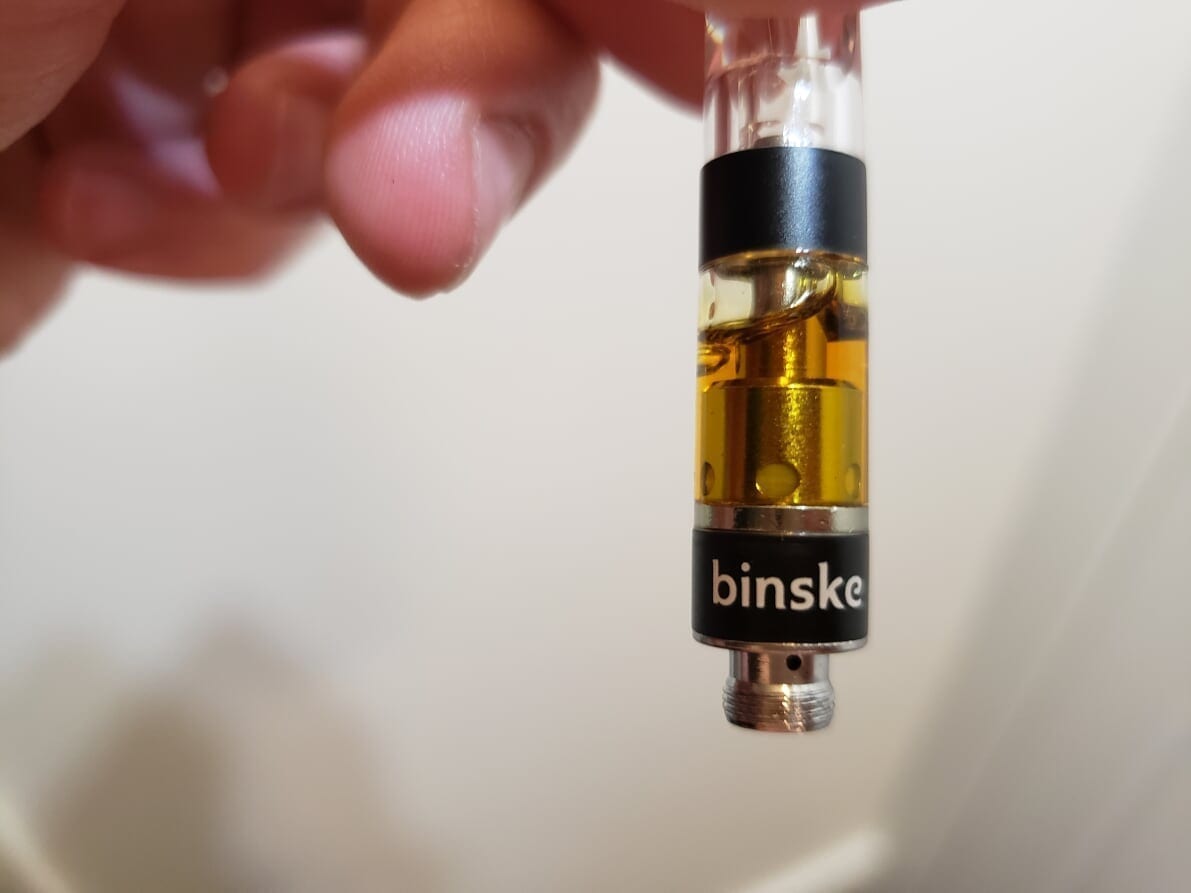 Binske cartridges use live resin which is not as popular as distillate or CO2  oil in cartridges that still seems to be the norm. I picked this cartridge up at a dispensary in Ely, NV and was told that this is one of the better cartridges they had.
Testing is strict where we got this cartridge so there are no pesticides or anything dirty about it. We also found other information that Binske hasn't tested dirty in other states.
Binkse has been testing high on THC and is much stronger than before
THC on the Binske was high at 85%. I have had cartridges before that had an even lower percentage but also had a stronger effect. Binske has substantially improved strength over the cartridges we have tried. The average cart cost in Nevada is about $45 and the Binske cartridges were $54. Those prices are without tax. We'll discuss more on the value comparison below.
The taste on the Binske cartridge also has improved
The taste on the first Binske cart was very similar to Select Elite. The second cart had better flavor. Getting to the third cart, this one tastes phenomenal, almost similar to Remedy. If you're really looking for something super flavorful but not as natural tasting, check out AiroPro.
Efficiency is good as you can get it
Binske uses CCELL carts which we have covered before. CCELL is the most efficient cartridge on the market right now so there's nothing Brinske could do to improve the efficiency. We still would prefer a TH2 cartridge but there are many reasons why they may choose this polycarbonate cartridge instead, including not wanting people to refill.
The number of puffs is excellent, this oil vapes very slow which is great
On the Binske cartridge, one thing that really maybe makes up for some of the high cost is the fact that it lasts a long time. I hit this quite a while and the oil really dissipates slowly. Probably one of the slowest dissipating oils in any cart I have tried.
The value was decent, I wish it was a little bit cheaper
The cost of this cartridge is over $60 with tax. The average cost in the state where this cart is purchased, Nevada is about $50-55 with tax. There are some cartridges that were priced in the $52 range such as Airopro and Select Elite, but lately, those prices have come down. Binske used to be $60 plus tax so it is cheaper than it used to be at $54 plus tax
A Roots cartridge is $45 plus tax and is stronger, but it's not live resin.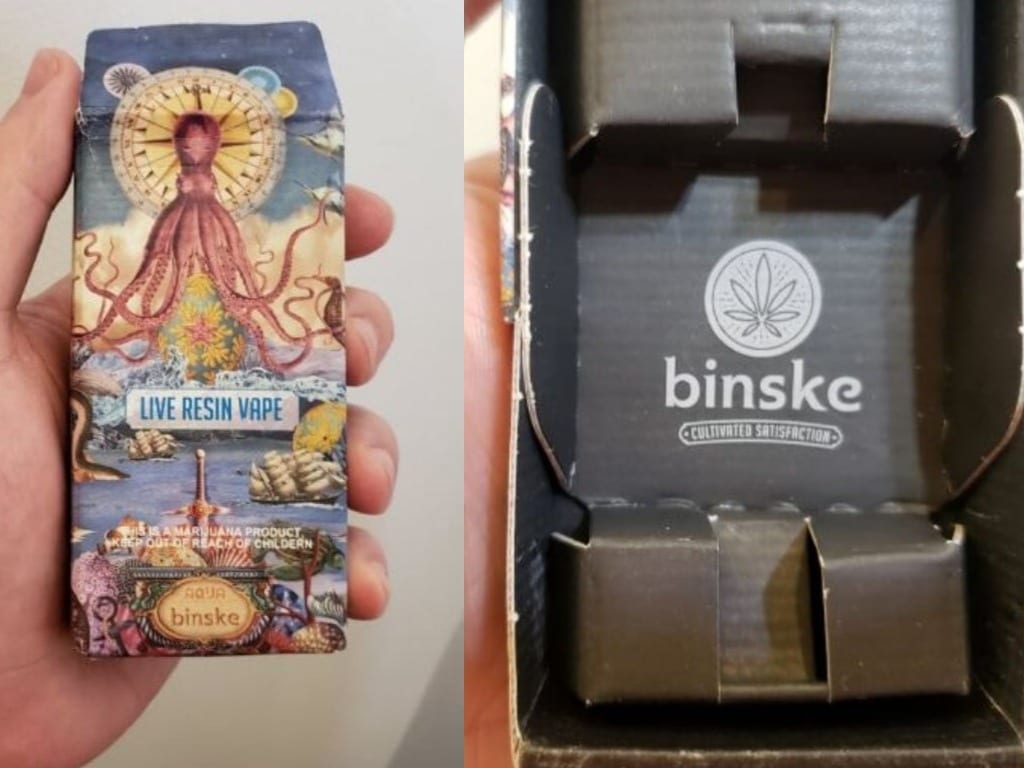 Concluding our review of Binske…
Binske continues to make substantial improvements to the cartridges. They have gone from a brand that was decent to something awesome. The cost is high, however it does vape for a really long time- the oil seems to last substantially longer than a lot of other cartridges.
Overall I think Binske is great and will continue to get them. Hopefully, they continue to keep strength high and the awesome flavor they got now.
You can find Binske cartridges near you here. And you can learn more about bens go to Binske's website.