As mentioned with Dank Vapes vs Mario Carts, each of these companies have changed the look of their cartridge. Because of this, a lot of questions and skepticism has risen for vaping these cartridges. Here, we compare Dank Vapes vs Exotic Carts and explain why we think Dank Vapes is the overall winner and better choice among the two THC cartridges. Check out our best cartridge lists for California and Nevada if you are in one of those states. All the choices are better than Danks and Exotics.
Dank Vapes vs Exotic Carts: Which company is more legit?
With the new packaging on Dank Vapes becoming more available online, skepticism has risen high for legitimacy. Because of this, fake Dank Vapes are becoming very unpredictable in authenticity. This being an extreme problem to the cartridge community, all you can do is follow up and identify if your's is legit or not.
UPDATE 9/11/2019: DISCLAIMER: In light of more recent news, it has become apparent that black market cartridges, counterfeit cartridges, and fake brands of cartridges have become more widespread than we had ever realized. We urge readers to apply their own discretion, and caution that at no point should readers assume that a review of a cartridge on our site is a guarantee of its safety. We advise readers to always verify their cartridges as coming from a legitimate source.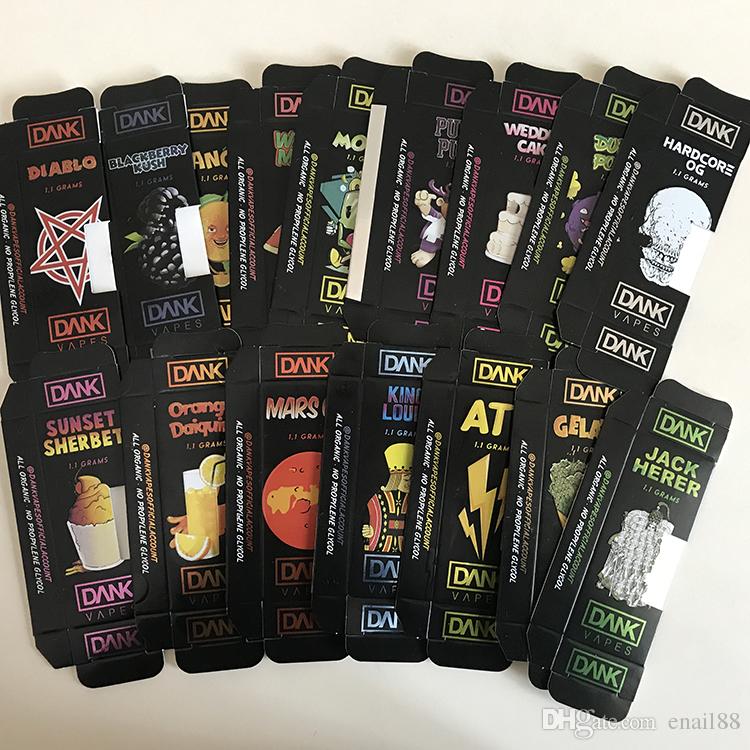 As for Exotic Carts, it seems as if someone is trying to re-brand and take over the company. It may not be official, but there has been new packaging and reconstruction to the cartridge. Giving a different look to the cartridge and the packaging. Just like with Mario Carts, they have engraved the logo directly on the cartridge itself. There is even packaging that looks familiar to Dank Vapes, coming in half grams and full grams.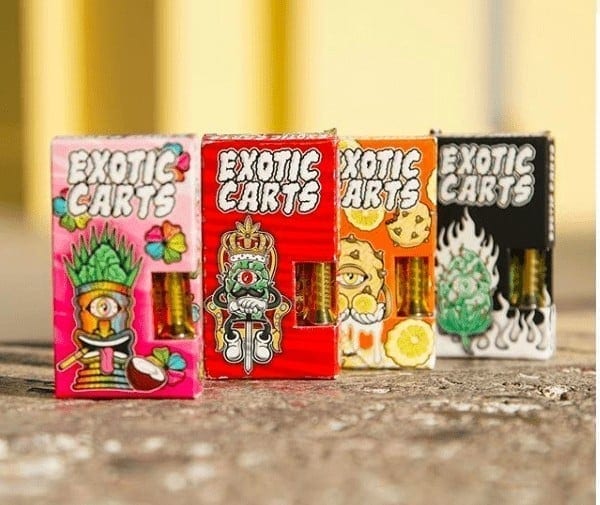 Both tested positive in pesticides
There are various lab results out for both brands, some testing positive and others testing negative. But for the most part, Dank Vapes and Exotic Carts both have negative results out, containing a few pesticides. The most recent results of the two came out around December of 2018. Because this is before both companies updated their packaging, hopefully they follow with updating their lab tests soon.
Dank Vapes vs Exotic Carts lab results: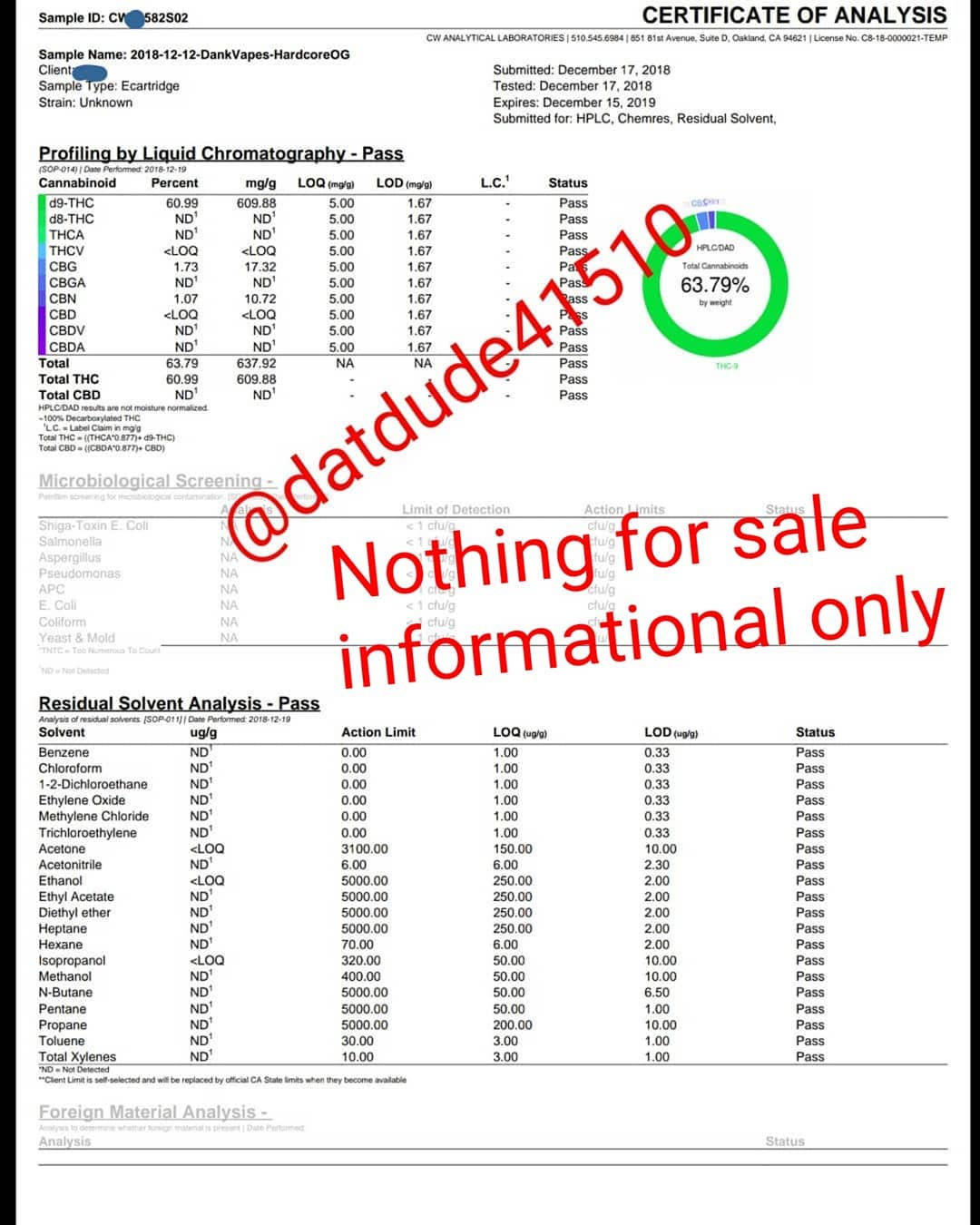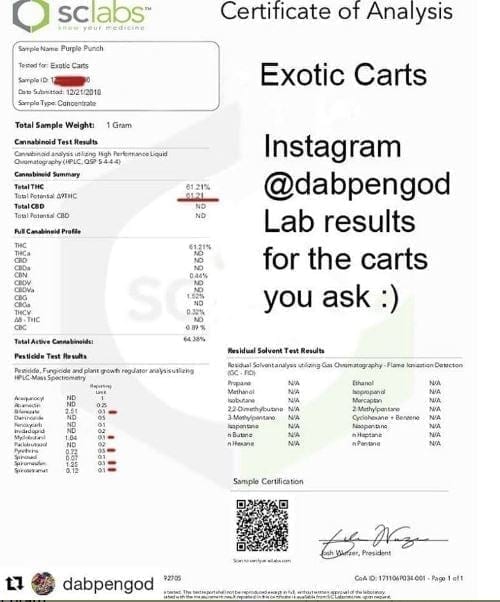 Dank Vapes vs Exotic Carts: Which brand offers better flavors?
Although Dank Vapes offer a variety of flavors, the Exotic Cart we tried tasted very bland and unsatisfying. We've once reviewed Exotic Carts Gelato and found a simple and bland taste to it. It actually tasted similar to Mario Carts LA Confidential, due to the fact that it lacked terpenes. Even though it did give a high slightly faster than Dank Vapes, nothing will compare its taste with legit Dank's.
As for Dank Vapes, the authentic cartridges will always taste amazing. The flavor of the distillate should always taste as listed on the packaging. We have unfortunately have found unofficial Dank Vapes. Tasting either extremely metallic, too bland or very strong in terpenes.
How reliable is the oil itself?
Although the oil is denser on the Exotic Carts, it does lack terpenes as mentioned earlier. This may be the reason the oil is dense, whereas Dank Vapes oil is lightly thinner. The Exotic Carts oil is decent and does move slowly. if you're looking for just a nice high, yet harsh flavors, Exotics would be better.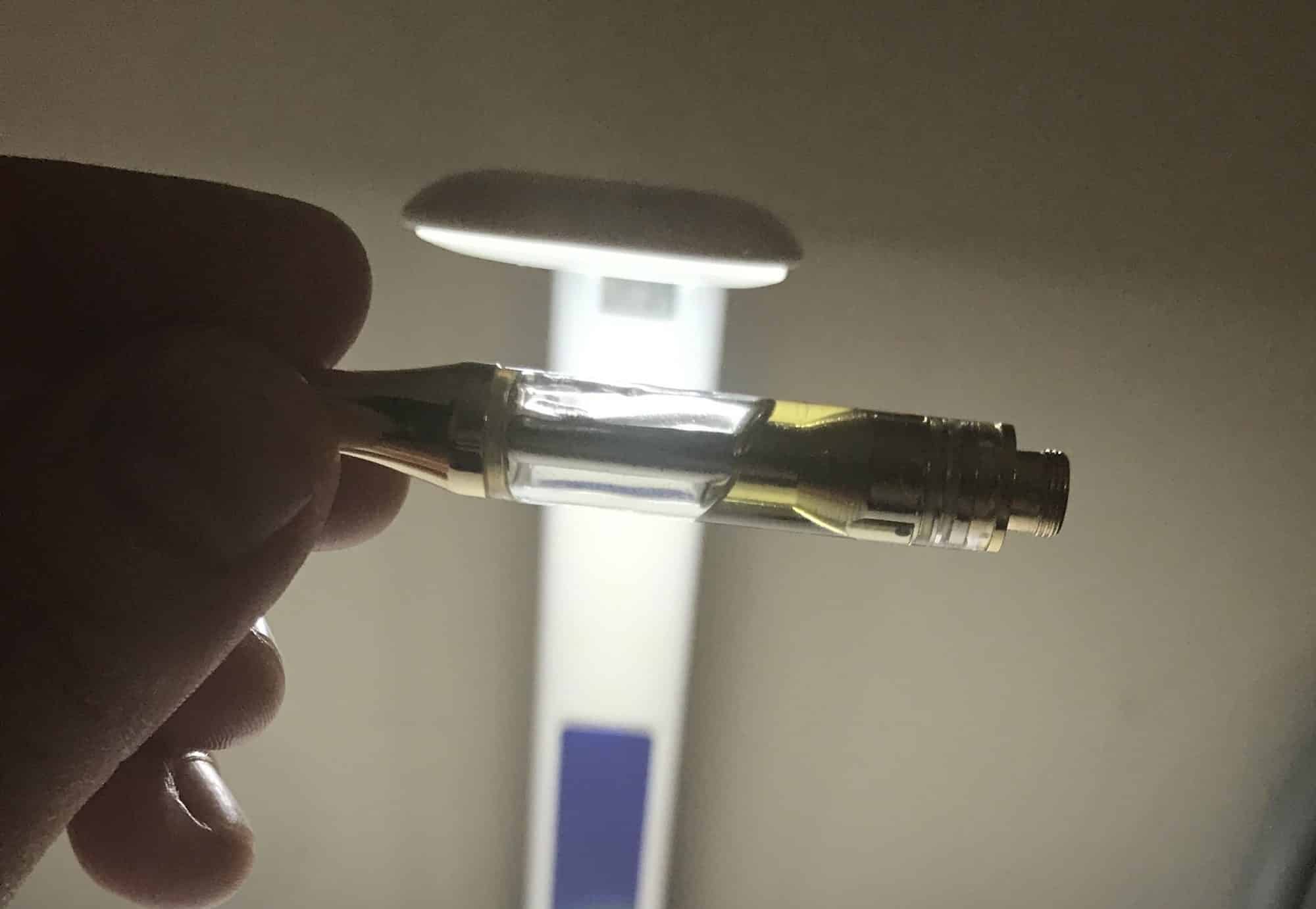 As for Dank Vapes, they are known for their taste rather than quality of oil. But regardless, the oil delivers a satisfying and strong high. Unlike Exotic Carts, where they may be tasteless, but the high is sooner.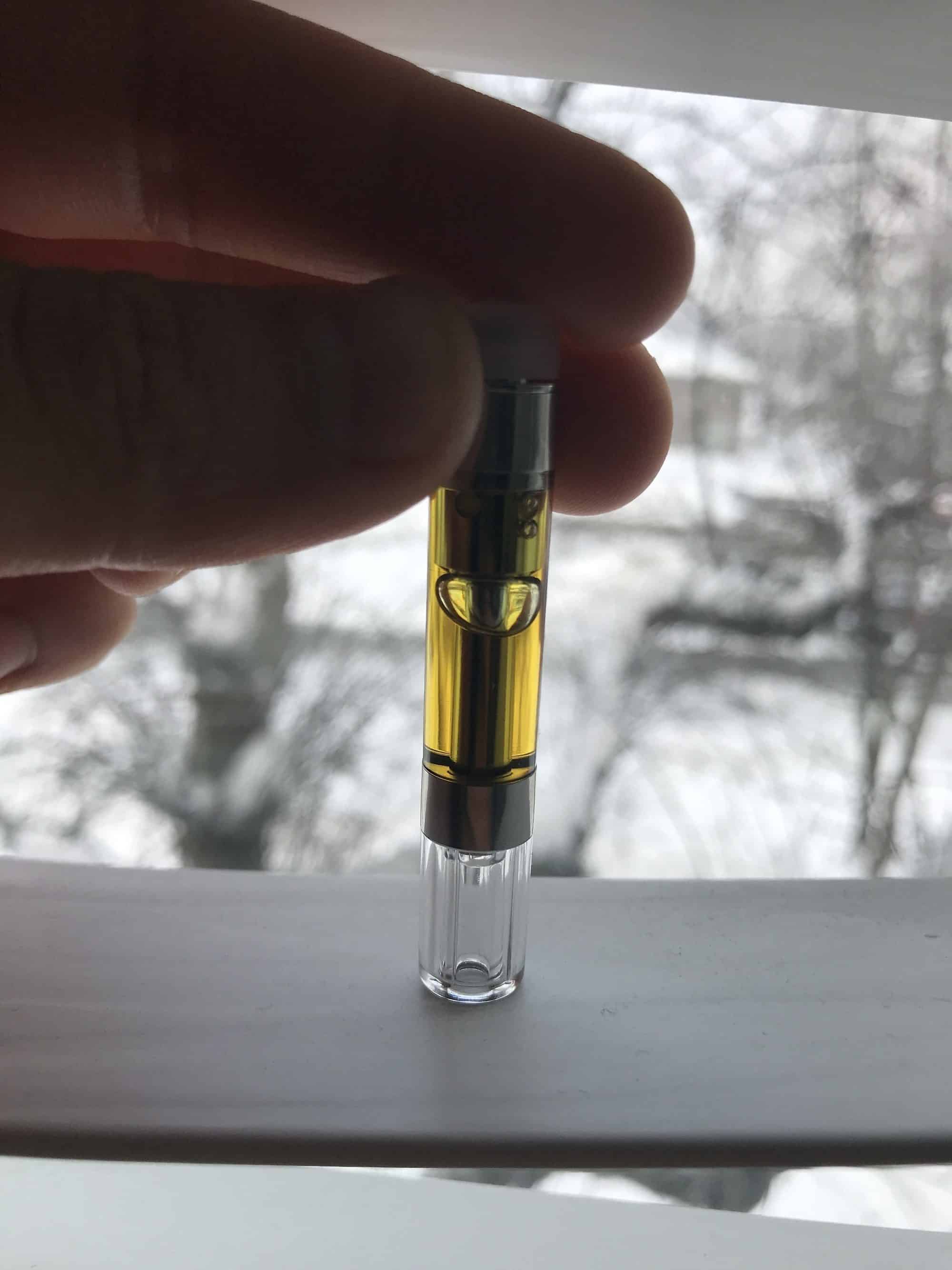 Efficiency between the two are good, but Dank's lasted longer
Dank vapes use authentic CCELL cartridges, specifically designed for thicker oil. This allows for more efficient and tasteful hits with the right batter mod. The unfortunate part is that the black market is still popular on Dank Vapes and fake CCELL cartridges. With fake CCELL's, they carry a weak atomizers. This gives light and unpleasant hits, sometimes this causes the oil to leak.
In regards with Exotic's, they use a very similar cartridge hardware, kind of like what Mario Carts use. The atomizer they have is a quartz coil that comes in a single plastic cotton. I expected a stronger atomizer just because it did give thick smoke when hitting it. The wire is wrapped around this coil and goes through, to the bottom of it.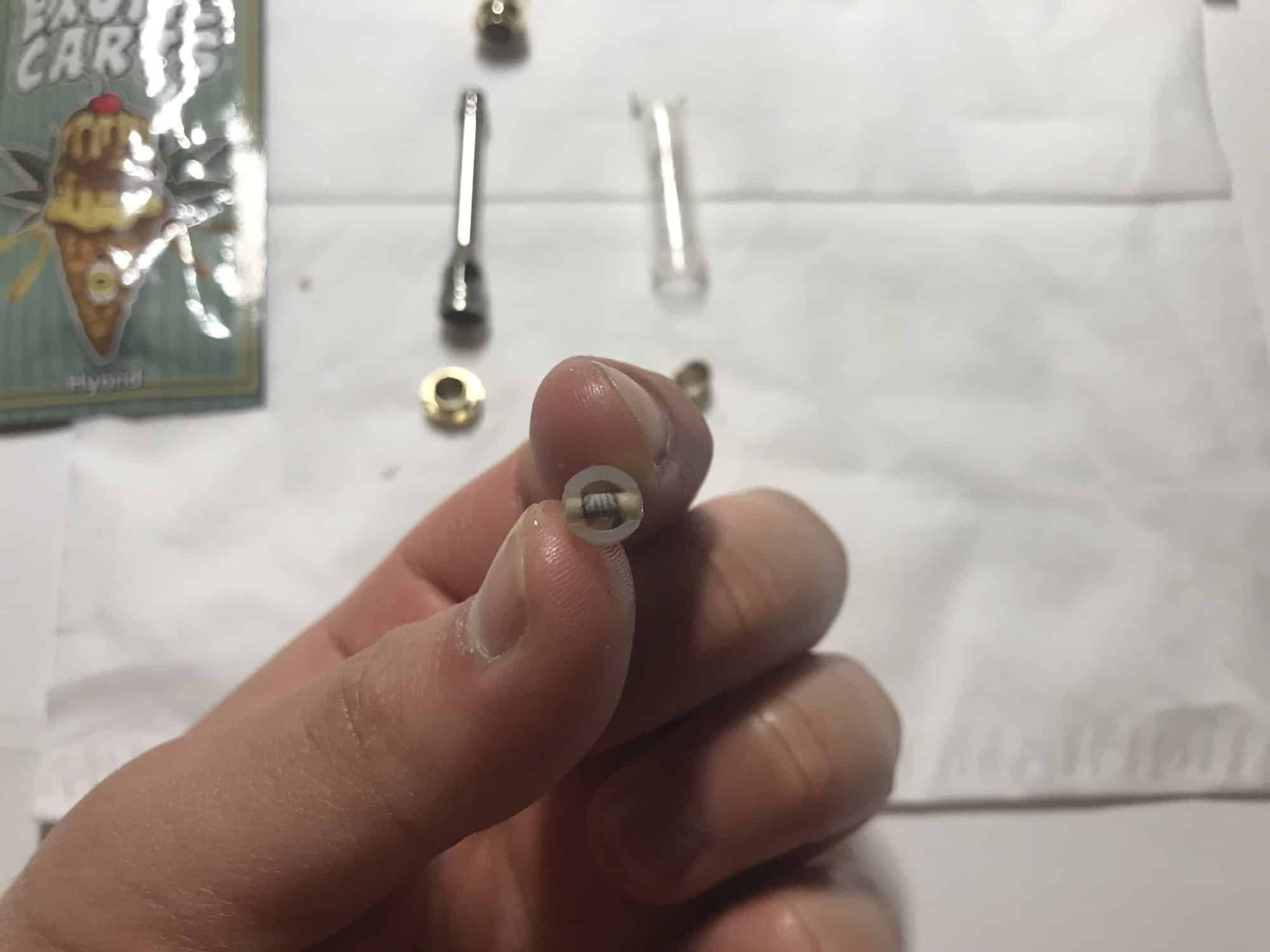 Dank Vapes vs Exotic Carts in value
You can find either cartridge for around the same price, $30-$40. Sometimes it may be a little more or less, depending where you're from. Apart from this, both of these companies aren't as credible or reputable as they can be.
Dank Vapes do have some background, for they appear to be made by Dankwoods. Another company that does not seem to have any valid registration we can find. The reason we go with them is just because Dank's are a lot more active on their Instagram account.
As with Exotic Carts, they have no official background what so ever. There are multiple Instagram accounts on Exotic Carts, but it's difficult to tell which one is the official page. With that being said, we can't tell yet how authentic and legit Exotic Carts really are.
Many fakes are being distributed for both cartridges
With many fake cartridges being sold in the counterfeit market, these two particular brands are popular among the cartridge industry. You can find both of these carts anywhere online. From Chinese manufacturers selling the packaging to pre-filled cartridges being sold through social media. All of this misfortune is leaving people unsure of these companies.
Even though Dank Vapes updated their packaging, the black market has already created duplicates of this packaging. Fake dank vapes are widely being sold in states that don't sell recreational cannabis. At times it may even be difficult to identify fakes because of how identical they look to the real ones.
Regarding Exotic Carts, it is still unknown where to find information about their actual company. We can't be sure how official these new packaging or cartridges are. What we do know is that there is a lot of fake Exotic Carts being distributed online as well.
Finishing off Dank Vapes vs Exotic Carts
Because of the lack of information and credibility on Exotic Carts, Dank's in our experience is the preferable cartridge. Both may have uncertainty to them, but Dank Vapes are a bit more known and just a little more reputable.
Overall, neither companies are as trustworthy as I'd like them to be. Dank Vapes are better just because of preference, every flavor really does give that amazing of a taste. But with their lab tests showing negative and all these fakes, it's hard to trust these cartridges. If both companies fix these set backs, they will become a lot more reputable and safer to vape. I know I would be picking up Dank Vapes more often. Dank Vapes is overall the winner between the two.
Questions or comments about Dank Vapes vs Exotic Carts? Which do you like better? Comment below or post in our forum!