REVIEW OVERVIEW

SUMMARY
We have a lot of new reviewers here at Dab Connection, which is awesome news for all of us. You get to hear from somebody besides Grumpy Pete, and I can review at a more leisurely pace. So after a brief hiatus, I'm back to review a CBDFx CBD Pen, 500MG of Strawberry Lemonade. It is mighty tasty!
Pros:
Strongly flavored
Potent CBD
Rechargeable oilpen
Broad spectrum
Full lab testing
Ingredients listed (are we worthy?)
Cons:
Those are not remotely natural terpenes
A bit pricey at $34.99
Recommendations: Not much to change since I can tell they're aimed at a high-end L.A. market.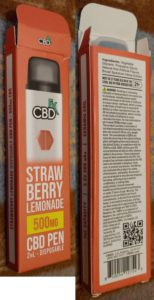 CBDFx Does Not Hold Back on Flavor!
As you all know by now if you read me a lot, I am a regular Grinch when it comes to sweet, sugary, candy-flavors. And this, in Strawberry Lemonade no less, is one of the most flavored vapes I've ever had. I don't taste the lemonade as much as the strawberry; exactly like strawberry shortcake frosting or a strawberry pop. The aroma exactly matches the taste.
While this experience is not remotely like tasting cannabis, I have to say, they really knocked out the flavor and for once this is a sweet tasting vape that did not choke me. So kudos to CBDFx for pulling that off. I actually vaped a sweet oil pen and enjoyed it for once, albeit the taste is as artificial as could be.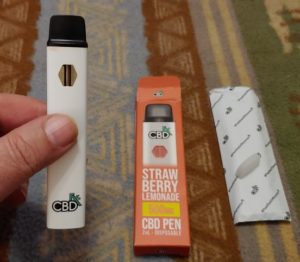 Potent CBD Effects
Naturally, if you use full cannabis regularly and your tolerance is up there, you won't be able to feel CBD. I, a pro reviewer and veteran psychonaut, manage my tolerance with watchmaker precision, all the better to report on altcan effects. CBD does not have psychoactive effects, but you feel it in the body and the joints. It's a deeply relaxing sensation, like a massage in a molecule, soothing and comforting.
CBDFx posts their full lab tests on-site – are we worthy? – including potency and safety. Thus, I am assured that CBD is all I'm getting here, but I do feel a bit of a nudge from the broad-spectrum entourage. Furthermore, they print the actual vape ingredients on the box ("natural and artificial flavors"), which is something I rarely see anywhere. So they get high marks for their transparency. While we're dwelling on the packaging, it also came with a foil freshness pouch, which doubles as an anti-tampering measure.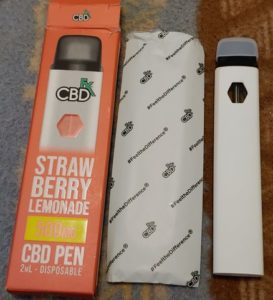 Is California Normally That Expensive?
The $34.99 price tag sticks in my craw, considering that this is just a half-gram of CBD. The maximum price for a disposable vape pen seems to hover around $29 normally. Those are full gram prices. So that's steep for 500MG of CBD, no matter how flavorful. With that said, CBDFx is out of California, headquartered in L.A. So this brand might be aimed at the boutique Cali dispensary shopper. If you're not in California, there are plenty of cheaper CBD pens out there, some of which even take the bold, risky strategy of tasting like cannabis.
Nevertheless, this is an excellently done CBD pen in all the ways that matter to the mainstream market. Find vapes and CBD products here. Readers, explain to me why everything has to taste like a birthday cake in Candyland, here in the comments or in our forum.