REVIEW OVERVIEW

SUMMARY
When I first heard of CBD a few years ago, I thought it only had one use: to keep you relaxed. It never dawned on me that it could be for other stuff. CBD Luxe is a company that definitely highlights ALL of the uses CBD can have, and this time they're keeping you in check through the entire day with their line of disposable CBD vape pens.
CBD Luxe carries three vape pens: Be Alert (daytime use), Be Clear (anytime use), and Be Calm (nighttime use). In conjunction with CBD, each pen has essential oils that will help you during each time of the day. Need to mellow out? Puff on Be Calm. Need some pep in your step? Use the Be Alert pen. Want to focus? Vape Be Clear. I need help in all three of those categories, so I reviewed every pen in the collection.
Check out our video review of the CBD Luxe Vape Pens here.
Pros:
Easy to use
Nice taste
Efficient
Cons:
Recommendations: Make a bundle that includes all three of the disposable vape pens for a discount since they are used at different points in the day.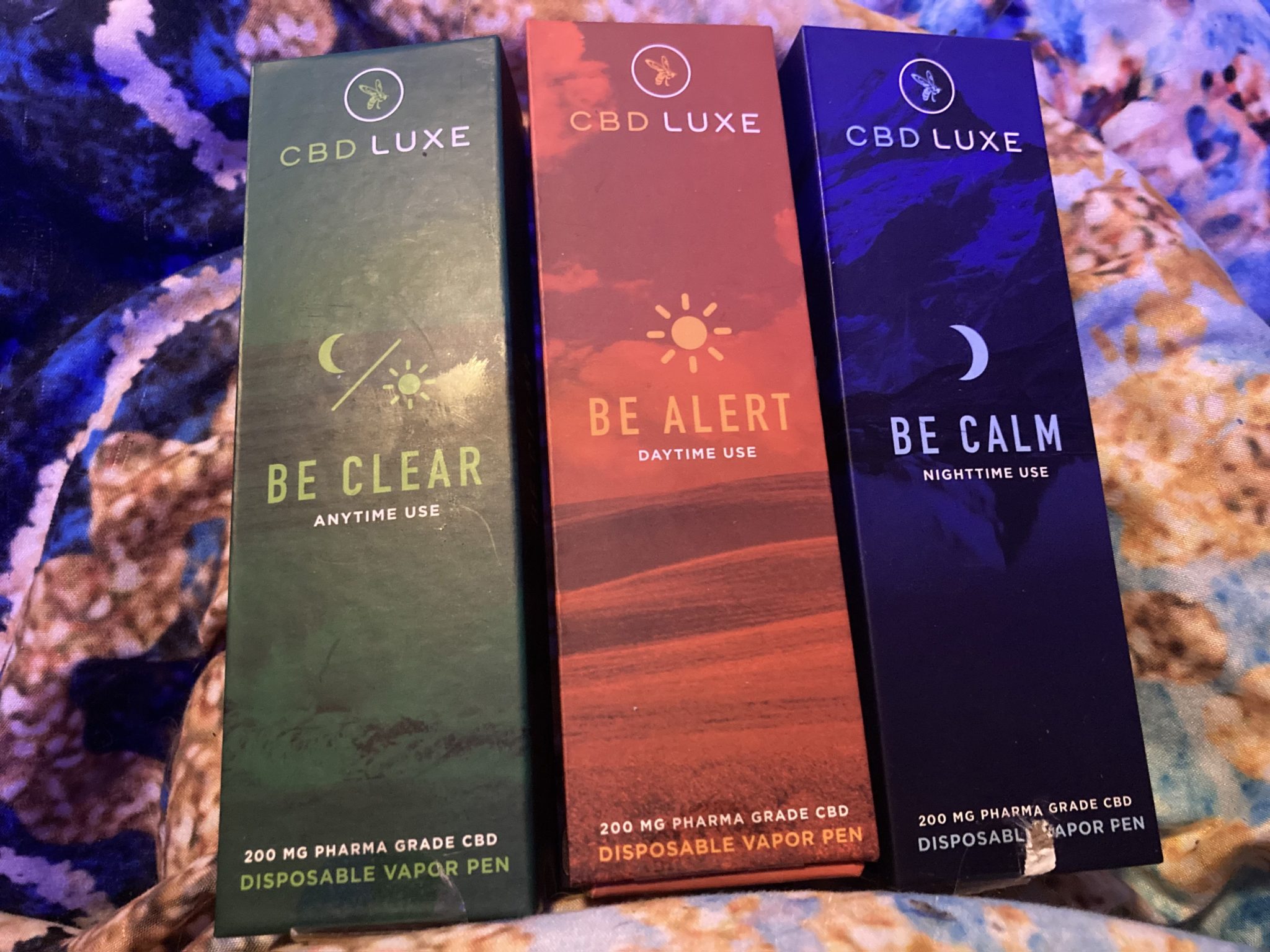 The design of the pens is modern and easy to use
Even though I love a good cartridge, the hit-it and quit-it convenience of disposable vape pens are top-tier.
There are no confusing moving parts to put together, and there's no need for a charger. This is helpful for people like me who tend to lose things. The less I have to keep up with, the better.
The CBD Luxe vape pens come fully charged and once you're out of puffs, you just toss them out. Each pen has a corresponding color and each time you take a puff the end of the pen lights up. It's easy-peasy and makes the smoking experience stress-free.

Great effects and potency that won't overpower your day
I use essential oils regularly for aromatherapy, and I've been starting to get into their individual uses when you smoke or ingest them. 
Using these pens reassured me about the truly amazing uses that essential oils have. Each pen did what its namesake set out to do. Be Alert definitely woke me up a bit, Be Clear gave my brain more focus to write, and Be Calm quieted my thoughts enough before bed to relax.
Let's get into the potency and what oils are used for each pen:
Be Alert:
200mg CBD

1 mL MCT Coconut Oil

 .66mg Essential Lemon Oil

.66mg Essential Lime Oil

.16mg Essential Ginger Oil
Be Clear:
200mg CBD

MCT Coconut Oil

.45mg Peppermint Oil
Be Calm:
200mg CBD

1 mL MCT Coconut Oil

.66mg Essential Lavender Oil

.66mg Essential Chamomile

.66mg Essential Valerian Oil
Each pen definitely does its thing, but not too much where you won't be able to get through your day. I actually found myself very productive. I puffed Be Alert when I woke up at 8 am, then used Be Clear a few times during the day, and I used Be Calm at about 9 pm when it was time for me to wind down.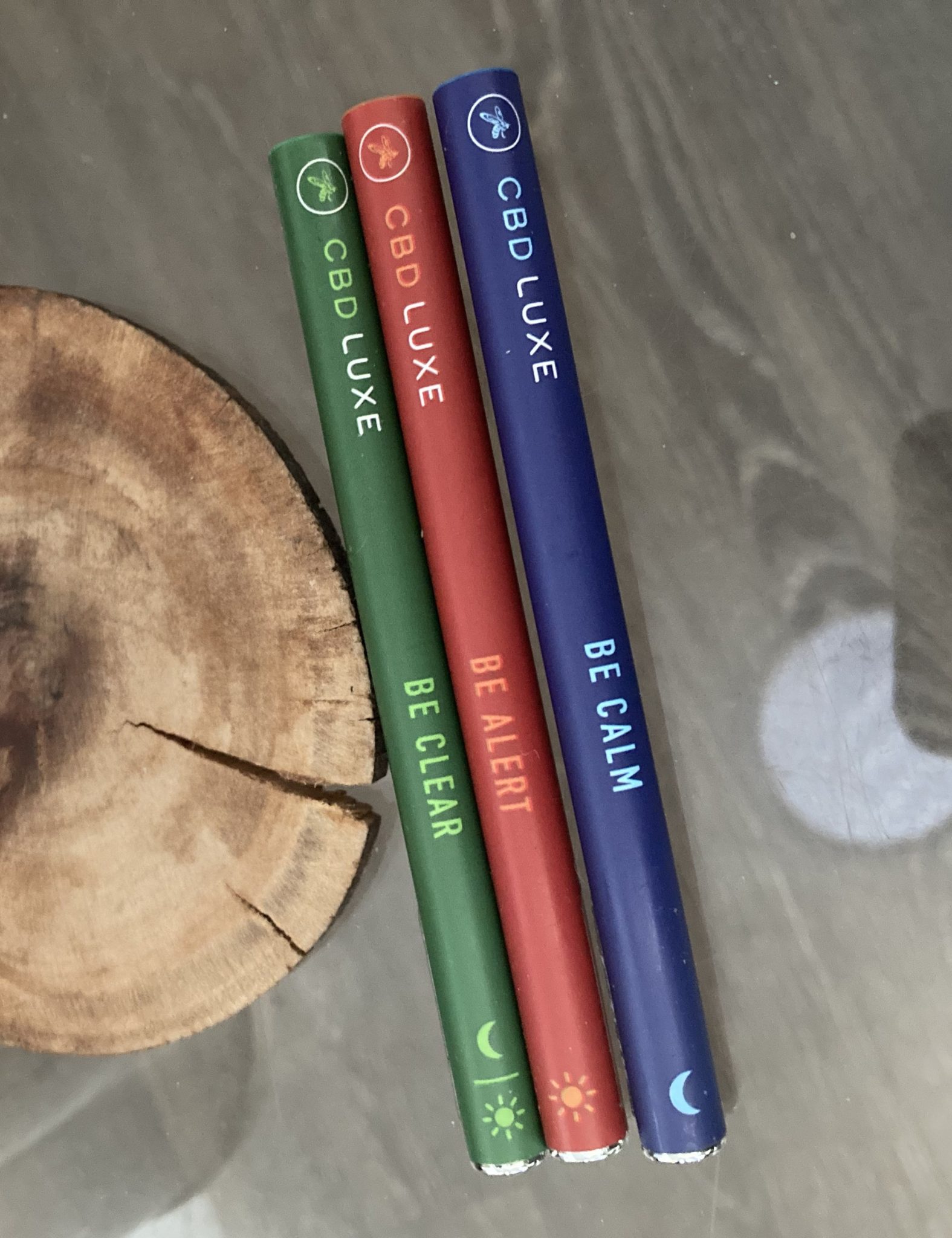 Be Calm hits the harshest, and Be Clear hits the smoothest
If there was any of the three pens that I'd expect to be the least harsh I'd expect it to be Be Calm. I mean, it has the word 'calm' in it, right? Well, Be Calm was the only one that I found to hit my throat the harshest. This is probably because of the types of essential oil used in the formula for Be Calm.
Be Clear is pretty much just CBD, coconut oil, and peppermint oil, which explains why it probably hits the smoothest.
The peppermint oil feels like your lungs are getting the best massage when you take a hit. Be Clear also tastes the best to me, but I love a good minty taste. 
Concluding this review
The pens are a decent value separately, but there should be a discounted bundle that includes all three.
Each pen costs $31.99, which isn't bad for the high quality you are getting, but I believe this trio works best as a unit. Therefore, I feel there should be an option where you get a deal on a bundle. Paying $95.97 pre-tax just to get all three seems like a lot.
You can find out more about CBD Luxe products here.
Have you tried CBD Luxe Vape Pens? Let us know in the comments or on our forum