REVIEW OVERVIEW

SUMMARY

Cobra Extracts crumble have bold and tasty flavors that are true to strain. At 65-75%, they aren't extremely potent but still deliver a nice euphoric effect. The prices are low and they are good for mid-day dabbing.
Just like all the rest of their products, Cobra Extracts crumble has one prominent feature. A distinct, full-flavor profile! These are dabs with an incredibly rich taste, though they have an average range of potency. Don't mistake the crumble for having weak effects. It just won't floor you in one hit. Read on to learn the pros as well as the cons and decide if its right for you in our Cobra Extracts crumble review.
Pros:
Full & Unique Flavor
Low Price
Smooth & Easy On The Throat
Pure, Batch-Tested Extract
Cons:
Mediocre Levels Of THC
Consistency More Like Wax Than Crumble
Recommendations: It may be difficult to achieve while keeping the bold flavor, but the crumble doesn't crumble. Instead of grabbing a chunk, you usually have to scoop it up. Higher levels of THC would also be a bonus.
Licensing Information: Adult-Use Mfg. CDPH-T00001713 Distributor C11-18-0000340-TEMP Medical Mfg. CDPH-T00001713
See our video review below and keep reading on for the more in depth review.
Cobra Extracts crumble offers value to the right user
If you're looking for a crumble that will knock your socks off in one vape, Cobra Extracts may not be the right choice. That doesn't mean it's not worth having. Beginners may appreciate a less intense effect at first, and they aren't the only ones.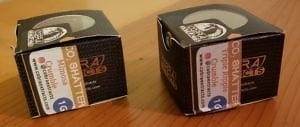 In the middle of a busy day, plenty of folks may go for vape of crumble if it doesn't wreck them. One thing Cobra Extracts crumble does offer is a bold taste in every strain. A smooth exhale and delectable flavors highlight every vape.
Crumble quality is average to above average
Let us be fully transparent here. We didn't get to our crumble right away so the heat may have affected it. It's strange, though, because each crumble is different. You can see that the Mimosa is in the form of a glob while the Triple Ripple looks more like a crumble.
When you take your dab tool to them, however, they both have a waxy consistency. The appearance of Cobra Extracts crumble is much more reassuring than the consistency. Mimosa has an off white, creamy color while the Triple Ripple looks like golden honey.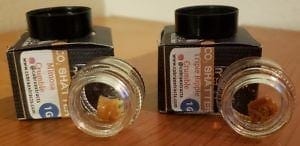 At 65-75% THC, Cobra Extracts crumble has mid to range potency
There aren't any exact statistics for Cobra Extracts crumble on the box or on the company website. They do state the concentrate in their cartridge oils range from 65-75% THC.
This level matches up with effects of the crumble. After trying 6 different carts and two types of shatter, the Cobra Extracts crumble seems to be the weakest of their extracts, but in general crumble is weaker than shatter, and these days even than some carts like I found when comparing them to the Cobra Extracts cartridges.
One dab gives nice, though not extended effects
Saying the levels of THC are average doesn't mean the crumble doesn't work. It is, after all, super-concentrated cannabis in a dab. Take a larger chunk or scoop of Cobra Extracts crumble and it will get you going. It's not a concentrate that will stump you like Cannavative shatter, and the effects won't last as long.
The taste is unique and bursting with flavors
The taste of Cobra Extracts crumble is where it really stands out. In fact, all of their extracts feature bold flavors that are very true to strain. I can't quite figure out the Triple Ripple, except that it tastes like you're eating an orange. Their Mimosa crumble leaves a strong taste of lemon that lasts on the tongue.
Many companies use solvents in the extraction process then refine it to remove any residue. This also tends to remove the flavor. Cobra Extracts uses a solventless CO2 cold extraction technique which really keeps in the flavor.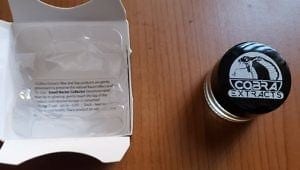 Cobra Extracts crumble will make you cough, but isn't harsh on the throat
Take a medium to large size vape and this crumble will probably send you coughing. Most crumbles will do that as they expand in your lungs. Cobra Extracts crumble doesn't burn your throat on the exhale as some do. It's not the smoothest crumble out there, but with that much flavor, it could be really hot.
Good value crumble due to flavor and low price
For those enthusiasts who are after a great tasting crumble and THC level isn't everything, Cobra Extracts offers good value. Available in select California dispensaries, the price is on the lower side. As it currently stands, Cobra Extracts crumbles are hard to find. Top Shelf Collective delivery service in Hollywood carries a good selection of their other products, all at low prices.
Cobra Extracts crumble review wrap up
Keep an eye out for Cobra Extracts crumble as well as their other products when you visit your local dispensary. For the asking price, they make a nice backup or mellow vape when you want it. You can't beat the flavor and the crumble is pure. With a wide range of strains, these crumbles are sure to be a hit.
If you want to learn more about Cobra Extract, visit their website here. And please don't think twice about leaving a comment or asking a question on our Forum. We'd love to hear from you.