REVIEW OVERVIEW

SUMMARY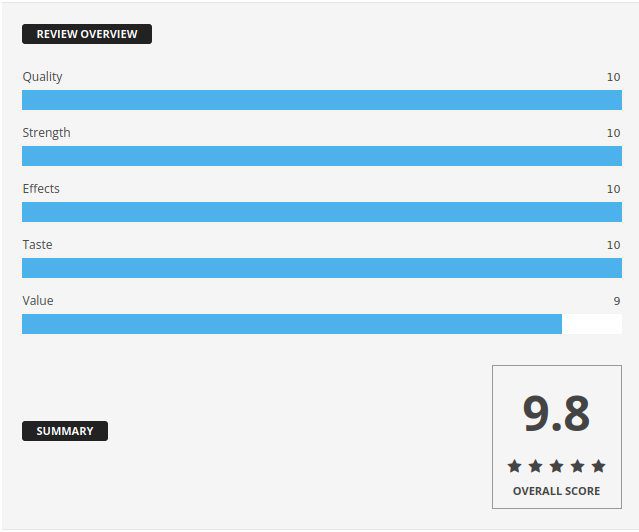 Out of the clear blue, with nary a rumble of warning thunder, I was bestowed a box of mystery and intrigue. Here in the Midwest, good dabbing extract is hard to come by. So when I get a chance to crack into a box with not one, not two, but three delightful extracts – all THCA so farm bill legal – it's already an unusual day. The box arrived like a dispatch from an alternate universe, a message from whatever alien tribe has a palm tree with weeping eye logo. Within were a set of 3 two-gram jars, in a variety of flavors and consistencies.
Every single hit I have taken off these extracts has been a dynamite blast, no notes! See my complete rave about Rave Exotics in video here. However, I need to sort out some confusion, cleared up after communication with the rave people: The brand is launching this month; PUR IsoLabs is just a retailer selling for them until their site comes online any day now. However, they are more interested in selling wholesale to dispensaries, so bug your local dispensary if they don't stock creamy budder dabs like these!
UPDATE 10/26/23: While we still see no sign of a Rave Exotics shop, Pur ISOLabs has a Rave kiosk now with 2G extracts going for $52!
Pros:
Potent!
Perfect extracts, no solvent, made with creamy rozin and chunky diamonds
Fantastic flavors, best I've tasted in awhile
Smooth hits
Attractive packaging
Cons:
Recommendations: Is a lifetime supply too much to ask?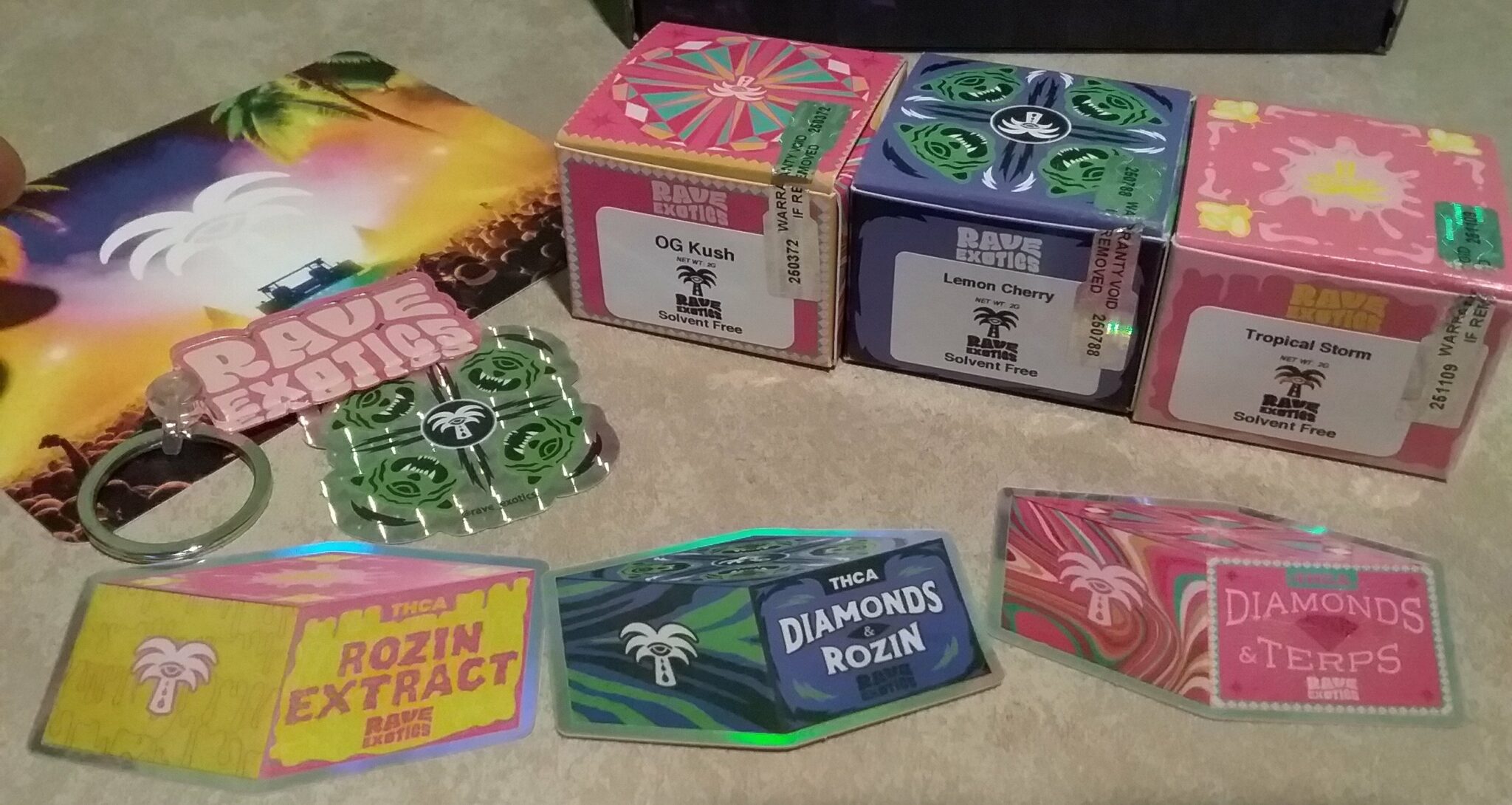 THCA Dabs Done Right
Previously on here, I have expressed enthusiasm for The Despensary (Des Moines Iowa) house THCA diamonds, which are good for what they are, but pretty much the only choice for a local extract. While they deliver a good, buzzy hit of THCA, there's no terpenes or flavor to speak of. With that being said, cannabis extracts are almost a rarity in any state without a full legalized market, let alone extracts that can be legally mailed.
But Rave Exotics has risen to this challenge, which makes me ask, "why doesn't this happen more often?" My guess is that most of the skilled extractors prefer to work with straight D9THC in legal states, to scarce for an altnoid operation to attract one. Or I dunno, aliens. It seems too many cannabis companies out there are simply run by people whom aren't very experienced in the market and don't know what a good dab looks like.
Rave Exotics knows their dabs like nobody's business. The Rave box contained:
THCA Rozin Extract – "Tropical Storm"
THCA Diamonds & Rozin – "Lemon Cherry"
THCA Diamonds & Terps – OG Kush
All three of these are solvent-free, and knocked me out with their quality. Let's zoom in and get to know this delightful line-up: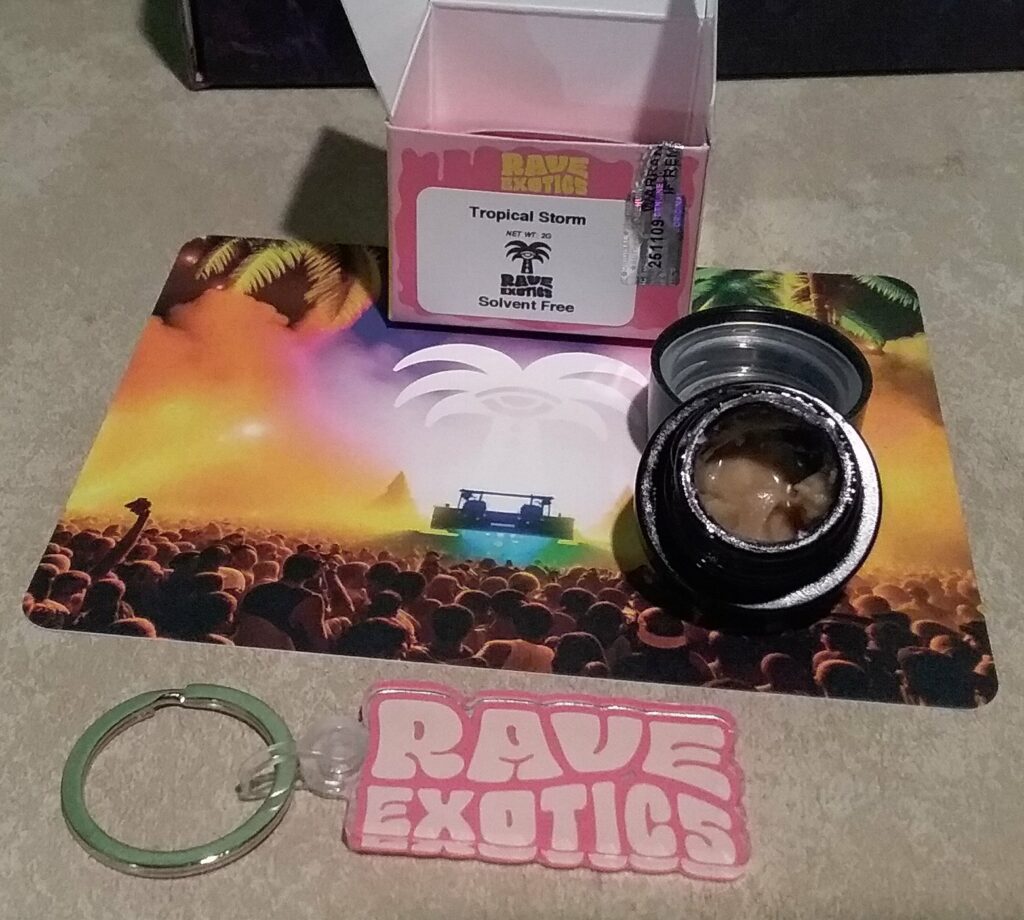 Tropical Storm – Creamy and Fruity
This is my first time seeing THCA in rosin form, and it was delightful! In the video I refer to it as a "budder," truly a creamy consistency like a yogurt. The aroma here is a light and sweet fruit bouquet, which carries over into the flavor. This is the classic consistency for dabs, easier to work with than wax. I was amazed from the first puff to the last; the taste was not unlike a fruit punch and yet was not cloyingly sweet. Just delightful to dab, easy to handle, and an intriguing flavor that calls me back. The effects are first-class, a potent euphoria with a rosy glow from the entourage effect.
While all three extracts hit about the same in terms of effects, I think the Tropical Storm had the lightest, most energetic and stimulating feel. But honestly, at this potency and quantity, I'm pretty much melting myself into the couch from sheer stonage no matter how much limonene you pump in there. Never mind, this left me outrageously cheerful and inspired, and also relaxed.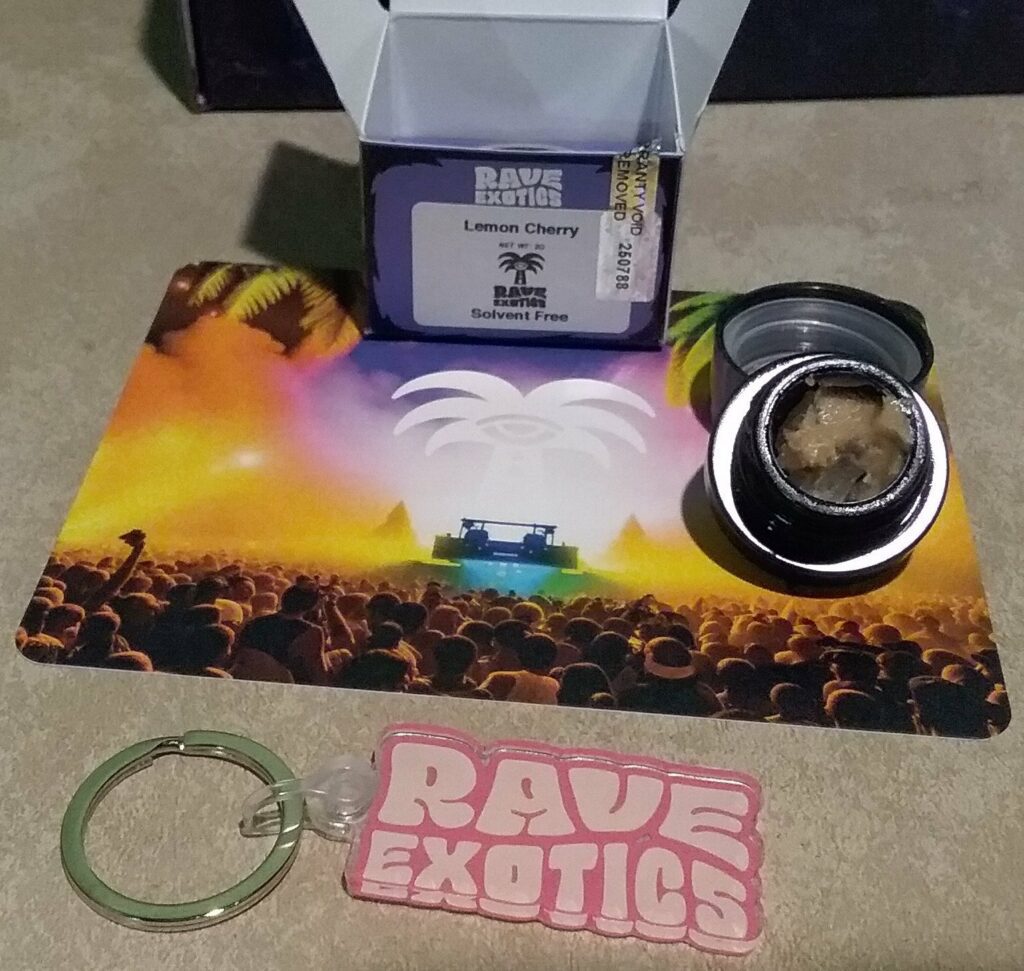 Lemon Cherry – An Intriguing Soup
"Diamonds & Terps" turned out to be a unique diamond sauce combination. I would not say "blend" because the jar was straight-up white THCA crystal diamonds, chunky rocks, with a topping of rich and creamy rosin like they drizzle the icing on cinnamon rolls. From the top, I at first thought it was mostly rosin with some sugar THCA crystals sprinkled in. Only after a few hits off the jar did I dig down to the true glaciers of diamond chunks below, and I actually had that moment when you discover a second layer of chocolates below the top tray. As for the flavor, "Lemon Cherry" describes it perfectly, a balance of tangy, fruity terpenes in the rosin, miraculously not tasting artificial. The diamonds are straight THCA, so what you have here is the option of more or less sauce on your diamonds.
Dabbing these were another delight, and it was a gas feeling the effects of just the diamonds, just the sauce, and then both together. Again, all three of these had hybrid-ish effects. but the Lemon Cherry seemed the most couch-locky to me. I was cozy and relaxed, downright jovial, but keeping just enough drive to bury myself in a hobby to putter with for hours on end.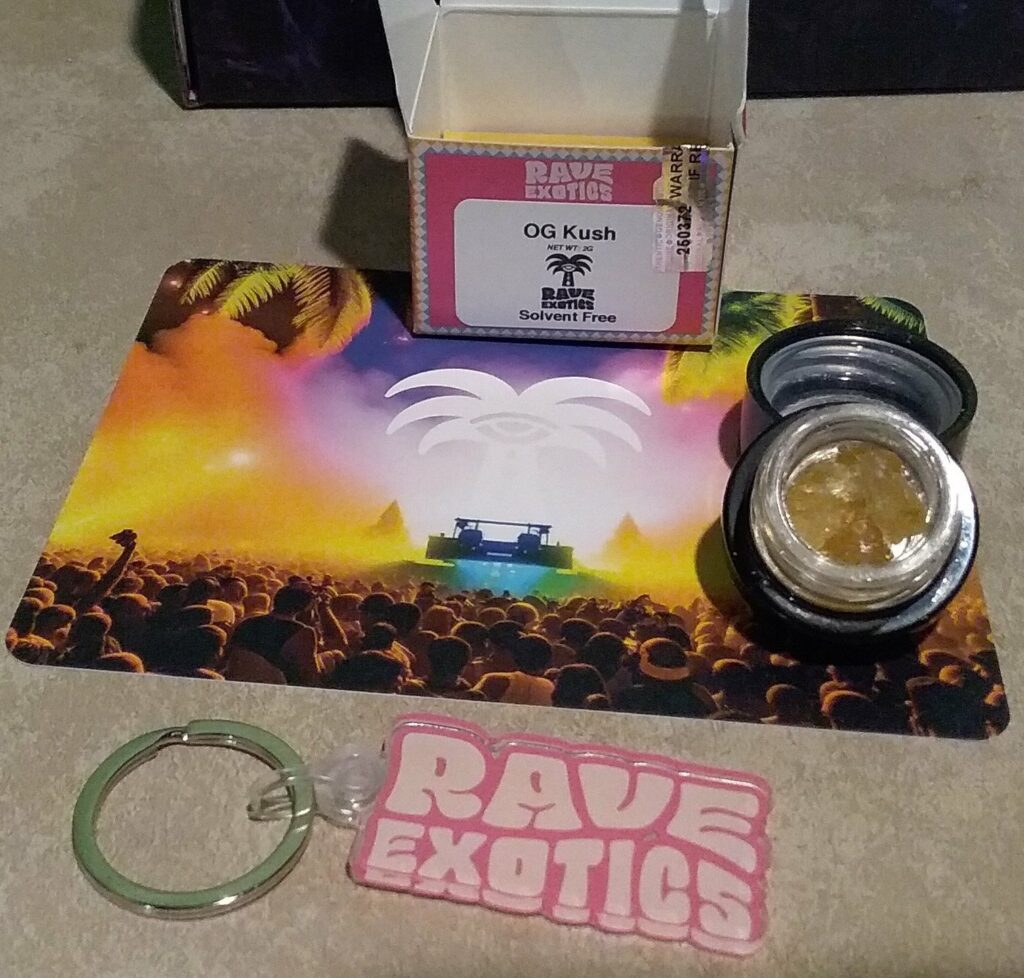 OG Kush – Diamonds at the Ritz
The OG Kush, true to its name, had a musky and piney aroma, promising a truly profound high. These are straight-up THCA diamonds, but golden in color, allowed to steep in just enough terpenes to feel like full-spectrum diamonds. Melting their sappy goodness on a hot nail produces a rich, almost tea-like taste from vapor off the dark brown melt. Here again, the taste is smooth as anything, producing a hearty dab that's nearly refreshing.
The effects from this one hit hardest of all, and yet produces a clear-headed and euphoric buzz, perfect for social conversation. The entourage produces a warming, cozy sensation, so it's just as good for provoking a nap if that's your bag. This is a hit classy enough to inspire poems, to ask to be enjoyed over brandy and cigars and stimulating company.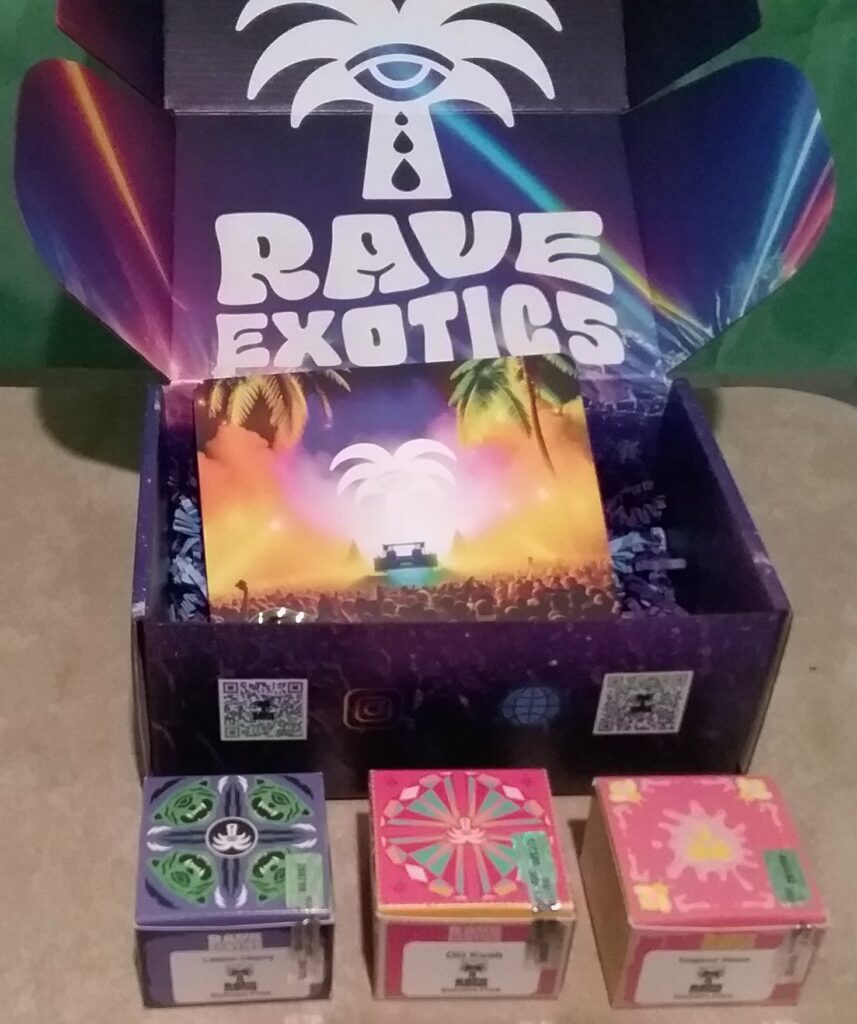 Rave Exotics Coming to a Dispensary Near You?
Now, in the video I guess that Pur ISOLabs and Rave Exotics are related somehow, since there is no Rave site but the QR code does go to the Pur ISOLabs page anyway… which shows no product. Actually, Pur ISOLabs is a retailer, as is Kush.com (where I also find Rave Exotics), selling preferably to retailers. I was getting quite bemused at what was going on. Tell me your secrets, weeping-eye tree! Whence came you? I know the box didn't mail itself.
After some contact with the company liaison, I find out that Rave Exotics is just about to launch its own website, this is a new venture, and their main focus is on securing third-party distributors. As I understand it, you will be able to buy these 2-gram jars at (don't quote me on this) around ~$60-ish. But they offer lower rates to supply dispensaries, where ultimately you might get a better deal. So – bottom line, if you live in a state where full-rec cannabis legality lies in the distant future, but stuff like delta 8 and THCA is OK, AND you want to experience this rosin and diamond goodness for yourself, bug your local retailer to stock Rave Exotics – we will put up a link as soon as the Rave people send us word.
Update: Pur ISOLabs sells individual 2G Rave Exotics extracts going for $52, get them there.
Readers: How is the dab scene in your state, particularly on the altnoids scene? What is your interpretation of the weeping-eye palm – does it see all and know all? Share your vibe in the comments below or in our raving mad forum.
###