Here we are with 7/10 just days away, so it's time for another Dab Connection best-of round-up. Think of these as our Golden Buddha awards, but just for dabbable concentrates and extracts as hand-selected by our experts.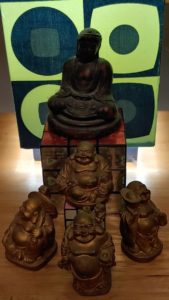 As always, we are limited by what we can get our hands on. So this should not be taken as a comprehensive "best of" the entire industry, just the ones we've tried that we can vouch for. These extracts delighted our reviewers, drawing them to award them top honors for a spot on our list. Fire up your torch and your cold start rig, and we'll revisit our top sauces!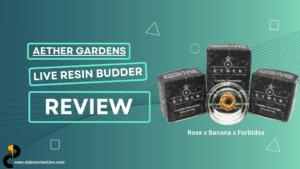 > Miles: "Aether Gardens Live Resin Budder from Aether Gardens is a high-quality concentrate that is sure to please. It has a complex and flavorful profile, long-lasting effects, and a smooth and creamy texture. If you are looking for a potent and flavorful concentrate, then this is a great option that was at a great price of $18. for .5g. "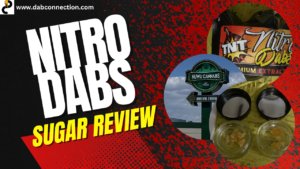 > Miles: "It's earthy in the best way possible. Then the high hits, and fast I might say. It's very uplifting and time delaying. I had a smile on my face and was not sure why, and moreover did not care, I was happy! I always love high amounts of caryophyllene, it makes me laugh."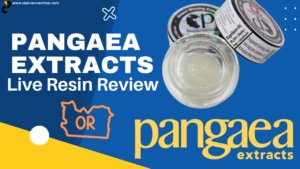 > Kira: "[One hit and I could feel the effects. The Kaprikorn OG put me in a relaxed state and made me feel "floaty", light as a feather even. As for the flavor, it was fruity! And boy did it give me major munchies.]…[The Kaprikorn OG is specifically known to help with depression, anxiety, and in some cases cramps (o la la ladies!), and that is what it did for me. I have high-functioning anxiety and after smoking, I felt happy, floaty/relaxed and the munchies came strong!]"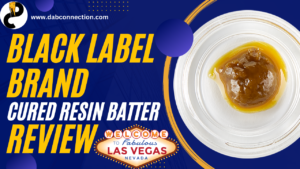 > Miles: "[The bouquet of flavors this cured resin gave was something like a fruit cocktail dominated by lime. It was quite good, to say the least.]…[Over all the profile was fantastic, the high was great and for $15 it was amazing, a great deal, and great fun. I hope they have this on special again soon, I'd like to get some more soon.]"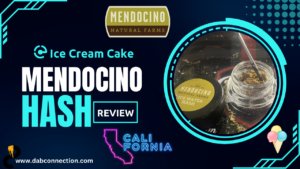 > TR Sun: "[Overall, I would give this product a high rating with some truly exceptional features that set it apart from other concentrates on the market.]…[The color was a rich golden brown that was incredibly appealing. It was clear that care had been taken in producing this product, and it was a pleasure to work with from start to finish.]"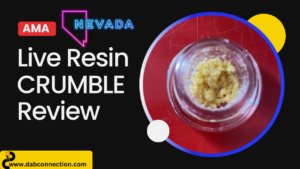 > Miles: "[Overall, even at a normal price, I'd pick up the AMA double solo burger live resin crumble again. Its happy body high was really nice and it lasted a fair amount of time, worth the $15 for sure.]…[the AMA double solo burger live resin crumble was of the highest quality and is something I'll pick up again]"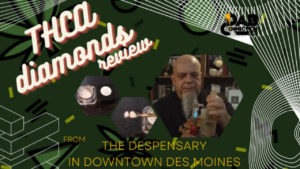 Not much help to those who live outside Iowa, but this in-house product by the closest thing to a full dispensary the state can have deserves special mention. Transfer the equivalent expectations to THCA diamonds near you.
> Pete: "What hit me next was one of those highs we stoners seek out and chase, but don't always recapture. Heady, exhilarating, inspiring, lucid, and euphoric as hell. You could have dropped a bowling ball on my foot, torched my Magic the Gathering collection, and insulted my podcast and it would not have removed the smug grin off my face. "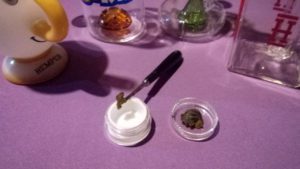 Our Hello Mood dash review got an unusual amount of notice, so the rest of you must have been as curious as we were! We will revisit Hello Mood to try out more of their products soon.
> Pete: "The effects are outstanding! Hello Mood hash kicks in pretty quick after a few puffs. It delivers an uplifting, euphoric high without too much brain fog. The peak of this buzz lasts a good two hours, but wears off faster than, say, a bowl of equivalent weed would. With that said, it's about the best bang you can get for smoking something you load with a dab tool once, very much equivalent to dabbing a concentrate."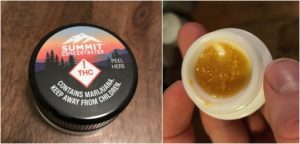 > Aiden: "Opening the container, I was immediately struck by the strong pine scent that comes off of this extract. The live diamonds created a beautiful texture to the extract, and made it look oh-so-dabbable. The texture made it easy to grab a decent-sized diamond with my dab tool, and it held its shape very well as I heated my dab rig."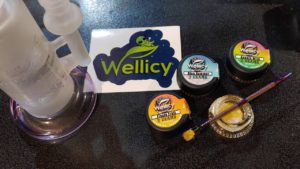 One rule of business is "find a need and fill it" – it's not hard to rise to the top of an under-served niche. In a world where good delta 8 wax is nearly a myth, Wellicy comes right out of the gate and ships interstate too!
> Pete: "[All three varieties have a knock-out punch, so much so that I suspect they might have shipped an extra-heavy batch.]…[Handling is perfect; the consistency is a good sticky wax which still handles easily with the dab tool. All are expertly purged and taste clean and clear.]"
Readers, what are your 7/10 recommends?
This Monday is 7/10 – and what an excuse to take a 3-day weekend! Readers, share your favorite stuff to dab, however you dab it. Or share your local dispensary's 7/10 deals and sales. Here in the comments or in our sticky forum.