REVIEW OVERVIEW

Design & Build Quality

8.5

SUMMARY

Jetty Extracts Gold cartridges offer the taste and potency only quality oils can bring. The number of puffs is just a bit low and the tamper-proof seal needs improvement. Also, the package has a batch number but doesn't provide the name of the lab.
DabConnection is happy to bring you another new brand to our growing list of cartridge reviews. This time it's Jetty Extracts Gold under the spotlight and the Sativa dominant Maui Wowie. Coming from the licensed Mankind dispensary in San Diego, quality assurance is what we're after. Take a walk out onto the Jetty in the following Jetty Extracts cartridge review and see why it made our best vape cartridges in California list.
Pros:
High Potency
Robust Flavor
Durable & Comfortable Cartridge Design
High-Quality Concentrate
Tested Clean in an Independent Test
Cons:
High Price Tag
Light On Number Of Puffs
No Visible Proof Of Purity On Package For Each Unit
Weak Safety Seal
Recommendations: We love the new CCELL cartridge design over the old wick style. The oil vapes up faster than other similar brands.  It would be best if Jetty makes obvious the lab doing the testing and includes the information on each cartridge. They have tested clean though when independently tested.
Licensing Information: C11-0000-374-LIC, CDPH-10002243
See our video review below and keep reading on for the more in depth review of Jetty cartridges.
Jetty Extracts improves & offers a superb cartridge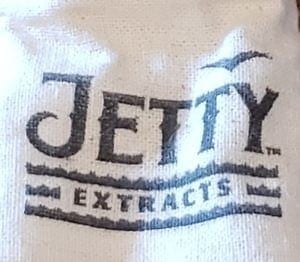 I remember Jetty Extracts cartridges from a few years back. These days, they no longer use the wick draw system of old but the preferred c-cell design. It's the slim style that doesn't come to close to the outer glass. At the base are four evenly spaced absorption holes. Their positioning at the very bottom ensures very little oil residue left over.
One thing I do not remember from the old style cartridges is such fantastic flavor and potency. It's possible that my memory is just fading, but the Jetty Extracts Gold cartridges seem much better in this regard. Despite a few issues with packaging and labeling, these are fine cartridges indeed.
The Jetty Extracts Gold Maui Wowie is full of flavor & true to strain
With all the different cross-breeds of Maui Wowie, we can only say that the flavor hits home. Tropical reminiscents of Hawaii burst over your palate with hints of citrus, earth, and pineapple. Jetty Extracts Gold Maui Wowie is strong and it doesn't take much of a vape to enjoy the full flavor.
Jetty Extracts Gold Maui Wowie packs a potent punch at 88.36% THC
The potency of the Jetty Extracts Maui Wowie is up there and effects set in fast. Energy and a positive vibe result after a single draw from this cartridge. Like other premium carts, the packaging provides percentages as well as levels by mg. The .5-gram Maui Wowie cart has 441.8 mg of THC and no CBD.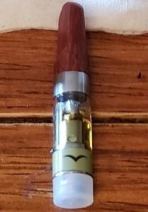 Jetty carts are durable and include a comfortable wooden mouthpiece
Jetty Extracts Gold cartridges start with the usual 510 threads at the bottom. Above that is their seagull logo with a green border that covers the ignition system. Next is a strong glass tube with the ceramic center and metal drawtube inside. Above the glass tube is a metal ring and then a smooth wooden mouthpiece. The mouthpiece does not unscrew making the cart non-refillable.
Carts come with a tamper-proof seal
Jetty Extract Gold cartridges use a sticker as a tamper-proof seal which isn't that sticky. It would be easy to peel it off and get to the cart inside, then reapply it later. The package is a cylinder that you twist and lift to open. A small gunny sack with drawstrings on the inside holds the actual cartridge.
Jetty Extracts Gold Carts provide a batch #, but no lab to verify with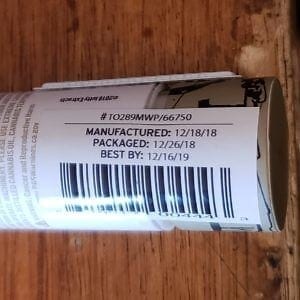 Nowhere on the packaging or on the company website does it show the lab that does the testing. Since there is a batch number, you would assume that means you can check the results of testing. I have an email out and will update the post with their answer. Besides a batch #, Jetty Extracts shows the manufacturing, packaging, and best by dates.
$35.00 for a .5-gram cartridge at a licensed CA dispensary isn't bad
It sure would be nice to see that price drop lower, especially considering the $35.00 is before taxes. That's right. In a licensed CA dispensary you have to pay taxes, and you won't get out of any of them unless you have an MMID card. Still. a lot of .5-gram carts are even more in licensed California dispensaries.
Take the Honey Vape Green Crack or the Sunday Goods Trainwreck over at MedMen in nearby Kearny Mesa. Both .5g cartridges, the Honey Vape costs $40.00 and Sunday Goods $45.00. When you save 5 to 10 bucks and are able to take advantage of discounts as well, it makes a big difference.
Number of puffs is just a little light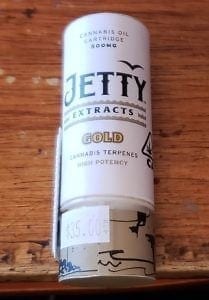 It's interesting because at the time of testing I had two other .5-gram carts to compare with the Jetty Extracts Gold. There wasn't a huge disparity in how fast the oil receded, but just enough to notice. I love the Maui Wowie and I really wish this cartridge would last a little longer.
Large vapes are easy but they may hurt
For those who like lung bursting vapes, this is a go-to cartridge. Not only is it potent, but it expands quickly inside the lungs. Those terpenes will hit you and if you're not careful, you'll find yourself coughing up a huge storm. You can check that video if you haven't already and see the vape it gives!
End of the rocks on the Jetty Extracts Gold cartridge
Flaws in the Jetty Extract Gold cartridge have nothing to do with design, flavor, or potency. They have more to do with the packaging and how information is presented. It'll be interesting to hear what Jetty Extracts has to say about lab analysis, and we will update as soon as they answer back. Assuming the lab tests are clear, they make an incredible vaping experience.
If you want to know more about Jetty Extracts, be sure to visit their website. Have you tried a Jetty cartridge? Leave us a comment below or post on our forum.