REVIEW OVERVIEW

SUMMARY

The VVG cart turned out to be a great all-around THC cartridge. Taste is unique, strength is excellent.
Here we review the VVG cart, also known as the Vegas M Cart.. It's from the same people that make the Vegas M Stick, Vegas Valley Growers. In short, we find the cartridge version to be very strong, with slow vaping THC oil. Taste was really "hashy" – in that it reminds us of the taste of old-school hash.
Pros:
Strong, long-lasting effects
Slow vaping, long-lasting THC oil
Good hardware
Unique, hashy taste
Cons:
Polycarbonate cartridge body
Recommendations: A glass cart like the TH2 would be preferred.
Licensing Information: The Dispensary 1019900563-002-DIP
Check out our video review below and keep reading on for the in-depth review.
VVG Carts use good hardware, are strong and consistent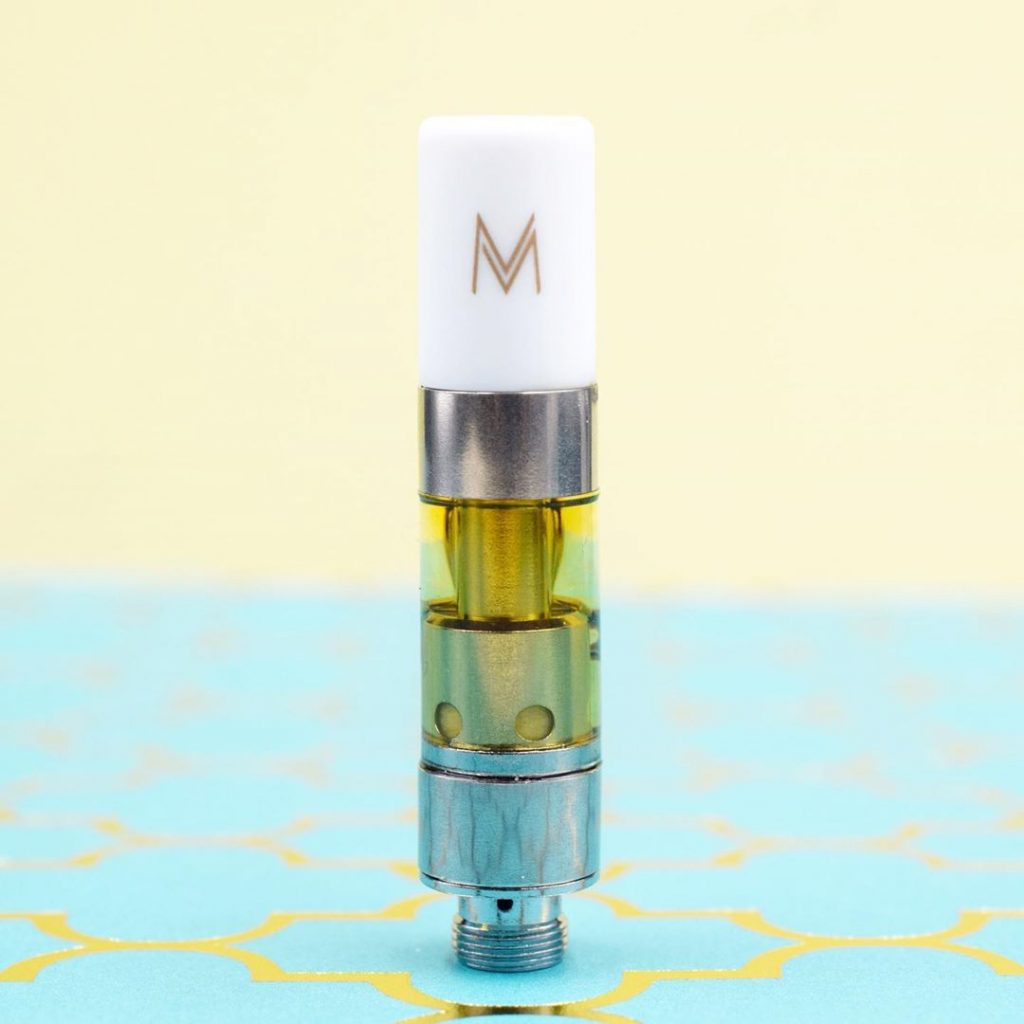 Overall we were impressed with the VVG cartridge; by its strength more than anything else. Two factors contribute to that strength: properly formulated, good THC oil, and hard-hitting hardware that's used in the form of the CCELL M6T.
THC Oil is CO2 extracted in VVG carts
The oil in VVG carts is CO2 oil. It has more the old-school type CO2 taste to it and some people might like that. We are not 100% sure, but it seems the process used to make these carts is a little simpler than distillate or live resin.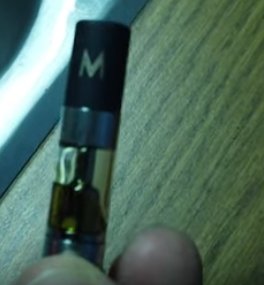 Strength on VVG carts is way up there
Guesstimating, I would put VVG carts in the top 15% of carts out there when it comes to strength. That's comparing it to some popular brands in CA and NV, VVG blows away standard Stiiizy, Brass Knuckles, Pure One, RAD Vape and Caliva. The strength of VVG is pretty close to Select Elite, W Vapes and 8 Fold.
Effects feel a bit different than most other distillate or live resin
There's a bit of a unique feel to the effects when comparing the VVG carts to other distillate and live resin THC cartridges.
I would say it's still very energetic, but more of a calm energy than, for lack of a better word, the "tweaky" energy we get off sativa distillate carts. Even though I like that 'tweaky" energy, the VVG cart is an awesome change up.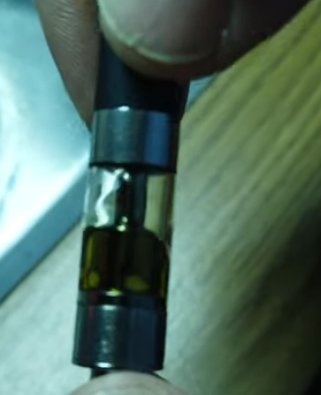 Taste reminds me of old school bubble hash
The taste was not fruity or sweet, just a hash taste. Nothing artificial and VVG does not use non-cannabis terpenes. Nothing was overly flavored either. It's not the best tasting cart, but it taste good enough and I prefer the natural taste over a fake taste.
Efficiency is good, slightly better if it were glass
The CCELL M6T used here is extremely efficient, but should VVG switch to the glass CCELL version like the TH2, it would be even more efficient. CCELLs have a very low failure rate, but just in case we do get a failure, the TH2's top can be easily unscrewed to put the oil in another cart.
VVG's THC oil vapes slow, lots of puffs
The oil VVG makes is thick, slow vaping oil. Almost the exact opposite of what we saw from RAD Vape in California. You are going to get a lot of hits out of this thing!
Value is good, even better on specials
Sometimes at The Dispensary, you can pick up 2 VVG's for $50 or 3 for $80, that makes VVG an awesome deal. However, even at standard prices, considering the great strength and slow vaping oil, VVG is still a good value at $40 for 500mg. Keep in mind if you are a Cali reader, NV has higher prices on average.
Concluding our VVG cart review…
Overall, VVG is producing very strong carts. Taste can be improved, but for us is not the most important factor, although it may be for some. Add a glass cart and it improves a bit more. As with most cart companies, things improve, unless your Stiiizy's distillate in California. We think VVG will probably improve flavor as time goes, but still will be buying these as we see them.
You can learn more about Vegas Valley Growers here.
Bonus Mini-Review: Vegas M Stick
We had a chance to check out the Vegas M Stick, also by VVG, while we were wandering around Laughlin.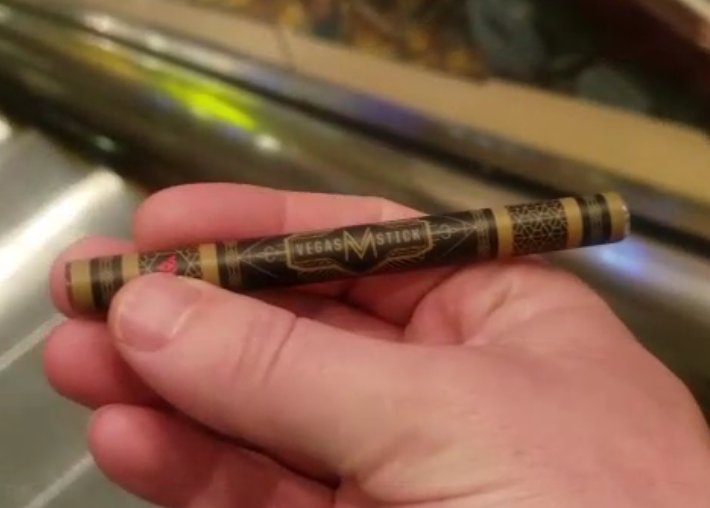 While we don't like it as much as the cartridge, the Vegas M Stick is definitely one of the better disposable CO2 oil oilpens out there. We tried the Sweeties half gram, which we got from The Dispensary on Decatur Blvd. in Las Vegas.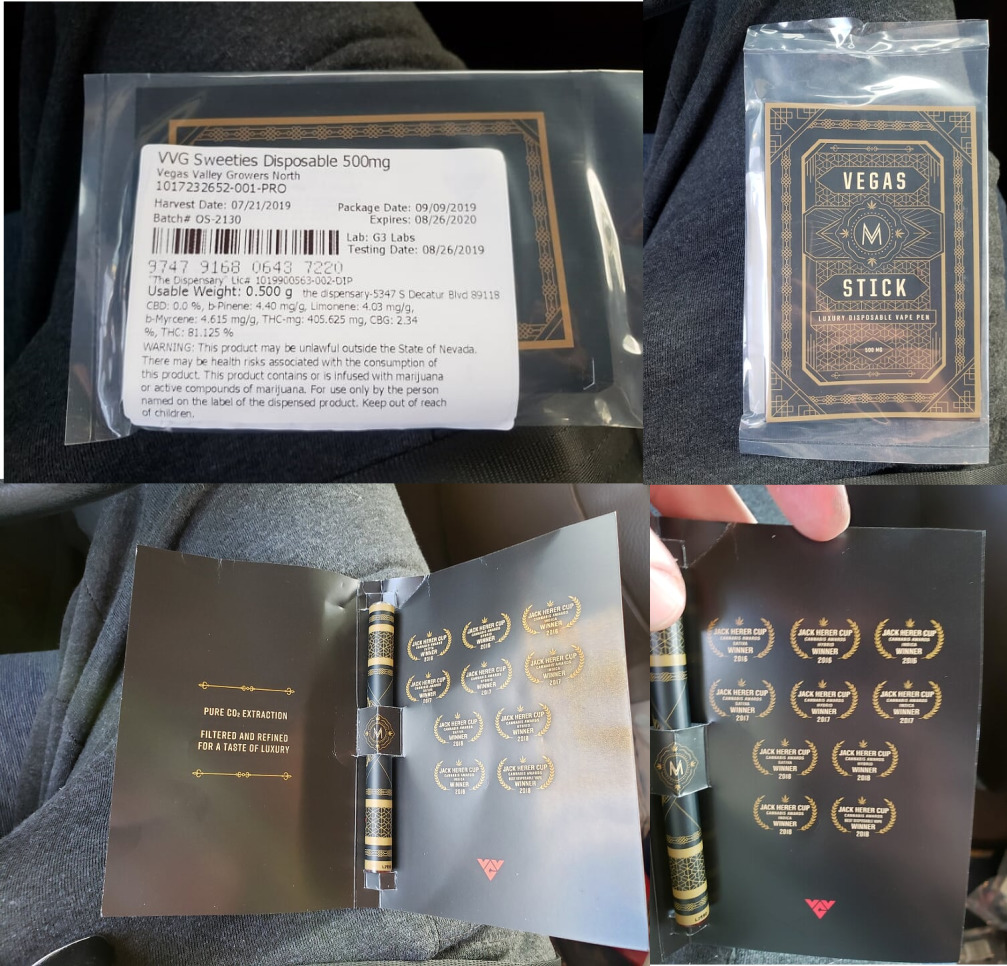 Check the fancy packaging, they have lots of awards.
We find the Vegas M Stick to be energetic and not too tiring. The taste is good, showing improvement in CO2 extraction techniques compared to CO2 oil we've tried before. To our eye, it appears to use the CCELL TH001 battery. We can give it a couple thumbs up and at least say it's a decent choice for disposable pens.
So there you go, not really worth a full stand-alone review since they're basically the same product. Instead, you got a more full overview of VVG products.
Who else has tried VVG products?
Readers, we welcome your thoughts on Vegas Valley Growers here in the comments or in our forum.