REVIEW OVERVIEW

SUMMARY

Caliva is pretty strong and taste good, it could be a tad bit stronger but it's still a good cartridge as is.
The Caliva cartridge turned out to be a good cartridge. It is not the absolute highest on strength but it is decently strong. Taste is really top notch, this is one of the better tasting
THC
cartridges I have ever tried. Currently, Caliva is only available in California.
Pros:
Great oil quality
Slow vaping oil
Excellent taste
Great hardware
Cons:
Not the absolute strongest
Licensing Information:
State: California
License: C10-0000441-LIC
Recommendations: We would like to see a higher THC percentage version of the Caliva cart come out. It may already have come out, and if it has we will be trying it soon.
See below our video review on the Caliva cartridges. Continue reading to see our more in-depth written review.
Caliva cartridges deliver a good experience overall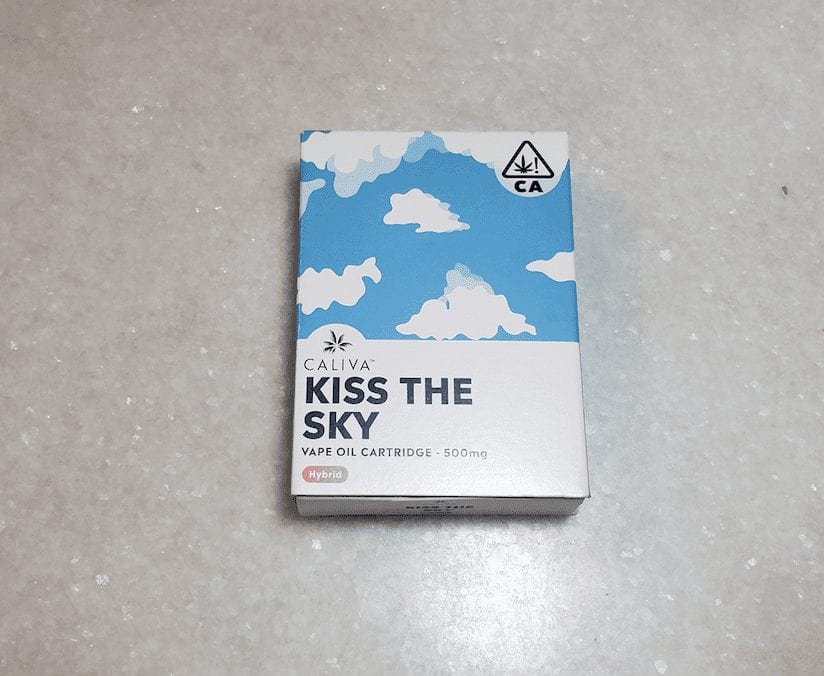 The Caliva cartridge turned out to be one of the better ones out of a recent batch of California cartridges that we got. There really is not much to complain about here but I could see them making  this just a tad bit stronger. The strain we used for this review was Kiss the Sky. It was the strongest one we could find as far as THC percentage at Pure Life in Placerville, CA.
A tad bit stronger vape would put them about par with the other companies like
Aces Extracts
,
Airo Pro
and
Select Elite
. They really are there with oil quality it's just notching that strength up a tiny bit. Still though, they're probably in the top 30% of carts when it comes to comparing strength.
Design and Build quality is a bit unique, this is the first metal top CCELL that I've seen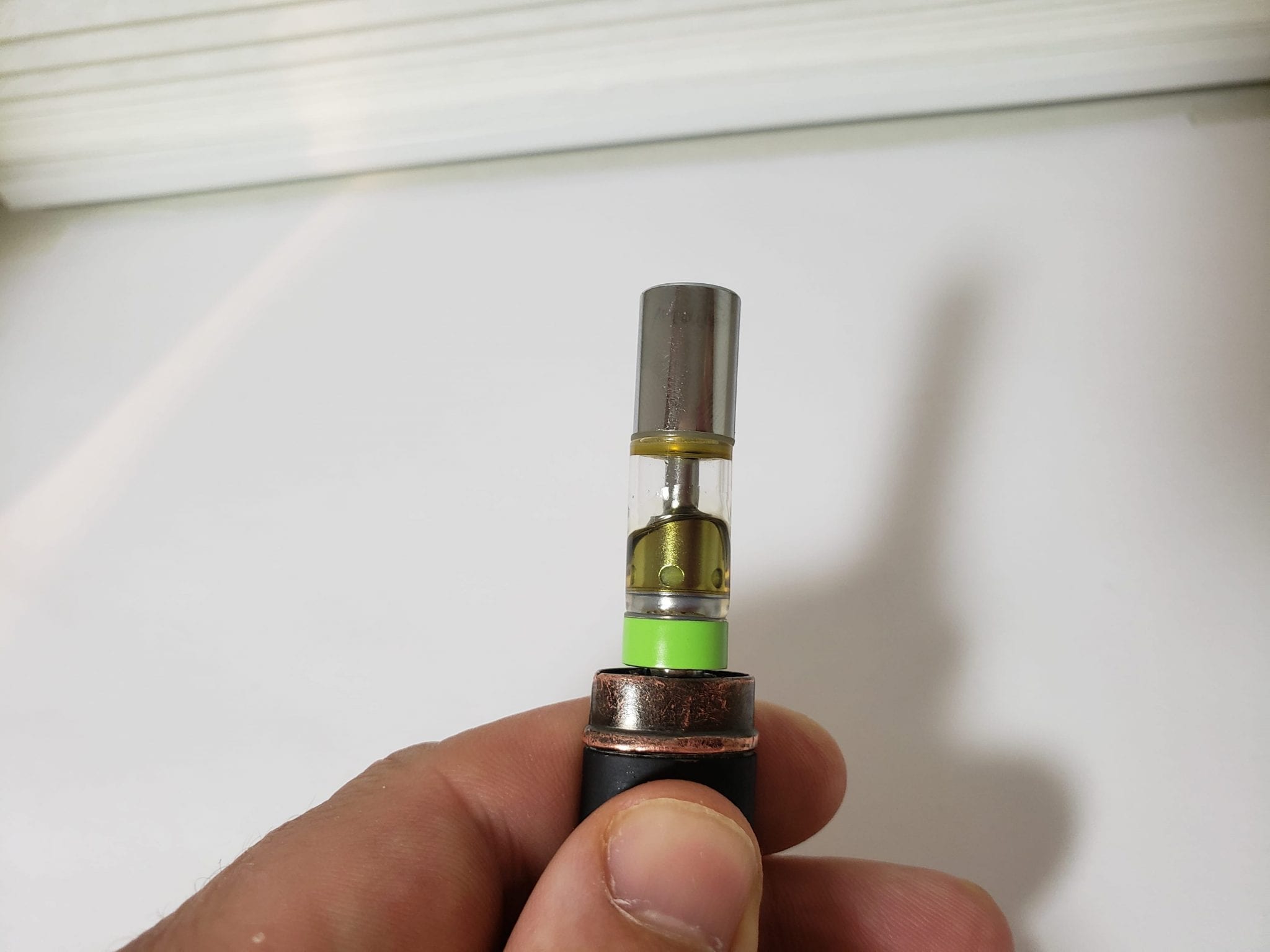 Caliva cartridges use an authentic
CCELL
cartridge which of course is a great choice. CCELL is consistently great on hardware and the failure rate is extremely low. On Caliva's version of the CCELL cartridge they have something pretty unique.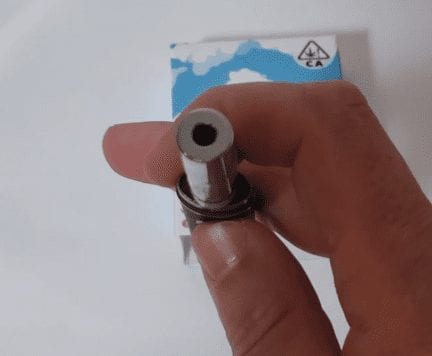 They're using a metal top with a glass body cartridge. It actually looks shape-wise the same as SRENE cartridge. But it is better in that it is glass while the SRENE is plastic. I also like how this larger mouth piece seems to get better airflow than the other CCELL mouthpieces. It's also like what they've done with the SRENE. Because even though this is a metal mouth piece the shape is exactly the same as the SRENE's mouthpiece.
Oil quality is excellent, consistent until the end
The oil on the Caliva cartridge is light green. It looked like some of the
Kabunky cartridges
 I have seen before. The oil stayed the same consistency throughout the duration of the entire cartridge, which is a very good sign. I cannot say the same for
Brass Knuckles
. You can tell whatever process they're using here, it's a good one. Caliva seems to care about the oil quality and it really shows.
I would put the oil quality here above Select Elite and about on par with Aces Extracts.
Caliva cartridges are pretty strong but not mega strong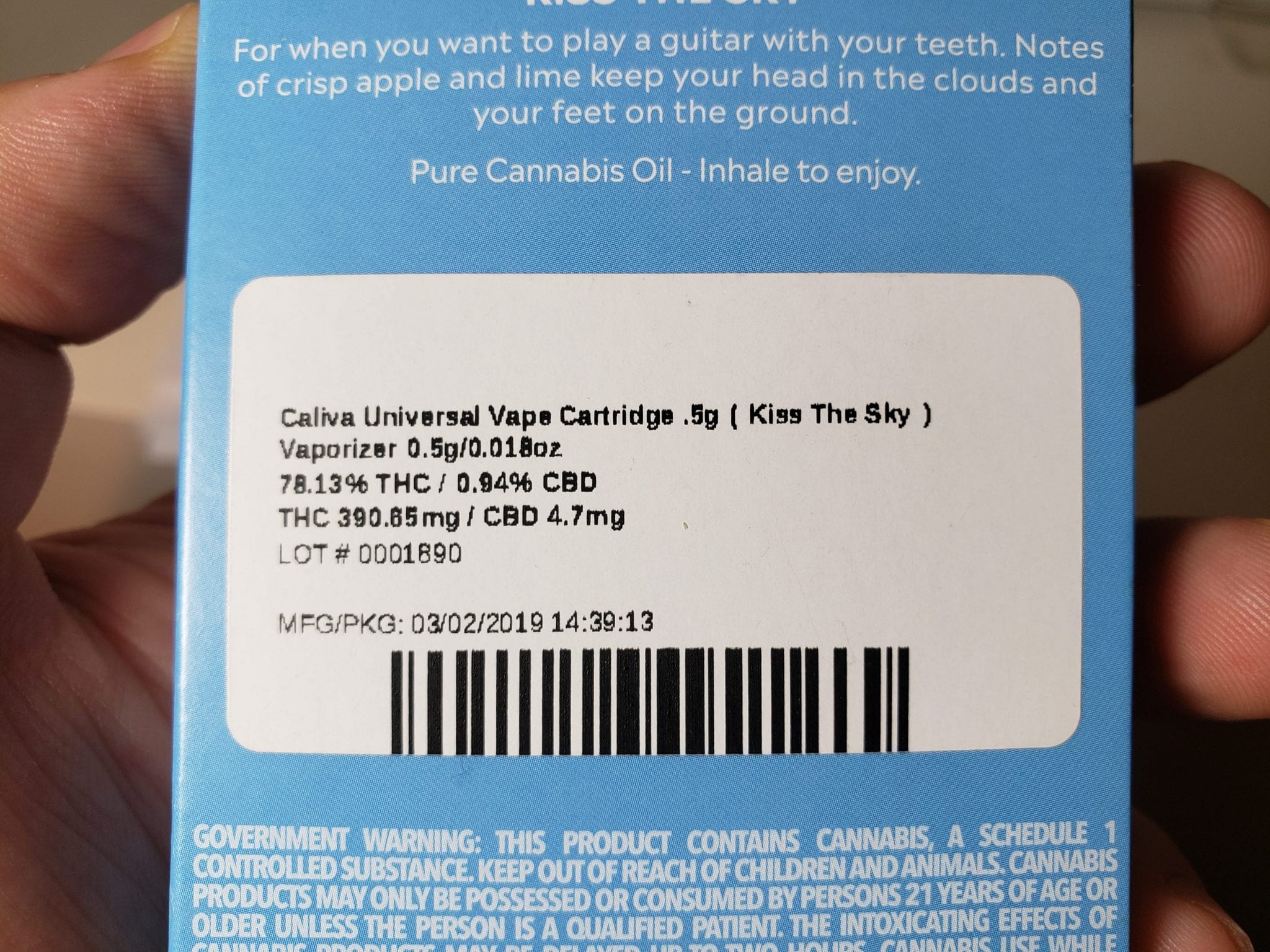 THC percentage on the Caliva cartridge came out to just over 78%. THC percentage is not everything as we have seen before with Airo Pro, their Mountain Mist testing in the 70's and still being stronger than some cartridges in the high 80's.
However, we do think that there's got to be something here to push it a little bit higher on strength to get to that top notch strength. It's still definitely way up there on strength compared to a lot of cartridges but with more strength Caliva would be one of the
best cartridges in California
.
Taste was awesome, some of the best
The Caliva cartridge does not taste like there's any artificial flavor being added, but we are not sure. Either way the taste was awesome. It's really a true
distillate
-like taste but in a good way. None of that old CO2 like taste that we really try to avoid. Cant go wrong here on taste and two big thumbs up on taste for Caliva. Also, using good hardware definitely helps as well. If they were using a crappy quality cartridge that would probably affect this.
Efficiency is top notch on Caliva cartridges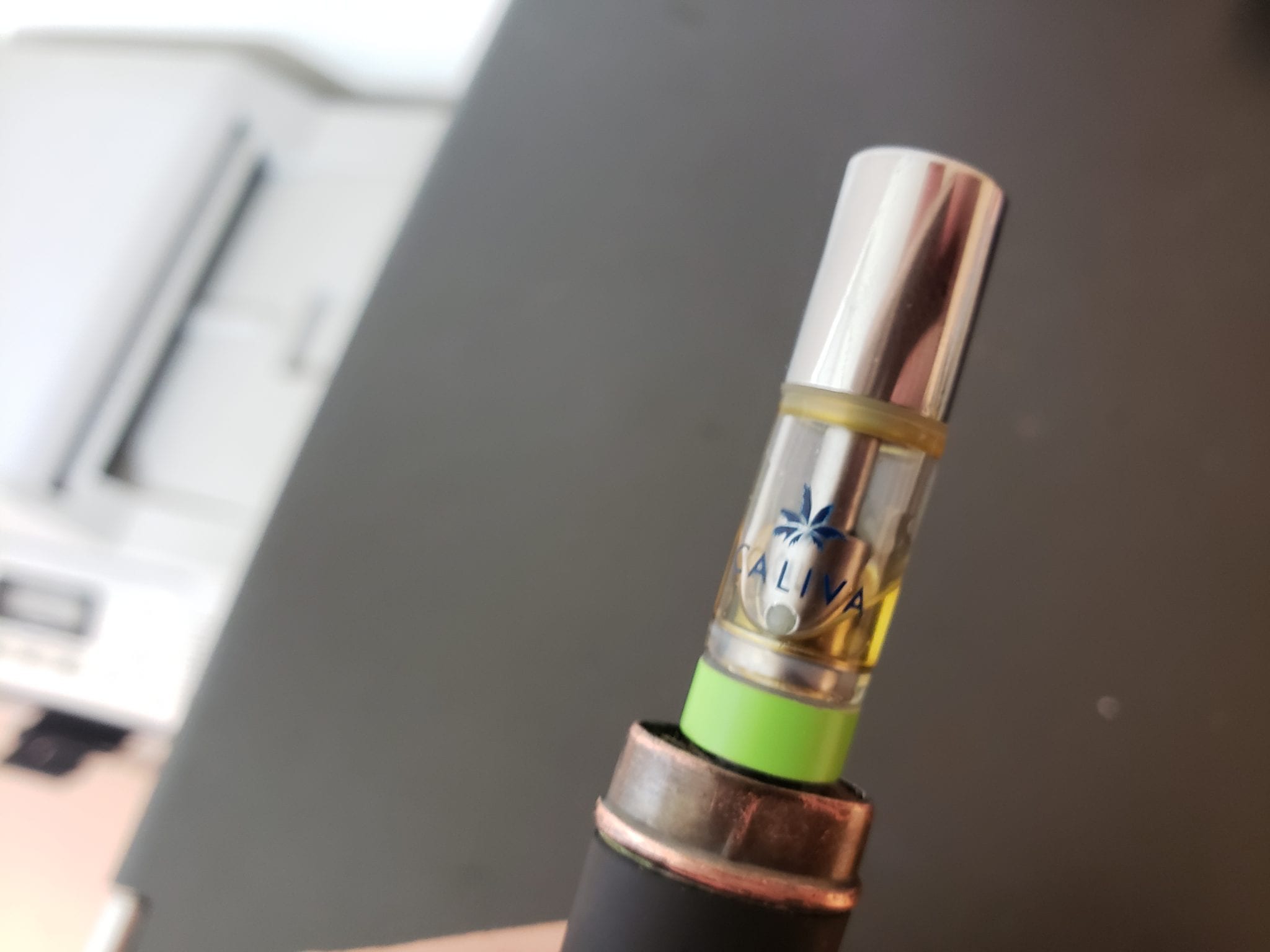 Since Caliva uses CCELL theres really nothing to worry about on efficiency. The only cartridge we have found that might be more efficient than the CCELL was the type used on the
Jackpot cartridge
. However, it is only more efficient in fact that it uses the last couple of drops of oil probably a little bit better. The problem with those type of cartridges is they don't actually give you a strong of a hit. So when consider that in to efficiency, is it really overall more efficient? Probably not.
Number of puffs is awesome, oil vapes really slow
One thing we really like about the Caliva cartridge is the oil vapes really slow. It's a very slow moving oil so make sure you leave it sitting up over night, so you're not waiting it forever to get back to hitting it to the proper holes. This also add to the value which we'll discuss more below. But basically, the fact that you can hit on this oil for a longer time than a lot of other cartridges gives it more puffs and makes it a better deal.
Value is good, would get again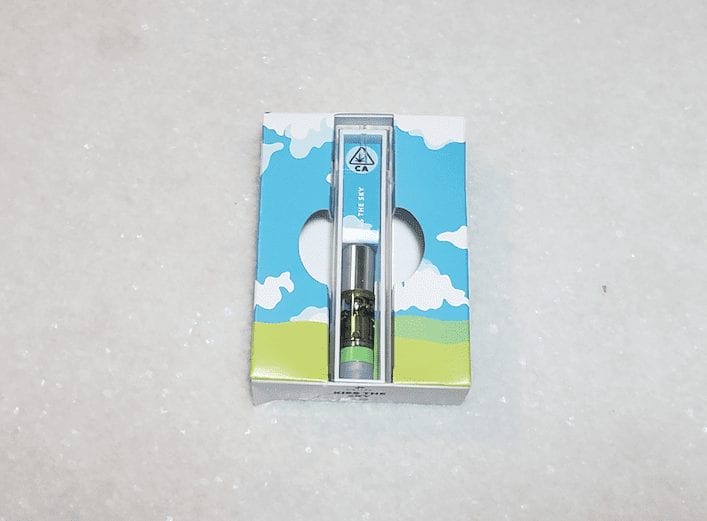 Value is good on the Caliva cartridge coming in at $35. it was the same price as most of the other cartridges I picked. It was a little bit more cheaper than the Aces Extracts but that maybe because the Aces Extracts was a disposable. It's a little more expensive than the
Cookies cartridge
because those were on sale at $30.
I would take Caliva over Cookies any day however, when compared to Aces Extracts i would take Aces Extracts over Caliva. Compared to Select Elite, Caliva tastes better, but Select is clearly stronger. A few tweaks and Caliva could be on par with both.
Concluding our Caliva cartridge review
The Caliva cartridge turned out to be a pretty good cartridge. There could be a few tweaks on strength to get this to the top of the top. But even as is, its better than most cartridges that are out there. I would definitely put this in the top 30% of cartridges that are out there.
So if you had 10 random cartridges here I would say the Caliva's better than 6 or 7 of them. Caliva is a brand I would definitely pick up again and I hope to see a variant that is a little bit stronger, maybe with a higher THC percentage.
Have you used Caliva cartridges? Share your experience and leave a review below! Comment or question? Post below or in
our forum
!