REVIEW OVERVIEW

SUMMARY

I felt almost no effect on RAD vape cartridge. It is the weakest cartridge I've ever tried in the past year.
The RAD vape cartridge appears to use
THC
distillate
but it might be CO2 Oil. Overall this turned out to be the most disappointing vape cartridge I purchased in the past year. It tastes really good, but even at almost 85% THC, I feel almost no effects from this cartridge. On top of that, when I open the cartridge, originally its already leaking out from the bottom due to the poor quality of the hardware it uses.
Pros:
Cons:
Very week effects
Hardware leaks
Recommendations: There's something off with this formula that results in almost no effect. Also, change the hardware to something good like the CCELL or SPRK Cartridge.
See our video review of RAD vape Cartridge below. Keep reading on for a more in-depth review.
The RAD vape cartridge is disappointing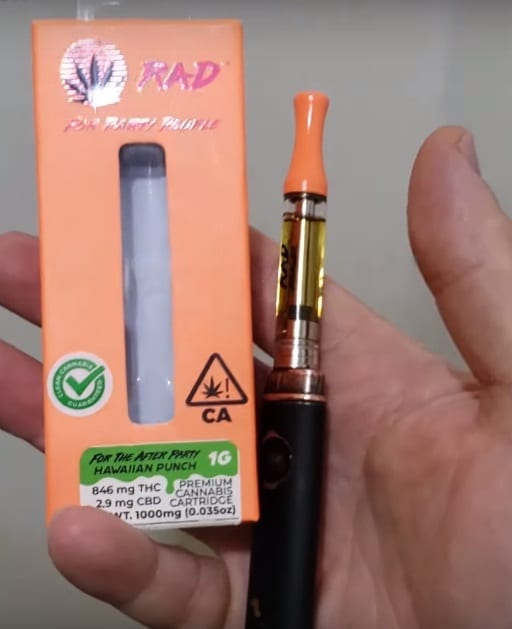 I did not like anything about this vape cartridge except for the taste. The taste is really awesome. The strain we tried here is the Hawaiian Punch and it really does have a great Hawaiian Punch taste to it. However, there's absolutely no strength which is odd considering the THC percentage is fairly high.
We'll go more into the details on the RAD vape cartridge below, but I can say that it's not something I would recommend in it's current state.
RAD vape cartridges have poor build quality, leaked out of the box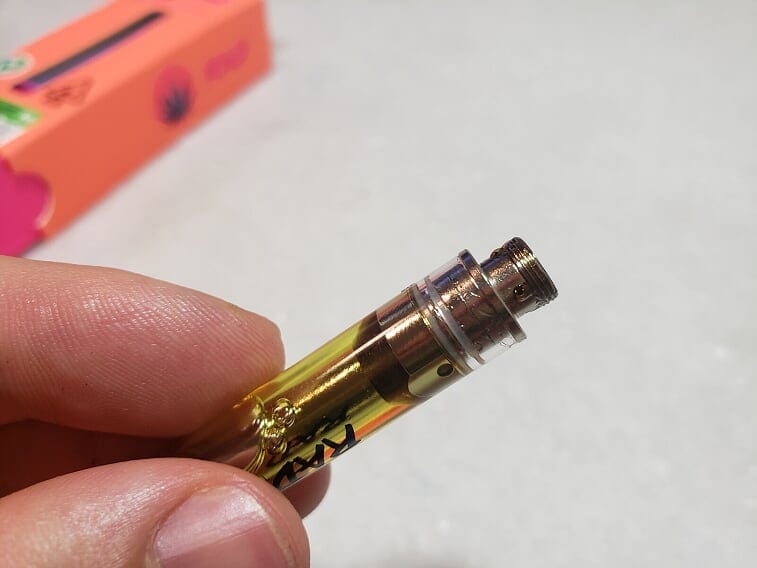 When I first opened the RAD cartridge and looked at the rubber piece at the bottom, you can see that the oil already dripped in. I pulled it off and the oil is already leaking out of the bottom airflow holes from the cartridge. This is not normal, and not something you normally see. I noticed that RAD is using some type of cartridge that is not that common and it appears to be of cheaper quality. It actually looks like the type of thing that you would see on exotic carts.
Definitely, they should use better quality here. However, I did take this oil and put it in an old Caliva cartridge which is actually a CCELL. Even then, changing the hardware did not save it.
RAD vape cartridges lack strength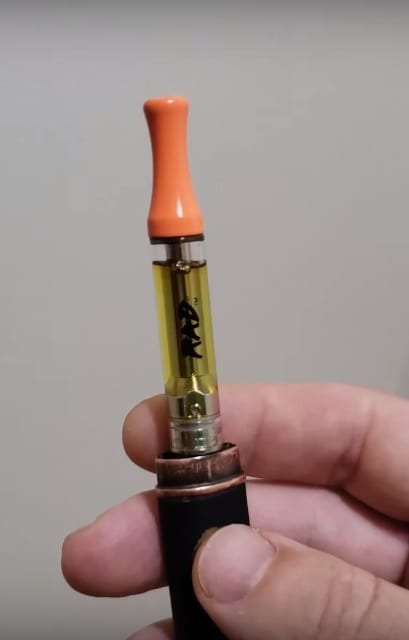 I'm not the only one to claim this, but I checked out other reviews online and other people were saying that the RAD Vape has no strength. Not sure what's missing here. Maybe it doesn't have that much THC as they say or maybe there's something that is not properly blended with the
terpenes
,
myrcene
or other items in the cartridge.
Overall, there's really just no strength here. I ended up giving half of this cartridge away after doing a test on in a CCELL as mentioned above and realizing that this oil doesn't do anything for me. Maybe it will do something someone who is a very light user, but this cartridge will take you back to 4 years ago when THC vape cartridges were extremely weak.
Taste is the one thing that the RAD vape cartridge has going for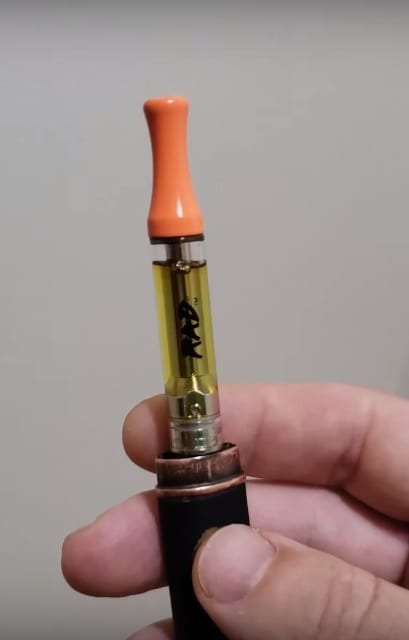 The taste is really good. The
strain
reviewed here is Hawaiian Punch and it actually tastes like Hawaiian Punch. Some people don't like these types of flavored cartridges, but I don't mind them.
There has to be an artificial flavoring as it doesn't taste natural. I would prefer a straight, nice distillate taste like
Aces extracts
, but this still tastes better than the trim run oil that you find on brands like
Select Elite
. Since Select is so much stronger, I would still take Select Elite over this.
Efficiency is not so good because it already leaked right out of the box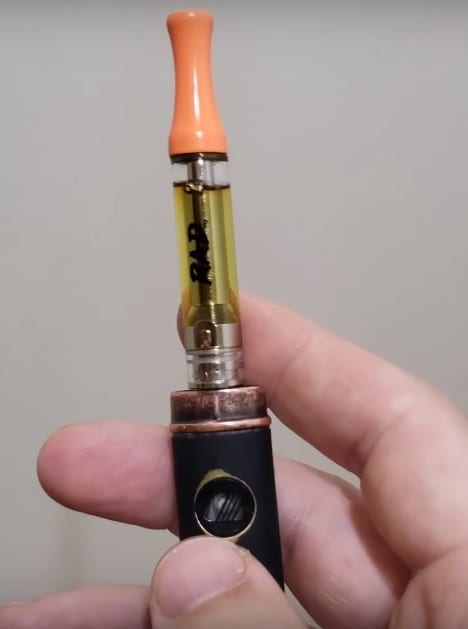 When I took off the rubber piece on the bottom of the cartridge, it was already leaking. I lost oil without even using the product and overall efficiency cannot be scored higher because of that.
On top of that, the hardware is not really good and it's not delivering every hit. There's more efficient hardware out there. I would say that this is probably more efficient than the pods out there that seem to pull oil on the sides. That has happened to all of them including the
G Pen Gio
,
CCELL Dart
,
Uno
, and the
Yocan Trio
.
RAD vape is standard cost, sub par performance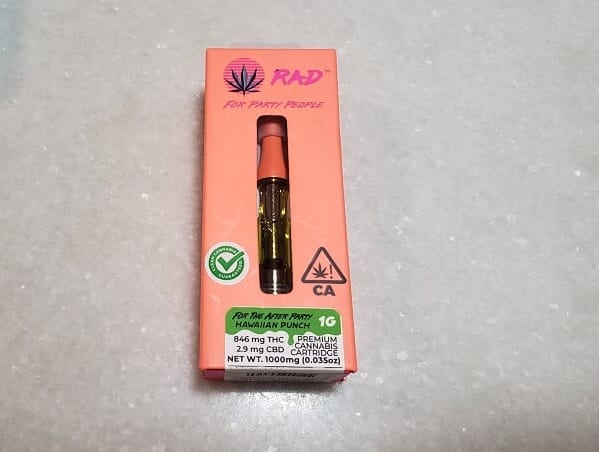 A full gram RAD vape cartridge is $60 at Pure Life in Placerville, CA. That's the standard price that they have for all one gram cartridges. I would much rather grab a Select Elite at the same place for the same price.
I would rather pay $42 for a half gram Aces Extracts disposable vape pen over the RAD cart. I will get more effects from that half gram than the RAD full gram, simply because it is so much stronger per hit. I can hit the RAD vape 30 times in a row and it would not be as strong as hitting the Aces Extracts vape 5 times.
Concluding our RAD Vape Cartridge review…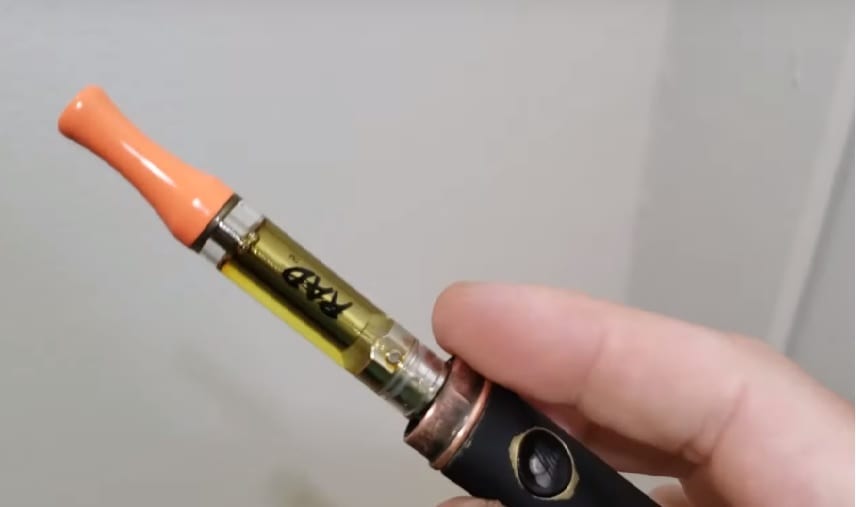 The RAD vape turned out to be a big disappointment. It looks cool and the THC percentage is high but it uses poor quality hardware that leaks and there's something off about the formula. We hope they can re-formulate this at some point and make this a good cartridge.
A lot of these companies are just a couple of steps away from going from a low-quality product to a high-quality product. At this point, I cannot recommend RAD vapes but if I see a hardware change in the future I will give it another try and update this review.
Have you tried the RAD Vape Cartridge before? Post your review below! Questions or comments? Post below or in our forum!