REVIEW OVERVIEW

Design & Build Quality

6.5

SUMMARY

Remedy came out with a high quality oil that really delivers, despite the hardware that under performs. When this oil is paired with good hardware it's one of the best and even as is still a good choice.
Remedy has consistently made great flower. Here we review the Remedy cartridge. This THC vape cart uses live resin  and has awesome taste. The main improvement needed here is better hardware. The CCELL clone just doesn't cut it compared to the real thing or something like a SPRK cartridge. However, the oil was so good I got a second one.
Remedy cartridges have strong, quality oil, but could use hardware upgrade
That sums up the Remedy THC cartridge. The oil is one of the best, but the hardware holds back it's true potential. I ended up swapping the oil into a CCELL just to be sure this was the case. Check out our guide on how to swap oil between carts and you will see my second Remedy cart getting emptied out.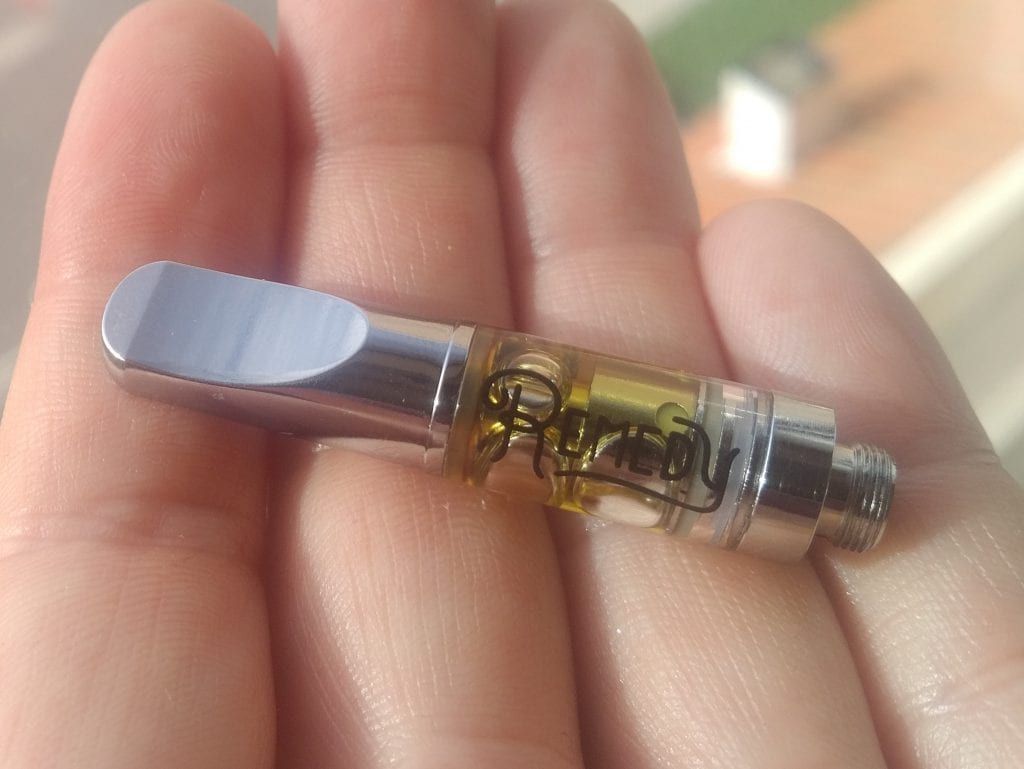 The strain used on this review was Clemon Kush. I ended up getting a second card and I forgot that strain, but it might have been Clemon Kush as well. This appears to be a Remedy-only strain as I could not find any further information on it.
High build quality, but design could be improved
Feeling the cart and holding it you can tell it's made well. Glass is thick and the rest of the cart is metal. I did not rip this one apart, but pretty sure it's a ceramic core on the inside. Airflow is a bit lacking and the design played into a bit weaker strength which is discussed more below.
You can tell the hardware on this cart is holding back the oil. A real CCELL or something like the SPRK cartridge would make this overall a much better THC cart.
Oil quality is top notch, nice live resin
Remedy cartridges use live resin instead of the more popular distillate. Nothing lacking on oil quality at all here. It adheres to strict testing standards and it's all clean. Remedy's THC oil is thick and it moves slow.
Strength is up there on the Remedy vape cart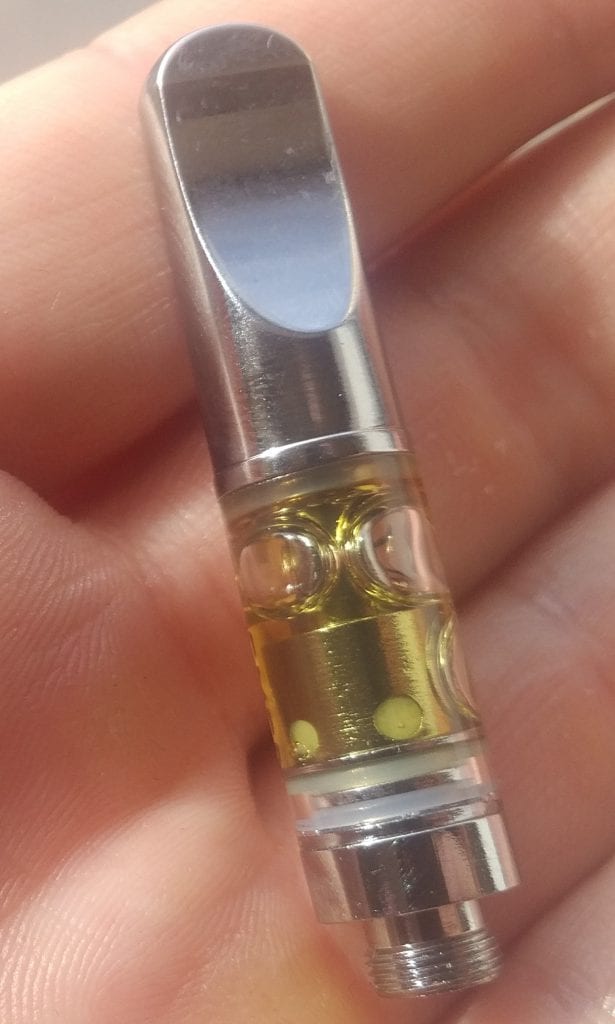 You have to take more hits on this than other carts to get a good effect going but it also uses less oil per hit. THC came in at 90% on this cart. Not because the oil is weak, but because the airflow on the cartridge just is not that good. If you could take big rips on the cart, it would be a 1-2 hitter quitter for most people and comparable in strength to Roots and Airo Pro.
Strength really shined when I switched it over to a real CCELL. The 10% or so loss of oil was worth it to do the swap, that is how much weaker the hardware is on hits. If Remedy had straight live resin oil syringes I would be getting them all the time. Currently I have only seen RSO syringes for sale by Remedy.
Taste is awesome, nothing artificial about it
The Remedy carts taste just like a high end live resin, which is exactly what they are. Nothing on here seems food-type flavored. I prefer this type of taste over that offered on flavored cartridges like that from Flav and Airo Pro.
If you prefer flavored carts, those might be a better option for you. Airo Pro still beats this cart overall for now due to having better hardware. I am no terpene expert, but this cart does not seem to have a whole lot added.
Cartridge hardware loses some points on efficiency due to airflow
The poor airflow on the Remedy cart forces you to have to hit it twice as much as another cart to get the same vapor out of it. I can't see how that would help efficiency. As far as actual oil just being left over in the cart, the hardware does a good job there. But we would have better efficiency with more airflow and harder hits.
Remedy delivers a lot of puffs
The oil does not vape that quickly and seems to last long even when it was later swapped to CCELL hardware. However, it also delivers more puffs due to the restricted airflow, which is not a good thing. I rather take less hits that are stronger. If you want weaker hits though and some people do, this hardware is good for smaller dosing.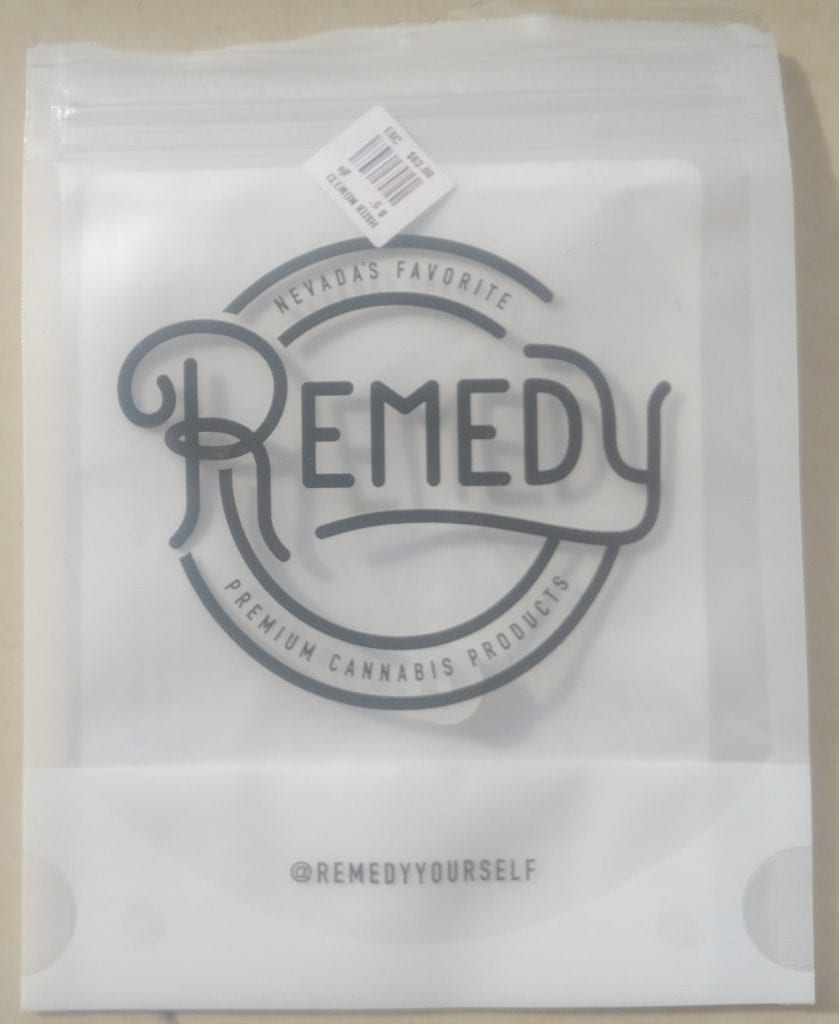 Good value with recent price change
Remedy cartridges were originally $64 a piece for a half gram at Essence Tropicana West, which is one of the better priced dispensaries in Las Vegas. Too expensive at that price but still something I had to try.
They recently dropped to $46 a piece, $1 more than what seems to be the average price of $45 a half gram for other brands. It's worth the extra $1 to try it out and it's a unique oil. However, I would not say it presents a better overall value than a Roots cartridge. Give it better hardware and it will be on par, but a different type of oil.
Concluding our Remedy cartridge review
Overall, the Remedy cart is something I would definitely get again just to try out the unique oil. I am sure at some point they will improve the hardware and at that point Remedy will end up in my regular rotation. It's a great quality, tasty THC oil that only needs a hardware upgrade in order to be one of the best. Even as is it's still a great product and got an honorable mention on our list of the best cartridges in Nevada.
You can learn more about Remedy on their website and find their cartridges here.
Have you tried Remedy cartridges? Leave your review below! Question or comment? Post below or in our forum!