REVIEW OVERVIEW

Design and Build Quality

9

SUMMARY

The stick e vape is one of the best 510 style THC oil pen cartridges out there.
This stick e vape review revealed a cartridge with excellent oil quality and taste. The build quality of the cartridge was also good.  So far this is one of the best 510 threaded cartridges we have tested. Recently we added stick e vape to our list of the Best THC Cartridges in California.
Design and Build Quality On stick e vape Was Good
The cartridge is all metal and glass. The glass mouthpiece feels nice and its thick.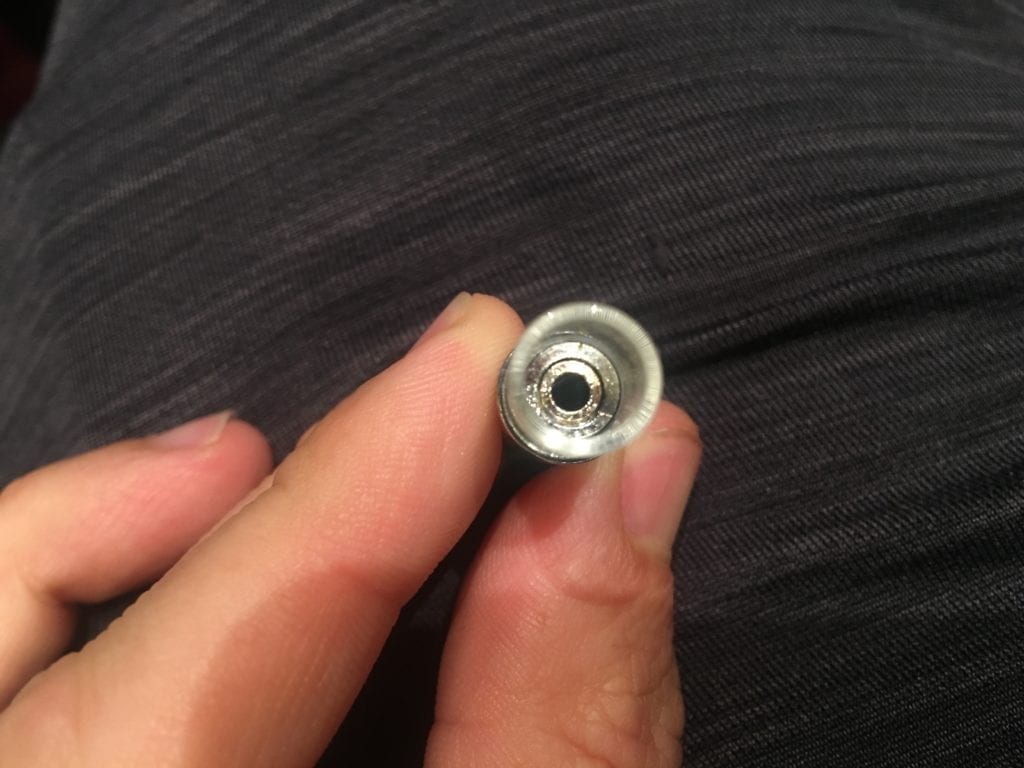 THe inside of the mouthpiece can get a little dirty. Lint can build up in there and I recommend keeping the rubber cap on the mouthpiece when you are not using it. Uf you lose it like I did, this is easy to clean with a q tip. Atomizes seems to be eramic core. You can tell they did not cheap out on the cartridge build here.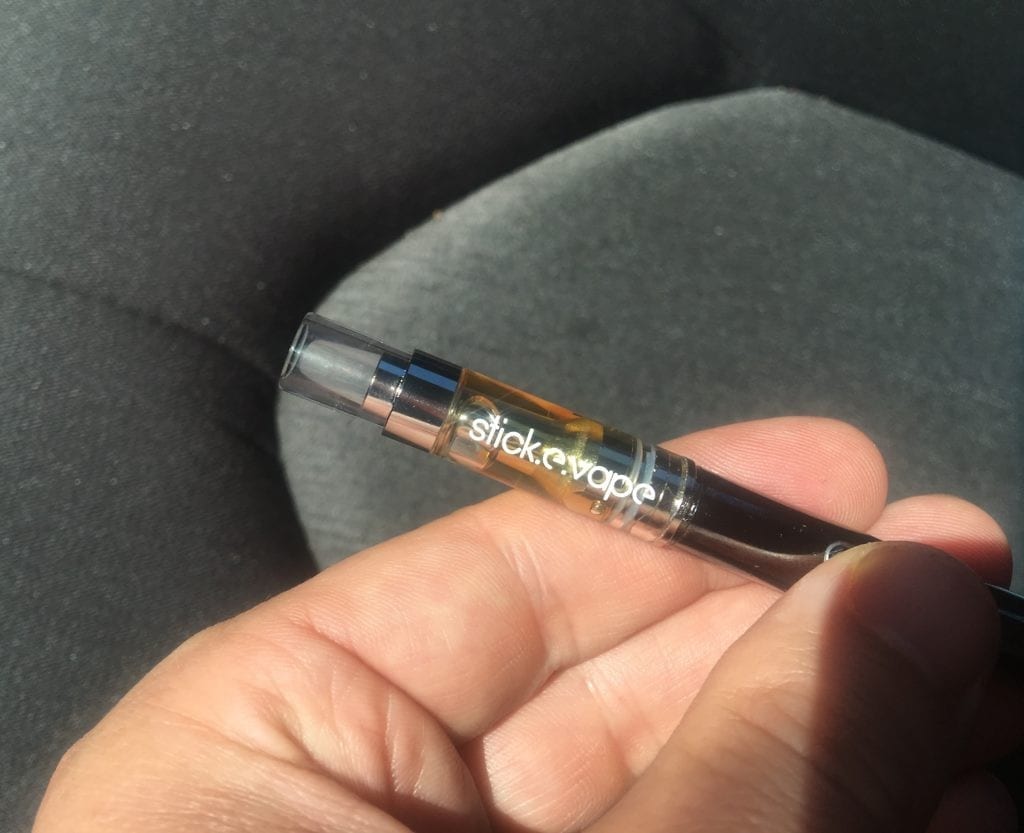 The only thing better would be Stiiizy style. Right now that is the best style of wax pen for prefills. You may want to see our Stiiizy vs Pax Era comparison as well. Pax Era looks similar but is no where near as good. For a 510 cartridge, stick e vape chose as good as it gets.
stick e pen Oil Quality Is One Of The Best
Clean is how this oil seems when you hit it. Smooth but still delivering strength.  Jack Herer was the strain used in this review.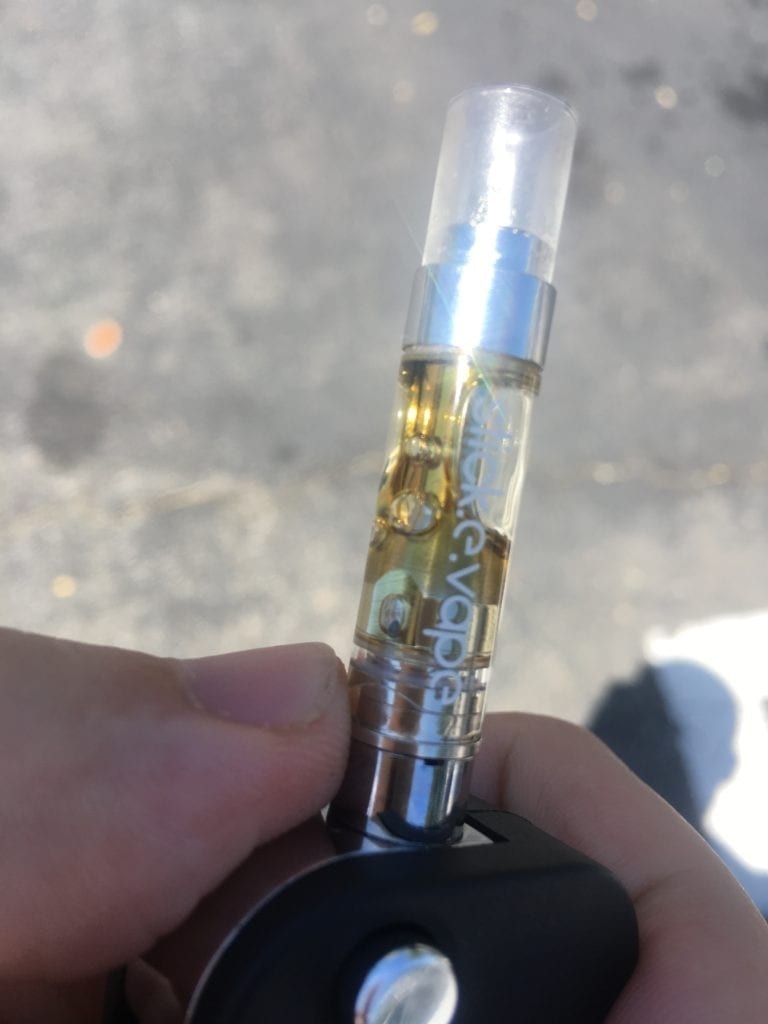 There was not a current pesticides test on the label which was concerning and I would like to see that on future items from stick e vape, but based on what I can tell from using it the quality is excellent.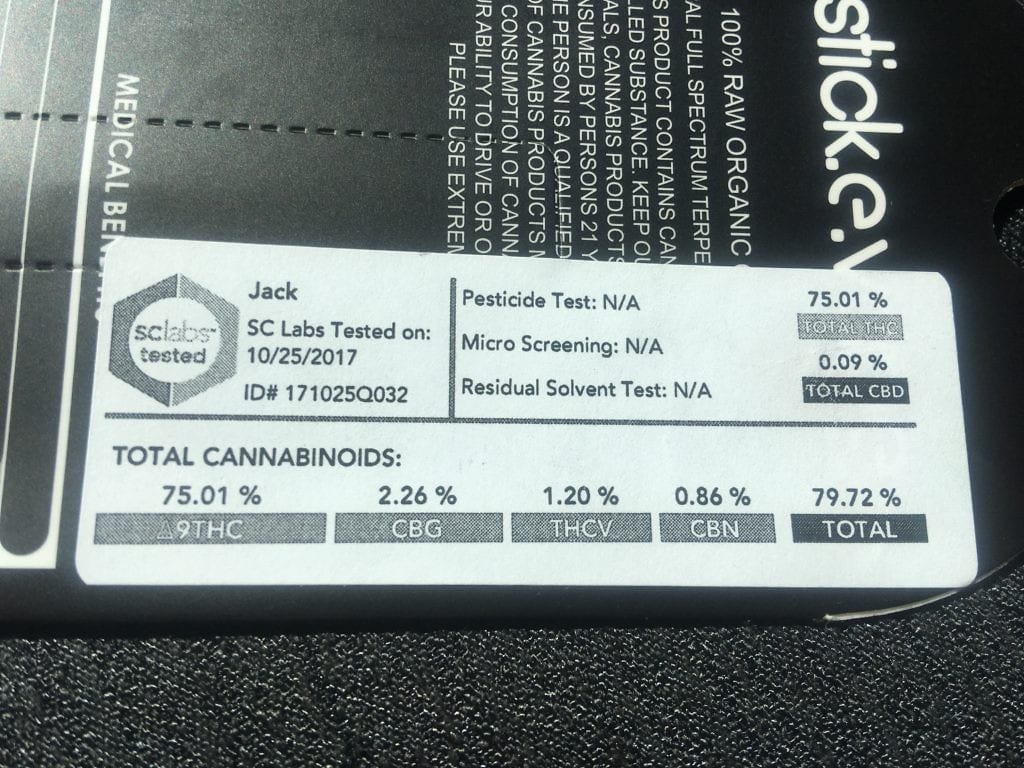 Strength Was Top Notch For A 510 Threaded Cartridge
stick e vape is as good as it gets for strength on a 510 cartridge. I used the O2vape Flip as my test unit. Jacked it up to highest setting and let it rip. I got close to as medicated as I do off hitting the Stiiizy. After refilling my Stiiizy with different, stronger oil, I get the feeling that if I could throw stick e vape oil in a Stiiizy hardware setup I would be getting stronger effect than a Stiiizy with its own oil. I will test this out if they come out with a stick e vape syringe.
Taste In This stick e vape Review Was Top Shelf
The stick e vape oil tastes great. I could not tell if terpenes were re-added to it, but it tastes like straight wax without any added flavor. stick e vape is my favorite tasting  prefilled wax pen so far. It tastes like a hit of very clean wax from a good vape pen. See our earlier review of Tradecraft Farms revealed high quality buds and wax. They are the makers of the stick e vape as well.
stick e vape Cartridge Was Very Efficient
Almost no oil was wasted on this cart. A very small amount of oil is left on the side. See the pic below to get an idea of how efficient this cartridge is.
This cart was slightly less efficient than what I found in the Justdab vape review, but much better than almost all the other 510 carts I have tried. Hit quality from the cart was on part with the Justdab cart.
Number of Puffs Was High On This Cart
When efficiency is on point and oil is not too think, number of puffs is good too. stick e vapes gives a good amount of puffs. Oil was super consistent the whole way through and did not burn out really quick.
Value: stick e vapes Are Not Cheap, But Worth It
My local dispensary had stick e vape cartridges for $35. It is in the mid-high price range of THC oil cartridges out there. I am typically able to find Stiiizy vapes for $30 and that is a better deal. However, I do think the oil is better in the stick e vape cartridge than any of the Stiiizy carts that I have tried. In our Stiiizy review we found it uses is better vape technology than other carts. If this oil was used in  the same hardware setup as Stiiizy, it would be superior. If I was at the dispensary and stick e vape was $35 and most other carts were $30, I definitely take stick e vape.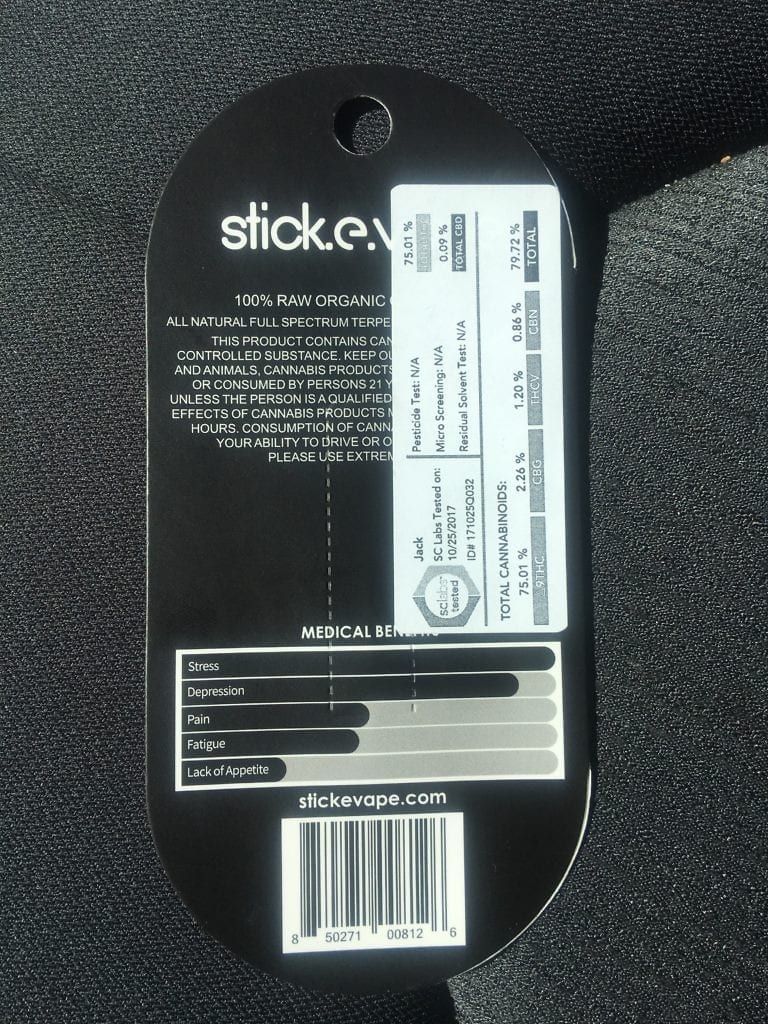 In conclusion, this stick e vape review revealed a high quality oil in an efficient cart. Its as good as it gets for a 510 threaded cartridge. I would definitely buy one of their carts again and look forward to trying their other strains. Pesticide tests would be nice to have as well, but we could not locate those. I have asked stick e vape for tests and if they reply that information will be added to this post. You can learn more about their vape cartridges here.