REVIEW OVERVIEW

SUMMARY

A fully licensed dispensary, Mankind is small but delivers the goods. Find premium and selective cannabis products that are tamper proof with verified lab-test results. Don't forget to take advantage of one of their many discounts.
In our quest to discover the highest quality cartridges, the Mankind dispensary in San Diego is hot on the radar. Located at 7128 Miramar Rd #10, San Diego, CA, 92121, Mankind is our second stop at a licensed San Diego dispensary. Our first stop at MedMen reveals a dispensary with quality cartridges. Unfortunately, they don't carry all that we want to review. Are you considering a visit to the Mankind dispensary? Scroll down to read our full experience.
Pros:
Quality Cannabis Products
Pesticide-Free Assurance
Central Location
Helpful & Friendly Staff
Discount With Med Card
Loyalty Rewards Program
Cons: 
Higher Prices
Small Sales Floor
Cramped Parking During Business Hours
Recommendation: Better parking would be great.
Mankind is a legitimate CA dispensary and it comes with an extra cost!

Before you head over to Mankind, you should be clear on what that county license means. It means you're not likely to find products that aren't lab tested because they must follow legal requirements. The courtesy of shopping at a legit San Diego dispensary does come at a cost. They must pay sales and excise taxes. Expect to see these in addition to the retail price of any product you purchase!
Our interest in Mankind is due to the fact they carry some highly desirable cartridge brands. We show these in the following video review as well as in written detail below.
See our video review below, then keep reading on for the more in depth review.
If you're searching for a specific cartridge, you might end up at Mankind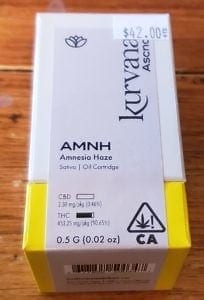 In particular, we were looking for the cartridges of Kurvana ASCND. Mankind carries a good selection of the popular ASCND carts and a variety of other quality brands as well. Keep your eyes out for future reviews of the Kurvana ASCND Amnesia Haze, Select Elite Mendo Breath, Platinum Vape Northern Lights, and Jetty Extracts Maui Wowie! All cartridges that Mankind carries and a small sample at that.
Mankind offers a unique and selective assortment of quality cannabis products
Besides having a wide variety of carts, Mankind also carries flower, edibles, drinks, topicals, and other cannabis extract products. As you enter the door into the small sales floor, the carts hang on the right wall. Look to the left wall and you'll see shelves with various strains of flower on display. Drinks come refrigerated and edibles are close by.
Mankind offers brands that are hard to find at unlicensed dispensaries and they all come with lab-test verification. You'll find tamper-proof seals on products as well.
Deals & discounts at Mankind
Unlike MedMen, Mankind dispensary provides a number of different ways to save some hard earned cash. It also does seem like their retail pricing is a bit lower than MedMen's. Have a look at their discounts below:
10% Off For Veterans & Seniors (55+)
15% Disability Discount
New Customers – 5% Off 2nd Trip, 10% Off 3rd
$20.00 Refer A Friend Store Credit
10% Off Early Bird From 7-9 AM Daily
Store Credits For Written Reviews
10% Off Online Pickup Orders In Advance
Mankind offers quite a few ways to save, but they also hold special events. Sign up for their newsletter, stay up to date, and find even more ways to save.
How much does sales & excise tax add up to?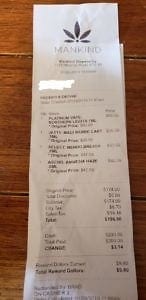 This is probably a question that everyone wants an answer to. We save all receipts, show them for your own verification, and offer the breakdown as well. On the receipt, it shows a sub-total of $174.00. City tax comes to $8.70 and the sales tax is $14.16. Do the math and you have a city tax of 5% along with sales tax at 8.14%.
Does this mean these are the permanent California cannabis tax rates? Not at all. The formula for the CA cannabis tax rate depends on the average cost of cannabis. That's a number that is obviously subject to change. Visit the California Department of Tax and Fee Administration for full details.
The sales floor & staffing at Mankind
You'll find Mankind up on the second story of the business building at 7128 Miramar Rd. Stairs are to left as you face the building. Follow them up and back around to the center courtyard of the plaza. Security is present and does a wand check to ensure you aren't carrying anything that might harm other customers.
The entrance to Mankind is on the left, but you'll present your ID to hosts/hostesses under the booth in the rear of the courtyard first. Once inside Mankind, sales floor space is limited. Very much so in comparison to MedMen. It is, however, clean and well kept if not a bit crowded. The sales staff seems more than ample to quickly assist customers
Mankind costs more but offers quality assurance and prized cannabis products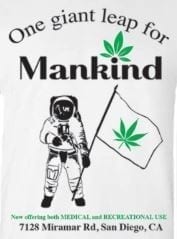 Though Mankind has a tricky parking lot and a small sales floor, they have quite a few benefits that MedMen lacks. The most generous among these has to be their many discount options. With prices already a bit less than MedMen, this can really add up to big savings.
You're still going to pay more than you will at unlicensed dispensaries, which are illegal in California as of 01/10/2019. A med card with a doctor's recommendation won't save you on the taxes anymore in California either. To save on sales tax (but not other taxes) you now need a Medical Marijuana Identification Card, aka MMID.
Ending Thoughts… It's not likely that illegal pot shops will stop popping up anytime soon. The option to go to an unlicensed dispensary still exists, and they don't typically charge tax. As consumers, it only benefits us to have that licensed option. We like Mankind over MedMen and although you pay more, you get that quality guarantee. You'll also find potent concentrate not available in other dispensaries.
If you're interested in learning more about Mankind Miramar, check them out on Weedmaps or on their company website. And don't hesitate to comment or head to our Forums if you have something to share.