REVIEW OVERVIEW

Parking / Accessibility

10

SUMMARY

MedMen is one of the few licensed San Diego dispensaries. Prices are on the high end, but quality and variety are a bonus.
This review comes after a recent trip down to MedMen in Kearny Mesa, San Diego. Located at 5125 Convoy Steet Unit #211, San Diego, CA 92111, we like MedMen for their quality and selection of product. Open 8 AM to 9 PM daily. If you happen to read the customer reviews on Weedmaps, they leave out important information. Continue reading for the full report on MedMen.
Pros:
Authentic, Lab Tested Products
Excellent Variety & Selection
Helpful & Abundant Staffing
Informative & Innovative Display Of Products
Easy To Access Location
Plenty Of Parking
Cons:
Sales & Excise Taxes
No Bud Lounge
Tough To Smell The Bud On Display
Recommendations: A lounge and a way to easier smell the buds would be great.
MedMen San Diego – Kearny Mesa: A legitimate dispensary with quality cannabis, but can be expensive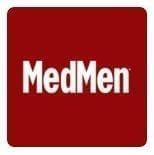 Looking at the dispensary on Weedmaps, you might decide to choose another place. The customer reviews, however, are very misleading. If cost is all you care about, you can find a cheaper dispensary. MedMen offers only the highest quality cannabis products, and they have an extensive menu. As one of the few fully licensed dispensaries in San Diego County, the excise and sales tax they charge results in a higher bill. It's worth it if you want the best. Keep in mind many of the bad reviews about it on WeedMaps are due to pricing, not quality.
See our video review below of MedMen San Diego, and keep reading on to see the more in depth written review.
Certified, pesticide-free cannabis makes it worth the trip
The way Nevada handles cannabis since its legalization makes it tough for dispensaries to operate outside of their regulations. So what you find is that Nevada dispensaries carry pure products. They have to be per the State set standards.
California is miles behind Nevada when it comes to dispensary standards. In San Diego County, a frontier area for cannabis shops, only 17 have legitimate licenses. Hundreds of pop-up shops likely exist in the county, and who really knows what's in their cannabis?
We continue to find instances of name brand ripoffs and cartridges that test dirty for pesticides all over the place. A lot of these products are coming from unlicensed dispensaries when they aren't being shut down by local authorities. At MedMen, you can find authentic products in their original sealed packaging. Many provide batch numbers with lab test results.
MedMen carries extracts, carts, edibles, & more you won't find in unlicensed CA dispensaries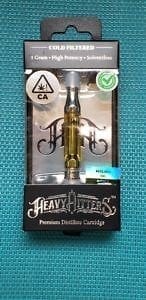 New age best describes the feel and setup of the store. Present your ID to the doorman as you stare into the shop through the front glass wall. Upon entry, the shop has the feel of a mobile phone store without the annoying salespeople.
On the walls are small shelves and pegs with cartridges, edibles, and other products. Most of the cannabis products are in the back, behind closed door. The main displays are set up on several tables spread out on the sales floor. These tables have touch screens that provide all the product info for concentrates. I picked up a Heavy Hitters Malibu Cartridge, which isn't too rare. The Sunday Goods and Honey Vape cartridges aren't as easy to find.
The same goes for the flower. Bud tables have the touchscreens for devouring information about the product. Next to each touchscreen is a jar full of weed. The jars have a magnifying glass on top and a small spring door to smell.
MedMen doesn't advertise any deals
Perhaps they offer a senior citizen discount if you ask in the store but they sure don't advertise any deals. A check on Weedmaps and the MedMen store website comes up empty.
Expect sales & excise tax charges at MedMen
Products at MedMen aren't cheap, to begin with. The truth is that so far in San Diego County, legit dispensaries charge more to stay in business. At least MedMen sure does. Even if their prices drop a bit, you'll still pay the sales and excise taxes that apply. Check my sales receipt below for an idea of what to expect.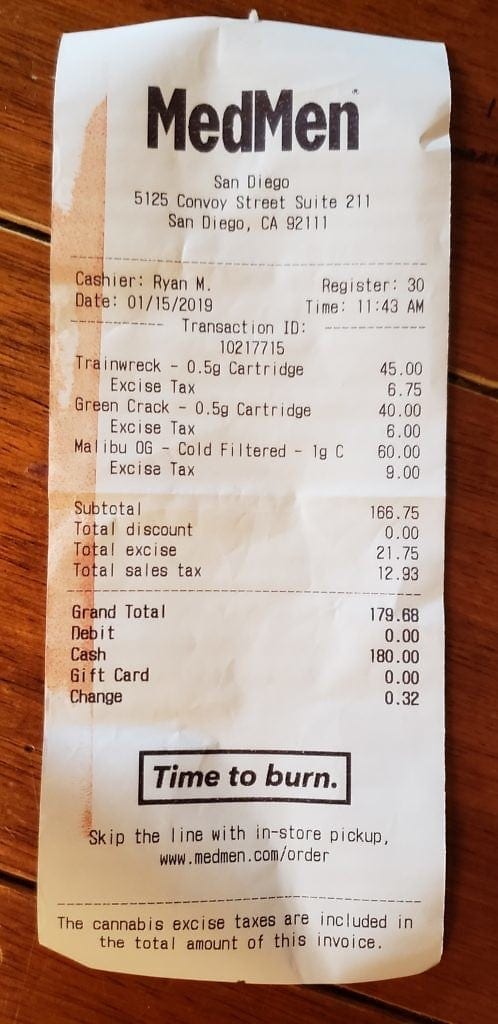 MedMen has a large and knowledgeable sales staff
Walk into MedMen and the amount of staff on the floor is immediately noticeable. They all wear the red MedMen uniform shirt and approach customers asking if they can be of help. Once a budtender helps you, they'll retrieve what you want from the back if not on the shelf. When you're all set, your budtender will take you to one of the counters and ring you up.
Pay more but get assurance & quality at MedMen
Driving down from North County, MedMen is my first experience with a licensed San Diego dispensary. That being said, their prices are still on the higher end. I see .5 gram cartridges at Golden State Greens in Point Loma, for instance, for $33.00. I don't think MedMen has anything under $40.00. Still, MedMen has some quality cannabis and a wide variety of choices.
Closing Thoughts… at this point in California, go to a licensed dispensary to get authentic cannabis products. MedMen does get pricey, but they can't avoid the taxes for being legit. The variety, quality, and assurance of a safe product are worth it if you can afford to splurge.