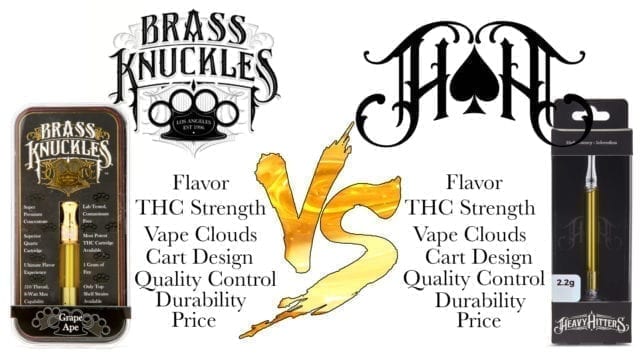 Brass Knuckles vs Heavy Hitters – Which is the best vape cartridge?
Reviewing Heavy hitters vs Brass knuckles cartridges was a true pleasure. Heavy Hitters and Brass knuckles are two companies that make some of the best pre-filled cartridges. We decided to put these two popular THC cartridges against each other. I've tried out more than a handful of different strains from brass knuckles and a couple of Heavy Hitters. I learned while vaping these two great products that each one had its strength and weaknesses. Continue reading to learn which cartridge is stronger and last longer.
UPDATE 9/11/2019: DISCLAIMER: In light of more recent news, it has become apparent that black market cartridges, counterfeit cartridges, and fake brands of cartridges have become more widespread than we had ever realized. We urge readers to apply their own discretion, and caution that at no point should readers assume that a review of a cartridge on our site is a guarantee of its safety. We advise readers to always verify their cartridges as coming from a legitimate source.
Heavy Hitters vs Brass Knuckles Vape Flavor: Both Cartridges Taste Great
Brass Knuckles tastes great and I was astonished how great it was when I first tried it.. I felt the same way about Heavy hitters, when I tried their OG Kush for the first time it was an outstanding experience. After trying Bubba Kush from Heavy Hitters I had mix reactions to this pre-filled vape cartridge. I really enjoyed the OG Kush a lot, it reminded me of LA Kush from Brass knuckles. The bubba cartridge had a bitter taste to it. My friend didn't like the taste of the Bubba heavy hitters cartridge too. However, his sister said she didn't think it was bitter. She suggested her brother and I like sweet cartridges, which is true but we prefer the taste of flower too.
I tried most of the Brass knuckles cartridges as I vaped them loyally for a year, I found myself loving some while hating others. Heavy Hitters only recently made its way to the bay area from SoCal. These cartridges definitely remind me of Brass knuckles and are comparable to them. I really liked The Heavy hitters OG KUSH because it reminded of the actual taste of the flower. I really didn't like their Bubba strain at all because it tasted bitter. Both brands rank among my top three favorite tasting cartridges with lucky vape cartridges being my third.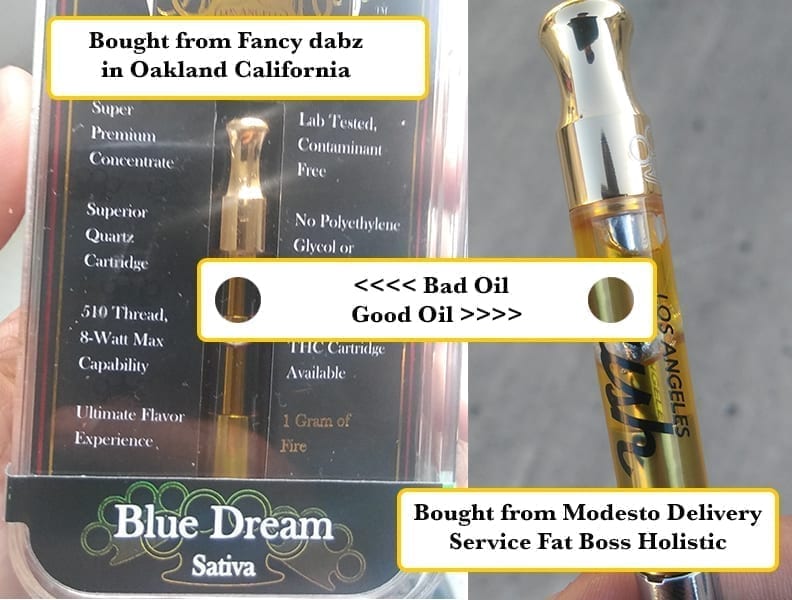 I've had carts that tasted bad from both of these companies. I had to actually return a couple of Brass knuckles cartridges because they tasted burnt. I bought the blue dream strain from Brass knuckles three different times. The first two times I purchased it there were no problems. There are counterfeits being reported going around for Brass knuckles so be careful who you purchase it from. The first two times I purchased blue dream cartridge came from a delivery service in Modesto. The blue strain brass knuckles cartridges were great! Its when I purchased the blue strain cartridge in Oakland from a dispensary named fancy dabz when I had a bad experience. The hash oil didn't look right and actually looked darker than usual. I was able to return this cartridge for another strain that didn't taste bitter.
THC Vape Oil Strength: Brass knuckles is a bit Stronger
Unfortunately, I could not locate any test results identifying the percent of THC in Heavy hitters Cartridges. Brass knuckles have their lab results available online via sclabs.com. I've been a loyal customer of Brass knuckles now for the last year. Unfortunately, their lab results posted online reveal they are inconsistent with their THC strength on some strains. There's definitely a noticeable difference in strength when you vape. You can see on SClabs some strains amount of THC fluctuate.
The lesson here is to check the lab results for any strain you intend on buying before you make your purchase. A lot of people were saying brass knuckles started to cut their products with more fillers and perhaps this news started to do harm to their business. It's great to see Brass knuckles cartridges testing very high again for THC. During the time it was getting low 70% THC scores is when I started looking for alternatives. I felt lucky when I was able to get strong Brass knuckle carts and missed the strength when I got a weaker cartridge from them.
So far I have not tried any other cartridge with more strength than brass knuckles. I recently vaped a Forbidden fruit strain that tested at 87% THC from brass knuckles, the strength was stronger than any other cartridge I experienced. Heavy Hitters is strong but isn't as strong as Brass knuckle cartridges testing near ninety percent.
Value Goes to Heavy Hitters 2.2g cartridge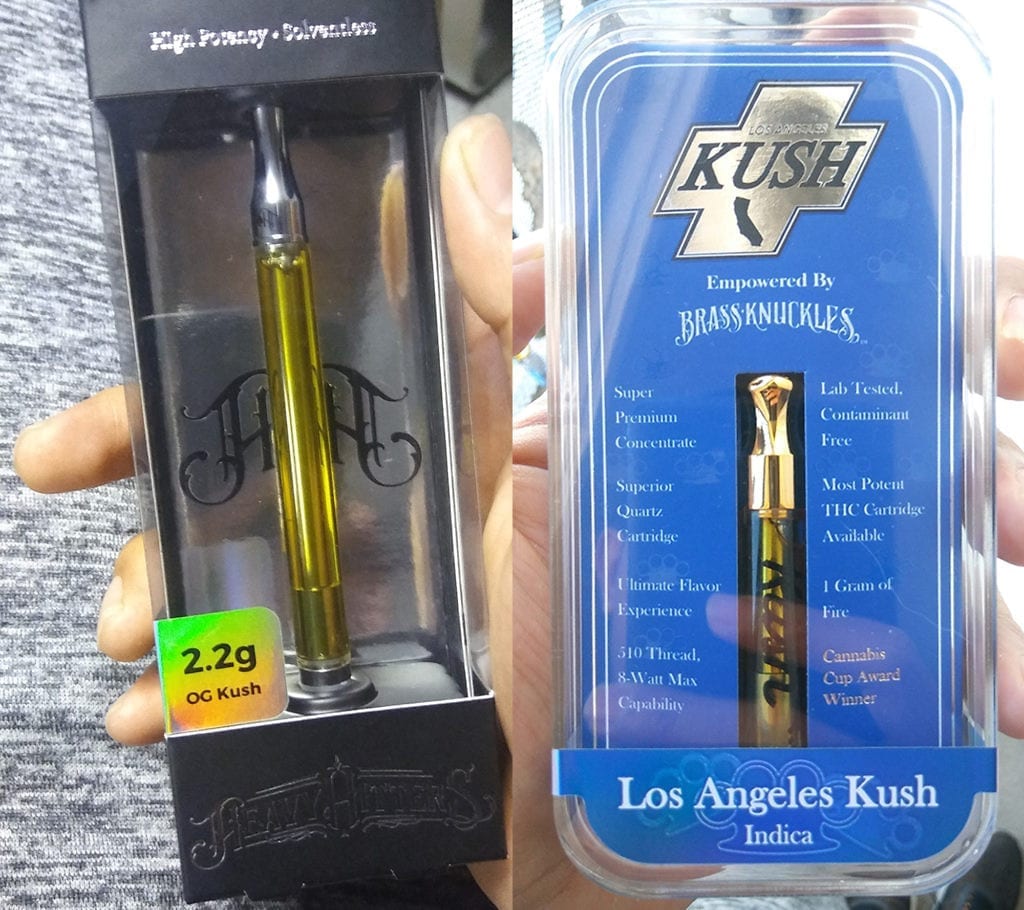 A Heavy hitters 2.2g cartridge cost me $110.00 with tax included, that's 1.1 grams at $55.00. The cheapest one gram Brass knuckles cart I could find in the bay area was for $55.00. You're getting more for your money with Heavy hitters because those extra free .2 grams do make difference. It's great to be able to save by buying more.
Efficiency: Best Vape Cartridge Design goes to Brass Knuckles
Something as simple as unscrewing your THC oil cartridge shouldn't be problematic. I've tried over a dozen different pre filled vape cartridge brands and these two rank among the top 5. A THC oil cartridge must be efficient at not wasting any extract. Brass knuckles and Heavy hitters have created a cartridge that does not waste any co2 oil. No product is perfect and that holds true with Brass knuckles, I had to return a few cartridges that malfunctioned. I was glad that I was able to exchange them without any problems. Heavy Hitters and Brass knuckles both provide huge clouds.
Ingredients: Pesticides found in both cartridges
Unforunately, lab results revealed pesticides in carts from both of these companies. Multiple sources online reported buying both Heavy Hitter and Brass knuckles cartridges, they then sent them to be tested for pesticides where they both failed. It's important to understand in California they're no regulations to prevent marijuana-related products from being sold with pesticides. Currently, in states like Nevada and Colorado, they're stricter regulations in place to protect the public from harmful cannabis products.
Number of hits: Heavy Hitters provides more hits for less money
Heavy Hitters were designed to last long and that it does. The Heavy Hitters 2.2 cartridge provided me with more hits I could count. The largest capacity for Brass knuckles is only 1 gram, this cartridge will last me for three days with heavy usage. The Heavy hitters larger cartridge will last me a whole week or a two-day rave sharing it with 5 others.
Vape cartridge brands better than both Heavy Hitters and Brass Knuckles
Both of these brands are not that great. Since we originally did this post, we have found many THC carts to be better than both of these brands. Heavy Hitters is only in CA (legally), so we will list some CA brands that are better:
Airo Pro, Select Elite, Korova, Kurvana, Justdab, and stick e vape
If you happen to be in Nevada, you should also check out cartridges by Roots and Kabunky. They are NV only brands, but both better than Brass Knuckles, which is available in NV. See our best carts of CA and best carts of NV lists for more choices that beat BK and HH.
Heavy Hitters vs Brass Knuckles cartridges Final Results: Its a draw!
Brass knuckles vape cartridges are top tier carts (besides the pesticides, but they claim they have fixed this). They are strong but worth the cost. Heavy hitters offer a more economical vape pen hash oil cartridge. These two companies definitely offer some of the best vape cartridges on the market. Heavy Hitters has introduced an innovation that others are sure to mimic. There were flaws on both cartridges, as none of them are perfect. These are some of the best but they are not the best available. Cannabis oil cartridges will continue to improve as more people accept vaping as an alternative to smoking. The most powerful THC cartridge right now is Stiiizy. I created a table below of the Heavy Hitters vs Brass Knuckles cartridge points. The score ended in a tie with none being better than the other. I recommend trying both of them to determine which one you prefer. Comment below if you have tried these both and let us know which you prefer.
| Flavor | THC Strength | Vape Clouds | Cart Design | Quality Control | Durability | Price Value |
| --- | --- | --- | --- | --- | --- | --- |
| Brass Knuckles | Brass Knuckles | Heavy Hitters | Heavy Hitters | None | Brass Knuckles | Heavy Hitters |