Stiiizy Review: Way Weaker Than Before, Not Recommended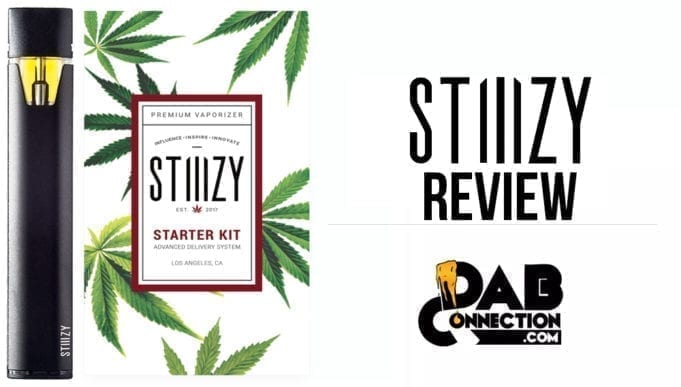 REVIEW OVERVIEW

Design and Build Quality

8

SUMMARY

I discovered the Stiiizy pen on weedmaps when I was looking for the highest overall rated prefilled cartridge. My curiosity quickly took over and I had to find the nearest place that supplied this Stiiizy pen and its Stiiizy pods. We found this as the highest rated on Weedmaps and originally it was a great product. Now Stiiizy is one of the weakest prefilled cartridge systems. Read why we originally loved this innovative THC oil vape pen and we no longer recommend it due to the lack of strength after they changed their oil.
Stiiizy is a vape pen company that was created in 2017, and has since gained much popular favor. They designed a product that is different than the other commonly found 510 threaded vape pen cartridges. Read our Stiiizy pen review to find out why we recommended it as our favorite THC oil vape cartridge of 2018, and also why we have updated this review since then to make it one of our least favorites. As of 2019, Stiiiizy vape pods are very weak now as they have changed their oil to a much less potent formula.
Please note: This review covers the distillate cartridge. We've been informed that the live resin cartridges are a completely different quality standard.
Update 9/24/2018:vape pen pesticides and residual solvents test A Stiiizy pen pod failed for a Benzene test. See our for more information. Most recently Stiiizy's oil has also felt weaker than it used to. We will be submitting a new test for strength, pesticides, and residual solvents shortly.
Update 2/22/2019: We updated this review to reflect the current state of Stiiizy vape pods in 2019: They are much weaker. This might be a benefit for some people that want to hit on a cart that is not too strong. For most of our readers they probably want something stronger.
Update 6/4/2019: Stiiizy looks like it may have changed its oil again, for the better! The new pods are looking lighter, we will update this review to reflect the latest Stiiiizy pods.
Update 8/10/2019: Stiiizy's oil did get a little lighter color than it was in mid 2018. It still is very weak compared to other cartridges. Stiiizy pods are still nowhere near the strength they were at the end of 2017.
Update 5/30/2020: Stiiizy now has live resin pods. This review covers their distillate pods. It has been reported by some the live resin is much better. We should have a review up for the live resin pods soon.
The design of Stiiizy pods are a big improvement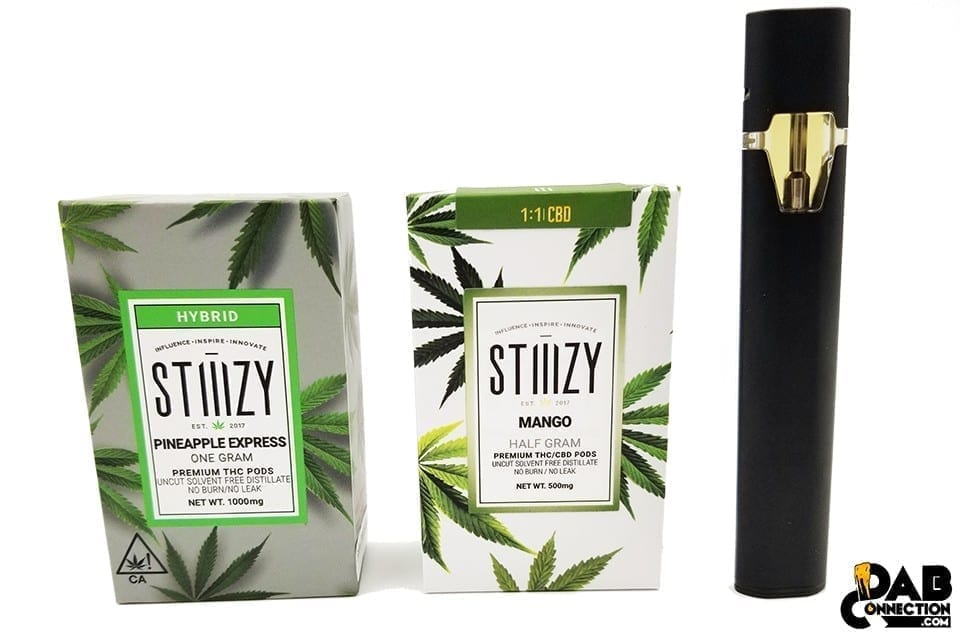 Compared to some 510 threaded vape cartridges, Stiiizy created a superior version of the Pax Era. Pax was the first company to introduce pods as the new vape cartridges for vaping concentrate. The pods for both of these vape pens snap on and off magnetically. The great thing about them is you can refill Stiiizy pods too. The Stiiizy pods are made out of plastic and have a ceramic heating device inside.
The pod system for Stiiizy is still a great system to refill. Since they came out CCELL cartridges have gotten better as well. I would take a current generation CCELL and a good battery like the Vessel over a Stiiizy pod. This innovated design prevents wasting THC oil from accidental drops, glass cartridges sometimes can crack when dropped and waste the precious cannabis oil inside. Another nice feature micro USB connection that can be found at the bottom of the Stiiizy vape, it's not recommended to use this vape pen while it's charging though. Most smaller 510 batteries still require a screw on charger, but higher end batteries also use USB.
Both CCELL Uno and Dart outperform Stiiizy
Since originally posting this review, CCELL has made its own pod hardware. Unfortunately, it is not yet sold empty, but the Dart can be found on Moxie pods. The atomizer is the same on both the Uno and Dart, but I think the Uno battery hits a little bit harder. Both systems outperform Stiiizy substantially.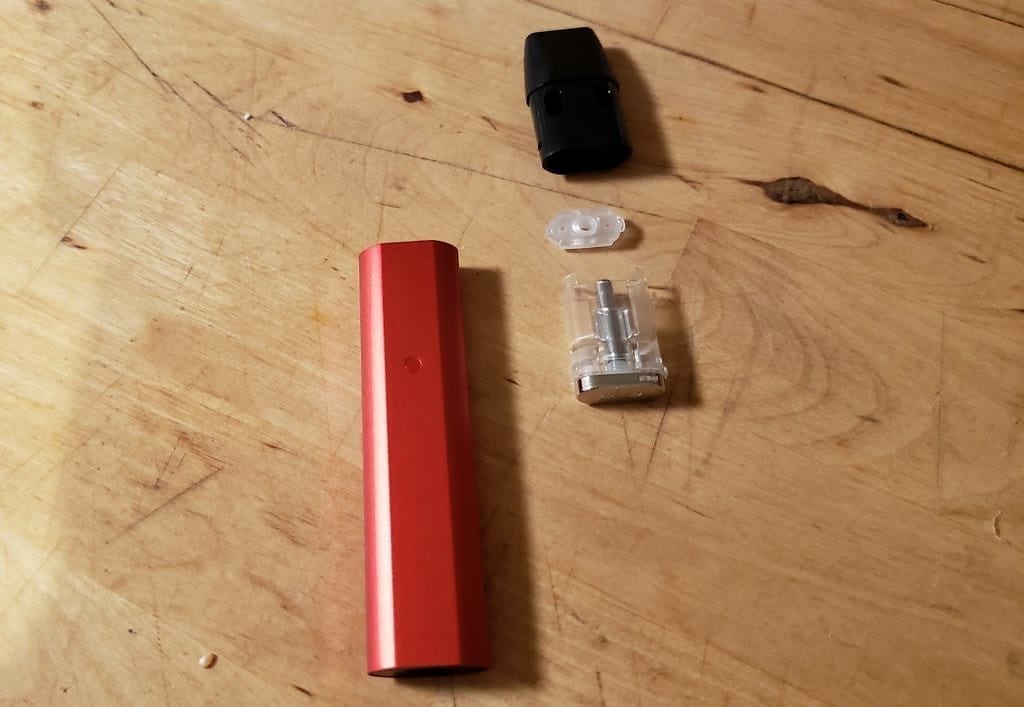 The reason it outperforms Stiiizy is the little plastic cap you can see above in between the atomizer base and the mouthpiece. CCELL made a snapping plastic lock rather than just relying on rubber to stay in place. Stiiizy has had issues where the rubber becomes loose and the pod stops working. CCELL's system stops that from happening, plus it just hits way harder.
The Stiiizy pen started with potent THC oil, now it is weaker than most of what is available
The extracted THC oil Stiiizy originally had in 2017 and early 2018 was strong. The oil in Stiiizy pods had THC levels testing at 85%. The lab test results for each of their cartridges are easily accessible on their website, stiiizy.com. Later they were found to have weaker oil than claimed, as seen on our oil pen tests list. Vaping this cannabis extracted oil tasted very clean. Still it is clean tasting, but since they have moved to a yellow colored oil it does not taste as good as it did.
Stronger than Stiiizy: other THC carts that are better
Our original reviewer said it reminded them of the oil in the Dosist vape pen, only much stronger. I doubt it reflects the quality Dosist is using in 2019. Stiiizy now is one of the weakest options available in California. A stronger THC pod system you may want to look at is the Plug and Play vape. For stronger cartridges in California check out Airo Pro, stick e vape, Jetty Extracts, and Kurvana ASCND.
Stiiizy pods are weaker then most vape cartridges.
At first we were blown away by the strength and quality of Stiiizy. Now Stiiizy is in the bottom 10% of cartridges. I would put it as one of the worst THC vaping options out there. The hardware is still good though and refilling with different oil is nice. However, you can just get an vFire that is very similar and made by the same manufacturer of Stiiizy hardware, ALD, and the same hardware that is used in the Plug and Play vape.
You will have to hit Stiiizy over and over to keep the high up, if you feel anything. Some pods produced no effect for me. I double checked with a friend who mostly hits straight dabs on eRigs, and he said he could not feel anything from Stiiizy pods. This vape pen used to be almost as powerful as dabbing from a dab rig. The original Stiiizy was one of the first vapes to get hits like you would from loading wax on a wax pen like the Omicron v5.
Taste is missing from the THC oil when vaped.


Our original reviewer tried five different strains from Stiiizy which include Grand Daddy Purp, Gelato, Skywalker OG, and Mango, and Pineapple express. I have gone through and retried these strains as well as others. Since Stiiizy pods have changed their oil, all of them lack in great taste as well. They almost taste like nothing, which matches what you get for strength.
Unfortunately, the Granddaddy Purple didn't remind of the cannabis strain I am familiar smoking, it tasted bland. The Skywalker OG probably tasted the best of the bunch but also was bland.. Gelato used to taste like a lighter version of the Brass Knuckles Gelato but now it is pretty much flavorless too. Our previous reviewer's favorite was the Mango CBD pod, since it used to be like Mango. Pineapple express a favorite of many of us at DabConnection, but we can't help but expect that has lost its old flavor as well.
Still one of the cheaper prefilled cartridges if you can find it at a good price.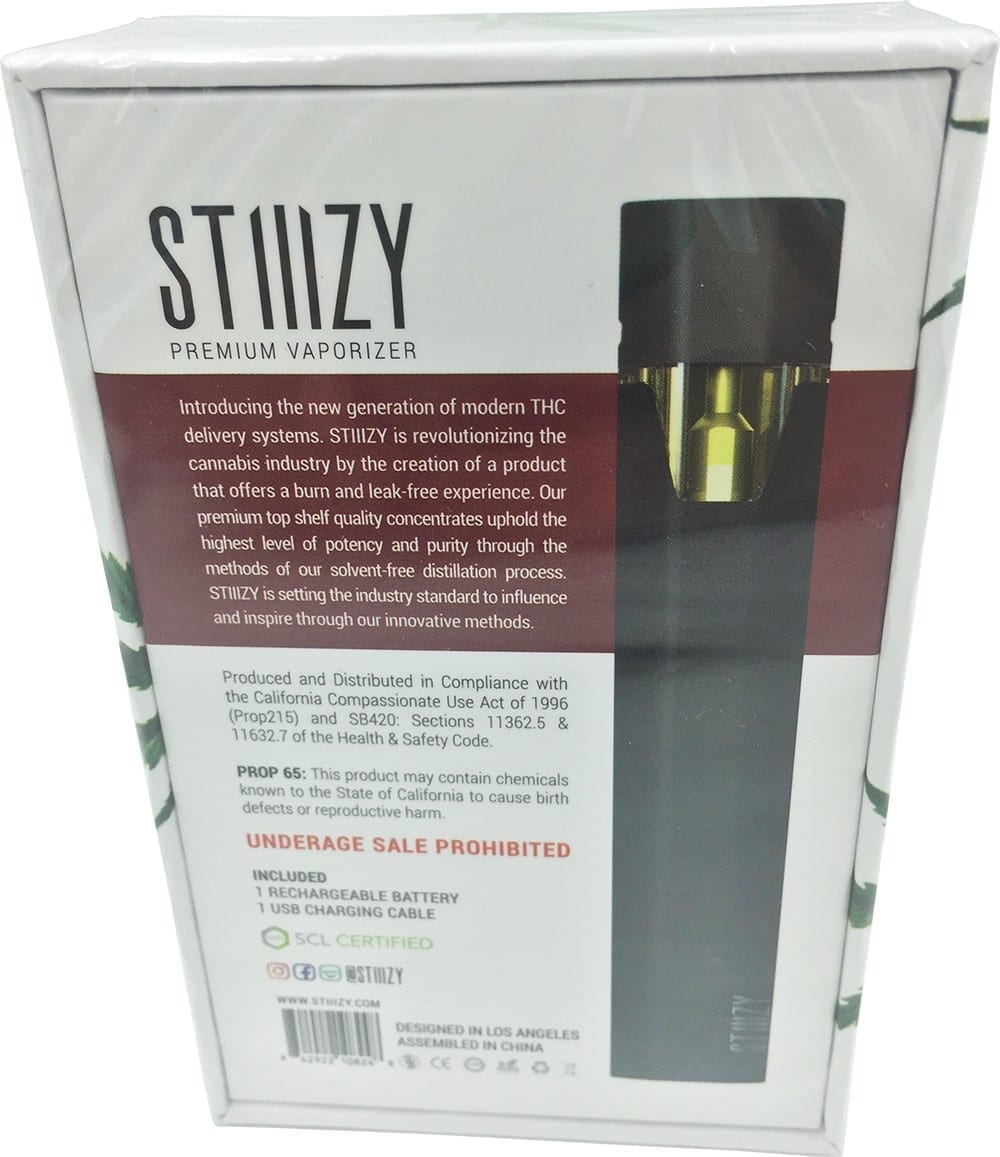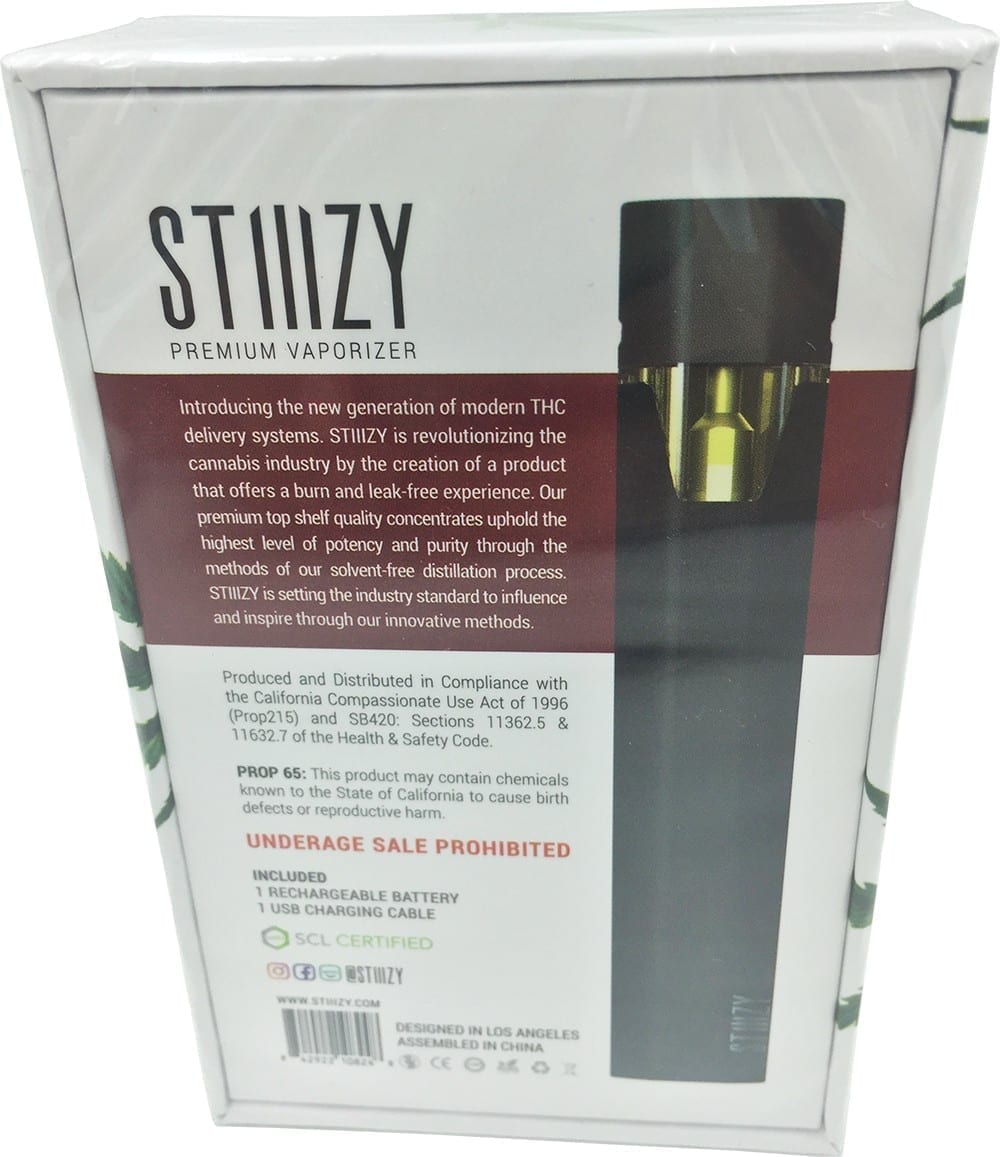 It's quite disappointing that the prices of these Stiiizy pods for sale are much higher in some cities than others. In the bay area the prices for a half gram are from $30-$40.00 before the 15% California cannabis tax. I managed to find them in Modesto, an hour drive away for $20.00 a half gram before taxes. Two half gram Stiiizy pods used to last longer than two carts from Amber Industries. Now the Stiiizy pods are effectively useless for someone with even mild THC tolerance.
This Stiiizy pen review shows how much it has changed. From one of the strongest, to weakest.
The Stiiizy pen originall was superior than 510 cartridges, the dual airflow mouthpiece and ceramic core heating element were innovative. The pods were better than the old generation CCELLs that were out at the time Stiiizy was released. Now CCELLs in the current generation are better and if you want a pod system, Plug and Play vape is better. You can even get the same hardware as the Plug and Play by way of the vFire and fill it with any oil you like.toronto vaporizers
The vFire can be filled without having to buy Stiiizy's oil
Given that Stiiizy and vFire are both ceramic core and made by the same manufacturer in China, you probably are getting the same heating element and performance. The better part about vFire is you can put better oil in it. Any random THC oil is most likely going to be better than what Stiiiizy currently puts in their pods. The hardware is efficient, but the oil sucks.
In conclusion, The Stiiizy Pen has gone from top of the line to bottom of the barrel. What once was one of the best is now one of the worst and something nobody who reviews for this site would buy. It is not something we would recommend any of our readers to buy either. It might be good for someone who is used to smoking very low potency cannabis and wants a very light effect, but it might be easier to just hit less on a better THC vape cartridge.
The Stiiizy pen had earned the highest overall average rating on Weedmaps for their product from people rating it and now any old ratings for Stiiizy should not be counted because it is completely different now. We would not recommend Stiiizy at this point in 2019. Things can change again though and should they get better oil later, we will update this review.
How has Stiiizy been for you?
What other vape carts compare to it? Comment below or post in our forum!
Update: An independent lab test was done on the Stiiizy pod Hardcore OG strain from an Instagram user that goes by the username @datdude41510 that showed only 68% THC found.