REVIEW OVERVIEW

SUMMARY

Pisos is one of the most expensive dispensaries in Las Vegas, but the similar products are available at other dispensaries in town for less.
Pisos is a dispensary located in Las Vegas, Nevada, off of the Strip. They are known for having prices higher than the rest of town, but there are
Location: 4110 S Maryland Pkwy #1, Las Vegas, NV 89119
Tel: (702) 367-9333
Updated 7/2/2019: Updated to reflect actual visit to Pisos. Review option now available.
Pisos is a Las Vegas dispensary close to the strip, pricing is substantially more than average
Pisos means "healing" which is what they try to do, but at a higher cost than other dispensaries in the Las Vegas valley. Some people might not care and will go anyway. Pisos offers some good tradeshow incentives for people coming to town.
Once they were giving away three grams of free wax and 20% off. The free wax is great of them to give, but for other tradeshows they just give 20% off.  This helps reduce the price but still even with that discount applied they are more expensive than average.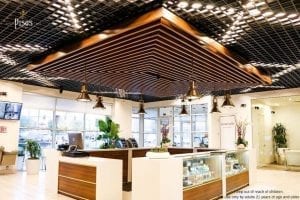 Their variety of their cart selection is decent, but not super extensive. However, they do carry Roots carts now. I have yet to see Airo Pro on the Pisos menu and that would be a plus.
Comparing prices, Pisos vs Essence
Let's compare the cost of a few different items at Pisos to Essence. Considering cash back and discounts that can get applied, Essence is one of the better shops in Las Vegas.
This may change over time, but so far the Essence on West Tropicana has a better cartridge selection than the other Essence locations. We always recommend checking menus online before you go to a store to see if there is something you want in stock. NuWu dispensary also has a good selection of carts.
Brass Knuckles cartridge: $120 at Pisos, $85 at Essence
So Pisos had the 1 gram Brass Knuckles cart for $120 but you could get a 20% discount because of a trade show at the time. You still might be able to get a locals discount that would cut into that price as well, but still Essence at $85 plus locals discount plus 3% cashback credit is a much better deal.
Brass Knuckles got pulled from the shelves at Essence. See our Brass Knuckles vape review for more info on why we thought it was under performing. Check out our list of the best vape carts in NV to see our top picks.
Roots cartridge: $65 at Pisos, $45 at Essence
You read right, $65 for a half gram cart. About 31% more for the same item at Pisos compared to Essence. If you get 20% off as a convention visitor it brings the price down more, but still higher. Plus Essence has it's own discounts that could equal or beat that. Not to mention 3% effective cashback at Essence with their rewards program.
Cheapest live resin half gram: $49 at Pisos, $25 at Essence
Of course there may be some variation in quality, but for a concentrate comparison we took the two lowest cost live resins to compare. There are not two exact concentrates matching up on both menus, so that's the best comparison we can give.
A White Label half gram of live resin at Pisos costs $49, while you can get an HSH half gram for $25 at Essence.
Maxing out the deals might work for some at Pisos
The Pisos deal page is pretty full. So someone might make out alright if they max out a particular deal. They offer marijuana patrons over 65 a 10% discount, and patients who are veterans or with disabilities receive a 15% discount. However, even with discounts they come up short on pricing.
I have found the best deals to be popup shops though. There was one for Select cartridges where you could buy one get one for one cent. You could get a total of 6 carts that way. Plus they gave a free battery or shirt with that.
AMA extracts has had BOGO pop up shops that I unfortunately missed. Random text deals are not bad either. Once Nevada Made Laughlin had AMA half gram syringes for $20. Those are normally $46 a piece at Essence.
Pisos has a decent range flower strains
They often have a decent flower selection and got to give them that. If you are already close by, got a discount handy and want to check out various strains of flower you may want to give them a shot.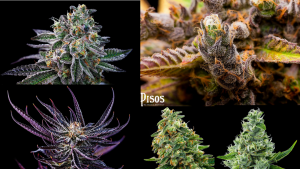 At the time of writing this in July of 2019, they have 25 strains on their menu.
Concentrate selection is decent, but also pricey
Pisos offers extracts from Giddy Up and Moxie. Also, they have a large preroll menu, partially comprised of in-house joints.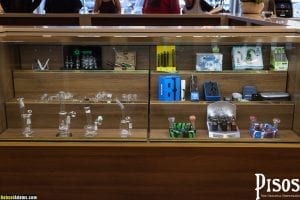 Patients who like topicals might like their balms, bath salts, and lotions. Furthermore, Pisos also offers edibles CBD options.
Driver kickbacks might be part of the reason for  high prices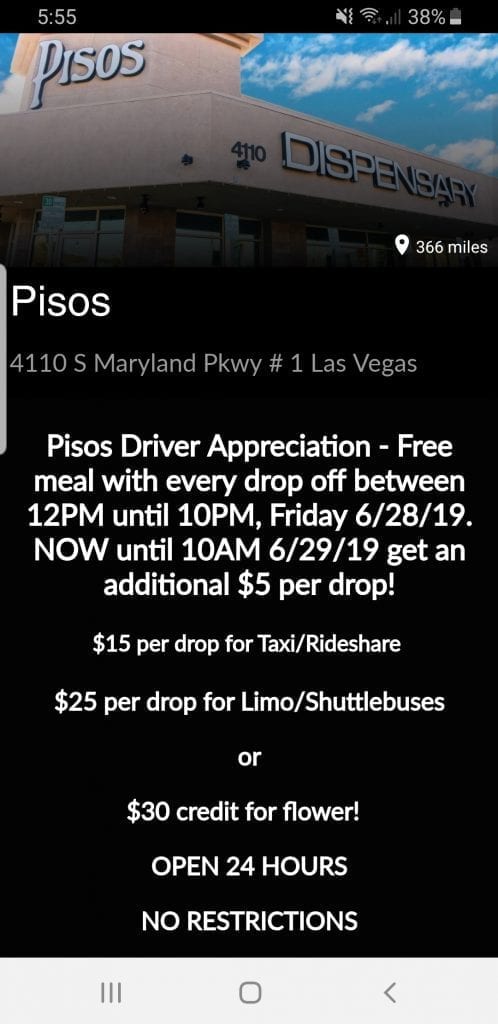 The prices at Pisos are undeniably high, but part of the reason is how customers get there. Driver kickbacks at Pisos can be up to $30 in credit to the store. Choose the cash option and get $15 for taxi and rideshare drivers or $25 for limo and shuttle bus drivers. Shot out to Brian who commented below about this process. We'll add another post on the totals for each shop soon.
This is currently the highest payout for any dispensary on the Vegas Kickback app. Kickbacks are nothing new and have been common for strip clubs long before dispensaries came to town.
Pisos location
Their marijuana dispensary is located in a shopping strip on the corner of Maryland Parkway and East Flamingo Road. Not to mention, it shares a street with University of Nevada Las Vegas, and is a few blocks away from Donna Beam Fine Art Gallery and Artemus W. Ham Concert Hall.
It's close to The Mirage, Excalibur Hotel & Casino, Luxor Hotel & Casino and Mandalay Bay.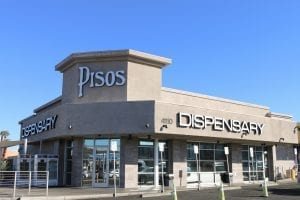 Staff was friendly at Pisos
The people that worked their were friendly. The only thing I think the staff was off on was saying the Napalm OG Brass Knuckles cart was good. However, I knew going in a BK cart might not be that great, but I wanted to try the Nevada version after being disappointed with the California version. Plus at the time CA had a lot of fake Brass Knuckles floating around.
They moved people quickly through the line and there were sufficient staff working on the inside.
Concluding our review on Pisos Las Vegas
Overall, Pisos has higher prices than other dispensaries in Las Vegas. The deals and free incentives they give out might make it worth the visit, especially if you are already close to it. For many though it's worth the drive or Uber to go to a place with a bigger selection and better prices. You can check out their website here.
Have you already been to Pisos? Post your review below! Question or comment? Post below or on our forum!