REVIEW OVERVIEW

SUMMARY

Pure Vibe full spectrum vape pens are really top-notch. Even when the hardware not hitting so hard, it still gives you a powerful effect.
Pure Vibe vape pens use THC distillate oil that comes in very clear. Overall, this turned out to be a great vape pen but they could have upgraded the hardware a little bit to make it hit harder. I got this cartridge up in Colorado and we hope to see this brand available in more areas in the future.
Overall, it turned out to be high-quality oil with great effects and something I would get again.
Pros:
Great oil quality
Oil vape slow
Good strength
Good taste
Cons:
Oil sometimes does come out of the mouthpiece
Hardware could hit harder
Recommendations: It will be nice to switch this to a different hardware style that might hit a little bit stronger.
Pure Vibe Vape Pen proves to be an overall a high-quality product
All aspects of the Pure Vibe vape pen are good. The effects are energetic. The hardware at first seemed disappointing, but once you get the hang of using the carb you can get a pretty strong hit out of it. Combined with the fact that it's thick THC oil vaped really slow, the Pure Vibe vape is a great product. It's also full spectrum, but I could not tell how that made it different in effects from other distillate carts.
For this review, we tested the Pure Vibe Full Spectrum vape pen in Sativa. It was 300mg of oil.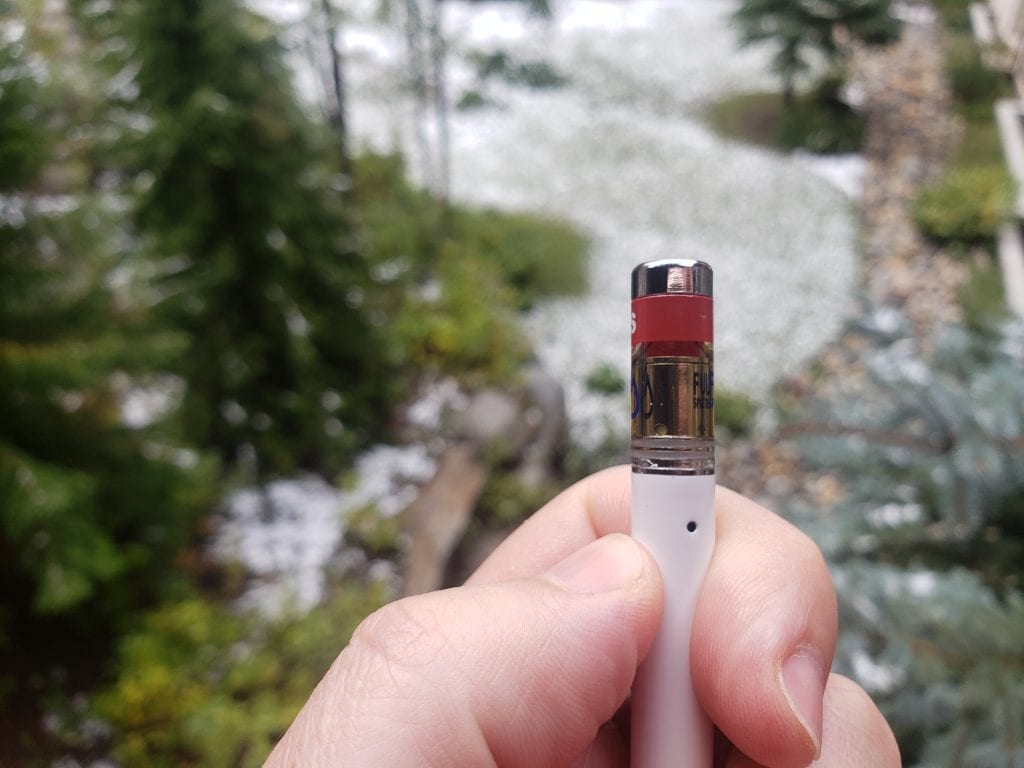 Design and Build Quality on Pure Vibe vape pens is good, but it could hit even harder
The current hardware used on the Pure Vibe vape pen is pretty decent. It just does not give a super kick to the hit by default. If you use the carb you can get a stronger hit out of it.
If they upgrade the hardware, this would be even stronger. When you take a look at the in-tank coils in the cartridge, they are pretty small. Much smaller than what you see in CCELL and that might be the reason why the hit is not as hard.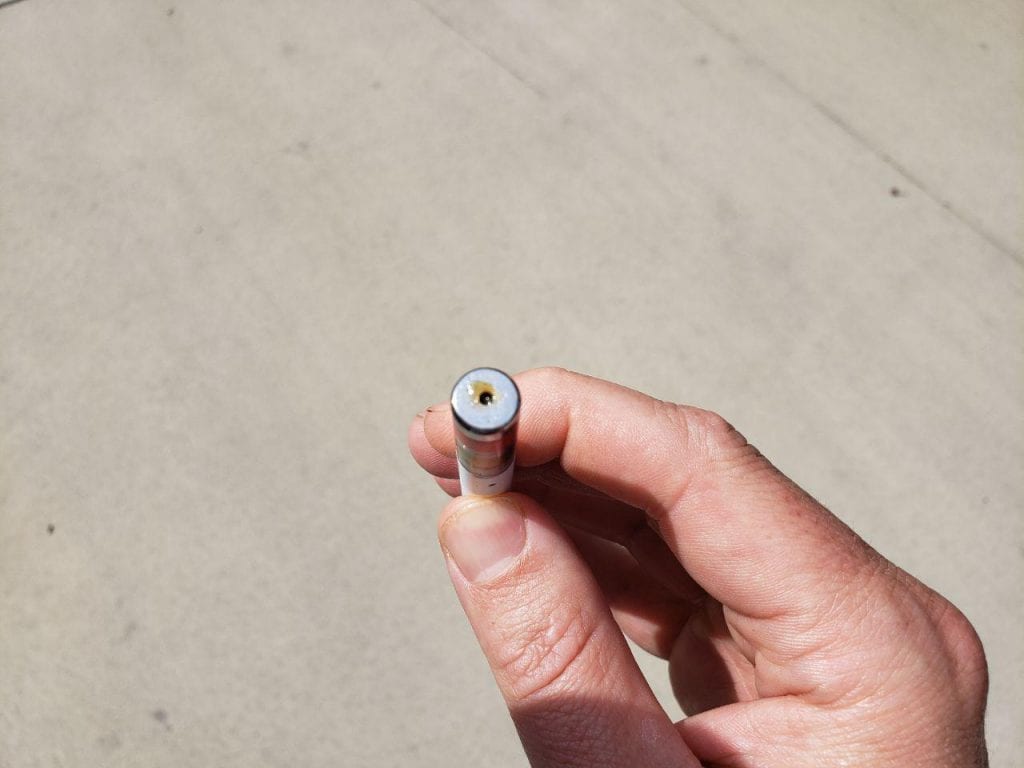 The packaging comes in as pretty standard, and comes in a nice little box. Pure Vibe has awesome quality, nothing to complain about. Throughout the entire use of the vape, it provides the same consistency, it is thick, it looks good, and it looks very similar to the distillate found on Cannavative cartridges and Aces Extracts cartridges.
It's a little bit lighter than the Aces and a little bit darker than the Cannavative,  right in between.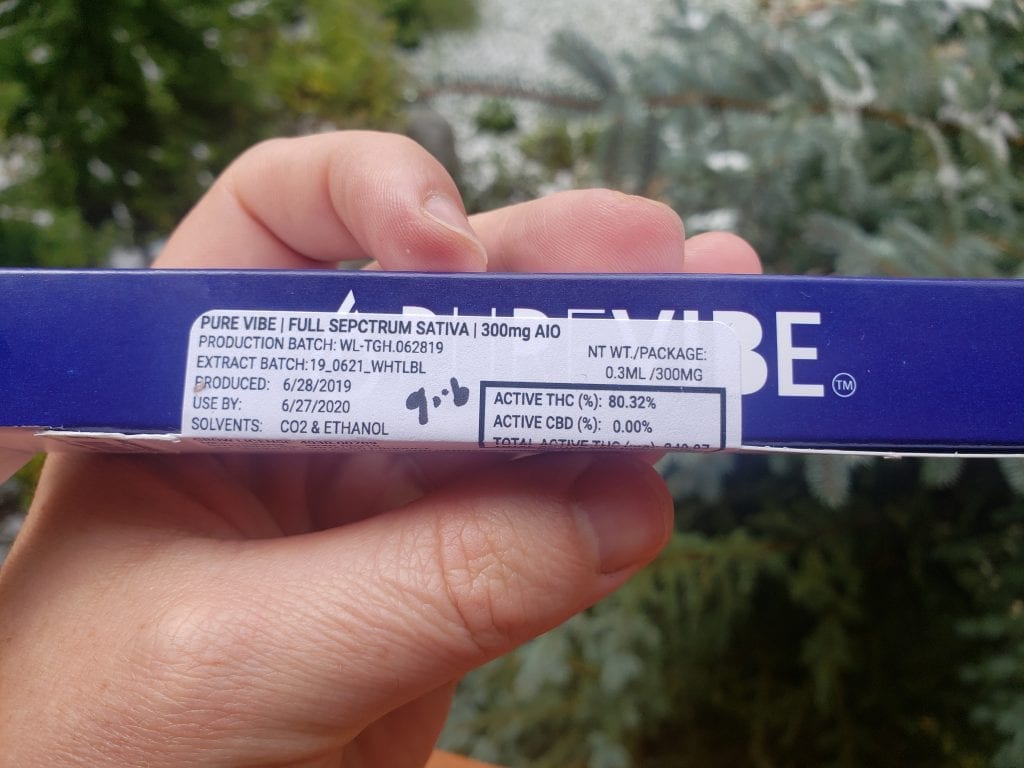 Pure Vibe really delivers on strength
I've been hitting the Sativa version of their vape pen. If they have a stronger hitting vape pen with larger intake holes, we probably can get a much stronger effect. However, as is, the Pure Vibe vape pen still delivers.
The strength is comparable with many other top brands we have tried in California and Nevada, and this Colorado vape pen is not a disappointment in strength. It's just that, it could be even stronger. With better hardware, this might outperform all of the best cartridges that we have in other States.
At some point, we hope to pick up a syringe of Pure Vibe oil if it's available and we'll test it out on something like a CCELL or SPRK cartridge. then we'll see how strong this thing can get.
Comparing Pure Vibe to the most popular vape cartridge brands
However, compared to some popular California brands, even with not-as-hard-hitting hardware, I would put Pure Vibe above Cookies, Stiiizy, and Brass Knuckles on strength. Pure Vibe is way ahead of these cartridges when it comes to strength.
Compared to Nevada brands, I would put Pure Vibe above Polaris, Rhythm, and Kynd cartridges. It's slightly behind Cannavative and Roots on strength.
Colorado to Colorado put Pure Vibe's strength on par with Eureka Vapor. Some Airo Pro carts seemed stronger, some a little weaker. I bet if I try more Pure Vibe vapes overall it will be on par with Airo Pro. Pure Vibe is stronger than Javelina. I might complain a bit about Pure Vibe's hardware, but javelinas is a new level of hardware restricting quality oil.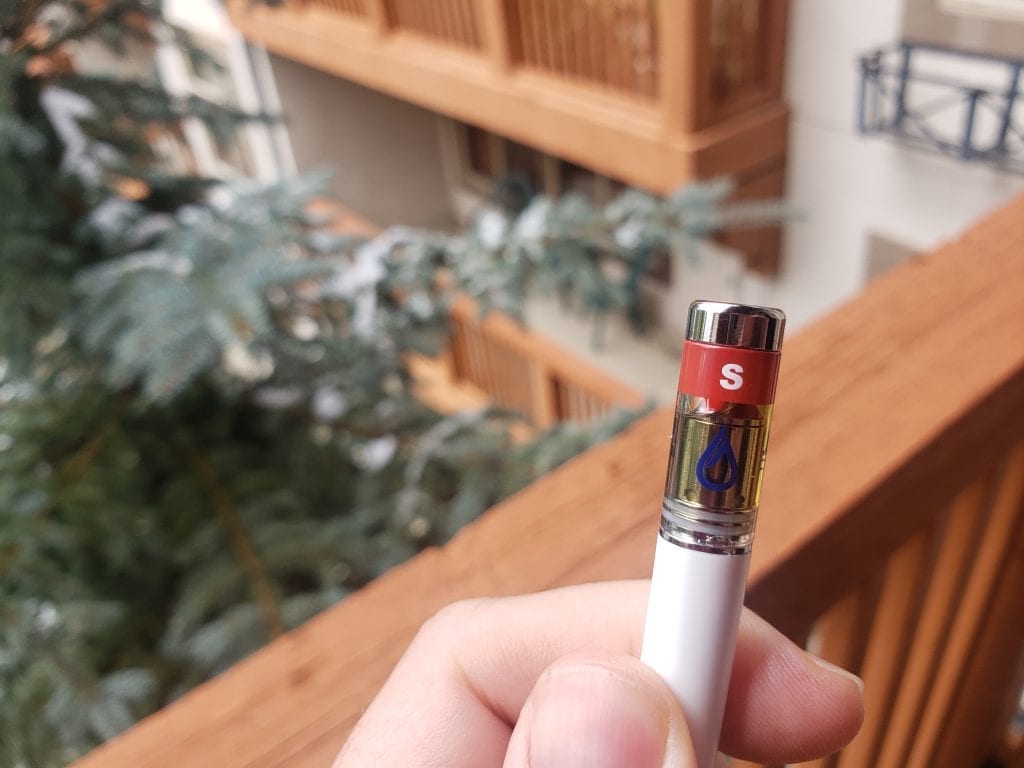 Pure Vibe THC oils taste like a standard distillate, but I like it
The THC oil on the Pure Vibe Pen tastes good. It tastes just like a distillate oil. It reminds me of the taste from the Cannavative cartridges. Its nothing like the taste so fine with the Airo Pro cartridges or the RAD vape that are heavily flavored. However, that's fine, I particularly like this taste and I know a lot of people do as well. There's nothing off-putting about the taste.
Efficiency is good due to low hole placement
The intake hole placement is pretty low and it's strategically placed where there's nothing to waste out of the oil in this cartridge. Overall, the efficiency is about as good as it can get and we're seeing more cartridges converge to make gains on efficiency. Efficiency is becoming less of an issue on cartridges. However, it still tends to be an issue on things like the G Pen Gio Pod, the CCELL Dart, and Uno.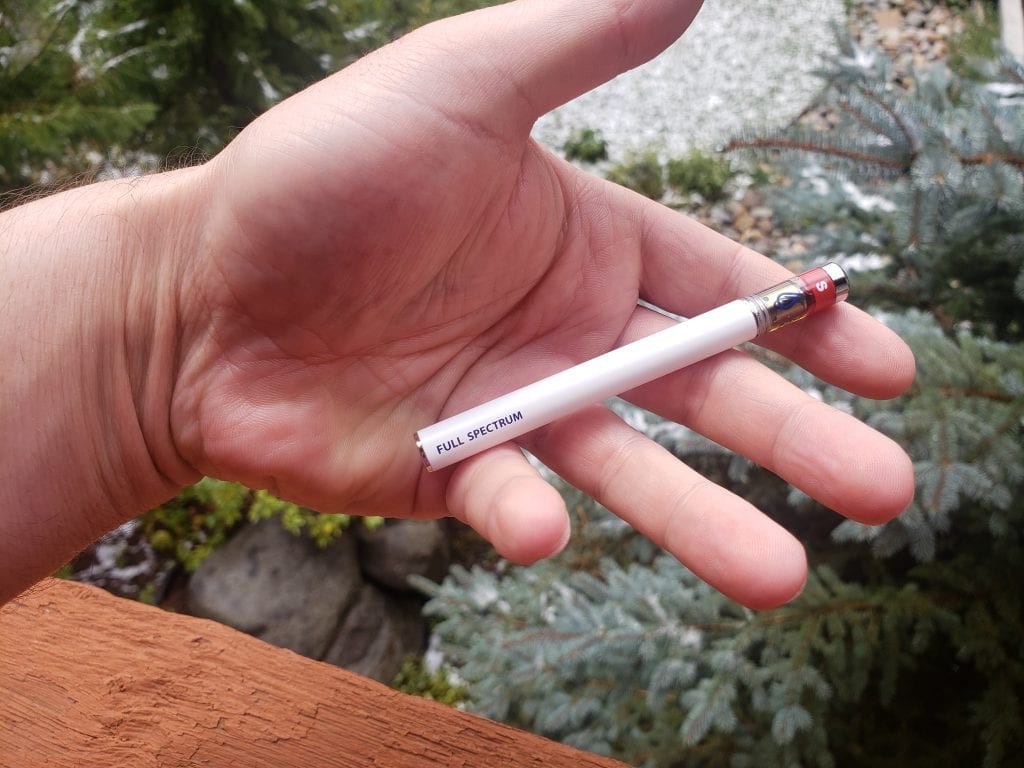 Pure Vibe is a little bit expensive for what it comes with
Pure Vibe vape pens are $38 per piece for a 300mg dose where I went in CO. This might be a little more expensive than usual because I was at a border town when I purchased it. Things might be slightly less in the middle of CO.
Compare to a half gram of other cartridges that range for about $40, it is not the best dollar deal that you can have if you got your own battery. However, given its unique oil and that it tastes good, I will still get more in the future.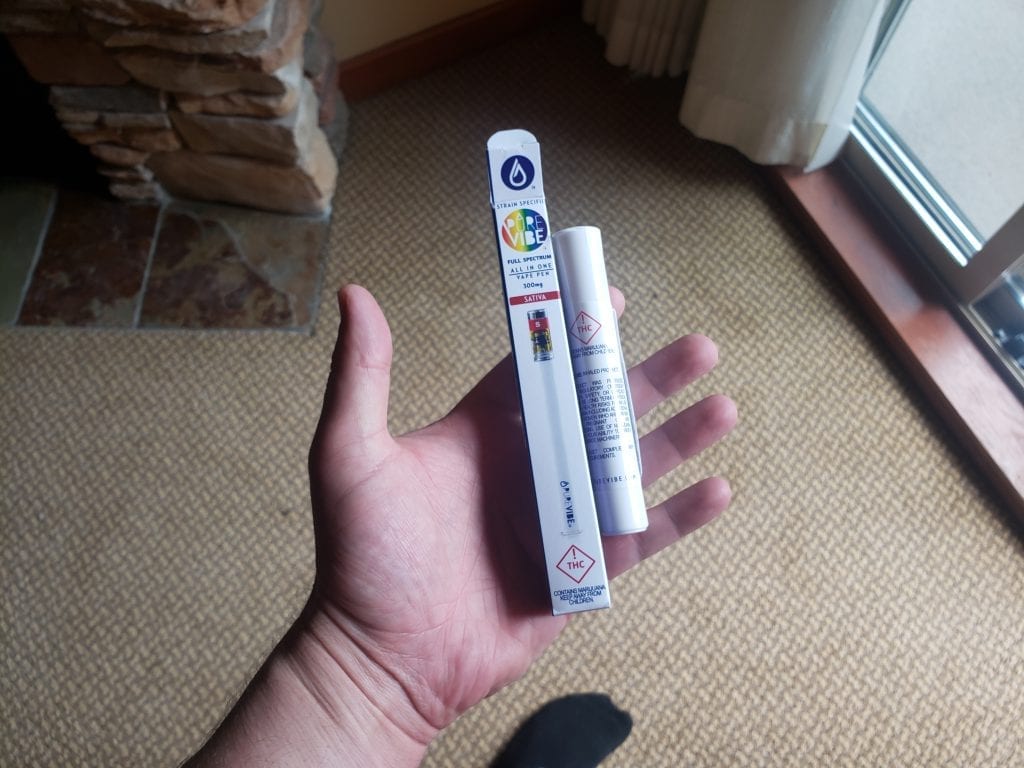 Concluding our Pen Vibe Vape Pen review…
Pure Vibe turned out to be pretty awesome. Definitely, something that I will try again, and the quality was top-notch. I would love to see this in the syringe format so we can put it on our hardware or see it on an already done CCELL setup.
I recommend trying out Pure Vibe if ever you're in Colorado or when they come to your state. You can find more information on Pure Vibe here and see more pics of their products on their Instagram.
Have you tried Pure Vibe vape pens before? Post your review below! Questions or comments? Post below or in our forum!