REVIEW OVERVIEW

Design & Build Quality

7.5

SUMMARY

The NUG vape cartridges offer an excellent flavor and good high at a low price point. They do, however, tend to drain quite quickly.
NUG is the brand name for a line of products manufactured by Bloom Innovations. Bloom both grows cannabis and manufactures a wide variety of cannabis products which they then distribute under the NUG brand name. They are decidedly more rigidly corporate in structure and protocol than many cart manufacturers out there. Their growing methods, extraction methods and cartridges have all been designed in-house by a dedicated R&D team. The carts they produce are filled with a CO2 extracted distillate.
See our video review below, then keep reading for the in depth review.
NUG cartridges are available in California. In this review we'll be trying their Premium Jack Herer see how their carts stand up against the competition.
Pros:
Good flavor which maintains throughout
Adjustable airflow for thicker or lighter hits
Easily cleaned and refillable cartridge design
Affordable cost
Cons:
Hits are never particularly thick

Oil drains quickly
Cartridge clogs constantly
Recommendations: Fixing the clogging issues with the cartridge and giving it a better heating element to provide thicker hits would make it truly great for the low price point. If they went with a CCELL, all problems fixed.
Licensing Information: CANN Distributors, Inc., license number C11-0000451-LIC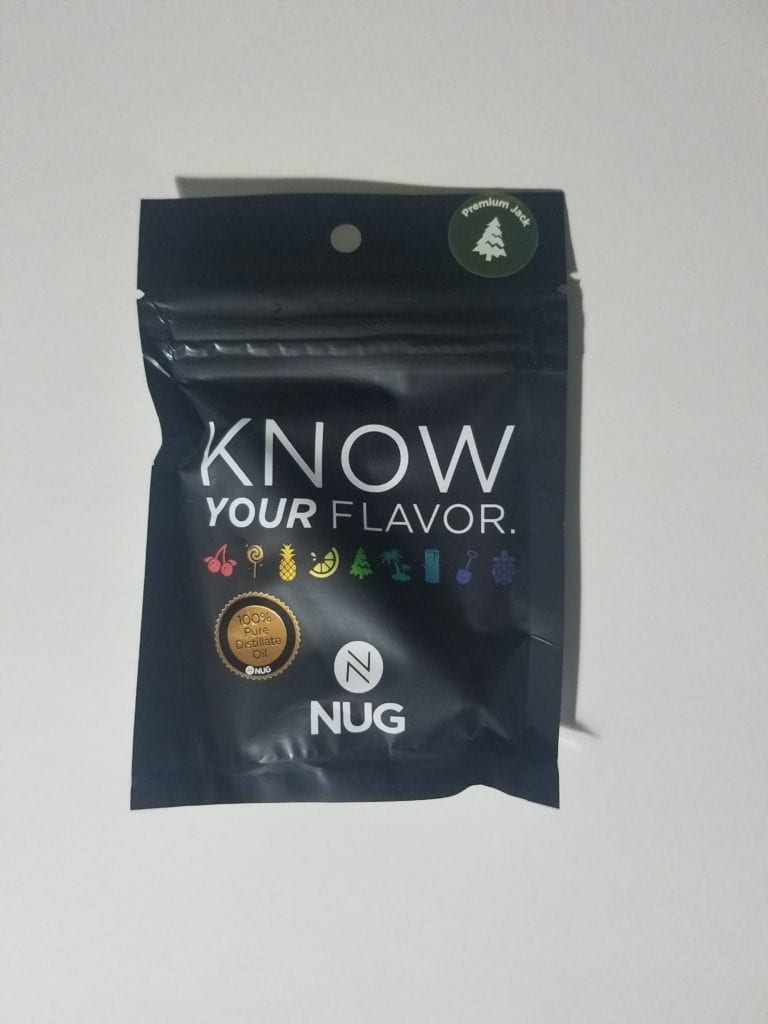 NUG offers good value and unique design
The CCELL design of cartridge has become so ubiquitous that it's sometimes a bit of a surprise to see designs that stray far from it. NUG, however, has a proprietary cartridge design that is clearly different in several notable ways, but similar to the style of Rove and Cannabiotix.
NUG THC carts are filled with a particularly tasty distillate which provide excellent flavor from the start to finish. Unfortunately they tend to drain fast. An incredibly low price point offsets any real complaint over the lifetime of the cartridge itself, however. They also clearly post information for you to find test results for the distillate batch in question on their packaging, something precious few companies have caught onto yet.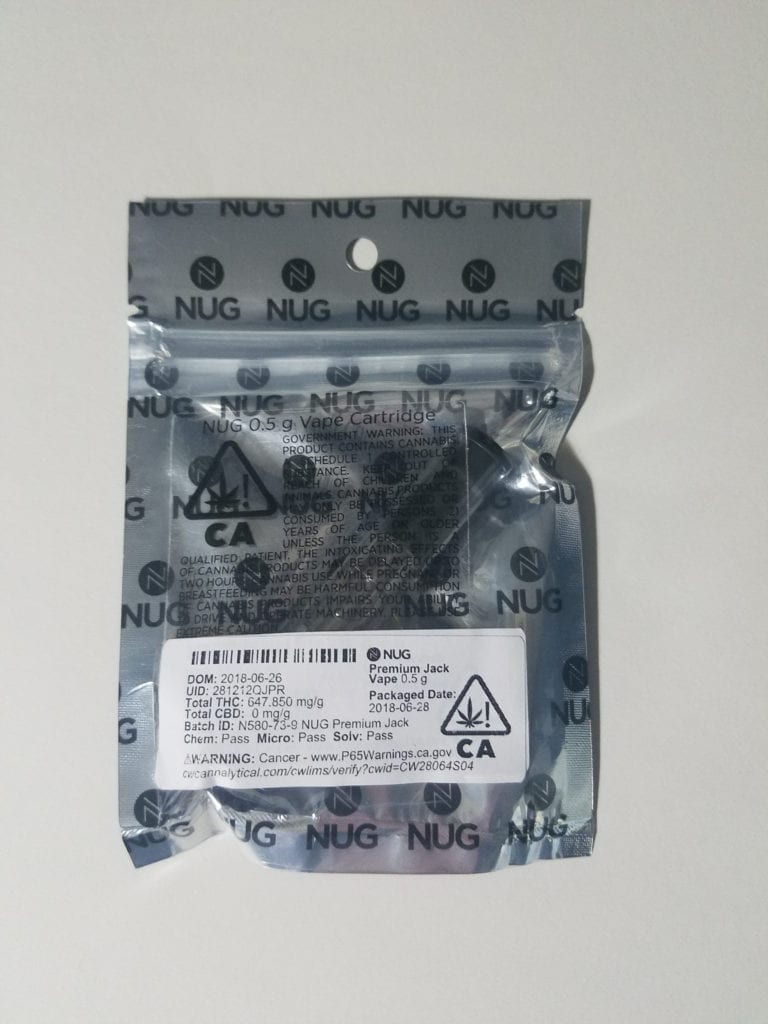 Unusual but interesting design in NUG carts
The visual appearance of a NUG cartridge is not uniquely striking at a glance but upon close inspection many differences arise. It's a 510 threaded design that is almost entirely metal housed save for the glass oil chamber. The chamber, and entire main body, is larger than most half gram carts. It sports a large headspace over the liquid even when full, something that may at first seem negative but, as we will see later, helps to make it even more easily refillable.
It also has a particularly unique set of adjustable air vents, allowing you to control the strength of your hits. This feature is quite nice, though it would be more appreciated if it hit heavier than it does in the first place. Compared to a CCELL cart the clouds it puts out are a bit anemic.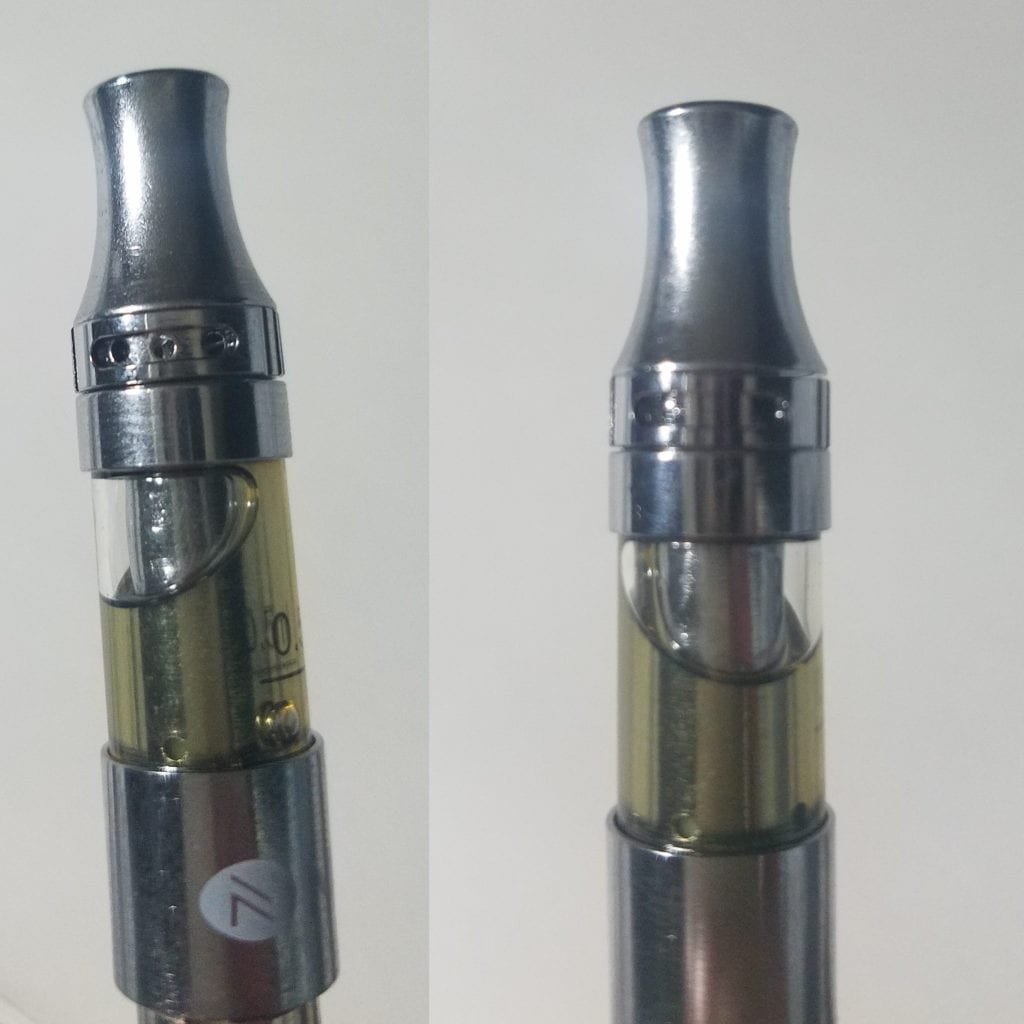 Excellent flavor at a low price from NUG
One place where I can't fault NUG at all is on their flavor. The Premium Jack Herer cartridge was a delicious citrusy, floral flavor that I enjoyed every moment of. For anyone whose primary focus is flavor it's not a hard recommendation to make. I can't think of any others at such a low cost that manage to deliver both natural and full bodied flavors as well as avoid the burnt flavors toward the end. It blows carts like Atlas Extracts completely out of the water.
This is only hurt by the light hits and rate at which the cartridge drains. Lighter hits do make it easier to savor the cartridge but if you want any kind of decent high and you have some tolerance it will take quite a number of hits to deliver. The high is a decent length for the price of only $25, lasting a few hours at a time, but it ultimately only lasted me a couple of days of heavy use.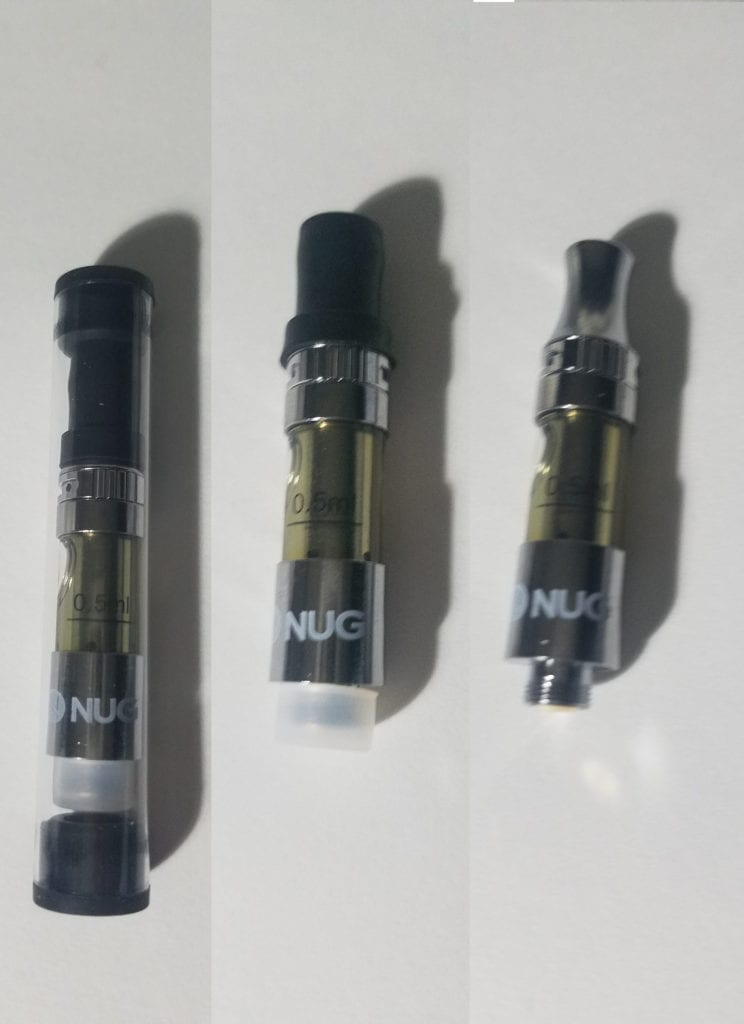 Readily available testing verifies cleanliness
NUG provides a link to easily verify the posted strength and the absence of contaminants on the packaging of all their carts. The full testing results for this cartridge can be found on our cartridge testing page.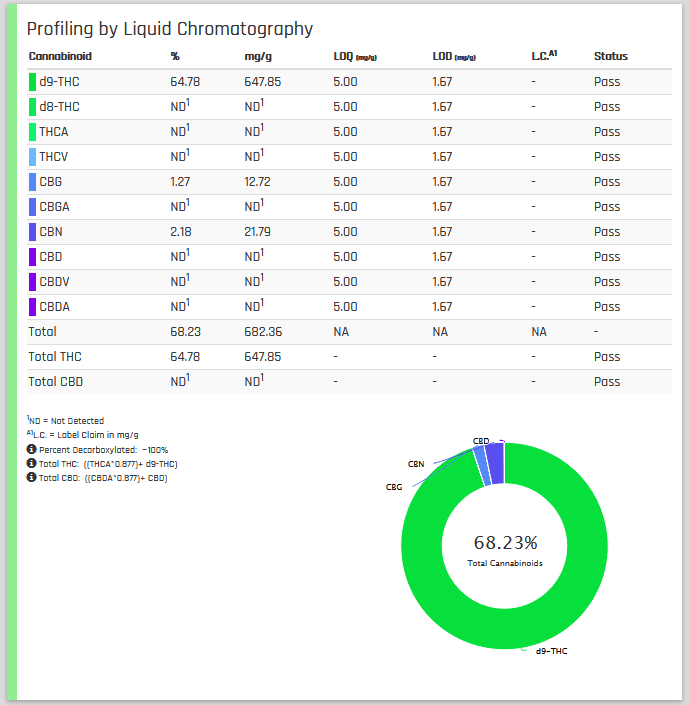 Easy refills provide an edge for NUG's cart design
To further enforce the budget nature of the NUG cartridge they have gone with a design that is incredibly easy to open, clean and refill. The mouthpiece of the cartridge is held in place by a central pin down through the center of the oil chamber. This also serves as the air inlet for drawing hits. It opens quickly and easily with a twist and goes back on just as easy. Once opened it's not difficult at all to clean out with a few alcohol cleaning pads to then fill with your choice of concentrate. For someone looking for bargains and convenience this is a feature worthy of note.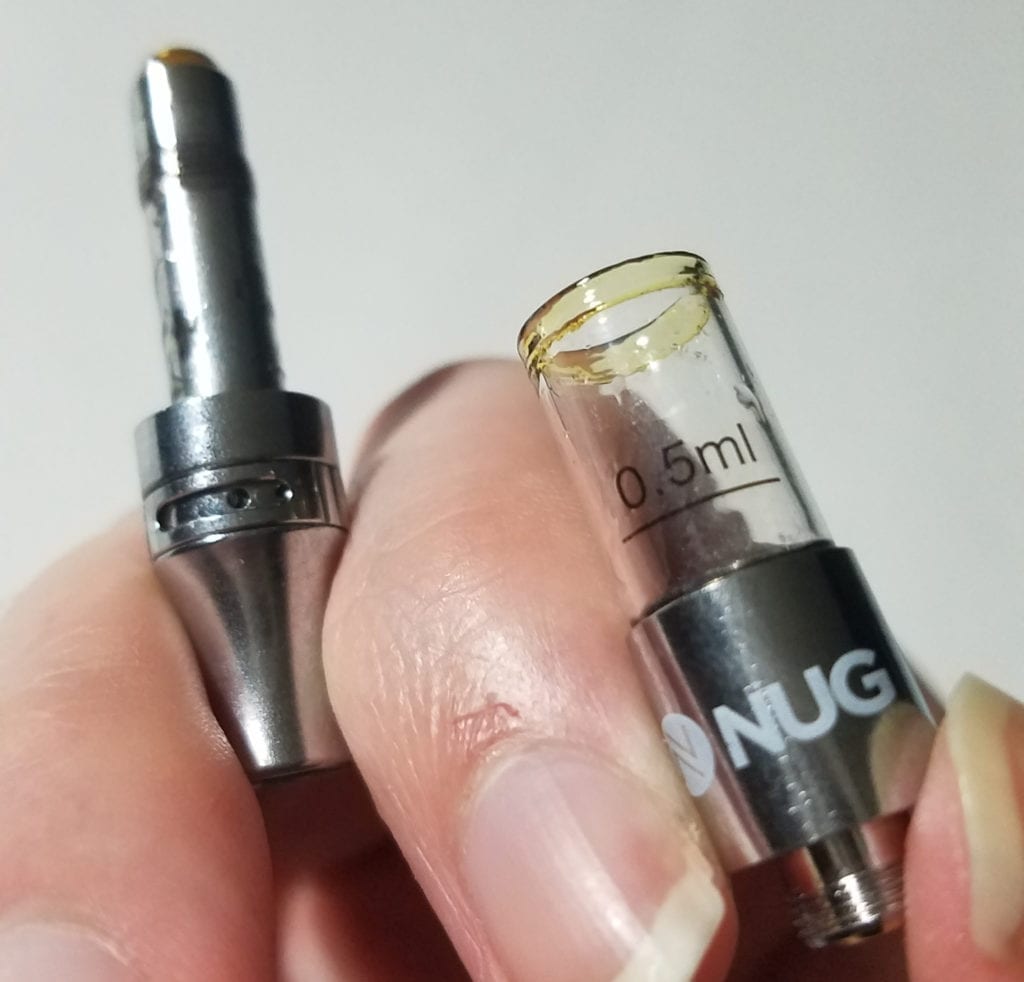 Good flavor, low price from NUG cart
This cartridge was clearly designed with the bargain hunter in mind and, for the most part, it delivers on that. Its strength does make it hard to recommend to those with a higher tolerance. But the exemplary flavor makes it something that may be attractive to others just looking for more of a tasty treat. I'd say it's not a bad cart on a budget and it's definitely a treat when it comes to taste.
If you are looking for higher strength with good flavor, but at a higher cost, check out Airo Pro. They made our best THC cartridge lists for both California and Nevada.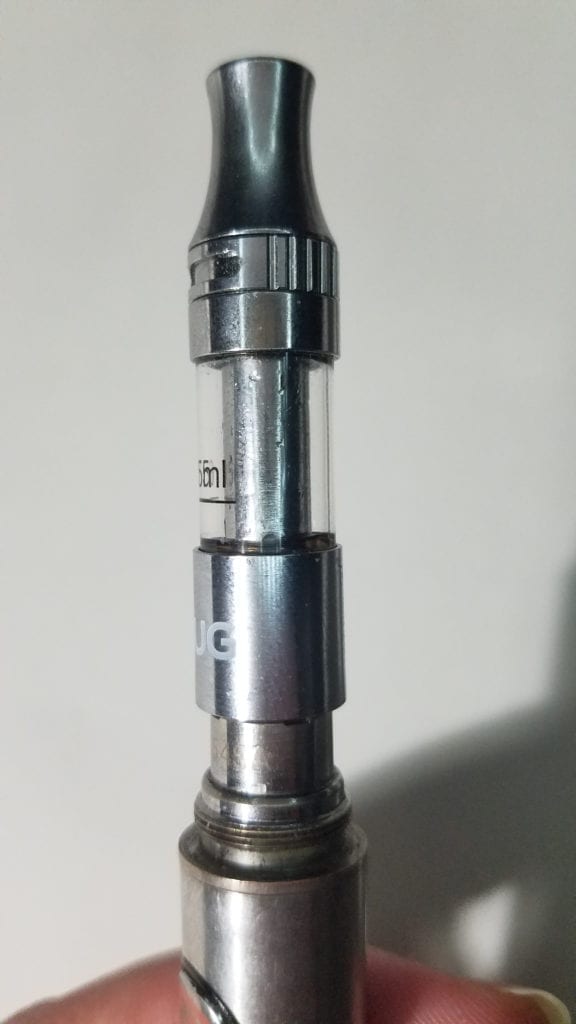 Concluding this NUG cart review…
Overall I would rate NUG's cartridges just a bit above average, with its flavor winning me over in spite of its lack of strength. For the price it's something that's hard to beat on a tight budget if you're looking for cartridges to deliver your high. Their proprietary cart design could use some improvements but it's nice to see some companies change things up a bit. You can find NUG carts near you here. You can read more about NUG and Bloom Innovations on their website here.