REVIEW OVERVIEW

Design & Build Quality

7.5

SUMMARY

This THC vape cart by Lucid Oils could use better hardware, but has been getting better and better. Despite the soso hardware, the oil is very strong, making for a good cart.
Here we take a look at the Lucid Oils cartridge.  They have come out with stronger oil across the board, including the 87% THC found in this Strawberry Cough vape cartridge. We picked up another cartridge recently and they did change the packaging. Strength has also improved.
Pros:
Good taste
Decent strength
Cons:
Hardware does not hit hard
Recommendations: Swap the hardware to something that hits harder. Currently, I prefer their oil syringe and refilling a used CCELL. Their syringes are some of the best out there.
Update: Lucid Oils carts have gotten stronger and stronger. Now in 2020 they are a different level cart than when we first did this review. Originally we rated this at a decent strength, now it's a great strength. Price has also become the same as other carts.
The Lucid Oils cartridge proved tasty and strong with the right battery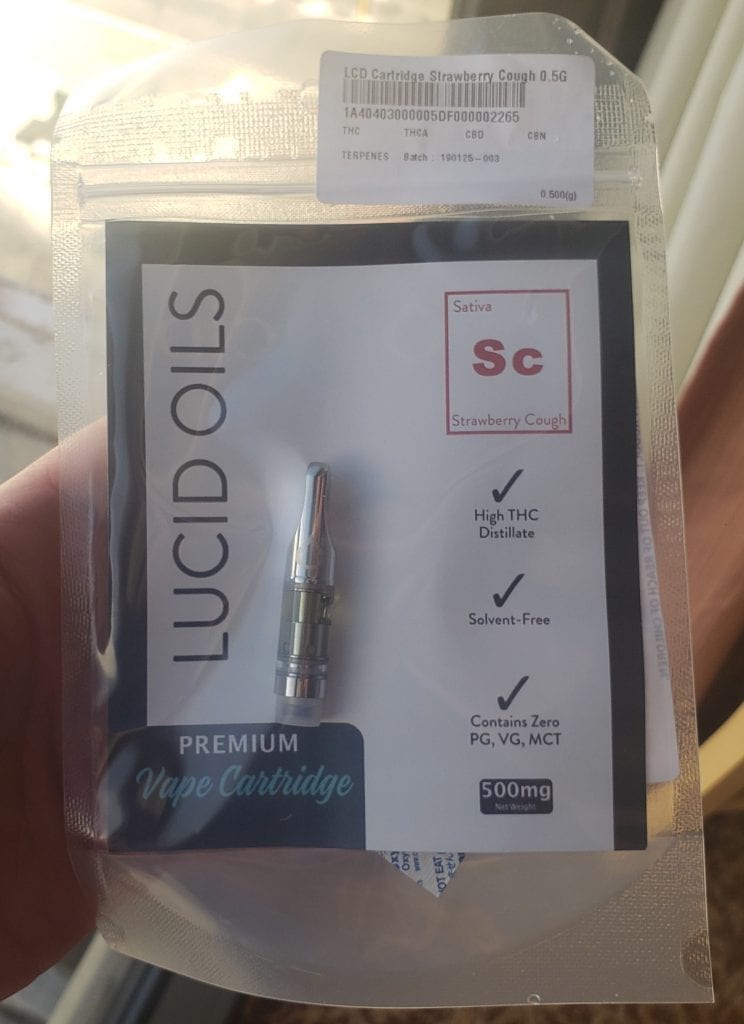 Originally I tried out their earlier syringe which came in at 68% THC and was not that strong. It was the strongest they had available at the time. That was one of the first time seeing their products and it's not that uncommon you see stronger versions of oil come out as brands develop better products.
Then they updated their syringes and had cartridges available. You'll find plenty of Lucid Oils products in the 85% to 94% THC range.
The syringes and carts we still get frequently, more so the syringes since they are $5 cheaper at Tsaa Nesunkwa and I prefer them on once used 500ml of TH2 CCELL hardware (what comes on Roots, Cannavative, Fuze, Jetty, Select Elite and many more). We will usually use 2 syringes on a used cart, so it's gone through 3 half grams. After that the mouthpiece can get a bit too clogged.
Design could use some improvement, build is solid
Lucid Oils cartridges use a CCELL clone that's probably the most popular clone. It looks pretty close and also uses a ceramic core, but you can tell the difference in appearance and performance. There are two O-rings on this one as opposed to one on the CCELL, and the tip is a polished metal. The glass is thick and overall the build seems great.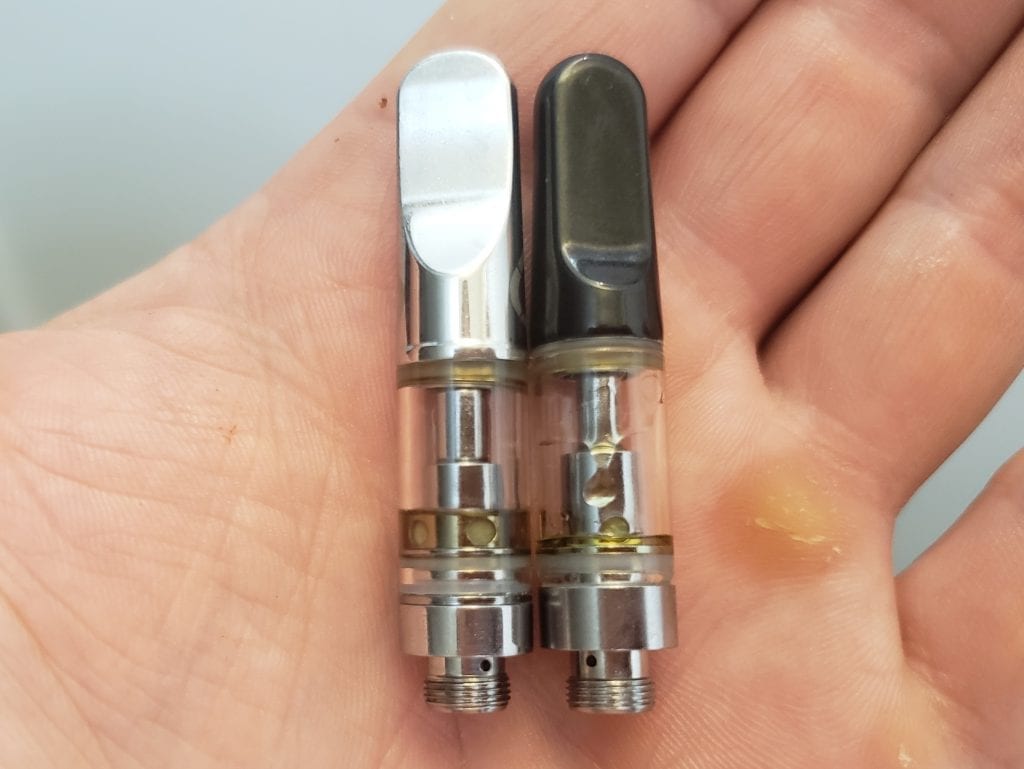 Where this cart under performs compared to an authentic CCELL is on putting out hard hits. It doesn't have that extra kick the CCELL cart does. However, the excellent oil makes this still a good cartridge.
Micro style battery worked best on this cart
I tried this cart with different batteries and found the SteamCloud Micro, which is basically a SteamCloud-branded Micro battery with a 510 connection, worked better on this cart than my typical batteries I use on CCELL carts. The Micro did not work well with the original CCELL either.
Using the Micro battery made a big difference on airflow. Conversely, the Micro battery seemed to tight on airflow on real CCELLs. The Micro is ugly and not discreet, but it works magic on this clone.
Lucid Oils uses a solventless extract system that produces quality oil
Nothing lacking here on the quality of the oil. I am not an expert, but according to the budtender at Essence on West Tropicana Lucid Oils only makes solventless extracts. The oil is thick, clear, and vapes slow. Where this cartridge was purchased, Nevada, testing is strict so there are no pesticides issues.
Cartridge is stronger on the right battery
As mentioned above the awkward looking Micro battery gets better airflow on this style of CCELL clone. I would much prefer an authentic ceramic top TH2 cart, the same one Roots cartridges use. The SPRK cartridge and Bud Tank V16 are also options that would outperform this clone. Both of those are on par with CCELL carts.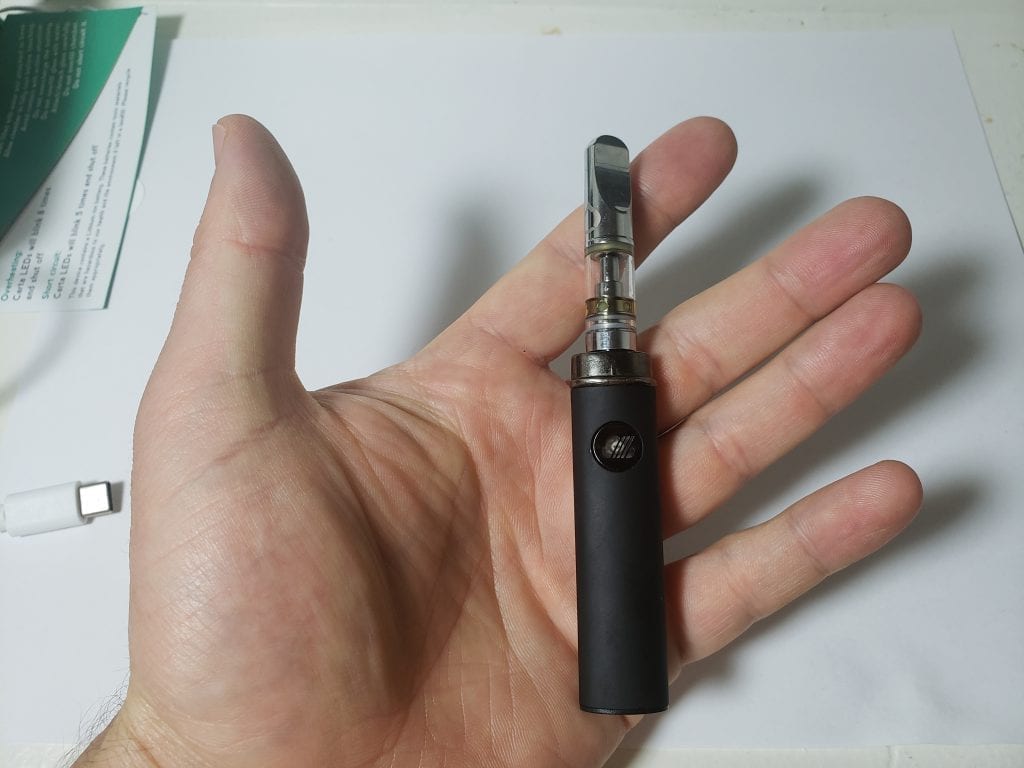 This style cart only does so-so the Magic 710 and Vessel battery. Tried both of those before I was reviewing the Micro and found it to match up well with this style. I would still say the Vessel is better on everything else due to the enhanced airflow.
Taste is excellent on everything Lucid Oils so far
Both the syringe I tried before and this cartridge taste excellent. I do think a better hardware would deliver slightly better flavor here. Sometimes this clone gives a tiny bit of a metallic like taste and when I used the syringe version of Lucid in a different style cart it tasted better.
Cartridge is efficient, but better hits could add to efficiency
Nothing lacking on efficiency as far as leakage or left over oil being stuck in the Lucid Oils cartridge. Efficiency takes a bit of a hit on the fact this cart just does not hit as good as some of the other types of hardware out there. You get more out of each hit with better hardware.
Number of Puffs is good, vapes slow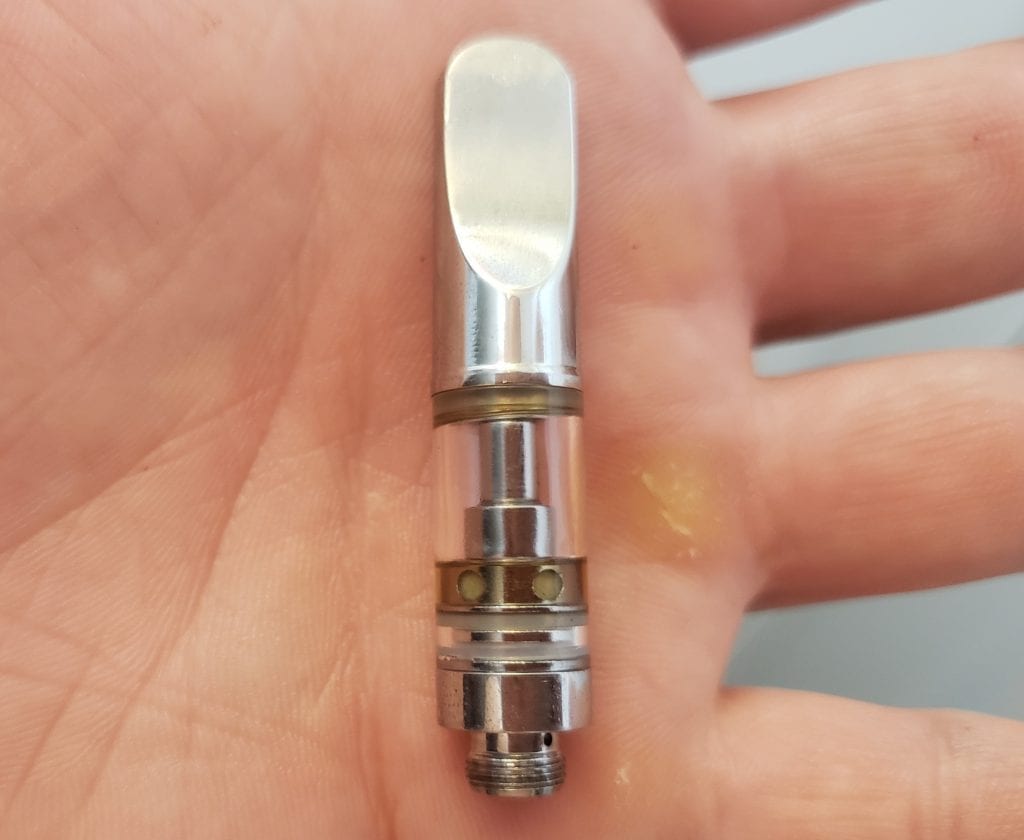 Lucid Oils aren't going to vape away really quickly like a fake Dank Vapes. There's just THC oil and terpenes in there. Number of puffs was comparable with any thick distillate cartridge.
The Lucid Oils cart is now priced the same as others.
The average cost of a half gram cartridge in Nevada is about $45. The Lucid Oil cartridge was $52 the first time we got it. Now their carts are $40-45 like other brands. At Tsaa Nesunkway they are $40 plus tax.
Airo Pro also was $52 for a while, but recently their carts have dropped down to $45 a piece.
These are prices at a good priced dispensary in Las Vegas. If you go somewhere like Pisos it might be $70+ since a regular half gram Roots there is $65, while it's $40-45 everywhere else.
Concluding our Lucid Oils cartridge review
The Lucid Oils THC cart is something I would get again if their oils are not available. Since they are using a CCELL clone, I rather opt for the same oil in a syringe.
They did a great job upgrading their strength from previous revisions. We would just like to see a better performing hardware paired with this excellent oil.
You can find Lucid Oils products using their store locator.