REVIEW OVERVIEW

SUMMARY

Happy Sticks vape pods deliver fair strength and great taste. The flavor really does stay true to its strain. But the battery compatible with these pods, the Pax Era, would deliver light hits and needs to be updated.
Happy Sticks is a company dedicated and committed to their extracts. Here we pick up Happy Sticks pod, which is their half-gram THC pods compatible with a Pax Era battery only. These pods turned out to be great quality and deliver excellent taste, but the battery prevents from exceptional hits. Moreover, here we'll talk about our experience with these pods and let you determine its value.
Pros:
Nice oil quality
Smooth hits
Great taste
Cons:
Not the strongest vapor
Very light hits
Recommendation: This is more on the Pax Era battery than Happy Sticks, but provide stronger hits and updated hardware. 
Licensing Information: HAMBALA HEALING CENTER, INC C10-0000437-LIC
Happy Sticks pod is overall a great pod but provides very light hits
The quality of these pods is overall excellent, for the most part. From the oil quality and its strength to the flavorful hits it provides, these pods vape very smoothly. The only thing is that these pods would give very light hits, or at least the battery does. This may be a good thing if you're looking for lighter and smoother hits. But I would enjoy this pod a lot more if it provided stronger hits and thicker smoke. Not only this but because the battery gives such light hits, I didn't feel as if I got the full experience of these pods.
Good build quality and nice airflow, but Pax Era isn't the best hardware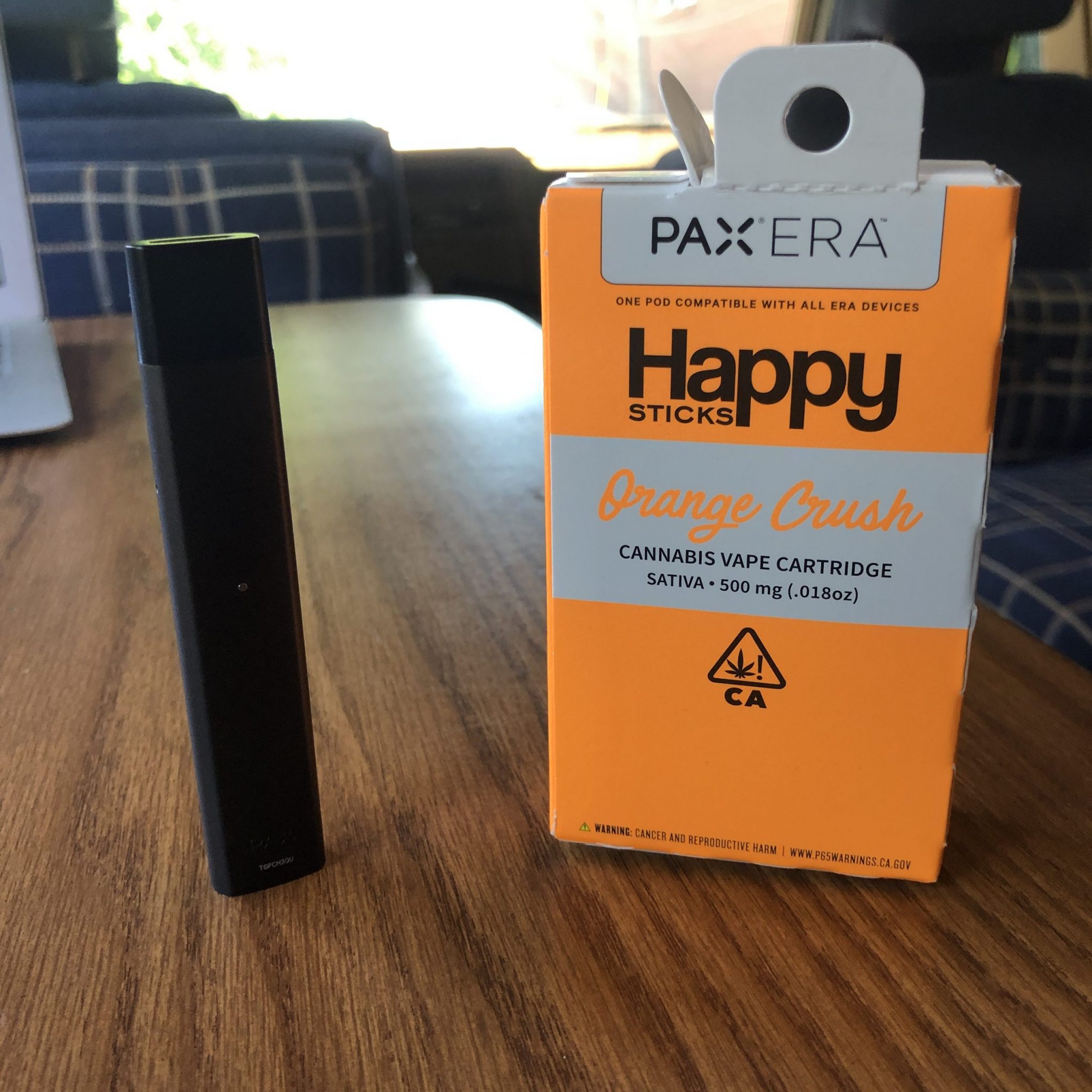 With Pax Era, the pods have a dual airflow mouthpiece, which makes it fairly easy to vape. As for the battery itself, it's moderately durable and somewhat efficient. But the battery just doesn't deliver the best hits. And as mentioned earlier, some may prefer more vaporized hits. This can actually help with efficiency as well. But heavy smokers might prefer more substantial hits.
We have a more in-depth review of the Pax Era battery itself, indicating that they use wick to heat up the oil. This is a step back in the vaping/cartridge technology. This is a bit of a disappointment because the pod itself is great.
Oil quality is nice and thick, fair strength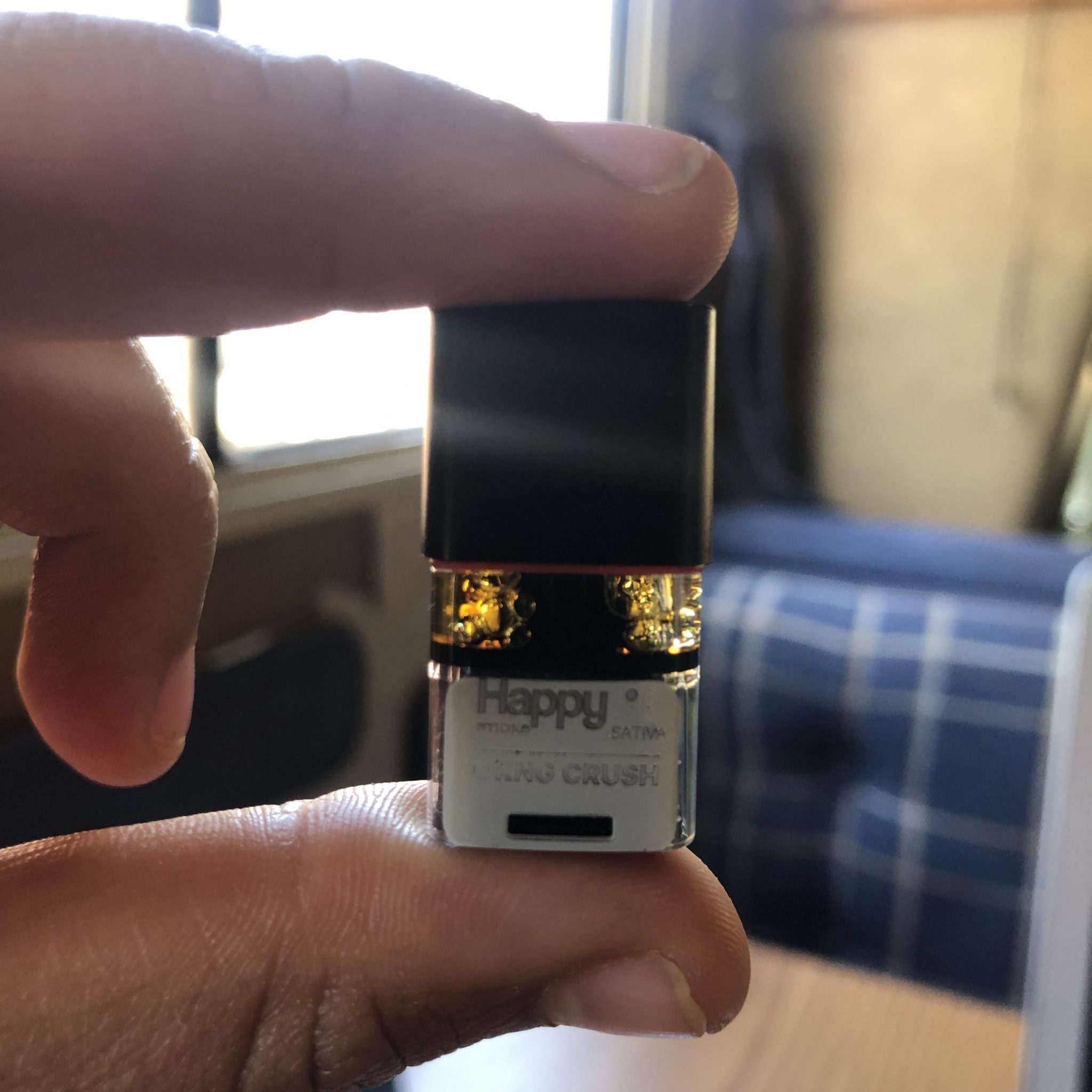 The way these pods are designed, you don't have a good view of the oil itself. But the little you can see, Happy Sticks delivers very great oil quality. A nice, slightly darker gold color and does taste very clean. Very thick distillate with a great mixture of terpenes.
Good strength, but battery prevents from stronger hits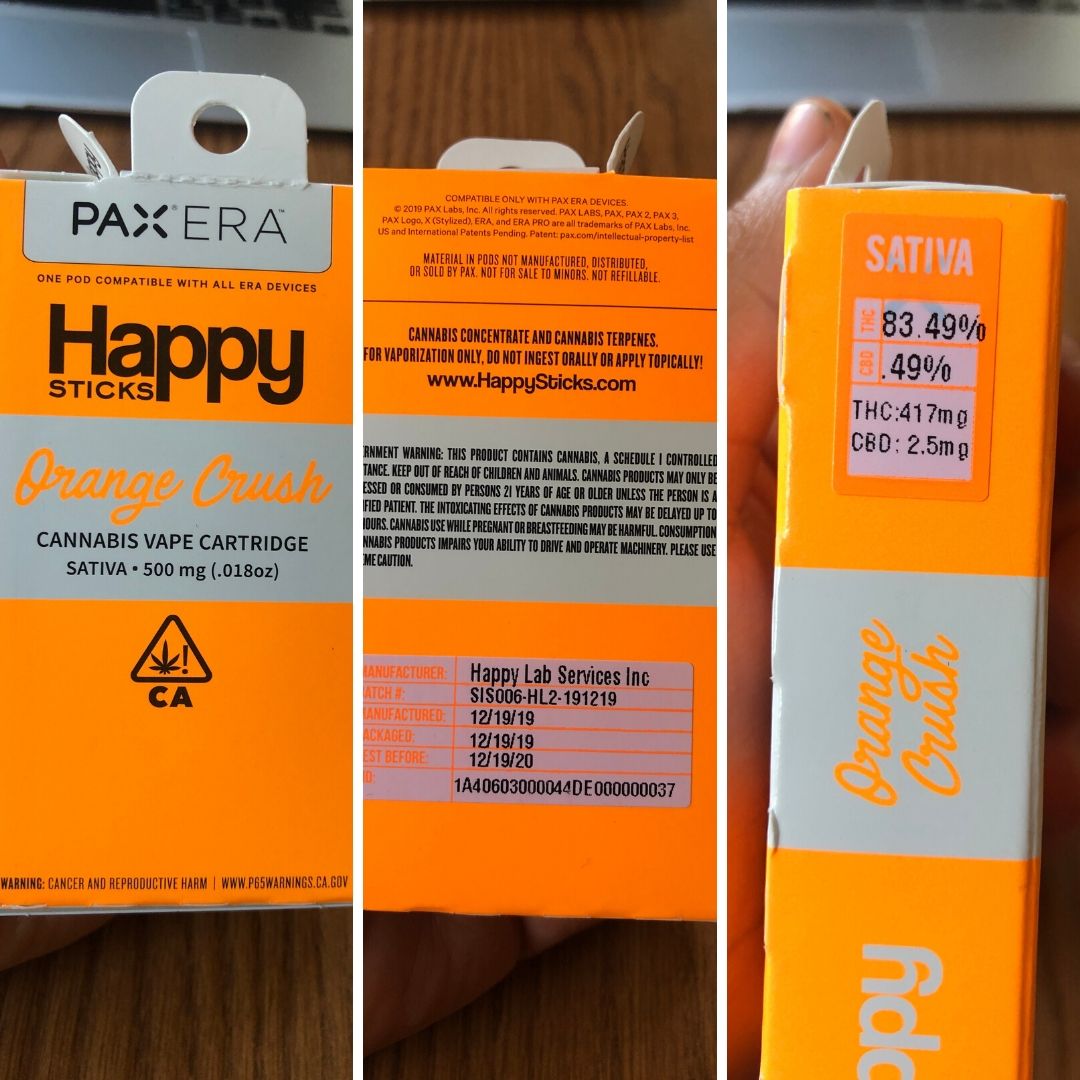 This pod lands at 83% THC, which is pretty nice. If anything, in our experience we've noticed that most great and potent cartridges/pods/distillate land around 80% THC. With that being said, Happy Stick delivers fair strength and a nice high. 
But the only downside is that with the battery delivering light hits, I wouldn't get that strong of a high as quickly. I feel as if I'd need more hits than usual to even feel a good high. Unfortunately, it felt as if I didn't get the full effects (strength) of these pods because of the battery. 
Happy Sticks Orange Crush delivers a  smooth citrusy flavor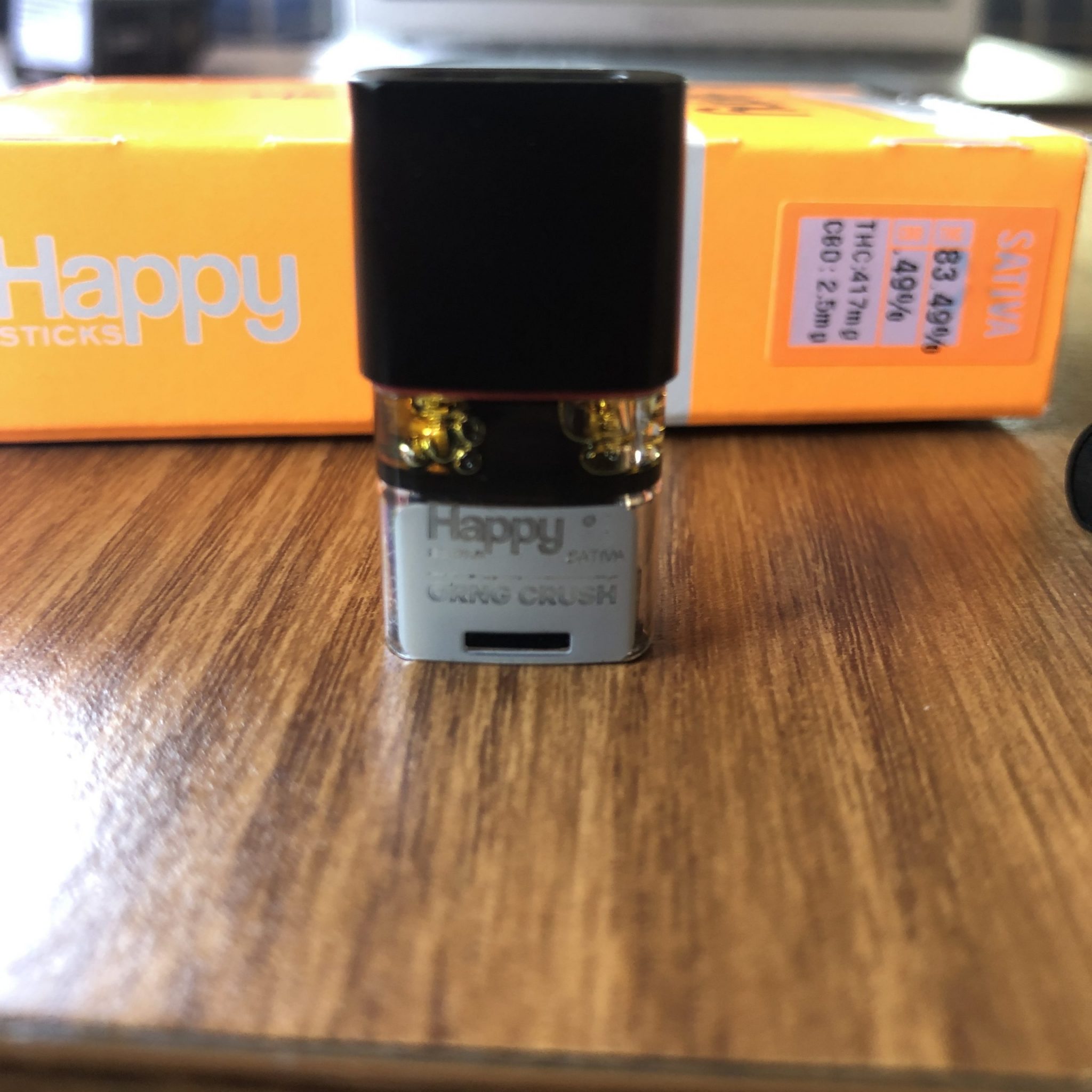 This particular flavor gives a nice, sweet taste to it. True to its strain, orange crush delivers a nice tangy, citrus-like flavor. Not too strong in flavor, these pods provide a smoother taste. Doesn't taste artificial at all, and it doesn't give harsh hits. The oil tastes great all throughout the pod.
Fairly efficient, since it does give light hits
As mentioned many times, these pods provided lighter hits and very thin smoke. Because of this, these pods can be efficient to some and can last some time. The oil burns fairly slowly and evenly. 
But because of how light it hits. I did tend to take more hits consistently. The strength and effects are nice, but light hits and light smoke provided a slightly lighter high. As a light smoker, this may be great. But for heavy smokers, you might keep vaping this more consistently.
The battery can last a while, but not very durable
The duration of this battery lasted me around a day. This does vary depending on how often you smoke, but on average I'd say it can last around a day's worth of sessions. Sometimes more, but if you have multiple sessions in a day, the battery's lifespan might disappoint you. 
Might smoke better out of a different hardware
Although I do enjoy the oil in these Happy Stick pods, I would prefer them in a different vape pen or perhaps updated hardware. Maybe their cartridges hit stronger, but the pods just didn't hit as great compared to other batteries compatible with pods. The oil quality, strength, and taste are up there, but the Pax Era is just outdated and uses old technology.
Comparison with Happy Sticks pod and West Coast Cure pods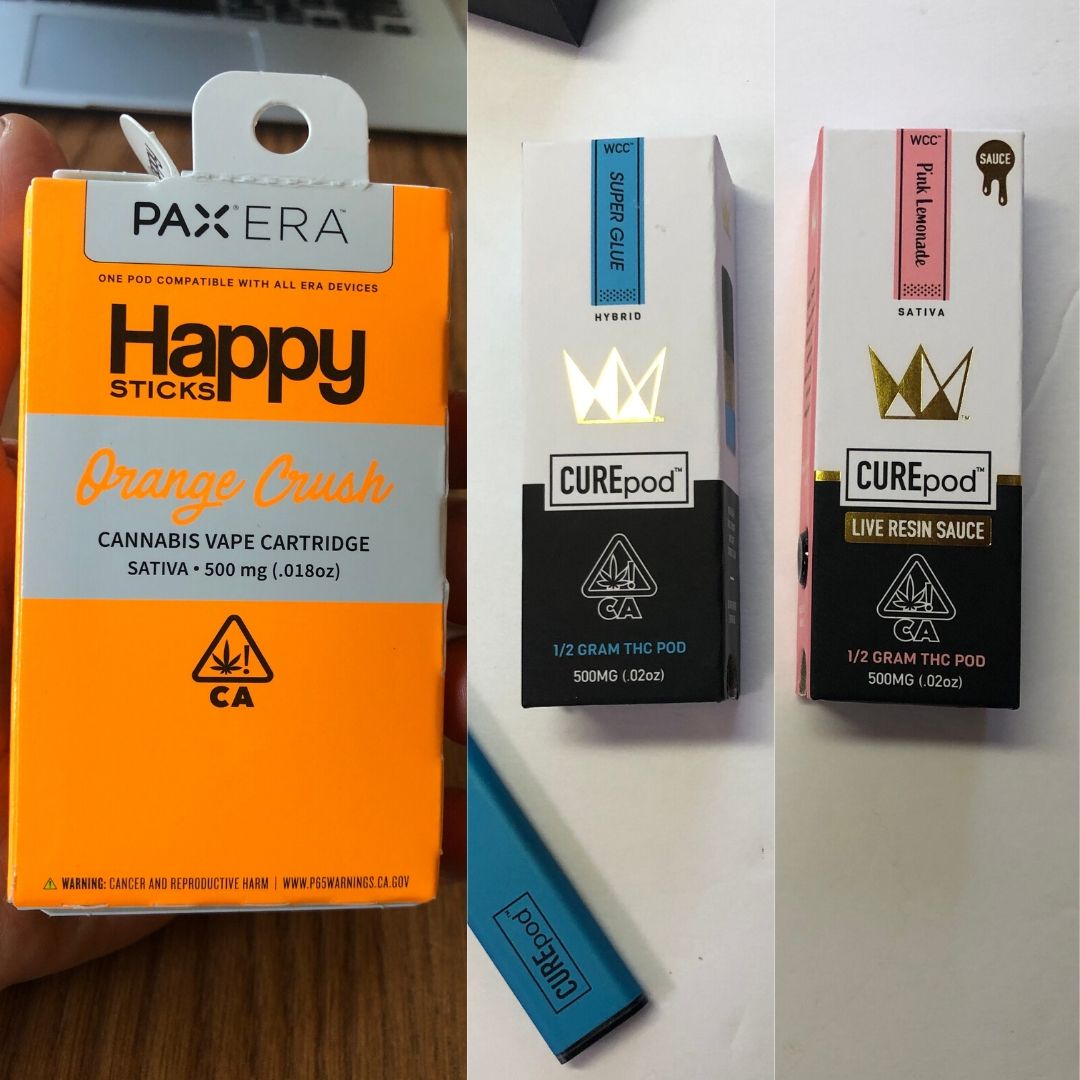 Comparing the distillate version of West Coast Cure pods with Happy Sticks pod is a close call. Both deliver flavorful taste and smooth hits, along with fair strength and great quality oil. But personally, I do enjoy Happy Stick pods a bit better. The strength in them does feel slightly better. 
But comparing Happy Sticks with WCC's live resin sauce pods, I'll have to go with the live resin sauce. It's much stronger and provides a more natural taste. Something I should mention is if you have a Pax Era battery you have more options and can explore different brands compatible with it. As with West Coast Cure, you need their specific, branded battery to smoke their pods.
710 Labs live resin pods vs Happy Stick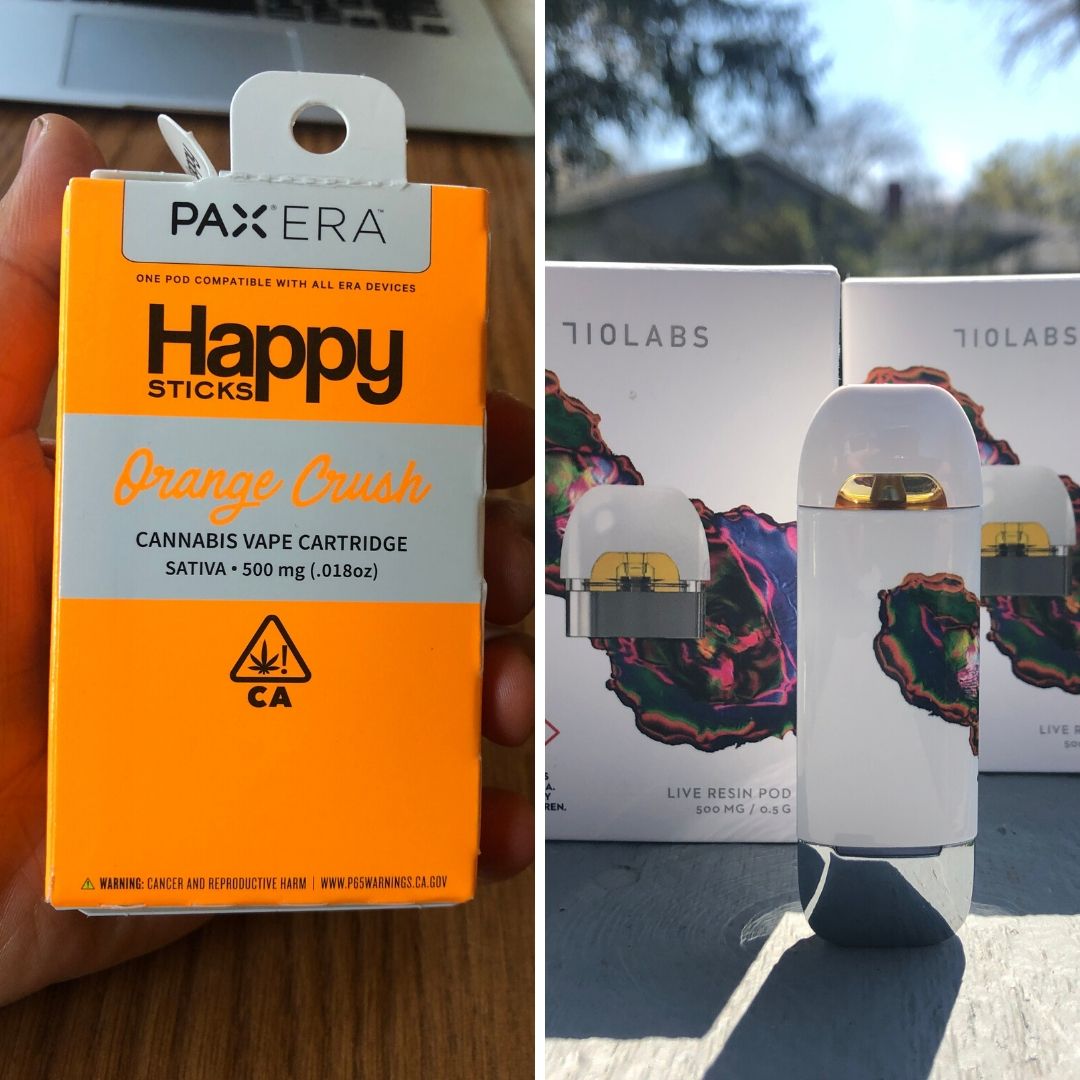 Without a doubt, 710 Labs live resin pods outperform Happy Sticks. Everything about the 710 labs is better, from the oil quality and taste to the built design and the way it hits. Even though 710 labs is only around 50-60% THC (on average, sometimes more or less) the quality of the oil is more potent. Overall, 710 live resin pods smoke nicer and the battery they use vapes better than the Pax. 
The only thing is that 710 Labs pods can get pricey. Ranging around $50 to sometimes $80, and that's apart from the battery you need to purchase. The battery does hit much better and stronger with the 710 Labs, and the design looks more creative.
Zofo Pods vs Happy Stick pods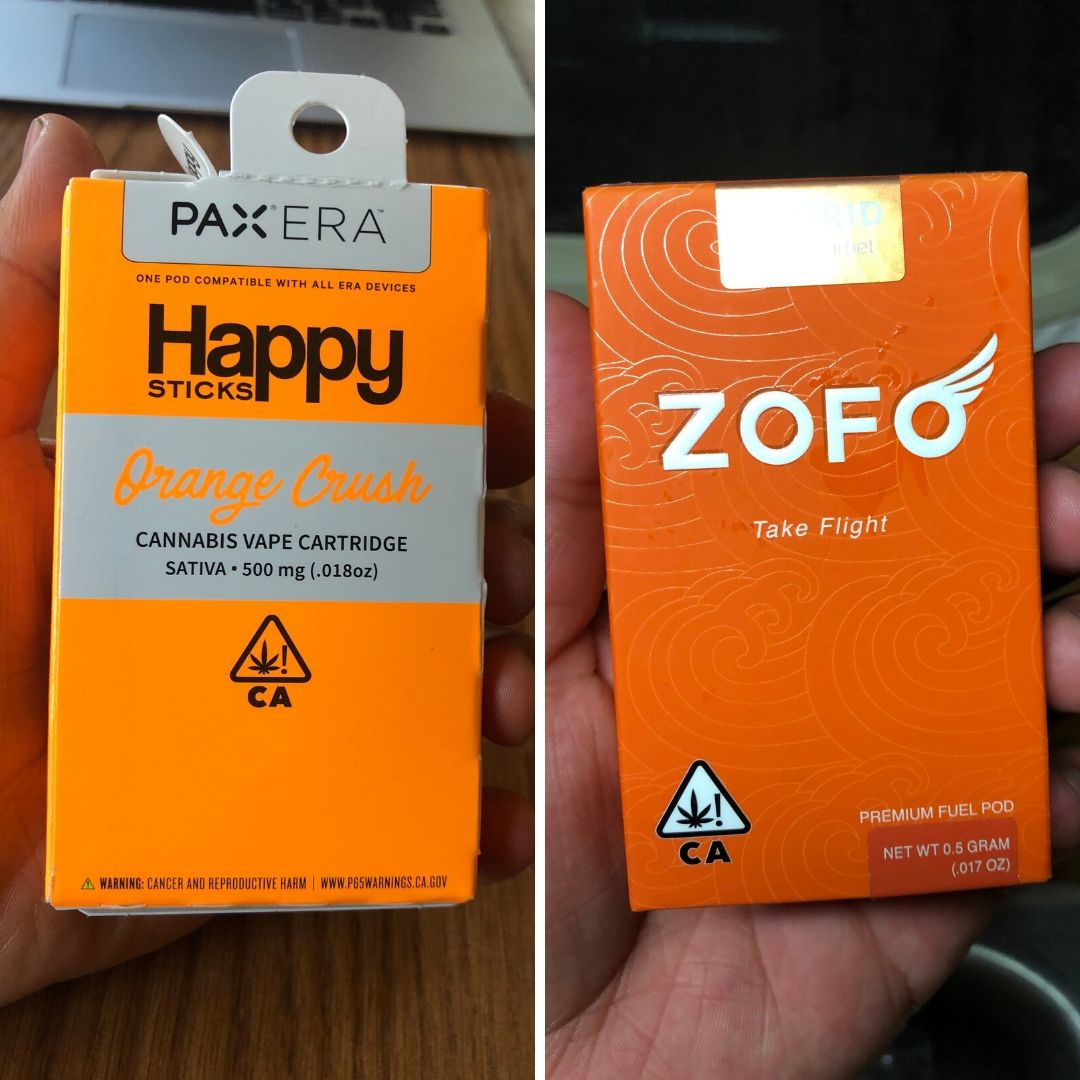 Comparing both pods, I enjoy the quality of Happy Sticks more than Zofo pods. The potency of the oil feels slightly stronger and the taste is much better. I didn't enjoy the taste of Zofo Pods as much, at least the strain we tried, Grape Sorbet. 
As with the previous pods discussed, Zofo Pods also require their specific branded battery for their pods. And I do have to give it to them, their battery performs amazingly. It's very durable, delivers great hits, and provides massive clouds. It should be noted that this can burn the distillate a lot quicker. But if I had to choose, I would prefer the battery from Zofo pods over the Pax Era battery. 
For the quality of oil, decent value if you already have a Pax Era
The price for these pods can range from $30-$45, depending which dispensary you go to, discluding tax. And for its price, it's not too bad considering the quality of the oil is nice. But keep in mind that you still have to purchase a Pax Era battery, if you don't own one already.
Around this price range, you have a variety of options, be it pods or cartridges, that are similar if not more potent in oil quality. If you already have a Pax battery, I highly recommend you to try them out. 
Concluding our Happy Sticks Pod review
In conclusion, Happy Sticks pod turned out to be good quality pods. Great oil quality and decent strength, highly recommendable if you have a Pax Era battery. Otherwise, I'm not sure about going out my way to purchase a battery separately just for this pod. Not that the pod not worth it, it's just that the hardware in the battery and the hits it delivers may disappoint you. Hopefully, the Pax Era battery updates the technology they use soon. You can learn more about the company here.
Have any experience with Happy Sticks pods? Questions or comments? We'd love to hear them. Post below or in our forums!