REVIEW OVERVIEW

Design and Build Quality

9

SUMMARY

710 Labs Live Resin Pods are one of the purest and cleanest live resin pods in the market. Although their live resin does taste strong and smooth, they don't contain as high THC levels and can be pricey.
710 Labs PODS use live resin and they turned out to be one of the cleanest pod I've tried yet. 710 Labs is mainly located in California and Colorado and are known for their quality products. Being pure live resin, I did enjoy the oil and taste a lot. Here we reviewed two different strains, dosi pie, and fair game.
Pros:
Quality, pure live resin
Nice built and design
Tastes very clean
Cons:
Pricey for just half gram
Needs a special battery for the pods
Recommendations: Consider selling full gram pods and having higher content THC levels.
Licensing Information: 710 Labs CCL18-0000170 C11-0000337-LIC CCL18-0001680 C9-0000089-LIC CCL19-0004826 CDPH-10002005 
710 Labs are known to sell a variety of quality THC products. From various BHO and solvent-less products to these live resin pods. This company prides itself on having the cleanest products and I can agree their live resin tastes clean. They use a specific process for growing and extracting their concentrates, leaving their products organic and pesticide-free, according to their official website.
As for their pods, these unique .5G THC pods come in multiple tiers. Each tier profiling levels of quality that corresponds with higher or lower prices. These pods are filled with pure live resin, no distillate added at all.  Tasting this pod, I can definitely say that their pods do taste very clean and smooth.
710 Labs PODS are as clean as they can get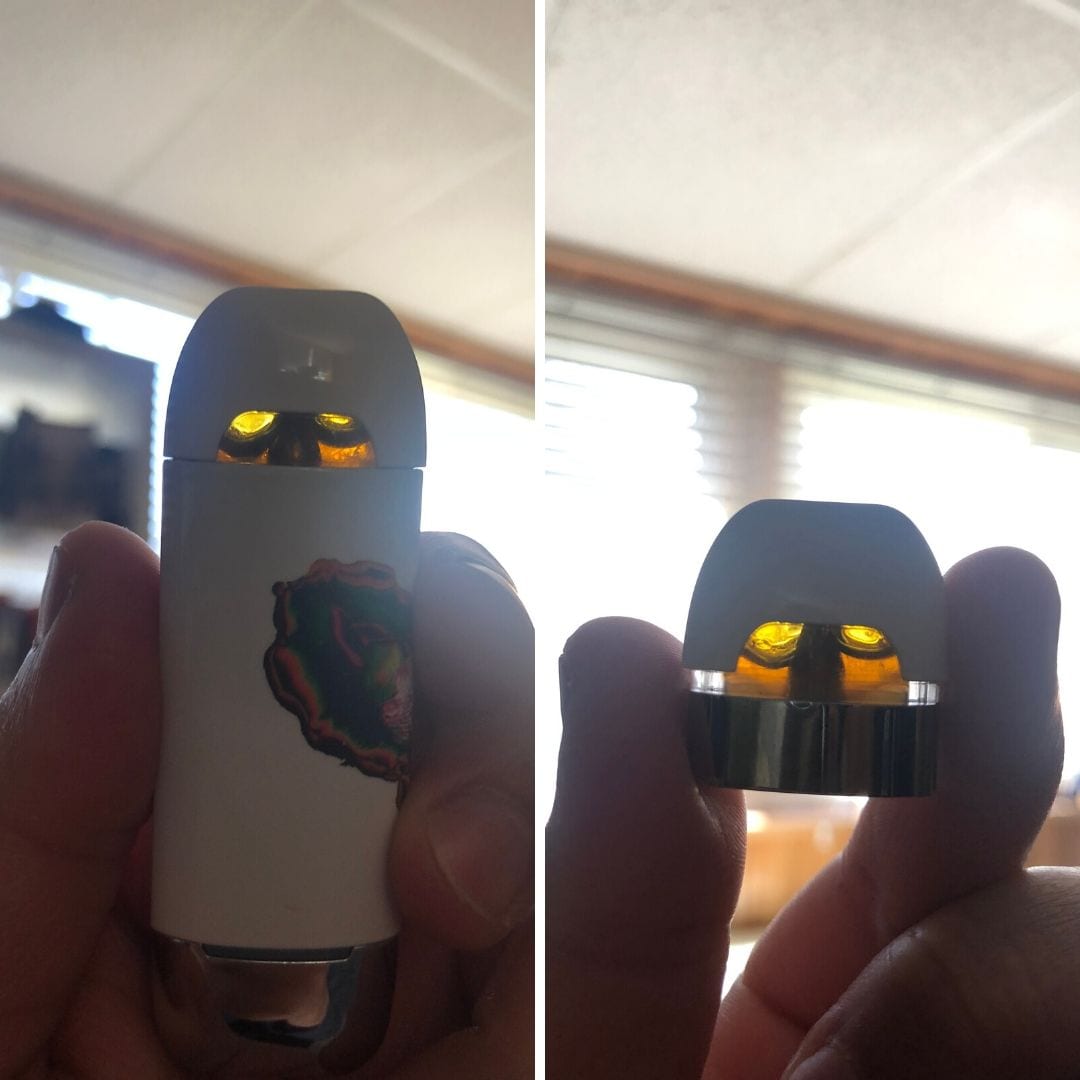 Taking the first hit, you can taste the live resin right away. What I love about these pods is that they really do live up to their expectations, tasting pure and natural. Having tried many different cartridges filled with flavored distillate, this pod is one of the few that gives an all-natural and clean taste. 
710 Labs PODS have a unique build quality and design, making it difficult to fake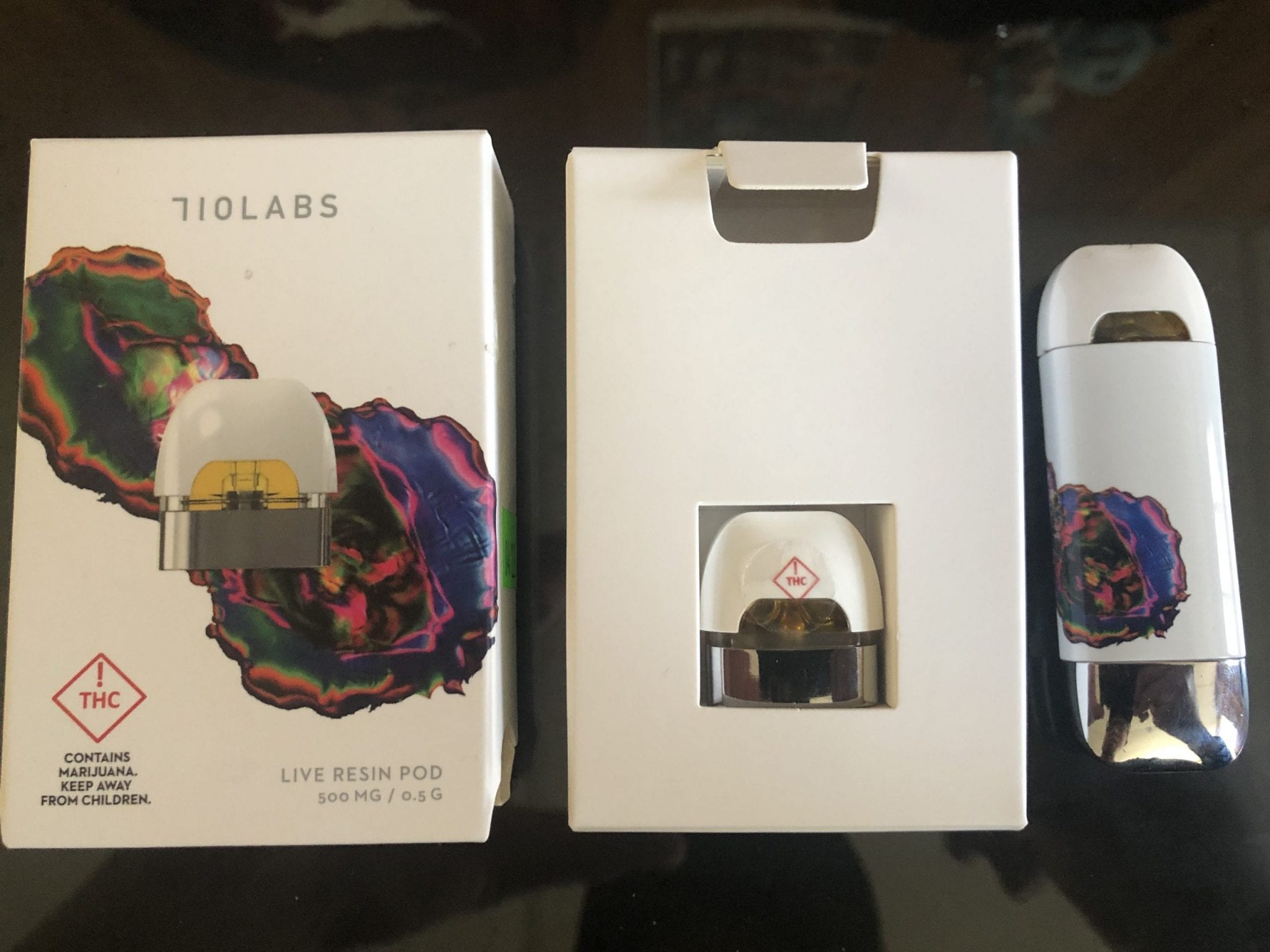 Unpacking  these pods, I was impressed how the built and design are to both the pod and battery itself. First off, you do need a special battery to smoke these pods. 710 Live Resin pods are only compatible with their unique battery, as shown above. 
With that being said, the battery comes in a very slick and smooth, metal design. The built makes it easy to carry and discrete to smoke anywhere. Even the pod is built uniquely and properly, I couldn't take off the top part or disarm it easily. Fortunately because of this, it can be very difficult to fake these pods. 
Oil quality is nice and smooth but relevantly low in THC
Being filled with pure live resin, there is no doubt that these pods are going to be great. The oil does feel strong and does give a nice high. But the only thing with these pods is that the highest THC level I tried, tier #2, only has a total of 59.76% THC. As mentioned before, 710 Labs Live Resin pods come in multiple tiers. We're not too sure how many tiers they have or what their highest THC levels are.
Having said that, I still believe that these live resin pods do feel fairly potent. The only thing I didn't like is that personally I did need to take multiple hits just to get high, more hits than usual. There are many other cartridges higher in THC and that gets me high quicker, with fewer hits. But the fact that this is pure live resin with no distillate added, it makes up to the fact that they are relevantly low in THC, compared to most cartridges.
710 Pods give a natural and clean flower taste
The taste provided from these pods gives more of a flower flavor more than anything. These pods are filled with naturally derived terpenes, giving no artificial taste. Personally I did enjoy the flower taste a lot, some people prefer a terpene-rich flavored cartridge.
I picked up Dosi Pie and Fair Game, both tasting like all-natural live resin. Very smooth, not harsh at all and won't leave any sort nasty after taste. The taste of these pods actually reminded me of a lot of Raw Garden Cartridges. 
710 Labs Live Resin Strain: Dosi Pie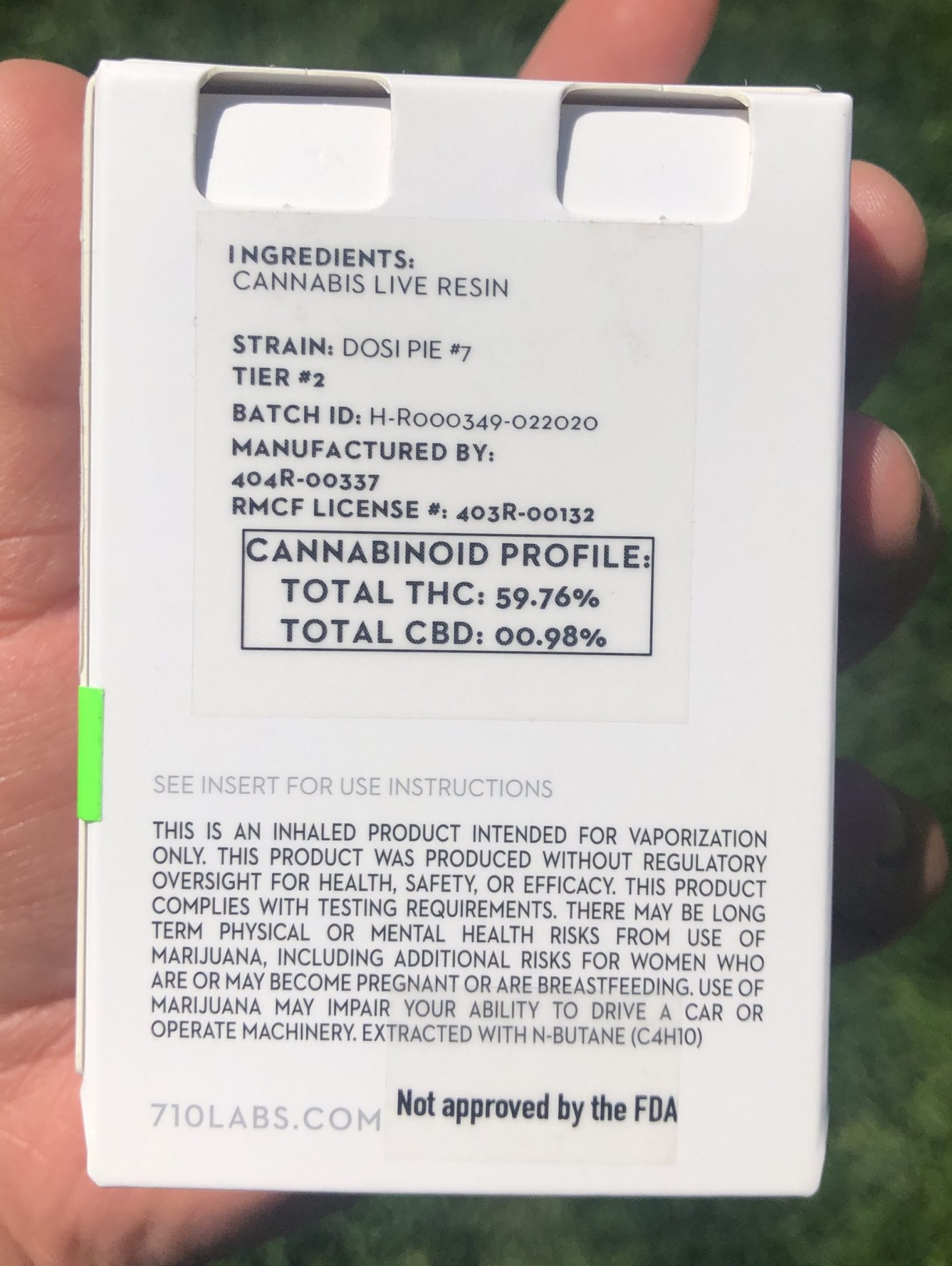 Being the second tier, dosi pie came in around 60% THC. The flavor to this strain gives nice, cannabis flavored taste with a little bit of terpene flavor to it. The taste does give a slight, sweet taste but it does give more of a flower taste. As for the high, it does give a. mellow and euphoric high, but I did need more hits than usual to even feel high.
710 Labs Live Resin Strain: Fair Game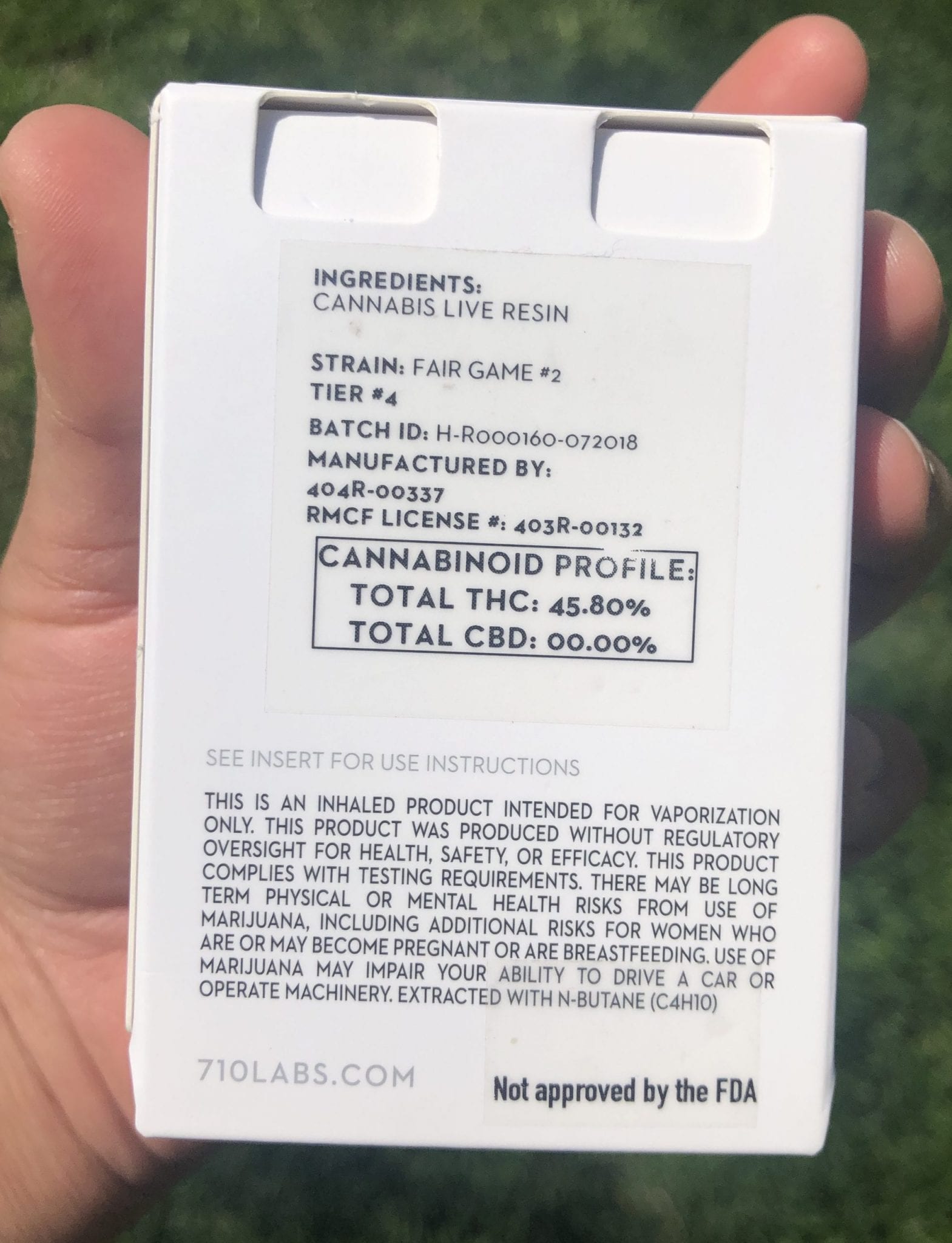 As for Fair Game, this strain lands in tier #4, being roughly 45% THC. The main difference I realized right away is the taste, giving more of a flower taste than anything. It actually tasted only like flower, I didn't get much of taste from the terpenes. I still did enjoy it a lot, tasting more natural and clean. But because this strain is lower in THC, I didn't get a strong high from it. It was more of a type of product to smoke casually for me.
710 Labs Live Resin Pods vs Raw Garden Cartridges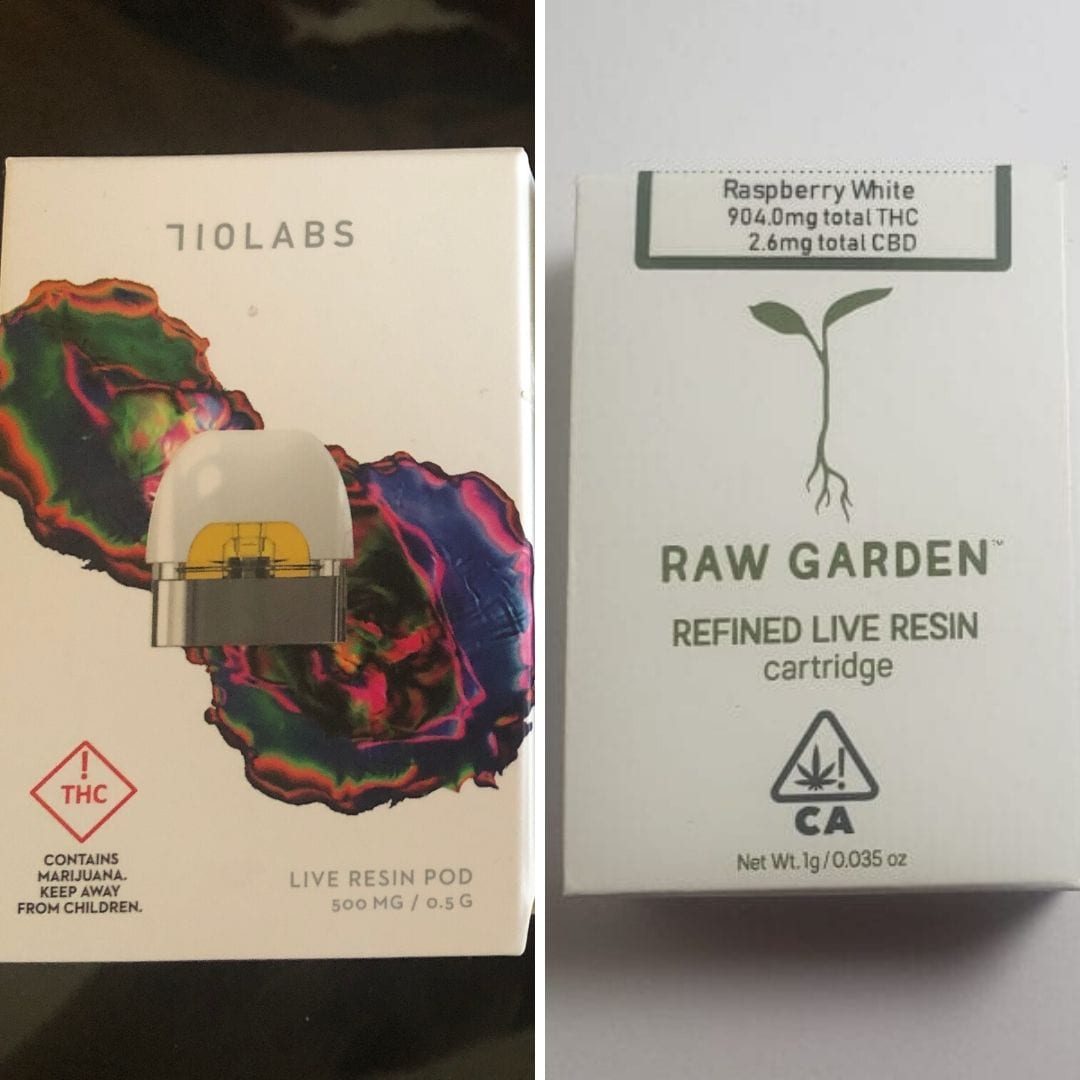 Comparing Raw garden with 710 pods, they both provide amazing and top notch quality oil and hits. Because both are live resin, they do taste very similar, making  the taste a little incomparable.  
The main difference between the two is the THC percentage and the price. Raw Garden goes anywhere between 80-90% THC, but 710 labs live resin pods only go around 40-70% THC. And as for the price, 710 pods do cost more, even compared to Raw Garden's full gram cartridge, which can make a difference to the consumer. I did enjoy both of these and highly recommend both, but as to which is better, it somewhat leads to preference. Personally, I enjoy Raw Garden a little more since they're higher in THC and are full gram.
There are a lot of bad reviews on Weedmaps to these pods
Looking into the reviews people gave inside Weedmaps, there is both a mixture of a lot of positive and negative things being said. Everyone there agrees the quality of this pod is great, but many didn't like the price of it. Many people who complained only talk about how these pods are overpriced and how there is only .3 rather than .5 filled with live resin inside each pod.
The way I see it, you get what you pay for. Yeah you can find cartridges and pods for a cheaper price, but the quality and taste is still top notch and not very comparable. Although I can agree it is a bit overpriced, I still did enjoy smoking this pod casually. Aside from this, no one complained about the taste, oil nor potency.
Concluding our 710 Live Resin Pod review
710 labs are a very quality brand and they do live to their expectations. These live resin pods really do provide such a clean and great taste and oil, I do highly recommend them. They're mainly located in many different areas around California and Colorado and they do even provide them in some dispensaries around Nevada.
The only thing to these pods is the price. On average, you can get these pods for around $80 and they only come in .5 gram pods for now. Apart from that, the second strongest tier is still only 60% THC. Don't get me wrong I did enjoy smoking this pod, but if it were stronger than I would enjoy these a lot more. Aside from that, their pods contain quality live resin. You can find more about 710 Labs and all the locations they sell on their official website here. 
Have you tried 710 Labs Live Resin pods before? Post your review below! Questions or comments? Post below or in our forum!